183 days ago
PhonePe Petrol Offer: Get upto Rs. 150 Cashback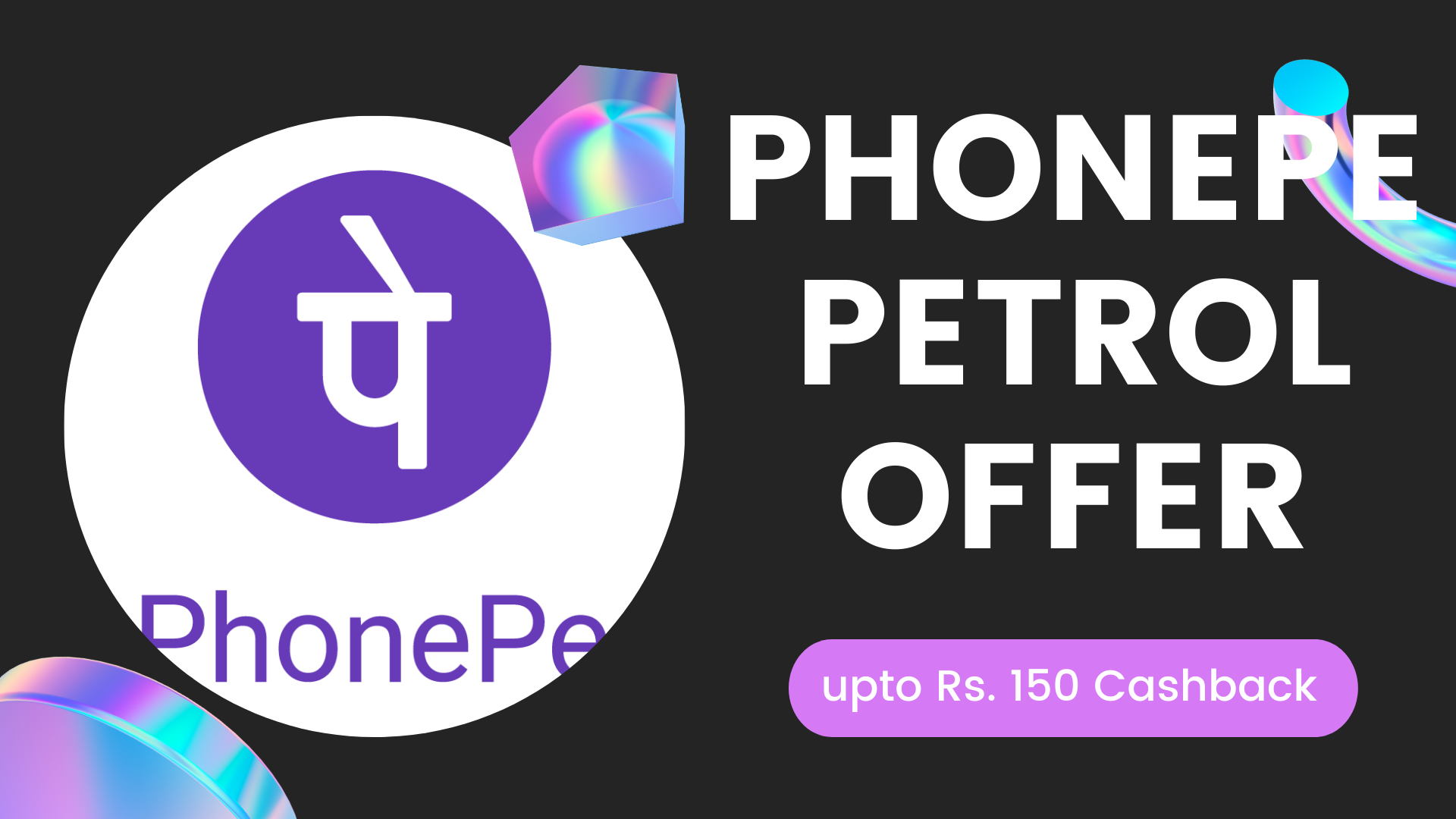 PhonePe is a payments app where you can use BHIM UPI, your credit or debit card, or your wallet to recharge everything online. We all know petrol nowadays, and diesel prices are on a hike in India and the fuel cost is getting expensive day by day.  PhonePe already offers many cashback offers on almost every transaction.
Here is some PhonePe offer on petrol where you can now save up to Rs.150 of your vehicle fuel every day as a cashback amount by paying using PhonePe.
Now you can quickly load your vehicle with petrol by paying online without carrying cash with you and even get the right amount of cashback on the same. 
Digital modes of payment add so much to your convenience. PhonePe Petrol offers to help you save time as well as money. No time is wasted in waiting for payment. You can pay directly from your smartphone and keep reading to know more. 
Also, if you want to know about PhonePe Scratch Card Offers, click Here.  

Signup to start earning EXTRA cashback with every transaction you make and Get Upto 100% Cashback at Over 500 Stores. You will get Rs 50 and Exclusive Offers after login/signup on this link. You can also use the code 758998 to sign up. To know the steps on how to redeem the Sign up bonus, click here.
PhonePe Petrol Pump Offer
You can save money on your monthly fuel bills as well. PhonePe helps you save on your transaction with its attractive offers, let's check them out.
| | |
| --- | --- |
| Petrol Pump  | Offer  |
| Indian Oil | Indian Oil 0.75% Cashback Offer  |
| Bharat Petroleum | Bharat Petroleum 0.75% Cashback Offer  |
| HPCL | HPCL 0.75% Cashback Offer |


1. Indian Oil PhonePe Offer
 Indian Oil 0.75% Cashback Offer
You can Get up to 0.75% Cashback offer using the Phone Pe offer on Indian Oil Petrol pumps. 

Get up to 0.75% cashback on your fuel purchase. 

The maximum cashback you can get per transaction is Rs. 45. 

The maximum cashback you can avail on your fuel payment per month is Rs. 150.

The offer period for limited period.

The offer is valid for PhonePe users. 
Also read: Check out the Indian Oil Cashback Offer for all users. Click here for more.
2. Bharat Petroleum PhonePe Offer 
 Bharat Petroleum 0.75% Cashback Offer 
Enjoy up to 0.75% Cashback offer using the Phone app on Bharat Petroleum pumps. 

You can get flat 0.75% cashback on your fuel amount. 

The maximum cashback you can get per transaction is Rs. 45. 

The maximum cashback you can avail of on your fuel payment per month is Rs. 150.

The cashback is applicable on every fuel bill per user per device.

This offer is for limited period.
3. HPCL PhonePe Offer 
 HPCL 0.75% Cashback Offer 
Get a flat 0.75% cashback offer using the Phone Pe on HPCL Petrol Pumps. 

You can get flat 0.75% cashback after you pay for your fuel bill at HPCL petrol pump station. 
The maximum cashback you can get per transaction is Rs. 45. 

The maximum cashback you can avail of on your fuel payment per month is Rs. 150.

The cashback is applicable on every fuel bill per user per device.

You can avail of the offer many times during the offer duration. 

The offer period is for limited period. 
What is the Eligibility Criteria to Avail the Phone Pe Petrol Offer?
The offer is valid for all users andy anu number of times during the offer period
The offer is valid on the selected payment  instruments
BHIM UPI/ Debit Card/ Wallet linked on on Phone Pe or At Pumps. 
If the amount is paid by wallet + Credit card, the cashback will be calculated on wallet transaction only.  
How to Avail Petrol offer on PhonePe?
To avail cashback rewards, follow the simple steps and enjoy saving money on your petrol purchase. 
Click here to download PhonePe app

Open the app to perform billing after filling fuel at the petrol pump station

Scan the QR code option available at the counter 

Offer is applicable only when you select PhonePe as the payment option at checkout

Click on Pay to complete the transaction by entering your UPI number. 
When do I Get my Cashback? 
The cashback will be credited as the Phone Pe gift voucher balance within 24 hours of the complete transaction. 
In Case of Refund/ Cancellation
In the case of any refund and cancellation, the cashback which is given in the transaction will continue to remain as a gift voucher and it will be non-withdrawable to your bank account. It can be used by the App for recharges, bill payment,s and more.
Note: In case if you have balance in your wallet, it will be automatically be utilised during payment. 
Terms and Conditions - Phonepe Petrol offer online
The offer is applicable for both iOS and Android users.

You should raise a cashback-related query within 30 days post a successful transaction. 

The transaction performed should be done using a PhonePe linked bank account via the PhonePe app. 

Cashback gift vouchers can be used for recharges and other bill payments and cannot be withdrawn to any bank account or transferred to other users. 

PhonePe has the right to end the offer without any prior notice or information. 

The cashback amount will be credited to the user's account within 24 hours from the time of the transaction. 

PhonePe receives the right to change the terms and conditions of the offer or withdraw it any time without any specific reason or prior notice at its sole discretion. 
Reasons to Use PhonePe For Petrol Payment
If you are not already using the digital payments app for your fuel payments you are missing out on a lot of benefits. Here we are providing some of the reasons to start using PhonePe for Petrol payment today. You can easily get started in a few steps. So let us start with the top reasons to switch to PhonePe for petrol payment.
Availability: You will find PhonePe as a mode of payment at all major petrol pumps across the country. Whether it is Indian Oil, Bharat Petroleum, HPCL, or Nayara Energy you will find PhonePe. Just open the app and make payment for your fuel bill without worrying about anything else.
Convenience: Digital payment apps are hassle-free. They allow seamless transactions without any worries. When you use PhonePe offers for Petrol payment you will experience the ultimate ease. The app will make the payment possible without any waiting time. Normally, a lot of time is wasted at petrol payment due to payments but with PhonePe, you are removing the hassles. Your billing process is convenient with PhonePe. 
Attractive offers: In addition to the time and effort you will save with PhonePe, you also get to save money. Earn cash back on your petrol payment with PhonePe app. PhonePe online petrol offers are valid for all major petrol pumps. You will surely save a lot of money every month. The cashback will be credited to your PhonePe wallet. You get cashback on payment at Indian oil, Bharat petroleum, HPCL and more. 
Save time: Have you noticed? When you need to visit a petrol station it is always when you are in a hurry. It happens to most people. You are getting late for office and all of sudden you notice that you need to visit the petrol station for a refill. It is frustrating, but something you can not avoid. In such a situation every minute is crucial. With PhonePe, you can easily some time. The app makes payments possible in a click of button to save time. 
Security: The app is also very secure. PhonePe is a leading app for digital payments in India. You can completely trust it for security. It comes with the necessary security features to take care of payment details. The app is also safer than carrying a lot of cash in your wallet. No need to carry cash as PhonePe has the necessary features to be one solution for all your payments. 
PhonePe petrol cashback offer makes you save money on your petrol by paying online. Carefully read the key points of each offer and avail amazing cashback on your online payment of fuel. 
If you wish to read about PhonePe Scan and Pay Offer, then click here to get more information. 
Frequently Asked Questions 
Q1. Which app gives cashback on petrol pump?
A1. This offer is valid only where Paytm is accepted through QR Code.
Q2. How can I get cashback from phone petrol pump?
A2. After buying what you want on the respective site, select PhonePe as your payment option. Sign in to your PhonePe account after confirming your number and OTP. Pay for Net Payable amount using PhonePe to get Rs.50 Cashback.
Q3. How can I pay the petrol bill through Paytm?
A3. Open the Paytm App & tap on 'Pay or Send' option. Scan the QR code of the merchant. Now, enter the amount to pay, then tap on 'Pay'. 
Q4. Does PhonePe need KYC?
A4. To comply with RBI laws, you need to complete the full KYC and the wallets need to remain active so that you can continue using digital wallets for online transactions.
Q5. How do you get offers on PhonePe?
A. Check out the steps mentioned above to avail the offer on PhonePe. 

Join Telegram Channel & Get Instant Deal Alert

75,062+

participants