54 days ago
476
How To Deactivate Jio SIM? Step By Step Guide

Join Telegram Channel & Get Instant Deal Alert

71,520+

participants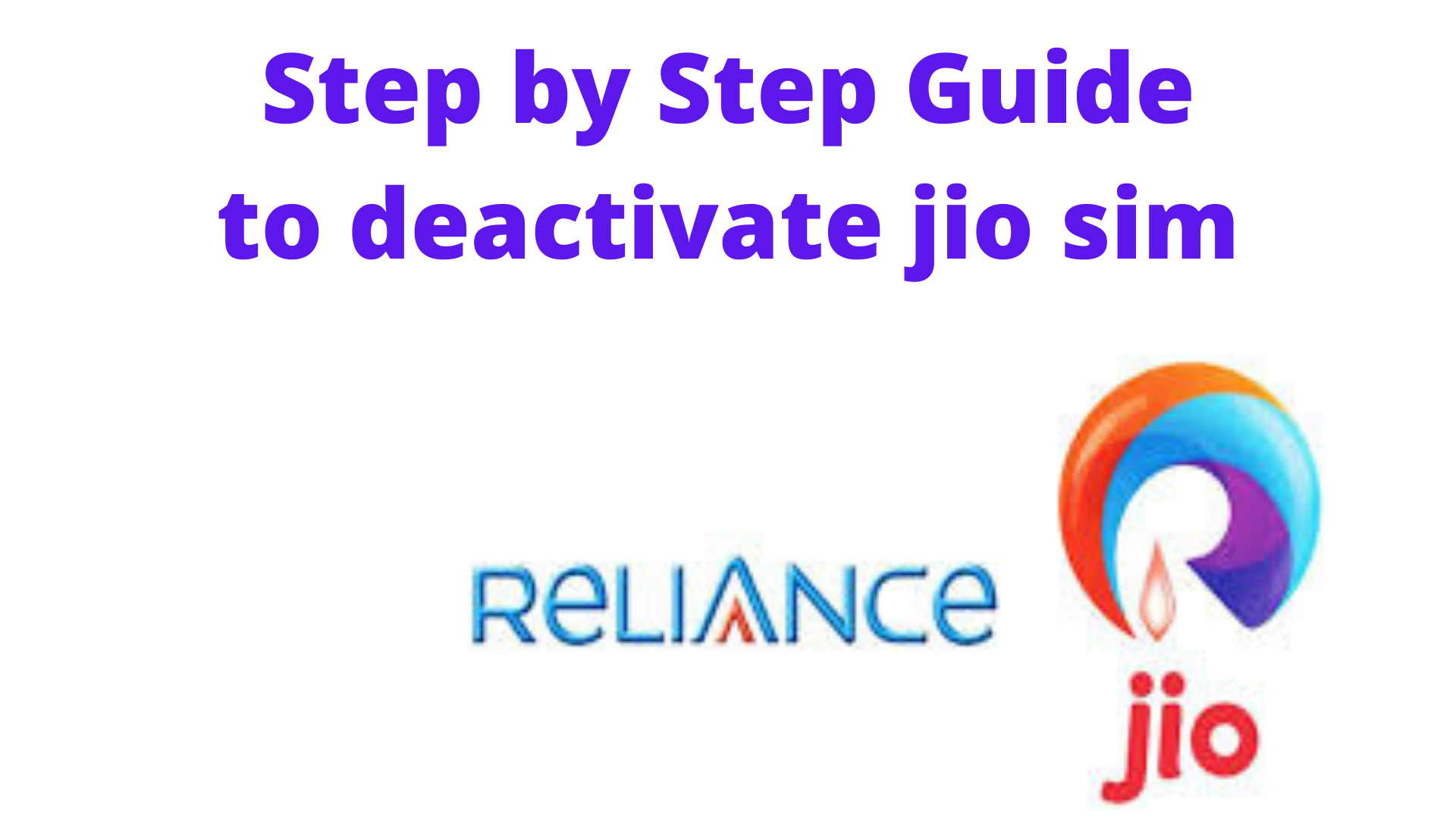 Are you looking for a way to deactivate your Jio SIM? We have explained a step-by-step guide to deactivate your Jio SIM easily. Read the full article to deactivate jio sim following the simple procedures. 
People often do not care about deactivating their SIM cards even after losing their SIM. If you lost your SIM, then you need to think about it seriously. Because it can be a serious threat for you given the increasing crime rate. But If you destroy your SIM in front of your eyes, then you are safe.
There can be several reasons to deactivate your SIM. But the most obvious one is when the Jio SIM is lost. Keep reading to know the answer to "how to deactivate lost jio sim online."
If you are also interested in knowing about the Airtel MNP Offer, consider clicking here. 
How To Deactivate SIM Card Jio? (Online or Offline)
All you need to do is follow any out of five given methods. And know how to deactivate jio sim permanently with an easy step-by-step guide. 
1. Call customer care
You need to call either on 198 using JIO SIM or call on 18008899999 using some other networks. You can inform customer care support to deactivate the jio sim. 
Once you inform them to deactivate your SIM, they will ask you for a reason for cancellation. Along with this, you will be asked to share your linked Aadhar card number. 
After sharing all the details required to deactivate your sim, deactivation will be done within 30 min. 
2. Visit Jio Store
The second best option to deactivate your sim is visiting the nearest JIO store. You need to ensure that you carry your Aadhar card with you. With an Aadhar card, you might be asked to fill a form.
Once you have done all the formalities, your SIM will be deactivated within 30 minutes. 
3. Through Email
The third best option is to send an Email to deactivate your JIO SIM. Through Email, deactivate jio sim online following easy steps. Follow the procedure to make a successful attempt. 
Open Gmail account

Write a new mail 

Mention the reason to get your SIM blocked

Also, attach the identity proof 

The subject of the mail should be "Block JIO SIM."

Now, Send it to care@jio.com
4. Through the official website
The fourth option is after visiting the official website of JIO. Follow the given instructions to deactivate the JIO SIM successfully.
Visit  Jio.com

Enter the number you want to deactivate

Once you mention the number, OTP will be sent

Enter the OTP 

As soon as you enter the OTP, you will be directed to Jio official website homepage

Click on the settings icon 

After clicking, you will see the options like Click on "Suspend and resume." 

Click on "SUSPEND"

Mention the reason and submit it
Note:- 
If you have not lost your SIM, you can use this method because you need to mention OTP when logging into your JIO account. 
5. Deactivate After 90 Days If No Recharge Is Done
In case you do not follow any four mentioned methods. Your SIM will be off as per TRAI's directions. Then deactivation of the SIM will be done after 90 days if you don't recharge. 
How To Block a Jio Sim Card?
There are two terms used to cancel the activation of a SIM card - Deactivate and block the SIM. Some of the users are confused between the deactivation of SIM and the Blockage of the SIM. 
Follow the above steps to block your SIM. All the processes and procedures are the same as deactivating sim card jio. 
How to Reactivate Jio Sim?
There have been instances where many people ask, "What If we found the sim card or stolen device after deactivating jio sim? 
The best option can be by visiting the nearest jio store. There, you need to show your Aadhar card. Then, you will be given a new SIM. The new sim will be activated within a few minutes. 
Meanwhile, read to know - How To Activate Jio SIM For Voice And Data? By clicking here. 
That is all about the 5 best methods to deactivate your JIO SIM. You can follow one of the five methods to deactivate your lost jio sim. To help you deactivate your SIM, everything is mentioned in detail. Follow the instructions and deactivate your Jio SIM efficiently. 
Frequently Asked Questions
Q. How do I deactivate my Jio number?
A. We have provided you with five methods to deactivate your SIM. To know the procedure in detail, read the full article. 
Q. How do I temporarily suspend my Jio SIM?
A. It is easy to Suspend or Resume Jio 4G SIM Services. For more details, you can read this article and follow them. 
Q. Will Jio sim get deactivated?
A. Yes! All you have to do is follow the step-by-step guide mentioned above in the article. It is quite a process that will let you deactivate your SIM.