40 days ago
21 Best Ice Cream Brands in India (2023) : Check Out New Ones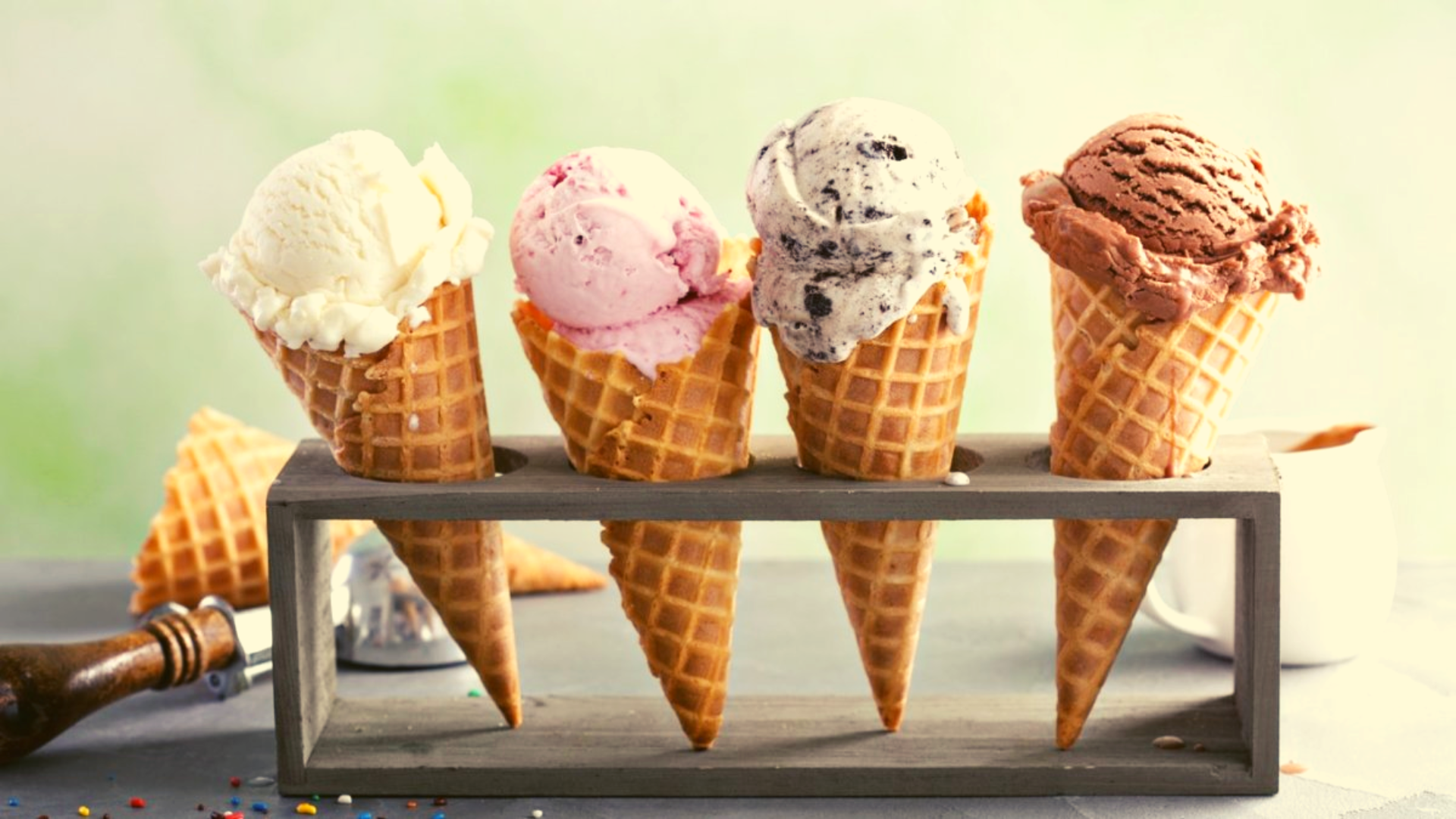 Craving for ice-creams but confused about which is the best ice cream in the market?
In this article, we have provided detailed information about the Best Ice Cream Brands In India that supplies various flavours of ice creams to fulfil your cravings.
Ice Creams are available in the market in various tastes, colour, and texture, which varies from brand to brand. 
Ice creams are always tempting and difficult to resist. But since various ice cream brands are available in the market, you must sometimes be confused about which one to buy. 
So, here, we have shortlisted 21 top ice cream brands in India along with their market share, quality and popularity.
Also, check out the Namkeen Brands In India.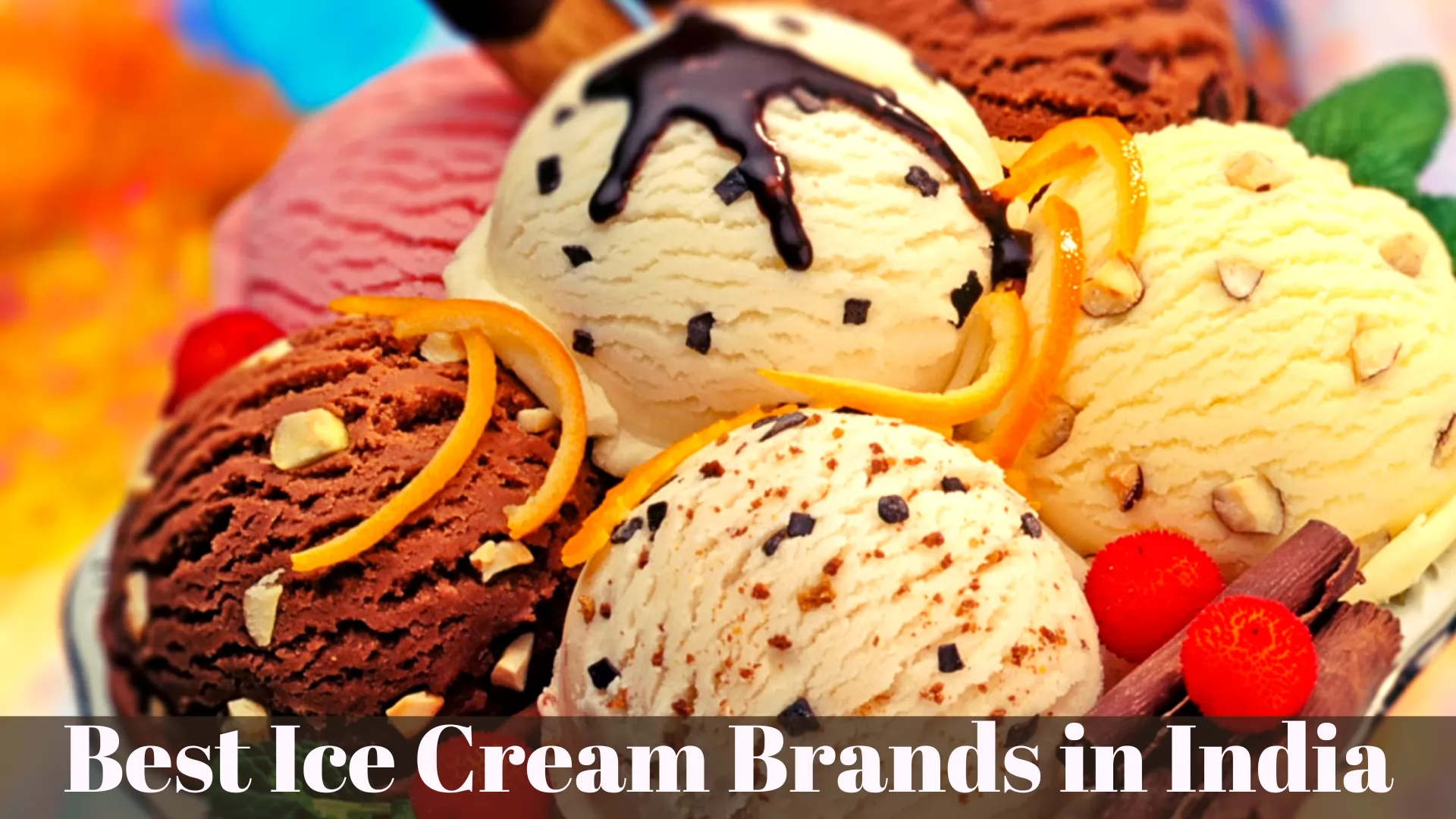 List Of 21 Top Ice Cream Brands in India
You can check out the list of  21 Top Ice Cream Brands in India with their market share below. Also, we have provided the complete information about each brand below the table. So, scroll down to get detailed information.
| | | |
| --- | --- | --- |
| Ice Cream Brands in India | Market Share | Most Selling Flavour  |
| Amul  | 40% | Vanilla |
| Kwality Walls | 34.8% | Dark Divine Chocolate Sensation |
| Vadilal  | 16% | Belgian Chocolate |
| Mother Dairy | 40% | Mango Marvel |
| Creambell  | 15% | Vanilla  |
| Havmor  | - | Choco Brownie |
| Baskin Robbins | - | Chocolate |
| Dinshaw's | - | Butterscotch     |
| Top'N Town  | - | American Nuts Combo |
| Nirula's  | 9% | Zafrani Badam Pista |
| Natural's  | 2.87 | Tender Coconut |
| Giani  | - | Chocolate Love  |
| Arun ice cream | - | Vanilla Family Pack |
| Haagen- Dazs  | 8.4 | Cookies & Cream |
| Hangyo  | - | Creamy Vanilla |
| Keventers | 20% | Triple Chocolate |
| Nestle | - | Shameless Vanilla |
| Lazza | - | Tender Coconut |
| Cold Stone Creamery | - | Blueberry |
| Movenpick | 25% | Chocolate Ice cream |
| Cream and Fudge | - | Vanilla |
Review of Top ice cream brands in India.
Here we are sharing a detailed review of the top ice cream company in india with their flavours, quantity and minimum prices.  Also, Check out the Best Ice Cream Parlour In India.
1. Amul Ice Cream Brand  

Amul Ice cream was founded in 1996. Due to its premium quality, it became India's No.1 Ice cream brand over a short period of time. The first outlet of Amul was inaugurated in 1997, followed by Chennai in 1998 and Kolkata and Delhi in 2002.
Amul has over 1500 ice cream Scooping parlours across India. A person can easily purchase an Amul Outlet Franchise through several processes. The price of an Amul franchise differs depending on the outlet one needs to set up and the products one opts to sell. Amul also offers flavoured yoghurt, buttermilk, shrikhand, flavoured milk, cheese, etc.
Flavours
Butter Scotch 

Choco Crunch

Black Currant

Rajbhog

Roasted Almonds

King Alphonso

Butterscotch

Fruit and Nut

American Nuts

Choco Chips

Tutty Fruity
2. Kwality Wall's Ice Cream Brand 

Kwality Wall's is a multinational frozen desserts brand in India owned by the Indian consumer goods company Hindustan Unilever. Kwality Walls started making ice cream in 1922. Their ice creams are now sold in over 50 countries worldwide. There are more than 300 parlours of Kwality Walls in India that capture consumers with their extensive range of flavours of ice cream and sundaes. Kwality Wall's Frozen Desserts contains Vegetable Oils and NOT hydrogenated vegetable Oil/Vanaspati. 
Flavours
Butter Scotch

Chocolate

Fruit 

Vanilla

Kulfi

Rabdi
3. Vadilal Ice Cream Brand 

Vadilal Industries Ltd is Indian ice cream and flavoured milk manufacturer established in the year 1907. Vadilal sells ice cream in various forms, such as cones, shakes, and lollies. The company also produces bread and other processed foods today.  Vadilal has become one of India's most popular ice cream brands, with a massive network of franchise outlets. Vadilal has over 250 ice cream parlours in India which mostly includes franchisee outlets. This brand has more than 150 flavours and more than 50,000 retail outlets in India. 
Flavours
Party Cake Ice Cream

Orange Ice Cream

Texas Chocolate Ice Cream

Kesar Mohini

Badam Carnival

Tender Coconut

Strawberry

Mitha Paan 

Chikoo
4. Mother Dairy Ice Cream Brand  

Mother Dairy is one of the best-selling ice cream brands in India that was started in the year 1884. Kamath R S from Mangalore established the company, and the first chain was inaugurated in Juhu, Maharashtra. The brand generally focuses on Delhi and nearby parts of the National Capital Region (NCR) and has 300 safal outlets and 1500 milk booths in the market. The Slogan of Mother Dairy, "Happy Food, Happy People", has earned it among India's best ice cream brands.
Flavours
Butterscotch

Kesar Pista

Vanilla

Mango

Chocolate

Strawberry
5. Creambell Ice Cream Brand

The company was established in 2003, collaborating with a great French dairy company (Candia). Creambell has approximately 15% market share in the Indian ice cream industry. It has its presence in 19 states covering the top 40 cities in India. It has 136 different varieties that cater to the tastes of consumers of all age groups. It's important to note that the brand focuses on strict quality standards and international norms to make sure that only the best products reach consumers. 
Flavours
Choco Bar

Blue Lagoon

Double Orange

Cola Lick

Fruito Delighto

Kesar Badam Kulfi

Butter Crunch

Pista Kulfi
6. Havmor Ice Cream Brand

Havmor started in a small candy shop in Karachi, Pakistan and moved to India after the partition of the country. Havmor Ice Cream Brand is an Indian ice cream producer. Havmor was founded in 1944, and its registered office is located in Ahmedabad. 
Havmor has 72,000 retail outlets and over 200 flagship stores across the country. This network reaches 18 states and 5 union territories. The brand claims to use premium ingredients in its ice creams. This product is manifesting to be a hit in the Indian market, and consumers love it.
Flavours
Chocolate

Dry FRuits

Indian Traditional

Fruits

Triple Chocolate

 Aam
7. Baskin Robbins Ice Cream Brand

Baskin Robbins started in 1993 in India through a joint venture with The Graviss Group and was initially America's global brand of ice cream. 
Baskin Robbins opened a manufacturing unit in Pune that was first operated by the company outside North America and is one of India's top ice cream brands. 
Baskin Robbins ice cream brands are available across India, with thousands of ice cream parlours located in all cities and small and developing towns.
Flavours
Magic Layer Bar

Amazin Raisin

Banana

Baseball Nut

Blue Raspberry Sorbet

Caramel Chocolate Crunch

Caramel turtle Truffle

Chocolate Chip Cookie Dough

Citrus Twist Ice

Coconut

Cotton Candy

Gold Medal Ribbon

Green Tea

Hockey Pocky

Jamoca
8. Dinshaw's Ice Cream Brand 

Dinshaw's is India's homegrown ice cream industry. The brand launched around the year 1932.
Dinshaw's began as a hand-crafted ice cream manufacturer and continues to hold a good position.
It ranks among the top premium ice cream brand in 2021. 
They provide you with delicious flavours and the best quality ice creams. The brand produces premium classic flavours, such as Vanilla and Chocolate, for everyone. 
Flavours
Seetafal

Strawberry Ice Cream

French Vanilla

Anjeer Badam

Belgium Chocolate

Hazel Mania

Butterscotch

Tender Coconut
9. Top N Town Ice Cream Brand  

Top N Town started from a Retail Counter and now has close to 28000 retail outlets and 300 distributors across India. The brand has a strong presence in almost eight states of the country and stands as a national brand in the ice cream industry.
The brand has plants in Bhopal and Durg and delivers fresh products to all territories.
Top N Town sells flavours of ice creams and desserts made from the best ingredients. The brand is the most famous name in Central India, along with Dinshaws and Vadilal.
Top N Town manufactures cake, kulfi, shakes, cones, bars, and many more delicious yummy treats. 
Flavours:
Magic Cone

Bliss

Ice- Cream Cakes

Take Home Tubs

Chocolate Bars 

Ice Candies

Kulfi
10. Nirulas Ice Cream Brand 

Nirulas started in 1977 in Connaught Place, Delhi. The ice creams of this brand are very famous, and people love them. You can choose your favourite flavour of ice cream from a range of available ice creams. 
Also, Nirulas is one of the oldest brands you can find in India. 
The brand holds the top position today, and the ice creams are incredibly delicious. 
Nirulas delivers a wide range of ice creams, including ice cream sodas, cakes, and shakes of different flavours. 
Flavours
Hot Chocolate Fudge

Vanilla

Chunky Chocolate

Dark Chocolate And Almonds

Real Rose Petals Peck Velvety 

Fresh Pineapple

Oreo Dunked In Cookie

Exotic Black Currants

Rich Belgium Chocolate

Strawberry
11. Naturals Ice Cream Brand  

The brand was founded by R S Kamath of the Mangalore-based Kamaths Our times Ice Creams Pvt Ltd. The first store opened in Juhu, Mumbai.
Naturals Ice Cream is known for its all-natural ice cream made with fresh ingredients and real milk.
Naturals have expanded to more than 135 stores around India in a combination of franchisee shops and company-owned outlets.
Flavours
Lemon Italy flavour

Vanilla

Strawberry

Blueberry

Mango Alphanso

Pine Apple

Rose flavour

Banana 

Black Currant

Spearmint

Grape
12. Giani's Ice Cream Brand  

Giani was established in 1956 at Fatehpuri, Delhi. The company processes a delectable range of ice creams, kulfis, gelato, and more. 
The brand is 100 per cent vegetarian, and kids, young, and adults love their range of ice creams.
Their ice creams combine the nostalgia of Chandni Chowk's traditional rabri faluda, and mango shakes with the twists of chocolate whiskey ice creams, sundaes, shakes, mousses, frozen yoghurts, gelatos etc.
Flavours
Belgian Chocolate

Blueberry Real Fruit

Coffee Walnut

Butterscotch

Brownie Sundae

Giani Special

Fruit Ice Cream

Jamun Sorbet

Kuchh Nahi Sundae
13. Haagen-Dazs Ice Cream Brand  

Haagen-Dazs is an American brand of ice cream. Haagen-Dazs ice cream is available in its parlours and some selected stores in India.
The brand is trendy among all ice cream lovers in India, and there are several unique flavours that only Haagen-Dazs offers. 
The flavours include chocolate, coffee, summer berries and cream, mango ice cream, strawberry and blueberry ice cream, and much more. 
The Signature and Classic collections of Haagen-Dazs consist of must-have ice creams for every enthusiast.
Flavours
Banana Peanut Butter chip

Black And White Cookie

Bourbon Praline Pecan

Burbon Vanilla Bean Truffle

Cherry Vanilla

Coconut Caramel

Matcha Green Tea

Lemon Sorbet

Peppermint Bark
14. Hangyo Ice Cream Brand  

Hangyo comes under the name of the Indian best ice cream company. 
Hangyo was launched by the subsidiary of Karnataka-based dairy products and Srikrishna Milk & Milk Products.
The brand makes ice creams with high-quality milk and excellent flavours. The brand produces flavours with its name, like Hangyo-Mango, Hangyo-N R Dry Fruits, Hangyo-Vanilla, Hangyo-Kulfi, and more. 
Hangyo ice cream is available in various locations across India, like Karnataka, Tamil Nadu, Goa, Maharashtra, Andhra Pradesh, Telangana, and Kerala.
It is one of the fastest-growing indigenous ice cream brands across the country.
Flavours
Roasted Almond

Raj Bhog

Cookies And Cream

Belgian

Butterscotch

Strawberry

Nutty Pista 

Creamy Vanilla

Pink guava 

Seetaphal

Black Currant
15. Arun Ice Cream Brand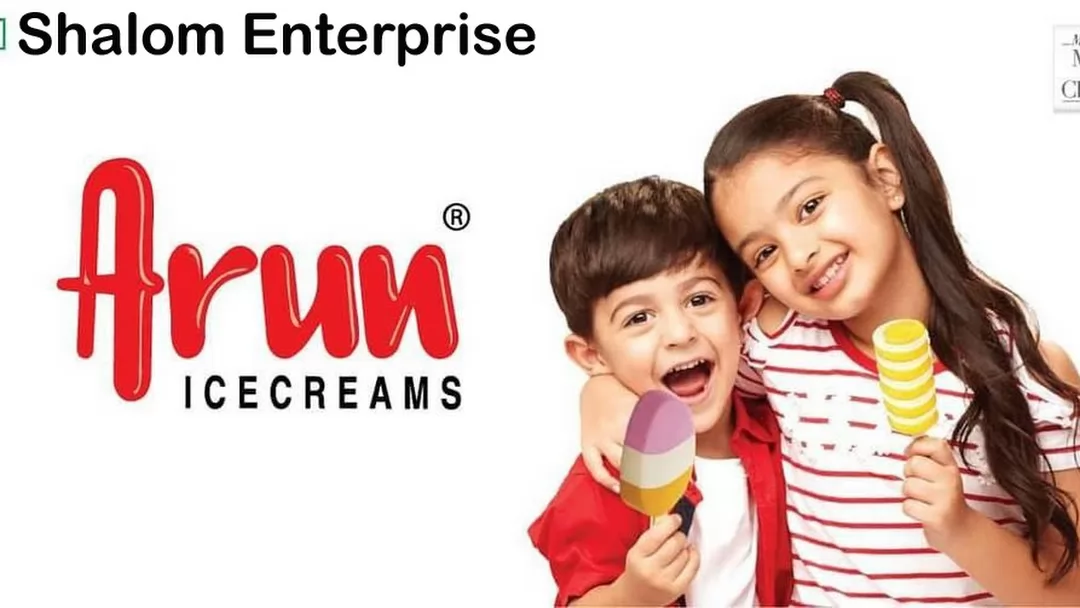 Arul is a famous ice cream brand in South India owned by Hatsun Agro. The company also produces two popular milk brands called Arokya and Gomatha in Tamil Nadu. 
The company has around 1,000 exclusive outlets, out of which 670 outlets are in Tamil Nadu, 148 in Karnataka and the rest in Andhra Pradesh and Kerala.
The brands produce ice cream bars, cones, and mini ice cream bars. You can get a range of crunchy ice creams with a host of delightful flavours, and is available in different sizes to satisfy your craving.
Flavours
Blueberry Lavender

Strawberry And Mango

Black Currant Vanilla

Butterscotch Chocolate

Blueberry Cheese

Red Velvet And Salted Caramel

Raj Bhog

Pista
16. Keventers
Edward Keventers founded Keventers in the 1920s. It is one of the most famous brands for its milkshakes and sundaes. Their sundaes carts have been the talk of the town for many years. In the year 2017, Keventers went international with outlets in Kenya and Dubai, and today it has over 250 outlets all over the globe. Rather than ice cream, Keventers is known for its Milk Shake and Hot Chocolates.
Flavours
Unicorn Candy

Guilty Pleasure

The Dark Conspiracy

Afterdark Fantasy

Retro Romance

Forbidden Forest
17. Nestle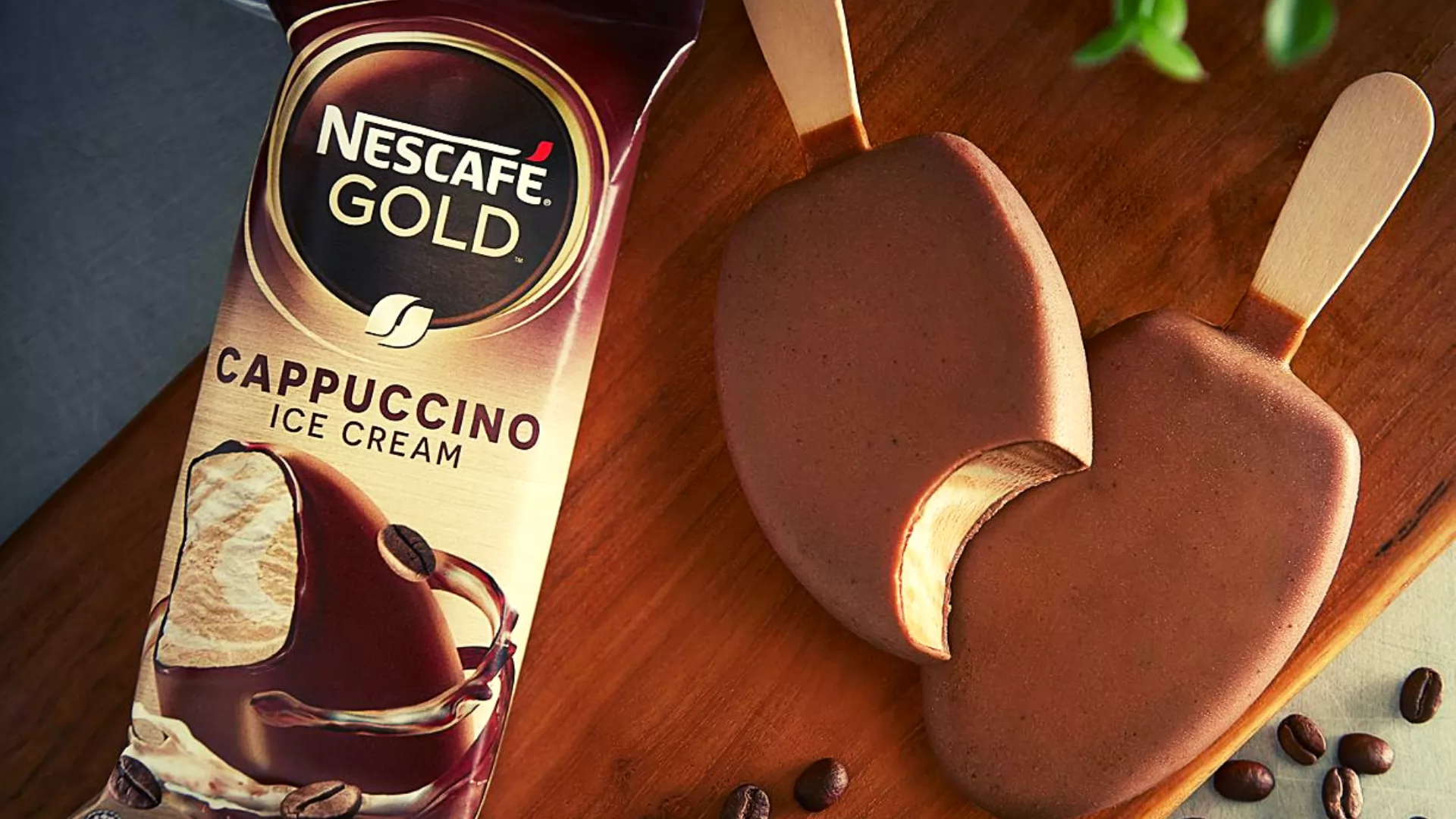 Nestle is the world's largest food and beverage company. Nestle Ice Cream always makes it magic, whether it's a family gathering, a special celebration or a treat for you. From ice cream to dessert bars and everything in between, their frozen treats are made with excellent ingredients and satisfying sweets.
Flavours
PARLOUR Vanilla

PARLOUR French Vanilla

PARLOUR Chocolate & Banana

PARLOUR Butterscotch Sundae

PARLOUR Chocolate. 

PARLOUR Cookies n Cream

PARLOUR Heavenly Hash

PARLOUR Maple Walnut
18. Lazza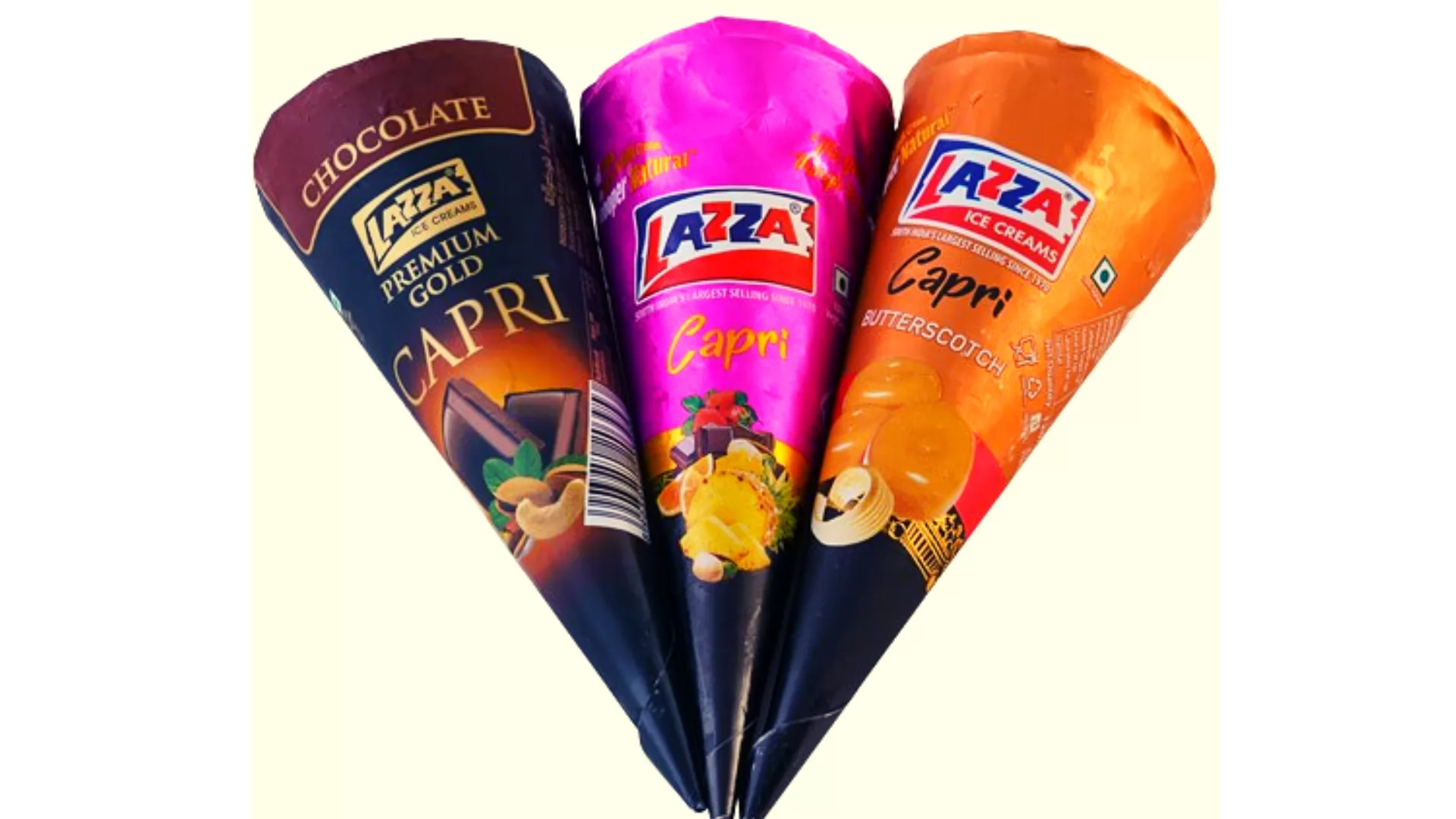 Lazza is India's most well-known frozen yoghurt brand, and its unusual name came from an Arabic word signifying 'all useful things throughout the day to day life.' Lazza's success has been based on its duty to item quality for the frozen treats, best-frozen yoghurt and syrups.
Flavours
Cassata

Sugar Free

Cookies and Cream

Cotton Candy

Italian 

Kulfi

Gudbud

Desert Mist

Cocktail

Tuity Fruity

Walnut

Green Apple
19. Cold Stone Creamery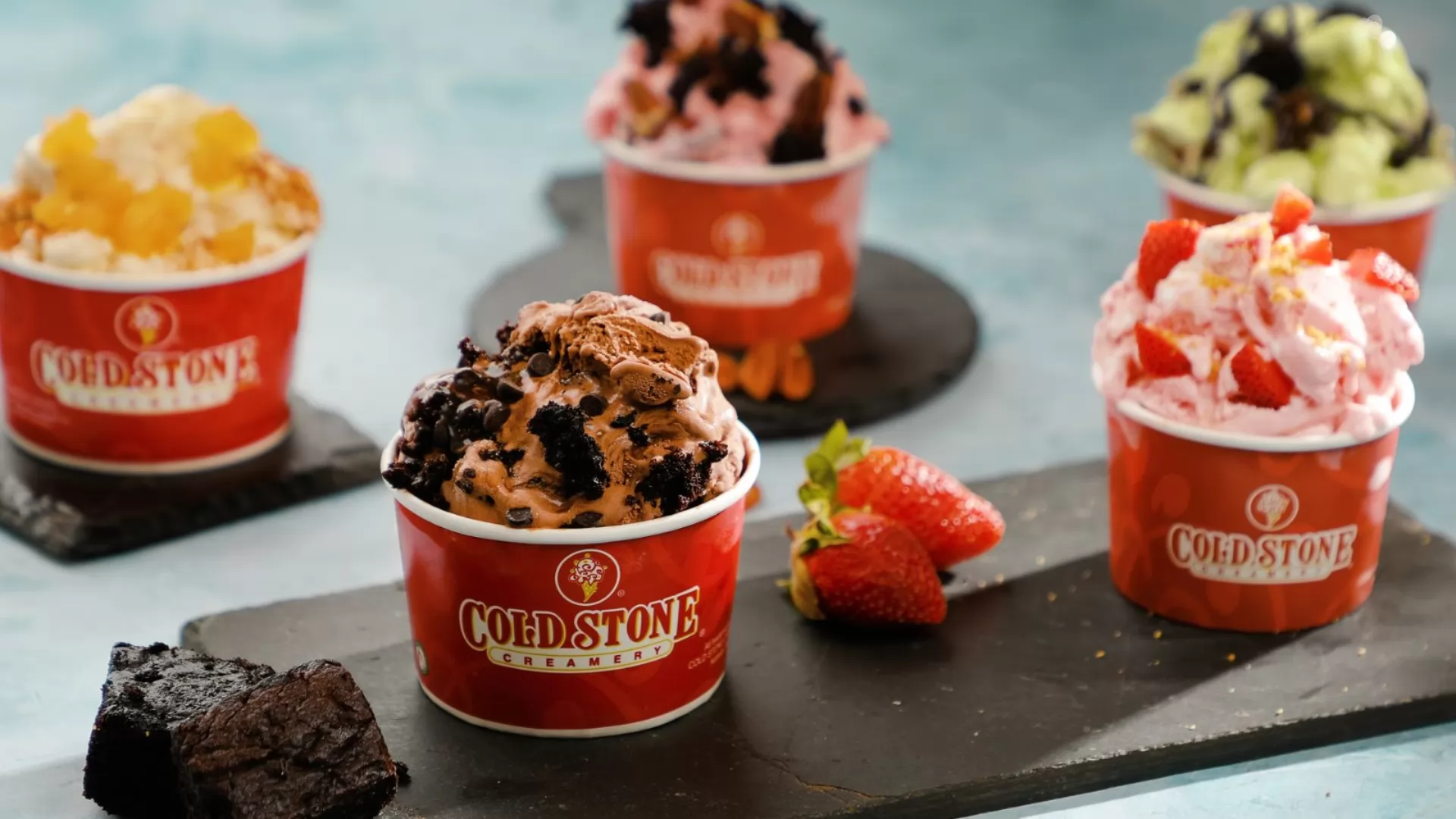 Cold Stone Creamery is a chain of American global frozen yoghurt parlours. This firm is Settled in Scottsdale, Arizona. The organisation is possessed and worked by Kahala Brands. The organisation's prior item is Premium frozen yoghurt. They also have many branches in India.
Flavours
Classic Cookie Dough

Cake Batter

French Vanilla

Chocolate

Sweet Cream

Mint

Cheesecake

Coffee
20. Movenpick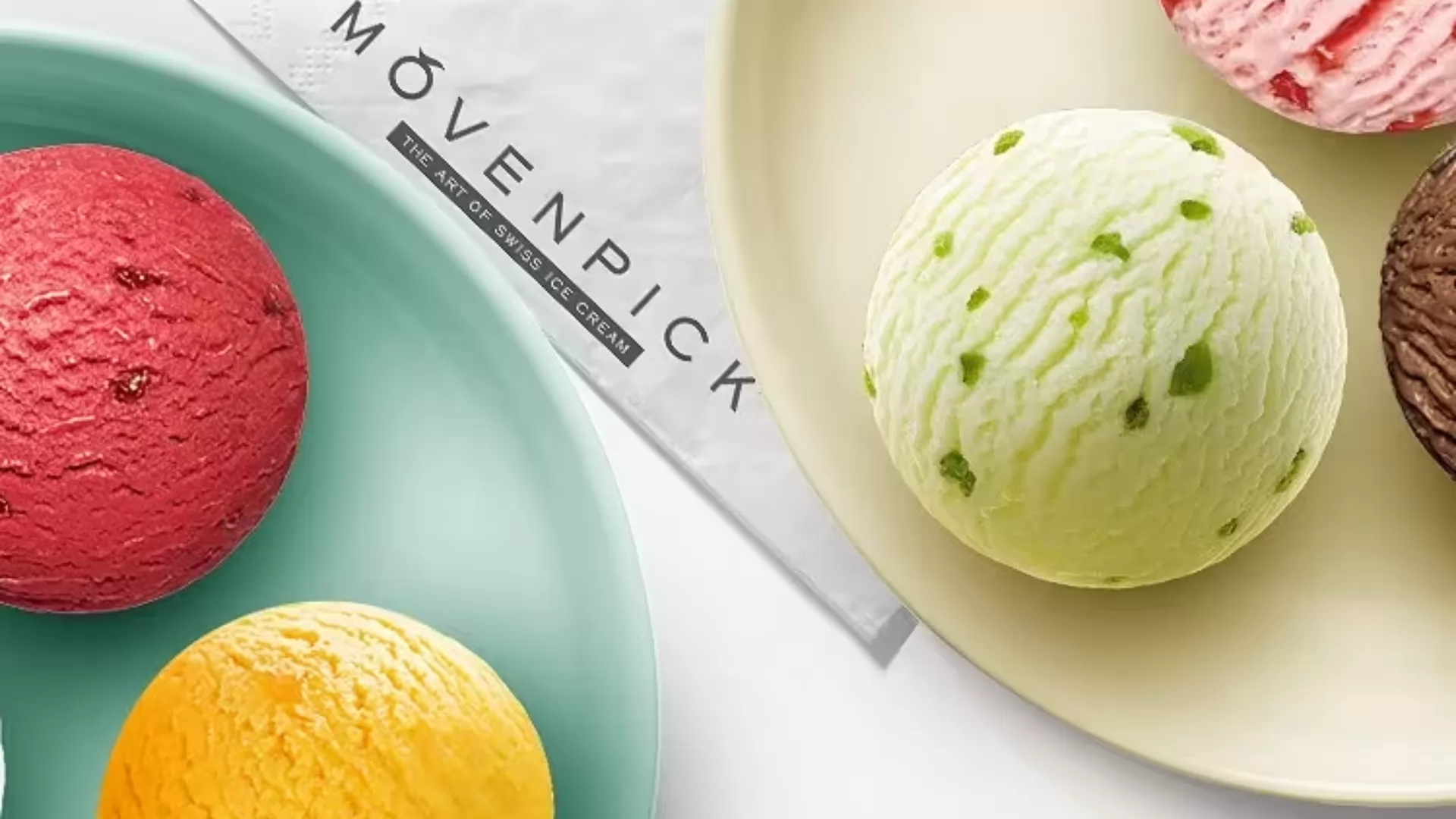 Mövenpick Ice Cream is a Swiss frozen yoghurt brand started by Nestlé. Nowadays, it is an all-new organisation called Froneri, starting around 2016 in a joint venture with Nestle and R&R Ice Cream. Their ice creams are fabulous, and yumm that you must try them.
Flavours
Hazelnut Chocolate Cookie

Salted Caramel Macadamia

Panna Cotta Raspberry

Sensations Cookie Dough

Strawberry

Espresso Croquant

Passion Fruit and Mango

Lemon and Lime Sorbet
21. Cream and Fudge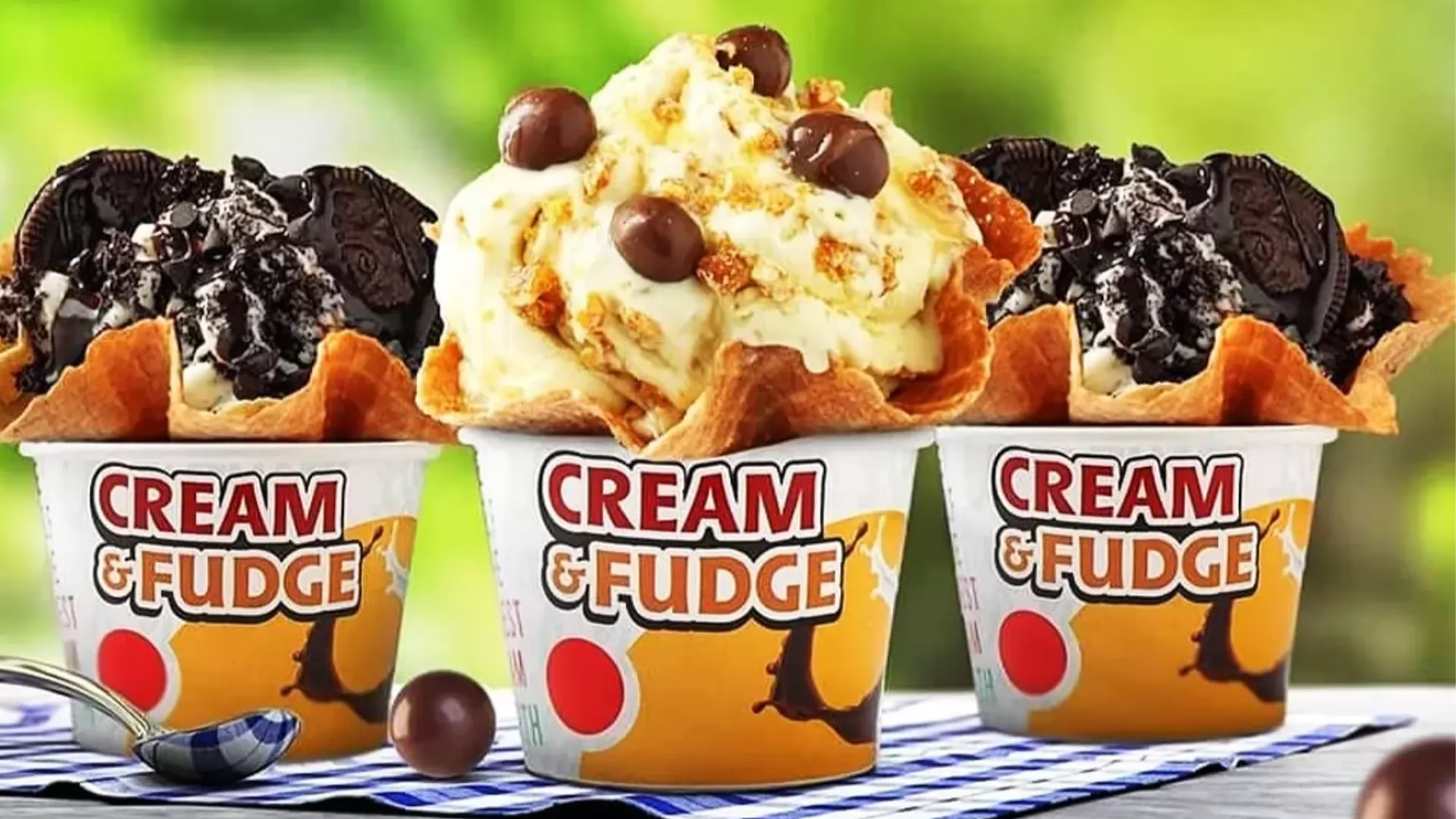 Cream And fudge Ice Creams are Super premium smooth and creamy ice-cream that is made fresh on-site, where customers can opt for their favourite flavours on a frozen marble slab with their selection of additional candies,  fruits, cookies,  nuts, and fudge. Cream & Fudge has a menu of  innovative and proprietary creations set for customers to choose and enjoy as take-away ice cream and a la carte menu.
Flavours
Vanilla

21 Love

Butterscotch Crunch

Jamoca Almond Fudge

Manhattan Mania

Express O' Fudge

Delhi Delight

Gulabo

Cocoa Alchemist
Some Other best selling Ice Cream Brands in India 
Other brands are also available in the market, with well-reputed ice cream manufacturers waiting to enter the country.
Top American brand Cold Stone Creamery already operates parlours in major cities of India, including Mumbai and Bangalore.
Another global brand, Movenpick, owned by Nestle, the world's largest food and beverages manufacturer, also offers speciality ice creams through its parlours in megacities of India.
Vegan Ice Creams  
The vegan movement in India is gaining ground rapidly. With more people shunning food derived from animal sources, ice cream manufacturers in the MSME sector are now making variants with coconut milk, peanut milk, and soymilk.
Vegan ice cream brand is also available in various flavours and compares favourably with milk and yoghurt-based competitors.
| | | |
| --- | --- | --- |
| Vegan Brands | Flavours | Price and Quantity |
| Nomou | Fig & Walnut tub | Rs. 775 for 500 ml |
| WhiteCub | Almond | Rs. 420 for 500 ml |
| Papacream | Sorbet tub | Rs. 450 for 500 ml |
| Vegan Heart | Salted Caramel | Rs. 180 for a double scoop |
| Belo pops | Walnut milk | Rs. 180 to Rs 230 per popsicle. |
Main Challenge to Indian Ice Cream Industry  
The vegan movement in India is gaining ground rapidly. With more people shunning food derived from animal sources, ice cream manufacturers in the MSME sector are now making variants with coconut, peanut, and soy milk. Vegan ice cream is available in myriad flavours and compares favourably with milk and yoghurt-based competitors.
So, this is all about the top ice cream manufacturers in India. The information can be helpful for you to refer to all the best ice cream brand names. Get yourself a yummy ice cream, and do not forget to try all the different flavours available in the Indian market.
Conclusion
I hope this article was enough for you to find your pick of ice cream from the long list of the best ice cream in India. You can find the features of each brand that I found on the internet during my research. Whether you wish to buy one for yourself or to enjoy some quality time with your family, this article will always answer your questions regarding ice cream.
In my opinion, Amul classic vanilla is the best pick for authentic vanilla lovers as it is the perfect balance between sweetness and creaminess.
Please share this article with your friends who want to get educated about ice creams to get the best ice cream for your late-night cravings. Also, leave your valuable feedback in the comment section provided below.
Frequently Asked Questions 
Q. Which is the No. 1 ice cream in India?
Ans. Amul is the most famous ice brand in India. It is managed by the Indian dairy cooperative and the Gujarat Co-operative Milk Marketing Federation Limited.
Q. Which ice cream brand is best in India?
Ans. There are a good few ice cream brands in India, refer to our article in which we have mentioned about 21 best ice cream brands in India.
Q. What is the most costly ice cream in India?
Ans. An ice cream named Black Diamond is said to be the most costly ice cream in India, it costs 60,000 rupees.

Join Telegram Channel & Get Instant Deal Alert

75,062+

participants