52 days ago
13 Best Carpooling Apps in India 2022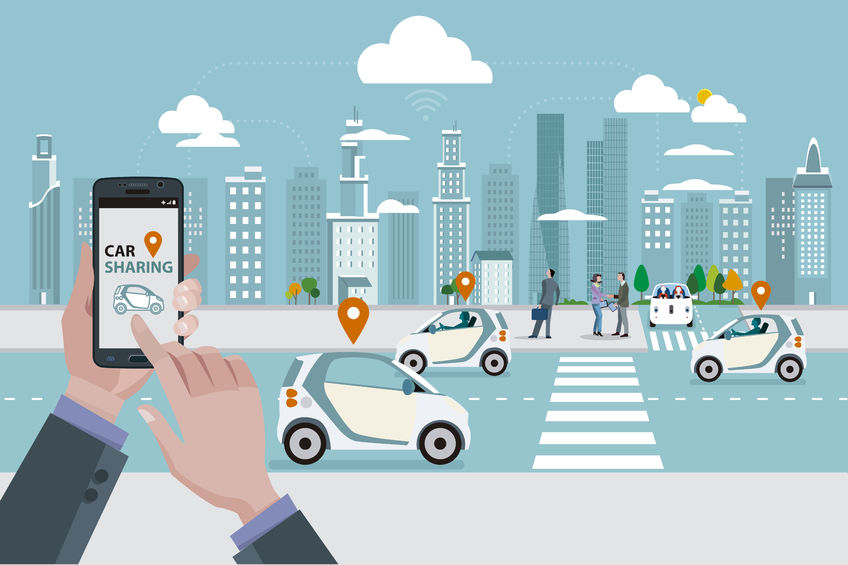 Recently, the trend of carpooling has been introduced and has been on the rise over the last couple of years.
Carpooling is great for lowering the cost of commuting for each member. And this article is just the perfect platform for Best Carpooling Apps In India. 
These apps allow users to reach out to each other and share vehicles to a common destination. Carpool apps are available for various OS platforms.
Carpooling is also a way to improve air pollution levels in your city. With people sharing journeys, the number of vehicles is reduced, reducing the carbon emission and traffic congestion.
Read and get hitched to this article till the end.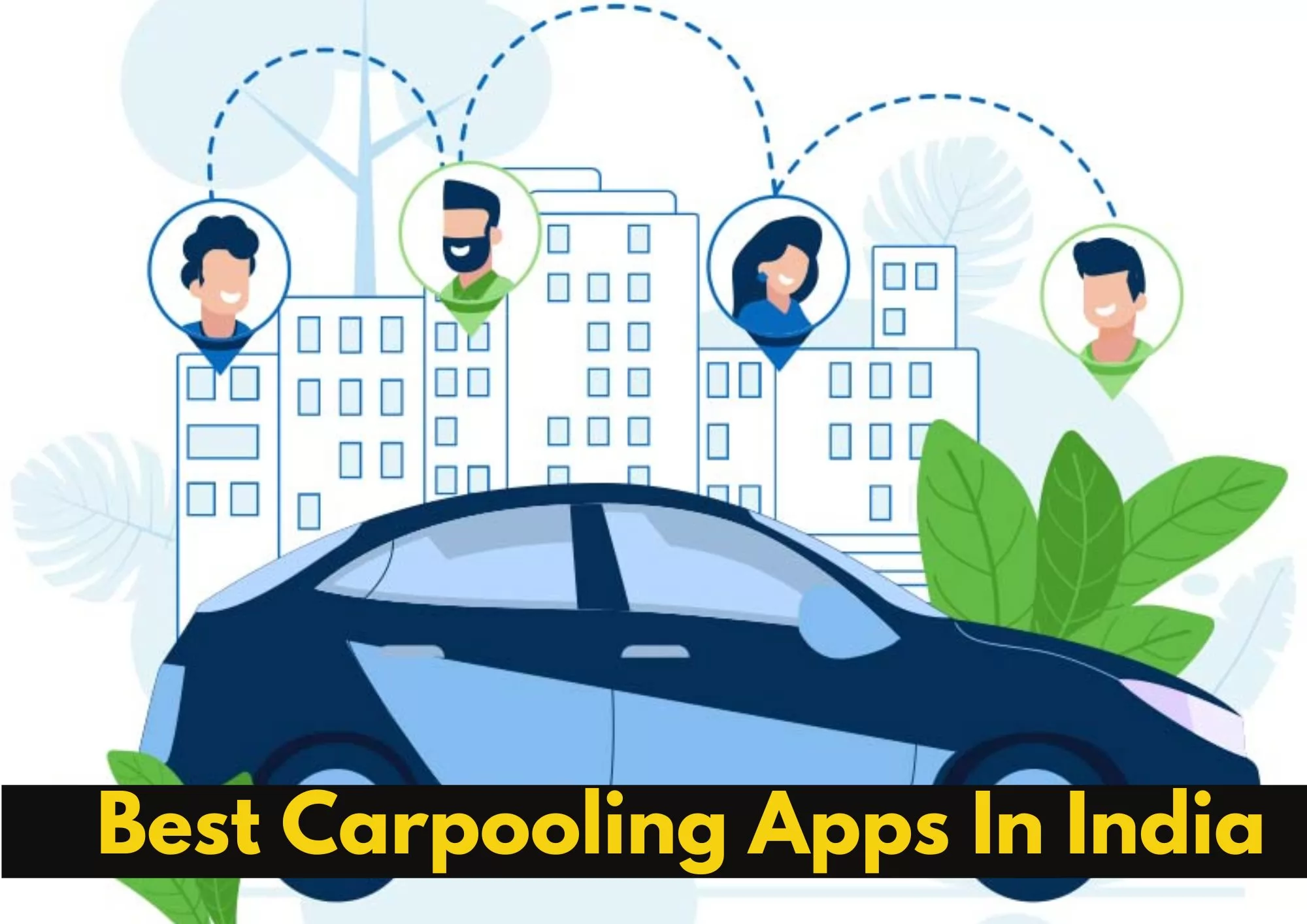 List of the Best Carpooling Apps In India
Here is a list of the 13 Best Carpooling Apps In India.
| | |
| --- | --- |
| Sno.  | App Names |
| 1. | TwoGo |
| 2. | ZIFY |
| 3. | Ryde by Ibibo |
| 4. | BlaBlaCar |
| 5. | UberPool |
| 6. | Ola Share |
| 7. | sRide |
| 8. | Meru Carpool |
| 9. | Ridely |
| 10. | Orahi Carpool |
| 11. | Shuttl |
| 12. | Quick Ride |
| 13. | Wunder Carpool |
Reviews Of Best Carpooling Apps In India
Here I have provided you with all the details of the Best Carpooling Apps in India with their description, so get hitched with this article till the end.
1. TwoGo

This app was launched in 2013 in Mumbai and planning to expand to many different cities. It is a user-pleasant app available on Android and iOS Mobile phones. The user has to download the app and signup to start the service. On posting your ride, the app will find an excellent match of people heading the same way.
This app is convenient and keeps you updated about all the details you need about the driver, co-passenger, route, and price. All these elements make TwoGo one of the trusted carpooling apps in India.
2. ZIFY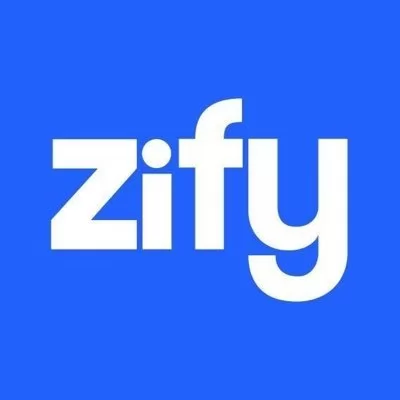 With ZIFY carpooling services, you can carpool to your house and office with your co-workers, friends, and neighbours, which makes your daily commute much more convenient and comfortable. The most helpful thing about this carpool app is that it lets you make the kilometres (that you have travelled) count. Once you complete the expected kilometres at a particular time, you will get excellent compensation. Not just this, Zify riders can save a significant amount and duration. All these features and advantages make this app one of the leading carpooling apps in India.
3.  Ryde by Ibibo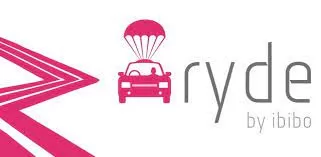 Ibibo Ryde is the most authorised and dependable way to share rides and carpool. With Ryde by Ibibo, you can ride from one city to another. It is no less than a boon for experts travelling from one town to another for work. This user-familiar permits the riders and drivers to go through the profiles of certified members. You can also chitchat with them and track the car or bus in real-time. Also, it allows the driver to form personalised choices for waiting for time, music, luggage size, etc. Once the end of the ride, both riders and drivers can share their feedback.
4. BlaBlaCar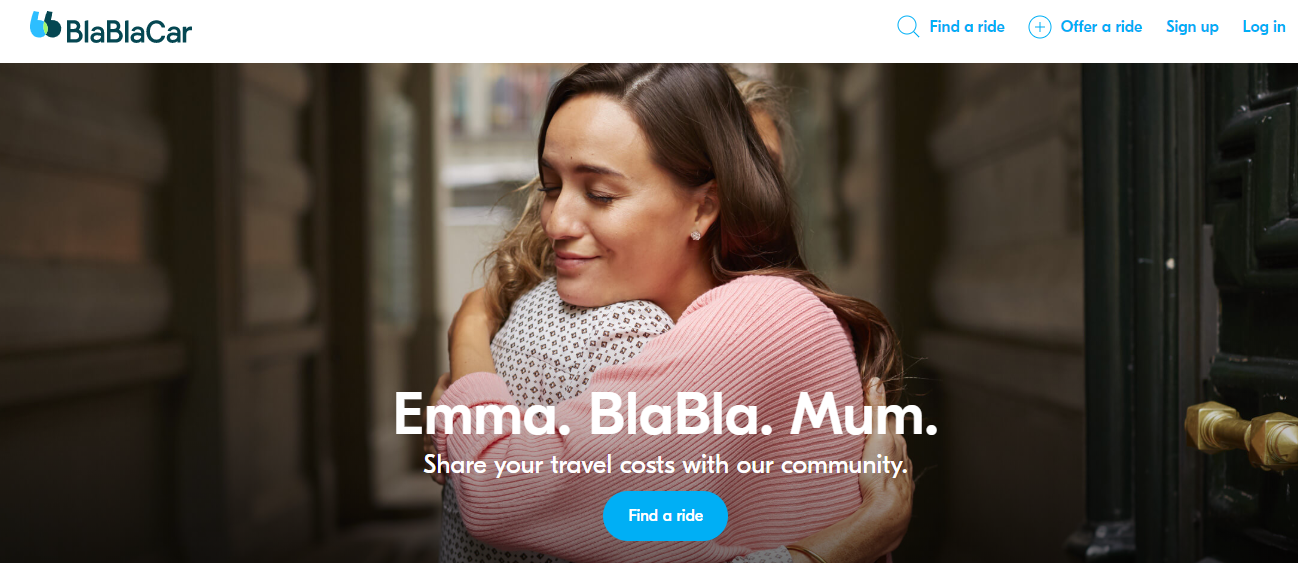 This French startup is a global leader for carpooling. The leading carpooling service is accessed by people from 22 countries. BlaBlaCar makes city-to-city travel affordable.
Car owners are able to offer seats to co-travellers to travel together and share fuel costs.
The carpooling service of BlaBlaCar is available for desktop and mobile users. You can find a ride after providing details about your journey route and timing.
The available rides will be shown to you from which you can pick one. There is also an option to create an alert for a ride. The ride-sharing platform has introduced government ID verification of members for safety.
5. UberPool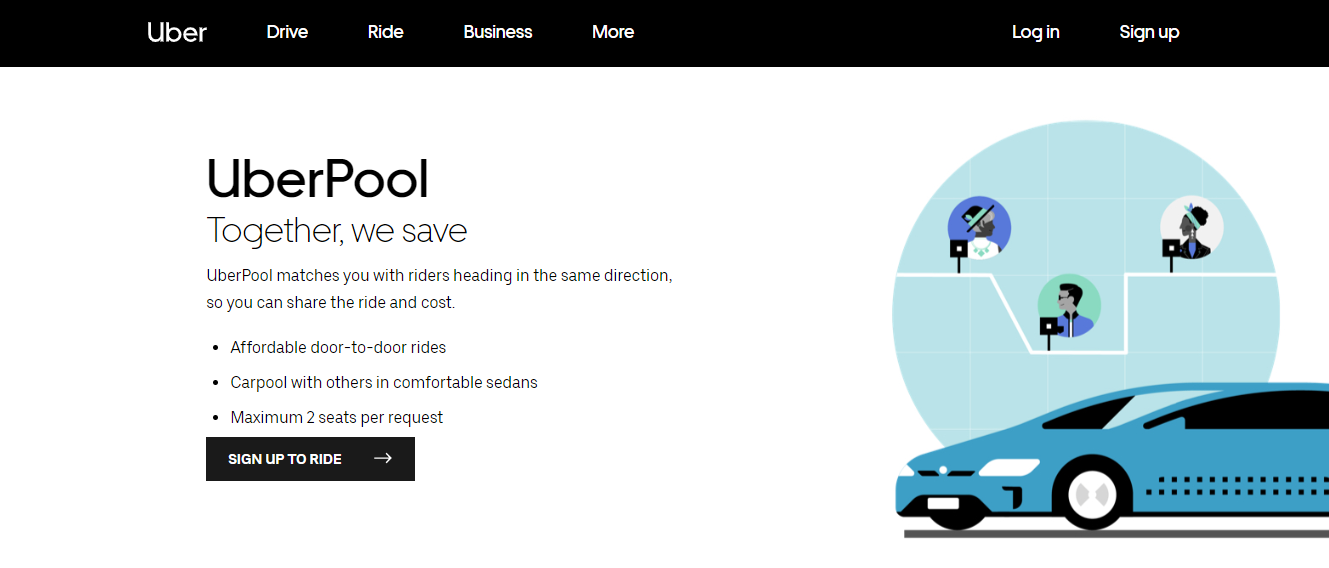 UberPool allows commuters to share a ride and split the cost while travelling on a similar route. The ride-sharing app is available in Bangalore, Delhi/NCR, Hyderabad, Kolkata, Mumbai, Chennai, Pune, Kochi, and Guwahati.
UberPool is available between 7 AM - 10 PM, 7 days a week.
6. Ola Share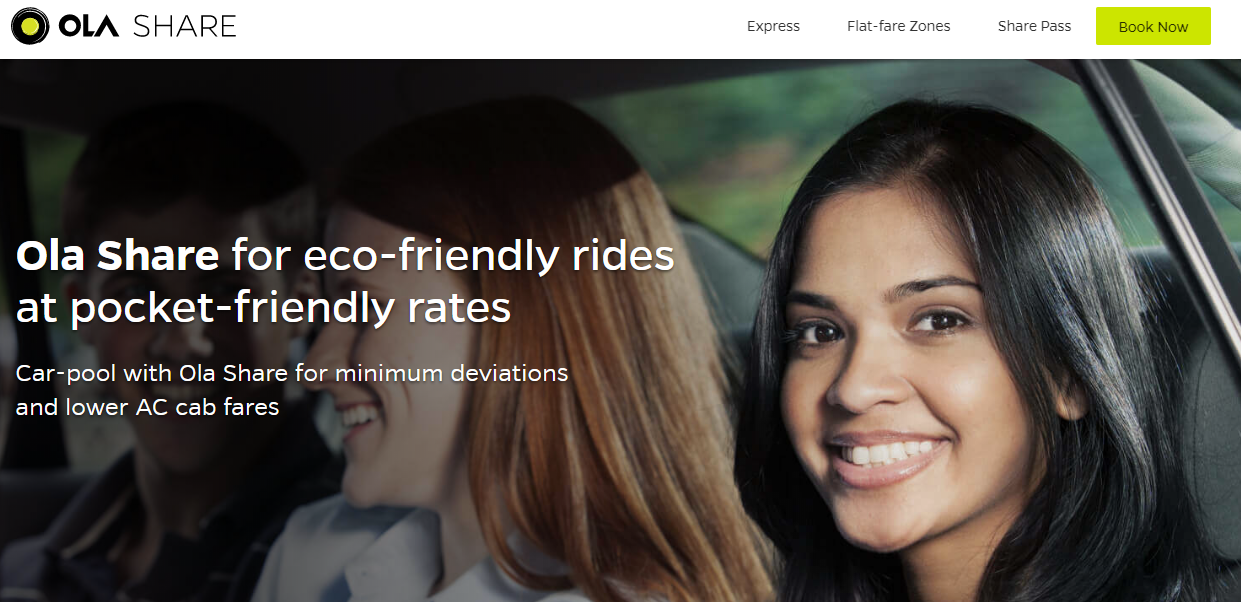 Ola Share is available in Delhi/NCR, Bengaluru, Chennai, Mumbai, Pune, Hyderabad, and Kolkota.
OLA share has a waiting time of 2 minutes. If a passenger fails to board the ride is cancelled. Ola share rides are priced at a pre-decided amount.
OLA Share allows consumers to pick a group of choice who are headed in the same direction.
7. sRide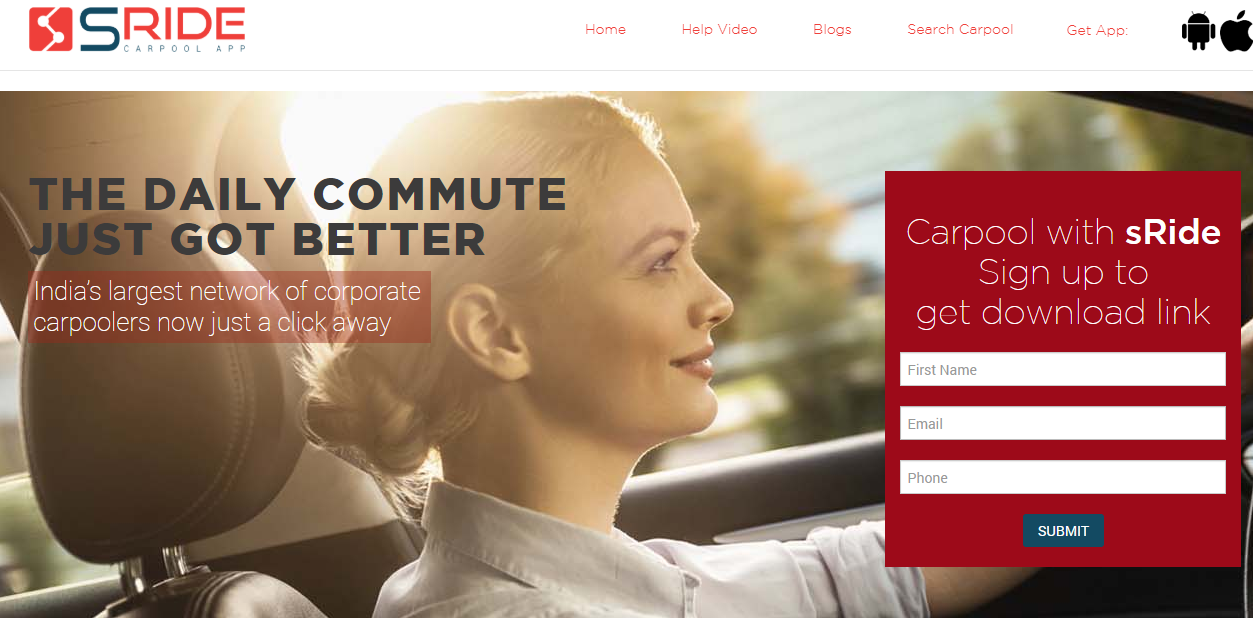 sRide is an app for Carpool, Bikepool, and Rideshare. The instant carpooling app has a presence in 10 cities - Delhi, Gurgaon, Noida, Faridabad, Ghaziabad), Bangalore/Bengaluru, Coimbatore, Bhubaneswar & Kochi.
The app is available on both Android and iOS.
The integrated payment mode makes it hassle-free for passengers and the drivers. sRide allows users to offer their car to riders or get a car for their journey.
8. Meru Carpool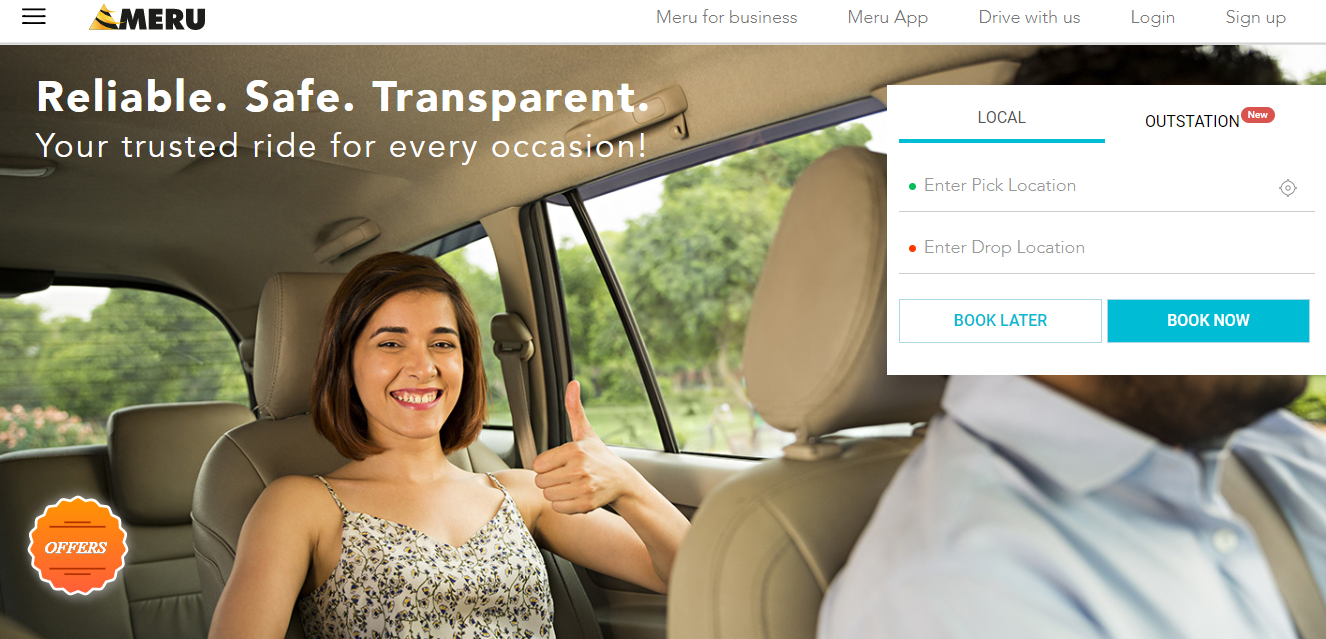 Meru Carpool offers cashless payments for its customers. The company has partnered with mobile wallet Paytm to offer a seamless payment option. Meru offers multiple transport options to customers depending on their needs. The carpooling facility is integrated into the Meru Cabs mobile app.
Register using mobile number, email address and facebook profile.
Once registered, the user can look up other registered members travelling on the same route. The payment is done through Paytm wallet in Meru Cabs app.
9. Ridely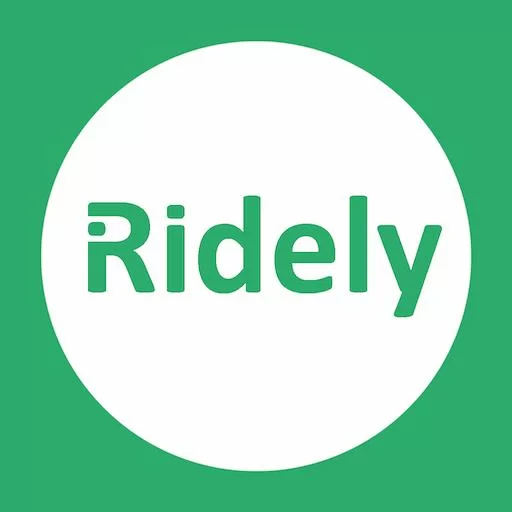 The peer to peer ride sharing platform helps people find others travelling in the same direction. Ridely launched for public use in January 2016.
Ridely has its presence in Delhi-NCR, Hyderabad, Pune, Bangalore, Mumbai. Take or give a ride on personal bike, car or SUV.
10. Orahi Carpool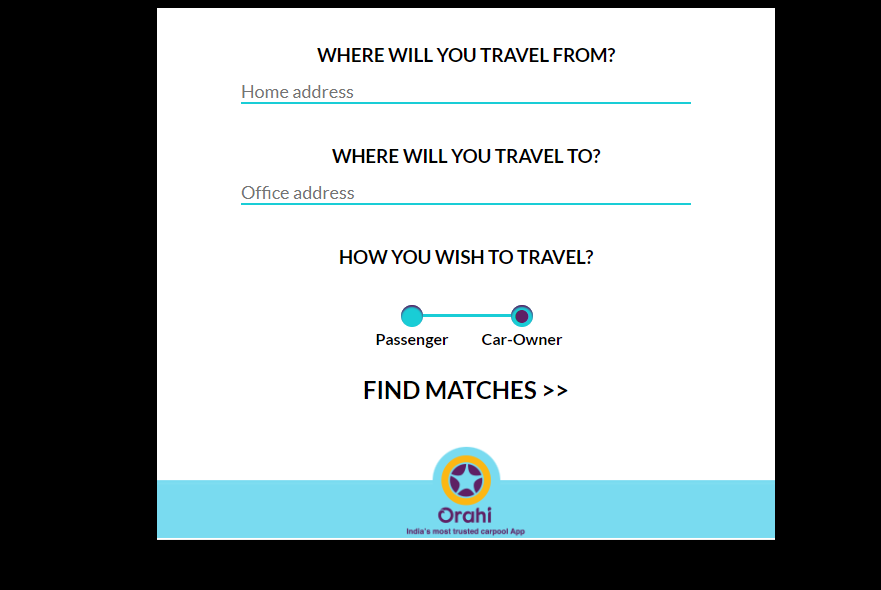 The carpooling app allows customers to create multiple groups. There is also a built-in group chat feature for seamless communication. A huge chunk of users on the platform are corporate clients registered using their corporate IDs.
The demand for carpooling touched peak during the Delhi government's odd-even rule. Car owners and passengers can send and respond to requests on the app.
Orahi - Z is a special carpool for female riders. It also allows women travellers to create a women-only group for carpooling. There is also an option to plan a ride with your colleague or neighbour.
11. Shuttl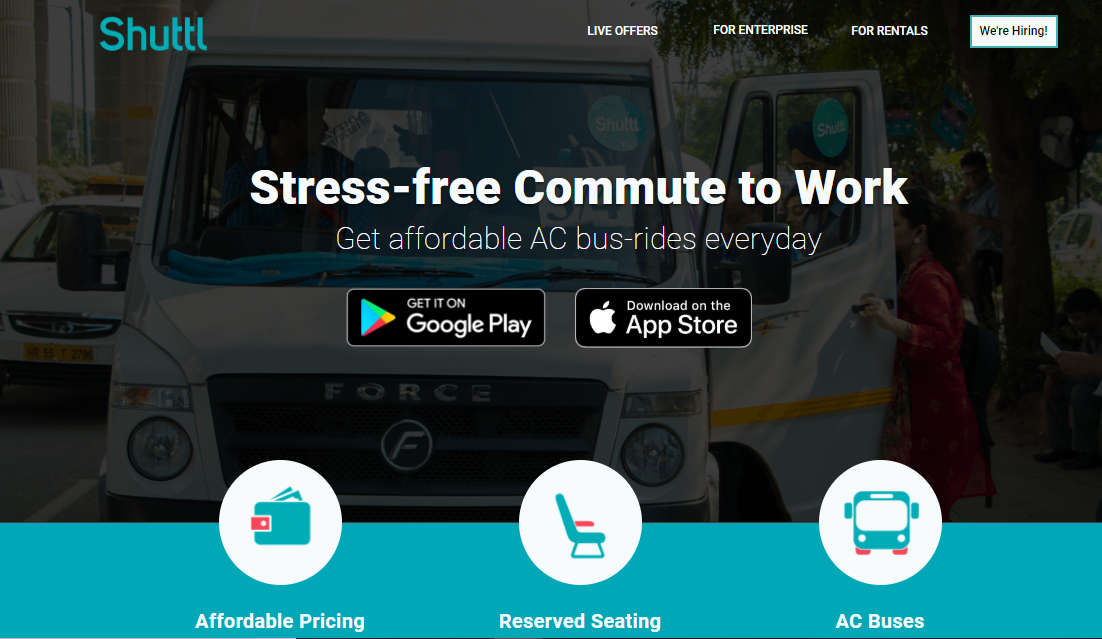 Shuttl is different from traditional carpooling services. It provides solutions related to the daily commute of office goers.
Shuttl is available in  Delhi-NCR region, Mumbai, Kolkata, and Pune and expanding to other cities soon. The app is basically for office commute to provide cost efficiency along with safety from pollution and temperature.
Discover the best routes in and around your city. The state of the art transportation service provides comfortable AC bus rides with amazing features.
To book a Shuttl, you need to enter home and office address to find a lost of suitable rides for your commute.  
12. Quick Ride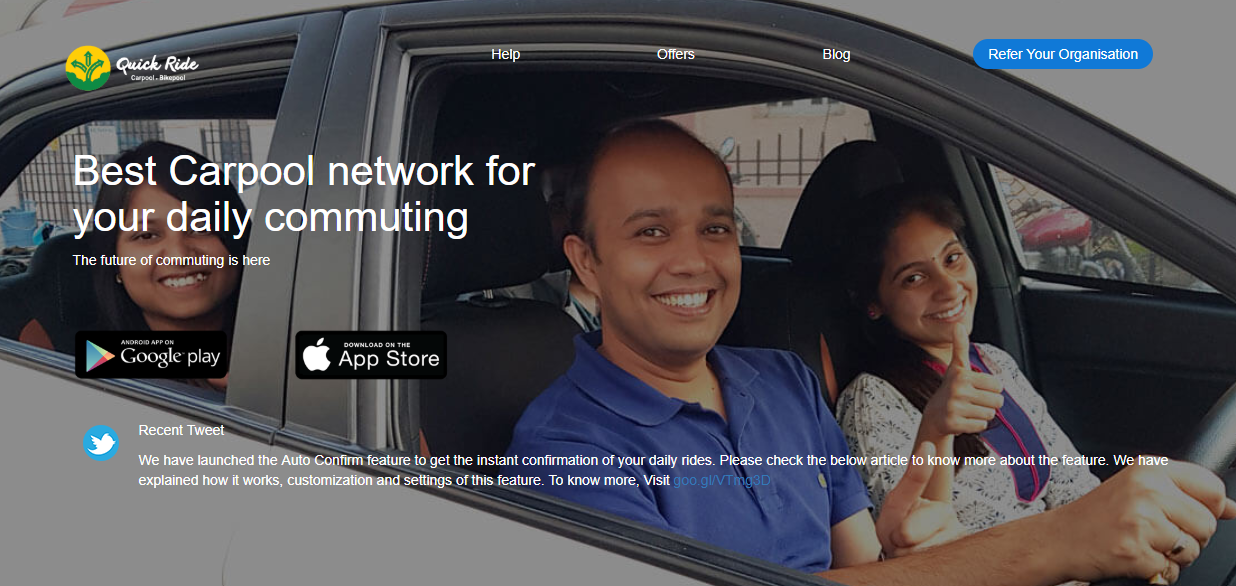 The car and bike pooling platform connects commuters travelling in the same direction. Quick Ride is operational in Bengaluru, Chennai, Hyderabad, Pune and Kochi.
The carpooling services commensurat with the traffic and environment conditions in major cities.
To make the system secure the apps works in 4 layers. Users can also restrict the visibility of ride offerings for a select group.
13. Wunder Carpool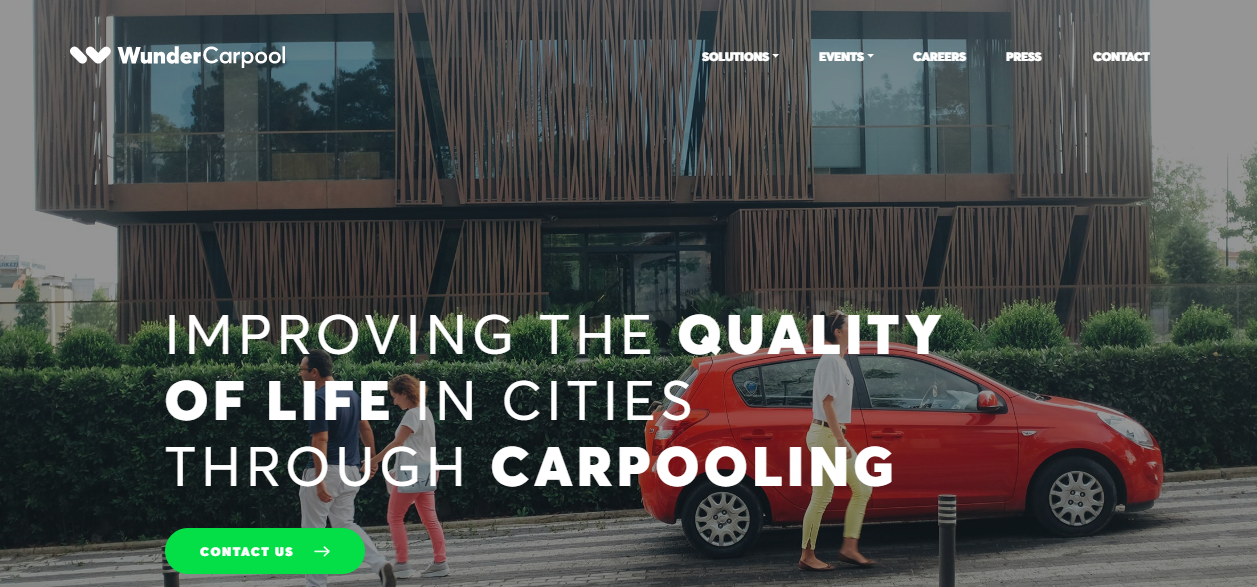 Wunder helps users build a community with trusted carpoolers to share trips.
The car owners willing to offer rides can register on the app. The willing passengers send requests to carpooling drivers. The app is operational in New Delhi, Bengaluru, and Mumbai.
The built-in chat and notifications add to a seamless carpooling experience.
Conclusion
I hope this article provides you with enough information about Best Carpooling Apps in India. I have tried to give you the basic and best list of Carpooling apps. Now, don't get confused about which app to choose because I have provided you best of the best apps. Do read and share this article with your friends and family; if they are also used to working very late and night without any facilities, how to come back home safely. Carpooling is the perfect solution for this. 
Frequently Asked Questions
Q. What is a Carpooling App?
A. The carpooling apps allow people going in the same direction to share rides for efficiency. It also saves the problems of congestion and pollution.
Q. How can I carpool in India?
A. Top Carpooling apps in India are:
BlaBlaCar

Uber

Ola

Wunder Carpool
Q. Is there any other app like BlaBlaCar?
A. Getaround, Turo, and Uber are the major and domain-authorized apps of BlaBlaCar.
Q. Which app is best for auto ride?
A. As per my search details, Ola- Rideshare & Car Rentals is the best app for an auto ride. It takes minimum time to reach at your location.

Join Telegram Channel & Get Instant Deal Alert

75,062+

participants