64 days ago
Paytm Postpaid Eligibility, Activation, Credit Limit & More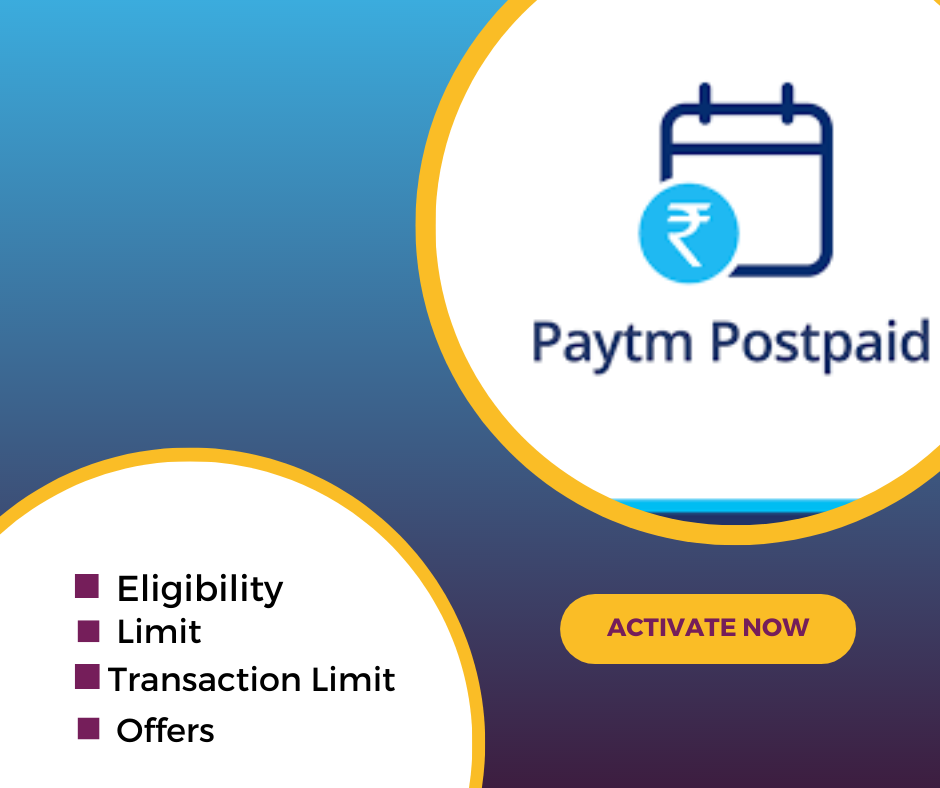 Are you using Paytm Postpaid? It is a useful service of Paytm that comes with many benefits. 
Activating Paytm Postpaid is very simple. You can check eligibility and credit limit in simple steps. 
And if you are already using this service and want to increase your credit limit, even that is very easy. You need to follow simple steps to increase your limit. 
All the details related to Paytm Postpaid are just a few scrolls away. So keep reading to know Paytm postpaid eligibility, credit limit and Offers. 

What Is Paytm Postpaid?
Paytm Postpaid is offered in partnership with two NBFCs. Users get instant credit for various payments. Paytm has increased the credit limit to up to Rs. 100,000. The feature is applicable for payment on large items as well, such as furniture, consumer electronics, etc.
The bill payment for Paytm Postpaid can be made by the 7th of the month. Users can also analyze their monthly spending to plan expenses. 
Paytm has introduced postpaid in three variants - Lite, Delite, and Elite. 
It is based on the assessment done by the NBFC partner. Postpaid Lite comes with a limit of Rs. 20,000. The Delite and Elite offer a credit limit from Rs. 20,000 to Rs. 10,000. A small convenience fee is applicable on Postpaid lite; there are no convenience charges for Delite and Elite users. 
Get a Credit limit upto Rs. 1,00,000.

Enjoy seamless single-click payments on 5 Lac+ shops and websites.

Convenience charges from 0% - 3% will be applied to net monthly spending.

Pay your Paytm Postpaid bill by UPI, Debit card, Net banking, and EMI. 
Paytm Postpaid Offer 2022
Activate your Paytm Postpaid account and get up to 10000 Paytm First Points. The user has to activate Paytm Postpaid and complete 5 transactions. Each transaction should be of Rs. 198 or more. Paytm Postpaid offer is applicable on mobile recharge, landline, broadband, gas, electricity, and water bill payments. 
One transaction per day will be eligible for this offer. On your first transaction, get flat Rs. 5000 points, Then earn 1250 points on the next 4 transactions. You will receive the reward within 24 hours of the transaction. To activate Paytm Postpaid, the user has to provide details such as D.O.B  and PAN number. These details decide the credit limit of users. 

Get Free Paytm First Lite Membership With Paytm Postpaid
Activate your Paytm Postpaid account and complete the first transaction to unlock your First lite membership. This membership includes many benefits such as Zee5 premium, Hungama Play, Gaana, Licious and India Today.
The benefit also includes discounts on Myntra, Dominos, KFC, TataCLiQ, & Pharmeasy. To avail of this offer, the minimum transaction using Paytm Postpaid should be Rs. 100. Select users are eligible for this offer. Paytm Postpaid activation depends on user eligibility. 
Get Paytm First Lite membership free

Minimum transaction amount Rs. 100

Discounts on Myntra, Dominos, KFC, Pharmeasy, TataCLiQ
Eligibility To Activate Paytm Postpaid Services
Paytm has introduced three variants of its postpaid service. Based on user assessment, they will be placed in the Lite, Delite, and Elite category. 
Postpaid Lite
Postpaid Lite Comes with limits of Up to Rs.20 000. The convenience charges applicable for Postpaid Lite is 0 to 4%. Customers with little or NO credit score are eligible for Postpaid Lite. You can apply Paytm Postpaid Lite Even if you have no credit score. Usually, a customer with CIBIL Score from 0-700 is eligible for Paytm Postpaid Lite.
Postpaid Delite and Elite
The credit limit for Delite and Elite users varies from Rs. 20000 to 1 00,000. Also, no charges apply to the monthly spending. 
To be eligible for Paytm Postpaid Delite and Elite, the CIBIL score should be from 700 to 900.
| | | |
| --- | --- | --- |
| Edition | Postpaid Lite | Postpaid Delite and Elite |
| Credit Limit | Rs. 20000/- | Rs. 2000 to 1,00,000/- |
| CIBIL Score | 0-700 | 700-900 |
| Convenience Charges | 0-4% | 0% |
| Payment Due Date | 7th of every month | 7th of every month |
How to Increase Paytm Postpaid Limit?
Are you not satisfied with your Paytm postpaid credit limit? Do you know that it is possible to increase the Paytm Postpaid limit?
Paytm Postpaid works similar to a credit card. Use your Postpaid wallet more often, and remember to pay the bill at the right time. 
Yes, it is that simple. You can use Paytm postpaid for various transactions such as recharge, bill payment, utility payment etc. 
The more often you use this payment instrument, the more the chances that your limit will be increased. So it is very simple to increase the limit of yourPaytm Postpaid account. 
Benefits Of Paytm Credit Over Credit Cards
No Document is required

You will get better Rewards.

Exclusive offers for Paytm Postpaid users on movies, bill payments, and more
Requirements To Open Paytm Postpaid
Paytm Account, which is Aadhar verified.

Bank account linked with same Paytm Number.
How To Activate Postpaid Service In Paytm Account
Log in to your Paytm app.

Type 'Paytm Postpaid' in the search icon on your home screen.

Click on the Paytm Postpaid icon. 

You will be asked to check your credit score. 

Click to proceed.

Confirm your name, contact details, PAN, and date of birth to check your credit score.

Verify with an OTP.

After completing the KYC, your service will be activated instantly or you will be put on the waiting list.
Hey! Are you aware of this amazing offer of FreeKaaMaal. You will Get Rs. 50 on sign up. So click on the button below to signup and earn. After sign up shop via FreeKaaMaal to earn cashback at top stores. And withdraw your earnings to paytm or bank account. To know how to redeem your earnings click here 
Paytm Postpaid Features
Billing Statements- Customers will get the billing statements every month. The account statement will be available on Paytm, and the same Billing statement will be sent by email to the customer(if you have updated your email on Paytm). If in case there is zero transaction for one month and there is no outstanding balance, in that case, the statement might not be generated.

Due Amount Charges- Once the customer gets the billing statement, he has to pay the outstanding amount within the due date. Otherwise, the default interest rate will be applied to the total outstanding amount.

Transaction Limit:-The transaction limit will be communicated to you at the time of sanctioning the later pay facility of Paytm Powered by Icici bank. You will also be able to check the transaction limit on your account statement as well, it will be indicated there as well.
How to Check The Available Transaction limit?
You can check your available transaction limit by deducting the utilized limit from the given transaction limit.
Available Transaction Limit= Total Transaction Limit- Utilized Transaction Limit
Paytm Postpaid EMI
Paytm has launched an EMI service for its Postpaid users. Now, you can convert the outstanding amounts into easy EMI. The EMI charge applicable is up to 2% + GST.
Users can pay the EMI using UPI, Debit Card, or Net Banking. The option to convert the Paytm Postpaid bill into EMI will be available for the first 7 days. 
 
Why You Need Paytm Postpaid Credit Feature
 You will get instant credit to your account.

You will save extra by using Paytm coupons and offers.

Better rewards than normal credit cards.

Better Online Shopping experience.

Fast payment method.
What if you forget to pay your Paytm postpaid bill?
Paytm will remind you on the 1st of every month, asking you to pay the bill back. Somehow, if you miss the deadline, you will not be able to transact on Paytm using Paytm postpaid. But you can still pay the bill amount back to activate your account again. But you have to pay for late payment fees that will be included in the next bill cycle. The late fee may go up to Rs.600 if the due amount is more than Rs.5,000.
Paytm Postpaid Late Fee
If you fail to pay the amount by the due date, a late fee will be levied on the amount. The late fee can go up to Rs.600. Look at the table given below, which showcases the due amount along with the late fee amount.
| | |
| --- | --- |
| Due amount | Late fee/month in Rupee |
| Up to Rs. 100 | 0 |
| Rs. 101 to 250 | 10 |
| 251 to 500 | 25 |
| 501 to 1000 | 50 |
| 1001 to 2000 | 100 |
| 2001 to 5000 | 250 |
| More than 5000 | 500 |
Is Paytm postpaid safe to use?
Absolutely yes, your Paytm Postpaid account will be linked with your Paytm account. You would verify every transaction with a 4-digit passcode that you would have set during the application. There are two layers of security for every transaction you do using Paytm postpaid. Moreover, below given are steps to set a passcode on your Paytm Postpaid:
Login to the Paytm app

Go to security and settings under the profile

Click on the set passcode/ change passcode icon

Set your passcode
How does the user's credit limit get decided?
Well, the user's credit limit gets decided by their transaction history on Paytm. The credit card limit is directly based on your usage of Paytm Postpaid. If you want to increase your Paytm Postpaid limit, then there is only one way to do so, i.e. shop more on Paytm. Thus, the more you shop on Paytm, the easier it will be to increase the Paytm postpaid limit.
Paytm Postpaid Customer Care
For bank, wallets & payment queries, you need to call 0120-4456-456. The helpline is available 24*7. You can also get solutions to your queries via chat on the Paytm app. 
Conclusion
Paytm Postpaid is an initiative taken by Paytm. Once the account is activated, you can get a credit limit of up to Rs. 1,00,000. You can use the Paytm postpaid for mobile & DTH recharges, travel bookings, movie tickets, and online shopping.
Frequently Asked Questions
How can I use Paytm postpaid?
Open the Paytm app to check eligibility for Paytm Postpaid. Complete the sign-up process to get up to Rs. 1,00,000 credit limit. You can use Paytm Postpaid for recharge/bill payment, travel bookings, shopping (Paytm Mall), and Scan and paying at over 5 lac shops.
Is Paytm postpaid working now?
Yes, Paytm is back with its postpaid service. You can check eligibility for Paytm Postpaid using the app. 
What is the Paytm postpaid?
Paytm Postpaid gives users the option of buying today and paying the bill next month. This features benefits users who prefer digital payment. Depending on the credit score, users can get a credit limit of up to Rs. 1,00,000. 

Join Telegram Channel & Get Instant Deal Alert

75,062+

participants