626 days ago
Check Out What's New with 'My Cashback Summary' at FreeKaaMaal.com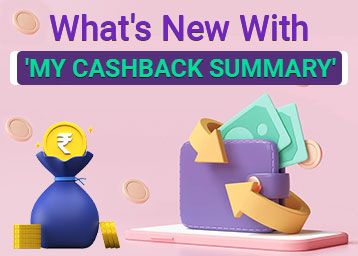 'My Cashback Summary' of FreeKaaMaal.com has been revised to offer you the best experience ever. The experience can not be at its potential without explaining what's new to see in the Cashback Summary. So, let us not waste more time and dive right into the upgrades made on the said page.
Let us talk about the features placed on this strip mentioned below:
Add Profile Picture
Initially, you could not change your profile picture once you uploaded it, but now you can. After all, who likes their photographs from a few years ago?
Simply click on the '+' button on your profile picture and upload whatever picture you wish to show your FKM family.
Also, you can change this picture as many times as you would like to.
NOTE: Do you see a gold ring around your profile picture? No? Then you must not be a FreeKaaMaal Gold User yet.

Check this given link out to know what is a Gold User, How and Why you should become one.
Settings
The Setting icon takes you to the page where you can change your details on your own.
YES! Now there is no need to come to us whenever you want to switch any of your details. All that you need to do is visit this page by clicking on the icon shown above and make the desired changes.
You can change your Phone Number, Email ID, and update your password using this page.
This is how your Setting Page looks.
Note: Your Setting page will not let you change your email ID if you have signed up through Social Login.
Notifications
I am unsure if you would like to hear when your cashback is declined, but I sure know you wouldn't want to miss your cashback credit and confirmation. So, we created a Notifications section so you can keep track of what's happening to your cashbacks.
This section will have the updates related to your cashback that has been credited to your FKM account, confirmed with us, or declined with us. You can plan your withdrawals with the help of this section or Contact Us on WhatsaApp for any queries related to the declined cashback.
This is how the Notifications section appears on the screen.
Add Account
We used to bug you a lot when you wished to add a new bank account but not anymore. You can click on the 'Add Account' button or the image given here to put a new bank account in the list where you would want your money to go.
Do not forget to verify your email ID with us before you add new account because we will send a verification email to your registered email ID when you add a bank account
Note: FreeKaaMaal.com accepts Paytm in addition to bank accounts as its payment methods.
This is how the form for adding bank account looks.
Refer & Earn Icon
You must be wondering what this icon is about. Well, you can refer FreeKaaMaal.com to your friends and earn referral money in your account. This icon shall take you to the Refer and Earn Page where you will find your referral code and link to share with your friends.
Do not forget to put it to use or else you will miss on a lot of wonderful things like referral cashback amount and more. Check the given link to actally know what I mean by 'wonderful things'.
The next on the list are the most important componets of this page which gives us the details about our cashbacks. You can quicly visit this page by clicking on the icon given below:
Cashback Sumamry
Third on the row is 'Cashback Summary' which is the one page that we keep visiting frequently, and it has to be the most convenient for you. Hence, we made these changes which are explained below one by one. This section includes:
Cashback History
All Cashback: This section has every detail about each of your cashbacks which includes Store Name, Amount of the Cashback, Status of the Cashback, Date of Order Placed, and Order-ID. Once the shopping is done, this is the place where you should come to get an update on your cashback credit and confirmation.
Pending Cashback: In addition to all the information mentioned above, you will also be able to see the 'Expected Confirmation Date' in this section. It makes easy for you to keep a track of your confirmed and declined cashbacks at FKM as you will have the expected date on your screen against each csahback all the time.
  

Hover over this button to learn about the term it is placed over
Decline Cashback: This section presents the inforamtion related to your declined cashbacks along with the reason behind it. It will help you know your mistakes with the previous cashback so that you can avoid doing the same thing in future.
Withdrawal History
This section contains all the details related to your withdrawal and you can visit this page to learn about the status of your withdrawal and more. Once you have requested your withdrawal, you will see 'Pending' in the status which will change into 'Confirmed' as soon as FKM process its payment.
Withdraw Money
This is the section that has grown the most. We used to ask you to put each information related to your bank account but not anymore. From now on, you have to select your account, punch in your amount and put in the OTP that will be sent to your phone number and email ID to raise your withdrawal.
You can get your money through one of your bank accounts or Paytm.
Missing Cashback
Order ID is the new addition to our Missing Cashback family. It means that from now on, you will know exactly which of your missings were accepted under which ticket ID. Visit the given link to get information regarding Missing Cashback Request.
Referral History
Referral History is the newest addition to our Cashback Summary. As I have mentioned before, you can refer FreeKaaMaal.com to your friends and earn referral cashbacks, and Referral History is where you can track it.
All Referrals

Pending Referrals

Confirmed Referrals

Declined Referrals

Referral Withdrawal
Final Words
I hope this article was helpful to you and you can enjoy the 'New Cashback Summary' to its fullest. In case you have any more queries that are yet unresolved, please get it touch with us on WhatsApp. Use this link given below to reach out to one of our support executives so that they can help you out with everything possible.
In addition to this, if you want articles on more topics, you can suggest them to us using the comment section given below.
Follow us on Social platforms 

Join Telegram Channel & Get Instant Deal Alert

75,062+

participants