518 days ago
Best Hand Mixer in India - Ratings, Pros, and Cons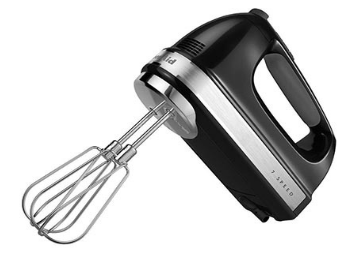 Hand mixers are essentials kitchen appliances useful for a variety of tasks from whipping eggs whites to everyday baking needs. These are efficient and economical. But choosing the best hand mixer or blender as per your requirement can be a difficult task.
Here in this post, we have compiled a list of the best Hand Mixers in India to make your selection easier. We evaluate these products in terms of their features, reviews, price, pros, cons, and more. Read till the end to buy the best hand mixer for your kitchen requirements. Meanwhile, check out the best kitchen appliance brands from here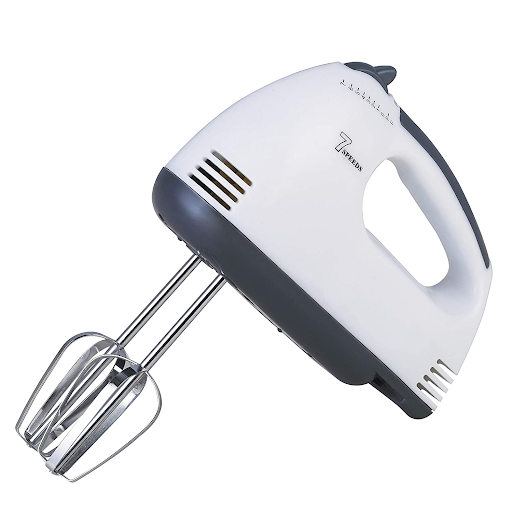 Top 10 Hand Mixers in India 2021
Hand Mixer

Price 

Ratings

Buy Now

Prestige Hand Mixer PHM 2.0

Rs. 1,979

4.1/5

 

 

Inalsa Hand Mixer Easy Mix

Rs. 999

4.2/5

 

 

BMS Lifestyle Electric Hand Mixer 

Rs. 699

3.5/5

 

 

Orpat HHB-100E WOB 250-Watt Hand Blender

Rs. 706

4.0/5

 

 

Borosil Smartmix BHM30PBB11 300-Watt Hand Mixer 

Rs. 1,980

4.6/5

 

 

KENT Hand Blender

Rs. 1,789

4.0/5

 

 

iBELL WHITES03 Hand Mixer Beater Blender

Rs. 399

3.2/5

 

 
1. Prestige Hand Mixer PHM 2.0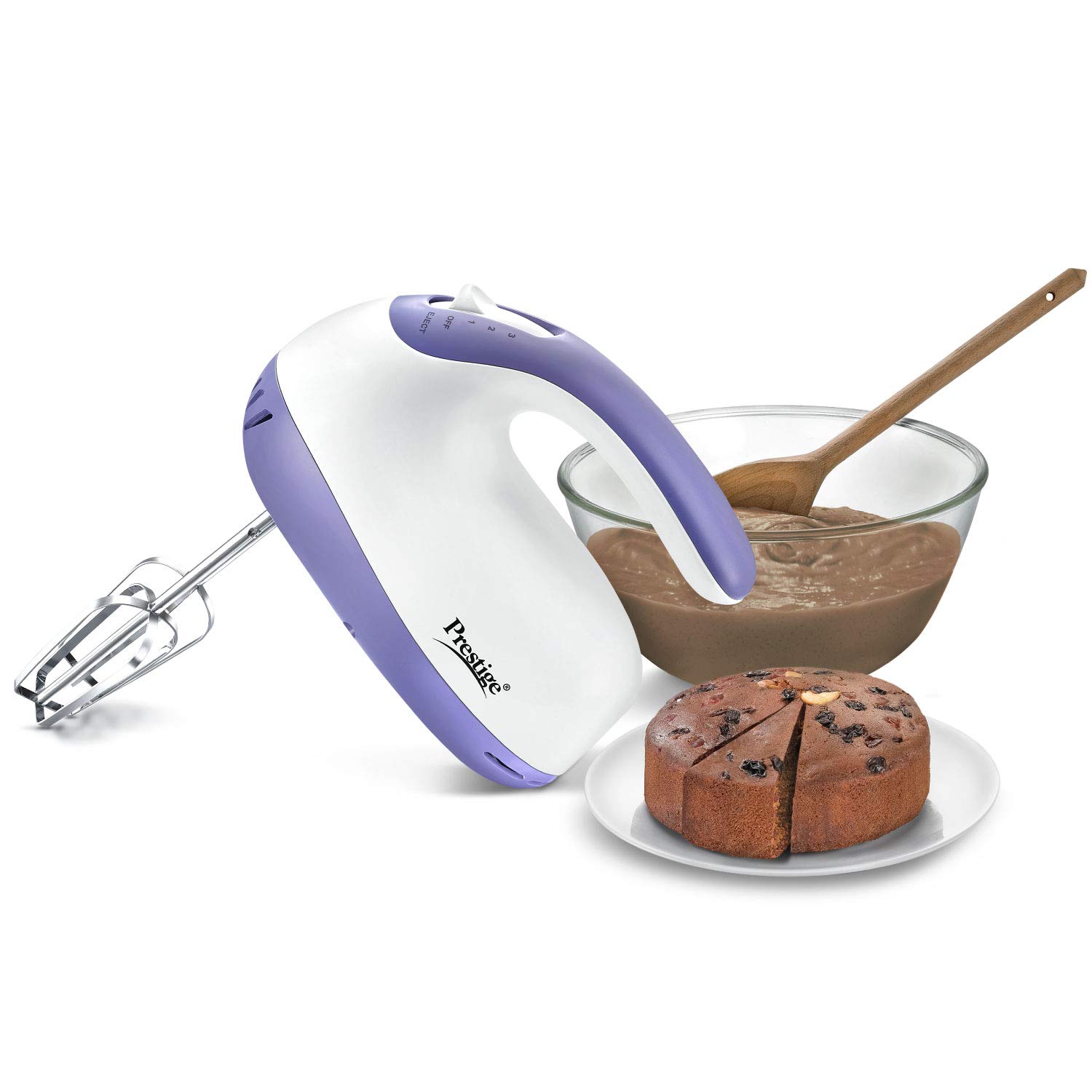 Prestige phm 2.0 Hand mixer saves time and effort. Whisk, beat, blend, and mix with this hand mixer. It comes with twin mixers and variable speed control. The prestige hand mixer is a great choice for professional chefs as well as cooking enthusiasts.
The 3-speed control gives perfection in every preparation. The high-quality stainless steel attachments provide added utility. There is also a whisker attachment for hassle feel whisking. It comes with dough hook attachment can be used for whipping, blending, and mixing. Prestige hand mixer has an attractive and colourful design to complement your kitchen aesthetics. 
The 300 watts motor makes it time saving and efficient. It is uniquely designed for easy operation. The prestige hand mixer is suited for whipping cream, pancake batter icing, eggs, and salad dressings. 
Price: Rs. 1,979
Pros
300 watts power
2 Stainless Steel attachments
Variable Speed Control
Attractive & Colorful Design
Easy to clean
Warranty: 1 Year
Are you looking for the best shopping deals? Then you can follow us on Instagram for all the latest updates.  We also post Special Offers, Deals, Discounts, exclusive coupons & Giveaways. Follow @freekaamaalofficial today! For the best online shopping experience. 
2. Inalsa Hand Mixer Easy Mix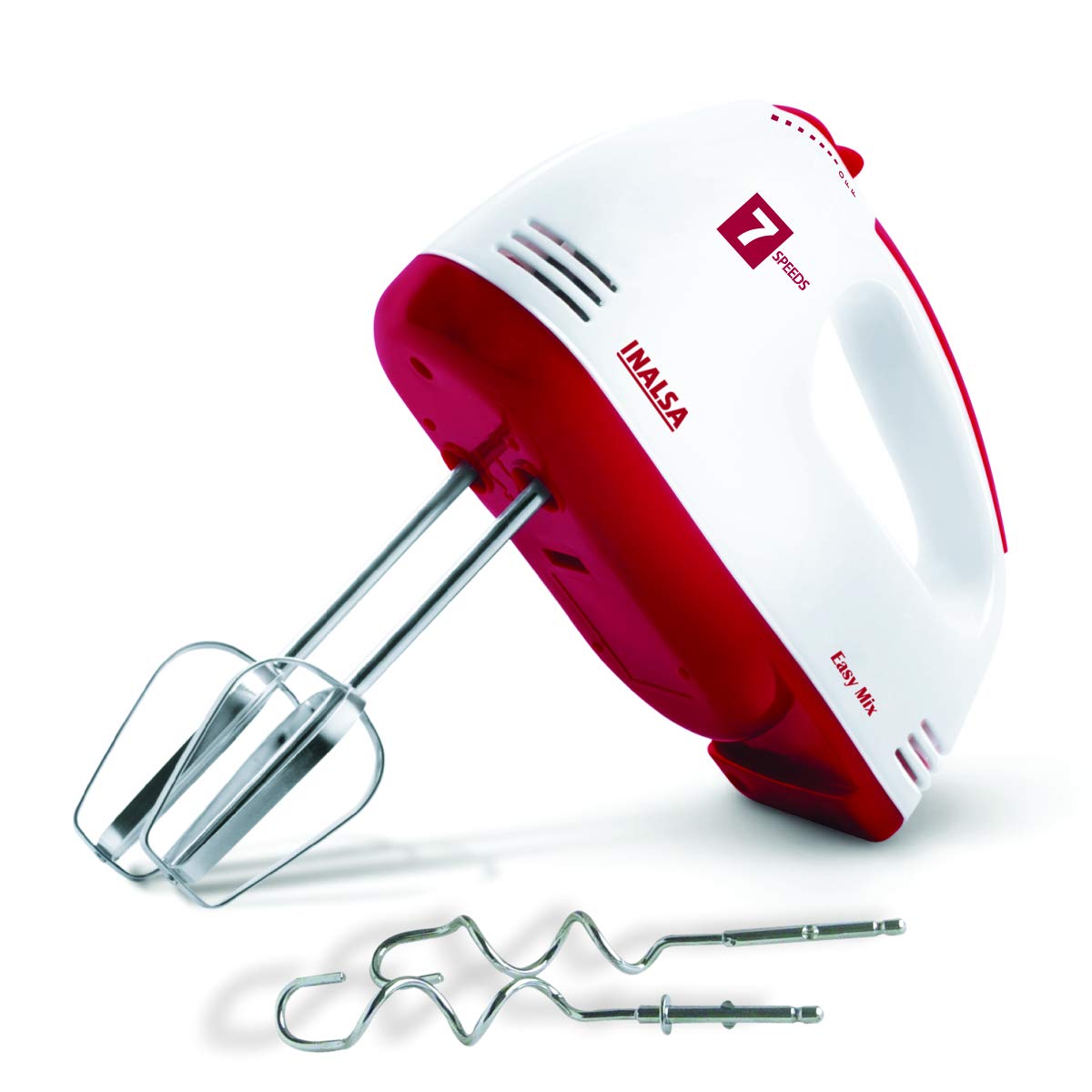 The next product on our list is from Inalsa. It comes with a powerful motor that saves time and energy. Inalsa hand mixer is an excellent choice for blending, whisking, and kneading efficiently. Control your food preparation with 7-speed control settings. 
There are separate stainless steel attachments for beating, mixing, whisking, meshing, and blending. The detachable beaters and whisker hooks take care of your meal preparation. The attachments are super easy to remove with the in-built eject knob feature. Its slim grip makes the hand mixer easy to use. Prepare your favourites with this multi-purpose appliance that will be the perfect accomplice in your kitchen. 
Pros
2 Detachable Beaters & Whisker/Dough Hooks
In-Built Eject Knob Feature
1-year warranty
7-Speed control settings 
Comfortable grip For Easy operation
3. BMS Lifestyle Electric Hand Mixer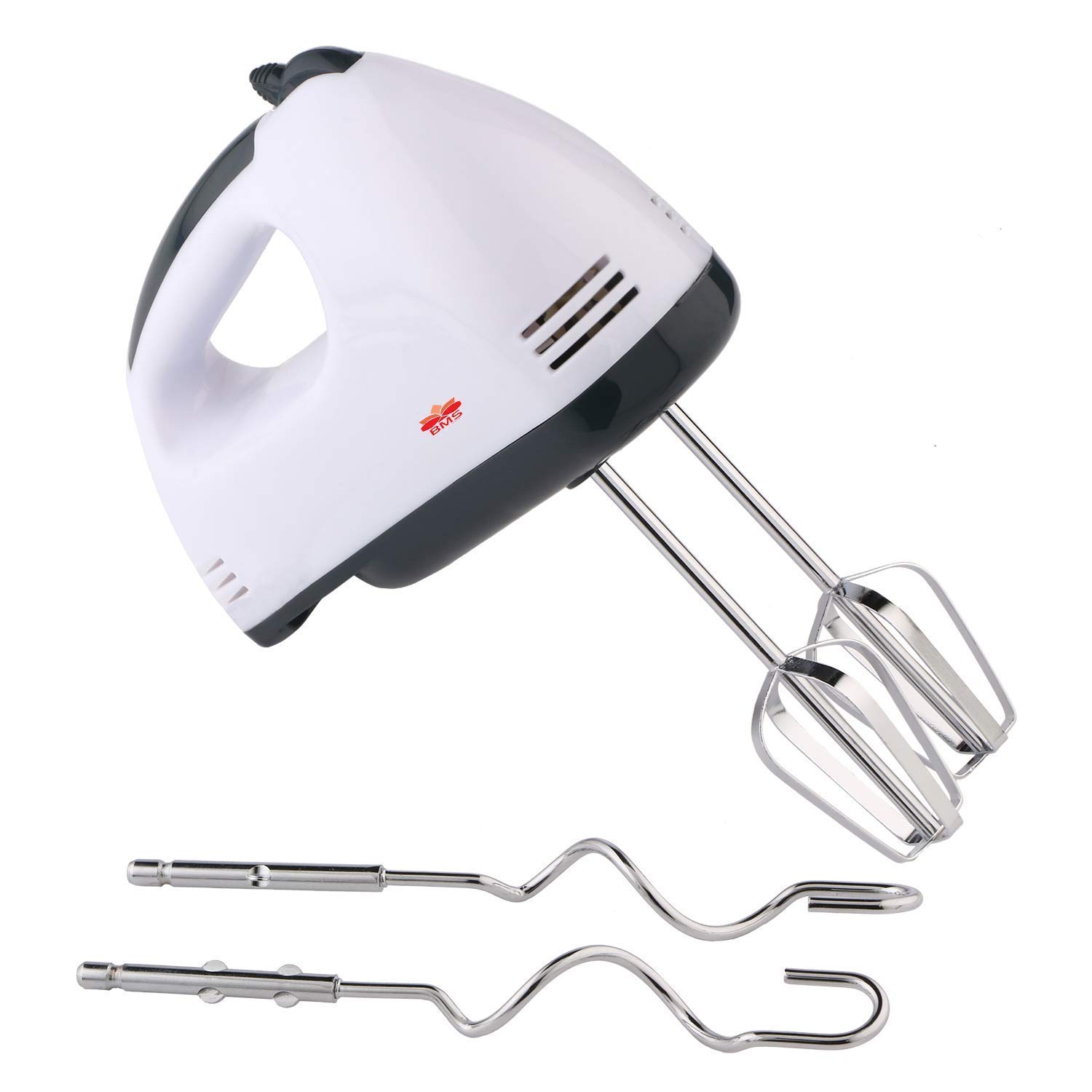 BMS electric hand mixer has a 180 watts powerful motor. Its multiple speed control meets all your mixing needs. The stainless steel attachments include 2x wired beaters, 2 balloon whisks, and 2 dough hooks. The attachments help tackle different tasks such as beating dough, whipping eggs, and mixing ingredients with ease. The attachments are dishwasher safe as well.  
The round shape hand mixer has easy to reach buttons that provide a comfortable grip. Its impressive design makes it easy to clean thus saving your time and effort. This multipurpose appliance comes with detachable attachments for stirring, whisking, mixing, beating and kneading tasks
Price: Rs. 699
Pros
180 Watt Power Rating
Stainless Steel Dough Hooks and Beaters
Easy to Clean detachable Attachments
7 Speed configuration
1-year warranty
 
Cons
Not very attractive design
4. Orpat HHB-100E WOB 250-Watt Hand Blender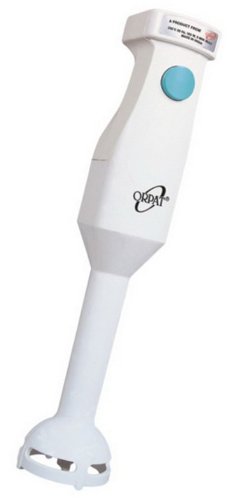 At number 4, we have Orpat hand blender. It is powered by heavy-duty 250w motor. The powerful motor blends and mixes anything in seconds. A comfortable grip makes the appliance easy to operate. The blender provides easy and quick beating, whipping, and churning.
Its super-sharp stainless steel blades crush and churn vegetables in an instant. With a 6 speed configuration, use the blender for different tasks. It occupies very space due to compact size. At the same time, it is incredibly lightweight and handy. It is also energy efficient designed with comfort, style and efficiency in mind. 
Price: Rs. 706
Pros
Heavy-duty 250W motor
Super-sharp stainless steel blades
6-speed configuration
Compact and lightweight design
 
Cons
Functions can be complicated for some users.
5. Borosil Smartmix BHM30PBB11 300-Watt Hand Mixer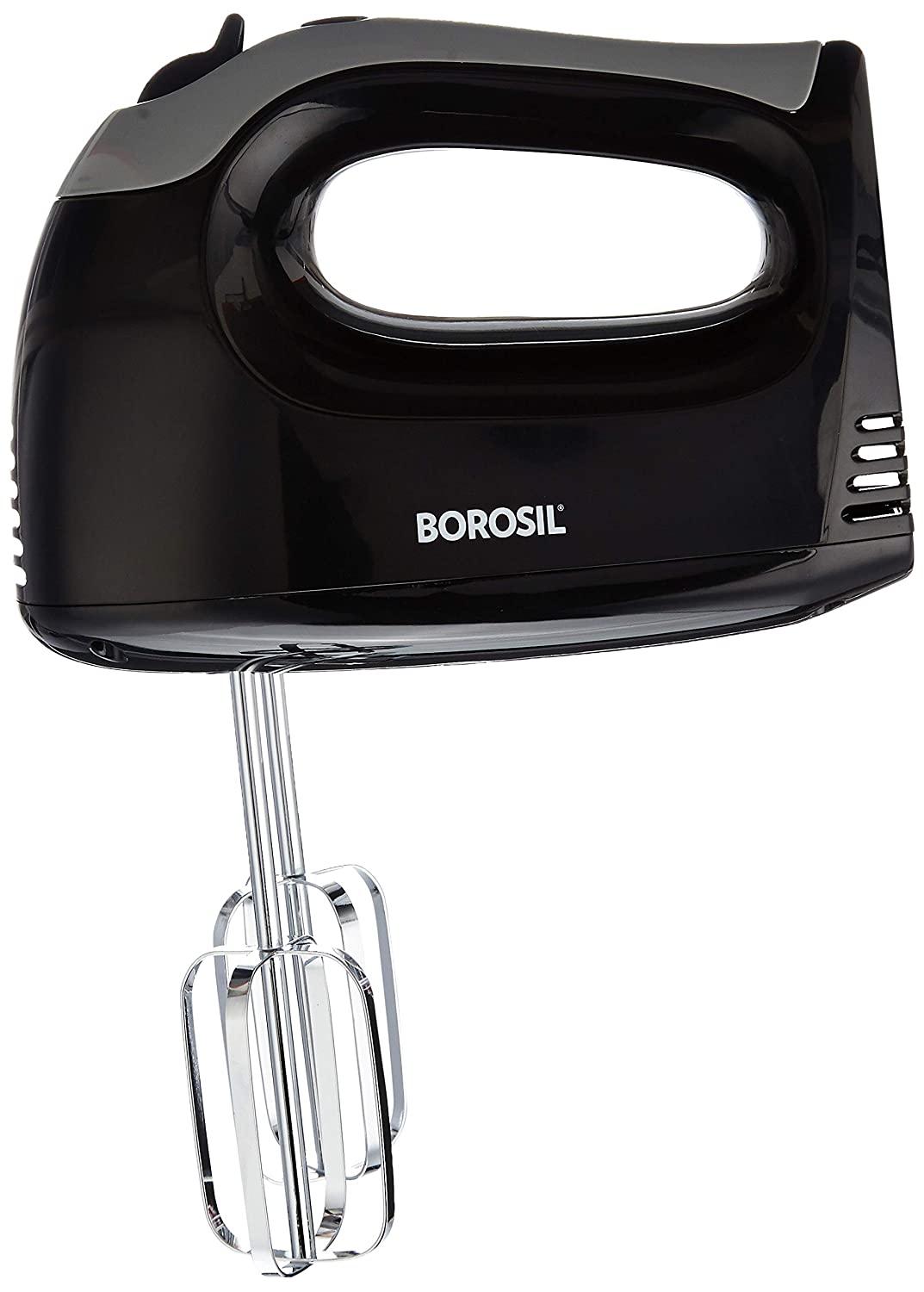 Borosil Smartmix hand blender has a 300W powerful motor to ensure efficient blending, kneading, and whisking. It comes with 5 variable speed options so that you can adjust speed as per your need. The blender is equipped with a single button for speed and attachment management.
The product includes dough hook and beater attachments. The dough hook is ideal for kneading all types of doughs and batters. At the same time, the beater attachment is useful for whisking and blending. There is a separate container for accessories. You get a 2-year warranty on Smartmix Hand Mixer. 
Price: Rs. 1,980
Pros
5 variable speed option
300 watts motor
Single-button for eject and speed function
Storage container for accessories
Aesthetically designed strong body
Chrome finish dough hook and beaters
2 years warranty
6. Kent Hand Blender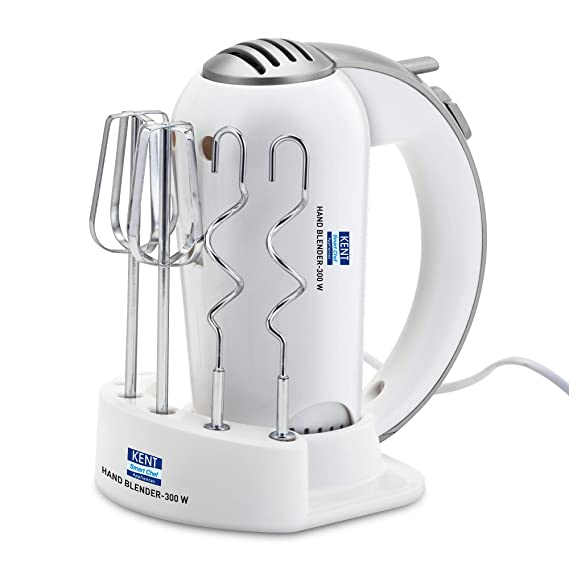 Kent hand blender is powered by a 300W motor for efficient work. It supports 5 variable speed controls to provide proper results. Switch the speed to blend, mix, and whip, for specific recipes. The turbo function helps you complete kitchen chores quickly. Its copper motor ensures long life.
The blender is made up of the food-grade plastic body. To ensure safety it has in-built overheating protection. Its is equipped with multiple beaters and dough hooks to help prepare a variety of recipes. There is an eject button to change the accessories with just a push. 
Pros
Powerful 300W Motor
5 variable speed controls
Turbo function for quick operations
In-built over-heating protection 
Multiple beaters and dough hooks
Cons
The length of the beater is short
7. iBELL WHITES03 Hand Mixer Beater Blender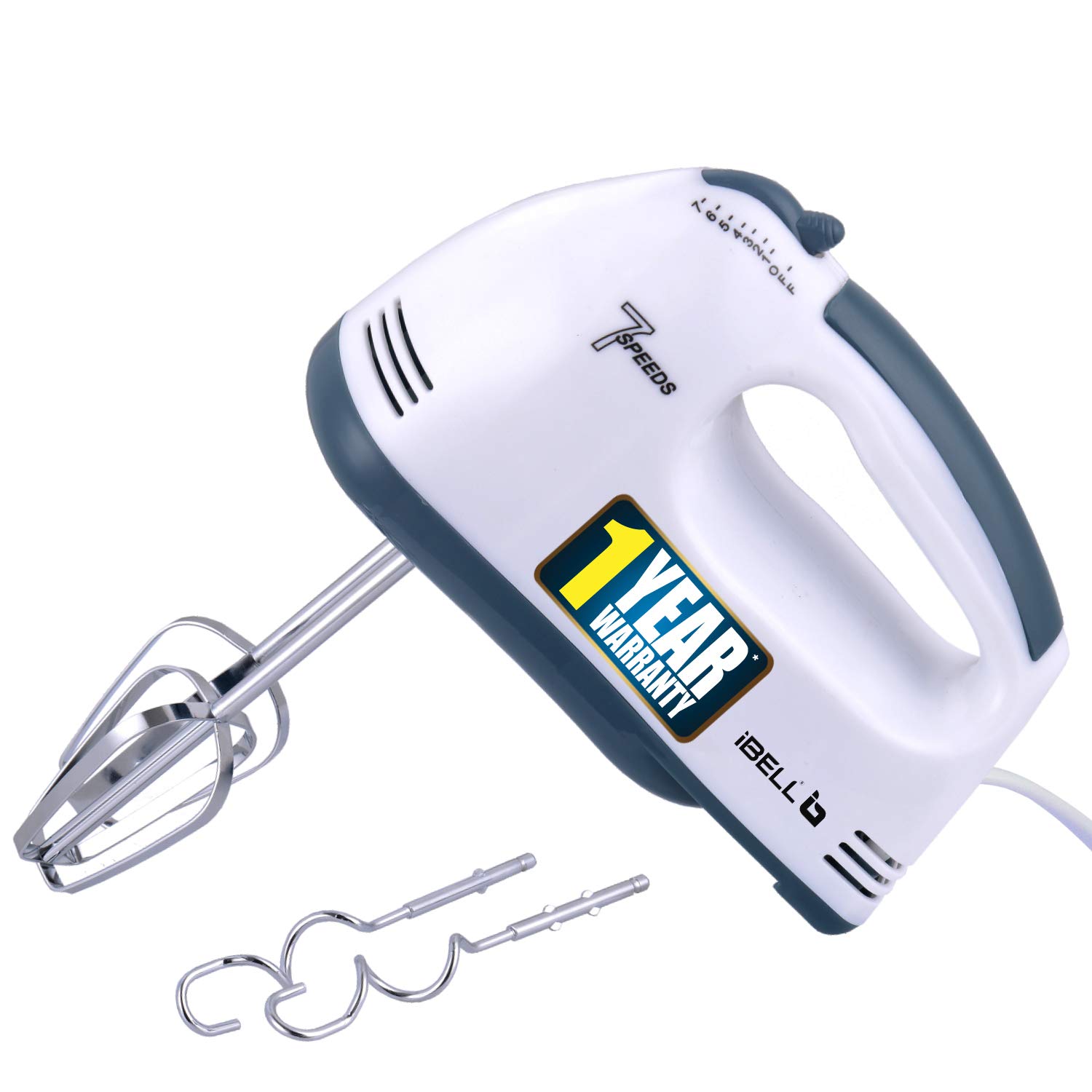 iBell hand blender is powered by a 120 watts motor. It comes with two pairs of beaters and dough hooks which are made of stainless steel. The device is lightweight and comfortable to use. It is equipped with 7-speed control for a superior experience. With the variable speed control function adjust the motor speed as per the ingredients for a perfect blending. Ibell hand blender makes mixing easy and convenient. You get 6-month standard and 6 months extended warranty on the product. 
Price: Rs. 399
Pros
120 Watts Motor
7 speed control
Two pairs of stainless steel beaters and Dough Hooks
Very Affordable
 
With this, our list of best hand mixers in India comes to an end. So have you decided that which blender is best suited for your kitchen? You need to consider various factors for this purpose such as motor speed, the number of beaters and dough hooks, and length of beater among others. Let us have a closer look at the top factors you need to consider when buying a hand blender. 
Note: The product prices are subject to change with time. We make sure to update the prices on a regular basis. You can click on the buy now button to check the latest price and availability. 
 
Best Hand Mixer Ratings 
If you compare these products there is not much difference in the ratings. The choice mainly depends on your need and budget. If budget is a concern then iBell is the most affordable product in the list. It comes with useful features at this price. But there are some negative reviews related to the ratings which you must confirm before placing your order.
For a budget of around Rs. 1,000, Inalsa is a great choice. It supports 7-speed control settings and 2 Detachable Beaters & Whisker/Dough Hooks. If your budget allows then Prestige hand blender is the best. It is powerful comes with useful attachments and at the same time has a very attractive design. 
Things to Consider While Buying A Hand Blender
Hand mixers are easy and convenient kitchen appliance that can be used for multiple purposes. These devices come with many useful features which make them more practical. Here are some of the features that you must consider while buying an immersion or hand mixer. 
Type
Hand mixers are available in two types. You can choose one with a power cord or one that is battery operated. The choice depends on the personal preferences of a user. The battery-operated mixers are more portable but can be difficult to maintain. The batteries need to be changed regularly. The cost of batteries can be expensive in long run. 
Size
The handheld mixers come in various sizes. There are choices available in light and heavy use devices. The heavy blenders can be difficult to handle. They are ideal for commercial use. For basic use, you can choose a medium or small-sized hand mixer as per your need. 
Price
The price mainly depends on the power of the device. If you need a powerful blender then you may have to pay around Rs. 2,000. A basic hand mixer can be bought at under Rs. 999. You need to set a realistic budget as per the results you are expecting. 
Safety
These devices are typically safe to use. However, some blenders can have very sharp blends. Therefore, it is recommended to check the safety precautions before use. The blades should not be detached during operation. 
Design
Most products available in the market are sleek with a seamless design. They come in attractive finishes and look good when mounted on a wall. But you should not make the looks sole deciding factor. 
Multipurpose
There are multipurpose devices available in the market which can perform tasks such as grinding, whisking, pureeing, and chopping. Blenders come with additional blades for different tasks. You should check the different attachments available in the product. 
Buying the best Hand Mixers Online in India
The leading online stores make available hand mixers from various brands to provide ample choices for every budget and purpose. You can choose from various products from top brands such as Prestige, Kent, Orpat, and Inalsa among others. This kind of choice is not available at the offline stores. 
Also, with the online stores, you can compare different hand mixers in a hassle-free manner. On top of that, it is easy to save money online with offers and deals. To purchase a hand mixer online, you simply need to add the product to cart and input your address for delivery. At the checkout, select a payment mode of choice to get doorstep delivery. 
So that's all about the best hand mixers or blenders in India. We hope the information provided helps you choose the right product as per your need and budget. Thanks for reading till the end!
Frequently Asked Questions
Which is the best hand mixer in India?
Check out the list of best hand mixers in India. We have mentioned products for all budget. From the list choose the one which is best suited to your budget and need.
Which company hand mixer is best?
Prestige, Kent, Inalsa, and Orpat are among the best companies for hand mixers in India. Check out the best products of these brand with detailed reviews to choose the best hand mixer.
Which is the best beater in India?
For the best beaters in India, you can check out the products of brands such as Prestige, Kent, and Orpat. These are the best brands which provide excellent products at affordable prices.
How do I choose a hand mixer?
There are various factors which you need to consider while choosing a hand mixer such as the power of the motor, additional accessories, size and price. Consider these factors carefully to choose the best hand mixer. 

Join Telegram Channel & Get Instant Deal Alert

75,062+

participants