149 days ago
11 Best Wallpaper In India: Turn Your Walls Into Art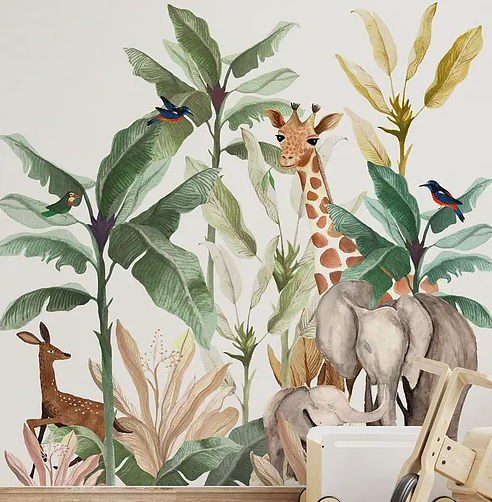 Thinking about How Much Do Wallpapers Cost in India & Where to Find Them ? Wallpapers add colour, style, freshness and spunk to the house. Dive into the world of top 11 best wallpaper in India, which will give you an insight into wallpapers for home with price in India.
Wallpapers come in different styles, patterns, shapes, colors and textures. The most important thing to keep in mind is they should always compliment your space where you put it. A wallpaper can make or break the style of your home decor.
Here are the most popular wallpapers brands in India listed for you. These brands offer the best in the business and come in a wide variety of shapes, prints, colours etc. So let's tart the list of Top 11 Best Wallpaper Brands in India, do give it a read!
To read about the best wall putty in India, Click Here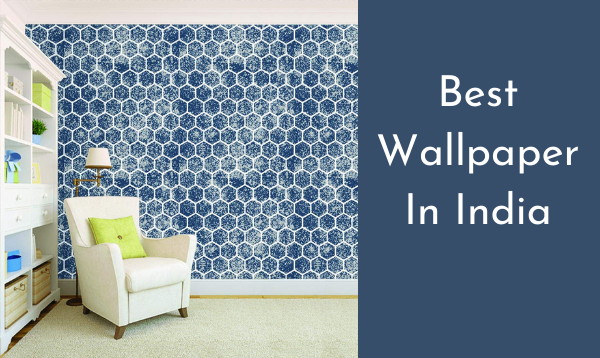 Grab Rs. 50 for free by Signup on FreeKaaMaal . Or just simply click on the button that has been given below, register and earn Rs.50. get up to 100% cashback on FreeKaaMaal on different brands.  
To know how to redeem your FreeKaaMaal bonus, click here. 
Top Wallpaper Brands to Buy Online in India
Here are the top 11 Wallpaper online in India
Hey if you are willing to know about us and what all we offer you then you can follow our Instagram channel with a CLICK on the link which we have provided. You can follow us there to know more about the fun activities we do, offers we provide, daily discount and cashback offer and much more. So, follow us now and then have a happy shopping with FreeKaaMaal!
| | |
| --- | --- |
| S.No | Wallpaper Brand  |
| 1 | D'Decor |
| 2 | Marshalls Wallcoverings |
| 3 | Lifencolors |
| 4 | Nilaya by Asian Paints |
| 5 | India Circus |
| 6 | Paper Planes |
| 7 | 100 Yellow |
| 8 | 999 Store |
| 9 | WolTop |
| 10 | Kayra Decor |
| 11 | Happy walls |
What Are The Different Types Of Wallpaper?
You can choose the best designs & materials for the room decor but first let';s understand he types of wallapers available.
VINYL WALLPAPER
Vinyl based wallpaper is among the most popular wallpaper due to its versatility. It is easy to install, super-easy to remove and simple to clean. There are different varieties of Vinyl Wallpapers to match your taste and decor.
SOLID SHEET VINYL
This is a pure vinyl wallpaper which is a durable option as it is thick, easy to clean & easy to remove. Solid sheet vinyl is often decorated with prints adding beauty to your room.
VINYL COATED FABRIC
It is a fabric wallpaper that is a popular choice as it gives a natural feel and texture. The vinyl coating provides protection & durability. It's a great option for a sitting room or dining room.
VINYL COATED PAPER
Vinyl coated paper provides durability & washability that paper simply does not. The vinyl coating permits this type of wallpaper as a great choice for rooms including rooms with high-humidity levels like bathroom, laundry room & kitchen.
NON-WOVEN WALLPAPER
Non-woven wallpaper is a vinyl free option. It is a great choice if you think about environmental issues. This wallpaper is  washable & breathable. It is easy to install & remove as well as It doesn't  tear that easily. 
EASY-WALLS WALLPAPER
A similar version of non-woven wallpaper, Easy-walls wallpaper is  PVC & VOC free, as well as the ink is water based. The wallpaper is easy to clean, but breathable as well. This type of wallpaper comes with a pre-applied adhesive which makes it easier to install and remove.
PREPASTED WALLPAPER
The term "prepasted" means that there is no need to buy adhesive as it's already applied on the wallpaper. The glue in it is dry & needs to be activated by making it wet. It is easy to install as well as remove.
GRASSCLOTH WALLPAPER
Grasscloth is a highly textured and woven wallpaper produced from natural components. Cleaning is difficult with this type of wallpaper. The stains should be cleaned on spot & dirt should be cleaned with a clean brush. If it's a premium grasscloth then cleaning should be handled by a professional cleaner.
Review of 11 cool wallpaper brands that can elevate your interiors overnight
Let's go through the top 11 wallpapers in India with price in detail. 
1) D'decor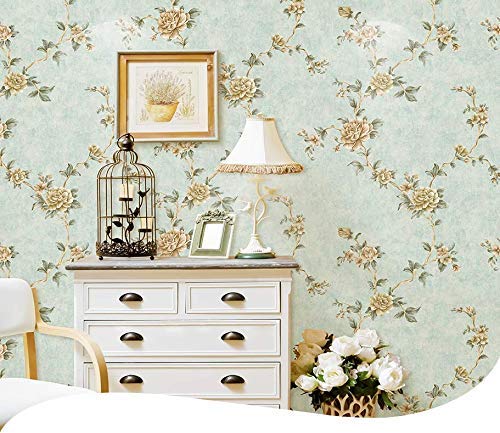 D Decor World offers fresh and newly designed wallpapers. They are Ideal wallpapers for walls, bedrooms, family lounge, living room, showroom, door, hall, kitchen, bathroom, room, restaurant, etc. They are PVC, non-toxic as well as waterproof. They have the best Wallpaper for Walls | Bedroom & Home Wallpaper.
These wallpaper will decorate your home like never before. This wallpaper brand is easy to install. D'Decor provides you with the greatest range of wallpapers to turn your home as desired.
Wallpaper price in India: Rs. 2700-18,000 (Per Roll)
Material: PVC, Non-Toxin
Theme: Abstract, Photographic, Leaves, Small Motifs, Plains And Textures, Kids And Tee
Websites To Buy: Amazon, D'Decor
2) Marshalls wallcoverings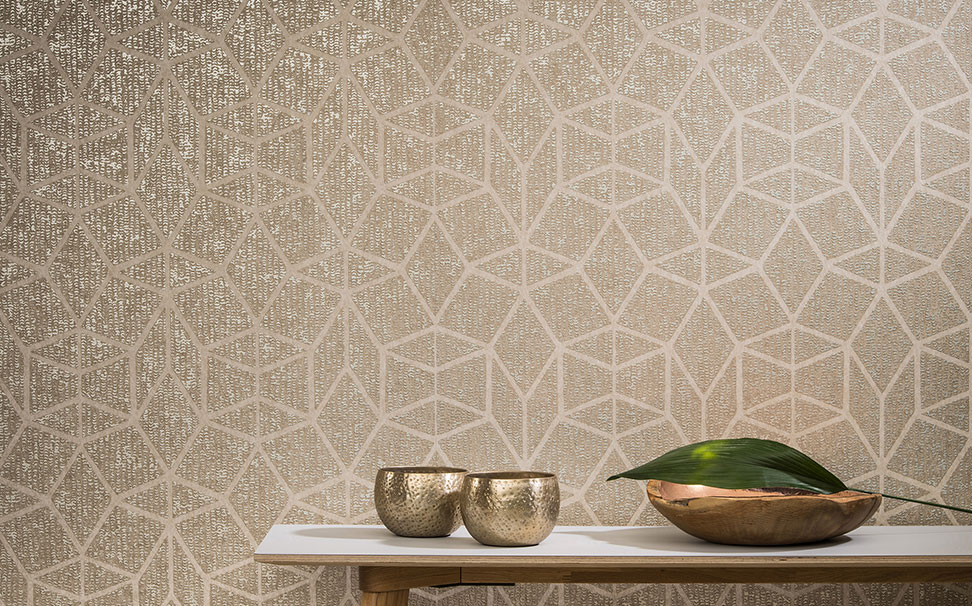 Marshalls Wallcoverings Is among the top wallpaper brands in India. It provides floral Wallpaper, Hd Wallpaper, 3D Wallpaper, Stone WallpaperCustom Wallpaper, Indoor Wall Papers, Natural Wallpapers etc. This wallpaper brand is continuously growing to biome the leading supplier of wallpapers. Marshalls Wallcoverings is known for "No Compromise Policy On Quality". 
This brand is a distinct name you will hear in Mumbai. It offers collections like Payal Singhal and Krsna Mehta, which can add life to your walls.
Wallpaper price in India: Rs. 2000-15,000 (Per Roll)
Material: PVC, paper, non-woven, 3D
Theme: 10,000+ themes and designs
Websites To Buy: Marshall.com
3) LifenColors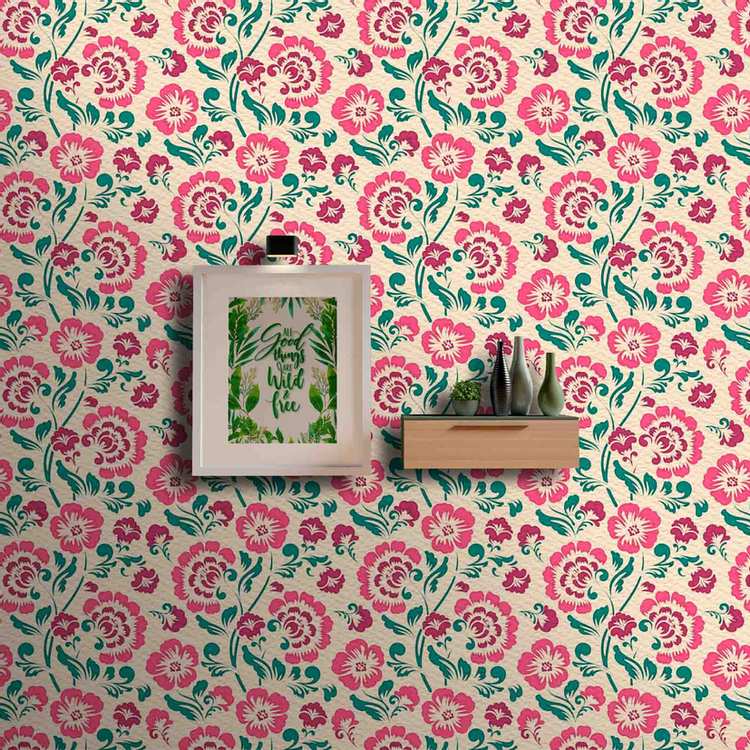 This wallpaper brand for Indian homes offers unique wallpapers for walls, offices and homes. They are one of the most popular walls and floors concept makers. They also provide a range of home decor items to beautify your house. With such options now you can buy Bedroom Wallpaper at Best Price in India.
They are variable in major cities including Gurgaon, Hyderabad, Mumbai, Bangalore, Kolkata, Delhi, Noida, Kanpur and many more in India. Lifencolors bring uniqueness and style to your walls as well as floors through their exclusive products like wallpapers for walls, customised wallpapers, 3D wallpapers, kid's room wallpapers, bedroom wallpaper, leather wallpapers as well as custom made carpets. 
Wallpaper price in India: Rs. 600-14999 (Per Roll)
Material: PVC, leather, stone. Paper, non-woven
Theme: damask, floral, geometric, luxury, metal, stone, leather
Websites To Buy: Lifenclors.in
4) Nilaya By Asian Paints 
Nilaya by Asian Paints has taken the field of premium wallpapers by a storm. It is the best wallpaper brand in India by Asian paints. Nilaya is known for 3D wallpaper in India as it is their signature style.There truly is something to suit each taste: from pastels and energetic hues to dim, dark hues accessible in solids, stripes, tropical, floral, Damask as well as geometric designs. 
Fashion designer Mr Sabyasachi Mukherjee brings his quintessential customary themes, rich surfaces, and illustrious hues into your homes. Whereas Good earth brings softer tones and shades inspired by nature. Nilaya has 5,000+ patterned & designed wallpapers that are available in 300+ stores across India.
Wallpaper price in India: Rs. 3000-20,000 (Per Roll)
Material: PVC, Paper, Non-Woven
Theme: Abstract, Plain, botanical, Damask, geometric, Stripped
Collection: Sabyasachi Mukherjee, Good Earth, Nilaya Signature
Websites To Buy: Amazon, Asian paints, Pepperfry

5) India Circus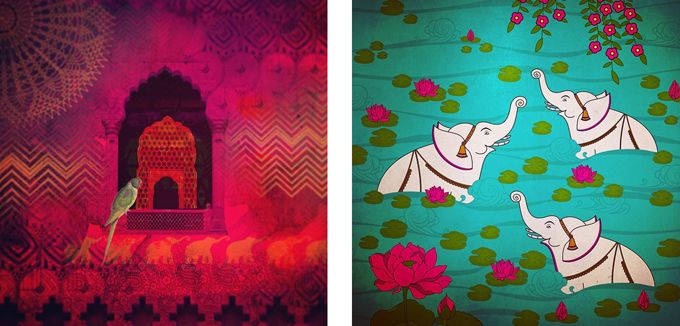 India Circus designer Krsnaa Mehta works as a team with Marshalls to provide a premium range of wallpapers to the customers. The exclusive and elegant wallpapers by India Circus would modify your room wall into a serene beauty as the Dal Lake or as the royal abode of the kings.
The services provided by India circus are fast, and the experience provided by them is seamless. They have a wide range of wallpapers which speak for themselves and are surreal. Their wallpapers are inspired by the Indian Culture and are highly durable and last a long time. The room wallpaper price in India for these wallpapers is affordable and will not cut a hole in your pocket. 
Wallpaper price in India: Rs.1000 - Rs. 5000 (Per Roll)
Material: Non-Woven
Theme: Floral, Monochrome, Royalty, Serene
Websites to Buy: IndiaCircus 

6) Paper Plane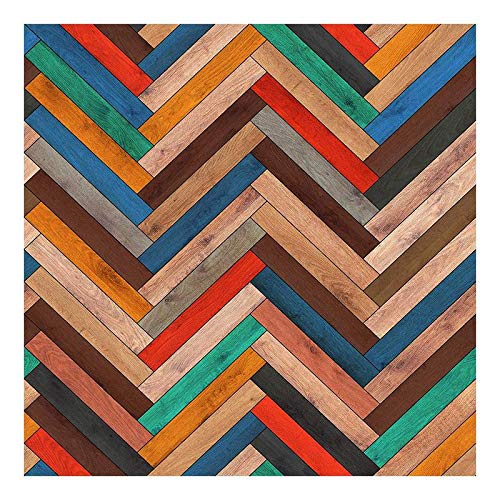 Paper Plane wallpapers are non-toxic, high-quality wallpapers which are self-adhesive and very easy to install. The unique and new designs offered by this brand are suitable for all the rooms from the living room to your bathroom. 
This brand also provides wallpapers for office walls in India. They have a huge collection of wallpapers which are suitable for personal as well as commercial use. The wallpapers from this brand are waterproof and highly durable. They last for a long time and are a good option due to the wide range of designs. 
Wallpaper Price in India: Rs.300-Rs.6000
Material: Paper, Vinyl, PVC 
Theme: Abstract, Animals, Fantasy, Floral
Websites to buy: Amazon, Myntra, Flipkart
7) 100 Yellow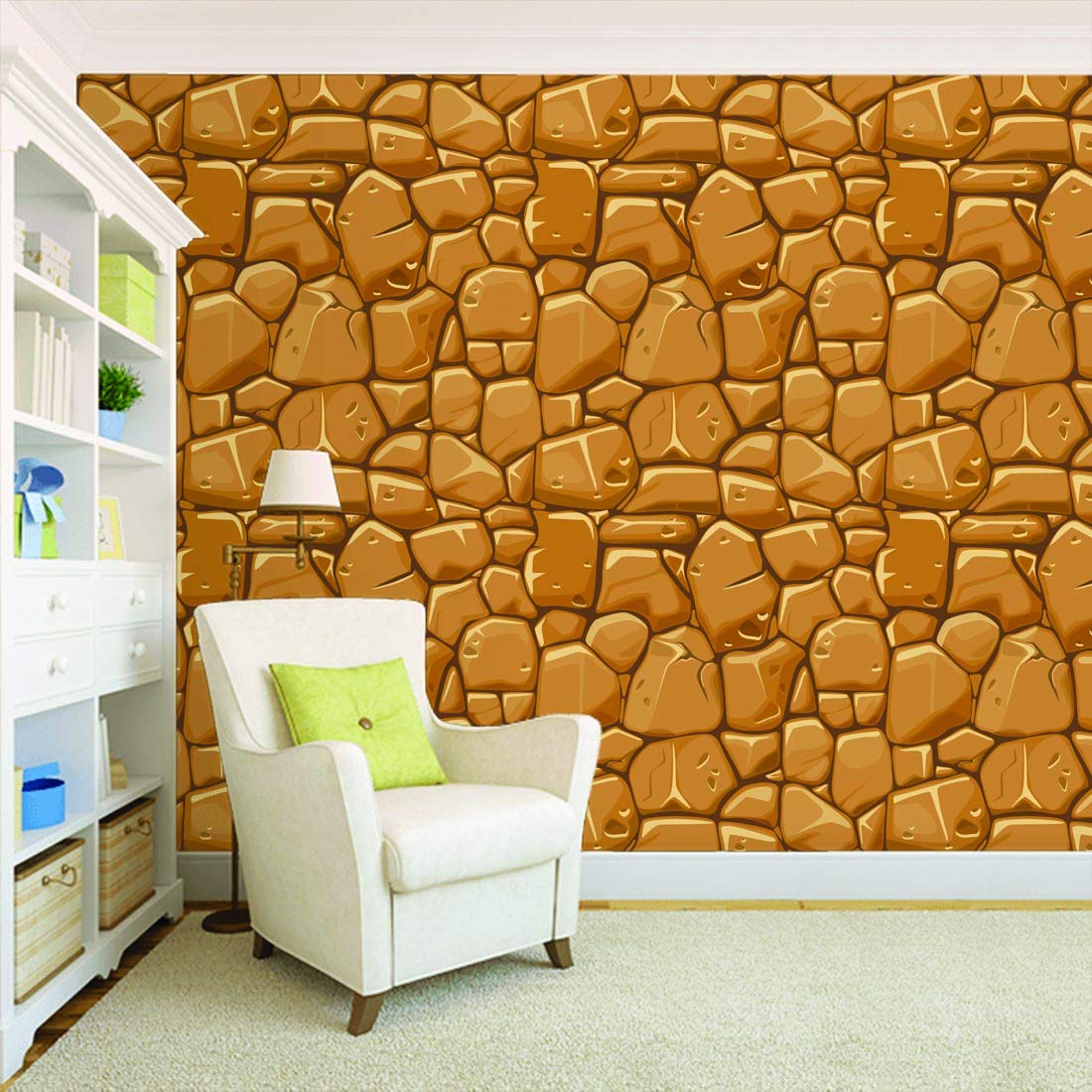 100 yellow wallpaper brands can light up spaces inside a house only in a couple of moments of time. The strong and waterproof nature of these wallpapers can keep your walls looking new and fresh for years. 
This matte completion wallpaper is ideal for being utilized in an office, room, spas and restaurants. It is one of the most popular wallpaper brands available in India which are waterproof. The wallpapers are of high quality and finish. 
Wallpaper Price in India: Rs. 200 - Rs. 2000
Material: Vinyl
Theme: Abstract, Animal, Nature, Geometric, Cartoons
Websites to buy: Amazon, Flipkart, Snapdeal, Myntra
8) 999 Store
This eco-friendly wallpaper brand offers a more sensitive yet rich print than competitors. It offers prints like geometric, abstract and 3D prints. The 3D wallpapers price in India is quite affordable as well. The strength of wallpapers is amazing. This wallpaper has certain types of wallpapers that are not suitable for rough and dirty surfaces. 
Wallpaper price in India: Rs. 500- 4,000 (Per Roll)
Material: PVC, Paper, Non-Woven, PVC Resin
Theme: Abstract, Plain, geometric, nature, murals, 3D
Websites To Buy: Amazon, Flipkart

9) WolTop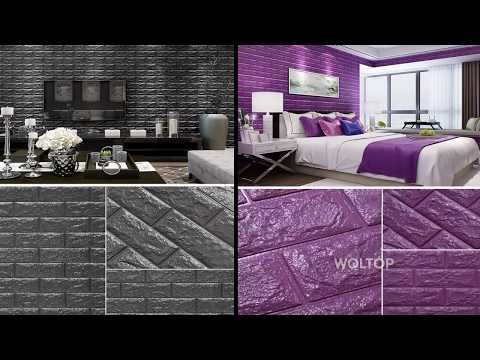 The self-glue wallpaper brand in India by WolTop can add drama and spunk in your customary home style. Its waterproof wallpaper and against oily material further make it a magnificent style which is also affordable.
Wallpaper price in India: Rs.269-299 (Per Roll)
Material: Vinyl, PVC
Theme: Abstract, Floral, Geometric, Patterns, Solid colours, designs of love, baby etc.
Websites To Buy: Amazon, Flipkart

10) Kayra Decor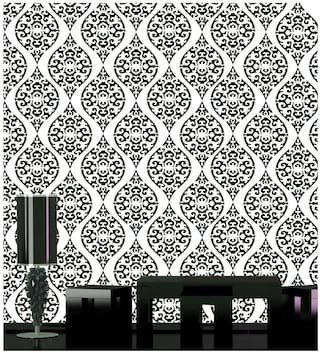 To give an aesthetic look and appeal to your house, this wallpaper brand does the work. It has a reusable brand that lets the walls do the talking. Their signature stencil comes in different styles & patterns. It is completely made up of raw material.
This Indian brands wallpapers for office walls to residences and villas. It brings you an enormous assortment of styles and patterns. Kyra Décor wallpapers can never go wrong with their creativity.
Wallpaper price in India: Rs.1399 - 3500 (Per Roll)
Material: Paper, Vinyl
Theme: Patterns, Abstract, Classics, Floral, Nature, figures of birds and flowers.
Websites To Buy: Amazon, Flipkart

11) Happy Walls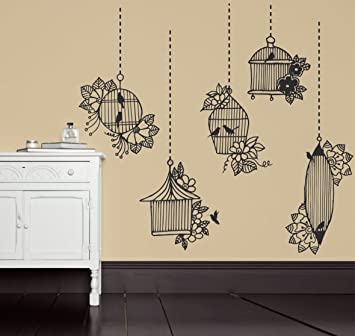 Give a quirky look to your plain walls with this wallpaper brand. This brand offers designs and prints like florals, conceptual: brick pattern and many more. You can choose from varieties or colours and hues which perfectly mixes in with your room's stylistic theme.
 It is very budget-friendly while giving a premium feel. It also comes with in-depth illusion wallpapers that are very deceptive. This brand is PVC, free and eco-friendly.
Wallpaper price in India: Rs.99 - 500 ( Per Roll)
Material: Vinyl
Theme: Abstract, Cartoons, Art, Paintings, Nature Comics, Decorative, Floral & Botanical, Music, Superheroes
Websites To Buy: Amazon.in, Flipkart.com
How To Apply Wallpaper
Wipe the walls thoroughly with sponge and warm water. After it dries, use sandpaper to remove imperfections.

Fill uneven areas or holes in the wall with a putty knife using a drywall compound. After 24 hours of drying out, smooth it with sandpaper.

Wipe the residue off the wall using a damp sponge.

Apply the primer using a brush or a roller on the wall to enable the wallpaper to stick.

Let the groundwork dry for at two hours before hanging up the wallpaper

Start by drawing vertical lines on the wall. Utilize a straightedge and a level to ensure the line is straight. 

Now measure & cut paper as well as leave an additional 4 inch at the top. Reverse-curl the wallpaper to make it anti-curl.

Spread the paper out on a level surface and apply glue

Grip & carry the wallpaper to the wall & stick it. Adjust the paper to the lines you drew. Leave 2-3 inches at top and bottom. 

Now smooth the wallpaper utilizing the smoothing brush. 

Trim away extra paper utilizing a utility blade and a putty blade.

Continue the draping process until all walls are well covered. Utilize a crease roller to press the creases firmly together.
Conclusion
Now you can never go wrong with these amazing brands. Make your house, wall, office standout against those dull and boring wall colours.So now you can Buy Designer Wallpapers for Home Online 
Frequently Asked Questions 
1) Which is the best wallpaper brand in India?
Best wallpapers brands in India are
Nilaya By Asian Paints 
India Circus
Paper Plane 
100 Yellow
2) Does wallpaper last long?
Wallpapers tend to last upto 15 years. They are more long-lasting as compared to wall paint. The durability of wallpapers depends on the brand as well.
3) Is wallpaper out of style?
Wallpapers can never go out of style. They add the needed quirk in your homes. With thousands of prints, patterns and colours, they make your dreams come true of turning homes into pieces of art.

Join Telegram Channel & Get Instant Deal Alert

75,062+

participants