1 day ago
455
13 Best Health Drinks In India - How Beneficial Are They

Join Telegram Channel & Get Instant Deal Alert

71,520+

participants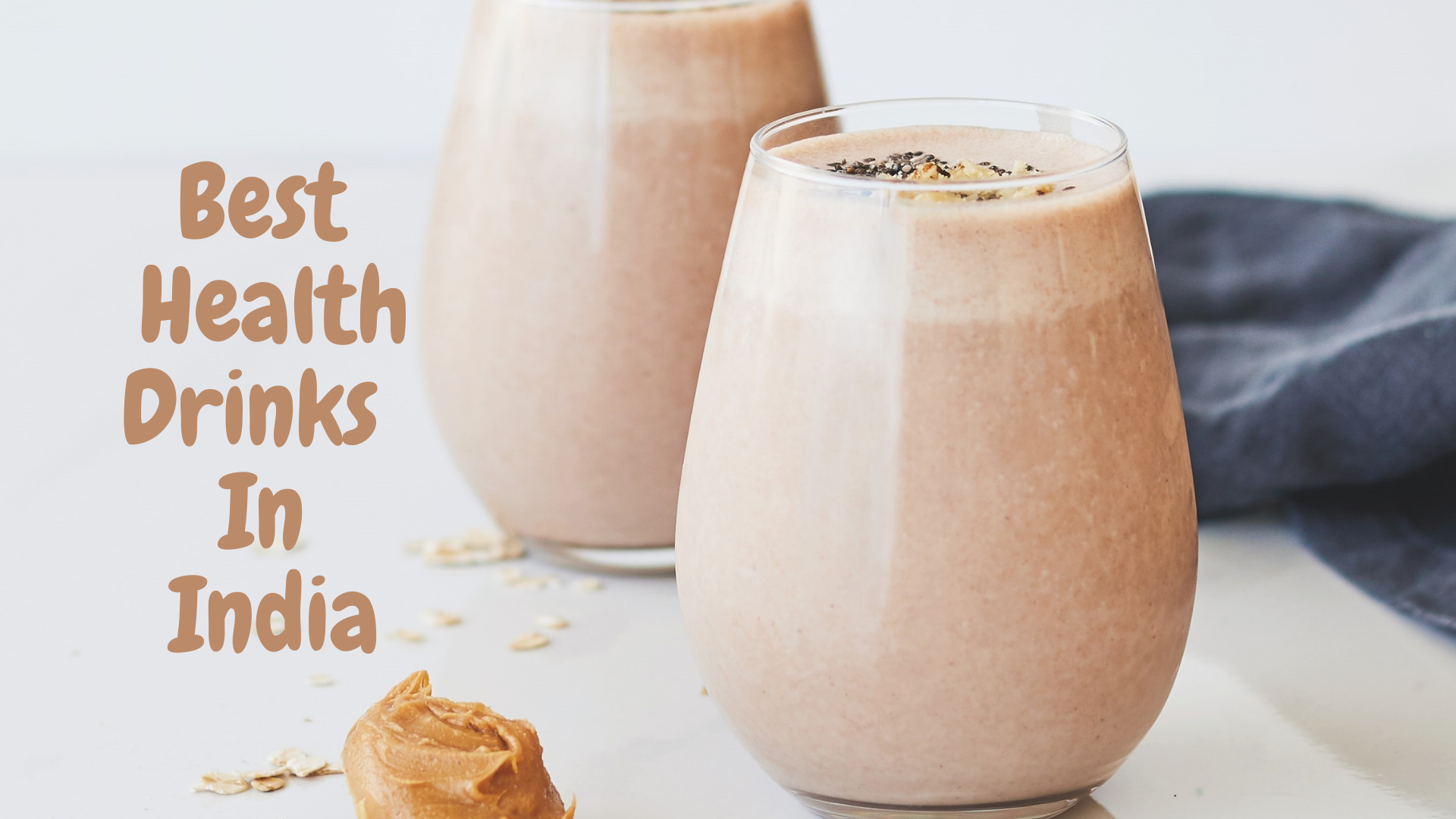 In today's lifestyle, being healthy is a task. We often put this task low on the priority list as we are always busy running to achieve extra. We want to reach the top of the success ladder in less time. This hectic lifestyle calls to get one of the best health drinks in India to our kitchen shelves to fill our daily nutritional needs.
As we are approaching a better tomorrow, we often overlook our needs for pure nutrition and never give due importance to health care. So even if our meals lack essential minerals, our health drinks can make up for that with their much-needed nutritional value at the best tastes. We need to consider the topmost and the best nutritional drinks for adults and kids to get the most out of our dietary supplements. So, we will look at the top 13 healthiest drinks in India, buyer's guide, and their nutritional benefits.
We will also try to see if these drinks are healthy or not.
Also, if you wish to know about health boosters like multivitamins, which help boost your health, you can read them here.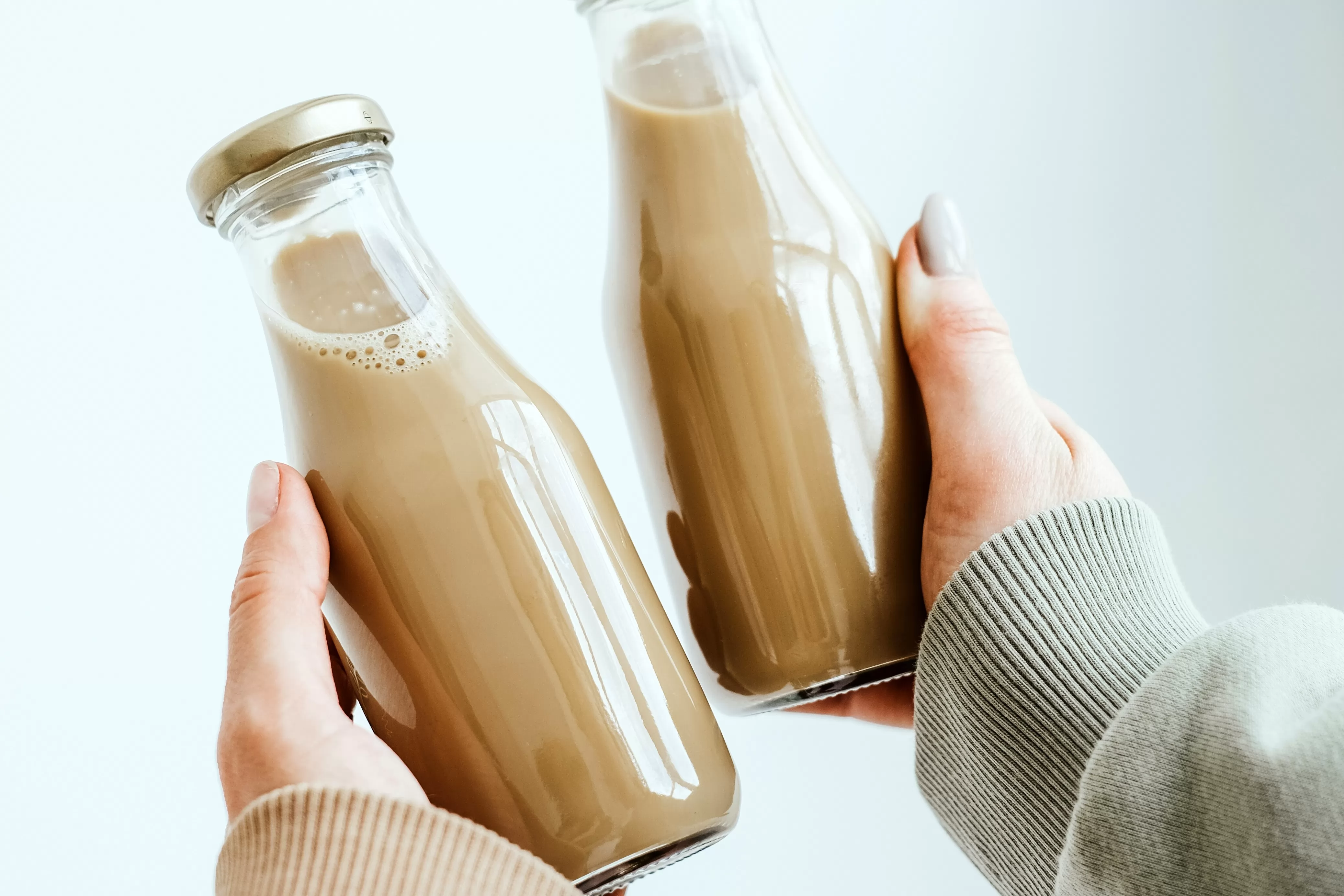 Health Drinks- Are They Healthy?
Health drinks are trendy in India. With a large consumer base, Malt-based health drinks are gaining immense popularity in India. There are various health drinks in India for adults, but it is majorly popular among the children. Children like to add chocolate flavoured health drinks to enhance the taste of milk and get additional energy from these drinks.
There is a comprehensive list of health drinks in India that are malt-based. Malt-based health drinks are highly beneficial due to the nutritional qualities present in malt. Malt is naturally digestive and helps increase the levels of good cholesterol and decrease the levels of bad cholesterol in our body.
It contains more than 30 essential minerals and nutrients.
Let's have a quick look at the Health Benefits Of Health Drinks.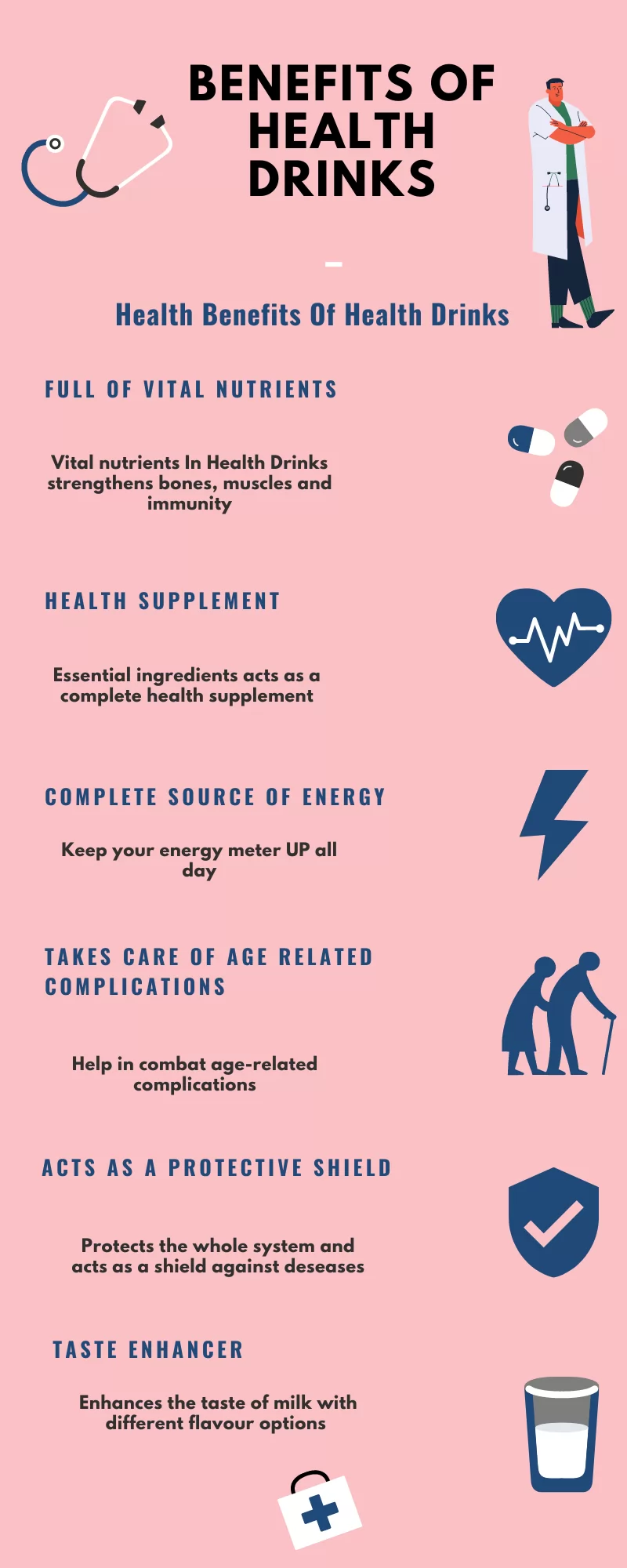 Read on to know in detail.
Top 13 Health Drinks In India
| | | | |
| --- | --- | --- | --- |
| Health Drink Brand | Quantity | Price | Ratings |
| Boost | 750gm | 347 | 4.4 |
| Horlicks | 1 kg | 454 | 4.4 |
| Manna iStrong | 200 gm | 139 | 4.3 |
| PediaSure Health | 400gm | 545 | 4.5 |
| Horlicks Women's  Plus | 400gm | 295 | 4.4 |
| Bournvita | 1 kg | 400 | 4.5 |
| Ensure | 1 kg | 1150 | 4.5 |
| Complan | 1 kg | 530 | 4.4 |
| Protinex | 250gm | 330 | 4.3 |
| Yakult Probiotic | 5x65ml | 70 | 4.6 |
| Gritzo SuperMilk 13+y Health Drink & Kids Nutrition | 400gm | 799 | 4.2/5 |
| Glucon-D Instant Energy Health Drink | 450gm | 110 | 4.5/5 |
| Celevida - Nutrition Health Drink | 400gm | 640 | 4.2/5 |
Note- All prices at MRP. Actual may vary according to the prevailing offers and discounts.

Also-To know the Best Biotin Tablets For Hair Growth, Read Here.
Let's have a look at them.
1.Boost
Boost is a secret of a lot of health drinkers' energy. Boost, as it claims, is a health drink that energises and provides essential nutrients to adults and young children who are keen on sports activities. It is majorly famous among adults as it is labeled as a sports drink. It helps in boosting the overall strength of the body with its essential nutrients.
How Does It Help The Body?
Boost health and sports drinks help in building stamina in the sportspersons to let them practice for hours. It contains iron, Vitamin A, C, Folic acid, B12, and B6. it also has magnesium, zinc, iodine, and vitamin D to help build the body's inner strength. Its healthy nutrients help transport oxygen to the whole body, which further helps strengthen the muscles and bone strength.
It is prevalent among young sportspersons.
2.   Horlicks Health & Nutrition Drink
Horlicks is a brand name in India for health drinks among children consumers. It is one of the best health drinks for child in India. Horlicks help in building immunity in children and making them taller, sharper, and more robust.
It helps in better concentration in children, and hence they focus more on studies. Horlick's bone density enhancer formula makes the bones strong, which further helps children be active in sports and extracurricular activities.
How Does It Help The Body?
Horlicks claims to have five health boosters that help in growing children sharper and stronger. It contains vital nutrients like Vitamin A, D, C, B6, B1, B2, B12, Magnesium, protein, Vitamin E, and many other essential minerals to help children's comprehensive growth.
It helps by building bones and muscles and developing brain strength for proper concentration. It improves immunity and makes blood healthy.
It is one of the favourites among children.
3. Manna iStrong
Manna iStrong is the solution to many women's problems due to their lifestyle-related stress and severe work-related fatigues. It gives comprehensive solutions to women and is one of the well-known women's health drinks in India. 
Manna fulfills the need for iron in womens' bodies and fills the gap of iron deficiencies.
Manna iStrong helps women with anemia by providing them complete iron care. It also helps in improving haemoglobin levels in the body.
How Does It Help The Body?
 Today's busy women have different healthcare needs. Manna iStrong understands that. It helps in improving the iron and haemoglobin levels in the body and also fights anemia. It contains Vitamin C, B9, B12 that fulfills the need for iron in the body. It also contains iron, calcium, and proteins for a more balanced nutritional supplement for women.
It is highly safe for weight management as it uses natural sweeteners.
4. PediaSure Health
To have a comprehensive growth of your child and get the best out of healthy drinks, Pediasure has one of the best health drinks for children in India to offer to its broad consumer base. It is a balanced supplement for children, which helps in their growth, immunity, and brain development. Pedia sure uses high-quality nutrients to develop a formula that is tasty as well as healthy.
How Does It Help The Body?
Its vital minerals like proteins, zinc, Vitamin E, B6, copper, selenium, folic acids, and vitamin C helps develop the essential organs of the child and boosts its immunity. 
It contains neuro-nutrients minerals like Linoleic Acid, Alpha-Linolenic Acid, and iodine, which help the brain's growth and make a child super bright.
This one is a stealer for a child's complete growth.
5. Horlicks Women's  Plus
 A woman goes through a lot of body transformations. Horlicks Woman Plus understands this, and keeping in mind the vital fact that womens' bone density decreases with age provides a complete solution to this problem. It is enriched with essential vitamins that increase bone density and bone strength to keep a new-age woman going.
How Does It Help The Body?
Women's Horlicks contain RDA of Vitamin D and K2 for calcium absorption in bones. It contains essential calcium for bone strength. It makes the lives of women healthy and keeps them energetic and up on their toes the whole day.
A prominent women base in India love women's Horlicks.
It is a complete solution for bone-related ailments in women. Surely a among the chosen health drinks for womens in India.
6. Bournvita
Among the top health drinks brands in India, Bournvita has been providing for the health care needs of young adults and children for a long time now. It is a celebrated brand that has found its presence in almost all the households of the country. 
With eight immunity boosters, Bournvita is infused with immense, powerful nutrients to help develop your child in a more complete and balanced way.  
How Does It Help The Body?
Bournvita is enriched with phosphorus and Vitamin D that boosts the bone development process, and helps in calcium absorption. It also contains proteins and vitamin B, B12, which helps in the overall growth.
Its unique formula also consists of iodine for a more balanced cognitive system of the body.
Loaded with essential vitamins, Bournvita indeed proves to be one, leading the charts of the health drinks market in India.
7.Ensure
Age brings its share of problems with it. You undoubtedly become wiser and mature, but the maturity of your body's health causes many issues. Ensure has one of the best health drinks for adults in India to minimise age-related problems in adults.
It is enriched with vital nutrients that ensure balanced energy and immunity in the body. 
With age, the energy levels tend to deteriorate. Ensure ensures that doesn't happen. It boosts energy and vitalises the organs. 
How Does It Help The Body?
The age-related complications are endless. Ensure provides for the solution in a very well-planned way. It is infused with Vitamin B1, B2, B6, B12, and iodine that help regularise the metabolism. 
It contains Calcium, Phosphorus, Magnesium, Vitamin D, and Vitamin K for stronger bones and better density. It boosts muscle strength to help you perform and function without any fatigue in your old age.
Its unique formula makes it an essential health drink for old age when bones get weaker and weaker and the strength of the muscles deteriorates.
8.Complan
Complan is one of the oldest brands of health drinks in India. And a trusted one too. With a blend of 34 vital nutrients to boost its nutritional value, Complan surely tops the chart for being a complete health supplement for children.
It claims to help to accelerate the growth and development of your child and making its immune and cognitive system balanced and highly advanced. 
How Does It Help The Body?
Complan, a comprehensive health drink in India, provides your child the vital nutrients required for its development. It contains vitamin B6, B12, and vitamin D for good calcium absorption and has high-quality proteins for overall balanced growth. 
It also consists of iodine, folic acids, vitamin C to cater to the different nutritional needs of your child.
9.Protinex
Who can deny the worth of protein in our diets? Proteins are the building blocks of the body. They are among the vital nutrients a body requires. To cater to the need for protein in our body, Protinex offers a mix rich in proteins to help boost our health and fulfill our body's protein requirements.
Protinex helps in boosting immunity and build the strength of the body. It is one of the essential health drinks for adults in India. It is a mixture of 22 essential vitamins and minerals that help improve overall health and accelerate growth.
How Does It Help The Body?
It is a unique protein mix, one of its kind to cater to protein-related deficiencies in the body. Proteins are treated as the building blocks of our body, and Protinex provides for the same. It has calcium, B vitamins, iron, and potassium that helps in growth & increasing muscle mass, strengthening bones, and improving metabolism.
It also helps maintain fluid & electrolyte balance in the body and improve blood cell formation.
It is undoubtedly a complete solution for a protein supplement.
10.Yakult Probiotic
Our body requires a balanced combination of good bacteria that boost our immunity and our body's growth. They help fight harmful bacteria and give our body enough strength to do our work ailment-free.
Yakult is a probiotic drink that is beneficial for the body for its smooth function and well-maintenance.
How Does It Help The Body?
Yakult is a probiotic that helps our body fight all the harmful bacteria and keep our guts healthy. It helps in absorbing the medications and digest food.
It also reduces the risks of infection.
11.Gritzo SuperMilk 13+y Health Drink & Kids Nutrition
Gritzo super milk protein nutrition powder helps teens, especially the athletic ones, gain their daily protein intake to help boost their energy and endurance. It acts as an immunity enhancer to strengthen the immunity of the teens so that they face the world with more confidence and be successful in their game.
This powder includes essential nutrients that are safe for consumption and get quickly absorbed in the body to provide the best nutritional support. It is easily digestible and is a taste enhancer as well.
How Does It Help The Body?
It helps the body to boost immunity and enhance energy. It contains essential nutrients for the teens that include (Iron, Zinc, Magnesium, Phosphorous, Potassium, Chloride, DHA, Calcium + D3, Vitamins A, B1, B2, B3, B5, B6, B9, B12, C, E, K, and Biotin. It also contains Minerals and Electrolytes to help in building a healthy body and boosting immunity.
12.Glucon-D Instant Energy Health Drink
Glucon D is a brand that ensures health and energy. This glucose-based beverage mix helps you to stay active for a long time. It provides essential nutrients that help in getting rid of tiredness and feeling rejuvenated for the whole day. It is a water-soluble energy drink mixed in water and consumed instantly for instant energy.
It also helps in combating the summer heat and regaining your energy consumed in the scorching heat.It is one of the best health drinks in India for summers
How Does It Help The Body?
It helps provide instant energy as it contains Vitamin C. it also helps improve mental alertness that aids in better concentration. It also has calcium for bone health. Its delicious varieties of flavours provide taste and energy.
13.Celevida - Nutrition Health Drink
Celevida Nutrition health drink is high in fiber and boosts energy levels. It also contains proteins and is sugar-free. It helps in supporting muscle mass and maintaining your overall physique.
This nutritional supplement helps in supporting weight management. It is clinically proven to manage the sugar levels in the body.
How Does It Help The Body?
It is clinically proven to manage sugar levels and is rich in proteins and fiber. It also helps in weight management, making it an ideal drink for sugar patients with weight management issues.
We are health conscious. Even if we are not diabetic, we choose sugar-free drinks. For people with diabetes, these drinks are the only option. There are some health drinks for diabetic patients in India that are sugar-free and safe. These are:
Sugar Free Health Drinks in India
| | | | |
| --- | --- | --- | --- |
| Sugar-Free Health Drinks | Price(Rs) | Rating | Buy Now |
| Prodrive | 540 | 4.1/5 | |
| Develo  | 795 | 4.2/5 | |
| Ensure Diabetes Care | 690 | 4.5/5 | |
| Pro360 | 370 | 3.9/5 | |
| Dhaanza Health Mix | 245 | 5/5 | |
So we saw how these drinks help boost our health and fill the need for essential nutrients in our body. Why we need these extra nutrients is our next question. But, before that, let us look at some of the factors to be considered before buying health drinks.
Buying Guide For Health Drinks - What To Look For?
Health drinks are vital for comprehensive growth. They provide the essential benefits that we may overlook in our busy lives. But there are certainly important factors to look for when you are purchasing health drinks online or offline. These things are:
It is best to always look for only the best brands and authentic manufacturers and sellers for your health. Health needs excellent attention, and consuming health drinks from non trusted brands can have adverse effects instead of benefits. So always choose one from the most trusted health drinks brand that has a reputation and loyal customer base.
Always look for good ingredients in a health drink. Those health drinks that have high concentrations of preserb=vatives and harmful toxic components should be avoided. Choose only those that have the goodness of vitamins, proteins, and other essential minerals.
Choose only those health drinks which are high on benefits. Healthy drinks have various benefits, and some are good for protein deficiencies; some have better energy-boosting elements. Go for that health drink that benefits you the most according to our needs and requirements.
Every health drink has its unique benefits, as all have special ingredients with their respective goodness. Different health drinks target different consumer bases. Choose health drinks accordingly. Some health drinks are good for old age consumers, some for young kids.
Also, check for sugar content in these drinks before buying.
One more important thing to look for is the certification of the health drinks. If the health drink you are buying is certified by a recognised and trustworthy body or not is a vital piece of information to check for.
No one should buy anything that is expired. And when it comes to health drinks, the expiry date is a vital piece of information. Check for the expiry date and look for a reasonable margin of the period left before the product's expiration.
These were some of the valid points to look for before buying your next health drink.
Let us find out the Benefits Of Health Drinks.
Why Do We Need Extra Nutrition From Health Drinks?
We can see that health supplements are required at every stage of our lives. Be it a child or an older person; all need health boosters to achieve something extra.
Also, the quality of life in today's fast-moving world has deteriorated to an unhealthy level where we don't even know what is in our food. In all this chaos, we need something to boost the nutritional requirements of our body and make us healthy and keep us going.
That's why we resort to health drinks that offer additional health care and fill the gaps created by our lifestyle-related nutritional deficiencies. 
Health drinks have a lot of benefits as they are malt-based. The malt in itself consists of being a nutritional fiber that helps in the comprehensive growth of the body. It enables the body to develop and grow in a more balanced and healthy way.
There are various benefits of health drinks. Let us discuss. 
Health benefits of health drinks
Health drinks are full of vital nutrients that help in building our body and its overall development. It contains all the essential nutrients that help our body's muscle, bones, and immunity development. These drinks increase the density of bones and strengthen the muscles. It helps in boosting immunity. These vitamins ensure that our bodies function to their best possible potential, and we excel in our day-to-day activities.
Even if we skip our meals, health drinks provide us with the goodness of multivitamins and minerals to supplement our need for healthy meals. It consists of essential ingredients like vitamins, zinc, magnesium, and calcium that fulfill our body's need for healthy food.
So even if we forget to have a healthy meal, healthy drinks are enough in themselves to fulfill our daily needs of nutrients and essential minerals. They fill the gap our bodies have in our daily nutrients requirements.
Complete Source Of Energy
Rich with beneficial minerals, health drinks act as a complete source of energy for the whole day. A cup of milk rich with the health drink powder of your choice keeps you going and your energy meter up all day. It consists of all the essential vital nutrients that provide energy boosters. It helps in making you active and ready for the day.
Takes Care Of Age-related Complications
As we know that health drinks are rich sources of vital nutrients, they help combat age-related problems in the body. Weakening of muscles, low density of bones, weaker immunity system are some of the age-related ailments. Health drinks ensure to overcome all and provide a healthy, comprehensive solution. 
Older people need extra care. With age, to function correctly, they need an extra dose of vital nutrients. These drinks provide these essential nutrients like calcium, zinc, and vitamins critical to the elderly consumers to have stronger bones and enough energy to carry on for the whole day.
Acts As A Protective Shield
We all are aware of our health and its needs, but we often overlook them entirely. Health drinks act as a complete protective shield against all the antigens and their adverse effects on our health and body. They combine all the vital nutrients that help fight the body against all the disease-causing viruses.
Many don't like milk at all, especially the little children. The flavoured health drinks enhance the taste of the health drinks and make them yummy for the little ones and drink-worthy for the adults. It subdues the aversion many have towards the milk and makes it more tasty and fulfilling.
 Health drinks are essential to remaining active all day. It contains vital nutrients to keep us going the whole day.
In this article, we discussed the health benefits of healthy drinks and why they are necessary. Let's hope it helps you in choosing the right drink for your daily health needs.
Frequently Asked Questions
Q.What are the top 10 healthiest drinks?
A. Top healthiest drinks are those that provide you nutrition and fulfill your health requirement. In the article above, we have mentioned more than the top 10 most nutritious drinks for you to choose from. You can select any of the health powders according to your requirements.
Q.Which is best nutrition drink?
A.The best nutrition drink is milk. When enhanced with malt-based health drink powders, the milk becomes more nutritional and healthy.
Q Which are the best health drinks brands in India?
A.There are various health drink brands in India. Among the top are- Complan, Horlicks, and Bournvita.
Q How to compare health drinks in India?
A. The Health drinks can be compared in various parameters. One of the essential parameters is the number of nutrients and minerals it has and its benefits.
Q Which are some of the best health drinks for old age in India?
A.Older people can consume those health drinks which are low in sugar. But Ensure and Horlicks women plus keep in mind the age-related complications and provide a comprehensive solution
Q.What is the most healthy drink to drink?
A. Honestly, the most healthy drink to drink is Water. It is natural and toxic-free. But if you talk about health drinks- those which have all the ingredients for better mental growth, immunity boosters, and energy boosters are some of the best health drinks.