151 days ago
25 Best Ghee Brands In India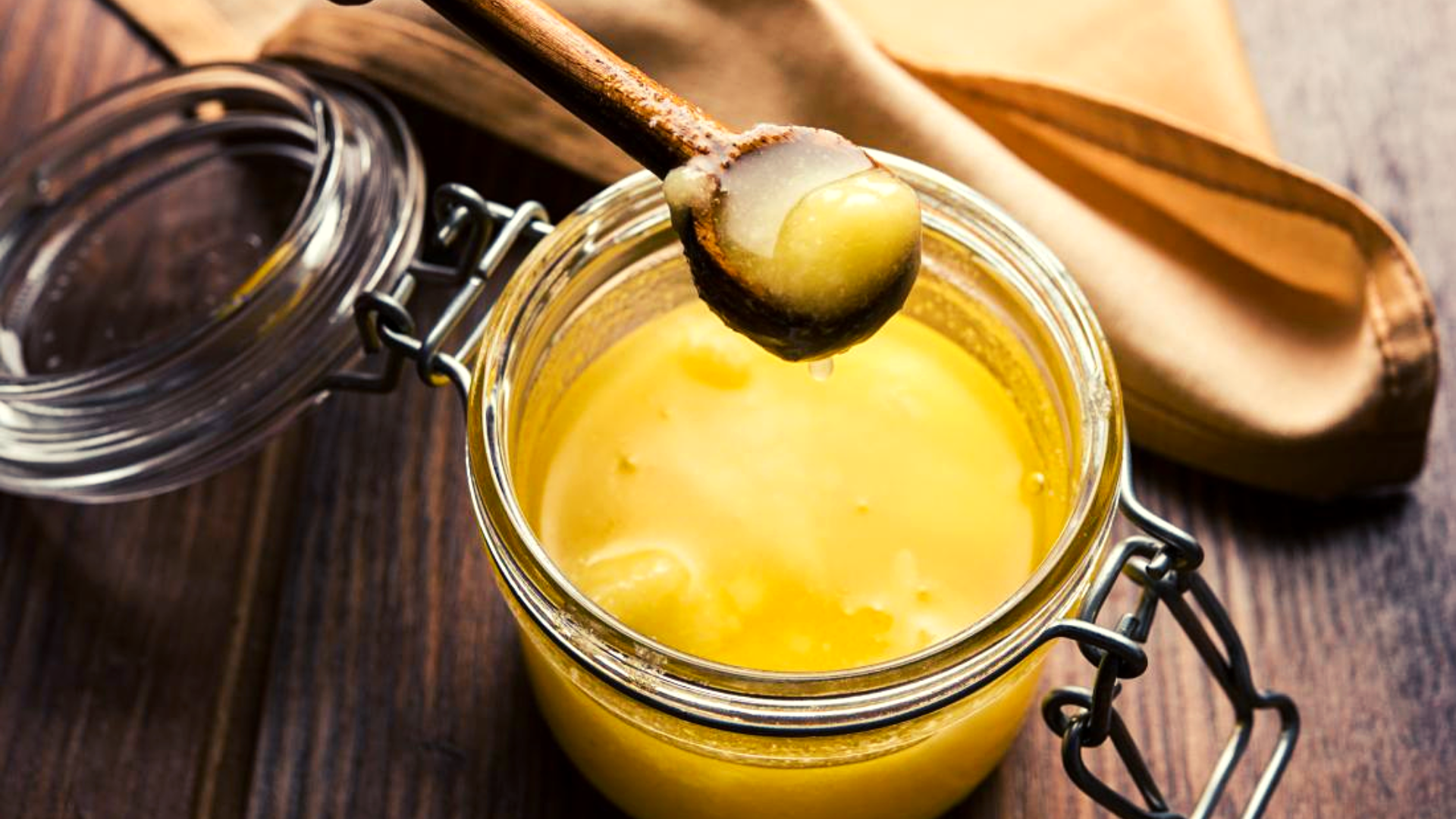 Are you looking for which desi ghee is best? Or do you want to know Which ghee brands serve the best cow ghee? If you said yes to any of these questions, then you are reading the perfect article. 
In this article, I will tell you about the 25 Best Ghee Brands In India, their starting price range, key features, shelf life, establishment year, revenue and more.
The purest type of good fat is ghee. Pouring ghee into your food improves the flavour regardless of whether you're eating daal, rice, or parathas. Cows and buffalo are the sources of all the finest ghee in India, and it provides health advantages.
Additionally, if you want to know about the best Sunflower Oil in India, I would suggest you read our dedicated article.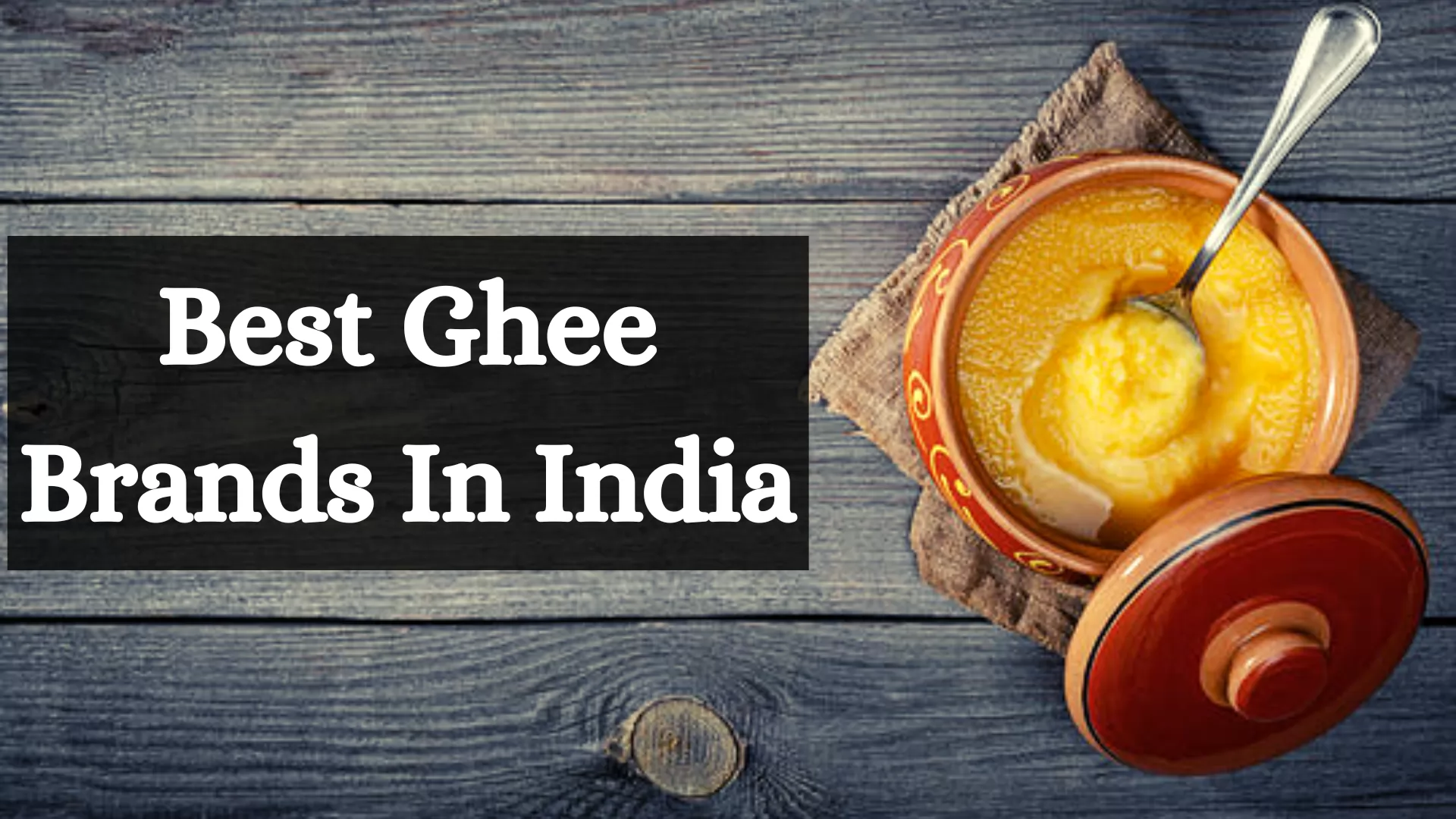 Table of Contents
[ Show ]
List Of 25 Best Ghee Brands In India
Here I have shortlisted 25 Pure Desi Ghee Brands along with their starting price range and quantity. Also, we have provided detailed information about each of these brands below the table. So to know more, keep reading this article until the end. 
| | |
| --- | --- |
| Best Ghee Brands | Starting Price Range With Quantity |
| | Rs. 337/ 500ml |
| | Rs. 114/200ml |
| | Rs. 110/200ml |
| | Rs. 623/1L |
| | Rs. 649/500ml |
| | Rs. 230/400ml |
| | Rs. 859/500ml |
| | Rs. 130/100ml |
| | Rs. 699/1L |
| | Rs. 680/500ml |
| | Rs. 590/750ml |
| | Rs. 499/250ml |
| | Rs. 335/500ml |
| | Rs. 549/250ml |
| | Rs. 299/250ml |
| | Rs. 45/50ml |
| | Rs. 798/250ml |
| | Rs. 747/500ml |
| | Rs. 799/1L |
| | Rs. 549/250ml |
| | Rs. 659/500ml |
| | Rs. 648/500ml |
| | Rs. 950/250ml |
| | Rs. 800/500ml |
| | Rs. 575/250ml |
Review Of Best Ghee Brands In India
Here we have reviewed each of these ghee brand in detail for your convenience. To know more about these brands, keep reading this article to the end. 
1. Aashirvaad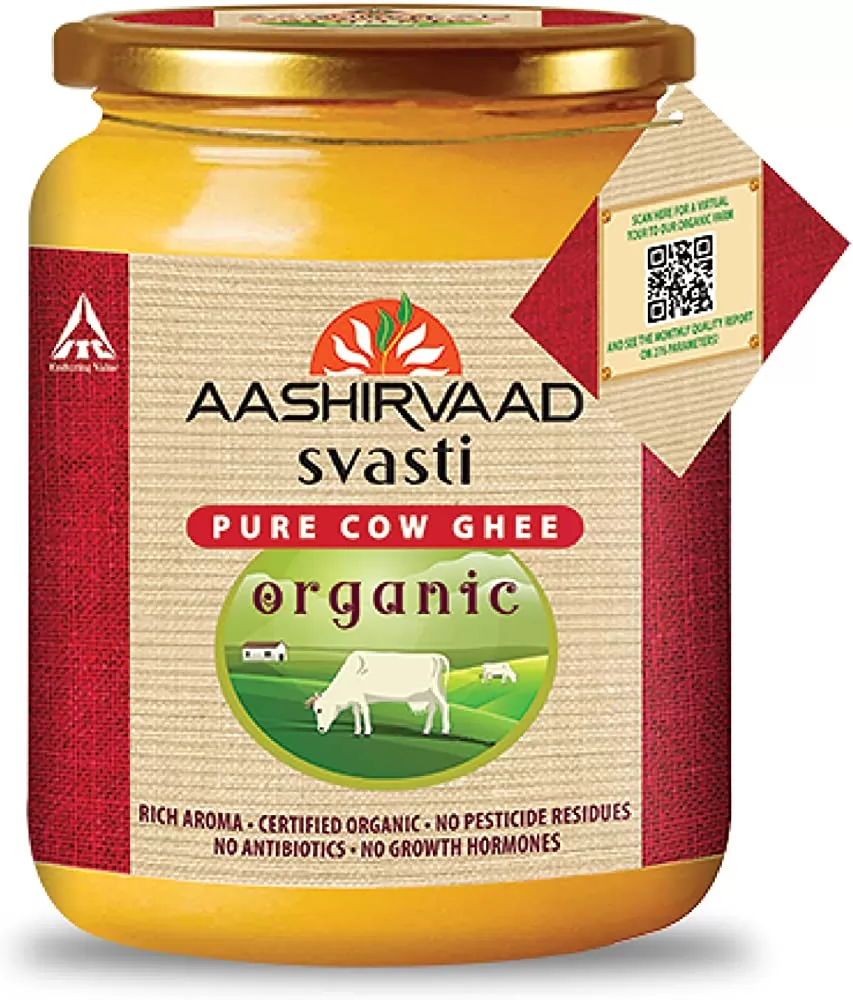 ITC Ltd. owns the Aashirvaad brand of everyday foods and kitchen essentials. In addition to atta flour, salt, spices, quick food mixes, dairy products, and superfoods, the Aashirvaad brand was introduced in 2002. Fatty acids and fat-soluble vitamins are found in Aashirvaad Ghee, both of which have health advantages. Furthermore, AASHIRVAAD employs automated packaging technologies to preserve the flavour and aroma. This guarantees that using the ghee is sanitary. 
AASHIRVAAD Ghee is intended to add distinctive flavour and quality to every meal. It is one of the top 10 cow ghee brands in india. Using a special "SloCook" method, pure ghee is manufactured by cooking it gently for three and a half hours, much like you would make at home. The technique involves gradually raising the cooking temperature, which ensures an excellent texture, flavour, and fragrance from the food's natural ingredients.
Key Highlights
Foundation Year: 2002

Founder: ITC Ltd

Type Of Ghee Offered: Pure Cow Ghee

Revenue: $42 Billions

Other Products Range: Atta, Ghee, Salt, Spices And Instant Mixes
2. Amul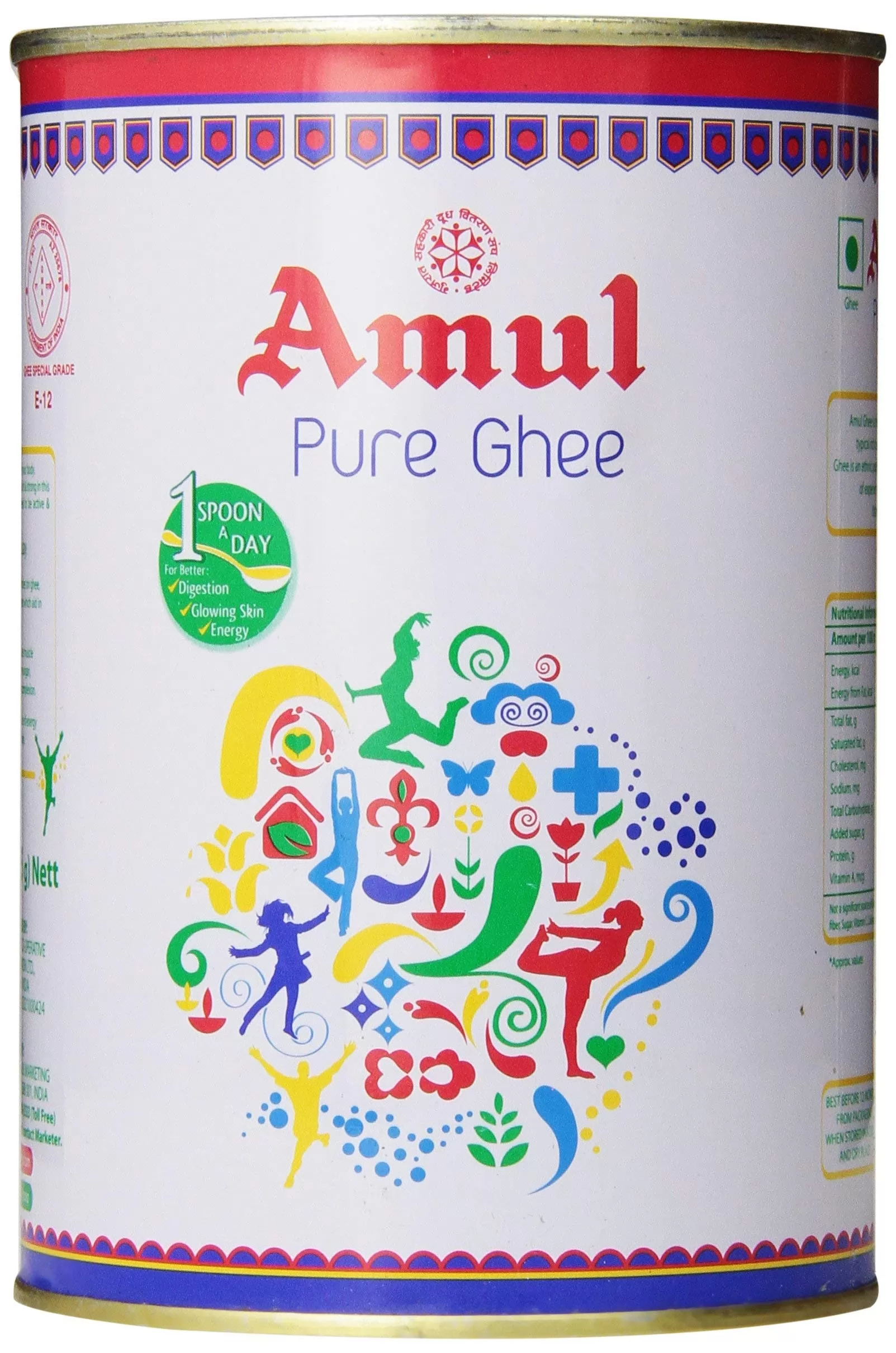 Gujarat Milk Marketing Federation, an Indian cooperative association with headquarters in Anand, Gujarat, is known by the initials AMUL. Gujarat Cooperative Milk Marketing Federation Limited, part of the Gujarati government's Department of Cooperation, is the owner. There are 3.6 million milk producers that run it. Amul helped launch India's "White Revolution," which made it the top producer of milk and dairy products in the world. Since then, Amul has expanded into other markets.
Ghee is a fantastic source of energy and gives the body vigour. Fresh cream is used to make Amul Ghee, which has the usual rich scent and granular consistency. Amul Ghee is a traditionally produced dairy product that is a high source of vitamins A, D, E, and K.
Key Highlights
Foundation Year: 1946

Founder: Tribhuvandas Patel

Type Of Ghee Offered: Amul Ghee, Amul Cow Ghee, Amul Sagar Ghee, High Aroma Cow Ghee & More

Revenue: $610 Billions

Other Products Range: Bread Spreads Range, Beverage Range / Milk Drinks, Powder Milk Range, PRO, Fresh Milk Range, Cheese Range, Cooking Range, Dhai Range, Mithai / Desserts Range, Health Drink, Chocolates, Icecreams

Headquarters: Anand, Gujarat
3. Mother Dairy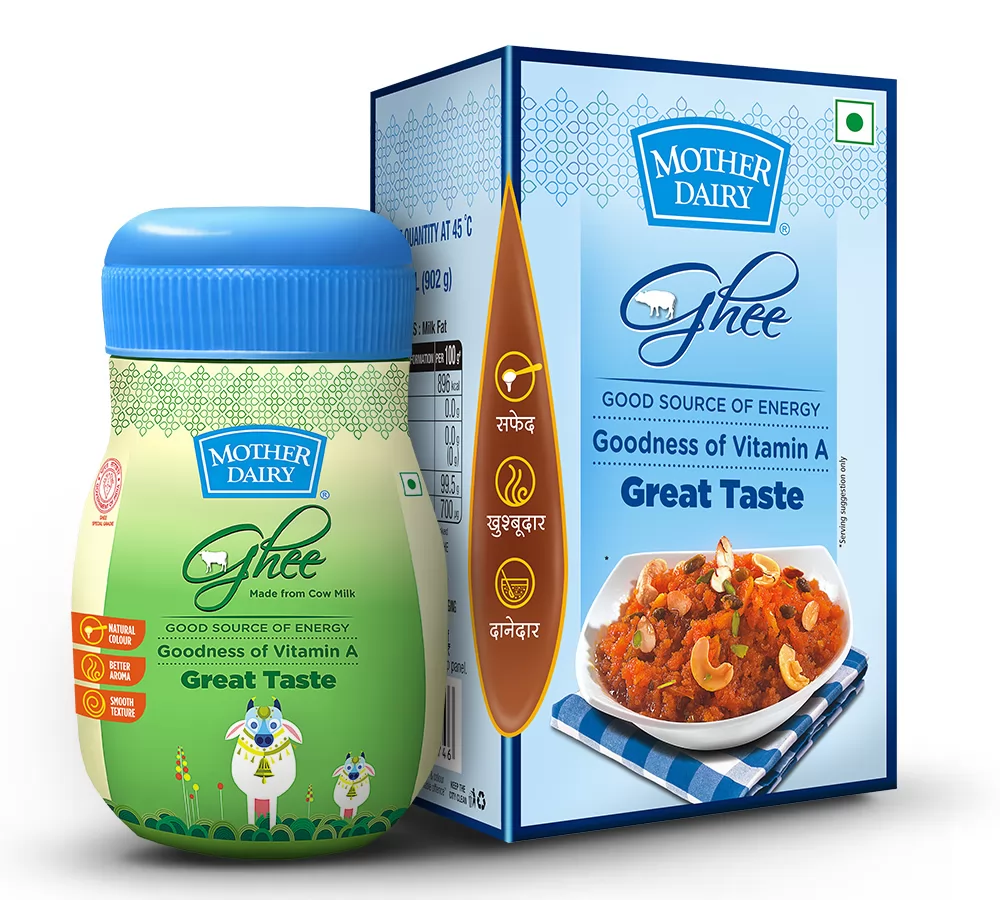 Mother Dairy was established as a result of Dr. V. Kurien's White Revolution, with a concentration on the Delhi-NCR region at first, and has since grown to include more than 100 cities. The National Dairy Development Board (NDDB)'s fully owned subsidiary, Mother Dairy, was established in 1974. It was a project supported by Operation Flood, the largest dairy development programme ever conducted with the goal of making India a milk-sufficient country.
Mother Dairy Ghee has a rich flavour and aroma that is comparable to traditionally prepared ghee. Allow Mother Dairy Ghee's enticing scent to travel you back in time. Mother Dairy Ghee is unadulterated, high in vitamin A, and fully devoid of trans fats, which are unhealthy for the body. Because it contains short chain fatty acids, ghee may be easily absorbed by the body. So, let your Indian magic do the rest.Enjoy Mother Dairy Ghee in moderation while engaging in physical activity & leading a healthy lifestyle.
Key Highlights
Foundation Year: 1974

Founder: Dr V Kurien

Type Of Ghee Offered: Cow Ghee Ceka,  Pure Healthy Ghee, Buffalo Pure Ghee And More. 

Revenue: $610 Billions

Other Products Range: Cheese, Flavoured Milk, Yoghurt, Mishti Doi, Cream, Breads, Lassi, Sweets, Ice Creams & More. 

Headquarters: Noida, Uttar Pradesh, India
4. Nestle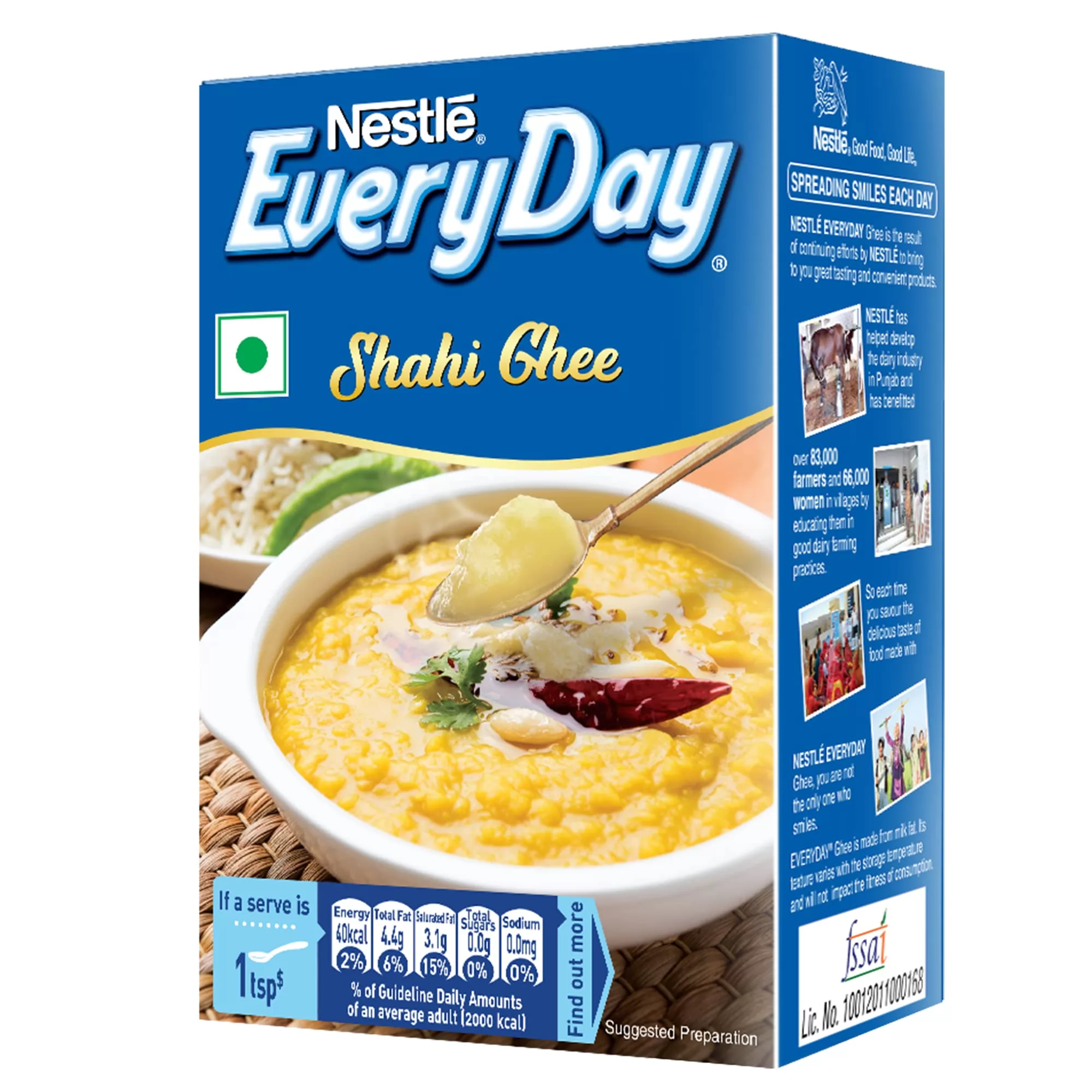 With its headquarters in Vevey, Vaud, Switzerland, Nestlé S.A. is an international food and beverage processing conglomerate firm. According to sales and other indicators, it has historically been the largest publicly held food company in the world.  Nestlé employs over 339,000 people, has 447 plants, and does business in 189 countries. 
Nestlé's ongoing efforts to provide you with delicious and practical dairy products have yielded Nestlé Ghee. When taken as part of a regular, balanced diet and an active lifestyle, Nestlé Ghee aids in providing the body with the fat it needs for energy. It is precisely packed to preserve its flavour and aroma. Thus, when used in dishes, it may also improve the flavour and taste of food, making it a necessity in all Indian families.
Key Highlights
Foundation Year: 1866

Founder: Henri Nestle

Type Of Ghee Offered: Everyday Shahi Ghee, Cow Ghee, Punjabi Ghee & More

Revenue: $90 Billions

Other Products Range: Foods, Beverages, Chocolates & Confectionery, Breakfast Cereals, Adult Nutrition, Baby Nutrition, Milk Products & More

Headquarters: Vevey, Switzerland
5. Kapiva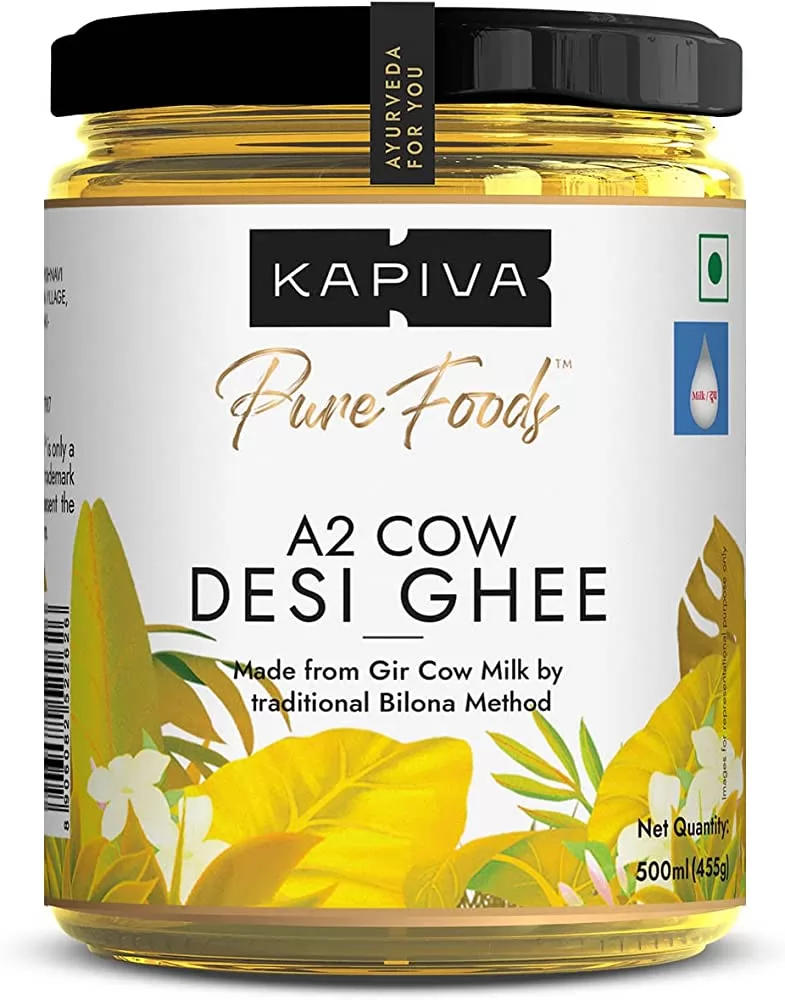 An ever-expanding family of Ayurvedic specialists, nutritionists, food scientists, and inquisitive minds like yours makes up the Kapiva Tri-Dosha Synergy. Ameve Sharma and Shrey Badhani established Kapiva. In order to create the universe of the contemporary Ayurvedic brand, Kapiva, they teamed up in January 2016. Mumbai, Maharashtra, India is home to Kapiva Ayurveda's global headquarters.
Gir cows are an indigenous breed, and their milk is used to make Kapiva Ghee. To maintain the purity of the ghee, these cows are pasture-raised rather than being factory farmed and are not interbred. Anyone searching for a healthy alternative to cooking oil or butter in order to improve their digestion and lose weight in a healthy manner can opt for Kapiva Ghee without worrying much. 
Key Highlights
Foundation Year: 2016

Founder: Shrey and Ameve

Type Of Ghee Offered: Organic Cow Ghee & A2 Cow Desi Ghee

Revenue: $1 Billion

Other Products Range: Ghee, Honey, Juices, Teas, Oils, Skin Care, Weight Care, Men's Care, Hair Care & More

Headquarters: Mumbai, Maharashtra, India
6. Ananda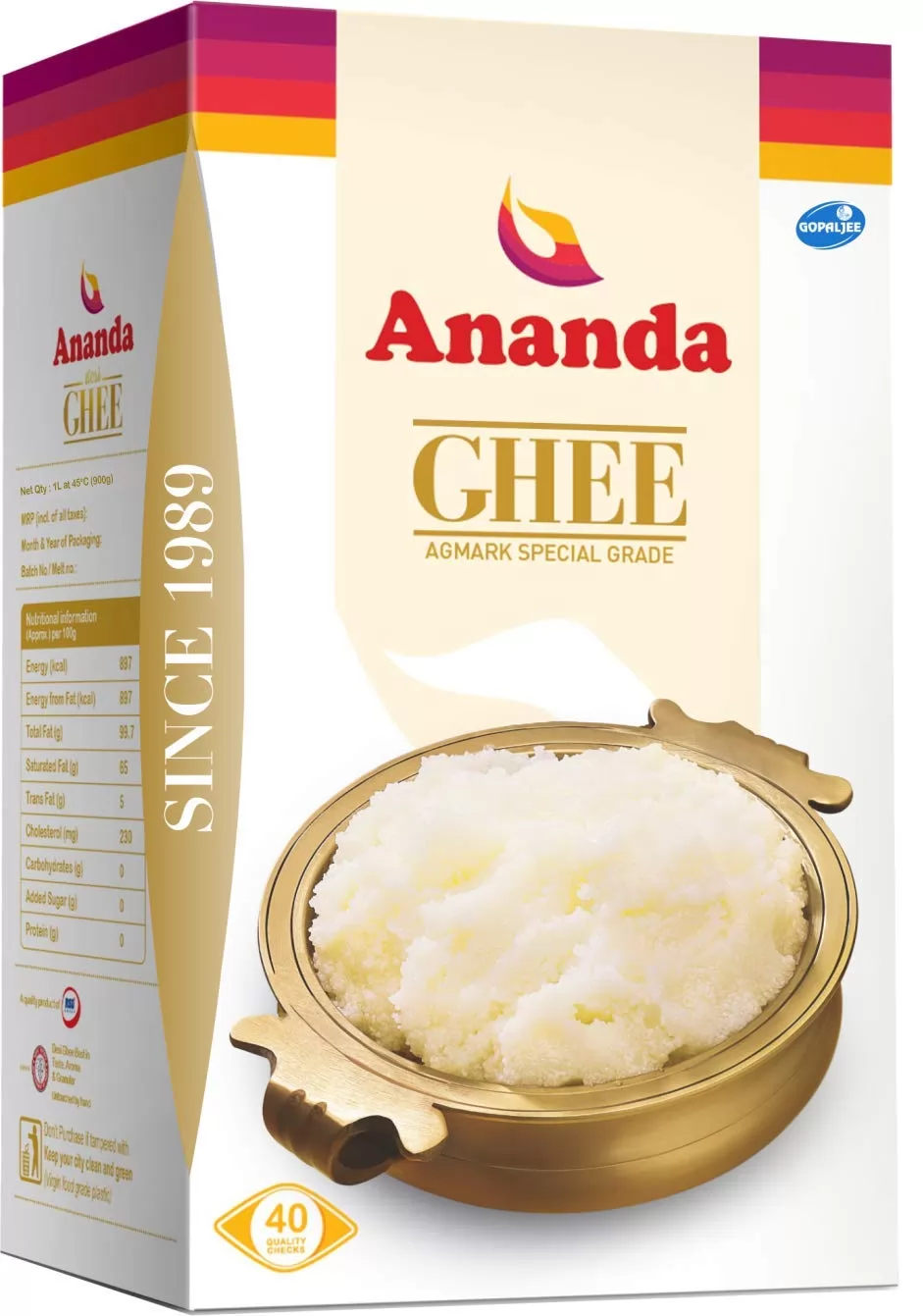 In 1989, Dr. Radhey Shyam Dixit, an Indian entrepreneur, launched the firm. Gopaljee Dairy was the initial name of the business. In March 2012, they modified the name to Gopaljee Ananda and started marketing their business under that name. Ananda now offers a selection of milk and milk-related goods, including paneer, ghee, and others.
Our dairy farms, with decades of knowledge, produce Ananda Ghee, an ethnic product. Omega 3 and CLA, which are crucial for eyesight, body growth, bone metabolism, and the immune system, are abundant in our ghee. Vitamins A and D, antioxidants, and CLA are also present. Ananda Ghee is lactose-free, contains conjugated linolenic acid, and bioavailable vitamin A.
Key Highlights
Foundation Year: 1989

Founder: Dr. Radhey Shyam Dixit

Type Of Ghee Offered: Cow Ghee, Noni Ghee, Ayusham Ghee, Desi Ghee, Pure Supreme Ghee

Revenue: $5 Billion

Other Products Range: Milk, Paneer, Ghee, Rabdi, Dahi, Chhach, Flavoured Milk & More

Headquarters: Bulandshahr, Uttar Pradesh, India
7. Auric
In 2017, Deepak Agarwal established the Auric company.  For the creation of its dietary supplements for everyday use, Auric leverages Ayurvedic herbal science. Ayurvedic medicine's promotion of a healthy lifestyle serves as inspiration for Auric as it provides their clients with food for everyday wellbeing. Ayurveda, according to the staff at Auric, should be quick, easy, and convenient without requiring a lot of your time, effort, or patience. They also think that when healthy habits are made easy, rational, and engaging, they stick around longer.
The Charaka Samhita advises utilising A2 Ghee for the best functioning of sense organs, hence Auric Ghee is created from A2 Milk using the ancient Bilona Curd Churning method. It is a perfect source of fat for the Indian vegetarian diet since it is 100 percent natural and packed with healthy fatty acids. It possesses antioxidants that act as a natural immune booster and heal & nourish the body.
Key Highlights
Foundation Year: 2017

Founder: Deepak Agarwal

Type Of Ghee Offered: A2 Ghee, Cow Ghee & Buffalo Ghee

Revenue: $50 Million

Other Products Range: Supplements, Ghee, Coconut Water, Tea, Beverages, Gifting Items & More.

Headquarters: New Delhi, India
8. Parag Milk Food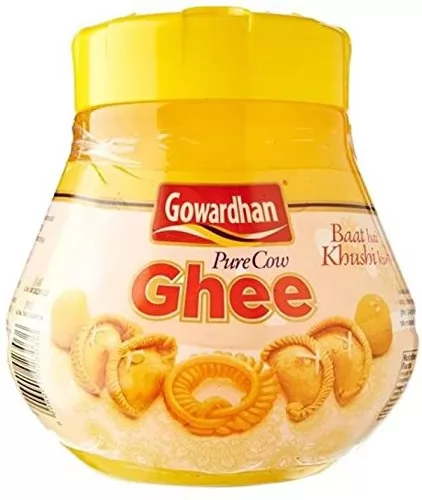 An Indian firm called Parag Milk Foods produces, distributes, and retails milk and milk-related goods. The business is India's second-largest cheese manufacturer under the Go brand and its top cow ghee producer under the Govardhan brand. In 1992, a dairy in Manchar with a 20,000-liter capacity was the company's first establishment. The company's brands include Topp Up, Gowardhan, Go, and Pride of Cows.
A historic recipe that has stood the test of time is used to make Gowardhan Ghee at a dairy facility in Morden, capturing the entire flavour and aroma of cow ghee. It is a good source of B-Carotene and natural vitamins. Cow ghee is a healthy alternative due to its high content of polyunsaturated acids and low content of saturated fats. no additional colour.
Key Highlights
Foundation Year: 1992

Founder: Devendra Shah

Revenue: $19.23 Billion

Other Products Range: Milk, Cheese, Yoghurt, Butter Milk, ,Cream, aneer, Dahi, Curd , Butter, Dairy Whitener and More

Headquarters: Mumbai, India
9. Dabur
S. K. Burman created the global Indian consumer products corporation Dabur Ltd, which has its headquarters in Ghaziabad. It is one of the biggest fast-moving consumer goods (FMCG) firms in India and produces natural consumer goods and Ayurvedic medicines. A little over 60% of Dabur's income comes from its consumer products division, 11% from its food division, and the rest comes from its foreign business section.
Dabur 100% Pure Ghee is produced using the milk of native cows raised on small farms, is manufactured in a sanitary manner, and has excellent flavour and aroma. Traditional wisdom holds that pure cow ghee works as a natural immune booster and has antioxidant properties that prevent cell damage. It supports healthy weight, maintains good cholesterol levels, and contains fat-soluble vitamins. Pure cow ghee consumption strengthens bones, boosts immunity, improves digestive health, and keeps skin beautiful.
Key Highlights
Foundation Year: 1884

Founder: S. K. Burman

Revenue: $115 Billion

Other Products Range: Baby Care, Food,  Beverage, Health Care, Supplements, Home Care, Personal Care & More

Headquarters: Gaziabad, Uttar Pradesh, India
10. ShahJi Ghee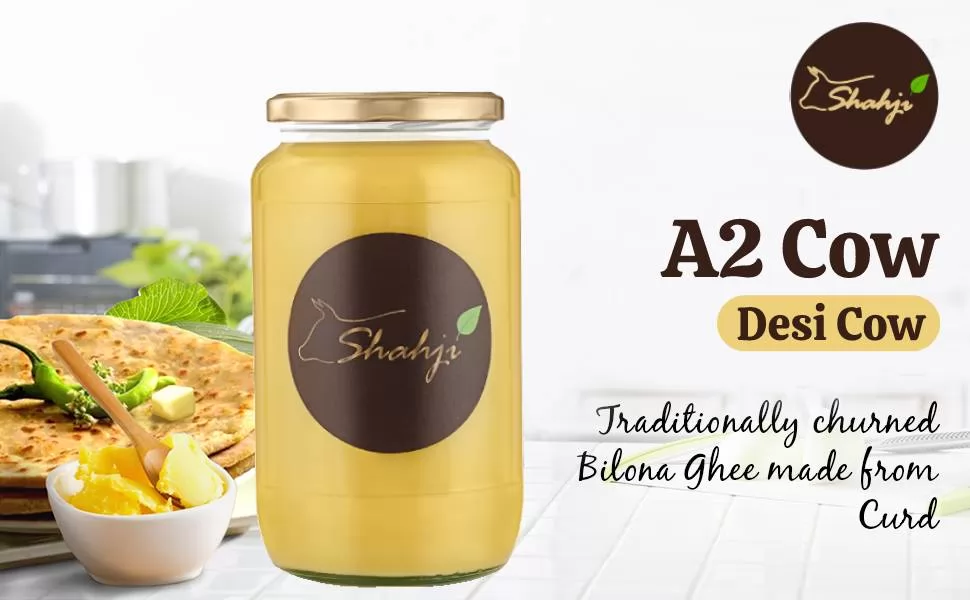 Shahji is a family-run company that has been in operation for 64 years. Founded in 1957 in Meerut by the late Shri Arjun Das Ahuja, who began by selling milk and was affectionately known as "Shahji" by those who knew him. His company's dairy products were always renowned for their purity and freshness, and its basic ideals were fairness and consumer happiness. In an effort to continue the history and return India to its long-standing traditional standards of purity and freshness, Shahji Desi Ghee was created.
Shahji Desi Ghee is ghee derived from milk that is wholesome, pure, and unadulterated. Their Desi Ghee is directly supplied to you from sanitary dairy farms, in contrast to other Desi Ghee on the market that makes the claim to be natural. To assure quality, freshness, and purity, they make ghee in small amounts. The traditional Vedic Bilona Method used to create Shahji Ghee that maintains the integrity of Desi Ghee. Bilona Ghee derived from curd is historically used to make Shahji Ghee.
Key Highlights
Foundation Year: 1957

Founder: Late Shri Arjun Das Ahuja

Revenue: $5 Million

Type Of Ghee Offered: Gir Ghee, Sahiwal Ghee, Buffalo Ghee

Headquarters: Meerut, Uttar Pradesh, India
11. Patanjali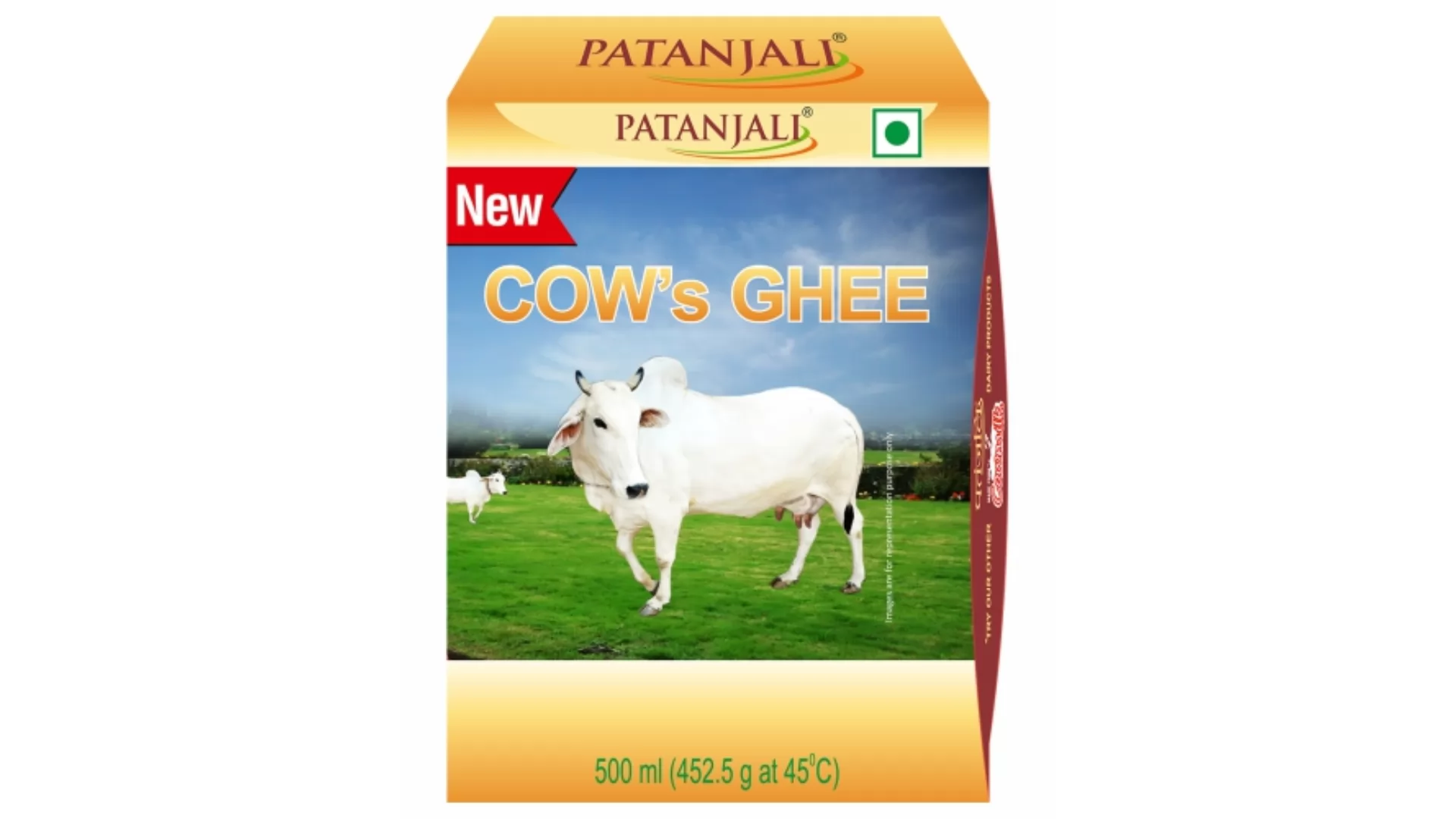 Based in Haridwar, India, Patanjali Ayurved is an international conglomerate holding corporation with Indian roots. Ramdev and Balkrishna launched it in 2006.  Its headquarters and production facilities are in the Haridwar industrial region, but its office is located in Delhi. The business produces food, ayurvedic medicine, cosmetics, and personal care items.
The optimum diet and loaded with nutrients is Patanjali Ghee. The strength of digestion, memory, cognition, Ojas, Kapha, and fat are all enhanced by this ghee. For people looking to gain weight, it is advised to regularly consume Patanjali ghee or to include it in their diet.
Key Highlights
Foundation Year: 2006

Founder: Ramdev and Balkrishna

Revenue: $3.8 Million

Other Products Range: Natural Health Care, Natural Food Products, Ayurvedic Medicine, Herbal Home Care, Natural Personal Care, Patanjali Publication, Samridhi Card, Nutraceuticals & More.

Headquarters: Haridwar, Uttrakhand, India
12. Jivika Naturals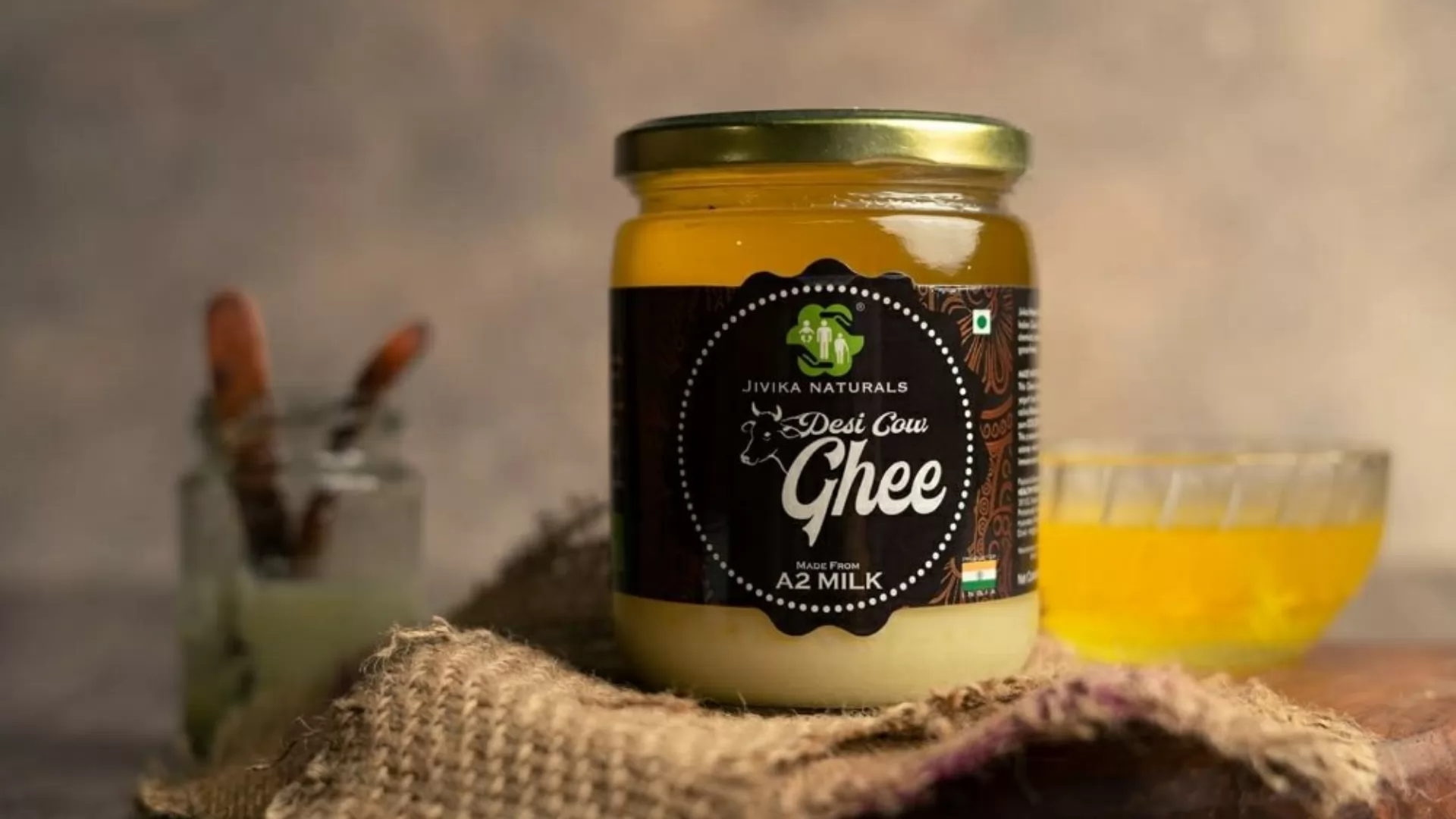 Jivika Naturals is a Hyderabad-based company that was established in 2016 with the goal of promoting happiness and well health. Since dangerous pollutants, fertilisers, and chemicals are not used in the production of the products, they are healthy, wholesome, and natural. They work to improve the local communities and tribes engaged in the sourcing and production of all of our products, which are sourced and produced in India.
The milk of native Indian cow breeds including the Tharparkar, Sahiwal, Gir, Haryanvi, Lal Belahi, and Badri is used to make A2 desi ghee. These milk contains A2 beta-casein protein, which has been shown to be nutritious, healthful, and effective in treating common illnesses. The most traditional and genuine method, known as Bilona Padati, is used to create this fascinating jar of ghee from this particular milk. This ghee is rich in omega-3 fatty acids, which are known as beneficial fats and are crucial for the body's optimal operation, as well as vitamins A, E, and D. 
Key Highlights
Foundation Year: 2016

Founder: Rupesh Patel

Revenue: $10 Million

Other Products Range: Cold Pressed Oils, Super Foods, Masala & Spices, Sweeteners & More.

Headquarters: Hyderabad, India
13. Sri Sri Tattva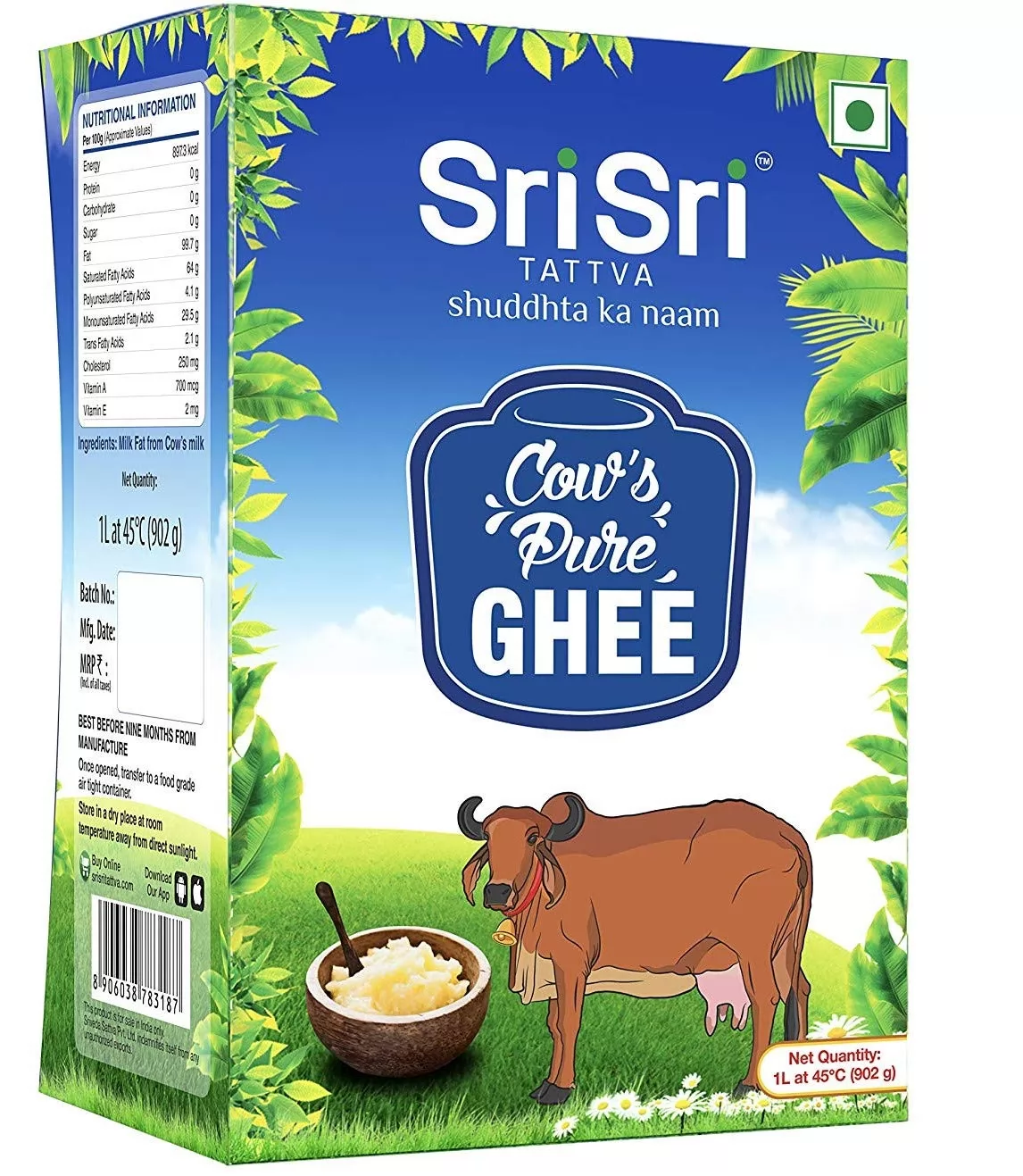 Every household's health and welfare are promoted by Sri Sri Tattva. The year 2003 saw the launch of this brand. The company enthusiastically supports the rural and social welfare programmes of the Art of Living foundation, demonstrating a strong commitment to social responsibility. The reputation we have built over the years is a consequence of our commitment to providing consumers with products that are reliable, trustworthy, high-quality, and ethical.
The main dietary component in the majority of traditional diets is ghee, which is said to be the healthiest fat humans can eat. Because it is created with premium cow's milk and has a smooth, rich scent, a creamy texture, and a nutty flavour, Sri Sri Tattva's Cow's Pure gives richness to even the most basic dish. It is also a flexible pantry staple.
Key Highlights
Foundation Year: 2003

Founder: Arvind Varchaswi

Revenue: $75 Million

Other Products Range: Ayurveda Products, Beauty, Grocery & Gourmet Foods, Herbal Supplement, Toothpastes, Cough & Cold

Headquarters: Bengaluru, Karnataka, India
14. Vedic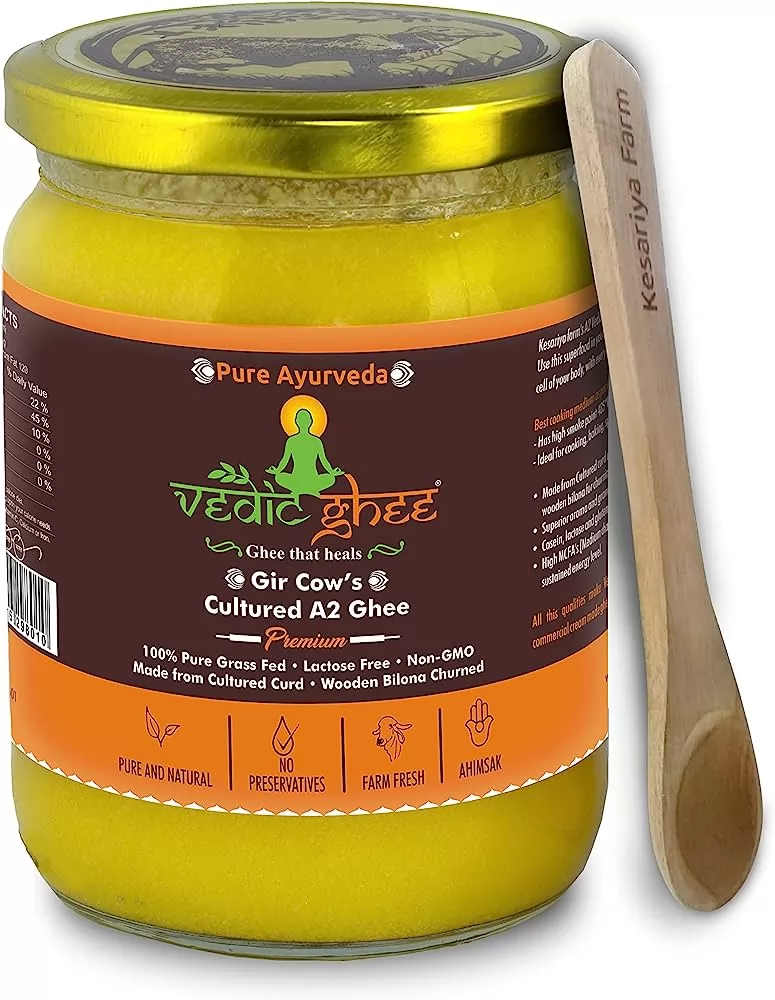 A well-known brand in the sector, Vedic Ghee strives to provide consumers with desi cow ghee that is both fresh and organic. Vedic Ghee stands apart in a century where everything is fake or just another of the hundreds of mass-produced goods from machines.
The staff at Vedic Ghee ensures that the ghee is made organically following the techniques that their forefathers valued in the ghee-making process. This makes sure it contains vitamins and minerals. Vedic Ghee is renowned for supplying premium ghee from the rare Badri cow breed while forgoing contemporary processing. Therefore, they make an effort to provide fresh, sanitary, and nutrient-rich cow ghee to their clients' doorsteps.
Key Highlights
Foundation Year: 2012

Founder: Bharat Detroja

Revenue: $10 Million

Type Of Ghee Offered: Vedic Bilona Ghee, Himalayan Cow Ghee & More

Other Products Range: Panchgavya Products, Spices, FMCG & More

Headquarters: Jaipur, Rajasthan, India
15. Himalayan Natives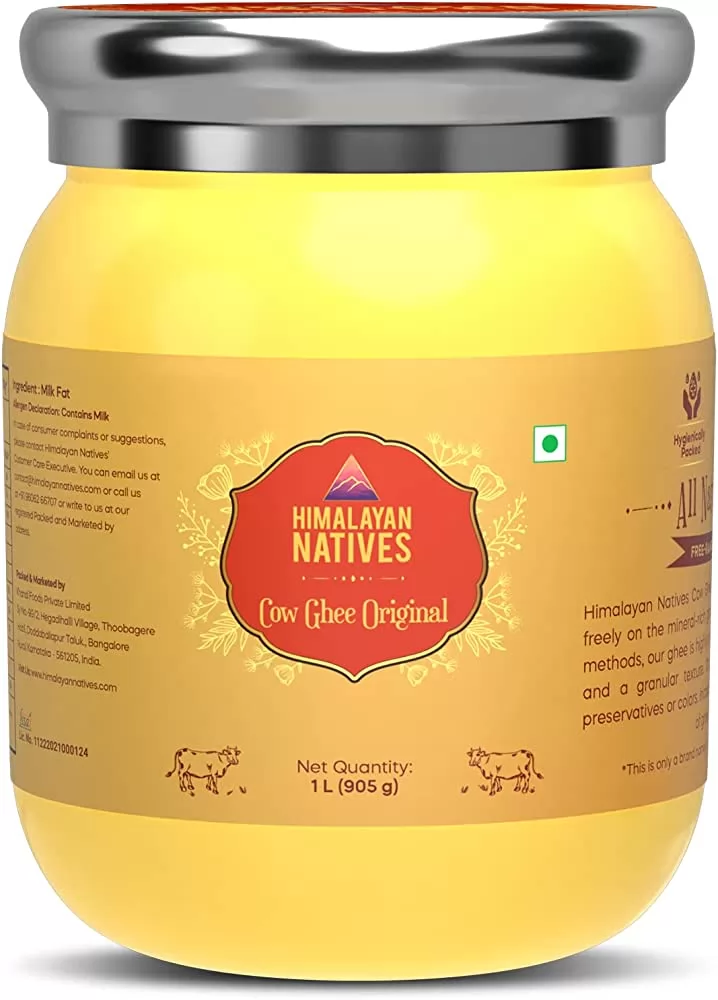 Himalayan Natives, the company, employs local farmers and mountain people to maintain knowledge of the right procurement of their seeds, grains, various ghee and pulses. They also practise total transparency. Aiming to deliver food items that are entirely pure, unadulterated, and little processed, the company makes sure that all pertinent information, such as ingredients, is indicated on the charming and considerate packaging.
Their free-grazing Pahadi Cows provide milk that is incredibly nutritious, which is used to make 100% Natural Pahadi Ghee. These cows are bred in the green slopes of the Himalayas and only feed on the therapeutic plants and herbs that grow there. The Ghee is created using only natural ingredients and responsibly procured milk from Pahadi cows.
Key Highlights
Foundation Year: 2018

Founder: Bhupendra and Sneh

Revenue: $6.6 Million

Type Of Ghee Offered: Pahadi Ghee, Cow Ghee, Organic Cow Bilona Ghee, Badri Cow Ghee, A2 Gir Cow Ghee & More

Other Products Range: Rice, Pulses, Himalayan Salt, Flours, seed, Natural Sweetners, Vinegar & Oils, Churpi, Nuts, Dryfruits $ More

Headquarters: Bangalore, Karnataka, India
16. Nandini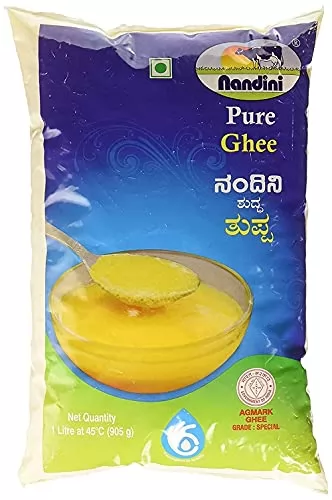 The Karnataka Milk Federation (KMF) is an Indian dairy cooperative that sells items under the Nandini brand, including milk, curds, ghee, butter, ice cream, chocolates, and sweets. It is a union of milk producers that is controlled by the government of Karnataka's Ministry of Cooperation.
A kind of clarified butter known as ghee was first produced in ancient India. It is frequently employed in Indian cuisine. When baking or deep-frying, Nandini Pure Ghee can be substituted for vegetable or coconut oil. Alternatively, you may just melt it and spread it on roti or pour it over veggies or dal before eating. Nandini Ghee, prepared from pure butter, has a flavour of purity. It has a great flavour and is pure, fresh, and pure. 
Key Highlights
Foundation Year: 1974

Founder: Jayachandra Pujari

Revenue: $250 Billions

Other Products Range: Milk, Curds, Ghee, Butter, Ice Cream, Chocolates, Sweets & More

Headquarters: Bangalore, Karnataka, India
17. Girorganic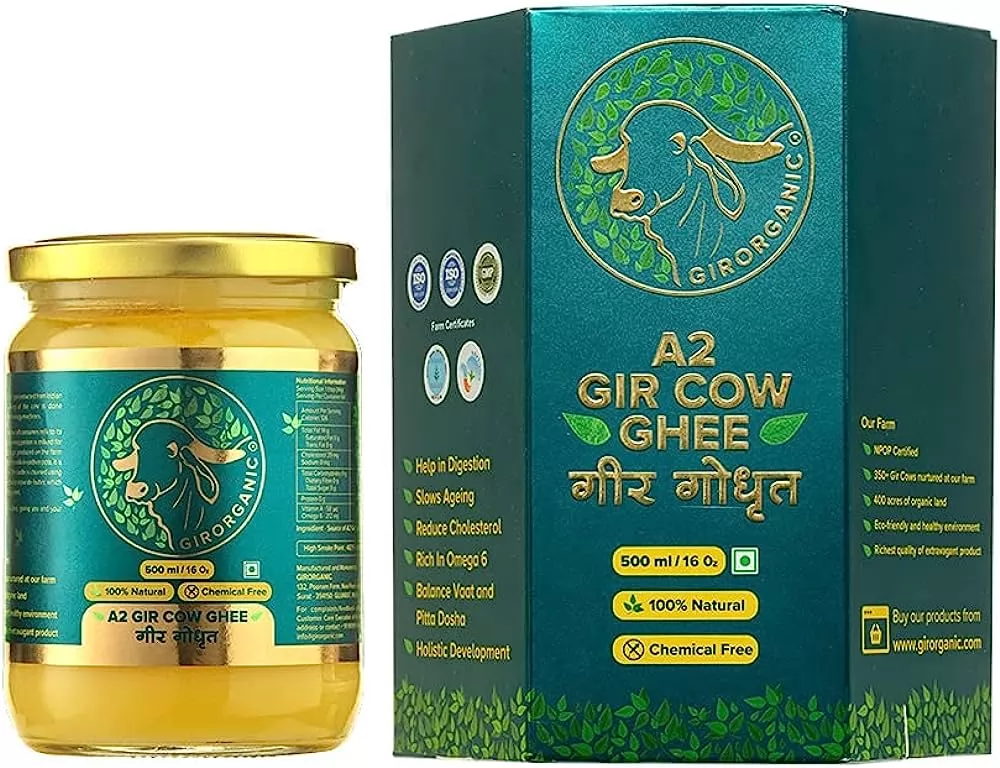 In order to popularise an organic lifestyle, GirOrganic was established in 1990. We began with just 5 or 6 cows, and now our certified organic farm near Surat, Chotta Udaipur, has more than 450 Gir Cows. Every one of our products is produced using organic agricultural and manufacturing methods to protect the environment and your health.
The ancient 'Bilona' process is used to create Gir Organics Ghee, which is a crucial source of flavour and overall sustenance. Their 450+ A2 Gir Cows are allowed to graze freely on wide-open pastures, which aids them in choosing their food. Both milk and ghee are significantly impacted by the presence of herbal plants like Shatavari, Jivanti, Ashwagandha, and others in the feed of the cows. 
Key Highlights
Foundation Year: 1990

Founder: Maganbhai Ahir

Revenue: $10 Millions

Other Products Range: Organic Pulses, Peanut Butter, Stone Ground Spices, Wood Press Oil, Natural Sweetener, Milk

Headquarters: Surat, Gujarat, India
18. Barosi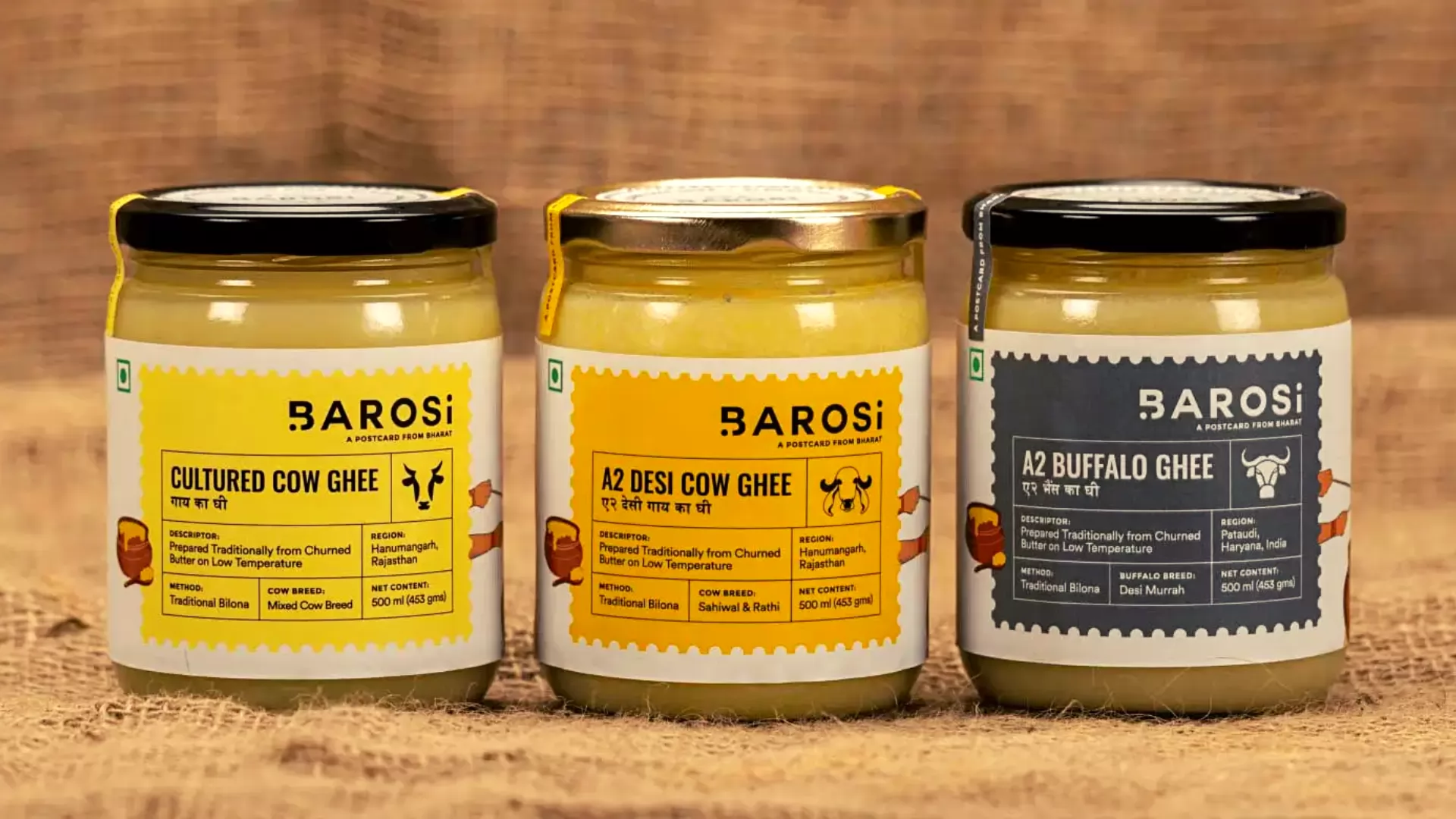 With their ideas and goods, Barosi is a true D2C food brand that links India and Bharat. They make Ghee, Honey, Cold-pressed oils, Pickle, Jaggery, White Butter, Filter Coffee, Laddoos, and other Pure, Local, and Wholesome food products in Barosi. You obtain the highest quality locally produced good cultivated in the most economically viable manner from their fields to your door. They support an open food system where consumers may choose the food they consume and buy with knowledge.
Simply defined, Barosi Ghee is butter made from boiled cow's milk. It undergoes a very slow heating procedure that eliminates water, contaminants, casein, lactose, carbs, and proteins, leaving only pure golden fat. And given that it doesn't include any trans fatty acids, it's also among the fats that are best for the body. We use the conventional "Bilona" process to create ghee from natural milk. It adds an extra dose of nutrition and flavour to every meal, making it the ideal healthy addition to any kitchen. 
Key Highlights
Foundation Year: 2017

Founder: Durlabh Rawat

Revenue: $1.41Million

Type Of Ghee Offered: Cow Ghee, Buffalo Ghee, Desi Cow Ghee & More

Other Products Range: Ghee, Oil, Honey, Pickels & More

Headquarters: Gurgaon, Haryana, India
19. Vanalaya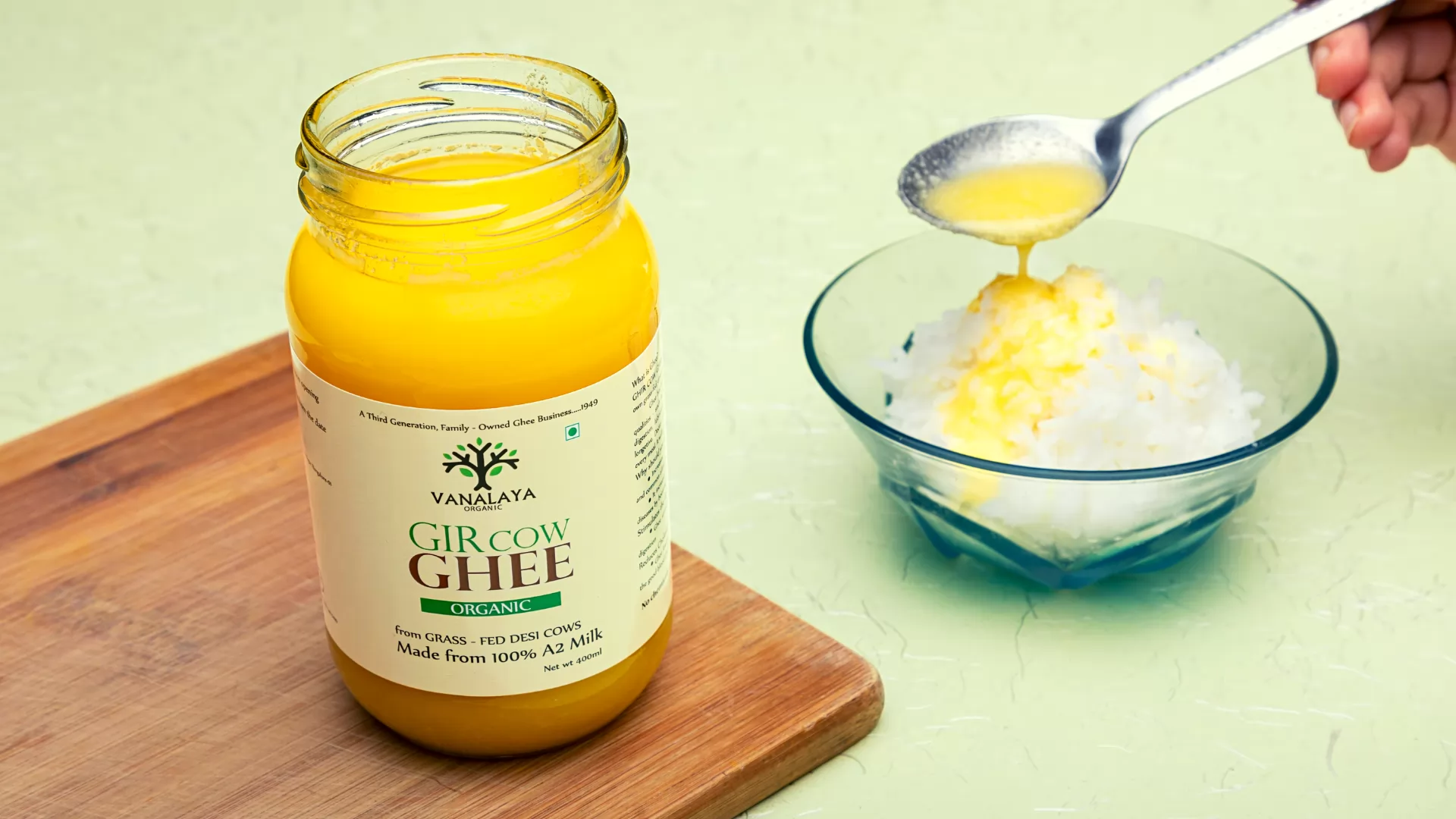 Vanalaya, whose name translates to "the forest," is a business that sells only organic goods. It was developed for those who value and deserve top quality, and it is committed to its devoted customers by offering the best items. Entrepreneur and ardent fitness inventor Vijay Ranga Vittal established the business.
The brand, which was founded in 2017, was created with the intention of producing Pure A2 Gir Cow Ghee. The protein in Gir ghee is really good for our bodies and our skin. It is the finest kind of ghee that one could desire. Among the many advantages are the wonderful flavour, wonderful perfume, stunning colour, etc. There is no adulteration in the ghee or whole-food items at all.
Key Highlights
Foundation Year: 2017

Founder: Vijay Ranga Vittal

Revenue: $5 Millions

Type Of Ghee Offered: Ashwagandha Infused Desi Ghee, Moringa Infused Desi Ghee, 100% Pure A2 Buffalo Ghee, Desi Gir Cow Ghee & More

Other Products Range: Ayurvedic, Body Lotion, Coffee, Combo Products, Edible Oils, Essential Oils, Face Care, Flavoured Coffee, Green Coffee, Hair Care, Honey, Oils & Ghee, Salts, Sanitizers, Skin Care, Super Combo, Superfoods, Tea  & More

Headquarters: Bangalore, Karnataka, India
20. Anveshan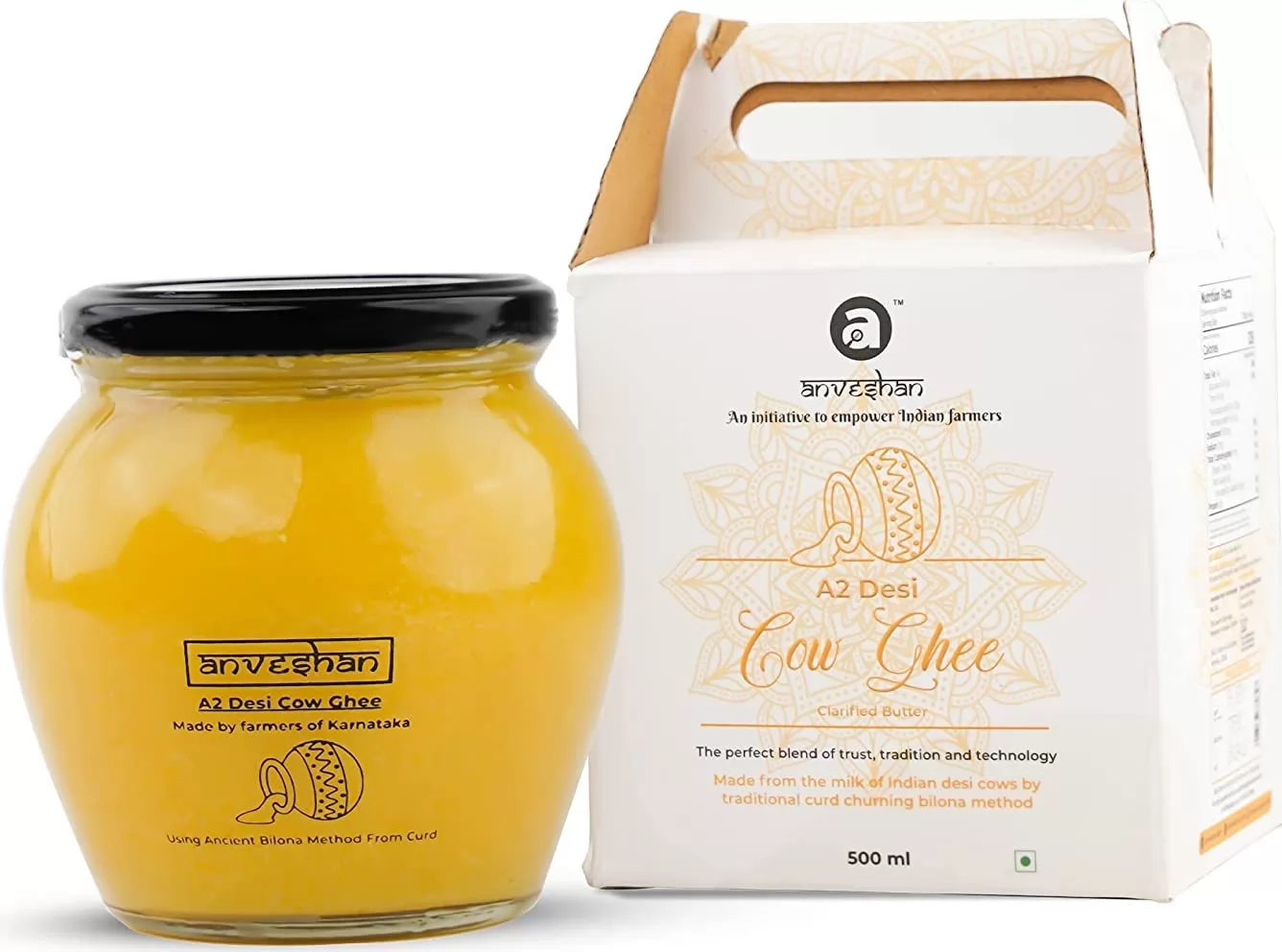 Anveshan products with the greatest desi ghee brand are created from high-quality cattle. Furthermore, the purity is guaranteed since it continues to use real, time-honored hand-churning methods. As a result, it rises to become one of India's leading ghee brands. It is produced in modest quantities using A2 milk from grass-fed Hallikar cows in Karnataka. It is as opaque as mother's milk and is simple to digest. To maintain the beneficial properties of the desi ghee, this Indian ghee brand employs the Bilona churning process and slow cooking. 
Key Highlights
Foundation Year: 2020

Founder: Kuldeep Parewa

Revenue: $1 Billion

Type Of Ghee Offered: Cultured Desi Cow Ghee, Desi Hallikar Cow Ghee & More

Other Products Range: Wood Pressed Oils, Stone-Ground Spices, Seeds, Natural Honey, Superfoods, Combos, Gifting

Headquarters: Bengaluru, Karnataka, India
21. Nutri Org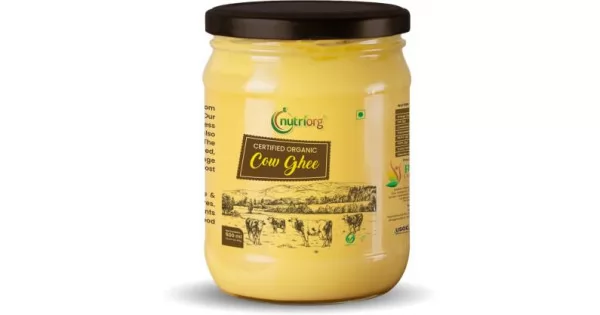 By its name, Nutriorg promises to offer a variety of nutrient-dense items cultivated entirely organically. The goal of the entire line of these items is to boost immunity, facilitate detoxification, and replace the body's nutritional reserves. Because they are organic, the goods are offered in their purest form and are very powerful.
Desi Gir cows that are permitted to roam freely in the open fields of Dwarka Gaushala, Gujarat, are used to make Nutriorg Desi Gir Cow Ghee using the traditional bilona technique. They don't think it's right to confine their cows with ropes. Instead, they prefer to let them graze freely before milking them. As opposed to commercial diary, their cows are "Healthy & Happy Cows" because they are not confined in cages.
Key Highlights
Foundation Year: 2014

Founder: Mr. Satish Raghav, Mr. Karan Singh Tomar and mentor Mr. Rattan Pal Singh

Revenue: $14.2 Million

Other Products Range: Healthy Breakfast, Healthy Drinks, Cooking Essentials, Health & Dietry Supplements, Salt & Sweetners, Skin & Hair care & More

Headquarters: Jaipur, Rajasthan, India
22. Organic India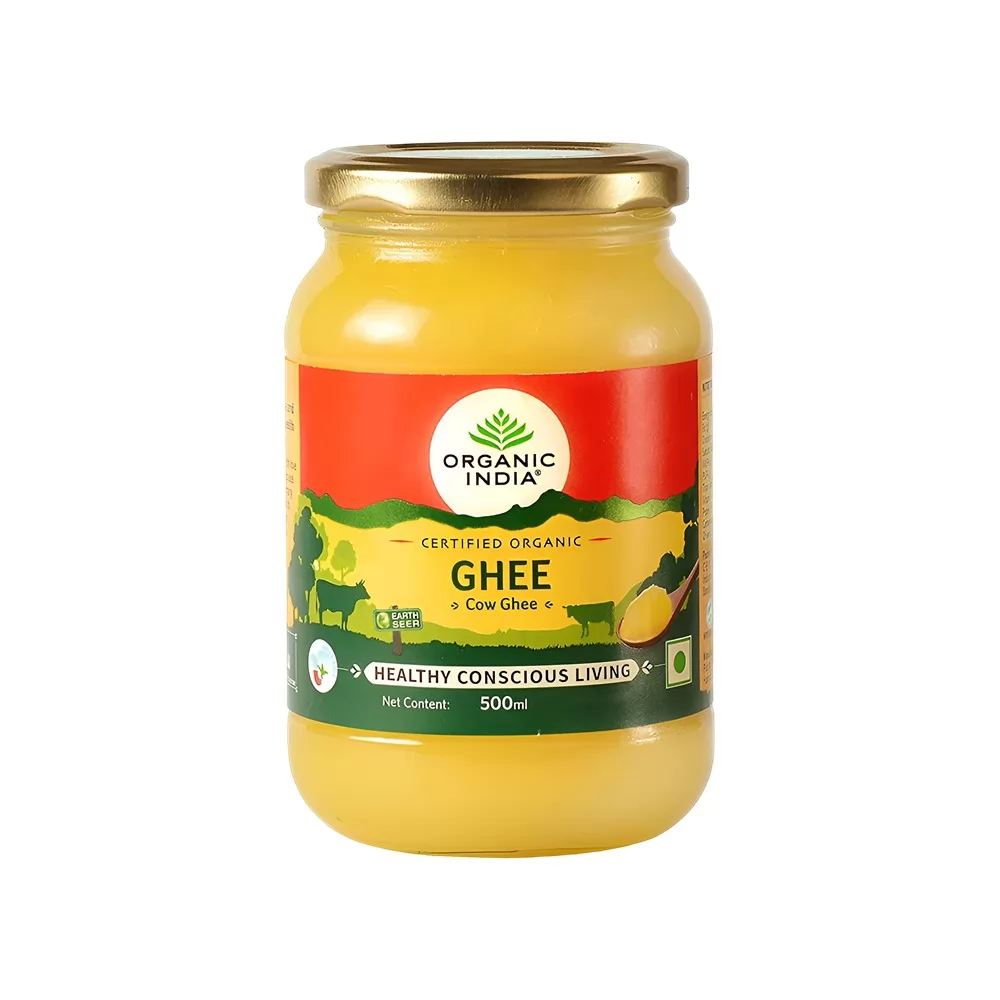 Bharat Mitra and Bhavani Lev, a married couple from Lucknow, India, formed the multinational firm Organic India in 1997. It makes halal-certified organic herbal and Ayurvedic health products.
100% organic butter from grass-fed cows on modest family farms in India is used to make organic ghee. Ghee is produced using milk from cows reared with care and compassion on organic farms. Each container of the ghee is guaranteed to contain only pure goodness because it is devoid of synthetic hormones and pesticides. Natural sources of beneficial fatty acids and fat-soluble nutrients and ORGANIC INDIA's cow ghee is heat stable and ideal for use in high-temperature cooking.
Key Highlights
Foundation Year: 1997

Founder: Bharat Mitra and Bhavani Lev

Revenue: $5 Billions

Other Products Range: Teas & Infusions, Herbal Supplement, Staple & Packaged Food, Personal Care, Wellness & Detox Program & More

Headquarters: Lucknow, India
23. Two Brothers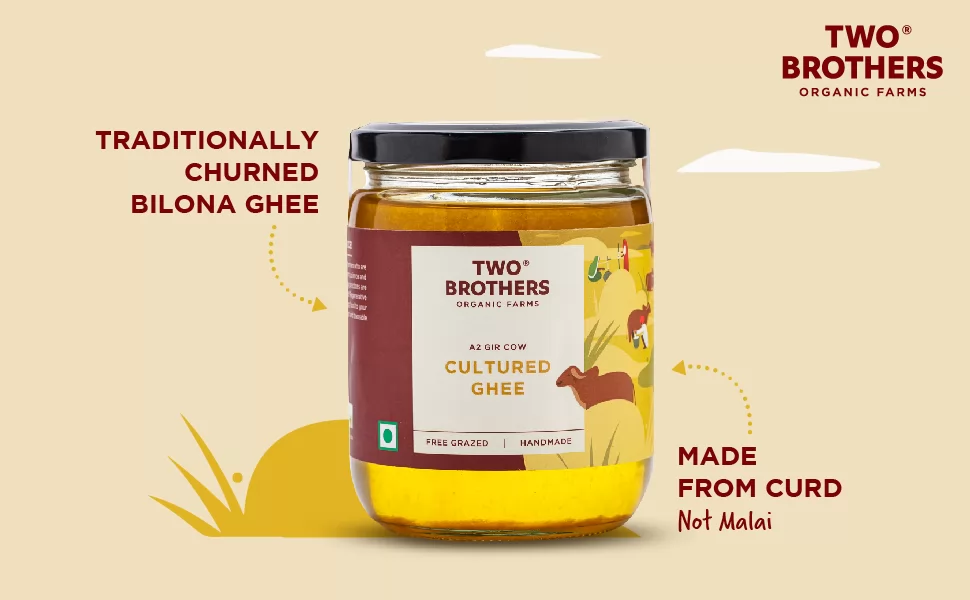 Golden elixir created on the property is Two Brothers Organic property A2 Gir Cow Ghee, a favourite in India. The desi Gir cows graze freely on our organic fields, where A2 Desi Ghee is produced. At Two Brothers Organic Farms, they guarantee that the calves always receive the first portion of their milk.
Small amounts of their cultivated A2 Cow Ghee are prepared by hand. Their A2 Bilona Ghee is made using 'Makkhan' made from curd. Other ghee manufacturers on the market create their ghee from cream, though. The churning takes place at the Brahma Mahurat between the pre-dawn hours of 4 AM to 6 AM utilising an ancient Bilona practise. The golden elixir is created by slowly heating the "Makkhan" with sun-baked cow dung cake and firewood.
Key Highlights
Foundation Year: 2014

Founder: Satyajit Hange and Ajinkya Hangev

Revenue: $120 Millions

Other Products Range: Breakfast & Spreads, Kitchen Essentials, Natural Sweeteners, Healthy Snacks, Millets & More

Headquarters: Pune, Maharashtra, India
24. Talegaon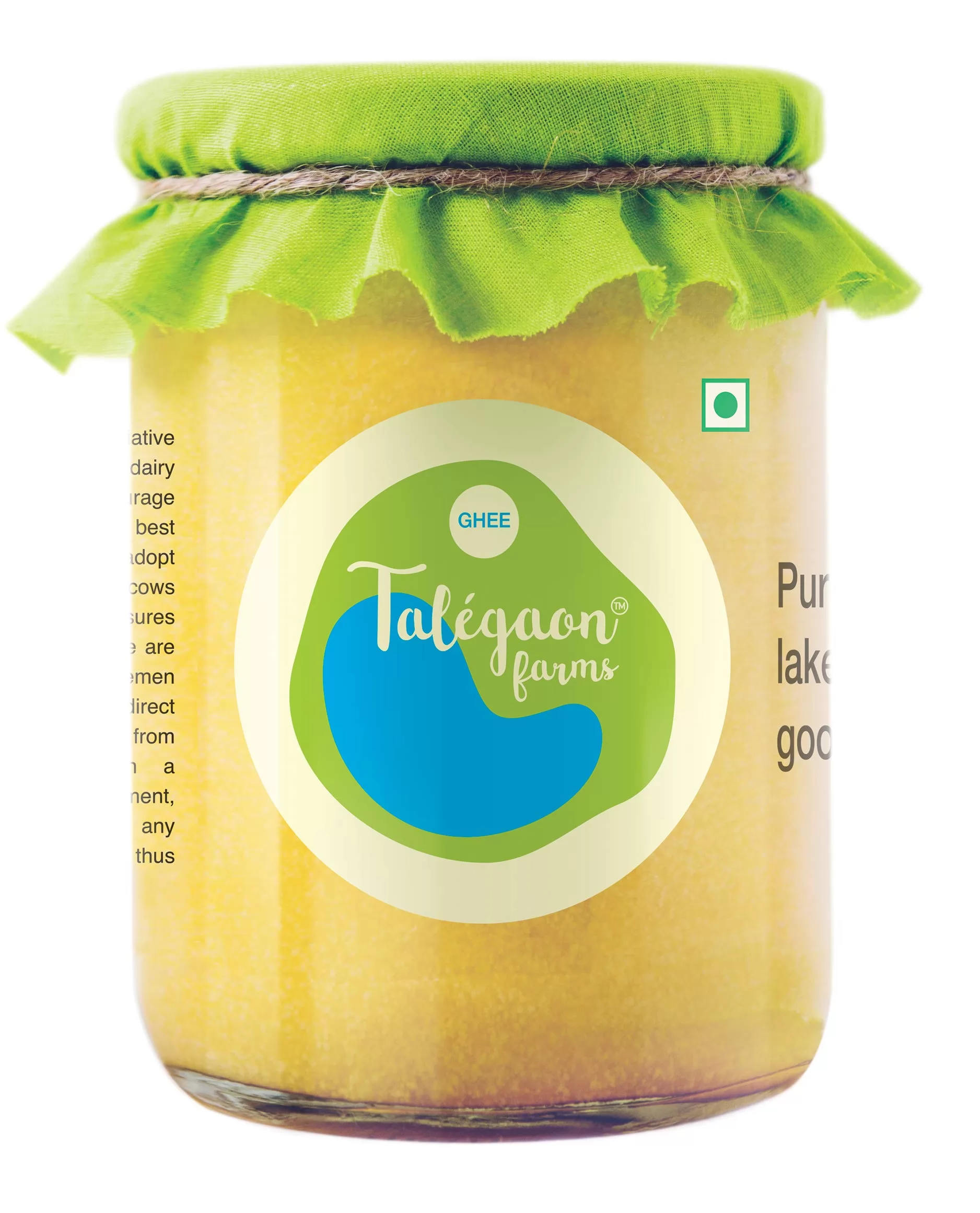 Tradition is something that is valued at Talégaon Farms. They use traditional techniques to make their flavorful and fragrant ghee. Fresh butter is prepared by churning curd made from the freshest milk. The finest ghee is made by slowly heating this over a low flame until it begins to smell faintly nuts. You will undoubtedly be transported back to simpler times when your grandmother made ghee at home thanks to the flavour, purity, and scent. In order to keep cows healthy and happy, they also urge their farmers to practise Mukta Gotha (cows are permitted to graze freely). The product has a six-month shelf life when it is manufactured.
Key Highlights
Foundation Year: 2020

Founder: Prabu Guthi

Revenue: $5 Millions

Other Products Range: Honey, Virgin Coconut Oil, Wood Pressed Oil & More

Headquarters: Mumbai, Maharashtra, India
25. Divya Kamdhenu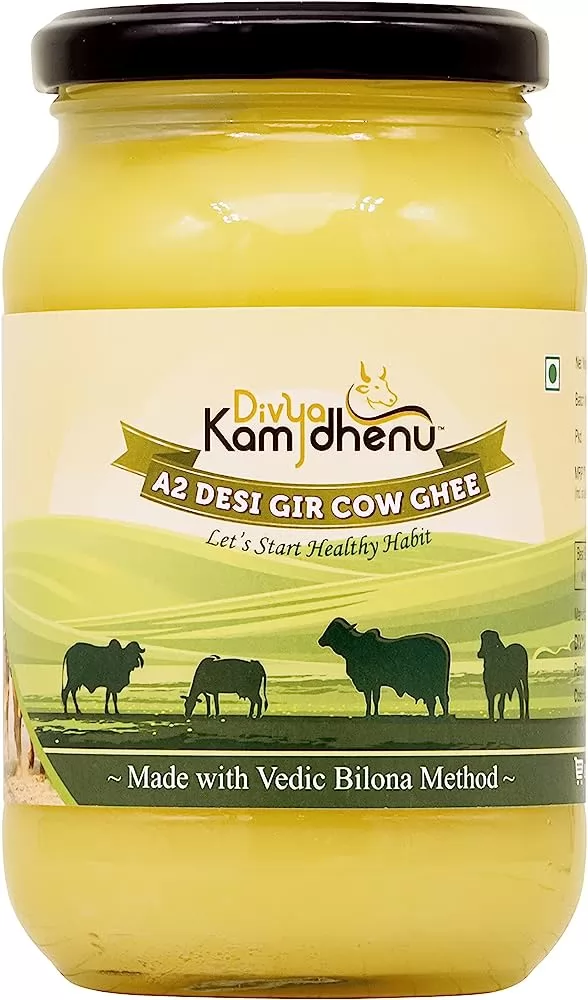 A company called Divya Kamdhenu Ghee wants to spread awareness about the benefits of using genuine cow ghee. The best approach to manufacture traditional bilona vedic ghee is by using the 5000-year-old Vedic Curd Bilona Method, in which whole milk is cultured to make curd and churned by a wooden churner clock and anticlockwise to obtain makkhan (Butter). This  method is used by Divya Kamdhenu for making superb quality of A2 desi cow ghee. 
Key Highlights
Foundation Year: 2014

Revenue: $1 Million

Headquarters: Ahmedabad, India
8 Health Benefits Of Ghee
It contains beneficial fats that raise the body's level of good cholesterol. 

Consuming ghee, which lines the stomach and decreases the risk of ulcers and cancer, is significantly associated with having a healthy digestive system.

Butyric acid is abundant in ghee and aids in the body's production of T cells that fight illness. 

Ghee is a reliable source of the essential oil-soluble vitamins A and E required for fertility, a healthy liver, and hormone balance.

Lactose doesn't exist in ghee. In people with dairy or casein intolerance, it doesn't induce allergies.

Ghee assists you in keeping healthy skin by retaining moisture, enhancing skin healing, curing cracks, and softening the skin. It is also rich in antioxidants and fatty acids and is a natural emollient.

Vitamin K, which is abundant in ghee and aids in calcium absorption. It aids in the prevention of atherosclerosis and tooth decay.

The hormones in the body are often balanced by ghee. Because of this, it is a top candidate if you want to eliminate menstruation problems, including PMS and irregular cycles.
Conclusion
This was all about Best Ghee Brands In India. After going through this article, you must have got all the related and detailed information of this toppic. We have tried providing you with every minute detail regarding the same. However, if you still have any questions, feel free to ask us in the comment section and we will try to answer all of them as soon as possible. 
Frequently Asked Questions
Q. What is a pure ghee?
A. A ghee prepared utilising conventional techniques and desi cow milk, without employing high heat because doing so would ruin all the beneficial qualities a ghee should have. A desi cow is one that has a tradition of being grass-fed and ambling about wide-open regions like expansive fields.
Q. Which ghee is most healthy?
A. Desi ghee is often avoided because people fear they would gain weight from it, yet it actually has a wealth of health advantages. Desi ghee has a lot of protein, good fats, and vitamins A, E, and K. Desi ghee is beneficial for your heart, digestion, skin, and hair.
Q. Which grade of ghee is best?
A. Beta-casein is present in both milks, but A2 is better. Beta-casein protein A2 is present in native cows like Sahiwal and Gir. A2 milk provides greater health advantages than A1 milk because A1 milk protein is more difficult to digest than A2 milk protein.
How To Save Money On Online Shopping?
Using Freekaamaal when buying online can help you save a tonne of cash. One of the Top Cashback Websites in India, Freekaamaal, offers you up to 100% cashback on various items. You can also shop through its app. You can easily shop for your favourite goods on Freekaamaal from more than 500 stores. Since 2011, this business has been operating in the sector. Whether you're looking for clothing, toys, cosmetics, or anything else, FreeKaaMaal offers it. Join FreeKaaMaal to start getting cashback on all of your purchases.

Join Telegram Channel & Get Instant Deal Alert

75,062+

participants