265 days ago
Flipkart No Cost EMI Offer - Flipkart Big Billion Days Sale 2022
Have you ever felt like getting something but unable to do so as it is beyond your budget? It is a common feeling when you need something but isn't capable of affording it because of the current ongoing expenses.
Even if you think of paying by the credit card then also the interest on the purchase are not that subtle.
Although, What if I tell you that there is a way out? Yes, this Flipkart Big Billion Days Sale get all your favourite products to be it expensive or just cheap. If how if your question? Then No Cost EMI is my answer.
Using the option of No Cost EMI option you can divide the total sum in easy instalment just by availing the option. Also, you don't have to pay any sort of interest beyond the price of the product.
Now let's see how you can avail the option of No Cost EMI in the upcoming Flipkart Big Billion Days Sale 2022. Also for best offers and deals on Flipkart Big Billion Day Sale click here.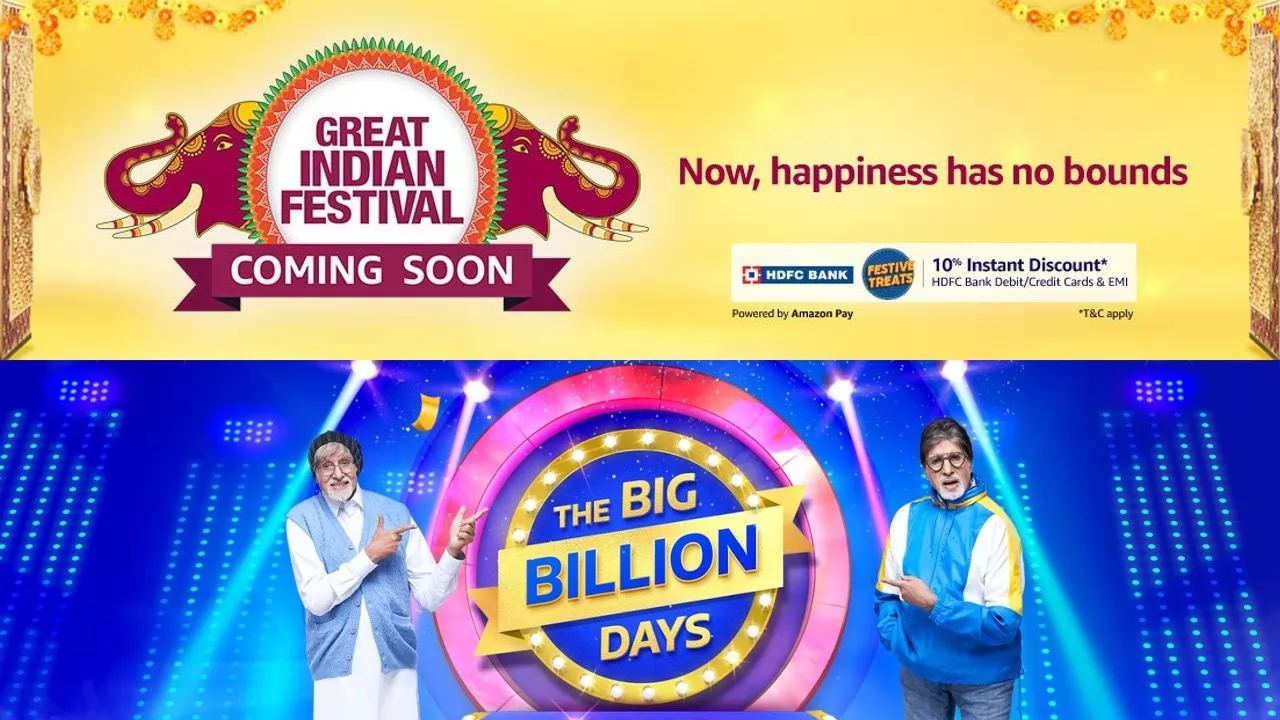 Flipkart No Cost EMI Offer On Leading Banks - ICICI, HDFC, and SBI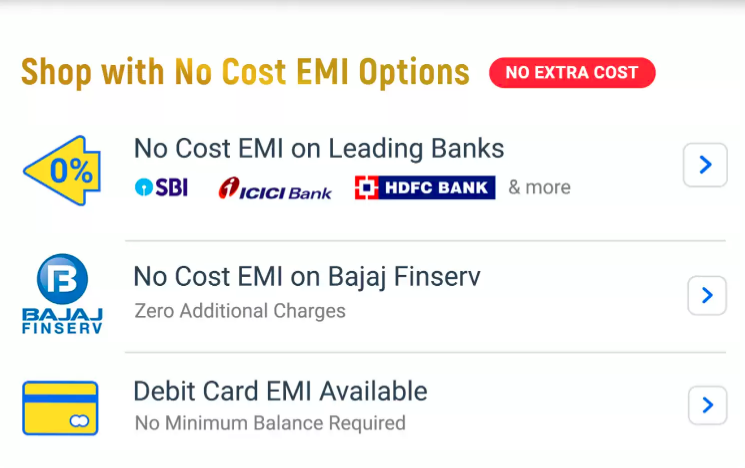 Flipkart has the best no-cost EMI offer available during the Big Billion Day Sale where you can grab no-cost EMI on ICICI, HDFC, SBI, and other leading banks. Other than no-cost EMI on leading banks there is also no-cost EMI option available on Bajaj Finserv EMI card with zero additional charges.
How Does No Cost EMI Offer Work?

For the Flipkart, no EMI offer your Credit Card limit will be blocked initially for the full purchase amount. This will be converted into the EMI by Bank in 4 to 7 working days. 
For Example: If you buy your product for Rs. 10,000 at a 3 months EMI plan and the interest charged by your bank is Rs. 400 then Rs. 400 will be given as an instant discount during payment, and you will end up paying Rs. 9,600 only.
How Flipkart EMI Option Helps You?
While buying a Laptop, Smartphones, King-size Television, the Flipkart No Cost EMI option will help you to get your product in your budget without any worries and by making your purchase more affordable. Also, through the exchange offers, you can avail extra discount on your favourite product.
How To Get Flipkart No Cost EMI?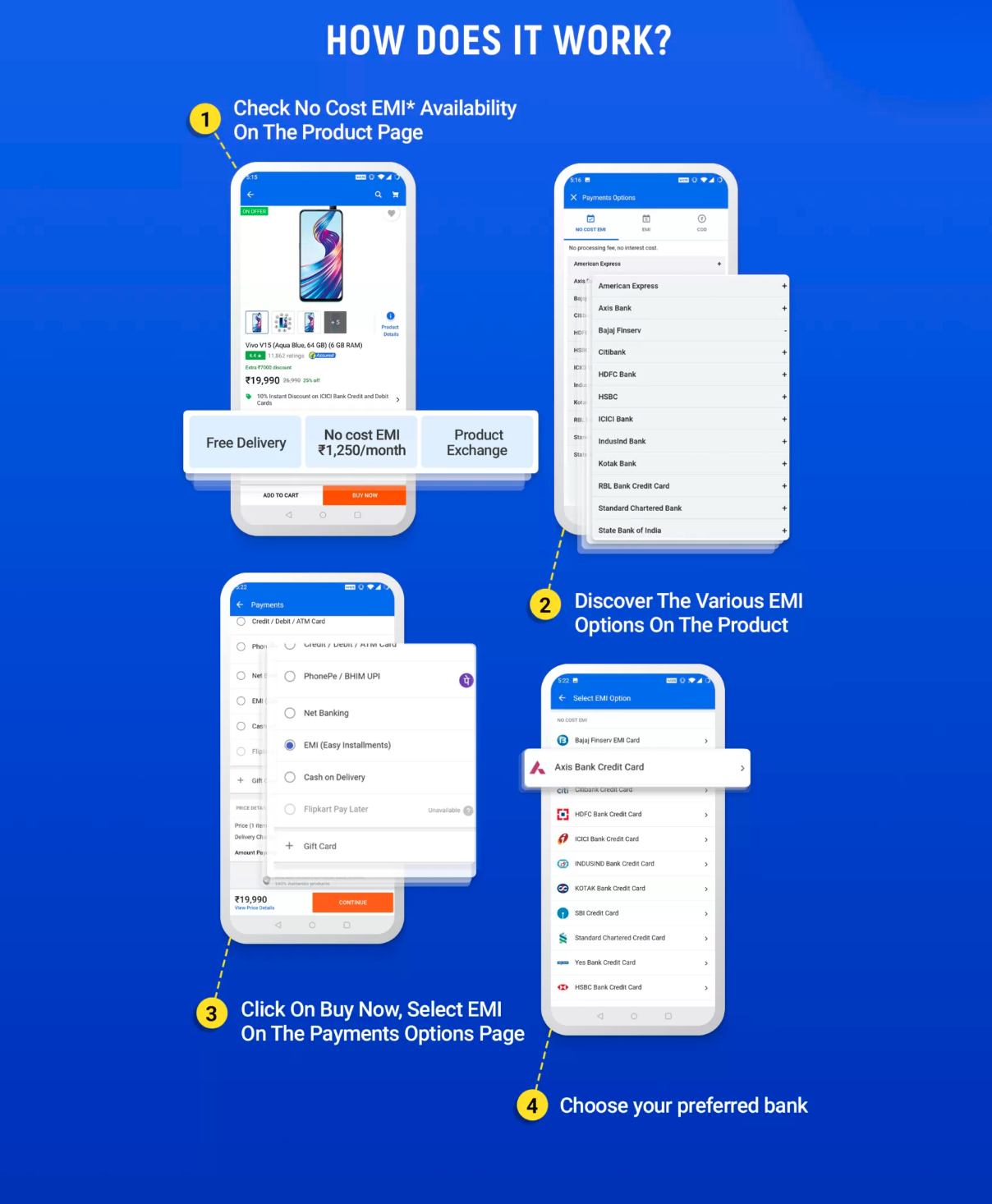 Flipkart's no-cost EMI option is the best financial way to buy all the products you wish to buy since long. To know more about how it makes your wishes at affordable prices.
You need a Bajaj Finserv EMI card to get the scheme. Once you select a pre-approved loan amount, you have the freedom to buy the products of your choice. At the time of purchase, you can choose the duration of your interest-free loan. 
The instalment amount will be deducted directly from your account. Once you have paid the first instalment, you also have the freedom to pre-close your EMIs before the term ends, at no extra charge.
Steps to Avail Flipkart No Cost EMI
In order to avail the No Cost EMI firstly, you need to select a product. In order to do that, click here.

Now check the availability of No Cost EMI option on the product, if yes only then you can continue further, now continue.

Now click on the buy now button of the product.

Select the No Cost EMI on the payment page.

From the options provided on the No Cost EMI, select one.

Now enter your credit card details and click on continue.

Congratulation !!! You have availed No Cost EMI for your purchase.
Flipkart No Cost EMI - How it Works?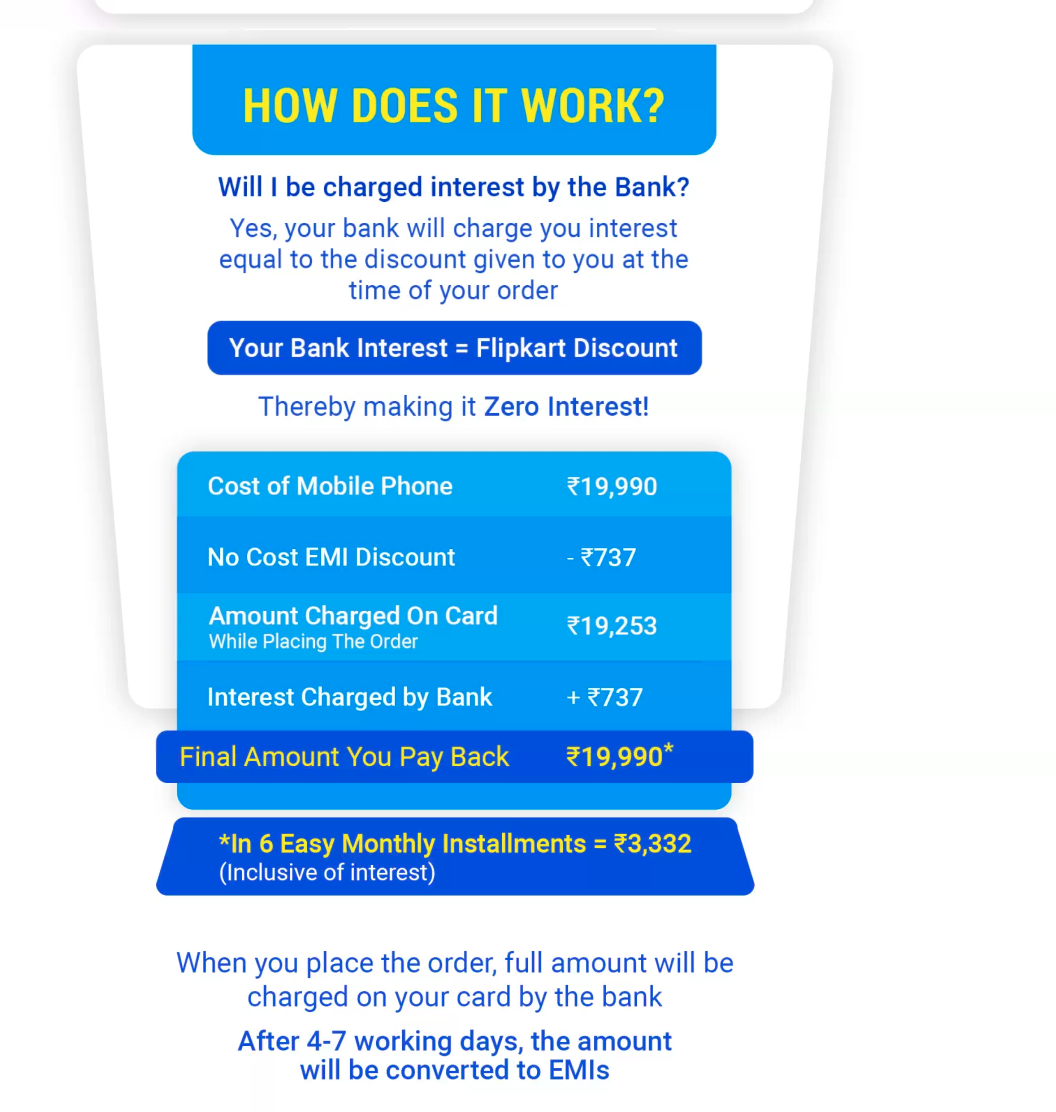 After you have made the purchase, your credit card would be blocked for the full amount of the purchase for 4-7 working days. This will only happen till the bank is processing your amount. The blocked amount will be converted as EMI within the time window of 4-7 days and hence your blocked amount would be released.
Now suppose you have purchased a product of Rs.9000 and the EMI you have taken is for 3 months. This amount will be divided into three parts of Rs.3000.
Now if the interest incurred on your amount be Rs.450 this amount will be discounted by Flipkart itself. Therefore, in spite of paying Rs.9450 to the bank, you will only end up paying Rs.9000 which will be the actual price of the product sold that time.
Flipkart No Cost EMI Categories
This Flipkart Big Billion Days Sale 2022 you will be getting a whole range of products at the best-discounted price possible. The discounts offered on the product during the sale are up to 90% Off.
Although, one additional benefit that you are getting on the products is of No Cost EMI. There are various categories in which you can avail the benefits of No Cost EMI.
Below we are mentioning all the categories on which you can avail this benefit.
Mobile: Get smartphones from all the best and famous brands like Xiaomi, LG, Samsung, Honor, Vivo, and many more.

Television: If you are looking forward to buying a full HD, 4K, or television of any sorts then Flipkart Big Billion Days Sale is the best place for it. Also, the No cost EMI option will come real handy.

Washing Machine: In case if you need a washing machine then you can purchase your front load or top load on No Cost EMI.

Refrigerator: It is a full time need in your house, therefore, if you need a  brand new refrigerator No Cost EMI will suit you well.

Air Conditioner: Air conditioners are expensive and most of the people purchase them on EMIs and paying no interest over the amount would be the best thing.

Home Appliances: Get all the home appliances whether they be expensive or cheap, all of them on No Cost EMI.

Hard Disk: Get additional storage for your data from all the top brands like Seagate, SanDisk, Western Digital, and many more.

Laptop: If you need a new laptop and the one you actually need seems expensive then no worries as you can get them all on No Cost EMI.

Smart Watches: Get your favourite smartwatches at the best price without compromising on the quality by using the option.

Camera: In case if you are a budding photographer or just need it for casual use then you can purchase your equipment using the No Cost EMI option.

Home & Furniture: Furniture and Home furnishing are generally expensive and hence the option will come really handy.

Tablet: In case if you want to buy a tablet then get it on No Cost EMI.
Flipkart No Cost EMI Benefits
Easy Installments: You can convert the total amount of your purchase in easy installments. This way you can split the amount in multiple installments and pay each installment every month.

Affordable Purchases: If you are thinking of purchasing something expensive which is currently out of your budget then you can make your purchase affordable using the option.

Zero Down Payment: You don't need to any down payment in order to purchase anything.
Conclusion
No cost EMI is a great option if you want to purchase anything for yourself. Although, the best part is that you don't need to pay any additional interest over your purchase.
This Flipkart Big Billion Day Sale 2022 purchase anything that you want using the option. We hope this might have given you enough information so that you can get all that you want in the upcoming sale.
Frequently Asked Question
Q1. What is Flipkart Big Billion Day sale?
A1. Flipkart will be offering its Big Billion Days sale 2022 before the festive season begins this year. The Flipkart Big Billion Days sale will commence on 23rd September and go on till 30th September 2022. At Flipkart Big Billion Day Sale 2022 you can grab up to 80% off on all products available at Flipkart.
Q2. What is the date of Flipkart sale?
A2. The Flipkart's biggest sale of the year Flipkart Big Billion Day Sale 2022 will start from 23rd September and go on till 30th September 2022.  
Q3. What can you buy in a big billion sale?
A3. During Flipkart Big Billion Day Sale, you buy products from categories like Fashion, Mobile, Electronics, Home Appliances, and much more. Also, you can grab a significant discount, cashback and bank offer during the sale period. 
It's your time to save and shop through the Flipkart Big Billion sale mobiles offer. Shop for a smartphone from the best brands including Samsung, Nokia, Honor, LG, Lenovo and more and save up with all the cash back offers available. You will never get a better chance than this to get a good smartphone along at affordable prices.

Join Telegram Channel & Get Instant Deal Alert

75,062+

participants