524 days ago
Myntra Diwali Sale 2021- Best Offers On Best Styles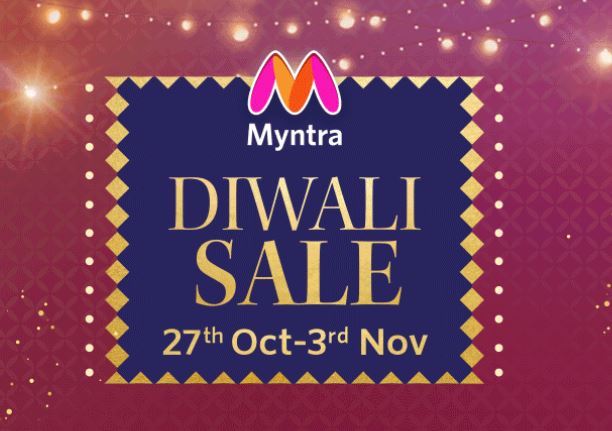 Myntra is India's one of the best online shopping websites. People pick their favourite brand and favourite styles from the app or site to style themselves on every occasion. Myntra brings Myntra Diwali sale offers every year, and this year, Myntra Diwali Sale 2021 will be re- live from 27th October 2021 to 3rd november 2021. Grab your best styles and brands at the lowest expected price. Buy everything you love from Myntra, and get all the attention this Diwali directed towards you.
Myntra is a one-stop-shop for fashion lovers. Myntra Diwali sale online shopping brings an excellent opportunity for its millions of followers and a good customer base. 
So what are you waiting for? 
Start wishlisting.
Also, to know about the best of diwali offers, read here.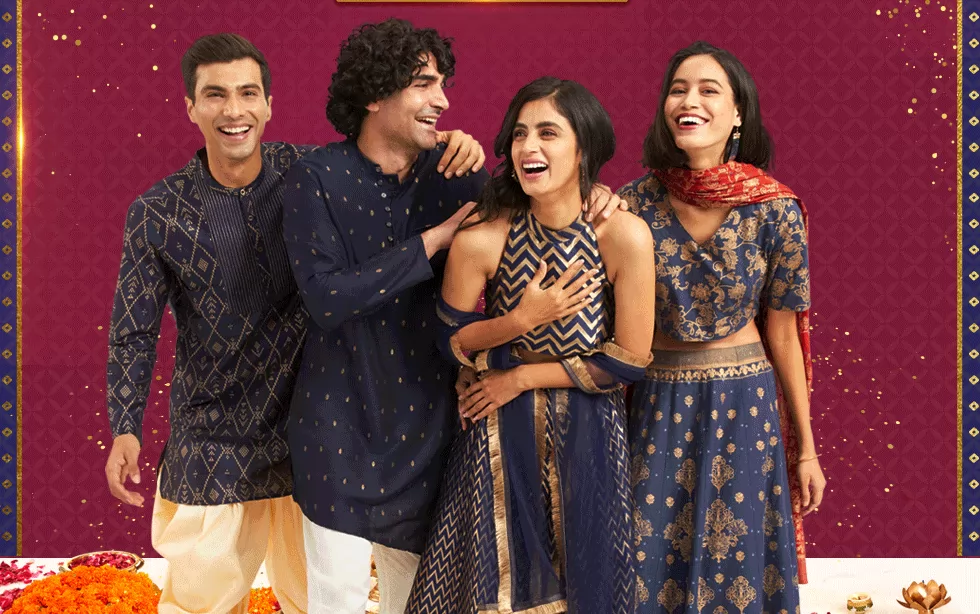 Myntra Diwali Sale Date 2021 And Offers

Myntra Diwali Sale 2021 will be on 27th of October 2021. The sale will end on 3rd Of November 2021. In myntra upcoming diwali sale, get the best of brands at a discount of up to 80%. Grab your best styles, and myntra's in house brands like Anouk, Roadster, Here and Now and many more at the lowest price. There are various announcements to be made and revealed in the coming days related to the myntra diwali offers. Lets see the latest information we have so far regarding the myntra diwali sale 2021 offer.
Myntra Diwali Offer 2021 
| | | |
| --- | --- | --- |
| Offer | Details | Offers Live Date |
| Myntra Diwali Sale Offer | Get up to 80% Off | 27th Oct -3rd Nov 2021 |
| Buy 1 Get 3 | Selected Products Offers | 27th Oct -3rd Nov 2021 |
| But At Rupee 1 | Selected Products Offers | 27th Oct -3rd Nov 2021 |
| Bank Offers | Offers On HDFC Cards | 27th Oct -3rd Nov 2021 |
| Brands Offers | Best Brand Offers upto 70% Off | 27th Oct -3rd Nov 2021 |
Myntra Diwali Sale Offer
Just like Myntra Diwali sale 2020, this year too, Mytra will open the doors of happiness for all of its loyal customers. The Myntra Diwali sale offers will be live from 27th October 2021. The company offers up to 80% off on more than 350 categories of products.
Up to 80% Off on all the categories

Great Brand sales every day

Sale starts from midnight 27th October 2021

There will be grand opening Offers from midnight 2 am.

More than 350 categories.

Discounts from 10% to 80%.

Festive Jewellery minimum 80% off

Myntra Diwali sale coupon- MYNTRA400-get Rs.400 off plus free delivery.
Bank Offers On Myntra Diwali Sale 2021

Every year Myntra offers bank offers from selected banks. These offers ensure the best prices of the products with additional bank discounts from the designated banks. This year HDFC bank has special bank offers for Diwali sales. This myntra Diwali sale gets additional values from the selected bank. Also, Paytm assured guaranteed cashback with every purchase. 
Save Up to Rs.1000 with HDFC bank credit cards.

Easy EMIs.
Myntra Day 1 Price Drop
Myntra Diwali sale is all about the best offers and discounts. From day one, you get the best offers and deals. You can avail of a maximum of 80% off and get an additional price drop of up to 40% Off on day one.
With the myntra Diwali sale going live, great deals will be revealed in that you can pay for one item and get three things at the same price. You can also avail of the offer in which you buy one item and get three free. Do not forget to start wishlisting now.

Best Offers On Different Categories
Myntra Diwali sale has the best offers on different categories of different brands. Myntra Diwali sale offers to ensure that all the types of products and brands are covered to give you the most this festive season. With up to 80% plus additional discounts, you are sure to enjoy the festivities in grand style and fashion.
Myntra wants all to get the best of offers and discounts. Some of the offers are:
Brooches, Ties, Cufflinks - up to 82% off

Watches upto 30% off

Bedding sets up to 60 % off

Festive jewellery- minimum 80% off

Jewellery sets starting at Rs. 349

Footwear up to 40%

Lingerie and innerwear up to 50%

Handbags minimum 50% off

Electronic styling appliances 15-30% off

Ethnic Kurtas and Kurta sets 40% off

Beauty products and personal care up to 50% Off

Myntra in-house brands western wear up to 75% off

Get 50-80% off on home furnishing.
Best Festive Offers On Myntra Diwali Sale 2021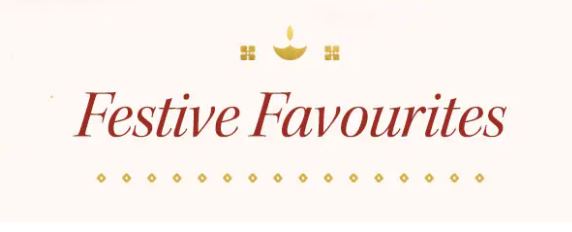 Myntra Diwali sale is live now. As expected the sale is full of exciting offers and discounts. We all love to dress up in our favorite attire. Myntra has a lot to offer in its western wear range, ethnic wear range, and all the festive wear this Diwali. It has all the excellent brands offering exciting offers for its valued customers
Festive kits starting at 1200

Branded watches up to 30% off

Best festive handloom collection beginning from 50% off

Grooming and beauty appliances beginning from 30% off

Badhani, lehriya and traditional kurta sets up to 70% off

Kids festive wear starting from 399

Festive saree collection under 899

Embellished and embroidered sarees up to 710% off

Jewelry sets starting 349

Brooches ties and cufflinks up to 80% off

Chandbalis jhumkas and ethnic earrings up to 80% off

Embellished cushion covers up to 40% off.
Myntra Diwali Sale 2021 Best of Brands Offers

Myntra has the best brands and their best collection. There are many exciting sales offers this Diwali 2021 to make the festivities glorifying and rewarding. Some of the best offers on brands of myntra are:
Invictus has a minimum of 50% off

Tokyo talkies have 40-60% off

Nautica has 60% off

Mast and harbour has 50% off

Libas has to offer 60% off

Sassafras has 40-60% off
The most famous brands also offer this Diwali, all thanks to myntra to make us enjoy the same.
These are :
Puma has up to 40% off

Peter England has flat 50% off

Vero Moda has 40-60% off

Sketchers has up to 40% off

Levis has a minimum 40% off

Louis Philippe has 40% off
Best Budget Buys Form Myntra On Myntra Diwali Sale 2021

Myntra has a lot to offer in your budget for this myntra Diwali sale. The sale is live with great offers and under-the-budget products that you can add to your wardrobes and closets. Get:
Nightwear under 999

Shampoos and conditioners under 599

Kurta sets under 999

Suits and blazers under 1999

Kidswear under 399

Jackets and western wear under 1299

Wallets and clutches under899

Casual shoes under sweaters and sweatshirts under 899

Perfumes under 1999

Jeans and bottoms and formal shirts under 999

Casual shoes under 699

Trousers under 899

T-Shirts under 499

Dresses under 799

Track pants under 799
Major Highlights Of Myntra Diwali Sale 2021
This Diwali Myntra is on a roll. It has offers and discounts on almost all major categories and has a lot to give back to its customers for their loyalty and love. The major highlights of the Myntra Diwali sale are:
Best western wear brands are at up to 80% OFF

Best footwear brands are at 40-60% off

Best premium watches are giving up to 40% off

Best ethnic wear is at 50-60% off 

Best ethic jewellery is up to 50% off
How To Avail Special Offers In Myntra Diwali Sale 2021
Myntra Diwali sale 2021 is full of exciting offers and discounts. You can avail of great deals at the best prices and make you and your family high trending on fashion and style meter. To avail of myntra great offers, follow these simple steps
Go to myntra website or app.

Open your account.

Shop for your favourite brands and accessories

Choose your products.

Check for unique discount combos.

You can get great deals by creating a select brand combo order

Add up all your selected item in your cart

Proceed to checkout

Apply any additional promo code or coupon for an extra discount

Check out and pay with your desired payment option.
There are various bank offers available from time to time in myntra. This Diwali, you can avail yourself of 10% discounts on Axis and Citi bank cards. 
Frequently Asked Questions
Q.Does Myntra have a Diwali sale?
A.Yes, myntra upcoming Diwali sale is going to be live this month of October.
Q.When is myntra diwali sale?
A.Myntra Diwali sale date 2021 is- 27th October 2021. It will be live till 3rd November 2021.
Q.Is there any sale coming on myntra?
A.Yes, Myntra Diwali Sale 2021 Is coming on Myntra.
Q.Will there be any Diwali sale on Flipkart?
A.Hopefully, like every year, this year, too, there will be a Diwali sale on Flipkart. You can keep yourself updated regarding the same through FreeKaaMaal.com.

Join Telegram Channel & Get Instant Deal Alert

75,062+

participants