294 days ago
Best Places to Celebrate Christmas in India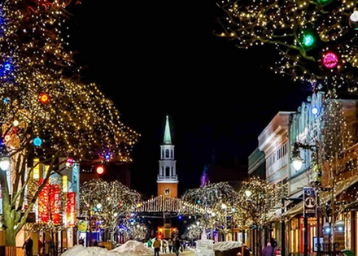 Want to celebrate Christmas a little differently this time? Consider going out somewhere. Check out the best places to celebrate Christmas in India, where you can enjoy Christmas carols, parties, and much more with your friends and family.
Christmas time is the most beautiful time of the year. The reason is that everyone gathers to celebrate this beautiful festival that depicts togetherness and humanity. The festival is all about spending time with your loved ones. The festival brings a lot of excitement for children as it involves exchanging gifts and eating special desserts, like pumpkin pie, apple pie, raisin pudding, and  the fruitcakes. 
Every year, we try to do something different on Christmas to make it special for our loved ones. This time, we have made the work easier for you. We have picked some most appealing places in India, where you can visit with your friends and family, to make it a more memorable experience.
With the best places to visit this Christmas, we also have got some amazing online offers that you can use to buy gifts for the occasion at the most affordable rates possible.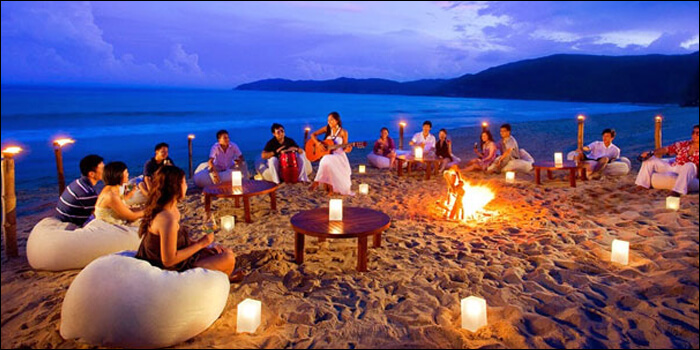 Best Places to Celebrate Christmas in India
Here, we have curated a list of top places in India to celebrate Christmas. You can plan your trip to any of the places below and have a joyful Christmas experience.
1. Goa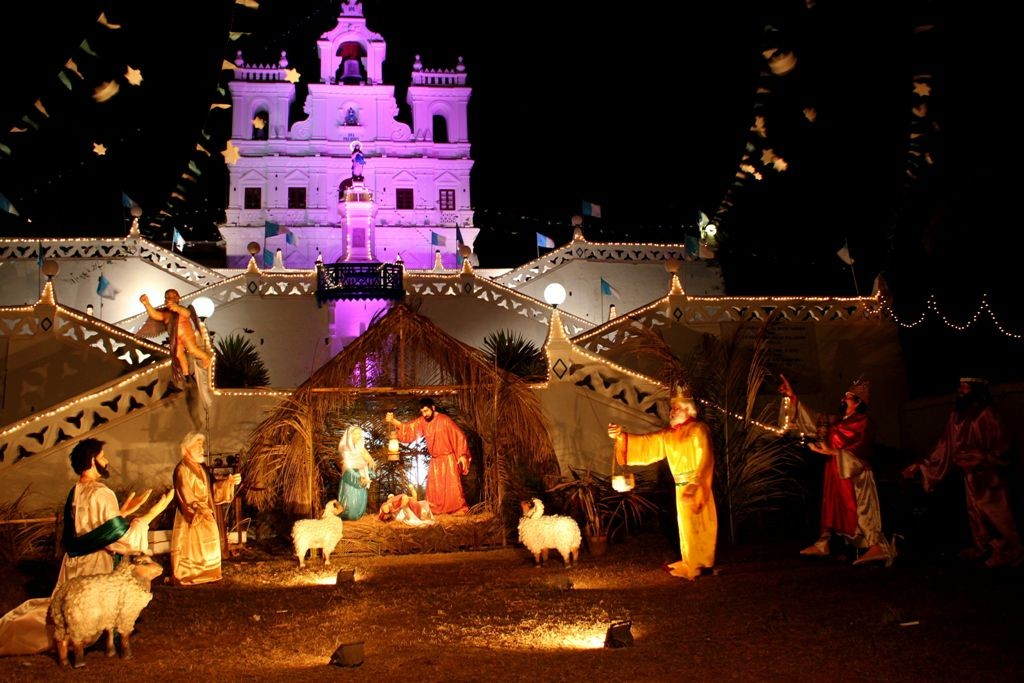 If you are into wild parties and full moonlight chats with people, then Goa is among the top places to celebrate Christmas.  Goa is already considered the happiest place in India for its extensive modern culture. 
The place has a significant influence from Portuguese culture. You can find many people there who have a Christian descent. So, Goa is definitely the place that will give all christmassy feels.
Goa in Christmas, the social capital of India, is on top of this list owing to its beautiful beaches, energetic nightlife and great Christmas-spirit. Owing to its origins rooted in the Christian religion, the state celebrates the holiday with a classic combination of culture and entertainment. 
Goa seems beautiful around this time of the year as every house, office, eatery, cafe and club are adorned with vibrating lights, poinsettia flowers and sparked Christmas trees. 
You can observe locals building Santa Claus with sand on the beaches, experiencing lip-smacking meals at the shacks and partying with all their mind at one of the nightclubs in Goa. So, if funds are pressuring, then Goa is definitely the most desirable place to be during Christmas.
Things Not to Miss on Christmas in Goa
 Attending a Christmas mass as the city has got the Basilica of Bom Jesus, the midnight masses in the church would be a whole new experience to Savour. 

The burning older man is a tradition of fire created by dressing the hay in your old clothes and making them burn. It is the representation of burning your old bad memories.

In the north, there are Baga and Calangute beach, while if you go south, Colva and Bogmalo would be the destination.
You can visit the Basilica of Bom Jesus, watch the endless fire show during the shoreline, or drink up and get crazy; Goa gives you endless opportunities to enjoy your Christmas.

Try Bebinca, which is a popular Christmas dish served during the time and even at weddings. It is a pudding made of Rice Flour, Coconut Milk, Egg Yolk, or maybe butter.

Indulge yourself in the endless treats that offer on the street. The food, in general, is very refreshing in Goa although during the festival it is way better. Therefore, you can give yourself a treat in a great restaurant or a shack at the beach; the choice is all yours.

Attend Sunburn that happens right after the festivity. You can enjoy great EDM music from the topmost DJs from around the world and India itself. The Sunburn festival is trendy and is a must-visit if you are an Audiophile.
2. Kerala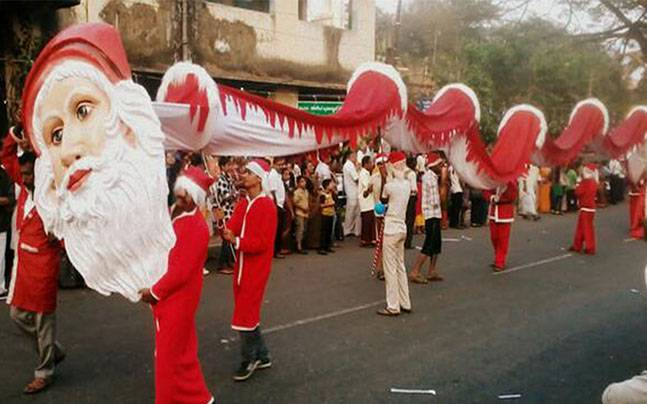 Kerala offers you endless options to explore. It can be visited at any time of the year, although the city has its colour during Christmas. So, it is also one of the best places to celebrate Christmas in India.
If you're looking forward to having some peaceful times with your family, you can go to the wonderful state of Kerala. Its Christian community and colonial-era churches gives you the christmassy vibes during the festival.
All big and small churches in Kerala are furnished and kept open on Christmas eve where personalities in large numbers meet, sing carols and swap wishes. 
Kochi, Kovalam, Munnar, Wayanad and Kollam are amongst the most desirable places to observe Christmas in Kerala. So, if you want to feel the real spirit of this merry-making festival, then think of a holiday in Kerala during this time.
The celebration for the festival begins on the fourth Sunday before Christmas. You can see the miniatures of the whole Christmas story depicting the birth of Jesus Christ in many churches. 
Itinerary for Kerala during Christmas
There are many places that you can go during your visit like L.M.S Compound for overwhelming Christmas decorations, Chalai market, Palayam Market, for your shopping for Christmas. You can also check out Ambrosia, Little Flower Hall, St.Michaels, etc.

The place has a beautiful landscape along with that you can witness Christmas decorations on the houses.

Kollam has its way of celebrating Christmas, and that is why it is the Places In India Where You Can Make Your Christmas. Fishing is the most prominent business around there, and the fishermen are exclaimed as their neighbours. 

This time the fishermen perform their ritual of giving their young ones to the sea. Kollam also has other great places to visit, like Lake Ashtamudi, and various other beautiful churches.

Munnar is widely known for the beautiful tea plantation and excellent weather conditions to set the mood right. 

Other places that you can visit our Christ Church, Christian Shree, and many other sites.

Kochi offers you shopping Carnivals like Kochi Muziris Biennale and Cochin Carnival. 

You might also be witnessing the Santa Cruz Cathedral Basilica, Holy Coonan Cross Church, St.Francis Church, Koonan Kurishu Church, Malayattoor, St. George Forane Church, and lots of other places in Kochi.

You can easily listen to the hymn "Gloria in Excelsis Deo."The local people exchange sweets and plan Luncheons & Dinners with great dishes like Achappam Cookies, Unniappam, Kappa Stew, Kappa Biryani, etc.
3. Shillong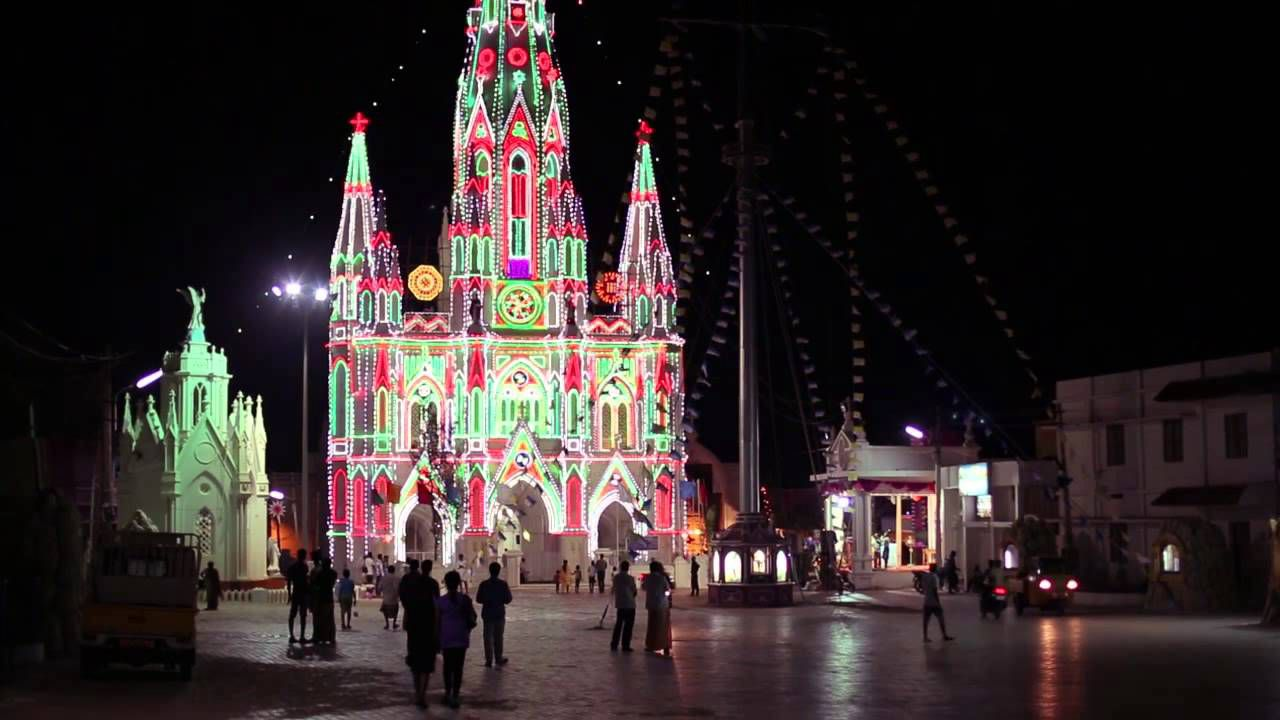 Shillong is beautifully lit up during the Christmas season and can be a great Christmas Getaway for you to visit in India. Here, you'll see masses at various destinations and churches. 
The whole place has the scent of festivity with decorations here and there, a little bit of overindulgence too. You can listen to people singing all over choirs and various bands performing throughout. 
This marvellous north-eastern city in Meghalaya has a substantial group of Christians who observe the birth anniversary of Christ with some glory and beauty, which gives it a charming place to rejoice Christmas in north-east India. 
The places, the churches and the homes are adorned with beautiful lights, and one can clearly feel the enthusiasm in the air.
The midnight mass sees large crowds pour into the churches of the city with companies playing soulful truth music. The attraction of the region, its food and the overall enthusiasm for Christmas makes staying here a significant experience.
Plan for a Christmas Day in Shillong
You can taste the unique delicacies served during the Christmas season, especially the fruitcake.

Witness the Christmas Carols that are sung by the different locals during the time.

Get to see the local Khasi, Garo, and Jaintia tribes that converted to Christianity and come together every year to celebrate the festival by their dance and food.

If you eat pork, then you can taste Dohring, which is a local delicacy and tastes like black sesame paste. There are also other dishes that you can try, like Jastem, Putharo, etc.

You can also visit the local community feast known as Bamkhana. Although most of the dishes prepared there are pork-based, so it may not be your thing.
4. Delhi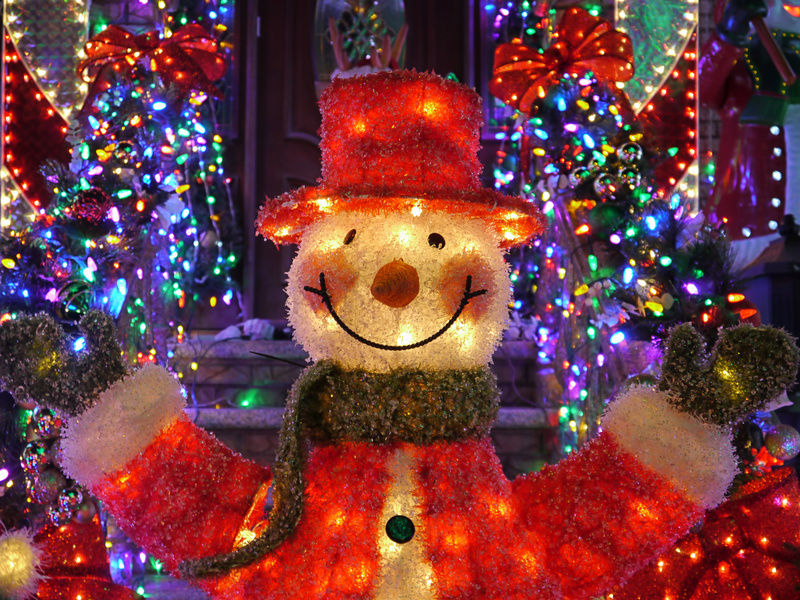 Delhi has got grand bazaars, vast complexes, great malls, great bars, great food, everything great. The beauty of Delhi is its diversity of different people, and that is why it gets your attention. 
If you are in Delhi this Christmas, then you can check out the Vatican Embassy Chapel, spend time in the Christmas market, go to Connaught Place, and have endless food with great brewed drinks. 
Delhi can be conveniently represented as the 'Celebration Capital of India'; be it Diwali, Eid, Gurupurab or Christmas, the national capital region of Delhi rejoices every festival with absolute joy and fervour. 
The whole city is adorned with lights and Christmas trees. Shopping malls and markets are also abuzz with the very spirit and offer extraordinary discounts for buyers on this specific moment. Nightclubs and cafes throughout the capital raise live performances by renowned artists.
Things to do on Christmas in Delhi
You can visit the Sacred Heart Cathedral Church, where you will be able to sing the various carols and the end of mass with delicious Cake and Coffee.

Get access to one of the clubs in Delhi, where you can visit various music events as per your likeness. Getting high and dancing to the last of strength could also be a great way of celebrating Christmas Eve.

Visiting the Vatican Embassy Chapel for the midnight mass can also be another great idea. The chapel has a beautiful Roman Architecture, and well, they also serve fruitcakes and hot coffee.

You have the option of doing a whole lot of shopping for your Christmas Party. You can visit the Christmas Bazaar, Khan Market, Promenade Mall, etc. for all your shopping at Christmas.
5. Manali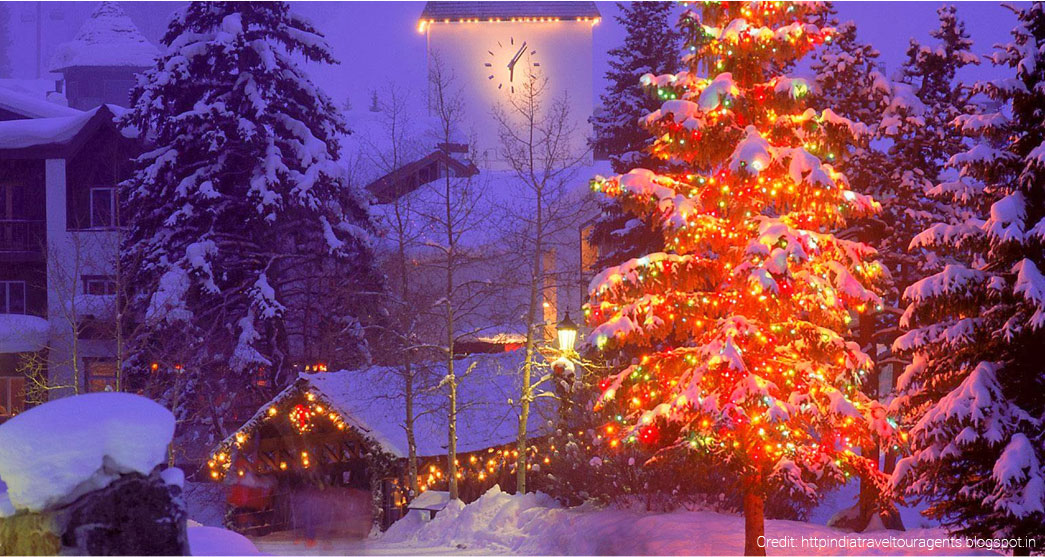 Manali is a family destination, and the place has its aura during December, where you get to see the snowfall. Although, your eve would be well spent on the Mall road itself, you will be able to witness people singing choirs, playing the guitar, and all the shops and restaurants fully decorated. 
The state of Manali has been undergoing an expansion in its number of guests every year, particularly during the months of Christmas. In the roadways of Manali, a straightaway of vehicles can be seen gradually making its way to the heavenly beauty of Manali. With the city included in layers of snow, travellers from different places and nearby areas make their way to Manali to celebrate White Christmas. 
The celebrations extend to well after the New year with raised snowmen covering the aspect of Christmas in Manali. Santa clauses reach the doors of hotels and eateries attracting festival-goers for a bit of Christmas meal produced with a mix of Himachal cuisine and also hands out goodies. 
To add a combination of local taste to the celebration mood, the guests are treated with the Himachal Kullu folk music. The massive snow in the area makes the Christmas celebration even better bringing smiles on the faces of freshly married couples. 
They sit twisted, sipping hot chocolate at the convenience of their hotels while attending to soft carol music. On the outdoor bonfires are lit, and people sit around composing and experiencing the chill and seeing children projectile snowballs on each other. 
In contempt of the chilling winter, the celebrations going all around brings a particular level of cheer and temperature.
What to do in Manali during Christmas
Visit the many exquisite temples that the place has for you to offer, like Hadimba Temple, Manu Temple, and Ghatotkach Temple.

You can also visit the Museum of Himachal Culture and Folk art to understand the culture and its history in the purest essence.

There are various clubs and cafes that you can visit in Manali in case you are a party animal.

The place gives you endless opportunities like Skiing, Zorbing, Horse Riding, and various other snow-related activities.

The place has numerous places to visit, like the Hadimba Temple, Manali Sanctuary, Mall, etc.

You can try going to the heritage village of Manali, Nagger. Nagger was the place where the prince of Kullu decided to live. You can see mountains that are covered with snow — also, the magnificent view of the River Beas.

Another place to visit would be the Roerich Art Gallery. The place where you can feel great natural beauty.

The area has some excellent restaurants with great ambience and a whole lot of bakeries. 
6. Kolkata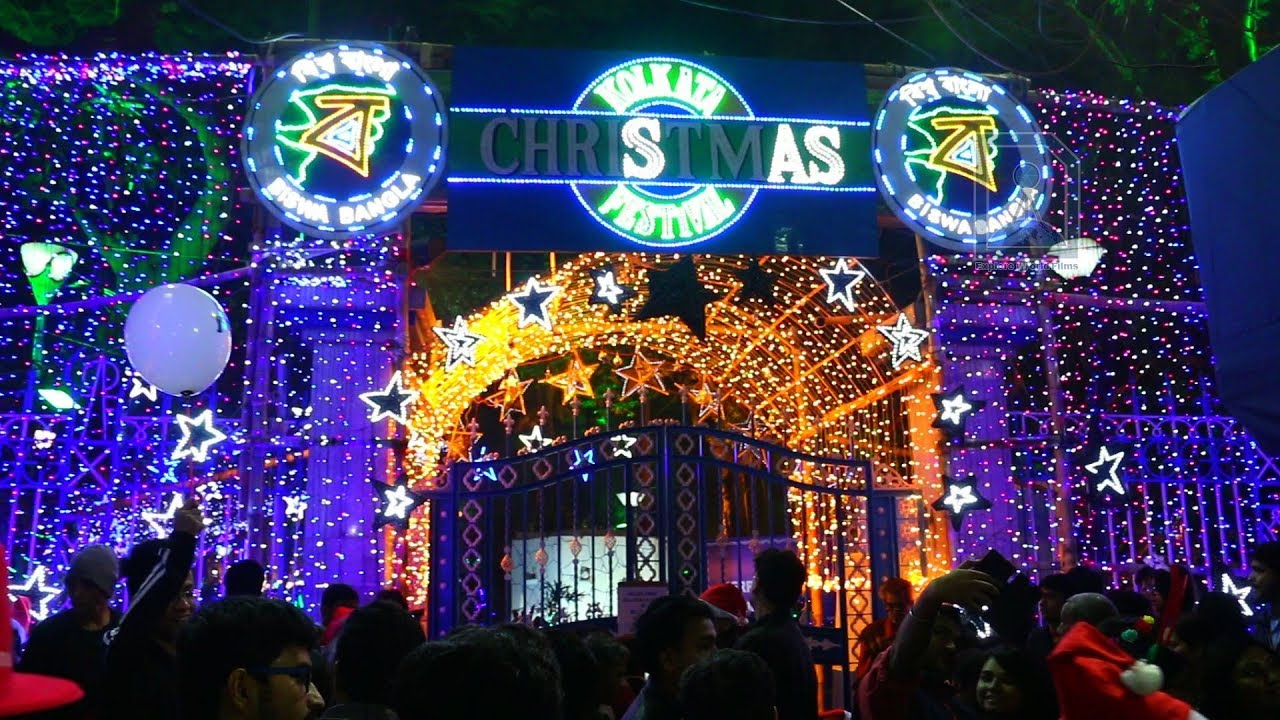 Kolkata is a place known for its culture. The whole street decorated with lighting, you can witness various cuisines of food, do some great shopping, and the best part is the band performances.
The place lit during the Durga Puja festival, but the same is the case with Christmas, maybe a little less. 
What so Special about Kolkata's Christmas
Park Street during Christmas is having a blast with endless great food, a whole lot of crowds, great music. 

There are various Christmas Delicacies that you can taste during the time. Although to get the table, you may need to get the reservations done on time.

There are many places that you can visit in Kolkata, like Victoria Memorial, Eden Garden, Indian Museum, etc. 

If you wish to attend the midnight mass, then the St.Cathedral Church would be your ideal place to go. The church decorated with Christmas Trees, lights, silver bells, and streamers during the time. 

Bow Barracks is another special place that you can visit. You will feel the Christmas vibe as soon as you enter the area. The site offers Hymns, Carols, Music, and, most importantly, the food by the local people.
7. Daman and Diu 
Daman & Diu, located in the west of India, are two separate areas divided by the Arabian Sea. Christmas is one festivity for which everyone in Daman, Diu, waits for very eagerly. 
Daman is famous for the Portuguese dance during the Christmas time. Be it the houses or the commercial places in Daman; everything is lit up with millions of colourful LEDs and decorations. 
Daman & Diu Places to Visit During Christmas
Get to see the European styled St.Paul's Church, which like all churches, hold a midnight mass although this one can be a memorable one.

The same is the case with Diu, where you can visit many Public Fair and also attend Christmas masses during the night. 

The local Portuguese alleys and colonies are another spectacle to witness because of their immaculate architecture and great decoration.

You can witness the local Portuguese dancing and taste the refreshing food there.

The place has a variety of options to visit during the daytime like Diu Fort & St.Paul's church, Vapi, Historic forts, caves, and many other beaches.
8. Shimla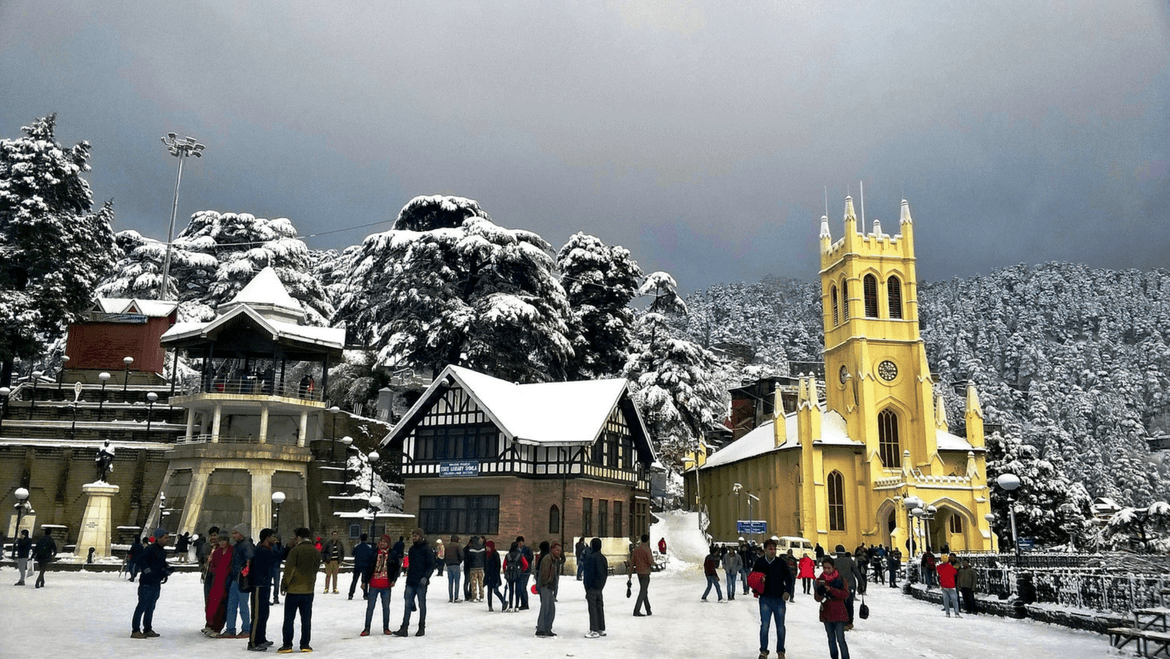 Shimla, just like Manali, is also known for its white Christmas. Not only for Christmas but in general it is among the Best Places to visit in December in India. 
The area has a nicely lit market, a high number of crowds, great stalls for food, and yes, even they got band performances.
To do List in Shimla during Christmas
As the place is known for its white Christmas, the site can get you a whole lot of opportunities to play with snow. Although this is somewhat dicey as because of the high temperatures, it didn't snow, but chances are this time it might.

You can visit the Ridge, where people usually gather around during the time of Christmas. Mall road is another place where you can visit to see the Christmas festivities.

During the time of Christmas, exclusive parties are arranged for the tourists, although the prices of the hotel rooms are spiked up a little bit.

Places like Mall Road, Jakhoo, The Ridge, Christ Church, Rashtrapati Niwas, etc. can be in your itinerary for the day.
9. Pondicherry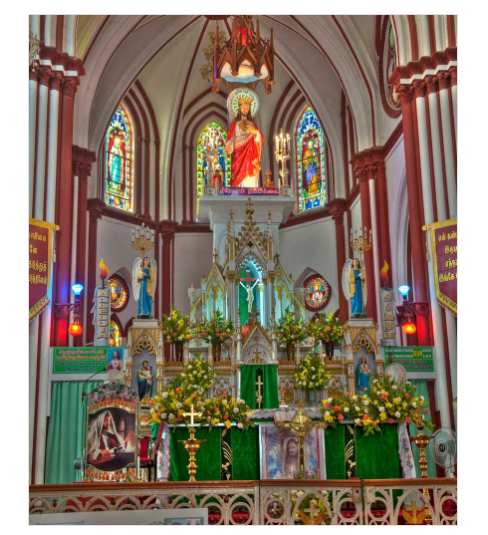 Pondicherry is a beautiful small union territory located off the Tamil Nadu coast. It is also known as the "Little France" as you can find fascinating french cuisine plus it is full of beaches, and magnificent architecture. 
Christians love this place to celebrate their favourite festival with great enthusiasm. They follow all the rituals and merry-making. The weather can be pleasant during this time. 
Pondicherry or Puducherry is recognised as India's Little France owing to its colonial relationship which presents it a pleasant goal around Christmas. This wonderful city looks even more remarkable during Christmas owing to its rich churches, a charming seacoast and French-styled architecture.
Gothic churches in the town like Church of Our Lady of Immaculate Conception and Basilica of the Sacred Heart of Jesus hold all-night masses (in Tamil and English) for enlightening people about the true meaning of Christmas. 
In Pondicherry, you can encounter a friendly Christmas vacation by chilling by the beach during the twilight and entertaining in a night mass later.
To-do list in Pondicherry during Christmas 
You can visit two churches, namely, the Church of Our Lady of Immaculate Conception and Sacred Heart of Jesus. These are one of the best-decorated churches during Christmas in India.

If you want to sit beside the beach and enjoy the sunny weather, you can travel to Seaside Promenade, Sri Aurobindo Ashram, Botanical Garden, French Quarter, and Paradise Beaches which can be relaxing during Christmas.

You can attend a midnight mass.

Spend your time in Christmas markets decorated with Christmas trees, and lights to feel the festive vibe.

Experience exceptional marine life here during this festival can also be an option. 
10. Mumbai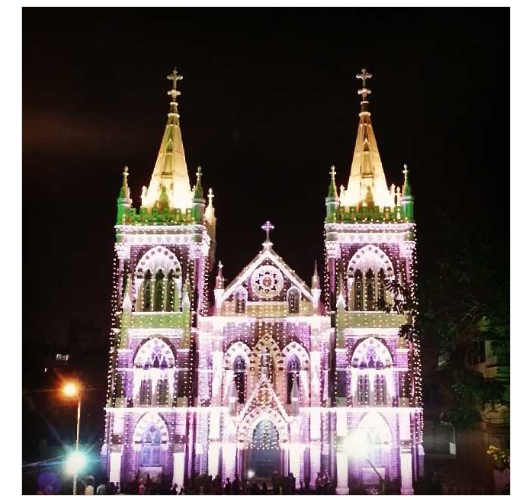 It is the best city to celebrate Christmas at midnight alongside the seashores. There are many historic churches you can explore which hold Christmas midnight masses during the festival. 
The churches in the city lighted and decorated by the people of different religions. You can attend the parties and feast happening in hotels or pubs. 
Mumbai, the party capital of the country, is definitely worth the visit during Christmas. Bright streets, shops, eateries, cafes and nightclubs fill the city with Christmas-fever. Many events, parties and church bodies take place for honouring the birthday of Jesus Christ. Among the most desirable places in Mumbai where Christmas festivities are celebrated with full energy are Hill Road, Bandra and Church Gate.
Mumbai places to visit during Christmas 
The western suburb of Bandra, Mount Mary's Basilica, is the right place to visit during Christmas, where you can listen to Christmas carols. 

You can visit the Afghan Church, John's Church, which has some historical stories associated with it. 

You can attend midnight mass of Gloria Church, Byculla, and Saint Andrew's Church. 

You can spend your time of Christmas doing street shopping on Hill road.

Visit places like a bullfrog, 3 Wise Monkeys, and even the Palladium Hotel, which hosts a Christmas celebration. 

Bandra Christmas Dessert Crawl is the eating fest you can attend during Christmas.

Experience year best Christmas parties in Exo and Trilogy with celebrity, DJ, and festive-themed food and drinks. 

Christmas Day Drinking Pub Crawl can be an option if you are a youngster or adult. 

The Crawford Market is the one you can go for shopping.
11. Bangalore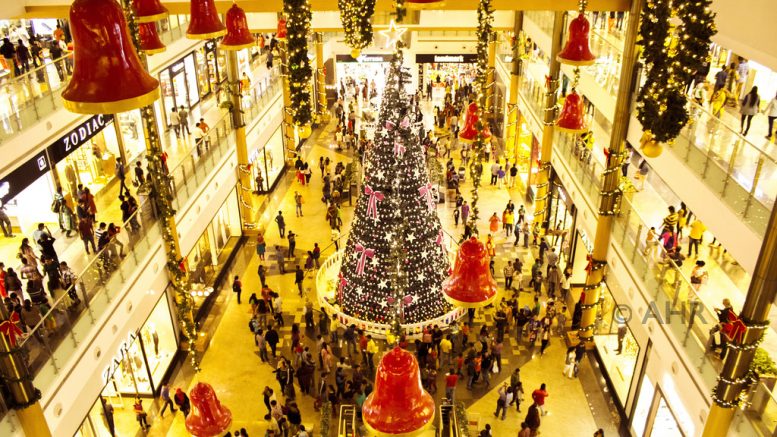 You can experience a memorable experience in Bangalore during the Christmas season. Your mood will be full of joy, and you can see all the Christmas decorations around you. 
Enjoy the Christmas carnival, and you can party in the best pubs and restaurants. You can roam around the city and explore the food of the famous eateries of MG road. 
Things not to miss on Christmas Day in Bangalore 
You can visit St Patrick's Church on Brigade Road and The All Saints Church on Hosur on Christmas. 

Try plum cakes, smileys, and ginger tea in Koshy's. 

Caperberry for your course turkey dinner.

All Saints bakery and Fatima Bakery are the best bakeries you can try to buy goodies, plum cakes and sweets for Christmas.

Why Toit and High Ultra Lounge are the best bars during Christmas. 

The Sugar Factory, Skyye Lounge are the ones to visit if you love dancing and want to enjoy jingle bells songs! 
12. Sikkim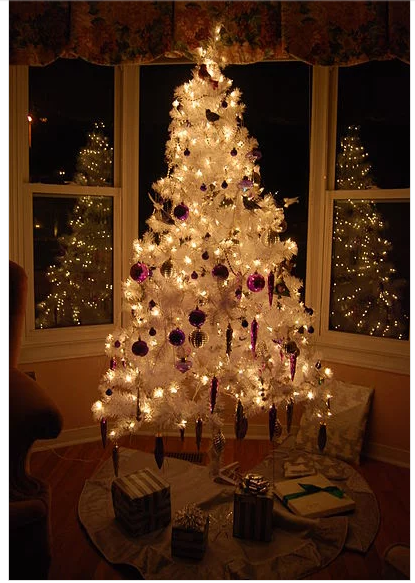 Sikkim has a tiny Christian population and is looked upon by travellers and tourists for sightseeing. Christmas in Sikkim starts almost a month before. 
It is the best winter destination for you as the Himalayan peaks covered with snow during Christmas, and you can see the sparkling lakes all around. It becomes a scenic beauty during November and December month. 
Plan for a Christmas day in Sikkim 
You can roam around the streets and see beautiful surrounding houses that are full of Christmas trees and stars decorated on them.

You can feel the aroma of roasted meat and baked cakes during Christmas. 

You can spend your Christmas night in restaurants and pubs and enjoy the whole night partying with your friends and family. 

You can visit Gangtok, Nathula pass and Tsomgo lake. 
13. Chennai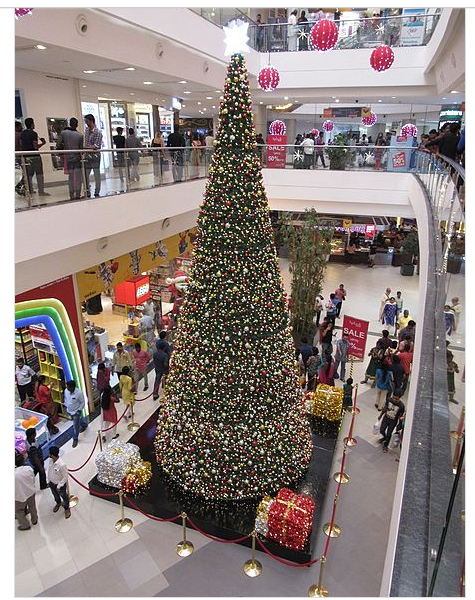 Chennai is the spiritual home of classical music traditions. You can experience a cheerful Christmas festival with delicious food. On the streets, you can hear the music of the birth of Christ performed by a small group of people.
A person puts on the attire of Santa Claus and handover goodies and sweets to the children. 
Best events to enjoy in Chennai during Christmas 
You can visit Velankanni church which is famous and visited by many Christians during Christmas

Marina beach and Besant Nagar beach are the ones which host the best Christmas and new year parties in the city

You can also visit any one of the churches including Thomas Mount National Shrine, Armenian Church, St. Mary's Church and CSI Wesley Church

You can either party or experience spiritual surrounding all around you

During Christmas night, pubs clubs host huge parties along with the blend of Tamilian cuisine. 
14. Lansdowne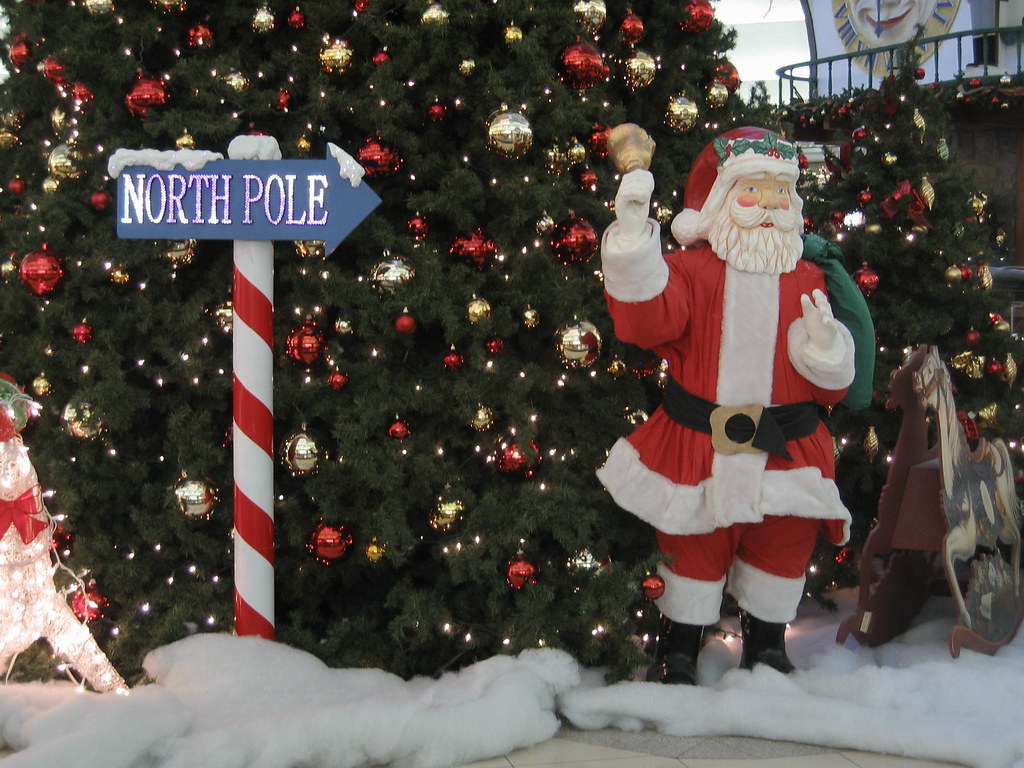 If you want to celebrate Christmas away from the crowded place, then this is the best place you should visit. You can enjoy Christmas in peace, away from your busy lifestyle schedule.
You can calm your mind by visiting this beautiful hill station during Christmas with pleasantly chilly weather. You can book your hotel or resort at a hugely discounted price at Christmas and enjoy the scenic beauty of the city. 
Must visit places during Christmas in Lansdowne
You can visit St. Mary's Church and Saint John Church.

Exchange your gifts with your friends and family, and calm your mind in the bonfire with music alongside chilling weather.

Visit the Ottawa Christmas Market with full of Christmas lights, gift items with the traditional food and drinks.

Bhulla Taal, bird-watching, and taking a jeep safari at Kalagarh Tiger Reserve is the exciting sightseeing you can explore.
15. Ooty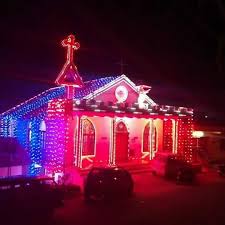 Ooty is cold during winters having many resorts. The place is full of nature's most beautiful creations. Enjoy the Christmas celebration here one day before Christmas.
You may observe the place to be a little crowded. It is known as the "Queen of Hill stations" and is full of green tea plantations and shining waterfalls. 
To-do list in Ooty during Christmas 
You can celebrate Christmas in St. Stephen's Church, CSI Holy Trinity Church, or Union Church.

You can visit "The Christmas Jive Bootcamp."

You can chill around the scenic beauty of sparkling Ooty lake, Pykara Lake, Kamaraj Sagar dam, Bellikkal lake. 

Nilgiri Toy train ride is the beautiful trip between the woods, mountains, and valleys. 
16. Daman And Diu
Daman and Diu is a union territory on the west coast of India. The place is popular for its Portuguese roots. The historical portuguese monuments, golden beaches with clean blue water, and the friendly people around, makes this place a dream destination. As we know, Daman and Diu have been under Portuguese rule for quite a considerable time. The natives still follow the cultural activities which were prevalent during that time.  The traditional Catholics in the locality celebrate Christmas on 24 December. Many social groups follow a religious activity where an  idol of Baby Jesus is put in the crib and then the gifts are swapped after the midnight mass. During the time of Christmas, the place becomes more beautiful and heavenly, making it a must visit during the festival.
17. Shimla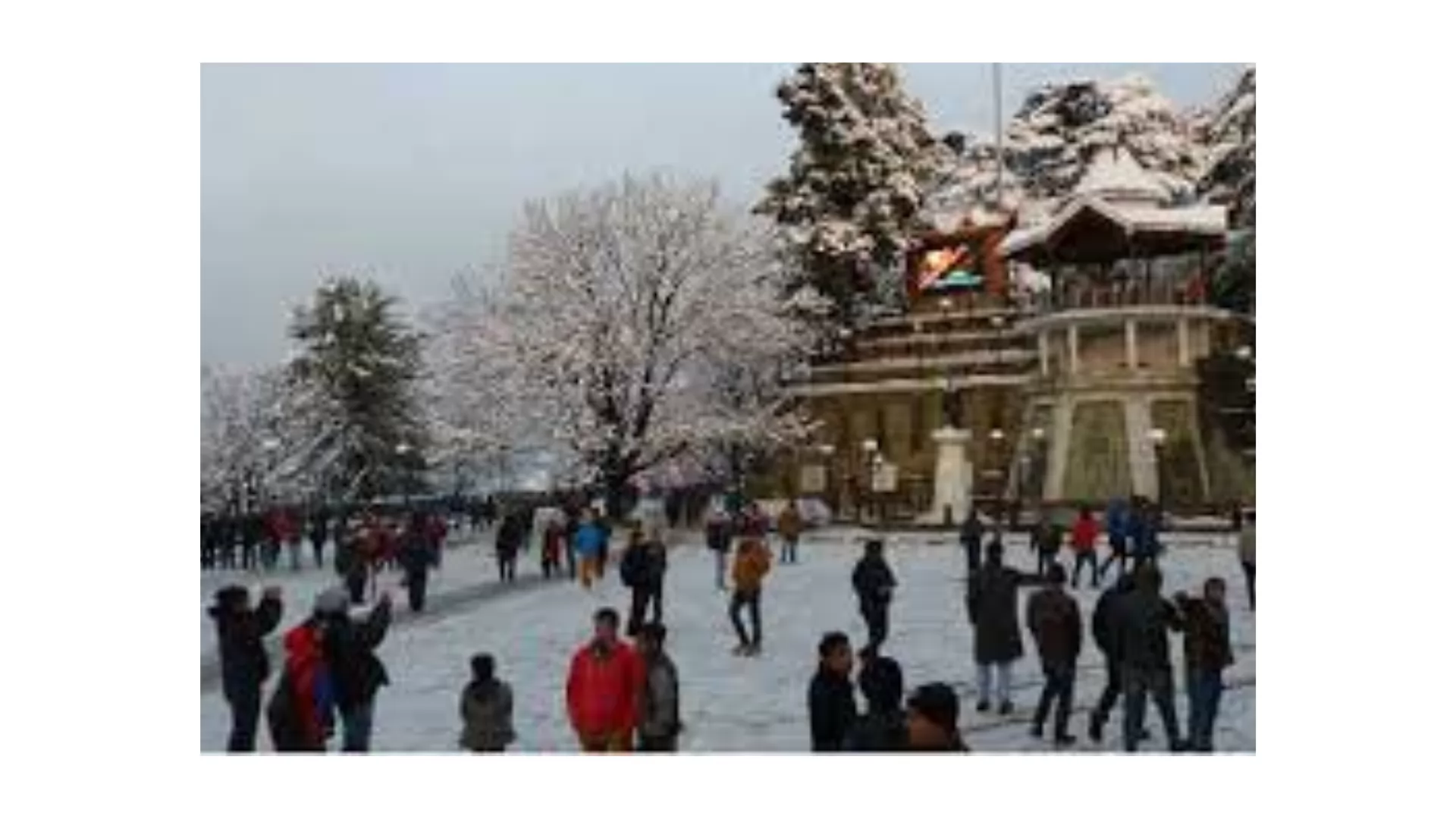 Shimla, the capital of Himachal Pradesh is considered as one of the most beautiful places on earth. It lies on the himalayan foothills, making it chilled and full of greenery. There was a time during the British colonial rule, when this place was called the summer capital of the Britishers. Along with its heavenly beauty, the place is also known for the handcrafted shops that lie on the pedestrian avenue, and Lakkar Bazaar which is a famous market for wooden toys and crafts. All these famous places become more beautiful during the time of Christmas. The markets are lit up with colourful lights, selling Christmas bells and toys for the kids. The weather by this time becomes more chilled, and the mild snowfall makes the christmas feel more joyful. In Shimla as well, you will find a number of people from Christian descent. There are age- old beautiful built churches that look divine during this beautiful time of the year. The surroundings, and weather of Shimla, both play a vital role in making Christmas an exceptional experience for you.
18. Chennai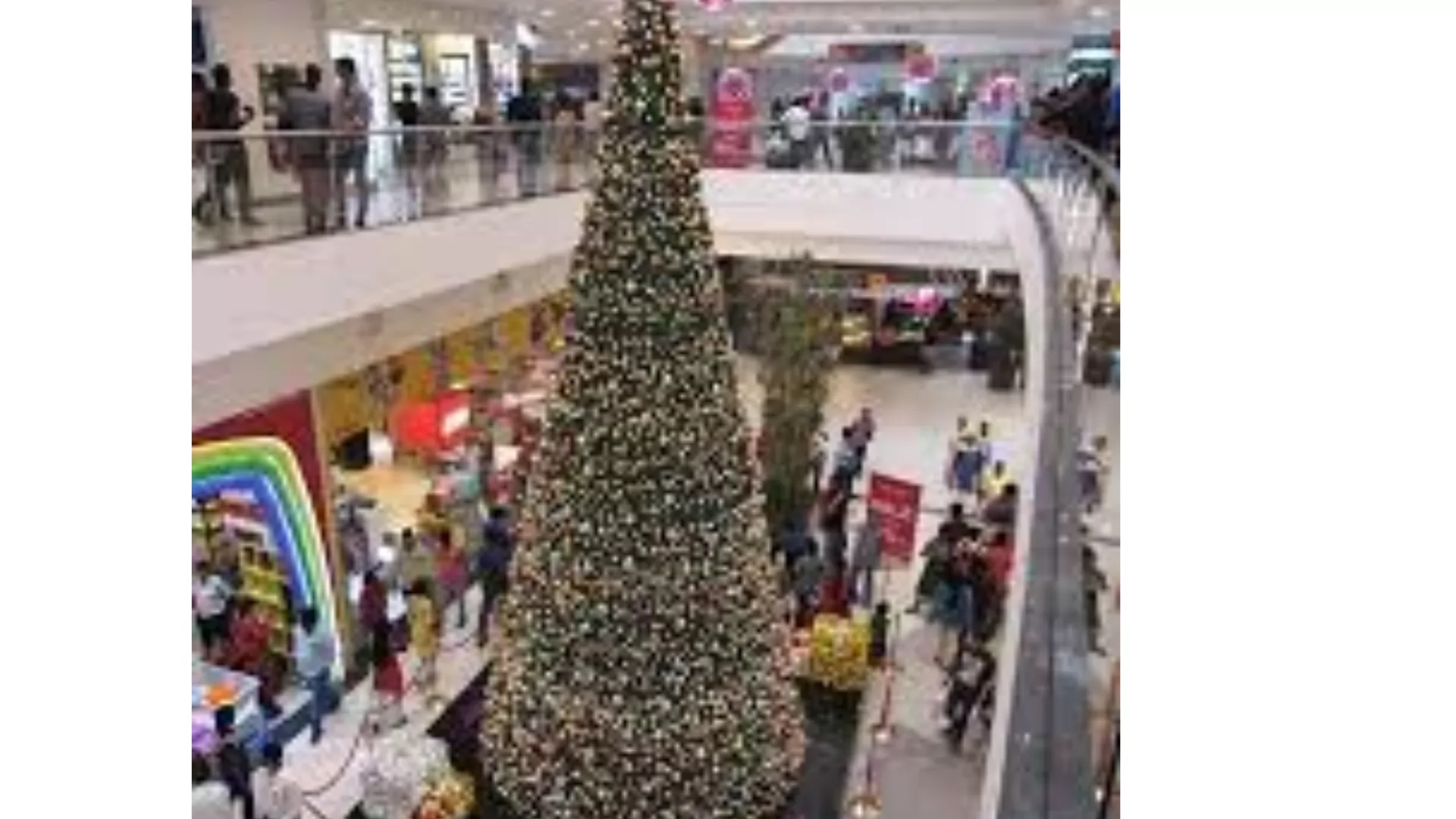 Chennai is an eastern Indian city in the state of Tamil Nadu. The city is quite advanced in culture as well as technology. Chennai is a home to Fort St. George, which was built in 1644. The fort has now turned into a museum which showcases the city's roots from a British military garrison. The city, which used to be called Madras during that time, was one of the major business spots for the British Colonial Era. Christmas is celebrated with so much enthusiasm in Chennai. The major eye-catcher of the event is San Thome Basilica Church, also known as St. Thomas Cathedral Basilica, and National Shrine of Saint Thomas. This is one of the oldest churches in Chennai. There is a grand celebration that takes place in the church during the time of Christmas. Gifts are also distributed to kids.
These are the best places to visit in India during Christmas. Now, you must be sure about where to go this Christmas season. Do read about all the places and their famous attractions at Christmas. 
We hope this article will help you to decide and plan for your vacation during this festival. Prepare yourself and enjoy this Christmas with your friends and family at these Top Places For Christmas Holidays In India. 
19. Sikkim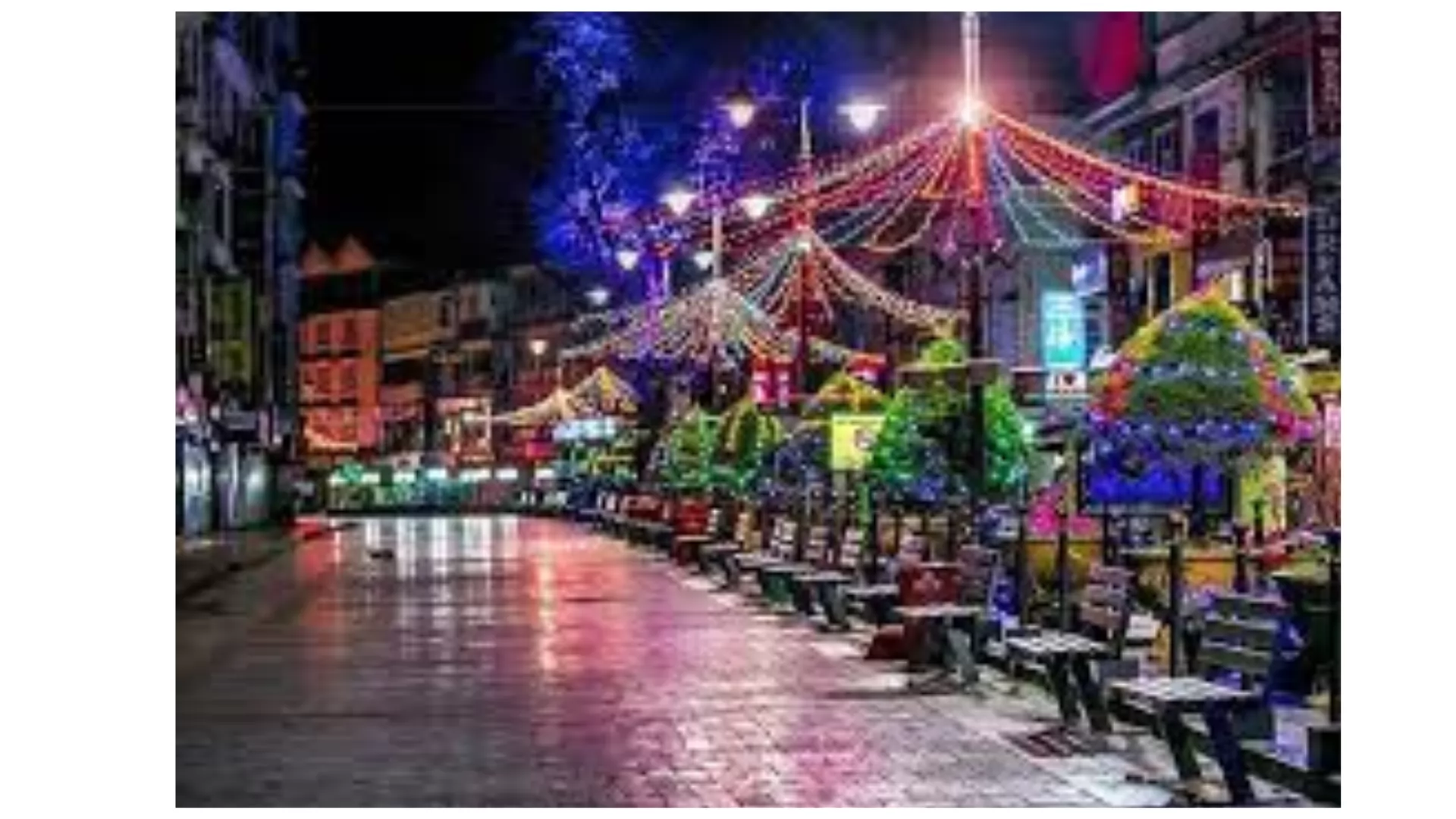 Sikkim is a northeastern state which is bordered by Bhutan. The state is a part of Himalayan Range. Sikkim is also one of the states in India where Christmas is celebrated with a lot of passion and zeal. Sikkim is a small state with less population. This quiet place is a perfect spot to spend quality time with your friends and family. On the eve of Christmas, local people gather outside their houses to celebrate the festival. They make tasty dishes, and desserts. If you are planning to go out this Christmas, there is no better option than Sikkim.
20. Dadra And Nagar Haveli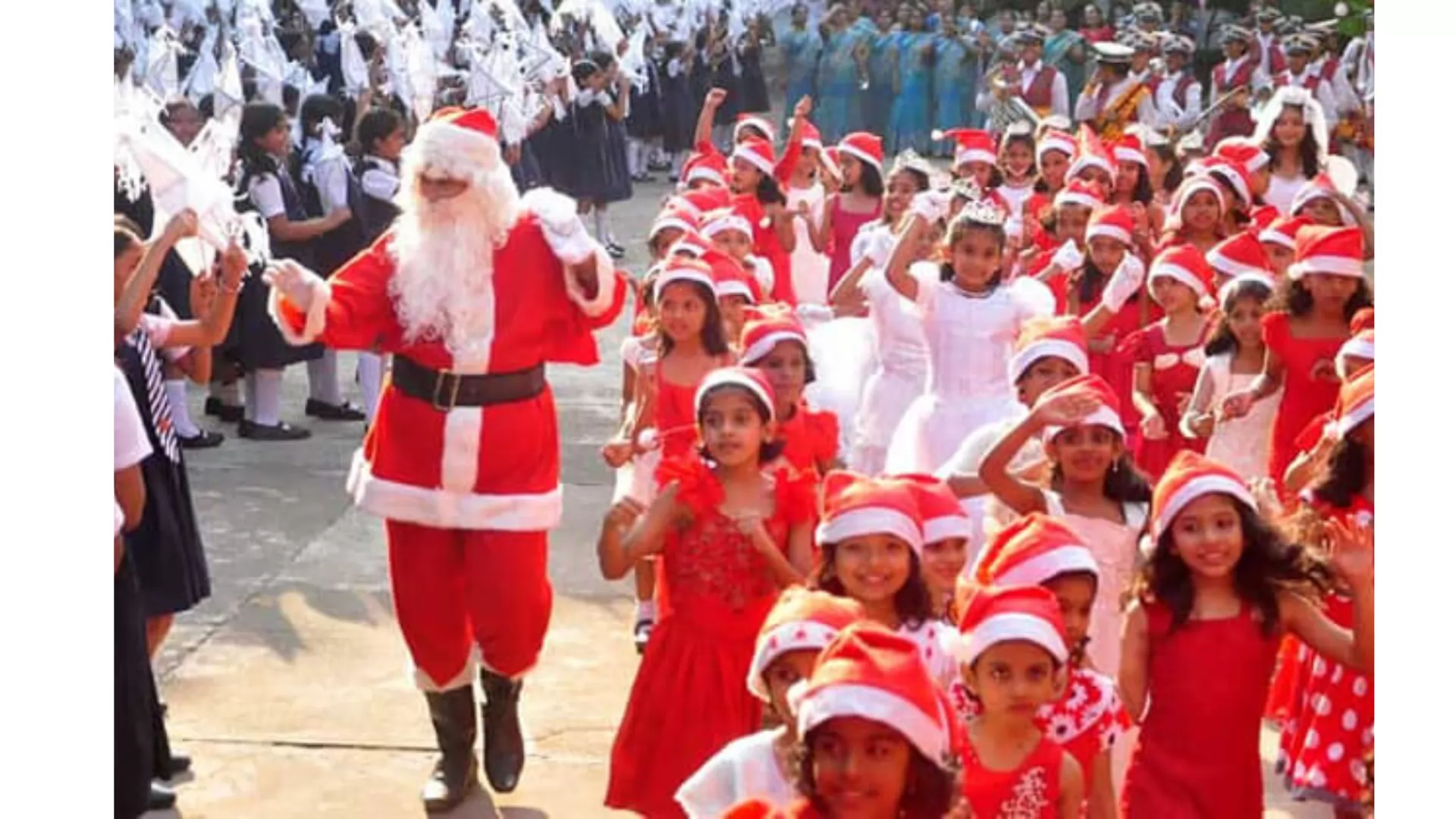 Dadra and Nagar Haveli is also one of the Union Territories in India. The place is filled with immense natural beauty and greenery. THe most beautiful places that you must visit are Hirwa Van Garden, Satmaliya Deer Park, Vanganga Lake, Dudhani, Satmaliya Deer Park, Vasona Lion Safari, Nakshatra Garden. The Christmas in Dadar and Nagar Haveli has its own speciality. There you will get to celebrate Christmas with a tribal touch. A lot of people gather in local churches, especially during midnight. People decorated their homes. Markets, all lit up and decorated, filled with people. Dadra And Nagar Haveli is the most divine place that you must visit during Christmas.
21. Gulmarg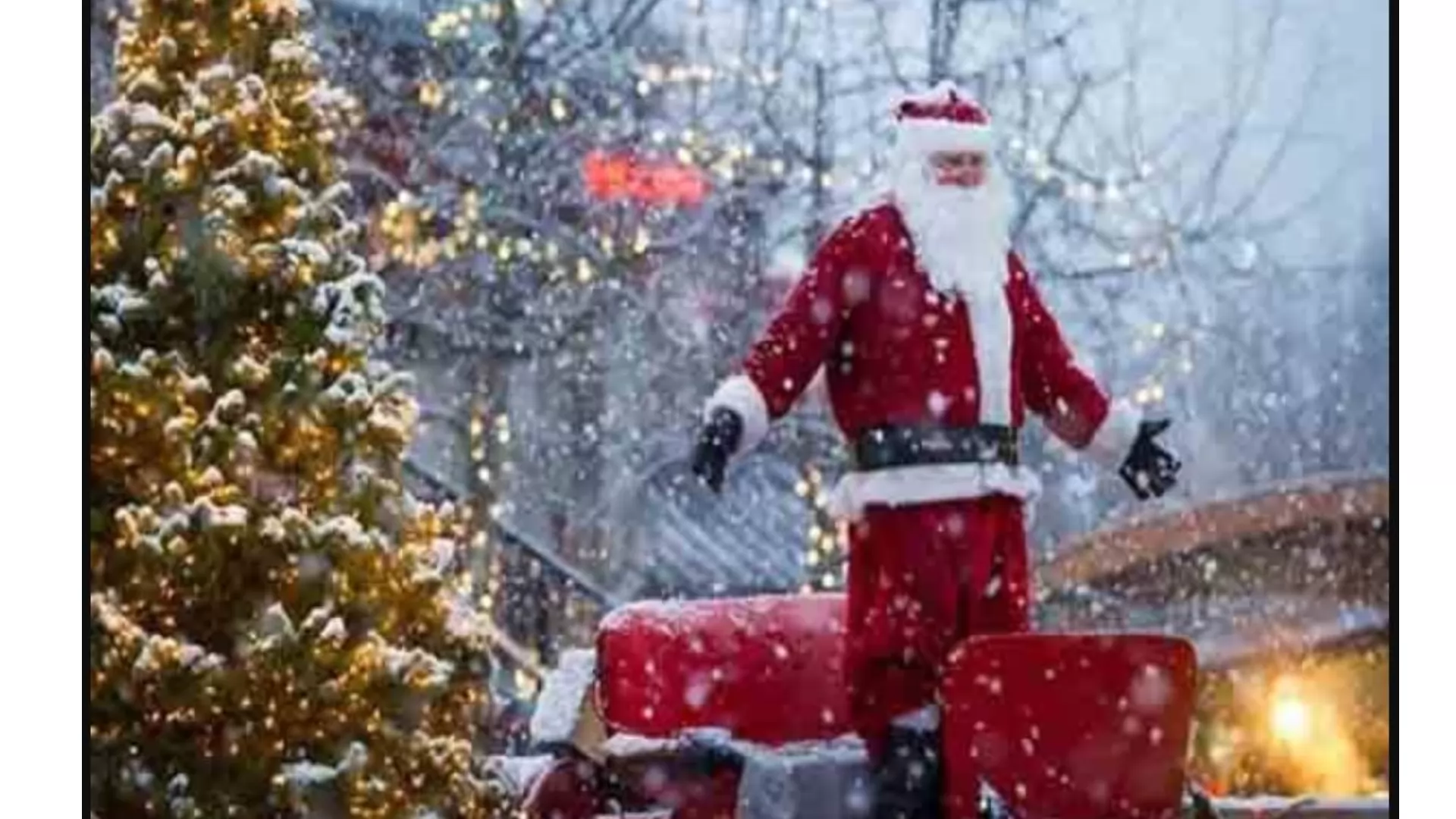 Gulmarg is a small town in the state of Jammu and kashmir. The place is surely a heaven on earth. Filled with greenery, the place turns into a true beauty during winters. Christmas time is the best time to celebrate at this place. There are a lot of resorts that organise the Christmas celebration during that time. The scenic beauty of this area will not let you leave the place even when the vacation is over. If you want to celebrate the festival in peace, away from the rush and noises of the city, then you must visit Gulmarg. The place looks and feels like heaven.
Conclusion 
These are the best places to visit in India during Christmas. Now, you must be sure about where to go this Christmas season. Do read about all the places and their famous attractions at Christmas. We hope this article will help you to decide and plan for your vacation during this festival. Prepare yourself and enjoy this Christmas with your friends and family at these Top Places For Christmas Holidays In India. 
Frequently Asked Questions
Q. Where is best Christmas celebrated in India?
A. Goa is the best place to visit during Christmas. The festival is celebrated with great enthusiasm there. Along with that there are many more places that you can visit during Christmas. I have mentioned them all in this article. Check them out.
Q. Which place is best for Christmas celebration?
A. If you want to visit Christmas in India: The Best Places to Celebrate It, then you can go to Kerala, Goa, and many more places which celebrate Christmas in the best way it can. There are many parties, and many more events take place during Christmas time.
Q. Where is the most Christmassy place in the world?
A. Rovaniemi, Finland is considered as the most  Christmassy place in the world. It is because the festival is celebrated with so much grandeur. The locals there believe that it is Santa's Village. 

Join Telegram Channel & Get Instant Deal Alert

75,062+

participants