1640 days ago
Amazon Prime Indian Web Series - Mind The Malhotras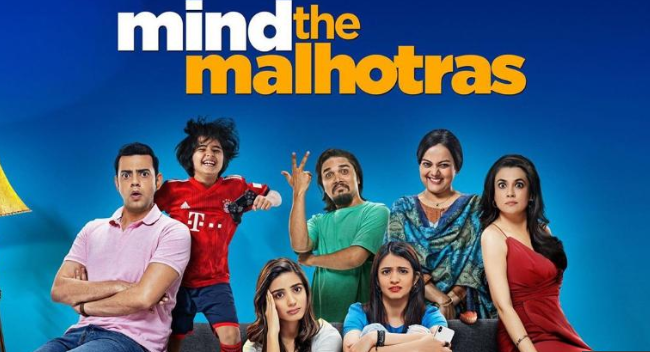 Mind the Malhotras is the new Indian web series on Amazon Prime Video. The Indian original series will release on June 7. The new Amazon Prime Series has a total of 10 episodes.
A trailer of the web series starring Mini Mathur and Cyrus Sahukar was recently released. Mind the Malhotras is based on Israeli comedy series 'La Famiglia'.  
Meanwhile, Mirzapur is the most popular Indian web series on Prime Video. You can also watch Mirzapur Web series for free with Amazon Prime Free trial.
Mind the Malhotras - Release Date on Amazon Prime Video
The new original Indian web series will release on 7th June. Mind the Malhotras includes a total of 10 episodes. The trailer is out, and you can catch the first glimpse of the show that promises to offer pure entertainment.
Mind the Malhotras Trailer
The new Indian original web series on Amazon Prime Video is a quirky take on the everyday problems of a married couple. The fun begins with the weird family decides to seek professional help to sort their everyday problems. Take a look at the trailer to decide yourself whether you should watch it.
Mind the Malhotras Star Cast
Rishabh Malhotra (Cyrus Sahukar)- Husband.
Shefali Malhotra (Mini Mathur) – Wife.
Dr.GulfamRastogi (Denzil Smith) – Therapist.
Seema Malhotra/Mummyji (Sushmita Mukherjee) – Rishabh's mother
Dia Malhotra (Nikki Sharma) – Daughter of Rishabh.
Jia Malhotra (Anandita Pagnis) – Daughter of Rishabh.
Yohan (Jason D'souza) –Son.
Zoravar (Rahul Verma) - House help.
Surya (Asheesh Kapur) – Friend.
Vaishali (Parinita Seth) – Friend.
Radha (Shivani Singh) – Neighbour.
The lead characters, Cyrus Sahukar and Mini Mathur are known faces for Indian viewers.
Both the actors have done a lot of work on Indian TV shows.
The web series will also feature Sushmita Mukherjee, Jason Dsouza, Rahul Verma, Denzil Smith.
Sahil Sangha is co-directing this show along with Ajay Bhuyan.
How to Watch 'Mind The Malhotras' Free on Amazon Prime Video
If you like the concept of the web series and want to watch it, you can start free trail of Amazon Prime. The free trial is only available for users who have never availed the offer before.
You can also register on Amazon for a new account to start your free trial of Prime.
In case you have already availed the free trial offer subscribe to Amazon Prime at Rs. 129/Month or Rs. 999 for one-year.
Note: If you are looking for free content online check the best Indian web series on Youtube.
The rib-tickling comedy series narrates the story of a modern suburban family. Dia Mirza is a producer of "Mind the Malhotras" and she also took to her social media account to announce the release of this new series. So, one more Indian original series on Amazon Prime VIdeo which will release soon and you can watch it for free.

Join Telegram Channel & Get Instant Deal Alert

75,062+

participants