461 days ago
5 Best Apps To Buy Cryptocurrency In India 2022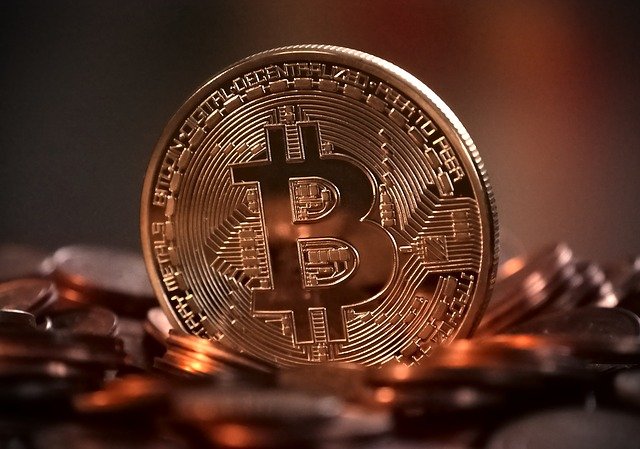 For those who want to enter the world of digital currency, it is important to know about the best app to buy cryptocurrency in India. 
Cryptocurrency has been a hot topic for investors in the last few years. Many Indians are showing interest in crypto as the market continues to bloom. Investors in India are jumping onboard. Indian investors have put billions in digital currencies. 
The crypto exchange apps play a critical role in the sector. That is why the majority of Bitcoin trades are made through an exchange. India's digital currency market has grown to $6.6 Billion.
So let us check out the top apps, their fees and features. Meanwhile, for the best mobile trading apps in India click here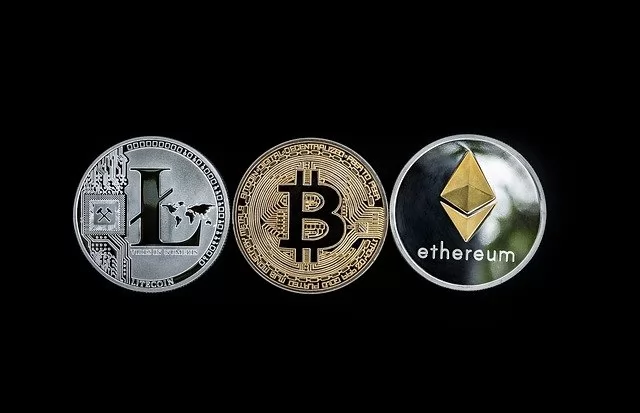 List of Top Apps To Buy Cryptocurrency In India 
| | | |
| --- | --- | --- |
| App To Buy Cryptocurrency | Founded | App Ratings |
| Coinswitch Kuber | 2017 | 3.1 |
| WazirX | 2017 | 3.7 |
| CoinDCX | 2018 | 3.9 |
| Bitbns | 2017 | 3.5 |
| Zebpay | 2014 | 3.4 |
1. Coinswitch Kuber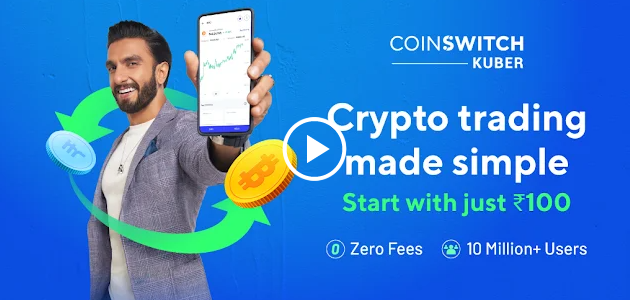 With CoinSwitch Kuber, you can trade 100+ Cryptos. It offers a variety of payment options. A simplistic interface makes CoinSwitch one of the top App To Buy Cryptocurrency in India.. 
You can deposit money to your Coinswitch Kuber Wallet using any payment mode to buy crypto of your choice. The payment options include debit & credit cards, UPI, net banking and bank transfer. 
Ideal platform for beginners & traders

Fast KYC process

Support for 100+ Cryptos
Launched - 2017
3 million investors
2. WazirX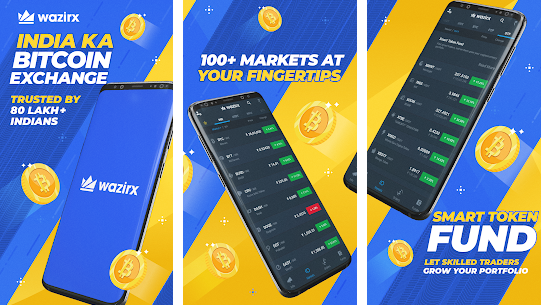 The platform hosts many contests to help users earn coins. Go to the info section to access various contests. You can add money instantly and buy 100+ cryptocurrencies on WazirX. 
They have a very good referral program in place as well. Invite your friend and earn 50% commission of their trading fee. Features such as 2FA and in-app passcode provide best-in-class security. The minimum amount you can deposit to your WazirX Wallet is Rs. 100.
Lowest withdrawal fee

Exciting contests to earn coins

Attractive referral program

Advanced security features 
Launched - 2017
6.5 million registered investors
3. CoinDCX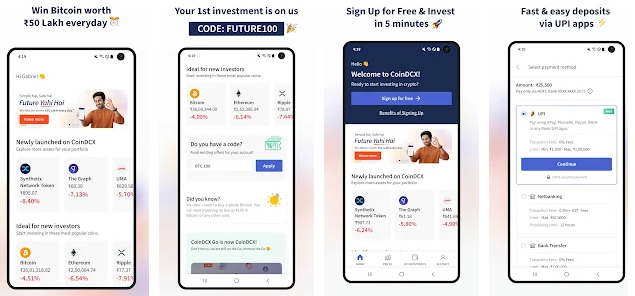 CoinDCX has a maker and taker of just 0.1 percent which is one of the lowest in the sector. and the minimum withdrawal limit is Rs. 1,000. 
We can say that the minimum withdrawal limit is on the higher side with most platforms having a limit of Rs. 100. But if you are looking for long term investment, it should not be a concern. It is easy to track the price of different cryptocurrencies from the app. There is also a price alert feature for your favourite digital currency.
It gives access to over 200 Cryptocurrencies. They also have a pro app for advanced traders. Experience exclusive benefits like trading fee discounts with DCX club.
Cryptocurrency watchlist to track prices

Price alert feature

Different apps for beginners and traders

BitGo insured cryptocurrency wallet 
3.5 million inventors
Launched - 2018
4. Bitbns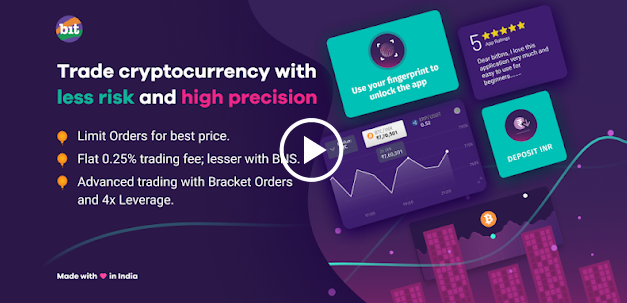 Bitbns is another app to Buy Cryptocurrency In India. Get the freedom to instantly deposit, withdraw, transfer and trade from your crypto wallet. It is regarded as one of the best platforms for beginners. 
Using Bitbns, you can trade in 100 + cryptocurrencies from the popular ones to the most recent ones. 
Bitbns Select provides a higher transaction limit to users. Due to its tie up with global cryptocurrency exchange OKEx Bitbns has an advantage over other apps in the category.
Real time trading

Stop limit trading

Choose from 100+ Cryptocurrencies
Launched - 2017
5. Zebpay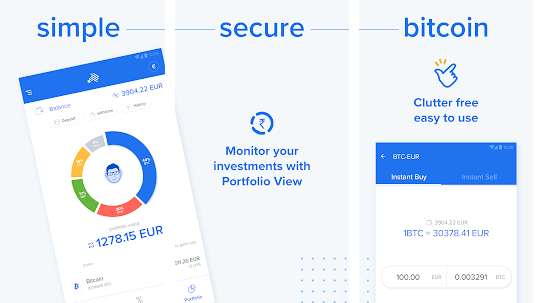 Zebpay is among the oldest crypto exchange platforms in the market. ZebPay is available in over 163 countries which make it one of the most trusted platforms. The platform has a membership fee of 0.0001 BTC per month which you can avoid by actively investing. 
Also, there is 0.15 % maker fee and 0.25 % taker fee. For withdrawals Rs. 10 fee is applicable. You can make a deposit via UPI for as low as Rs. 100. For other payment modes the minimum deposit limit is Rs. 1,000. 
They have a refer and earn program in place as well to earn 50 percent of the trading fees for one year. 
Good referral commission.

Clutter free app design.

Available in over 163 countries.

Clutter-free app design
Launched 2014
So that's all about the best cryptocurrency apps in India. There are many more apps that are equally good. We will add more apps to this list very soon. Now let us take a look at other factors that will have an impact on your trading. All these features are crucial and will help make your online trading experience better. 
Features to consider in Apss to Buy Cryptocurrency In India
1. KYC on Cryptocurrency Apps
It is mandatory to complete your KYC before you start trading in crypto. You need to upload an ID proof with your name and address. Certain apps also accept central government-issued IDs. The time to complete KYC varies from one app to another. In some cases, you may have to wait for weeks to complete the KYC. 
2. Transaction Fee
Before you start trading in digital currencies it is vital to be aware of the transactional fee. The exchange platforms levy fees on deposits, withdrawing, selling, and wallet transfers. The transaction fee varies from one cryptocurrency app to another. 
Exchanges may charge a flat amount or a certain percentage. The rates also vary as per the different tiers of users. Mostly, the difference is marginal, and also subject to change with time. The transaction fee is also a factor to consider which app you want to use for crypto trading in India. 
3. Payment modes
The crypto exchange platforms make different payment modes for a hassle-free user experience. Although some of the apps have a preference for certain modes such as WazirX prefer UPI as the mode of payment. You can also add funds using credit & debit cards and net banking. In Zebpay, the minimum deposit is Rs. 100 for UPI, while it is Rs. 1,000 for other modes of payment. 
4. Support for different currencies
Cryptocurrency apps make available 100 currencies. These include popular ones such as Bitcoin and fairly new ones as well. The multiple currencies gives users the option to choose from different currencies. You can also trade between different currencies in a hassle free manner. 
5. Compatibility across platforms
The best apps to buy Cryptocurrency are compatible across different platforms such as android, iOS, Windows, and Mac. The cross-platform compatibility adds to the ease in case of any special condition. All the apps that we have included are cross-platform compatible. 
6. Rewards & contests
The top Cryptocurrency buying apps make available various contests as well. WazirX is one such app with various contests to provide you with free coins. You can also participate in refer and earn program of Cryptocurrency buying apps. 
These are some of the features that add to your crypto currency trading experience. There are also various customized features made available by these apps. 
Benefits of investing in cryptocurrencies 
Cryptocurrency is emerging as a preferred mode of investment. Both beginners and traders are preferring it over other options in the market. Cryptocurrency investment has huge potential but there is also some amount of risk involved with the mode. 
With the help of cryptocurrency exchange apps, individuals having limited or no knowledge are entering the market. 
1. Potential for High returns
Cryptocurrency is considered an alternative to the existing monetary system. The digital currency has multiple benefits such as ease of storage, speed, and security. With so many benefits it is regarded as the future of the digital era. Cryptocurrencies such as bitcoins have already come a long way and are expected to go much further.  
2. Complete control 
Since cryptocurrencies are decentralized users have complete control. They don't rely on a bank or financial institution to make transactions. There is also no chance of identity theft. Unlike other investment options, there is documentation. It is easy to get started digitally in a matter of a few clicks. 
3. Accessibility 
You can perform cryptocurrency transactions anytime over an internet connection and mobile phone. It is also the best option for transactions across the globe. In fact, digital currency has the potential to become global. Every transaction is recorded in a public ledger which cannot be changed which makes it safe against scammers and hackers. 
With this we are at the end of this topic. Hopefully, you have got all the information you wanted on the best cryptocurrencies apps in India. With this information, you can choose the best exchange for Cryptocurrency. 
Frequently Asked Questions
What is the best app to trade Cryptocurrency?
With the growing demand, there is a sudden rise in the number of apps for Cryptocurrency exchange in India. WazirX, CoinDCX, and CoinSwitch Kuber are among the most popular ones.
Which is the best Cryptocurrency exchange?
Choosing the best Cryptocurrency exchange is crucial for trading. There are different apps that make buying and selling bitcoins simple. The best apps include WazirX, CoinDCX, and Zebpay among others. There are many new apps entering the market as well to provide users with more and more options. 
Which crypto platform is best?
Each Cryptocurrency platform comes with its unique features. Also the exchange fee will vary from one platform to another. Choosing the best platform depends on certain factors.  WazirX, CoinDCX, Bitbns, and Zebpay are among the top choices in the category. 

Join Telegram Channel & Get Instant Deal Alert

75,062+

participants