123 days ago
Flipkart Freedom Sale 2022: Early Access To Top Offers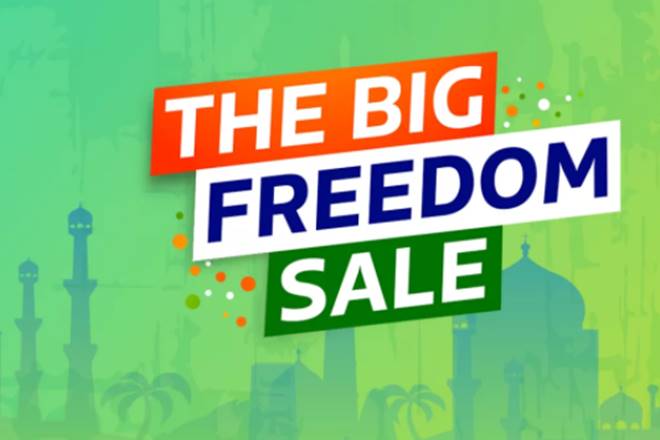 Flipkart hosts the Freedom sale every year in August. The sale brings Independence Day offers of the online megastore. This year, Flipkart has come up with Big Saving days to celebrate Independence Day.  The sale is from 6th to 10th August. Howeever, Flipkart is offering early access to the top offers on 3rd & 4th August. 
Flipkart is giving a chance to all its user to grab up to 80% discount on all major categories including electronics, fashion, and more. 
The Flipkart Big Freedom Sale will run for five days, and each day you will get to see new offers on the website. This Independence Day, Flipkart allows you to shop as much as you want and acquire maximum discounts on your shopping bills.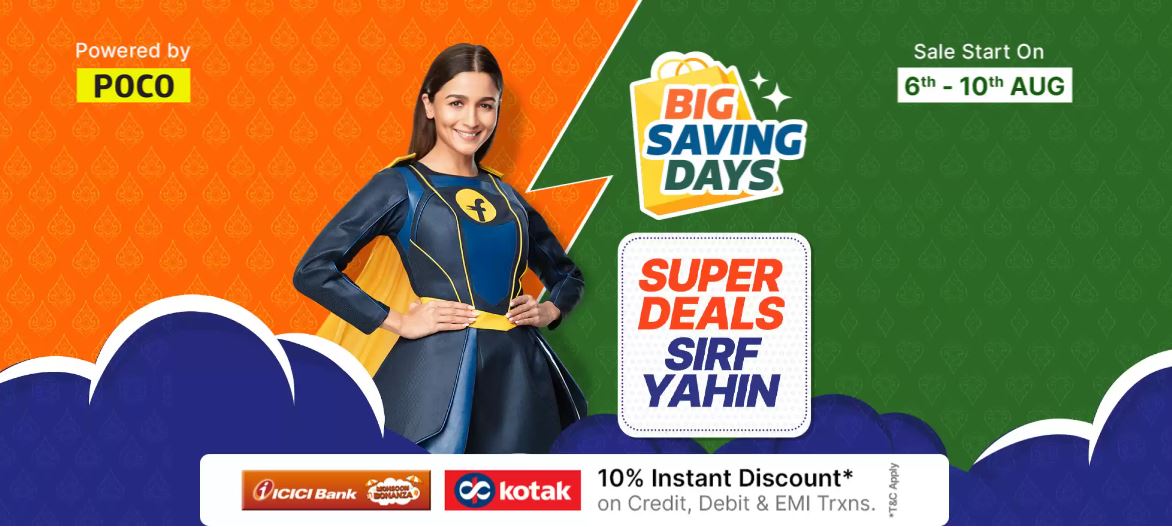 Flipkart Freedom Sale Early Access 
Flipkart is offering early access to the top offers of its Independence Day Sale. So you can grab the offers price before start of the sale. The early access is already live and you can grab the top offers now. It includes deals across all catgeories mobiles, electronics, accessories, fashion & more. 
Flipkart Big Freedom Sale Offers 
Flipkart makes your festive celebrations special with mega discounts. On the occasion of Independence Day, they come up with Big Freedom Sale. This year Flipkart is hosting Big Saving Days from the 6th to 10th August. Flipkart Plus members get 24-hour early access to the sale. 
There are blockbuster deals, rush-on hours, every-hour deals, cashback on credit cards and other offers are waiting for you to shop all your heart open in this upcoming Flipkart sale.
The Flipkart Big Freedom sale 2022 will be the destination for you to buy everything from electronics to fashion accessories, things you can gift to someone, Branded Cosmetics and much more at an affordable price. 
Those days are gone when you have that thinking in your mind that you cannot afford to buy expensive shirts, dresses, shoes, heels and much more. Buy now, thanks to Flipkart Big Saving Day Sale 2022 everything is smooth and within your budget. Now it's time for you to get everything you want to buy during the sale period at affordable prices. 
Details Of Big Saving Days Sale 2022
Flipkart is inviting its customers to participate in freedom celebration this Independence day with its "The Big Freedom Sale". In this sale, you can find up to 80% discount on major categories, including electronics, clothing, footwear, home & decor items and more.
Under this sale, you can find unbelievable discounts and offers on top renowned brands. Besides this, Flipkart is also going to introduce several price crashes, every-hour deals, and blockbuster deals via which your shopping will become affordable.
Now let me give you some glimpses of this Flipkart Independence day sale: upto 70% off on home appliances, upto 30% discount on mobiles, upto 80% discount on electronics and more. Complete details of these deals have been discussed in upcoming sections.
Flipkart Big Freedom Sale Date
Flipkart has already announced that the Independence day sale will be live from 5th to 10th August 2022.
This sale comprises amazing every-hour deals, price crashes, and other bank offers.
So from now onwards, start preparing your wishlist as there will be up to 80% discount on all rewarding categories.
Flipkart's latest deals will definitely make you shop for all your desired products at very nominal prices.
The Flipkart Freedom Sale will begin on 10th August at midnight, and you can avail of 80% discounts on men's and women's fashion, home décor, books, appliances, etc.
| | |
| --- | --- |
| Categories | Sale Offer |
| Electronics & Accessories | Save up to 80% |
| TV & Appliances | Upto 75% off |
| Fashion Offers | 50-80% Discount |
| Home and Kitchen | Start at Rs. 99 |
Things to Know About Flipkart Big Freedom Sale 2022
10 things you must know before you start your shopping during the upcoming Flipkart Big Freedom Sale 2022.
1. Get an additional 10% discount on your purchase from the Bank's credit/debit card.
2. Flipkart gives a discount on top mobile phone brands like Apple, Samsung, Xiaomi and many more. Flipkart offers applicable on phones like Asus Zenfone, Honor 9, Redmi Note, Samsung Galaxy, and many more. 
3. On Televisions and home appliances under the Flipkart Big Freedom Sale, you can get a discount of up to 70%.
4. Get up to 80% discount on Laptops, Cameras, Audio Devices and much more.
5. During the Flipkart Big Freedom sale 2022, you can get a discount from 40% to  80% on men's and women's clothes, footwear and accessories. 
6. If we talk about Kitchen Essentials, then they are available at a discount of 40% to 80% during the offer period.
7.  Starting from Rs. 99 you can get Home and Kitchen products, Books and Sports products. 
8. On Beauty Essentials, you will get a starting price of Rs. 99.
9. Flipkart's 'Rush Hour' deals under the offer are available from 12 am to 2 am.
How to Avail Flipkart Independence Day Offers
Visit the Flipkart Big Freedom sale page by clicking here.

Check out all the categories available under the sale.

Choose products that match your requirements.

Add them to your shopping cart.

Proceed towards the payment page (Don't forget to take advantage of deals, discounts and offers)

Get a 10% instant discount with the Bank offer

Finalize your payment.
# Congratulations! Your order has been confirmed and will be delivered at your doorstep within the few business days.
Top Offers from Flipkart Big Freedom Sale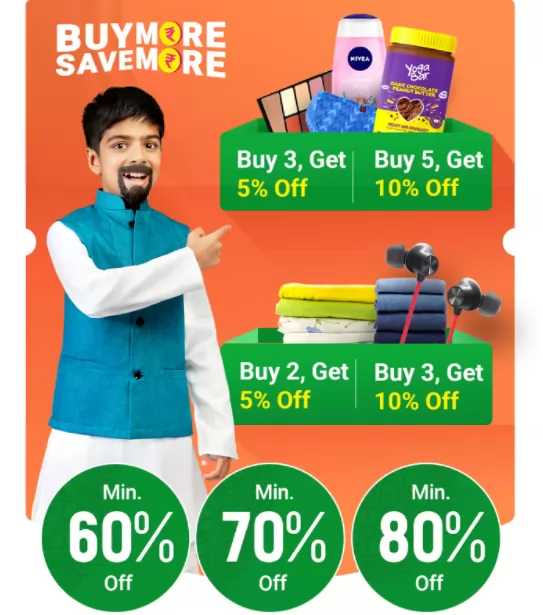 There is a massive list of products that are going to be on Flipkart's Big Freedom Sale, fill your virtual cart with them and then get them delivered to your doorstep.
The products you want can improve your lifestyle and get more from online shopping. Electronic products, kitchen appliances, clothes and accessories, footwear, cell phones and all other items are available at discounted prices.
Once you know which products are missing at your place, or need to get replaced, you can get them from Flipkart. The good news is that you don't need to pay what others are paying to own these products because this e-store offers some of the hottest Independence Day deals. These Independence Day Steal Deals are going to BLOW your mind!
Blockbuster Deals: There will be some fantastic deals and offers on categories that will pop up on the website every eight hours. So, within the sale period, don't stop chasing the sale page may this will get your desired product of any category at very minimal prices.

Price Crash: There will be massive changes in prices after every eight hours. So seize your products to buy for very reasonable rates as Flipkart will refresh the prices after every 8 hours. To catch the stunning price drops stay tuned to the Flipkart Freedom Sale offers. And keep ready your payment options as the stock runs out very fast.

Rush Hour: There will be discounts and deals for two hours on 10th August between 12 to 2 a.m. So, remember the date and time and shop all your heart wants. The rush hour deals are irresistible you get the best prices on products across categories. Keep yourself updated with the amazing price drops to grab the most stunning offers of the independence day sale.

The Freedom Countdown: Let the freedom countdown begins, the prices will be dropped down for 31 minutes, and the timings will be 7:47 pm to 8:18 pm between 10 to 12 August. Here is one more reason to stay tuned to the Flipkart independence day sale. You blink, and the deal is gone.

One Hour Deal Every Hour: 72 hours and 72 new deals coming up every hour of the sale period. Best deals of the day Flipkart will appear in every hour and will surprise you that you can buy branded products at the lowest prices. So wait and grab your desired products at the very best prices.
Flipkart Independence Day Offers on all categories
The first name that comes to mind when we think of online shopping is Flipkart. Right! Because it has been the leading brand serving for years and is renowned for the exclusive products available at affordable rates.
One thing we all know about this shopping portal is that there is no dearth of attractive offers and discounts. It offers the best EMI plans to keep the customers happy.
For the same reasons, Flipkart is coming up with fantastic offers and every-hour deals on this 72nd Independence day in almost every category. So, get ready and shop fullest.
Now let's have a quick look at different categories along with the discount you can receive under this sale:
| | |
| --- | --- |
| Categories | Flipkart Independence Day Offers |
| Mobiles | Upto 30% discount |
| TV & Appliances | Upto 75% off |
| Electronics | Save upto 80% |
| Fashion | 50-80% off |
| Kitchen essentials | Starts from Rs.99 |
| Beauty, toys, sports and more | Starts from Rs.99 |
Incredible Deals of Flipkart Independence Day Sale
Celebrate Independence Day with these Flipkart Big Freedom Sale 2022 with incredible deals :
Keep your watch in check for Freedom hour and hourly deals to grab the best opportunities for getting great discounts.

Many big smartphone brands will offer huge discounts on their phones, so don't forget to go through them.

Electronic devices on electrifying discounts with lots of cashback offer as well

Additional discount on particular credit and debit cards.
Independence Day Offers on Mobiles- Get Massive Discounts

If you're on planning to buy a smartphone within your budget, then this is the best time to buy. Flipkart is offering a discount of upto 30% per cent on any mobile as per your choice.
The most remarkable thing about Flipkart's Big Freedom sale is that the offers on mobiles are that you can now own a mobile phone in 2022 that you have been dreaming of.
The online store has all the mobile brands available, including Apple, Blackberry, Nokia, Honor, Motorola, Oneplus, Xiaomi and more.
Many brand new smartphone models have exclusively launched on Flipkart, and you might get EMI offers on the same. Besides this, there will be 10% cashback with bank offers.
Flipkart Electronics Sale- Get upto 75% OFF on TV & Appliances

Shop for the best and branded TV, refrigerator, washing machine, mixer & grinder, and similar products at huge discount rates.
You can find fantastic deals and unbelievable discounts on leading brands like Panasonic, Videocon, Samsung, Mi and more in this sale.
Adding on, there are no limitations on the minimum order value for availing of the Flipkart electronics sale offers. All you need to do is to log in and start filling your carts. 
Smart LED TV of top brands starts at Rs.13,999, and there is a price slash of Rs.10,000 on the latest gadgets ranging from sound bars, speakers and more. All you need to do is to log in and start filling your carts.
Flipkart Big Freedom Sale on Electronics: Avail Upto 80% Discount
Looking for a laptop? Get up to 80% off on laptops online only on Flipkart. Whether you're looking for a gaming console or a music player at discount prices, this Big Freedom sale gets the best product that matches your needs, requirements, and budget. Shop the top-notch brands like Apple, Dell, HCl and more.
Browse for different models of laptops, cameras, and headphones in terms of their features, specifications, and price and buy the perfect one in your budget. Additionally, blockbuster and rush hour deals are also waiting for you.
Flipkart Freedom Sale Offers on Tablets
Your favourite Tablets will be at great discounts during Flipkart Big Freedom Sale. Buy India's most preferred online store before Independence Day and bring home a winning tablet.
With all the latest features and functionality in store, discounted tablets at Flipkart keep you connected with your work, loved ones and favourite entertainment options.
Here, the tablets on sale are known for their functionality, user-friendliness, and portability. So, get ready to make calls, browse the internet, play games, send emails, enjoy social media interactions, watch movies, or share presentations within your budget.
Harness the many advantages of this Flipkart Big Freedom Sale and get home the best processor, operating system, screen size, storage space, brand, camera quality, and much more!
Flipkart Deals on Fashion: Avail 50-80% OFF on Clothing, Footwear and More

The Flipkart Freedom sale on fashion products, including clothing, footwear, accessories or more, offers you to shop at massive discounts. There will be a discount of between 50 to 80% on men's and women's clothing lines.
Buy jeans, shirts, Kurtis, etc., from brands like United Color of Benetton, Roadster, Puma, Adidas and more.
The good news is that the offer is not valid on clothing there are amazing discounts and deals on footwear and accessories as well.
Flipkart Freedom Sale on Kitchen Essential - Starts for Rs.99

Thinking of renovating your home and kitchen interior without spending much? Then Flipkart online shopping is worth it as here you will get the massive discount and unbelievable deals on kitchen essentials and home decor items of renowned brands like Hometown, Bombay Dyeing, Prestige and more.
You can receive a discount of upto 80% on your cart value. So, start preparing your virtual wishlist and grab all the unmatchable offers as the sale goes live.
Flipkart Sale on Beauty, Toys, Sports Product Starts for Rs.99

Beauty, toys, sports, and books that start for Rs.99 are the perfect examples of online shopping for Independence day special offers.
Buy baby diapers from brands like Huggies, Pampers and more for Rs.99.  Plus, don't forget to buy the latest colour lip shades, eyeliners, etc., from brands like Lakme and Nivia, as there will be a massive discount on this 3-day Flipkart sale.
Main Highlights of Flipkart Independence Day Sale
Flipkart is going to conduct its "The Big Saving Days Sale" in August 2022

Grab upto 80% discount on categories like electronics, home decor, fashion and more

Get products starting from Rs.99 in kitchen essentials

Take advantage of blockbuster deals, every-hour deals, price crashes and rush hour deals

Get a minimum 50% discount on saree, jewellery and more
Bank Offers: Get 10% Cashback on Flipkart Freedom Sale
There is good news, you can receive a 10% instant discount of their cart value with the bank offer of Big Freedom Sale 2022.
The customers will enjoy special bank cashback offers! You can get up to 10% extra discount with your credit and debit card!
There is no doubt why Flipkart is one of the most trusted online names when it comes to finding the best deals on online shopping.
The Flipkart Big Freedom Sale would reward customers owing to numerous deals, discounts and bank offers. And, Flipkart rakhi special sale on its in-house brands will serve as the cherry on the cake.
Save some bucks this festive season, so take up your laptops/smartphones to hunt for your favourite products at nominal prices with Flipkart every-hour deals or rush hours.
Additional Offers of Flipkart Big Freedom Sale 2022
1. Exchange offer: Will you mind if you can get a new smartphone in exchange of your old one? Well, this is something which no one can ever deny.
To bring this desire into the real world, Flipkart has taken a step in which anyone can get the value for their old products and can buy new ones. 
The exchange offers apply to the purchase of mobiles, laptops, electronics and home appliances. Also, check out Flipkart's offers on electronic items to save your money.
2. Total Damage Protection: This plan is for mobile phones. By buying an all-around mobile protection plan, you can secure your phone for a year.
Follow the below-given steps to purchase a total damage protection plan:
Go to the product page of the smartphone that you want to purchase

Look for the widget and select the plan which you want to buy

Check the box and add to the cart to purchase both items
3. Scheduled Damage Free Delivery: This is one of the major concerns of every customer if they're buying any delicate products like mobile phones, TV and other similar products. 
Don't worry about this because Flipkart has safe and damage-free delivery, and you can schedule your delivery time at your convenience.
4. Discount coupons: We all look to save a few bucks on the purchase. So, this time Flipkart Freedom offer discount coupons ranging from 10% to 50%. 
Anyone can easily collect these discount coupons from the official website of Flipkart and can redeem them during the sale period.
How to Save More at the Independence Day Gifts 
Saving upon shopping is the very thing that comes to the mind of every Indian. On this independence day, why spend more when you can save a lot?
Be part of the online sales introduced at the Independence week on Flipkart. Flipkart will host the Big Freedom Sale during Independence Day Week.

Hunt for bargain sites that bring out the best deals on a single platform. You can look for various offers at jaw-dropping discounts there.

Coupons and vouchers are the utmost tools that are always there when it comes to saving. Search the coupon code and apply it to get the products at half the original price with the Independence Day Online Deals, Offers, and Discounts.

You can make digital payments. There are a lot of payments app that provides you with a definite amount of cashback at the transactions. Also, most of online sites have their link-ups with these apps, which can be proved as an added benefit.

Use the bank offers to sustain the large payments, especially when you are getting the things at EMI. Many online sites give you payment options with the respective banks to reduce the burden.
Flipkart Independence Day Sale 2022
Flipkart also brings up the Flipkart Big Saving Days Sale in August 2022 for you all to get up to 80% Off on everything from gadgets, electronics, mobile phones, home appliances, fashion accessories, and more. Avail goods for 30 minutes of 'Price Drop'.
Apart from that, 24 unusual dealings during the 24 hours and Rush Hour deals are possible from 12 AM to 2 AM. Get an extra cashback of 10% while spending through Banks Debit or Credit cards. This year the Flipkart Sale 2022 will be as hit as it was the Flipkart Independence day offers 2022, which brings out the best deals and offers along with perfect products for you to buy.
This Independence Day, grab the biggest discounts with Flipkart Big Saving Days. With the sale, you get the biggest deals of the season on electronics, appliances, fashion, daily essentials & more. 
Frequently Asked Questions
Q. What is the next date of Flipkart sale?
Flipkart will host big Freedom Sale in August. The sale will be before Independence Day 2022. Flipkart Big Freedom Sale includes mega discounts on all product categories
Q. How to get early access to Flipkart Sale?
Flipkart offers early access to Plus members. The sale starts 24 hours early for Flipkart Plus members, while regular customers can avail of the offers at midnight. 
Q. Do I get Flipkart Coins on discounted products in Flipkart Sale?
Yes, you earn super coins on every order of Rs. 100 and above. If you are a regular customer. You get 2 Super coins on every purchase of Rs. 100. You earn a maximum of 50 coins per order. However, Flipkart Plus members get 4 super coins on an order of Rs. 100. And a maximum of 100 Super coins per order. 
Q. Is there any sale coming on Flipkart?
Flipkart will host big Freedom Sale in August. The sale will be before Independence Day 2022. Flipkart Big Freedom Sale includes mega discounts on all product categories

Join Telegram Channel & Get Instant Deal Alert

75,062+

participants