215 days ago
How to Remove Holi Colour: Easy And Effective Ways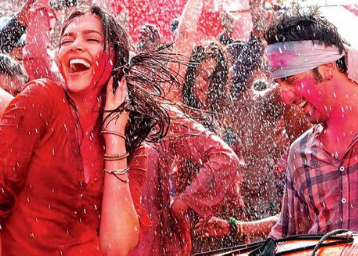 Holi marks the victory of good over evil. It is the day when Krishna reigned over the Demon King and his Uncle Kansa and defeated him. Holi is one of the two most important religious festivals in our country, India.
Holi is also very popular outside the shores of India and is celebrated in various places like Spain. However, during Holi, we have to deal with another situation, Holi colors. The colors that are used by most of the people during Holi are very harmful in nature.
These colors can cause great damage to your face, skin, hair, and nails. Also, it can stain the clothes that you were wearing. Therefore, to help you with that, we have written this article to teach you the best ways to remove the nasty Holi colors from the Face, Skin, Hair, Nails, and Clothes.
The most prominent culprit during Holi is the harmful ingredients that are used in the colors. Most of us think that washing off the colors with soap or face wash is sufficient to remove the toxic chemicals. Unluckily, that is not true, and you may end up with rashes, breakouts, and other skin or hair-related difficulties.
So, If you are thinking How to remove permanent Holi colors, then here below is the answer for you all. We have mentioned every possible way for you.
In the meantime, check the Best Holi offers for up to 80% off on fashion, electronics, appliances, and beauty products.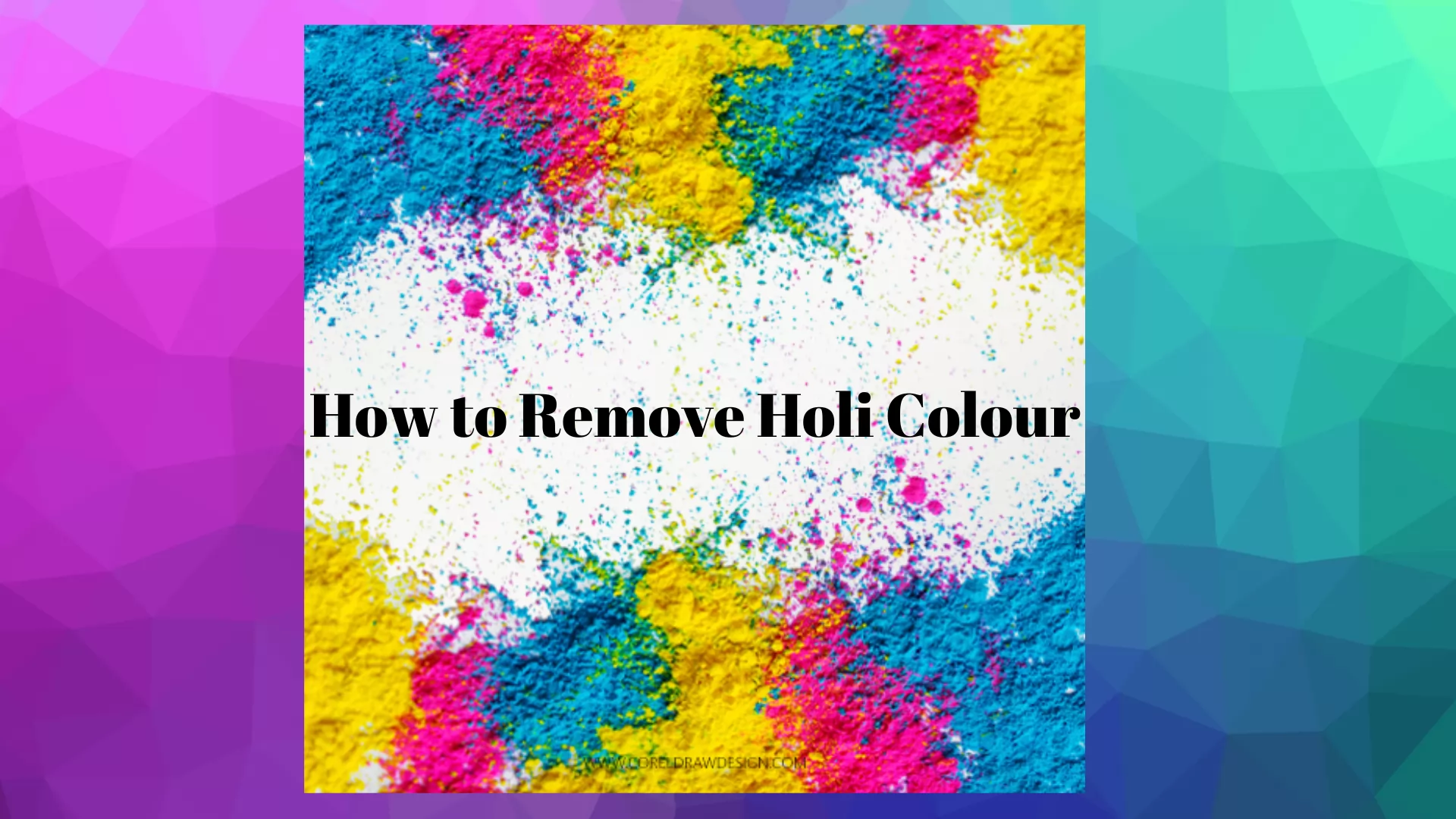 10 Simple Ways to Take Holi Colors Off, Safely
I'll ask you one simple thing, who do you think is the most attractive person after Holi? Well, I don't know about you, but for me, the guy with no color over his face. You must have felt that too in case if you like to play Holi to the fullest.
Our face is the center of our personality, and we must take extra care after Holi. Most of the colors used on Holi could be harmful to your skin, making it dry and irritated. Therefore, this time don't shy away from playing Holi as we mentioned some great ways to Remove Holi Colors from Face.
1. Castor or Olive oil
Apply each castor oil or olive oil to the hair before you go out to play with the colors.
The oil will form a protective coating over the hair. This will make the colors come off immediately when you wash your hair. In case you don't have a simple way to olive oil or castor oil, you can also utilize coconut oil or almond oil as an opportunity. It is most useful if you massage the oil early at night, as it will also help preserve your scalp.
2. Egg yolk or curd
Avoid directly shampooing your hair after playing Holi.
Utilize egg yolk or curd on your hair at least 45 minutes before shampoo. This will assist in eliminating the colors and diminish the extent of the injury.
3. Mustard oil
Completely rub your hair with mustard oil before utilizing colors. After performing Holi, once you have shampooed your hair, implement mustard oil on your hair and leave it in for an hour. This will help eliminate the residual color and limit the damage.
4. Coconut milk
Implementing coconut milk on the hair is another great way to ensure less damage. It also assists removing colors quickly. Implement coconut milk on your hair ere you play. Also, utilize it before shampoo and leave it on for an hour. Clean off with a shampoo.
5. Moisturizer
Implement a plentiful amount of moisturizer on your hands, face, and all displayed body parts before going out to play.
6. Dark nail paint
Paint your nails with dark nail color. This will prevent your nails from becoming stained. You can eliminate the nail paint after you are done playing with colors.
7. Apply foundation
Apply foundation just before playing Holi. This will shield your skin from dry colors.
8. Apply Vaseline
Apply Vaseline to your lips before you go out to play. This will add the needed moisture and will take care of your lips. It will also stop colors from lodging in the cracks of your lips.
9. Apply sunscreen
Wear sunscreen for at least 30 to 45 minutes before you go out to play with colors.
10. Wheat flour
Take some wheat flour and continue with a little oil or lemon. Make a paste and apply this all over your covering, and wash off the colors.
Best Ways to Remove Holi Color From Face & Skin
Apply Foundation: If you decide on using foundation before playing Holi, it will protect your skin from harmful colors.

Sunscreen: Using sunscreen before going to play Holi is of utmost importance. Holi colors tend to make your skin sensitive and more prone to tanning; therefore, don't forget to apply Sunscreen. It is advisable to apply it 30 mins before going anywhere.

Moisturization: The best way to protect your skin from getting that damage is to moisturize it initially. Try to apply moisturizer to all the areas that are exposed. This will hydrate your skin and protect it from getting over dry. You can also apply Coconut Oil in case if you are out of moisturizer.

Using a Light Cleanser: It is advisable to use a light cleanser because Holi colors already dry out your skin. If you use a heavy cleanser, this might make your skin drier, leading to irritation(even acne breakouts in some cases).

Exfoliating: There are a variety of Exfoliators available in the market. Although, I would ask you to invest in a milder one. This will help you clear your pores and remove all the dead cells from the top. You can also use Wheat flour along with lemon if you don't have an exfoliator.

Using a Light Toner: A light toner will help rejuvenate the ph level of your skin. A toner can also help in clearing the dust and dirt off the skin.

Apply Aloe Vera Gel: If you have natural aloe, then it's great. Otherwise, you can buy Aloe Vera Gel from the market. Applying Aloe hydrates your skin and helps in rejuvenating it.

Use Vaseline: Vaseline could be the best way of removing color from your lips. Just apply a whole lot of it and start rubbing it. Now take cotton and clear all the vaseline. Repeat the process several times, and when you are done, apply some on your lips and leave it to rest.

Apply Curd: Instead of bathing immediately after returning from Holi, you should first apply a little curd over the skin and keep it like this for around 45 minutes. After that, you can bathe to remove the colors. 
Pro Tips: Using cold water helps in removing color from your skin and face.
Before doing anything, you can take cotton soaked in coconut oil and apply it over your face.

Avoid going for any skin treatment before.

Request your friends to play with Organic Colors as they have no harmful effects.
How to Remove Holi Colors from Hair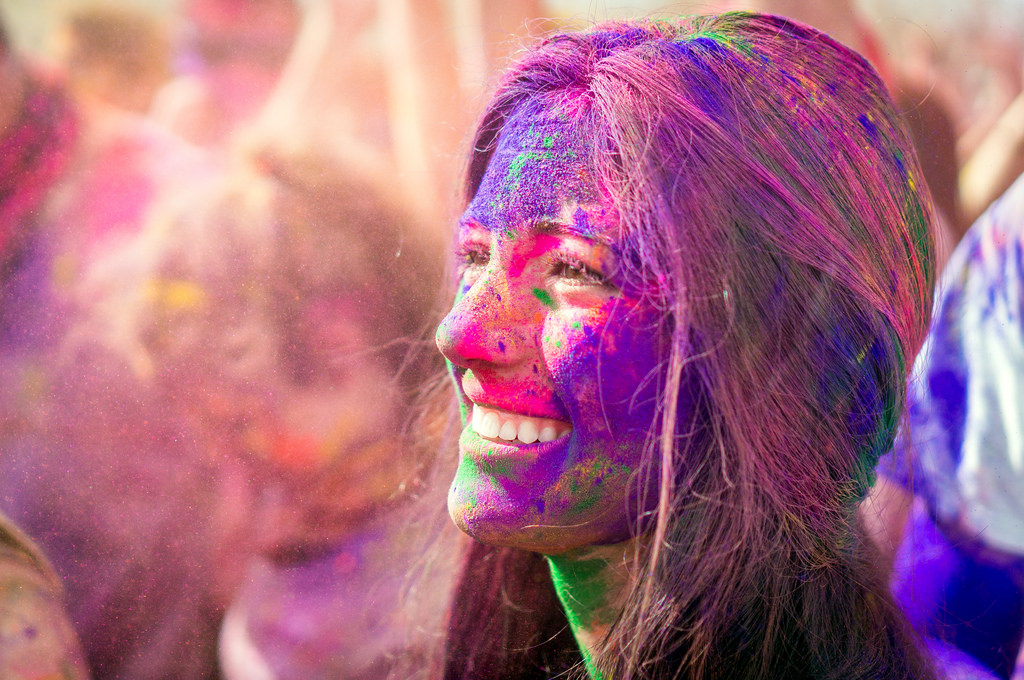 I am a guy with long hair, and I can understand the hardship people might have to go through after Holi, especially Women. Managing your hair on normal days can be tough, and Holi colors make your work even difficult. Just like skin, the colors that people often use for Holi make your hair dry. This can lead to split ends and, in the worst-case scenario, a chunk of broken hairs. Therefore, to avoid that follow the remedy below:
Tips on Removing Holi Colors from Hair
Oiling: Oiling is the best way by which you can protect your hair. It is advisable to use Olive or Castor oil for this purpose. Oiling your hairs creates an additional protective layer and helps in taking off the colors very easily. Oil your hairs a night before to have the best results.

Egg Yolk/Curd: I won't lie to you because playing Holi means damaged Hair. Although what can be done is managing them the best to reduce that damage. One such thing is applying either Egg Yolk or Curd to your hair before washing. One of these things, if applied, will reduce the damage to the minimum.

Use a Mild Shampoo: As previously discussed that Holi Colors makes your hair dry. Therefore, to avoid your hair getting even drier, you need to use a mild shampoo.

Apply Mustard Oil: A lot of people abstain from using Mustard Oil because of its smell. Although let me tell you, it is one of the most effective remedies to handle those tough hairs. Using it after washing your hair will strengthen them and make the leftover colors come out.

Apply Olive Oil: Olive Oil is one of the most effective oils for removing colors from hair. It is better to apply the oil lightly before stepping out to play Holi. This helps keep the Holi Colours from sticking to your hair and can be easily washed off during bathing.
Pro Tips: Use cold water to wash off Egg yolk from your scalp. Hot water cooks the egg, which makes the egg difficult to come out and even smellier.
Try avoiding any hair treatment at least before seven days of playing Holi.

If your hairs are too oily, then it is advisable to go for the egg's white part.
How to Remove Holi Colors from Nails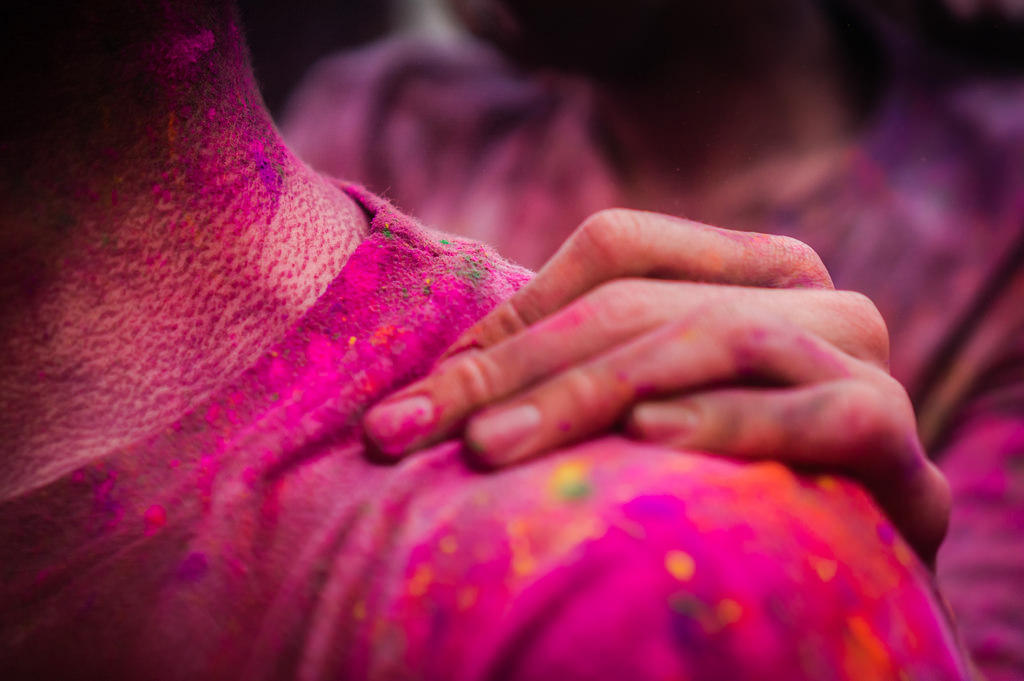 They don't affect your appearance to that much extent, but it is advisable to fix your nails after Holi. The leftover color can last up to a week. This may not be awkward in normal scenarios, although you have a meeting the next day. If you value their nails, then below is the best way of removing Holi colors from nails.
Useful Tricks to Remove Holi Colors from Nails
Lemon: Lemon can be your absolute savior if you are thinking of getting your nails clean. Lemon is rich in vitamins and also acidic in nature which acts as a perfect combination.

Vinegar: Another way of removing color from your nail could be to use Vinegar. You can soak your nails in Vinegar that will help taking out that tough colors.

Nail Polish: This one could be easy for women as applying nail polish won't create suspicion. If you play Holi wearing Nail Polish, then most of your nails will be protected from getting dyed by the colors.

Cold Water: Many people might ignore it, but hot water makes the color stick more to your nail. Therefore, washing them carefully using Cold Water is advisable.

Manicure & Pedicure: There can be many ways to deal with the color, but this one tops them all. This will take out the additional color and make your nails as appealing as they used to be.
Simple Tips To Take Off Holi Colours Safely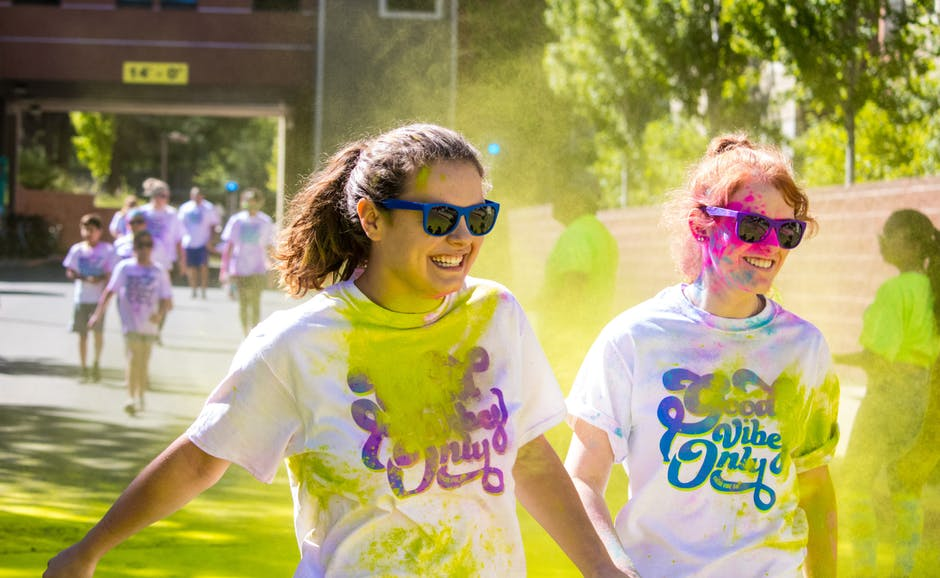 Ever felt bad about your favorite cloth that you lost on Holi. You decided to look glamorous and ever rocking like the person you are on Holi. Although after your little meet and greet, you realize that you have lost your attire this Holi. Worry not, as there are various remedies for that white to remain white. Getting rid of the Holi color on your fabric can be difficult, but it is possible to get them in their previous condition. Therefore to know the best way of removing those tricky Holi Colors from your clothes, read down below.
Incredibly Easy Ways To Get Holi Colours Off Your Clothes
Bleaching: People often prefer White Color as their attire to play Holi. It is customary, but the good part about it is that it is effortless to eliminate those tough Holi Stains from white clothes. All you need to do is soak them in Hot water and add non-chlorine bleach. So, here is the How to remove stubborn Holi colours from skin and hair that too safely.

Lemon Juice: This is again a very effective remedy. Just Squeeze some Lemons and mix them with hot water. Now all you need to do is soak your clothing in that. After doing so leave the clothes for about 15 mins. Then all you need to do is lightly scrub with your own hands.

Alcohol: Alcohol can help get rid of stains. In this case, you have to use methylated spirits to deal with those stains. Just rub some on the stain, and then rinse it using cold water.

Toothpaste: Apply the toothpaste over the stain. Rub gently with a soft-bristle toothbrush over it. This also helps in removing the stain. 

Window Cleaner: You must be laughing at this, although there is a catch. It would be best if you had an ammonia-based cleaner. Just apply some on the stain and leave it for 15 mins. After that, rinse it using cold water.
Conclusion
These were some of the easy and effective ways to remove Holi colors Without Harming Skin And Hair from the Face, Skin, Hairs, Nails, and Clothes. We hope this article may be of some help to you. Also, thank you for reading the article until the end.
Frequently Asked Questions
Q. Does lemon removes Holi colors?
Ans. Yes, as lemon has its acidic properties, it will help you remove holi colors from your skin as well as from the clothes.
Q. How can I remove stubborn Holi Colour from my face?
Ans. If you feel any skin irritation while eliminating the Holi colors, choose two tbsp of calamine powder and combine it with a few drops of honey and rose water to make a paste. Utilize this on your face and once it has dried up, wash it off with water and utilize a moisturizer.
Q. How to remove Holi colors fast?
Ans. To quickly remove the Holi colors, you can use mild shampoo and conditioner. A few tablespoons of olive oil can also help you remove Holi colors easily and fastly. You can read our dedicated article to know more about how to remove holi colors,

Join Telegram Channel & Get Instant Deal Alert

75,062+

participants