314 days ago
13 Best Hair Straightener Brush In India 2022- For Sleek And Perfect Hairstyle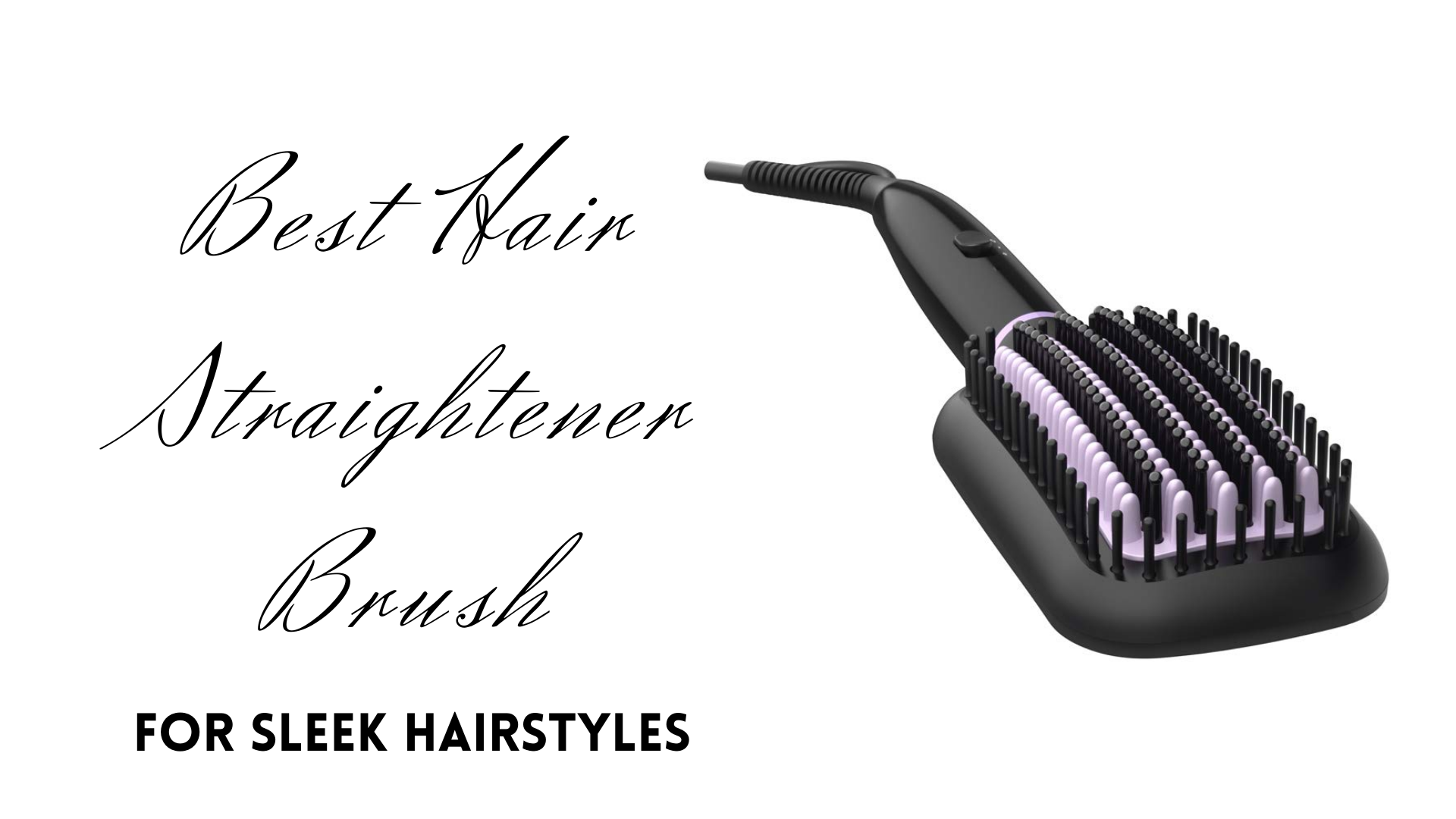 No matter where you are heading, you wish to look your best. While you choose your favourite outfit of the day and what makeup to put on, you continue to worry about your hairdo. Your hairdo is a striking feature of your face that boosts your personality and makes you stand apart. 
Among many hairstyles to choose from, one of the most popular hairstyles is the straightened and silky hair look. To achieve this in minutes, you may choose a hair straightening brush. So, here the need comes to discuss the best hair straightener brush in India and why we need it to style our hair. It is vital and important to have the right kind of hair styling tools and a variety to choose from in the wide range. There are some tips for a perfect hairstyle with some of the top hair straightener brushes in the article.
What are hair straightener brushes?You may wonder why a hair straightener brush? Do they work? And how can you look your perfect best with them? We will discuss it in the article, along with the list of some of the best ones available for you to get yourself ready.
Read on to know more.
Also, if you wish to know about flat irons as straighteners, you can read about them here.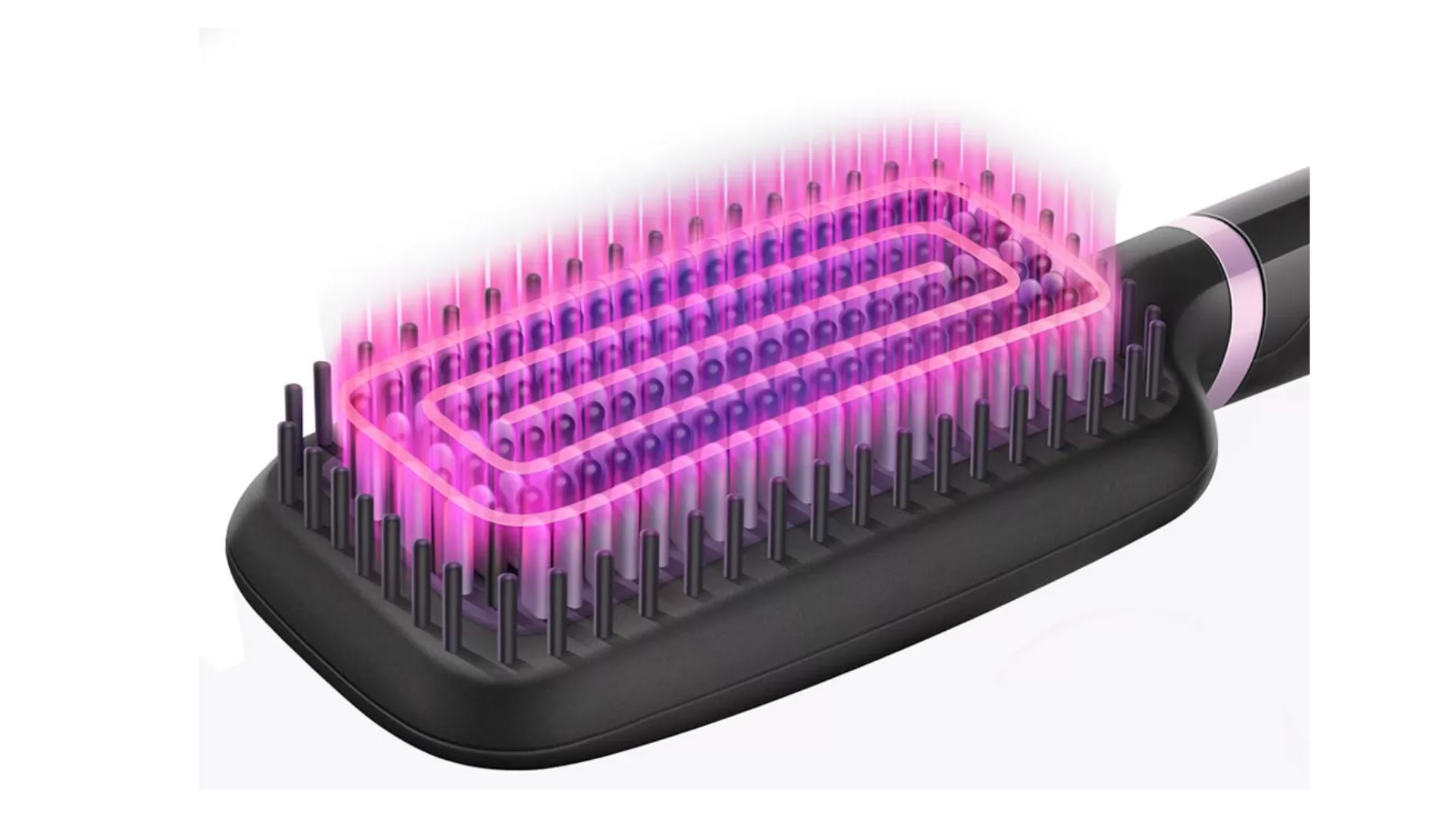 Now earn Rs.50 on sign up on FreeKaaMaal.com. Withdraw the same in future to your paytm wallet or bank account. Click on the link or copy code - 109373. If you want to know more about how to redeem Rs.50 bonus, Click Here.
What Is A Hair Straightener Brush?
Hair straightener brushes are special brushes whose bristles are ceramic coated to help you straighten your hair with the help of a brush only, instead of flat irons. They provide heat to the hair to make them straight while combing them down. They have a cable attached to them with temperature control settings to aid straightening of hair smoothly and in a hassle-free manner. 
They are highly popular these days because of their ease of use. They quickly give a straighter and sleek look to your hair, just with a stroke of a brush. They are easier to use and are quick at work. That is why people now prefer them over ordinary flat irons that require separate combs and brushes to detangle the hair and then straighten it. Instead, the hair straightener brushes act as a single tool to achieve a cleaner and sleek hairstyle look.
Now there are various options available for you to choose yourself from the best hair straightener brush brands in India to buy the perfect one for you. Let us have a look at all the options available.
Also, if you are looking for the best deals in the upcoming sales and trending fashion, electronic and grocery items, you can visit our Telegram page to know about the same. Grab yourself everything at the best price and the maximum discount possible. Follow the page to learn more.
13 Best Hair Straightener Brush In India With Price
| | | |
| --- | --- | --- |
| Hair Straightener Brush | Price (Rs.) | Rating (*) |
| Philips BHH880/10 50 Watts | 3495 | 4.2/5 |
| Havells HC4030 Detangler Ionic and Keratin Smooth  | 2495 | 3.8/5 |
| VEGA X-Glam | 1799 | 3.6/5 |
| Remington Keratin Protect Sleek & Smooth | 9345 | 3.7/5 |
| Braun Satin Hair 7 IONTEC brush BR710 | 14616 | 4/5 |
| RYLAN Hair Electric Comb Brush 3 in 1 | 1299 | 4.8/5 |
| IKONIC HOT BRUSH | 6500 | 4.2/5 |
| Rozia Hair Straightener Brush | 1649 | 3.9/5 |
| DAFNI Go Hair Brush | 10750 | 3.8/5 |
| SYSKA HBS200i Hair Brush Straightener | 1999 | 3.8/5 |
| FIGMENT Hair Electric Comb Brush | 649 | 4.9/5 |
| LacossiI Hair Straightener Brush | 1999 | 4.6/5 |
| Voltonix Hair Electric Comb Brush | 999 | 4/5 |
1.Philips BHH880/10 50 Watts
Philips never fail to amuse with its electronic range. This hair straightener brush from the brand is ideal for sleek and silky hairstyles. It is infused with silk procare technology that minimises the heat and maximises the stylish look. It has a large paddle brush that provides wife coverage, and the keratin-infused ceramic bristles make the brush one of the best ceramic hair straightener brush in India.
The cord is 1.8m long and is flexible for easy movement. It ensures frizz-free, smooth, and shiny hair. The brush also detangles the hair on the go to give a smooth straight finish.
The temperature settings are -173-200 Celcius. You can easily decide for this one over the other because of the features and trusted brand name.
Also read about the Best Hair Straightening Creams In India.
2.Havells HC4030 Detangler Ionic and Keratin Smooth Straightening Brush
Havells has a brand name that provides everything of the best quality. The hair straightener brush from Havells has the best solution to detangle and straighten the hair smoothly. It has an intelligent digital display to adjust the temperature, and it is safe on hair to avoid damage.
The ceramic-coated bristles help in keeping your hair safe and shiny. 
The brand has one of the best hair straightener brushes to make you look gorgeous with silky smooth hair.
3.VEGA X-Glam
Vega is yet another brand with a range of hairstyling and other makeup accessories and products. The hair straightener brush from Vega is one of the best from its styling tools. It is an anti-frizz tool with anti-scald technology for a straight hairstyle. The temperature is adjustable with a range from 180- 230 degrees celsius. 
The bristles are silica gel coated for safety and better performance. You can also easily manage the temperature with the help of a user friend LCD. The hair straightener brush price is affordable with a known brand behind it. You can go for it.
4.Remington Keratin Protect Sleek & Smooth
Remington promises high-quality products that last long. Thi har sterling tool from the brand is helpful for sleek and straight hairstyles that make you look perfect for any event. It helps achieve a straight hair look in minutes with an auto shut-off feature to protect the hair simultaneously. The temperature control range of the brush is from 150 degrees to 190 degrees and up to 230 degrees. 
The functioning is smooth and easy, with advanced bristles infused with keratin and almond oil. It has a 3M long cord for easy movement. can you ask for more?
5.Braun Satin Hair 7 IONTEC brush BR710
Braun has this ionic brush with active ions to make the hair shine from the first stroke.
The brush's bristles are seamless and gentle on the hair and less damaging to the roots. They can be easily cleaned with removable brush padding. 
The brush regions two batteries can operate and automatically switch off after continuous usage.
The brush helps to achieve a sleeker look with shinier hair. The ionic technology is not damaging to the hair, and you can easily use it anywhere you like as it is one of the best hair brush straightener in India.
6.RYLAN Hair Electric Comb Brush 3 in 1
Rylan hair straightener brush works at low temperature to cause less damage to your hair and make it look best. It has anti-static technology that diminishes frizz and enhances the style.
It is a 2 in 1 straightener that detangles hair like a brush, and the ceramic soared bristles help straighten the hair like a flat iron and massage the head.
It is a fast hair styling tool that protects your hair while styling it. It is affordable in its price range and acts as the best brush hair straightener in India that is affordable and of good quality.
7.IKONIC HOT BRUSH
Ikonic hairbrush for straightener is a tool that helps you style your hair in less than a minute. If you are running late for your official party, you can glide it on through your hair, and you're good to go. It has unique bristles that add volume and bounce to your hair, and make them look straight naturally.
The brush's body is rubber made and is easy to hold with a firm grip. The bristles are static-free to make your hair look shiny and frizz-free. It doesn't damage your hair and is one of the best hair brush straighteners in its range that doesn't cause any damage and burns to the hair and its texture.
8.Rozia Hair Straightener Brush
Rozia hair straightener brush is an easy to use tool with temperature control on display to help you choose the amount of heat you want your hair to be exposed to.
Temperature Display ranges from 80 degrees Celcius to 230 degrees Celsius
It heats fast, and you can quickly achieve a straight hair look within minutes. 
It comes with a 360-degree swivel cord for easy movement and uses less power to make you look stylish. The bristles are ceramic coated for a smooth finish.
It also has a 1-hour auto power off option to save energy and cause less damage.
9.DAFNI Go Hair Brush
Dafni Go hair brush has a 3 D ceramic surface design to provide better coverage to the hair and a more fine looking hairstyle. It comes with a controlled temperature option of 180 degrees celsius that ensures no damage to the hair. It also has a detachable cord that makes it easy to store and carry.
It is one of a kind hairbrush that has a thermal cover and a case for travelling purposes,
10. SYSKA HBS200i Hair Brush Straightener
Syska is a brand of trust in electronic appliances. It has a range of personal care appliances to care for your styling and hygiene needs. This hair straightener brush from the brand is safe to use with an overheat protection safety feature that automatically switches off the appliances when it gets overheated. It has a digital display that allows temperature customisation to protect the hair. It gets heated for 90 seconds to get you ready in minutes.
It has a 360-degree swivel cord for easy movement in all directions. It is a ceramic coated brush that is smooth to glide.
The cord is 1.5 m long for ease of use. The temperature is adjustable up to 230 degrees celsius.
11. FIGMENT Hair Electric Comb Brush
The Figment hair straightener brush is a high-quality brush that works at low to high temperatures to protect the hair. It has a 2 in 1 function that helps in detangling as well as straightening hair. It also massages the hair with fast straightening and styling. It heats up in a few seconds and does the work in minutes. It is anti-static too.
The straightener brush helps de-frizzing the hair and gives it a natural shine. It takes care of the hair and keeps its natural shine intact.
It is a good choice on budget and can make your hairstyle stay for long.
It also has an LCD and 360-degree cable that makes its function smooth and sturdy.
12. Lacossi Hair Straightener Brush
Hair straightener brushes ensure sleek straight hair looks all day long. It takes 30-40  seconds to straighten a section of hair with an iron, but a hair straightener can do the work for you in 20 seconds. The Lacossi Hair Straightener Brush uses ceramic heating technology that heats the brush and makes it worthwhile to get a straight hairstyle in minutes.
The hair gets straightened in 2 strokes with ceramic bristles and helps you achieve any look you wish. It doesn't pull hair and detangle the tangled hair.
It has a 30-minute automatic switch-off feature to ensure complete safety. it has five different Temperature Settings to help you straighten hair according to your needs.
13.Voltonix Hair Electric Comb Brush
A hair straightener brush helps get straight frizz-free hair all day long and gives shine to your hair. The Voltonix Hair Electric Comb Brush nourishes your hair and makes it look smooth and silky, getting you ready in minutes.
It helps in detangling hair and giving a head massage to relax and increase blood circulation.
It makes your hair frizz-free and helps you get a sleek hairstyle in less time. To nourish your hair while straightening it, you can use this brush and let your hair shine naturally.
This was all about the best hair straightener brush in india.
How To Choose A Hair Straightener Brush?
It is easy to straighten your hair with the help of a good quality hair straightener brush. But do you know which one to choose from various available options? Let us see how you can select one for yourself.
It is essential to know the brand of the hair straightener brush as your hair is sensitive, and you require something of good quality to make it look fabulous. Only the branded ones are safe on your hair and make you look good with the brush.
Choose that hair straightener brush that has temperature control available to them. The temperature control gives you control over the temperature you wish your hair to be exposed to. You can choose the temperature and set it to the optimum level that is safe for your hair and regular use. Choose that brush that offers you this comfort.
The bristles of the hair straightener brush are made of ceramic to get your hair to help them get straightened. Make sure the bristles are not loose or made of bad quality that gets stuck to your hair and damages your hair. Look for the bristle type and quality before buying the brush.
Safety Button - Automatic On Off
Choose the brush with an automatic on and off button that gets automatically switched off when the temperature surpasses the danger level. This safety measure helps the brush to be safe to use regularly. It also enables you to protect yourself from any shock or damage to the tool. It is also safe for your hair.
Choose a brush that is firm and easy to use. The hair straightening needs time, and the handle needs to be comfortable to help you use it for a more extended period. The handle material needs to be strong and soft and allow you to use it for an extended period.
So you can choose the brush by keeping these points in mind and selecting the brush that suits you best.
You should also keep in mind some of the tips before using your hair straightener brush and some tips on hair styling your tresses.
Perfect Hairstyle With Hair Straightener Brush- Tips
We all long for long and silky hair. With some caring tips, we can achieve long and shiny tresses.
Some tips to have beautiful silky straight hair with a hair straightening brush are listed below. Follow them for lovely hairstyles.
Before using a hair straightener brush, it is important to know the texture of your hair. If you have coarse or wavy hair, curly or straight hair. Some may have extremely frizzy hair, and some extremely smooth. It is better to know the texture first. According to the texture, one needs the right products to use before and after. It also determines the right hair straightener brush to use.
Style According To Your Type Of Face And Hair Length
It is essential to know which hairstyle will suit you. For this knowing the hair shape and length of your hair is important. You can choose the hair straightener according to the length of hair. For small length hair, a less staring hair straightener will work fine. But longer hair will need a good watt straightener
It is advisable to prep your hair before using hair styling tools. The right products like heat protectants and serums are important for a perfect hairstyle. Also, you should use natural hair shampoos and conditioners to make your hair good from with even before styling. This makes hair styling extremely smooth.
Even after styling our hair, the process doesn't end there. You need to have the right after styling products like Leave-In Serums, Conditioners, Scarfs, after sprays etc., to protect the hairstyle from any damage. 
All this will make your hair look gorgeous.
Tips To Follow Before Using A Hair Straightener Brush
Hair straightener brushes are heat styling tools. If used without any care or caution, they are not safe on the hair. So these are the tips involved in making them bt and most suitable for your hair so that you can look your flawlessly stylish best without having to worry about hair quality and hair health.
Some tips to follow before using a hair straightener brush are:
It is advisable not to use heat styling tools on wet hair. Wet hair is more susceptible to getting damaged as it is fragile. Please make sure you always dry your hair before using a hair straightener brush over them.
Heat protectants are special chemicals that help protect the hair from any damage caused by the heat styling tools. These are highly essential chemicals to protect your hair from any excessive heat. Remember to use a heat protecting serum or any product before styling your hair with a straightener brush.
As heat and styling are involved, choosing only a trusted brand for your hair straightener brush is advisable. It is an initial investment that may fetch future results for a long time- every time you style your hair. Make sure you do not buy any cheap product that can cause permanent damage to the hair and its texture.
Check the brush's bristles if they are intact and free of any damage. These Bristles are coated with a ceramic coating that helps style the hair. Ensure the coating is intact and the brush is in good condition to save yourself from any shock and damage.
Many of these brushes come with a temperature control panel. You can set the temperature of the brush with its help. Make sure you set the temp at the optimal level that is not damaging to your scalp and skin hair. Set the temperature between 180-200 degrees Celsius to provide only the optimum heat level for styling.
The most important tip to follow regarding hair styling is not to overdo it. Keep a gap of one to two days between hairstyling to give your hair a rest. Do not overdo hair styling as it is damaging to the hair. Also, do not repeat the brush strokes more than once or a maximum of two times. Repeated heat exposure damages the hair badly,
So these were some of the valuable tips to keep in mind before hairstyling with a hair straightener brush.
So we learnt about hair straightener brushes, their brands and some tips before using them on hair. Hope the information was enlightening and valuable.
Frequently Asked Questions
Q.Which hair straightener brush is the best and most effective in India?
A.There are many brands that provide us with some of the best hair straighteners in India. In the article, you can find some of the great options to choose from, like Philips BHH880/10 50 Watts, VEGA X-Glam, Remington Keratin Protect Sleek & Smooth etc.
Q.Which is better, hair straightener or hair straightener brush?
A.It all depends on your needs. A brush works better if you want a quick hair styling solution. If you wish to have perfect and sleek results, then hair straighteners - flat irons are better to use. Also, the brush is less damaging to your hair than the flat irons.
Q.Is a hair straightener brush good for hair?
A.Hair straightener brushes are easy to use and save a lot of time. They are mild on hair and are less damaging than the conventional flat iron straighteners available for the same purpose. Though these brushes are less effective than the flat iron straighteners, the straighteners are built to give perfect pin-straight hair.
Q.Can I use a straightening brush on wet hair?
A.No. It is not advisable to use heating tools on wet hair, as they tend to damage the texture of the hair. One should use heat styling products only on dry hair and after applying a coat of heat protectants.

Join Telegram Channel & Get Instant Deal Alert

75,062+

participants