2049 days ago
Top 10 Air Purifiers In India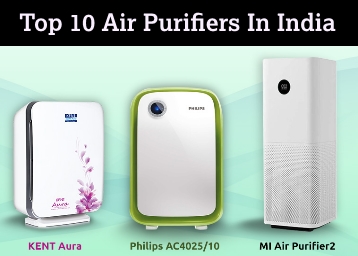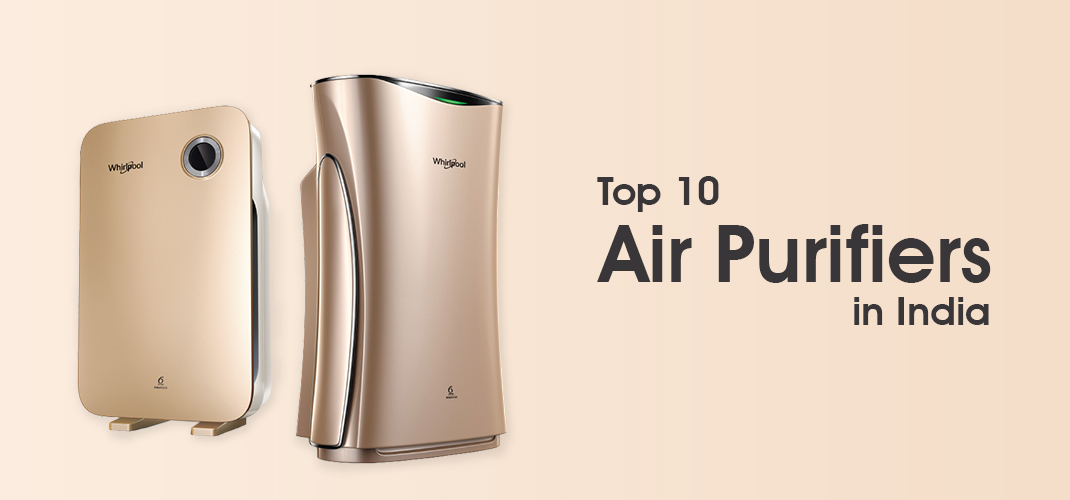 Do you know that out of 20 most polluted cities of the world 13 are from India!! Shocked right? But this is the truth. You have to agree with me that deteriorating air quality in cities especially in metro cities is making it difficult to breathe. Recently near Diwali, Delhi was under the influence of smog. People were using Pollution Masks to save themselves from outdoor Pollution.
Increasing number of vehicles, Industries near residential areas, and deforestation etc. are not only affecting the outdoor air quality but indoor air quality as well.This is the thing that will affect the health of people, especially children, senior citizens and who have allergies or asthma problem.
So what is the quick solution to this problem apart from those traditional solutions like, More plantation and less construction etc.? 
The quick solution to purify the indoor air of your house is "AIR PURIFIERS". This device Removes the contaminated particles from the air of covered area. Air Purifiers were introduced in the market for people who were suffering from any kind of allergy or who had asthma, But increasing pollution made it a compulsory device for everyone. So, we have done some research for you and made a list of Top 10 Air Purifiers In India.  If you want a complete Buying Guide Of Air Purifiers then click on the link provided.
Need Of Air Purifiers
Do you know that indoor air is more polluted than the outdoor air? Yes, this is right. Indoor air is up to 100 times more polluted than outdoor air.Polluted industrial particles, emission from vehicles, pollen, viruses get attached to building material, carpets, beauty products, Food etc. which may harm your health.
An average person takes 1000 breaths in one hour and if you are staying at home for 12 hours and breathing in clean air, Then You are reducing the exposure to harmful air by 50%. Now I am going to give you some more reasons to have air purifiers at your home.
1. Helps To Fight With Molds
Mold is the type of fungus that reproduces the tiny spores that can be seen even from naked eyes. This fungus only needs warmth, moisture, and food to grow.It wafts through the air inside as well as outside.
Mold can cause serious illness to children and old family members or people who have allergic/asthma problem. Breathing in the mold may cause, headache, dizziness, allergies etc. an Air Purifier can capture the spores of mold in its filter and can prevent them to stick to the wall and reproducing.
2. Beat the Effect Of Smog!!
Everyone knows about the Smog effect In Delhi. People were using masks for outdoor pollution but one can not wear a mask all day long inside their house. In that case, Air Purifiers can be your best friend to provide you better surroundings by removing viruses, mold, and pollen etc from indoor air.
3. Love Pets But Allergic
If you love to have a pet in your house but not able to do so because you are allergic to pet hairs. In this case, air purifiers can be your true friends. Air purifiers Remove the bacteria and viruses from the pets that can affect the human health, by changing the room air after a certain period of time. So that you can breathe in fresh and healthy air.
4.Removes Household Odors
Air purifiers do not only remove the contaminants from the air in the room but they also remove the bad smell from your house.It can absorb the smell of dirty diapers to human sweat, which is again a great thing if you have so many guests to hop in your house very frequently.
5.Living In Apartments
If you are living in an apartment then there are chances that you are more exposed to more concentrated pollutants.This happens because of smaller living space. Also, you can not control your surroundings which may affect your health in a very bad way. So as a solution, you can use air purifiers to breathe in fresh and healthy air.
How Air Purifiers works
The purpose of air purifiers is to purify the air by removing the allergic particles from the air of the room.Basically, this device use sieves, it filters particles from the air, and HEPA filters are best in this job. This filter traps the dust particles, viruses etc. which are larger than 0.3 Microns(A standard unit to measure air particles.
Steps
 Pre- Filter
When polluted air enters the filter, it filters out the large particles from the air, such as dust, hairs etc.This filter is only for the basic filtration of room air.
Carbon Filter
Carbon filter removes the bad odor and harmful particles that are present in the air in gaseous form. This filter traps the smoke, molds and pet hairs etc. and filters the air.
HEPA Filter
Now, this filter has the main work and it clears about 99.7% of dust particles and other contaminants from the air.HEPA filter is made up of heavy materials and can capture the particles bigger than 0.3 microns.
Post Filter(UV Germicidal Filter)
This filter is used to remove the bacteria present in the air.As the air passes through this filter removes the airborne virus from the air.
NOTE: There are purifiers that are available at the market that have more filters to purify the air. The air purifying quality and number of filters varies according to the price range of air purifier.
10 Best Air Purifiers In India
| | | | | | |
| --- | --- | --- | --- | --- | --- |
| S.No. | NAME  | RATING | TYPE OF FILTERS USED | KEY FEATURES | PRICE |
| 1 | Mi-A Purifier 2 | 4.1 | Primary Filter, Activated carbon filter, HEPA filter-H11 grade | Brushless DC motor, Wifi connectivity, Aerodynamic design | |
| 2 | Phillips 1000 series 1215/20 | 4.1 | HEPA Filter, Activated Carbon filter | Smart light control, Night sense auto mode, Child lock feature, Healthy air protect alert | |
| 3 | Kent Aura Portable Room air purifier | 3.8 | HEPA Filter, Activated Carbon filter | Intelligent air quality monitoring, Inbuilt ionizer, Hepa technology | |
| 4 | Honeywell Move Car Air purifier | 3.9 | HEPA and Activated Carbon filter | Easy to fit, Multilayer filtration, Easy operations | |
| 5 | Samsung AX40K3020WP | 4.3 | Pre-filter, HEPA filter, Activated carbon filter | Easy maintenance, Safer to use | |
| 6 | Panasonic F-PXJ30A-20 Watts | 3.9 | Air ionizer, HEPA filter | Nanoe purification technology,3D circulation Airflow | |
| 7 | Phillips 3000 series AC3256 | 4 | HEPA Filter- 2 Layers, Activated Carbon Filters | Child lock, Aero-dynamic vortex design, Turbo mode | |
| 8 | Honeywell Lite Indoor HAC20M1000W-48 Watts | 4 | HEPA filter | Multi-layered filtration, sleep mode, Smart memory | |
| 9 | Phillips AC4012 | 3.5 | HEPA filter, Activated carbon filter | Smart sensor, Sleep mode,3 step speed | |
| 10 | Atlanta Healthcare Beta 350 43-Watts | 4.2 | Pre-filter, HEPA filter, Activated carbon fAntibacterialterial filter | Plug and play, CE certification, Easy operations | |
Top 10 Home Air Purifiers In India
1.Mi Air Purifier 2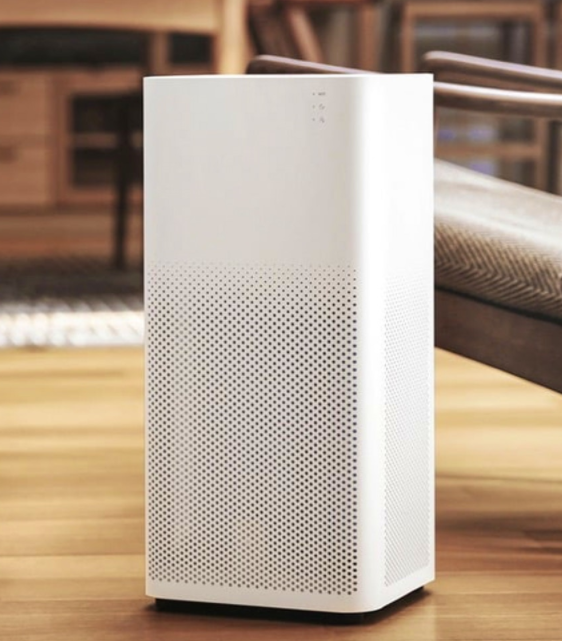 Mi is one of the most famous brands in providing the latest technology at best price. you can easily control this air cleaner just by your mobile phone and I think this is enough to spoil you if you feel lazy at home to complete these small tasks.
This smart purifier can learn the patterns and remembers your daily preferred settings.the purifier has a smart sensor, so whenever you leave the home it turns off automatically, in case you forget to turn it off.
After reading the reviews of the customers, I think this purifier is suitable for working people, as they do not have that much of time to get things done lately.
Type Of Filter
The air purifier from Mi has the HEPA filter which is a 360-degree cylindrical filter which is highly recommended for the pollution level in Delhi.The filter has 3 layers and removes PM 2.5 particle.
The HEPA filter cleans out the formaldehyde from the air and the bad odor from the room.This filter draws the air from all sides so it has effective performance as well.
Body Design And Coverage Area
Mi Air Purifier 2 has the plastic body due to which it is light in weight and portable as well.The purifier also has the temperature and humidity sensor so in that case, it will help you to maintain the proper environment of the room.The coverage area of this air purifier is 400 sq ft. and the CADR rate is 310 CMH.
There is another sensor, that is actually a LED light that turns, green, yellow and red according to the amount of clean air that has been disturbed.it works silently, that is there is no noise of fan as well.
Pros
It has great design, one of the best air purifier in its range.
The purifier has the quiet operations, that means if the cleaner is in night mode, then any kind of noise will not disturb you.
This purifier from Xiaomi can be synced with any smartphone with the help of the related application.
The purifier has got only one filter, so in that case, filter replacement is easy.
Cons
the cost of the filter is very high, which can be a problem in filter replacement.
The purifier automatically shifts to auto mode after every 3 hours, which can be a headache.
Not getting the parts is the most common issue in Mi devices, so in that case unavailability of the filter can create a problem
2-Phillips 1000 Series AC 1215/20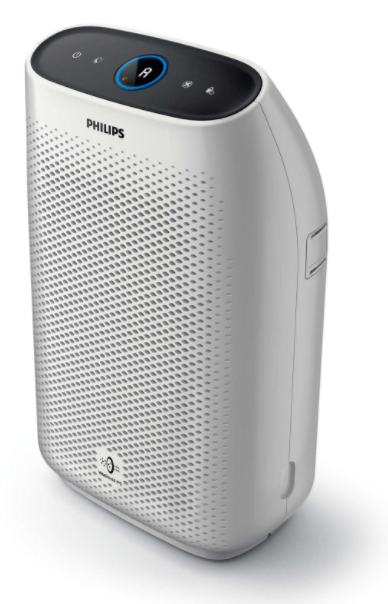 The Phillips 1000 series AC 1215/20 is the new version of Phillips AC 1215/10 version. So there are some features that have been added. if you are living in metro cities, then this is the purifier that you need.People who have the problem of sinus, or allergic to dust particles, should try this purifier from Phillips.
It maintains the air quality in night mode as well, also it has a child lock so that the damage could be prevented from children.You can also change the fan speed in case you want to manage the speed of fan you can do that.
Body And Design
The design is simple and has the basic body design.The child lock is available in the purifier so that children can not play around with the settings which I personally think is very helpful.
The purifier can cover up to 63-meter square area and CADR rate of the purifier is 273-meter cube per hour. which is good enough to remove the pollutants from the air.
Type Of Filter
The purifier has HEPA filter with 2.5 pm efficiency and effective up to 99 %, second filter that the Phillips 1000 Series AC 1215/20 is the activated carbon filter which filters out the bacteria and viruses up to 99.9%. If you want to fight back from Delhi's pollution and smog, then this purifier can be your best friend.
Pros
It is 100% ozone-free. Auto night adjust mode, that adjusts the fan speed once the lights are off.
3-Kent Aura Portable Room air purifier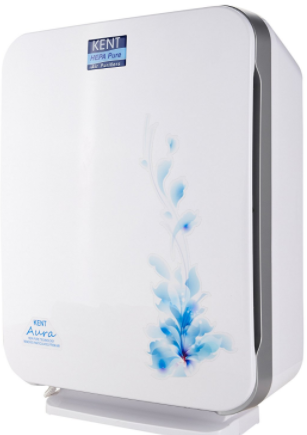 If you are living in the metro city, then it is a must-have product in your house.Cities like Mumbai, Bangalore etc. have high pollution rate and this purifier has an effective performance in removing the contaminants from the air.
I have gone through the reviews from the customers on shopping sites like Flipkart, Amazon etc. and most of them were positive.It has normal filtration process with HEPA filter to trap 2.5 particulate which is effective to control the pollution level of Delhi.
Body Design And Coverage Area
I like the body design it is sleek and simple, also child lock is also available so that children can not disturb the settings. Kent purifier has a light indicator which shows the air quality of the air.It also has the timer settings in which you can set the time to turn the switch off the purifier either in 2, 4 or 8  hours, and I think it can help you in the night to get a proper sleep without disturbance.
If you have a medium size bedroom or living room, then it is suitable purifier for you, as the coverage area of this product is 290 sq. ft/ 27 sq. meters.The clear air delivery rate is 180 meter cube/ hour which is also very impressive.
Type Of Filter
For filtration process HEPA technology is used, also it has the inbuilt ionizer which Improves and maintains the freshness of the air.The HEPA filter also has the antibacterial coat on it, to remove the bacteria from purifier.The third filter that is used is carbon filter which removes the bad odor from the room and maintains the freshness.
Pros
It has HEPA filtration technology.
The purifier is budget friendly
Cons
If the fan speed is high, it may become noisy.
The ionizer in the device can be harmful.
4-Honeywell Move Car Air purifier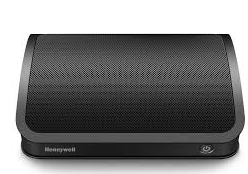 Do you know that an average person in India, who has a car spends 24 hours of the week in his vehicle? Well, that person can breathe in pure air in that duration as well by using this car air purifier.
Even a normal person, who do not have good information about technology can operate this because it has simple yet smart operations. The filtration process and filters have effective performance and you can feel the difference within 10 mins after starting this product.If you use your car on daily basis then, it should be there in your car to prevent you from health issues because of that air pollution.
Body Design And Coverage Area
Honeywell pure move car purifier has a simple and compact design, It does not have that fancy touchscreen feature like any other purifier.The weight of the purifier is 600 gms, so it is light and has the blended edges with clean finishing. You can control the fan speed with the same power button.
I will recommend you to install the purifier either on the dashboard of the car or on the rear parcel tray so that it does not block the airbags.If we talk about the coverage area then, it can cover over 22 sq. ft, which is good enough for a vehicle.Also, it has a lengthy power cord so that you can install the device anywhere in your vehicle.
Filter Type
This car filter has two filters, first one is high-grade HEPA filter which is responsible for removing PM 2.5, dust and other external particulate pollutants.
The second one is double layered activated carbon filter, and it removes the bad odor, Cigarette smoke, formaldehyde, bacteria, and viruses from your vehicle and helps you to breathe in fresh and healthy air.
Pros
The device is not expensive, so everyone who has a car can afford it.
It has simple operations.
The device has a compact design.
This car purifier is easy to install.
Cons
It takes minimum 10 minutes to purify the air which I think is too much time as other filters take 10-15 minutes for the whole room.
5-Samsung AX40K3020WP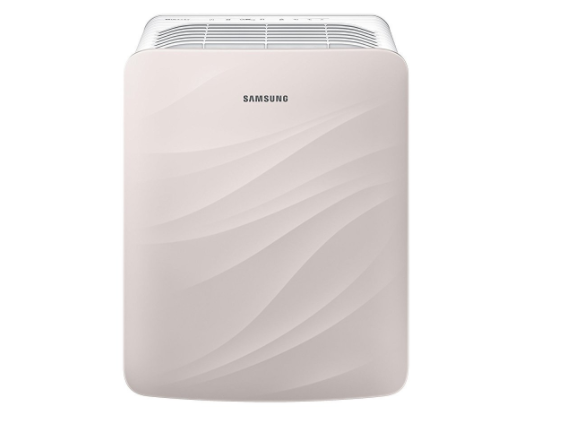 This purifier really helps to save you from pollen and dust allergy. Also, you can be 100% sure in terms of product quality, as it is the product of Samsung. You will not regret in any manner, whether it is in terms of performance or the design and effectiveness.
While reading the reviews from the customers on different shopping sites, I got to know that people who had some allergic problems from pollen and dust bought this product from Samsung and now their problems have been reduced at an extent.
Body And Design
The body design of this purifier is simple and easy to handle. it has two filter layers, first one is pre-filter and the second one is HEPA Filter.The product is portable and light in weight.I like the front appearance of the device.
If we talk about the coverage area, then it can cover up to 420 sq ft. which is a good coverage.
Type Of Filters
This purifier from Samsung has three layers intense air filtration.The first one is prefilter which removes all the big dust particle. The second one is activated carbon filter which is responsible for removing bad odor, bacteria, and viruses from the air, and the third one is HEPA filter to remove the 2.5 particulate matter from the air.
Pros
Better performance.
Less electricity consumption.
6-Panasonic F-PXJ30A-20 Watts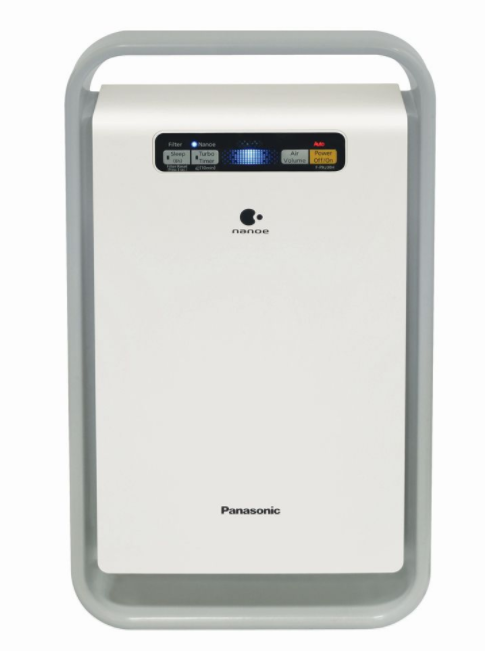 Since the pollution level in the world has been increased, we need to find the alternatives to get the fresh and virus free air. To fight with this problem, The brand Panasonic came up with better technology in its air purifier. The product has the nano-E technology, which removes hydrogen from bacteria and viruses and other allergens.Also, it has the OH radical which is responsible to decide the effectiveness of virus and bacteria in the room.
Body Design And Coverage Area
I personally like the design of this purifier, it has a sleek, simple design from the front. From the back, it has some thickness, which works as a back stand to give the proper support while placing it in the corner of the room. Talking about buttons, Actually, it has a touchscreen panel, with all the required detail written on it. One can easily understand its function just by reading the instructions on it.
The product has the coverage area of 215 sq ft./ 20 Sq meters. which is suitable for small bedrooms or a kitchen.From my point of view, this purifier will be a better product for kitchen or a place at your home which has humidity.
Type Of Filter
The purifier has two filtration method, one is basic filter method and the second one is the ionizing method.The filtration method is responsible for removing, dust particles and bacteria. The ionizer removes the hydrogen and bad odor from the air of the room.
Pros
Better for places which has high hydrogen level.
The device has air clean indicator.
Since it has ionizer it increases the CADR rate.
Cons
The device emits some amount of ozone that can be harmful, so I will suggest you that use the purifier when you are out of your house
7-Phillips 3000 series AC3256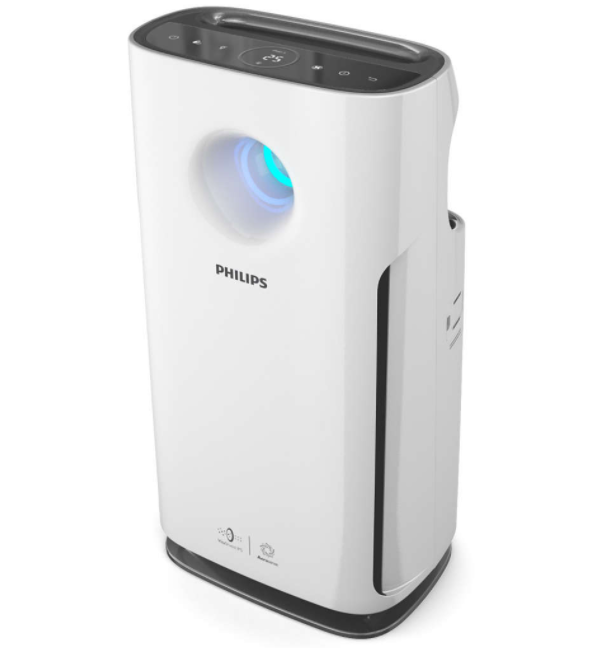 If you are ok with big size air purifier, then you can consider this product from Phillips.The purifier is certified with ECARF Airmid etc. which means it has all the standard requirements to fight with high-level pollution in India.Phillips is a big name in the field of electronic products, so you can trust on the reliability of the product.
The purifier has the Area-Sense technology, which automatically monitors and changes the indoor air quality.Which I think is a smart move from Phillips to increase the sale of their air purifiers.
Body Design And Coverage Area
The purifier has aerodynamic vortex design, for a powerful flow of air. Also, the device is light in weight and portable as well. In the purifier, I especially liked the design of air inlets which are helpful for maximum efficiency in its performance.
It has the coverage area of 818 sq. ft. The coverage area of the device is suitable for large bedrooms and living room or you can also use it for 1 BHK house. It will perform effectively in that area as well.
Type Of Filter 
This purifier has five filtration layers for purification of air.First one is Pre-Filter which removes dust, pollens and large particles from the air. The second one is Activated Carbon Filter which is responsible for removing bad odors, harmful gases from the air. After that, the filter has two layers of HEPA filters, The first one has the German technology to remove the bad bacterial effects from the air, and the second one is the normal one, responsible for removing PM 2.5 particle from the air.
These four layers purify up to 99% air of the room and the remaining 1% is purified by Vitashield purification system, which removes the harmful particles which are smaller than 0.2 microns, and these particles are smaller than PM 2.5 particles.
Pros
Vitashield purification system.
Two HEPA filters.
better design.
8-Honeywell Lite Indoor HAC20M1000W-48 Watts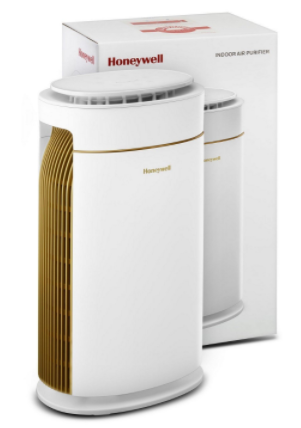 This product from Honeywell is the best one from others, under the range of Rs. 15,000. The purifier is lightweight and compact. It has three-stage filtration process and the work efficiency of the product is also good.
Honeywell Lite Indoor HAC20M1000W has the touch panel in which, three modes are available and they are the Auto mode, Sleep mode, and the timer. If you forget to reset the settings then do not worry at all as it has the smart memory which will store the major changes of your setting with time and settings will be changed automatically at that particular time.
Body Design And Coverage Area
The body and design of this purifier are average, sometimes you may face problems as the buttons are not that clear. The inlet-air panel of the purifier is on top, and they are small as well, so it may take time to purify the air.
If you have medium size bedroom/living room etc. then you can take this purifier in your consideration as the coverage area of this purifier is 250 sq. ft. So as a conclusion I can say that if you want any purifier for medium size two BHK house, then you can include this device into your list.
Type Of Filter
It has three-stage filtration process, pre-filter, HEPA filter H11 and activated carbon filter. Pre-filters remove the dust particles like it does in other purifiers. HEPA filter and activated carbon filter does the main task of removing bacteria, viruses, and PM 2.5 particles from the air.
Pros
The purifier has auto shutdown feature after using it for the whole night.
It does not produce Ozone.
HEPA filter is easily replaceable
Cons
Lots of people complained about the noise while using the purifier.
The body material is not that good.
9-Phillips AC4012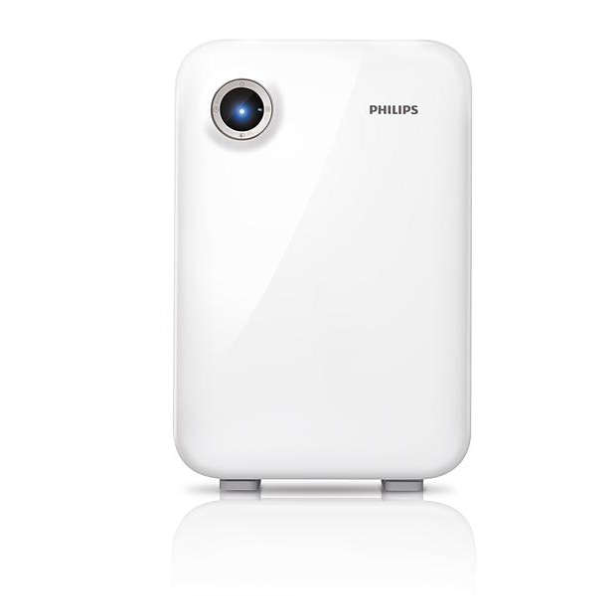 This is one of the best purifiers that is available under Phillips brand, but it is not been promoted like other products from Phillips. The purifier is effective and also have that basic but smart look, which is the requirement of people.Phillips maintains the quality and the technology in its products, and I like this thing in the brand.
The purifier has Vitashield smart sensor, and a air protect lock, which shuts down the purifier whenever the healthy air cannot be guaranteed.
Body Design And coverage Area
The body and design of this purifier are basic, but I like the design of operation panel. It is unique round in shape panel. The panel has four buttons to control the different functions like fan speed, power on/off, timer etc. you can easily sort out the simple operations even if you are not the techno-savvy.
It covers 323 sq ft. area and the CADR rate of the product is the 160-meter cube. So from my point of view, it will be suitable for medium and small size houses.
Type Of Filter
It has three filters, Pre-Filter, HEPA filter and Nano protect filter.Although it does not have so many layers of filtration, the performance of this purifier is efficient and effective.
As I have mentioned earlier that, Pre-Filter removes dust particles and pollen. HEPA filter removes PM 2.5. Now let me explain about Nano protect filter, Actually, this is the third type of HEPA filter which removes allergens, bacteria, and viruses from the air.
Pros
Good body material.
The device has advanced filtration system with nano protect filter.
Sleep mode and healthy air protect the system
Cons
It requires high maintenance, the filter should be changed after 3-4 months.
10-Atlanta Healthcare Beta 350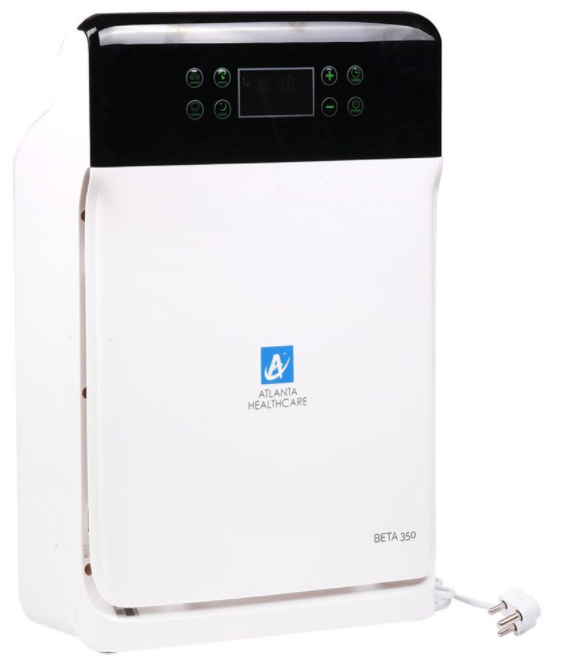 If you have the budget of Rs. 10,000 to 15,000 then I will recommend this air purifier, as this purifier has 7 filtration level. That means it has the best filtration process among all these air purifiers from different brands.
The purifier includes HEPA H13 grade filter, which removes the smallest dust particle from the air.The device has good CADR.Apart from that, the purifier is light in weight and portable as well. You can easily shift it from one room to another without any difficulty.
Body Design And Coverage Area
The purifier has a plastic body, To make it light in weight and portable, also the design is much better than other purifiers. The most attractive thing that it has LED Display and has a specific key for every operation, instead of other purifiers which have the same button for two different operations.
Type Of Filters
As I have mentioned earlier that the purifier has the 7 layer of filtration and every stage has a different filter for a specific reason. So the filters that are used in the purifier are Pre-Filter, HEPA Filter, Anti Bacterial filter, Activated carbon filter, Photocatalyst oxidization, UV light and Ionizer.
These seven layers of filter provide you the better quality of air, but it has the ionizer in the filtration which may be harmful.Also, UV light might help in purifying the room air but it is harmful to health in other ways.
Pros
Better filtration process than other air purifiers.
Quality and design of the product are good.
Less price
Cons
Ionizer may affect the health in other ways.
Types OF Filters
Basically, there are four types of common filters that are used in air purifiers.they are written below:-
HEPA Filters
Activated Carbon Filter
Ionic Filter
Ultra Violet Light Air Purifier
HEPA Filter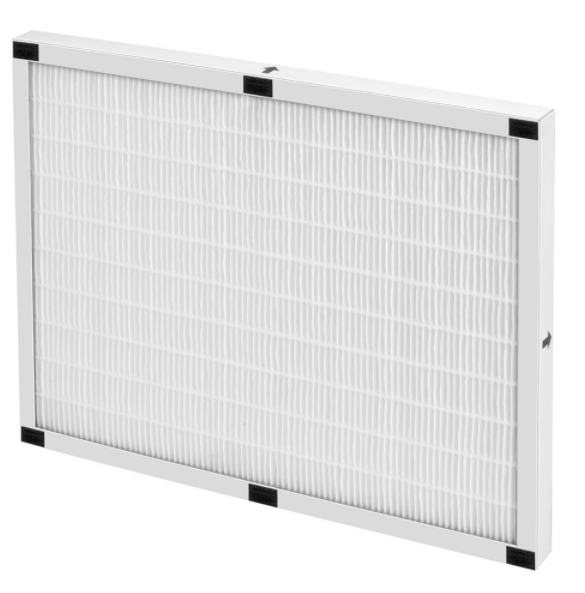 HEPA Filter stands for high-efficiency particulate air, this filter captures the 99.9% of airborne particles that are as small as 0.3 Microns. If you are allergic to dust, pollens etc. then you should prefer the air purifier which has HEPA filtration process because it will really help you fight with all the contaminants of air which may cause allergy.
These filters are not able to remove the particles which are smaller than 0.3 microns, So I will recommend you to buy a purifier that has another filter attached to it so that the air that you breathe in your house is fresh. 
Pros
Removes dust, pollens and other allergens.
Captures the solid parts that are present in the air.
Cons
Can not remove fumes, smoke and odors for that you need another filter in your air purifier.
This filter cannot capture viruses
Activated Carbon Filter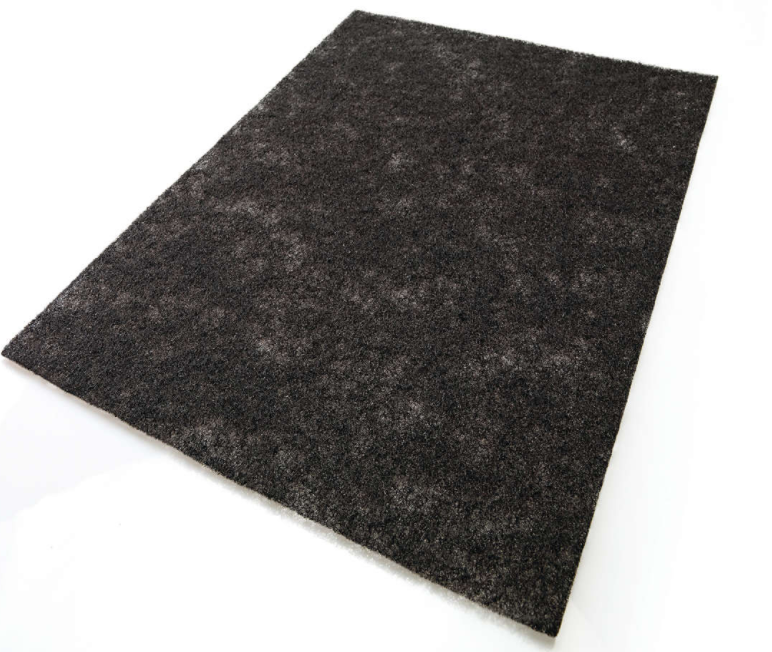 Activated Carbon Filter is responsible to remove the odor, viruses and small contaminants from the air. Actually, these filters have small pores, that are absorbent. These pores chemically react with pollutants present in the air and the carbon present in the filter creates the bond with them to remove the small particles from the air.
This filter cannot purify the air until it is used with another filter because activated carbon can only react with small particles.
Pros
The filter has good absorption power, so it can easily remove small particles.
The filter does not release the captured contaminants back into the air.
It can easily remove the bad odor and fumes from the room.
Cons
Although the small pollutants can be removed but not the dust and other allergens.
The filter also does not remove the micro-Organisms
Ionic Filter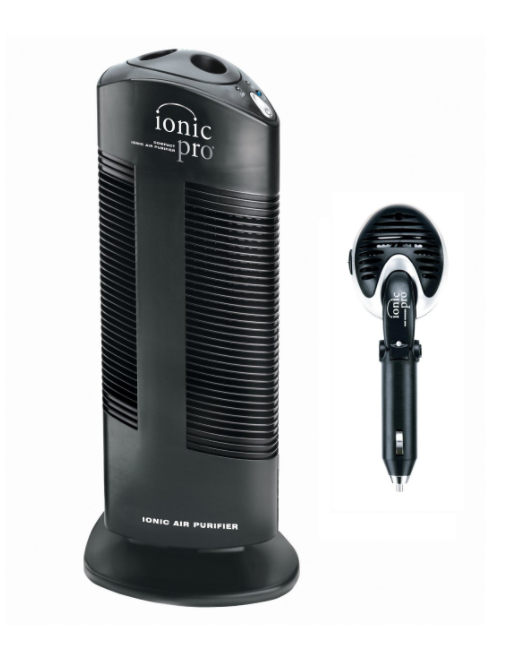 An Ionic filter has negatively charged ions, which attracts positively charged dust particles. These negatively charged ions create the bond between dust particles and as a result, these particles become heavy and cannot move once they are trapped in the filter.
Ionic filters are cheaper as compare to other air purifier filters, but they have some side-effects as well. If you are using the air purifier which has an ionic filter then it may produce ozone as the byproduct which is harmful to your health. Ozone is a harmful gas that can cause lung problems, Trigger the asthma attacks and may increase the risk of death.
Pros
Removes ultrafine particles which are smaller than 0.1 microns.
It is quite since it does not have any fan or motor.
Cons
Produces ozone which is harmful to health.
Does not remove odor
Ultra-Violet Light Air Purifier Filter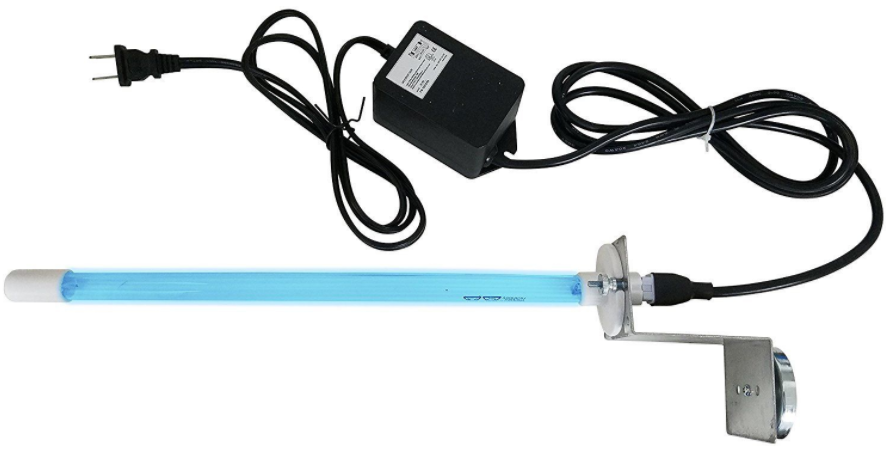 UV lights have electromagnetic radiations, which can destroy bacterias and viruses by breaking their molecular bond.UV light filter works well to remove bacteria, viruses, and other microparticles but they are not able to filter the dust, pollens etc. which may cause increased allergy or trigger to asthmatic attack.
I will recommend you to Use this filter with HEPA filter so that it can remove the dust and other pollutants from air and you get pure and fresh air to breathe in.
Pros
The filter can destroy Bacteria, Germs, and viruses i.e. all the small particles that can not be removed by other filters.
Cons
Does not removes, fumes, smoke and chemical particles

Parameters To Buy An Air purifier
If you are going to buy the air purifier for the first time, then you must be confused about the parameters to be considered while buying a good air purifier, that works efficiently.
Well, don't worry we have done this homework for you. These are the points written below that should be considered, when you are planning to buy an air purifier:-
1. Particle Size Removal Capability
Most of the air purifiers have the HEPA Filters, that can remove up to 99.7% of contaminants from the polluted air.But if in case you are not buying the purifier with HEPA filter then you should consider the particle size removal capacity of filter that is attached to the purifier. Also, you should have the knowledge about the filter that is attached to the air purifier.From its maintenance charges to its process that is used to clean the air of your house/room. 
2.Type of Filter
There are many filters available in the market, but you have to consider your surroundings, and according to that, decide that what type of filter is required for your surroundings.I will mention all the types of filters further in this article.
3.Noise Made By Fan
 Air purifiers use a motor, and a fan of course to draw the air from the room and to send it to the filter. But due to some reasons for example extra load, low maintenance etc., the motor or the fan may create the noise. 
4.Square-Foot Coverage
There are many air purifiers that have less price but actually, they are costly, let me tell you how. Air cleaners that have less price as compare to other purifiers have less coverage area for purifying the air.You should calculate the cost according to square foot coverage so that you do not feel cheated.
You can calculate the cost per square cleaned, simply by dividing the square foot coverage of the cleaner by its cost.
5.Size and Portability
It's not only about the air purifiers, whatever the device is you should check the size and portability of it. In this parameter, you should check the dimension, the weight of the purifier so that you can determine if the purifier is portable or not.
Also, if you want to place your air cleaner in the corner of the room, or at the corner of table/shelf then you should make sure that the design should be compact but effective at the same point of time.
6.Electricity Consumption
Electricity consumption is also another important parameter that should be considered while purchasing the purifier. As the electricity consumption will increase and lead to the increased electricity bill.
To determine the electricity consumption, you should check the watts that should be listed by manufacturers on the product.
7. Maintenance Cost
Maintenance of the product is a task in itself. So it is better to consider it before you buy it.In some cases, replacement of filter costs more than buying the filter.So always be particular about the filters, go with the one, which fulfills your requirement and do not cost more when you are replacing it. 
8.Warranty
Nowadays almost every electronic product has one year warranty, if in case the seller is offering less or no warranty at all then say a big NO to the product. 
Frequently Asked Questions Related To Air Purifier
Why do I need an air Purifier?
Indoor air quality nowadays is more harmful than outdoor air, and it may affect the health of your family members.Apart from that, Indoor air do not get the proper circulation which affects the freshness of the air, that means indoor air has more amount of harmful gases than outdoor air. 
So to remove these contaminants from the air you need an air purifier to live a better and healthy life.
What kind of pollutants do Air purifiers remove?
Different air purifiers remove different kind of pollutants, so in this case, it depends on what kind of purifier you purchase. But there are some common Particles that are removed by every air purifier, some of them are written below.
1. Dust particles, Animal Hairs
2.Cigarette smoke, fumes
3.Germs, bacteria etc.
Where should an air purifier be placed?
You should place the purifier at the place where you spend the majority of your time. For example, you can place the purifier in the bedroom, or a specific place like the play area for your children etc. Since most of the air purifiers are designed in a way that, they can only purify the air of the single room at a time.I will suggest you buy a purifier which has wheels attached to it So that it is convenient to you to move the purifier from one place to another.
What is the maintenance requirements of an air purifier?
It depends on product to product, different air purifiers have different filtration process, so according to that, you have to do the maintenance. So many purifiers have two to three layers of filters and you have to change them after a certain period of time.Some of the filters are reusable and you can use them again and again after washing them. There is a filter change indicator almost in every purifier, which will help you to know what is the right time to change the filter. 
What is Particulate Matter, should I consider it while purchasing an air purifier?
Particulate matter (PM) is the parameter to measure the presence of all liquid and solid particle in the air. It consists of all organic and inorganic particles like smoke, dust, fumes etc.
Of course, you should consider this factor while buying an air purifier because these particles are actually pollutants which may affect your health.
What does CADR stand for?
You can find this acronym in details of every purifier that you will look for. The full form of CADR is Clean Air Delivery Rate. It is a parameter that indicated the volume of filtered air produced by an air purifier.

Join Telegram Channel & Get Instant Deal Alert

75,062+

participants