1244 days ago
Freecharge Virtual Card: Benefits, Features, Eligibility and More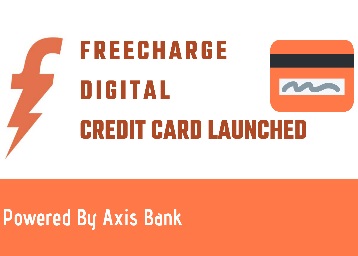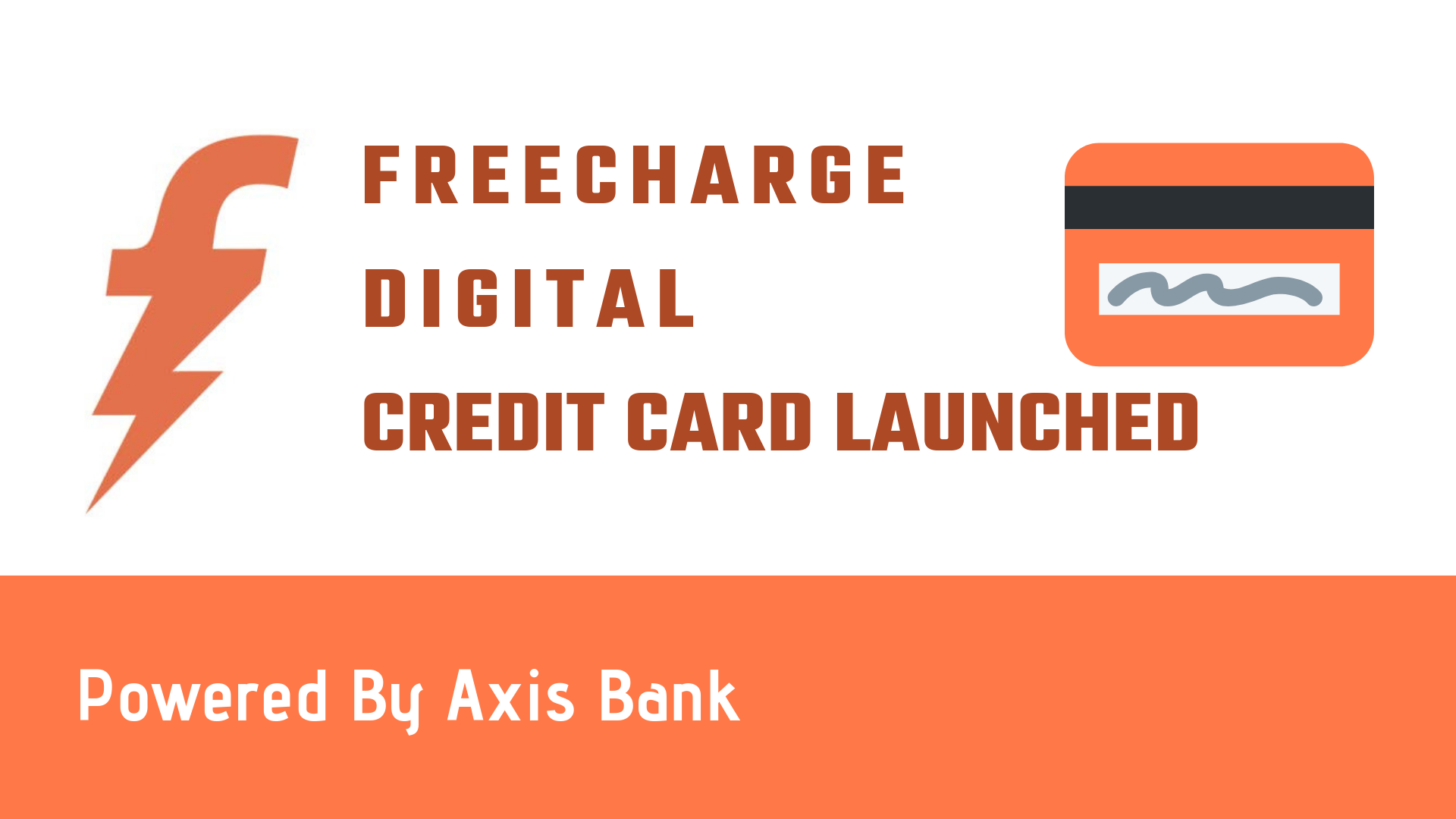 Joining the trend of offering credit cards, Freecharge has launched digital credit cards powered by Axis Bank. 
The card empowers the digital natives with easy access to credit, that comes with an instant and seamless experience. With this digital credit card, you get the flexibility in making your payments and recharges.
Freecharge ensures the security of your bank details while providing a fast and easy way to make transactions digitally.
Company has targeted the aspirational young consumer for their credit card So that they can have access to easy cash through the card.
And If you are already acquainted with Freecharge benefits, then you will surely like Freecharge cashback offers to save a lot on your recharges and bill payments.
Freecharge Digital Credit Cards
Axis bank powered Freecharge's credit card comes with a 50 days credit period. And this digital credit card is acceptable across major e-commerce platforms, with exclusive access to deals and offers across various categories. 
The Freecharge credit card also allows you to make online transactions that can be converted to EMI as per your convenience.
Though Initially, the card will be given to a selected group of customers and then after it will be opened to a larger customer base.
The Axis Bank Freecharge Credit Card is a great opportunity for you to avail amazing benefits at very low costs and efforts. This is a once in a lifetime opportunity for eligible customers to make use of many benefits every time they complete a transaction with an Axis Bank Freecharge Credit Card.
If you want to know more about this, then you should check out this article for more information and details so that you too can apply and enjoy the benefits of this card. 
How to Apply For Freecharge Digital Credit Card
Axis Bank Freecharge credit card can only be accessed via the invite program. This card is on eligibility basis only, so if you are a lucky customer, you might get a chance to make use of this offer if you find the card banner on your Freecharge app.
You will get the invitation from Freecharge.

If you got the invitation, then you will see the banner in your Freecharge App.

Now you can click on the banner to apply for the credit card.
In short, For now, You need to be lucky enough to get the invitation from Freecharge that will be decided by your transaction history and bank records.
After some time, according to Freecharge, you will be provided with an easy-to-use interface. You just need to enter your details on the Freecharge app, that will enable a Visa credit card instantly on your mobile phones. 
This is a wonderful opportunity for users to make use of the best and the most amazing offers and rewards that one can get with the Freecharge Virtual Card with Axis Bank.
Freecharge Credit Card Fee
Axis bank is charging a minimal amount on Freecharge credit card. You will get a 1.5% interest in your EMI  Payments. On their Visa card you will be charged the following fees:
Category

Fee

Issuance Fees

Rs. 250 + Applicable Taxes

Annual Fee

Rs. 250 + Applicable Taxes

Interest Rate on EMI

1.5% interest p.m. (1.5% Processing Fee, Minimum Rs. 150)

Late Payment Fees

Nil if Total Payment Due is up to Rs. 100

Rs. 100 if total payment due is between Rs. 101 - Rs. 300

Rs. 300 if total payment due is between Rs. 301 - Rs. 1,000

Rs. 500 if total payment due is between Rs. 1,001 - Rs. 5,000

Rs. 600 if total payment due is between Rs. 5,001 - Rs. 10,000

Rs. 700 if total payment due is Rs. 10,001 and above

Over-limit Fees

3% of the over-limit amount (Min. Rs.500)

Demand draft

1% (Min. Rs 75)

ATM Cash Advance

Transaction Fee-2.5% (Min. Rs 250) - -

Minimum Amount Due

5% of the amount due

Physical Card issuance fee (subject to conditions of physical card issuance met)

Rs. 250 + Applicable Taxes

Finance Charges/Interest Charges

3.4% per month
The CEO of the company, Siddharth Mehta said, "We will keep coming up with products and solutions that can fulfil the need of the new age customer".
So, keep enjoying the features adding by Freecharge and make your digital payments effortless yet savvy.
Freecharge Virtual Card Benefits
There are a number of benefits that you can enjoy with the Axis Bank Freecharge Credit Card. Some of them are listed below.
Mobile Alerts: Apart from getting daily alerts on your mobile phone on outstanding amounts, payments made, bill generation, etc. Now, you have an option to give to the intensified Mobile Alerts.
Interest-Free Period: Get upto 50 days free credit period on your shopping purchases without any investment charge being levied to your card account.
Revolve Facility: Get Increased Credit Facility with Axis Bank Signature Credit Card, where you may buy goods anytime and choose to pay in payments as per your suitability.
Cash Advance Facility: To avoid any misapplication of your ATM PIN, please enter the PIN yourself on the POS computer and do not share the same to the wholesalers or anyone else.
EMI Facility: EMI feature on Axis Bank Credit Card gives you the benefit of paying for High-Value Credit Card purchases in easy EMIs.
So this was all about the Freecharge Virtual Card and all its benefits, eligibility criteria, fees and all other details. If you are looking for more such articles, news, blogs and other updates, keep following our website for more.
Frequently Asked Questions
Q. Is the PIN required for Axis Bank Freecharge credit card?
A. The PIN is not required for Axis Bank Freecharge Credit Card. As it is a virtual card and can be used only online, you can use your transaction-related OTP as the second level of authentication.
Q.How can I pay the Credit Card Bill?
A.. There are several ways through which you can pay the Freecharge Credit Card Bill. That is:
Through Axis Bank Billpay Facility

Through Axis Bank Website

Through Axis Mobile Application

Through Axis Bank Internet Banking

Through SMS
Q. I already have a FreeCharge account, how can I pay?
A.  If you already have an account, click on "Pay with FreeCharge" on the payment page and you will be asked to log in to your FreeCharge account to finish the transaction. 
Once there, you can either use just your FreeCharge Balance or a combination of FreeCharge Balance and credit card/debit card or net banking to make the payment.
Q.How much FreeCharge EMI amount am I eligible for?
A. It depends on your transaction history with FreeCharge, Freecharge lender can approve amount up to Rs. 60,000. 
Q. How can one apply for EMI?
A. To apply for EMI, you need to visit the FreeCharge EMI section on the app, then:
1) Enter your personal details.
2) Enter the bank details.
3) Set up your auto EMI repayment.
4) Upload Id and address proof documents.
Eligibility Criteria for applying EMI are:
1) You must be an Indian with a valid PAN.
2) Age should be between 22-55 years.
3) One ID proof – Aadhaar, Driving License or Passport Proof
4) Current Address proof – any one of the mentioned below:
Aadhaar, 

Utility bills (Electricity/Gas bill), 

Telephone Postpaid, 

Internet connection or Rental Agreement

Join Telegram Channel & Get Instant Deal Alert

75,062+

participants