649 days ago
Flipkart SmartPack Offer - Get Up to 100% Money Back on your Smartphone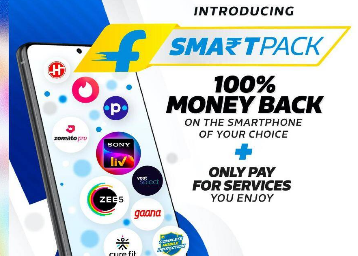 Here is a smart way to buy a smartphone in 2021. Flipkart has launched a new subscription-based offering "SmartPack" to provide customers 100% money back on smartphone purchase. Flipkart SmartPack Offer guarantees money-back on new smartphone purchases. Customers can opt for 12 or 18-month tenure. Flipkart will credit the 100% moneyback directly into your bank account after the selected tenure. This means you have to pay only for subscription services such as Sonyliv, Zee5, Zomato Pro, Gaana, and Practo among others. 
This innovative plan launched by Flipkart allows users to purchase the smartphone of choice and also access top subscription services. Flipkart Smartpack subscription is available on all leading smartphone brands such as Redmi, Oppo, Poco, Samsung, Vivo, Motorola etc. The customer has to return the device after the end of the selected tenure to get up to 100% money back credited in the bank account. 
Meanwhile, Flipkart is all set to host multiple sale events in March. For more details on the Flipkart upcoming sale click here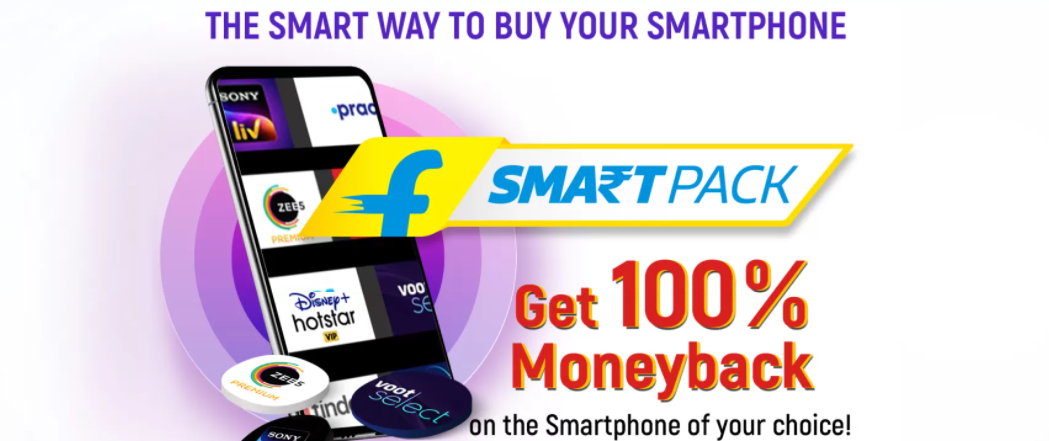 Note: Get up to 10% cashback on your purchase from Flipkart. To know more about the cashback rates click here
What is Flipkart SmartPack?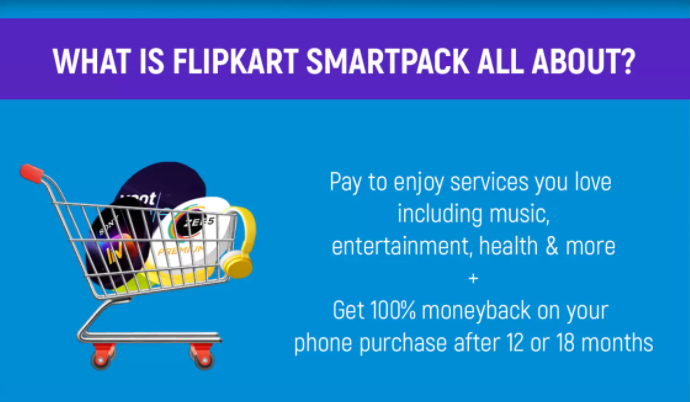 It is the first-of-its-kind initiative in India. The model is popular in the USA and European nations where telecom operators provide contractual deals that allow customers to pay a fixed fee per month for a device and services. This subscription service is an option for an affordable smartphone upgrade that also allows customers to access various services. Flipkart Smartpack launched in January. You can avail the feature on leading smartphone brands. 
Avail of a subscription plan of choice on most smartphones priced between Rs. 6,000 - Rs. 17,000. It is available on popular brands such as Realme, Poco, Infinix, Oppo, Samsung, Redmi, Motorola, Vivo, and more.
Flipkart SmartPack plan comes in three plans. Customers can choose from 12-months and 18-months tenure. Flipkart SmartPack is available as per the monthly prices. While buying a smartphone you can pay online, cash on delivery, or EMI. But the subscription charges need to pay monthly, online.
The subscription service customers can opt from include categories such as streaming, food, and healthcare among others. Popular choices include Zee5, SonyLiv, Voot Select, Zomato Pro, Pratco, and more. 
Want more fun stuff? Subscribe to our YouTube Channel for offer videos, products reviews, shopping deals, giveaways and more. Stay tuned for amazing deals and free stuff online. You can also grab 100% cashback offers for a completely free online shopping experience.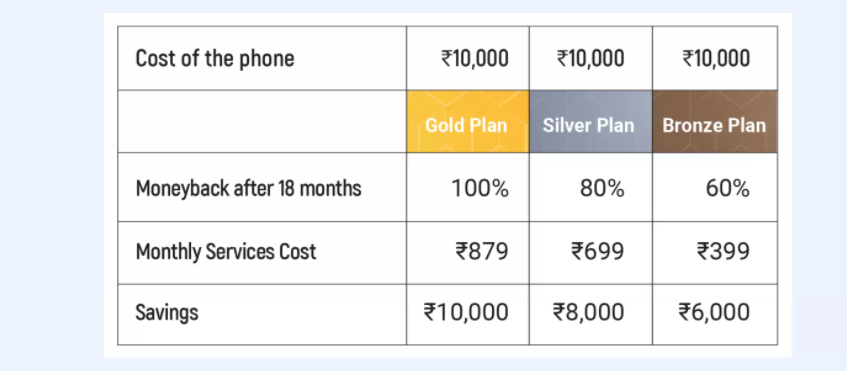 Flipkart SmartPack Plans
| | | |
| --- | --- | --- |
| Plan | Return Device | Keep Device or Device is non-returnable |
| Flipkart SmartPack Gold | 100% Moneyback | 60% Moneyback |
| Flipkart SmartPack Silver | 80% Moneyback | 40% Moneyback |
| Flipkart SmartPack Bronze  | 60% Moneyback | 20% Moneyback |
The moneyback percentage varies as per the Gold, Silver, and Bronze packs of Flipkart. The customer has to pay for his new smartphone and select a time period for their Smartpack. Depending on the pack selected, the customer has to pay a fixed monthly charge. Once the Smartphone tenure is over, return the smartphone to get money back in your bank account. The smartphone has to be in working condition to get the money back.
To get 100% money back, you need to select the Gold Plan which is priced at Rs. 879. This subscription pack gives 100% money back on return after 12 or 18 months. The silver plan costs Rs. 699 per month. This pack gives 80% money back to the customer. There is also a Bronze plan priced at Rs. 399 per month which gives 60% money back at end of the tenure. Users also get freebies worth up to Rs. 20,000 with select Smartpack plans.
Flipkart SmartPack section is available under the My Order tab on the Flipkart app. Customers can view and activate the services from this section. The validity of services will start from the date of pack activation.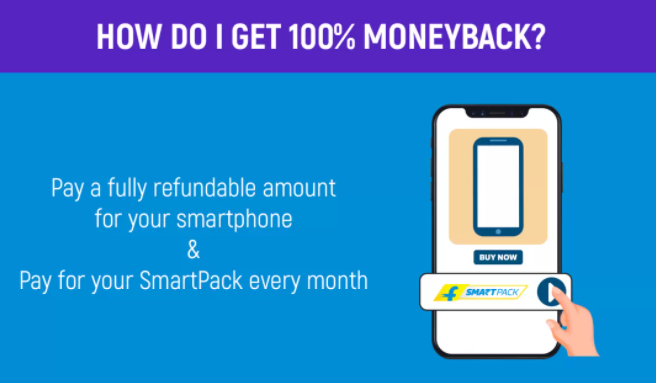 How to Avail Flipkart SmartPack Offer?
Choose a smartphone of your choice

Pick a Flipkart SmartPack on the product page

Pay for your smartphone & the subscription pack every month

Return the device in working condition after the selected tenure 

Moneyback will be credited to your bank account
Flipkart Smartpack Offers on Poco X3
Flipkart Smartpack offer varies from one device to another. For instance: If you wish to purchase Poco X3. It is available with silver and bronze plans. With the Flipkart  Smartpack offer on Poco X3, you need to pay Rs. 1,269 per month for 18 months with the Bronze pack. While the monthly cost for the silver plan is Rs. 769. 
With the Silver pack, you get 11 premium services - Disney+ Hotstar VIP, SonyLiv Premium, Voot Select, Zee5 Premium, Zomato Pro, Gaana plus, Curefit Live, DocsApp Gold, Medlife Advantage, Eros now premium, and Voot Kids. 
While the Bronze pack includes 8 premium services - Disney+ Hotstar VIP, SonyLiv Premium, Voot Select, Zee5 Premium, Zomato Pro, Gaana plus, Medlife Advantage, and Voot Kids. 
As already said, you are eligible for 60% Money back with Bronze and 80% money back with Silver pack after 18 months. 
Flipkart SmartPack Features
Choosing between 6 pack options across two tenures 12 & 18 months and three tiers - Gold, Silver & Bronze

Return your smartphone at the end of the tenure

Get 60% to 100% Moneyback as per the pack selected.

Moneyback will be credited to your bank account at the end of the chosen tenure.

The device should be returned in working condition. 

The device will be checked at the time of the return.

Pay for your pack every month on Flipkart app.

If the pack is cancelled in between the tenure you will not able to continue the subscribed service or claim the money back. 
Smartphone is the most important gadget today for everything from entertainment to learning and healthcare services. For the customers who are already paying for these services, Flipkart Smartpack is a welcome move which helps them save a lot of money. 
If you are looking to buy a smartphone in the price range between. 7,000 to Rs. 17,000 then Flipkart smart pack is worth considering. It is an ultra-affordable way to buy a smartphone in India. 
Frequently Asked Questions
How can I buy a phone with Flipkart SmartPack?
Add Flipkart SmartPack from the product page if your selected smartphone. Go to the Value Store section and select the SmartPack Option on the product page.
Is Flipkart SmartPack available at my pin code?
Flipkart SmartPack is available at select pin codes. Enter the pin code on the chosen mobile phone to check the availability. Also, the pack options and prices may vary as per the pin codes.
Is it possible to change the services in my Smartpack?
The option to change the services is not available at the time. You can choose up to 6 packs for every device.
Can I opt for a smartpack tenure other than 12 or 18 months?
Flipkart Smartpack plans are available with 12 or 18 months tenure options only. 

Join Telegram Channel & Get Instant Deal Alert

75,062+

participants