248 days ago
25 Best Saree Brands In India 2023 - Traditional To Designer Sarees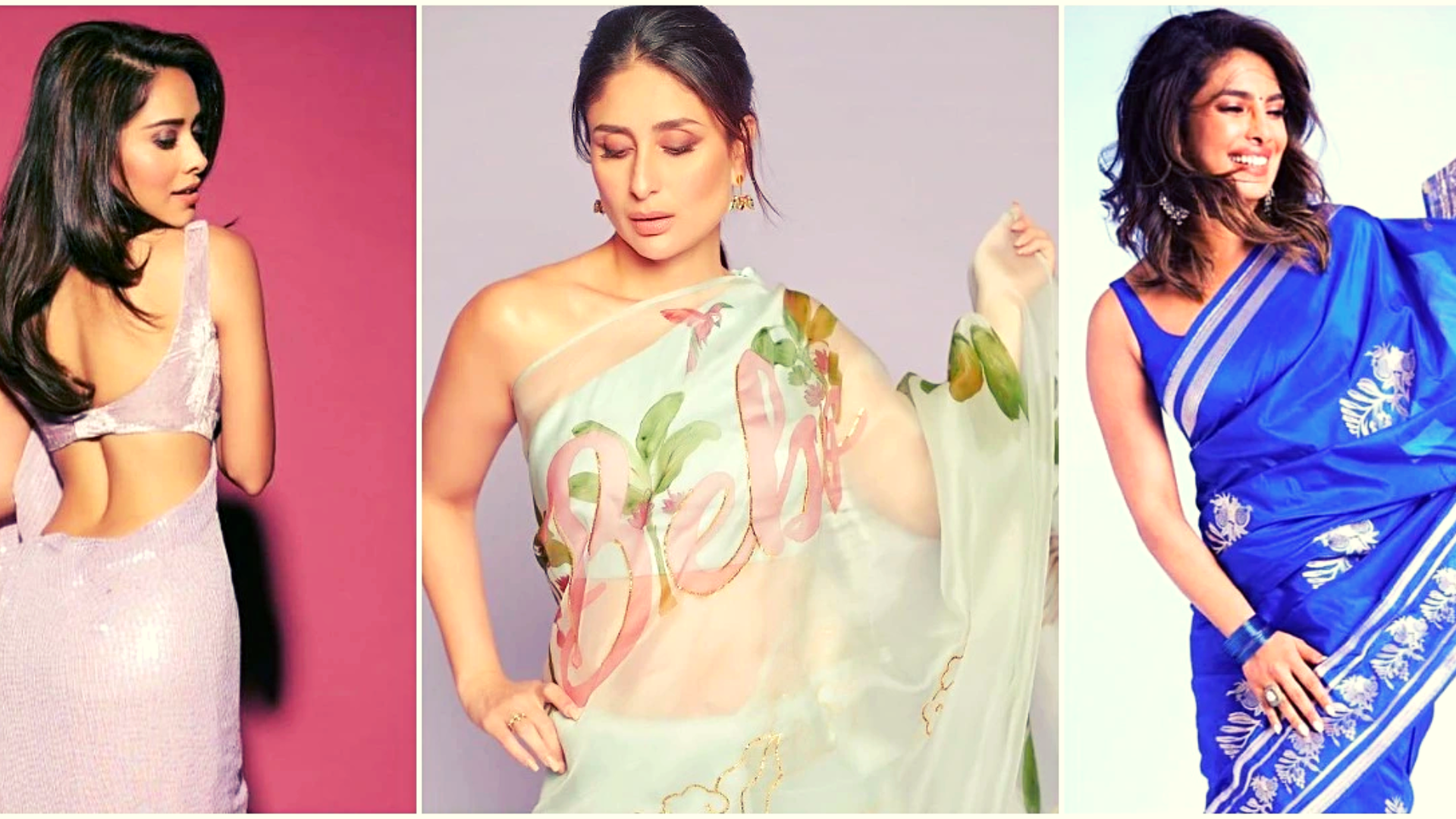 Are you someone who loves to wear a saree and looking for the best brands in India? If your response is yes, you have come to a suitable space. 
Your wardrobe feels incomplete without a saree. But which saree brand should you use to make yourself look utterly stunning? To clear up your fuss regarding this, we have compiled a list of the best saree brands in India. 
In this article, we have discussed the price range, establishment year, founder and more of these best saree brands. Additionally, we have mentioned Types Of Sarees, Tips To Take Care Of Sarees, Best Summer Sarees, Best Winter Sarees, How To Choose The Most Suitable Saree For You, Best Saree Market In India, Different Styles To Drape A Saree.
Sarees are a vital part of Indian culture and reflect our vibrant traditions. Saree is becoming more and more popular internationally as well. In India, the saree industry is valued at 288 billion Indian rupees. 
Additionally, If you want to know about Most Popular Sarees In India, then you should read our article on the same.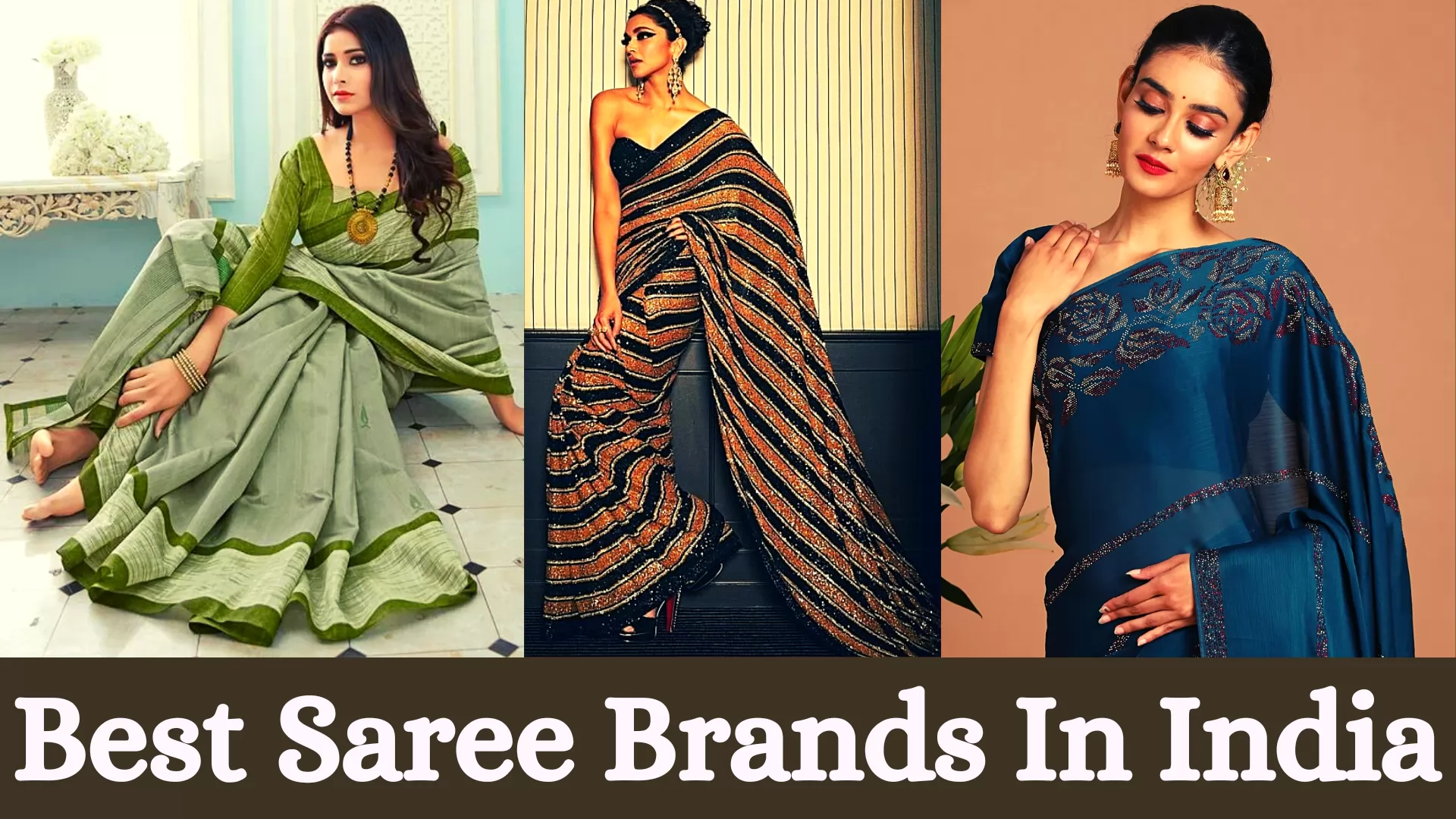 Table of Contents
[ Show ]
List Of Best Saree Brands In India 2023
Here, we have curated a list of the top 25 saree brands in India along with their foundation year and price range. We have also provided detailed information regarding each brand below the table. So to learn more, read this article until the end. 
| | | |
| --- | --- | --- |
| Name Of The Brand | Foundation Year | Price Range |
| Sabyasachi | 1999 | Rs. 50,000 - Rs. 3,00,000 |
| Tarun Tahiliani | 1987 | Rs. 45,000 - Rs. 7,00,000 |
| Meena Bazar | 1970 | Rs. 3,000 - Rs. 70,000 |
| Mimosa | 2019 | Rs. 1,000 - Rs. 8,000 |
| Satya Paul | 1985 | Rs. 10,000 - Rs. 50,000 |
| Manish Malhotra | 2005 | Rs. 50,000 - Rs. 3Lacs |
| Karagiri | 2017 | Rs. 1,700 - Rs. 34,000 |
| Nalli Sarees | 1928 | Rs. 1,500 - Rs. 5,00,000 |
| Bharatsthali | 2017 | Rs. 2,000 - Rs. 50,000 |
| FabIndia  | 1960 | Rs. 2,000 - Rs. 4,00,000 |
| Ritu Kumar | 1969 | Rs. 19,000 - Rs. 3,25,000 |
| Suta | 2016 | Rs. 1500 - Rs. 22,000 |
| Anouk | 2012 | Rs. 700 - Rs. 5,000 |
| Libas | 2005 | Rs. 1,100 - Rs. 6,000 |
| Kalanjali | 1992 | Rs. 2400 - Rs. 1,16,000 |
| Jaypore | 2012 | Rs. 20,500 - Rs. 90,000 |
| Kalamandir | 2005 | Rs. 699 - Rs. 5,400 |
| Bombay Selection | 2012 | Rs. 2,600 - Rs. 6,200 |
| Desi Butik | 2012 | Rs. 275 - Rs. 12,000 |
| Bahuji | 2012 | Rs. 1,700 - Rs. 8,000 |
| Glory | 2012 | Rs. 259 - Rs. 779 |
| Panash Trends | 2012 | Rs. 1,300 - Rs. 98,500 |
| Mirraw | 2011 | Rs. 420 - Rs. 2,10,000 |
| Deepam Silks | 1978 | Rs. 240 - Rs. 40,000 |
| Zari Banaras | NA | Rs. 14,500 - Rs. 17,500 |
Review Of Best Saree Brands In India 
Here, we have reviewed each of these saree brands in detail, along with their founder, foundation year, price range, the type of sarees offered by the brands and more. To know more about these brands, keep reading this article till the end. 
1. Sabyasachi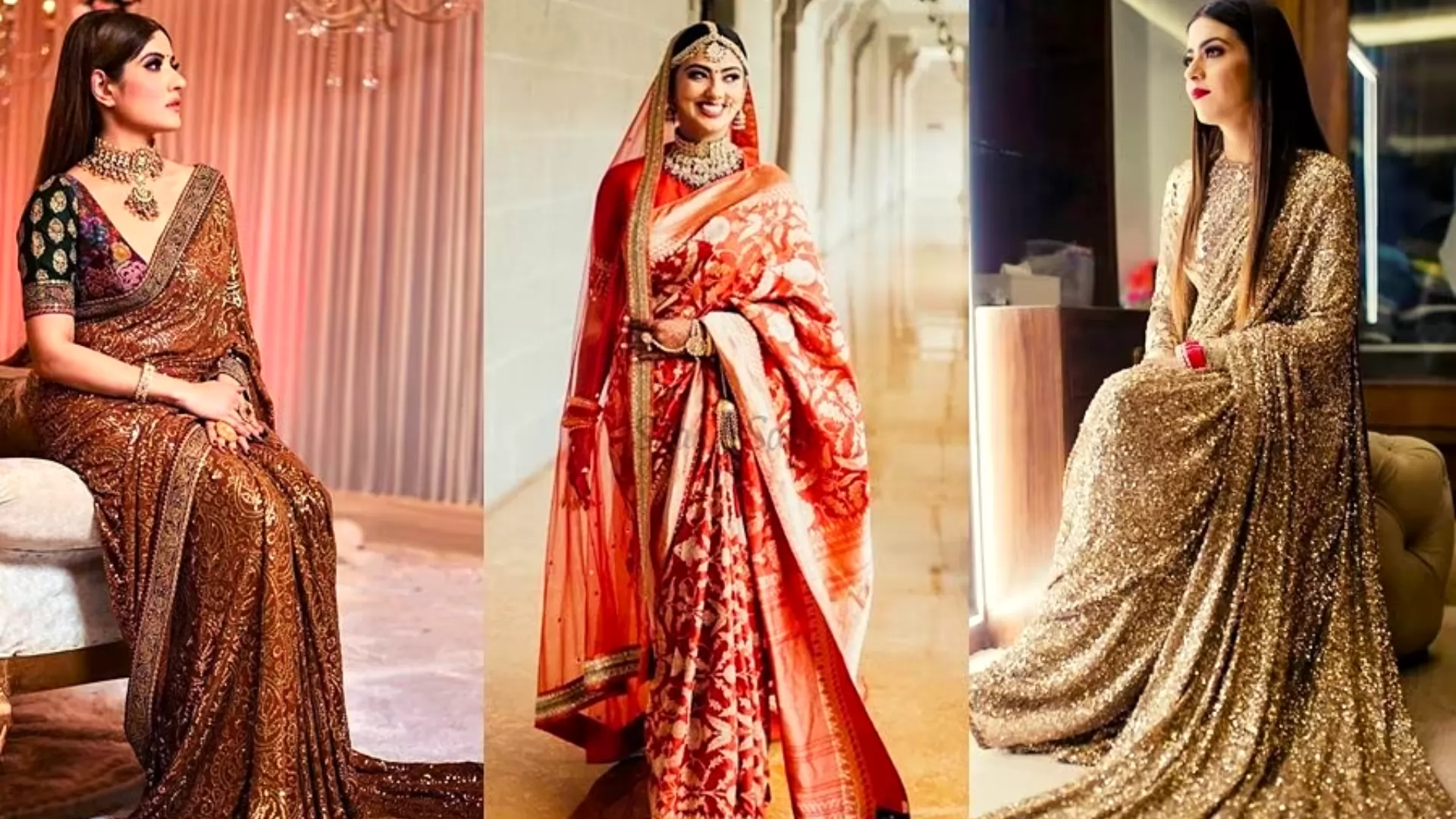 In the year 1999, Sabyasachi Mukherjee established the Sabyasachi label. The brand's primary objective is to convey through the story how important it is for Indians to maintain their nation's identity. Each compilation has a story attached to it. With its stunning collections that appeal to both traditional and contemporary tastes, Sabyasachi has revolutionised the saree industry. The majority of famous people wear Sabyasachi sarees to weddings and receptions. Movies also feature Sabyasachi sarees being worn. During Lakme Fashion Week, these sarees are also worn by models and celebrities. Indian aesthetics significantly impact many of Sabyasachi's chiffon and silk drapes. The artists at Sabyasachi skillfully create handloom sarees.
Main Aspects
Revenue: 10M

Price Range: Rs. 50,000 - Rs. 3,00,000

Foundation Year: 1999

Founder: Sabyasachi Mukherjee

Types Of Sarees Offered: Organza, Chiffon, Threadwork, Bandhani, Bridal and more
2. Tarun Tahiliani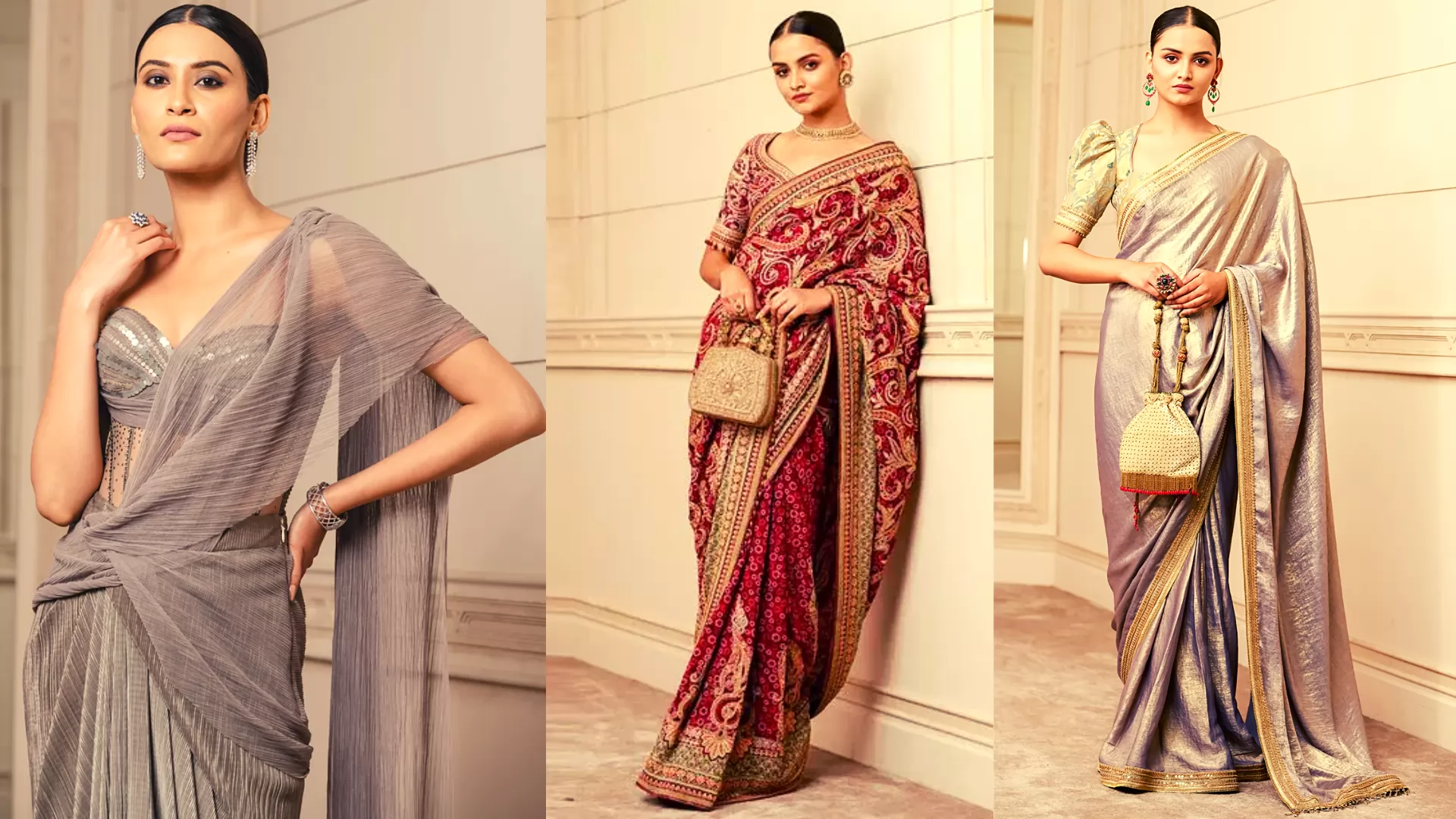 Tarun Tahiliani is a well-known Indian apparel designer. He co-founded Ensemble, India's first multi-designer store, with his wife, Sailaja Sal Tahiliani, in 1987. Tahiliani Design studio was established two years later. He is best known for his ability to combine Indian craftsmanship and textile tradition with tailored silhouettes, and he is based in Delhi. His distinctive style is the fusion of conventional beauty with cutting-edge design. The label offers Concept Sarees, Printed Sarees, Brocade Sarees, Banarasi Sarees, Chiffon Sarees, Hand-Embroidered Sarees, Printed Organza Sarees, and much more. The collection has all the designer cult sarees with which you can drape and grace the event. 
Main Aspects
Revenue: 3.8M

Price Range: Rs. 45,000 - Rs. 7,00,000

Foundation Year: 1987

Founder: Tarun Tahiliani

Types Of Sarees Offered: Concept Sarees, Printed Sarees, Brocade Sarees, Banarasi Sarees, Chiffon Sarees, Hand-Embroidered Sarees, Printed Organza Sarees, and more.
3. Meena Bazar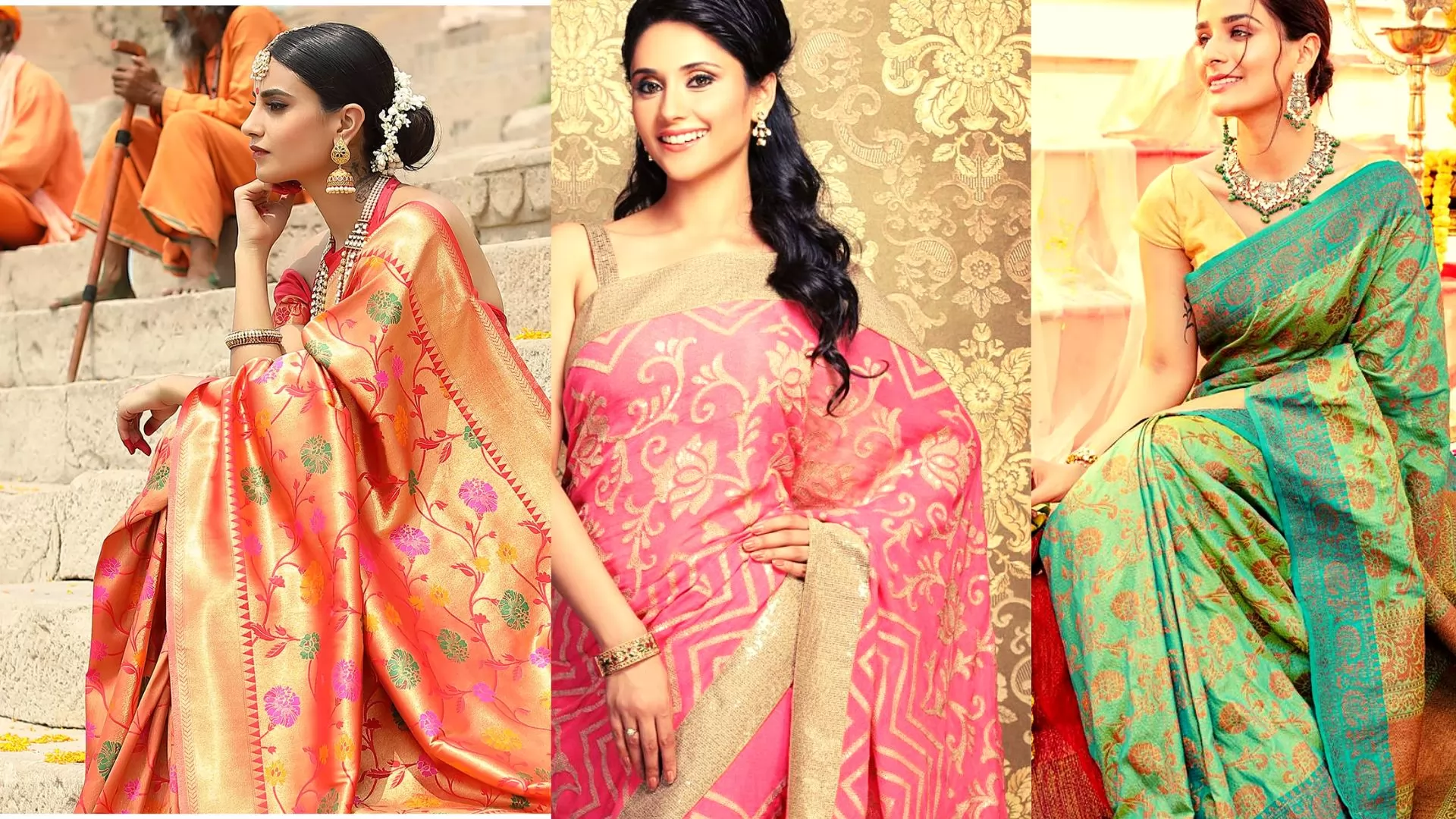 The Meena Bazar brand was established in the year 1970 by Mr Suresh Manglani and Mr Vishnu Manglani. Initially, a small store selling patterned sarees, Meena Bazaar has grown into a well-known retail brand among Indians worldwide. Sarees, suits, lehengas, kurtis, gowns, and anarkalis are just a few of the attractive and distinctive clothing options available at Meena Bazar. It now operates retail locations in important Indian cities and quickly develops more places. India is the country of origin for the goods sold at Meena Bazaar. Indian cultural clothing of the highest quality and finest value can be found at Meena Bazaar. 
Main Aspects
Revenue: 10M

Price Range: Rs. 3,000 - Rs. 70,000

Foundation Year: 1970

Founder: Mr Suresh Manglani and Mr Vishnu Manglani

Types Of Sarees Offered: Chaneri Silk, Organza, Chiffon, Tussar Cotton, Georgette, Satin
4. Mimosa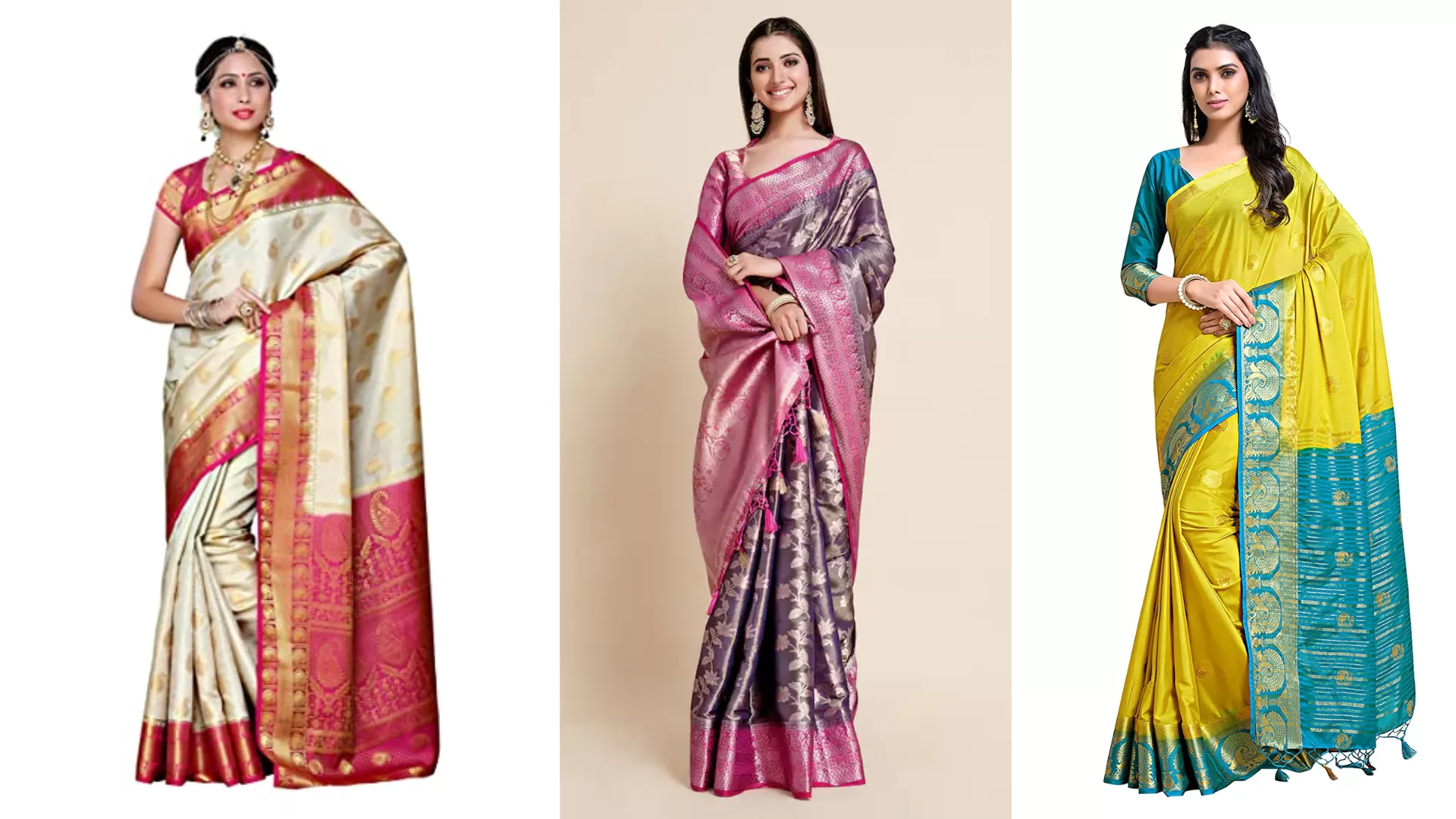 One of India's most renowned producers of silk sarees is Mimosa. The company has its current headquarters in Bangalore and uses its online stores to conduct business nationwide. The company sells high-quality products at low prices. It is one of India's top saree brands and has extensive knowledge of the saree market.  Mimosa specialises in exquisite silk and Kanchipuram sarees that are stylish, functional, and affordably priced. The saree varieties offered here include Kanjivaram, Banarasi, Mysore, Patola, Kasavu, chiffon, Lenin, Cotton, raw silk, Orgenza, and Uppada.
Main Aspects
Revenue: 250M

Price Range: Rs. 1,000 - Rs. 8,000

Foundation Year: 2019

Headquarters: Bangalore, India

Types Of Sarees Offered: Kanjivaram, Banarasi, Mysore, Patola, Kasavu, chiffon, Lenin, Cotton, raw silk, Organza, Uppada & more
5. Satya Paul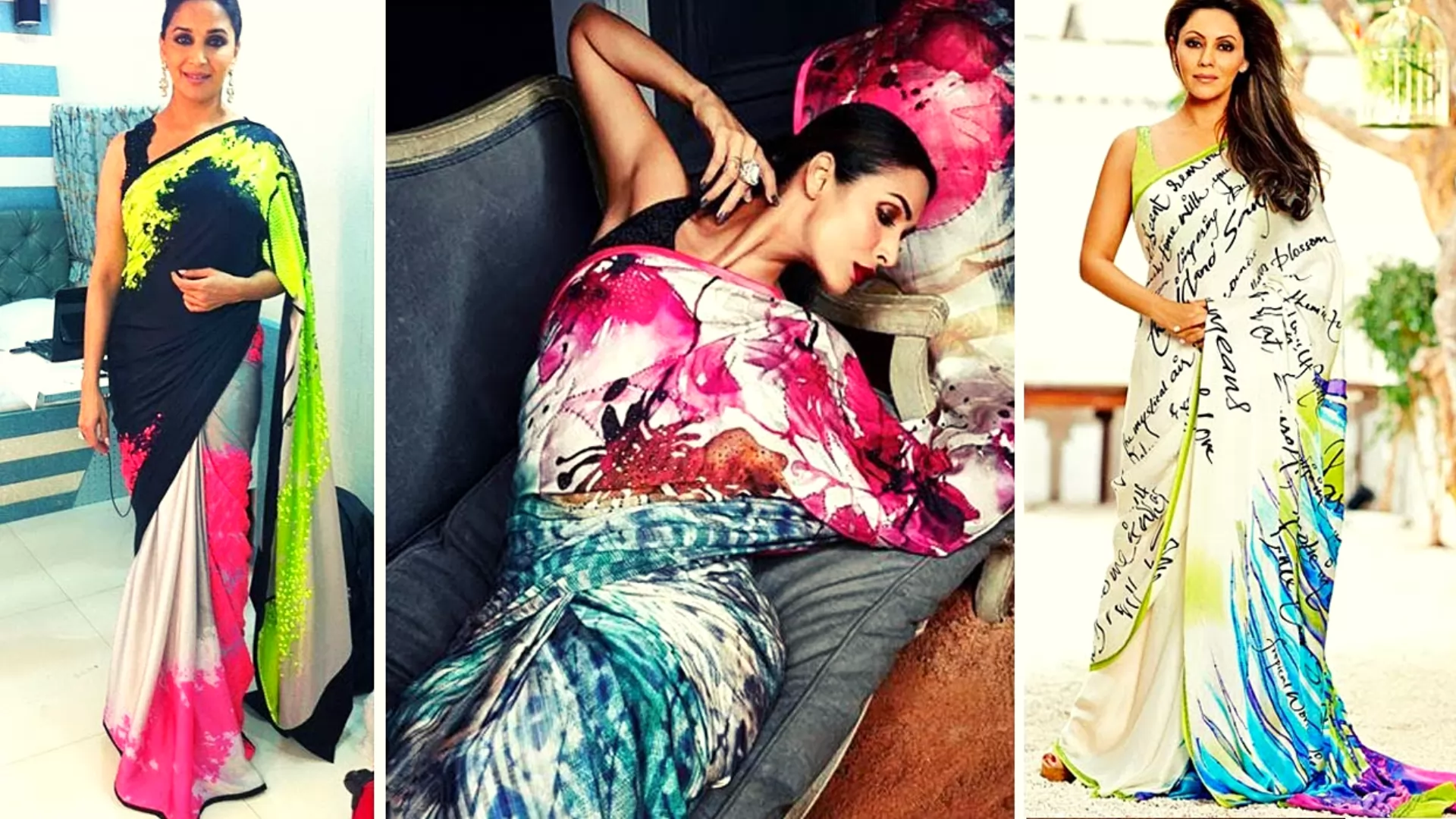 Founded on April 1st, 1985, Satya Paul is an Indian fashion house well-known for its Indian patterns. The brand is now accessible throughout India. Sanjay Kapoor and Satya Paul's son Puneet Nanda served as its directors, and the designer started the company. On January 6, 2021, Satya Paul, the label's founder, passed away in Coimbatore. The Satya Paul product line includes men's accessories like neckties, belts, wallets, pocket squares, cufflinks, and women's fashion clothing, mostly saris, kurtas, handbags, clutches, and scarves. They have a sizable selection that includes embellished and pricey Satya sarees. For modern Indian women, the firm emphasises silk sarees. 
Main Aspects
Revenue: 63.5M

Price Range: Rs. 10,000 - Rs. 50,000

Foundation Year: 1985

Founder: Satya Paul

Types Of Sarees Offered: Satin Saree, Georgette Saree, Linen Saree, Chanderi Silk Saree & More
6. Manish Malhotra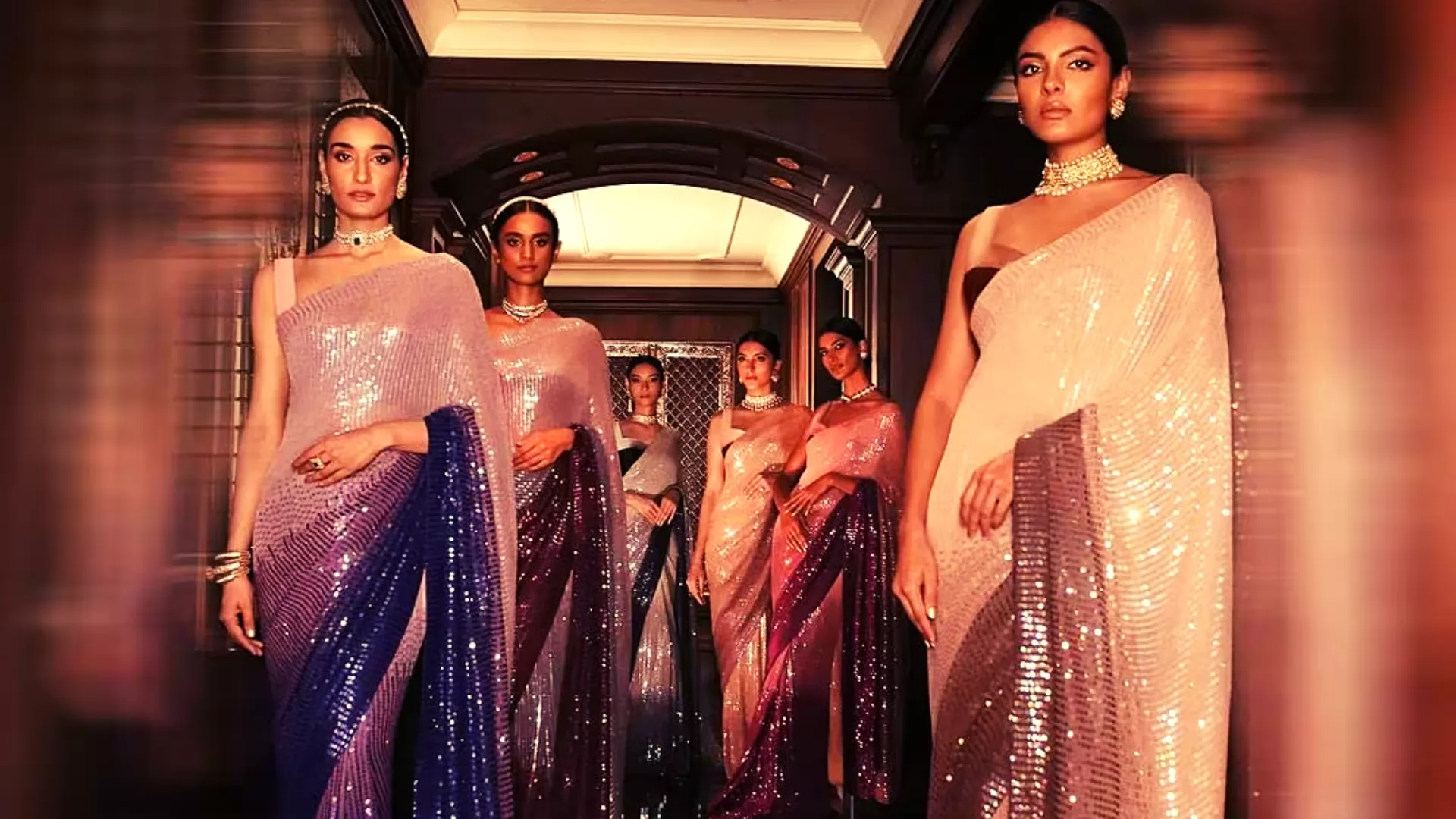 Manish Malhotra, the brand's founder bearing his name, has spent the last three decades working in the fashion and film industries. He has styled and designed for countless films and received various honours. Being one of India's most well-known brands, it offers a blend of traditional and modern styles that customers adore.  He established his career in the Hindi Film Industry as a fashion designer, stylist, and costume director before launching his couture line in 2005. It has four retail locations in Mumbai, New Delhi, and Hyderabad and offers bridal, couture, diffusion, men's clothing, and bespoke collections. The brand's aesthetic over the years has tried to combine traditional Indian workmanship with modern silhouettes. 
Main Aspects
Revenue: 1600M

Price Range: Rs. 50,000 - Rs. 3Lacs

Foundation Year: 2005

Founder: Manish Malhotra

Types Of Sarees Offered: Georgette Saree, Chiffon Saree, Sequins Saree,  Kashmiri Saree, Net Jaal Embroidered Saree 
7. Karagiri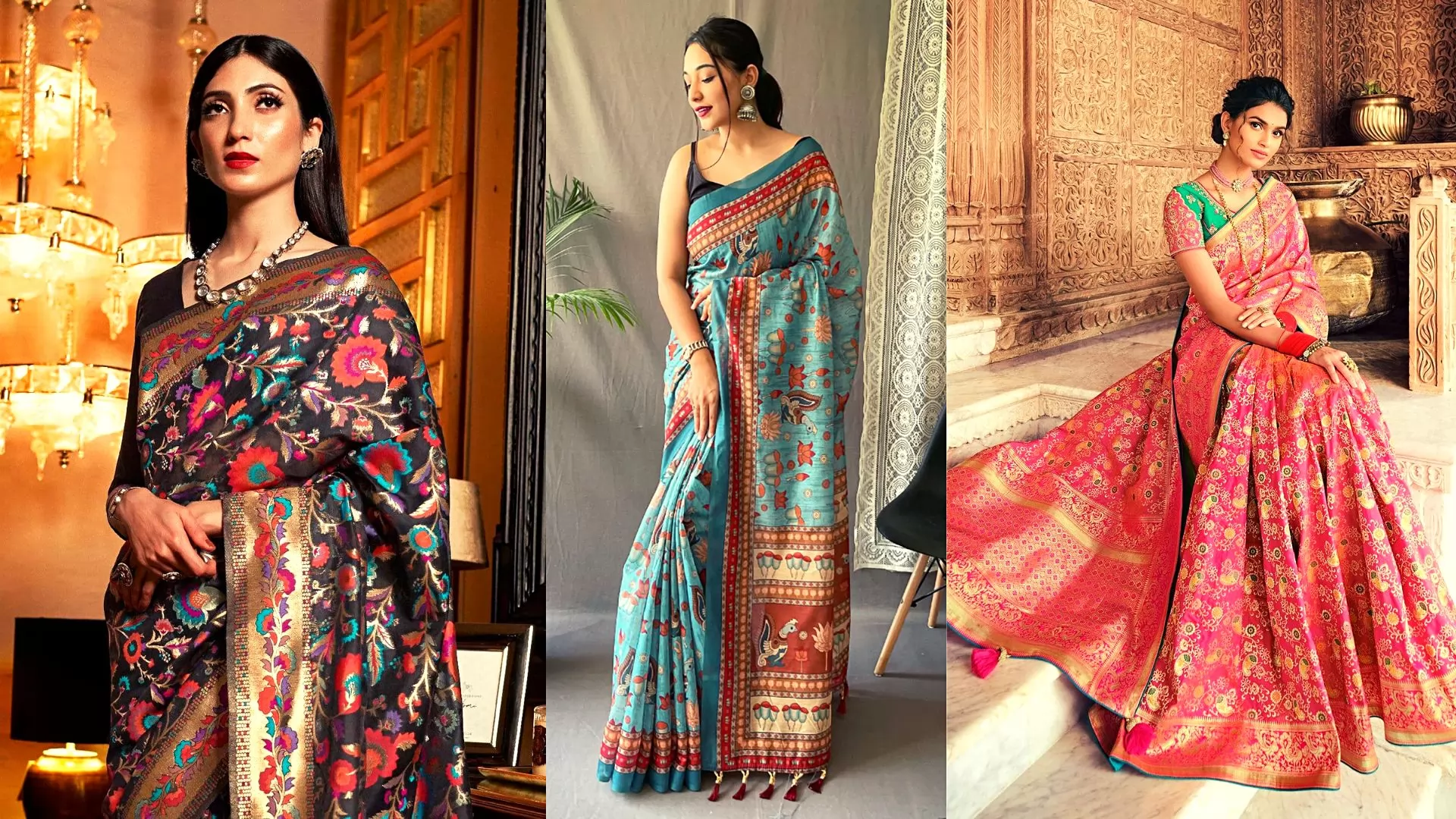 Karagiri was founded by orthopaedic surgeon Amol and IIM Lucknow graduate Pallavi. Karagiri aims to introduce the world to India's true beauty. No matter where you are seated, they find the best creations made by artisans and craftsmen throughout India and send them to your home. It offers various sarees that can be worn for any event. Their website provides a variety of sarees, from light organza and chikankari sarees to heavy Banarsi and embroidered sarees. You can get sarees from the brand in various materials, including silk, cotton, linen, Katan, organza, chiffon, satin, georgette, crepe, and other types of silk and silk blends.
Main Aspects
Revenue: 200M

Price Range: Rs. 1,700 - Rs. 34,000

Foundation Year: 2017

Founder: Amol & Pallavi

Types Of Sarees Offered: Organza, Chikankari, Banarasi, Chiffon, Georgette, Silk, Cotton & More
8. Nalli Sarees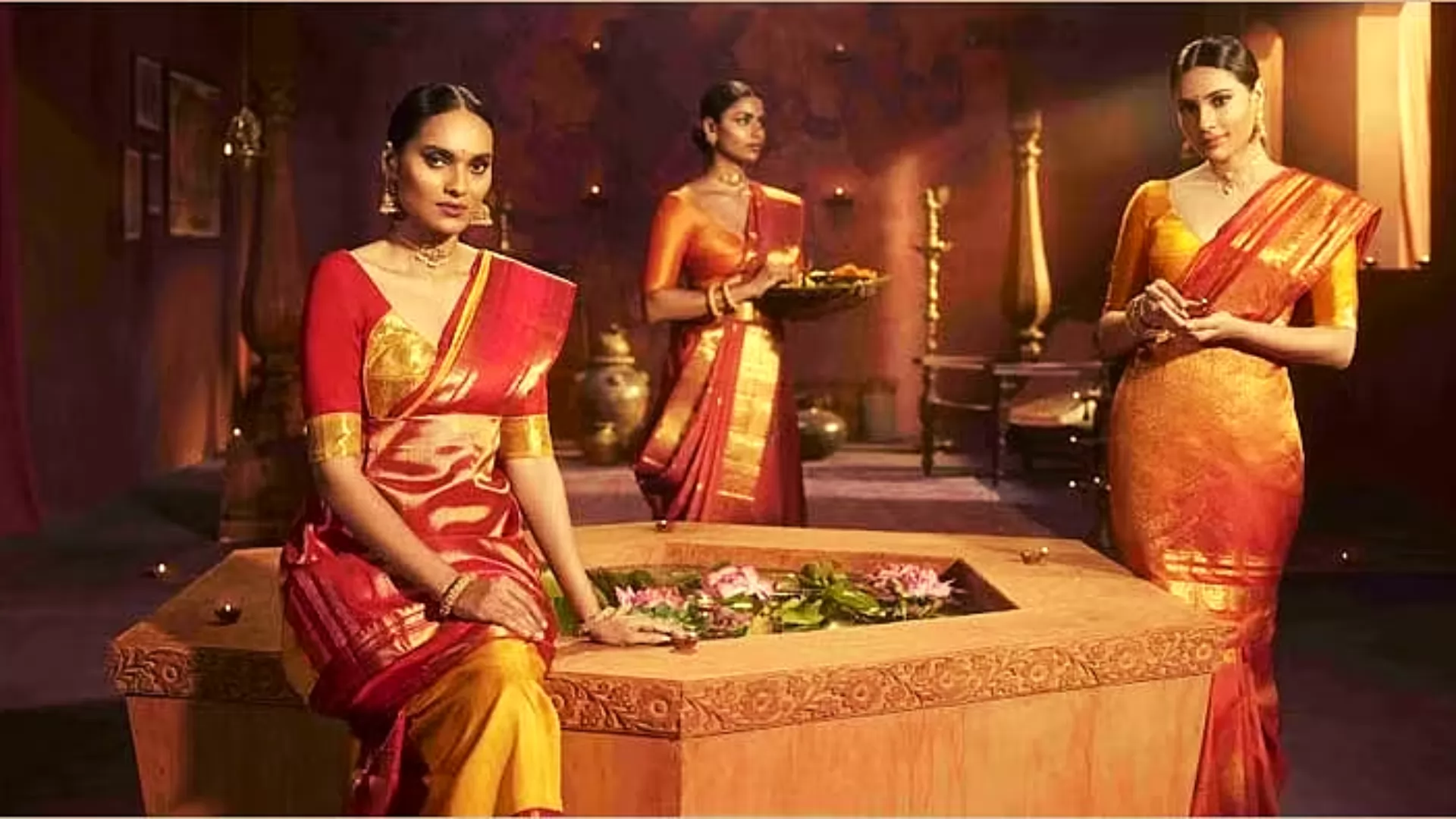 Nalli Chinnasami Shetty founded this brand in 1928. In the textile and retail industries, Nalli has been a pioneer and is well-known for its luxurious silks. Nalli has established numerous stores in well-known cities like Delhi, Mumbai, Bengaluru, Kochi, Ahmedabad, Kolkata, Hyderabad, and many more. It is also present in the US, Singapore, and Canada. It offers the widest selection of silk sarees in the entire nation. The products are primarily made in the South. Traditional silk sarees like the Kajivaram, Banarasi, Crep, and Mallaig are well known in Nalli. They are the ideal option to wear to festivals and special occasions. They come in lovely, vibrant colours and high-quality fabric.
Main Aspects
Revenue: 5000M

Price Range: Rs. 1,500 - Rs. 5,00,000

Foundation Year: 1928

Founder: Nalli Chinnasami Shetty

Types Of Sarees Offered: Kajivaram Sarees, Banarasi Sarees, Crepe Sarees,   Mallaig Sarees & more.
9. Bharatsthali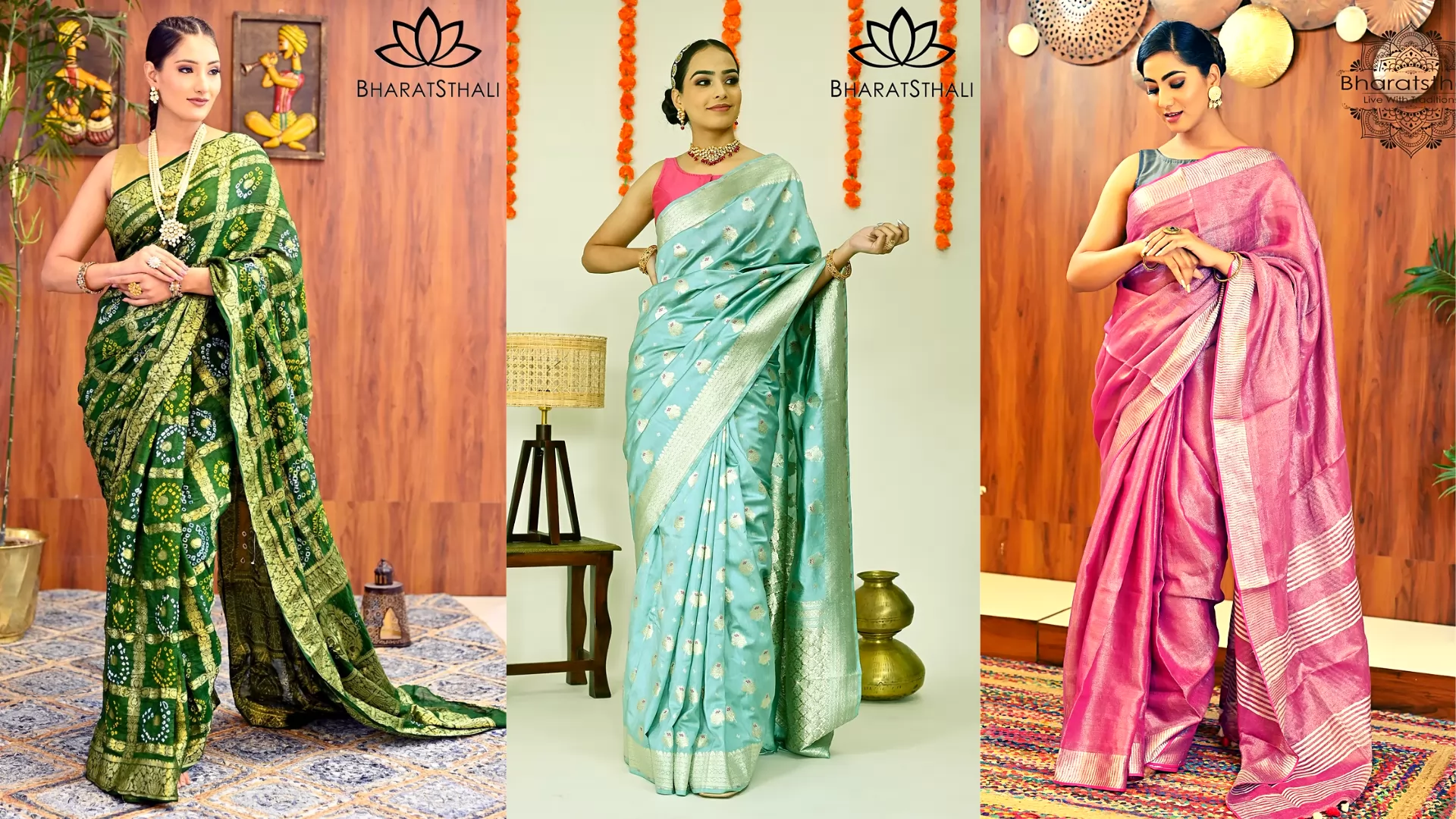 With over 25 states represented in its online store and retail showroom, BharatSthali takes its name from India's diverse cultures. Customers of BharatSthali can now purchase handloom cloth online. Sumati and Pulkit Gogna started it in 2017 intending to use it as a platform to explore and share their passion for handlooms. It is well known for its exquisite silk sarees made by regional artisans. Bharatsthali is a well-known saree brand in India because of its high calibre and reasonable prices. A massive selection of sarees, including pure kanjivaram silk, Banarasi, Kota Doria, Georgette, and Poly silk varieties are available at Bharatsthali. The assortment caters to all styling requirements and occasions.
Main Aspects
Revenue: 5M

Price Range: Rs. 2,000 - Rs. 50,000

Foundation Year: 2017

Founder: Sumati and Pulkit Gogna

Types Of Sarees Offered: Kanjivaram silk, Banarasi, Kota Doria, Georgette, Poly silk & more
10. FabIndia
The largest private marketplace for goods produced in India using age-old methods, handicrafts, and techniques is called Fabindia. Fabindia connects more than 55,000 rural artisans to contemporary urban markets, laying the groundwork for skilled, long-lasting rural employment and safeguarding India's traditional handicrafts. The goods from Fabindia are organic, handcrafted, modern, and reasonably priced. It currently has more than 250 stores, both domestically and abroad. It is a business initiative of the 1960-founded TATA group. The company offers a selection of plain georgette, net, and silk wholesale sarees. 
Main Aspects
Revenue: 7B

Price Range: Rs. 2,000 - Rs. 4,00,000

Foundation Year: 1960

Founder: John Bissell

Types Of Sarees Offered: Plain Georgette Saree, Net Saree, Silk Saree & More
11. Ritu Kumar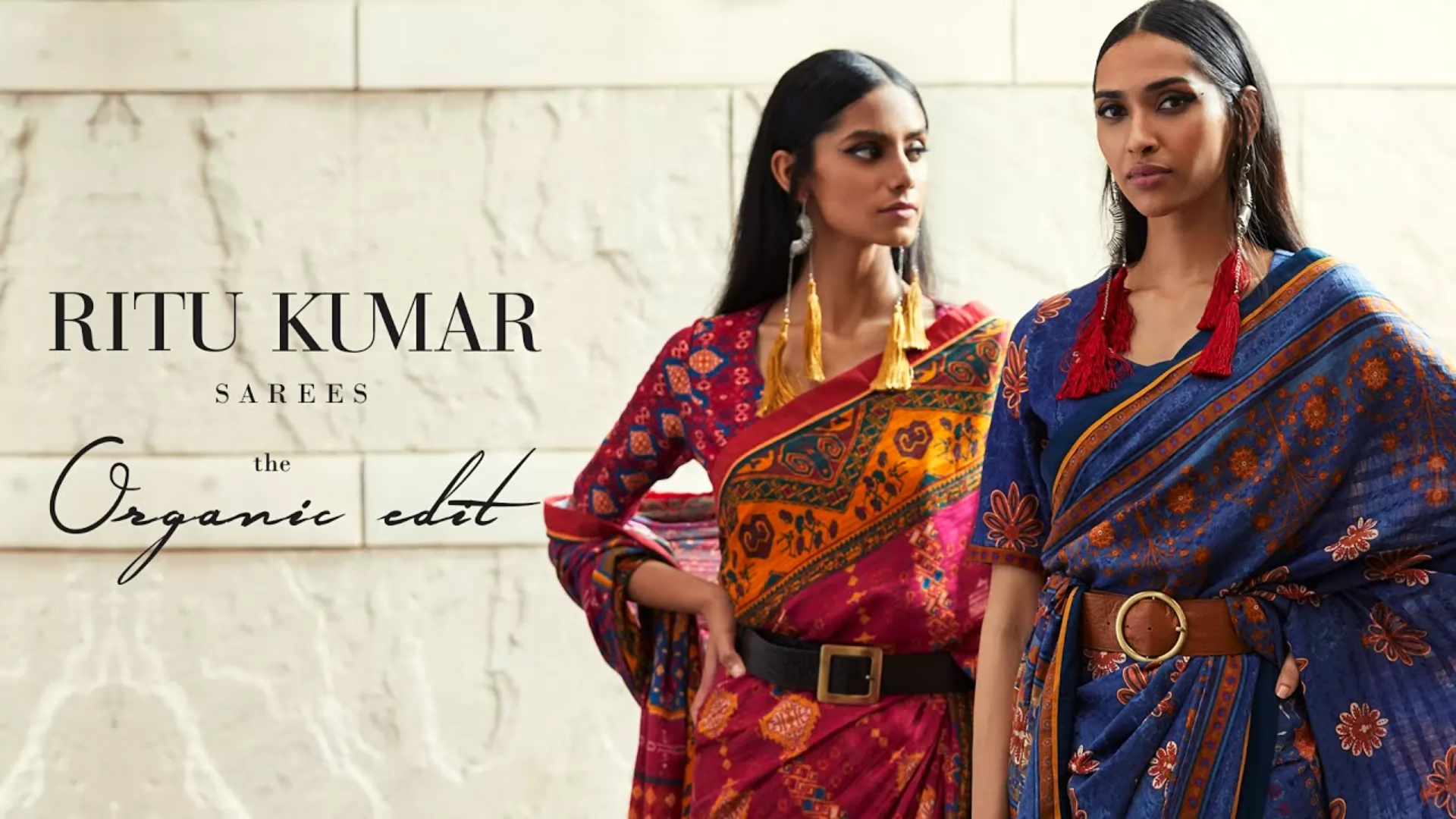 Right now, the biggest and most well-known designer clothing company in India is Ritu Kumar. Since 1969, she has evolved a distinctive aesthetic that uses a modern vocabulary to express ancient Indian artisan practices. The brand is well-known for its unique colour palette, delicate fabrics, elaborate embroidery, and wonderfully opulent Indian aesthetic. Ritu Kumar's clothing is known for its promise of comfort and elegance. 
It is especially well-liked in India because it was one of the first widely available designer brands to appear. The company draws inspiration from the rich history of Indian textiles and gives its creations a modern twist. Although the organisation now has offices in Gurgaon and Kolkata, sales are nationwide. Ritu Kumar sarees have adapted to modern social trends. They are renowned for their distinctive colour schemes and wonderfully luxurious Indian design.
Main Aspects
Revenue: 1000M- 2000M

Price Range: Rs. 19,000 - Rs. 3,25,000

Foundation Year: 1969

Founder: Ritu Kumar

Types Of Sarees Offered:  Embroidered Saree, Silk Saree, Phulkari Saree & More
12. Suta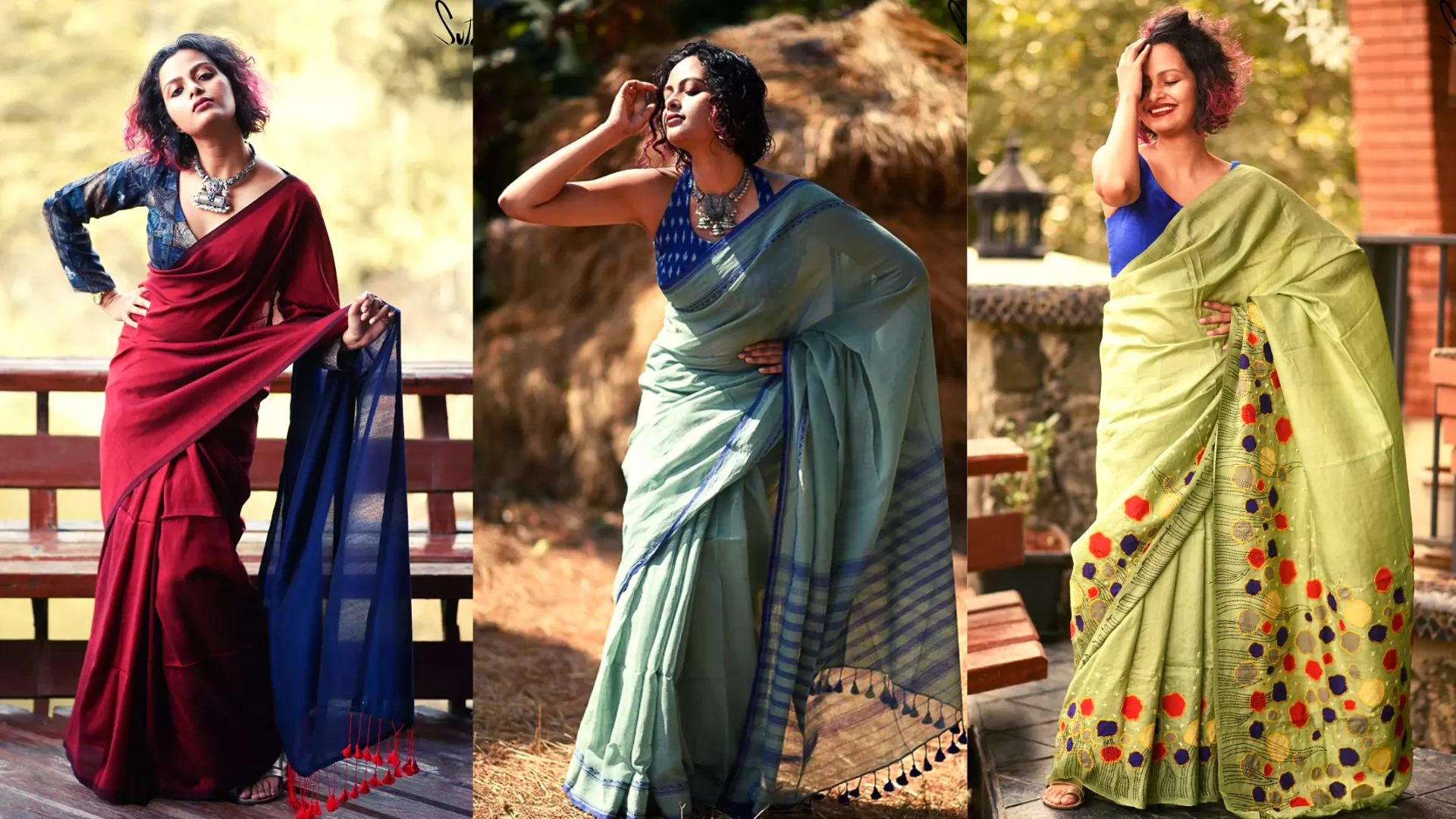 Suta is named after the fusion of the thoughts of two women, Sujata and Taniya. They started this business with the idea that "what appears beautiful may also feel wonderful." It offers a range of items that combine traditional Indian weaving techniques with modern design. It is a recent design studio that concentrates on producing clothing that combines innovation and tradition.
If you want something that is both economical, elegant and gorgeous, Suta is an excellent option. Moreover, cotton or cotton blends are used to make all of the sarees. Adolescent girls, adults, and the older can all wear these sarees because they are comfortable enough to wear all day. Suta creates delicately handcrafted concepts with subtle patterns. It includes several fresh collections with Pride Without Discrimination, Blooming Tales, and Diel Du Femme Sarees.
Main Aspects
Revenue: 25M - 30 M

Price Range: Rs. 1500 - Rs. 22,000

Foundation Year: 2016

Founder: Sujata and Taniya

Types Of Sarees Offered: Cotton Saree, Chanderi Saree, Cotton Silk Saree, Georgette Saree, Organza Saree & More
13. Anouk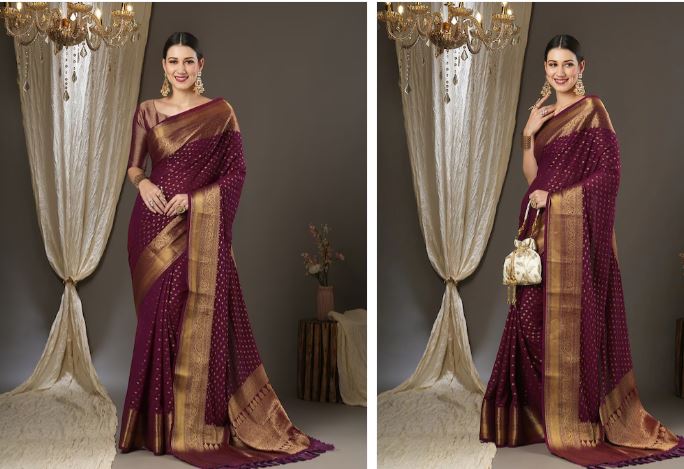 Mayank Kalantry founded this apparel brand which is based in Basel, Switzerland. Since its establishment in 2012, India's ANOUK FASHIONS has acquired a wealth of knowledge in the supplying and dealing of Ladies' fashion apparel and accessories, among other things. This brand is one of the top retailers of the mentioned products, headquartered in New Delhi.  For the most excellent products and services, buy Women's fashion clothing, fashion accessories, and more in large quantities from them. Anouk offers various sarees compatible with any occasion, whether a casual ceremony or a professional event. 
Main Aspects
Revenue: 5M

Price Range: Rs. 700 - Rs. 5,000

Foundation Year: 2012

Founder: Mayank Kalantry

Types Of Sarees Offered: Art Silk Saree, Brasso Saree, Lycra Saree, Net Saree, Chiffon Saree etc. 
14. Libas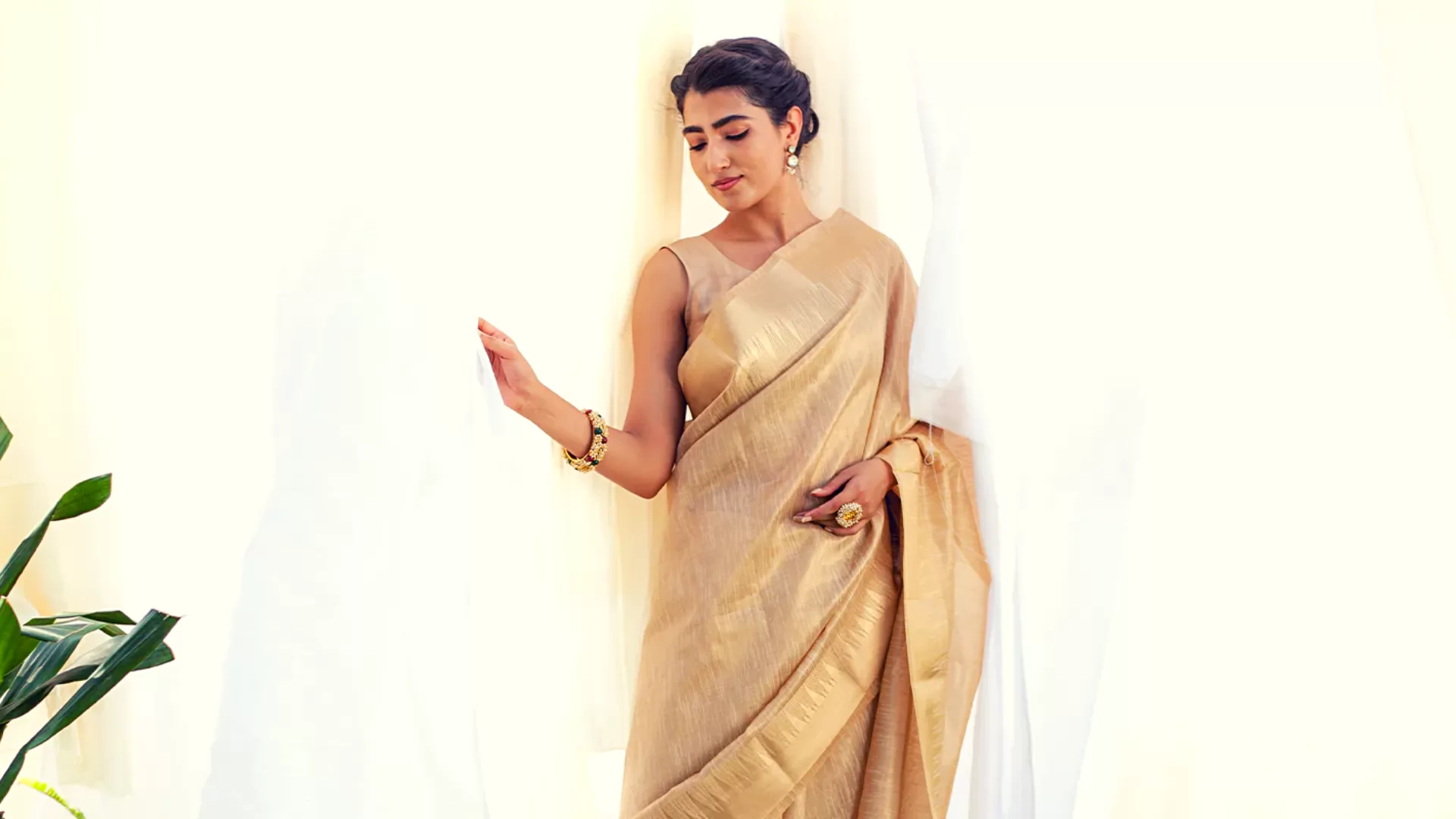 Libas is a clothing line that offers almost all ethnic trend items. It has the ideal item of clothing that every woman would need, whether it be kurtas, dresses, salwars, or sarees. They feature an outstanding selection of sarees, including elegant and casual styles. For centuries, almost all women have loved sarees, the iconic apparel of Indian culture. Libas sarees are made from various fabrics, including silk, brocade, chiffon, georgette, cotton, crepe, and linen. 
For various occasions and seasons, different textiles are suitable. For women's sarees, the Libas website additionally provides a range of themes and designs, including block prints, bandhani prints, floral embroideries, and more. Everything is available there, from vintage traditional sarees to modern ones resembling desi girls. For diverse occasions, such as parties, workplaces, and casual outings, their new saree collection offers sarees for women.
Main Aspects
Revenue: 166.8M

Price Range: Rs. 1,100 - Rs. 6,000

Foundation Year: 2005

Founder: Sidhant Keshwani

Types Of Sarees Offered: Silk Saree, Bandhani Saree, Chiffon Saree, Georgette Saree, Cotton Saree, etc. 
15. Kalanjali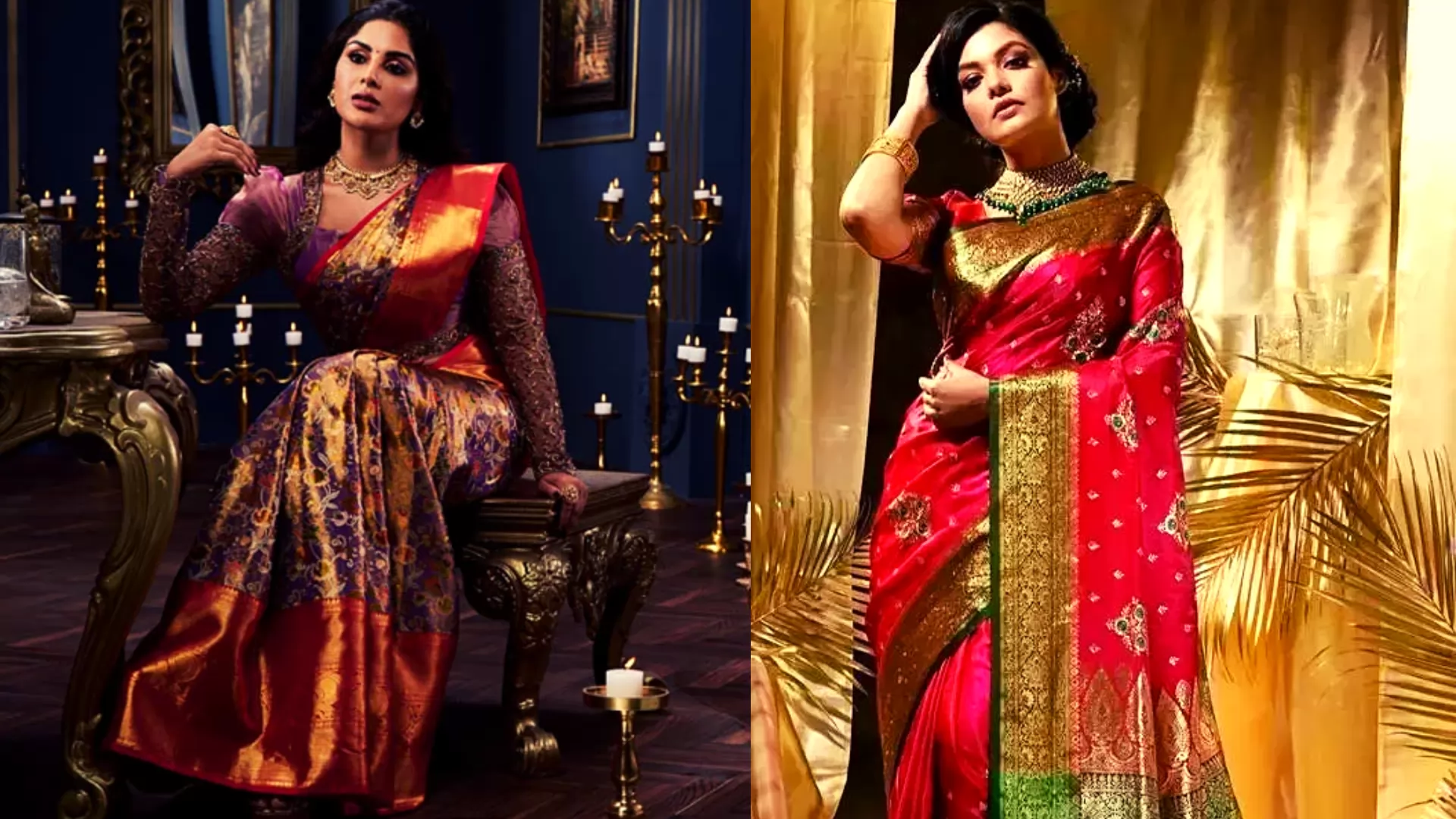 In 1992, the Ramoji group of Hyderabad introduced Kalanjali. It is the leading producer of sarees from South India. Not only in South India but also in nearly every other part of the country, this brand is well-known. In addition to the Indian market, this brand is also available in other western countries. Each Kalanjali saree is meticulously woven and available in various styles, from formal to casual. They have incredibly detailed designs that draw a lot of followers. 
If you want to purchase a silk saree for any occasion or everyday use, this brand should be on your list. Sarees by Kalanjali are created with various people and their preferences in mind. The different types of sarees include fancy, gadwall, Banarasi, kanchipattu, pochampally, mom's wardrobe, uppada, samudrika pattu, kalkriti, and Kota sarees. Skilled artisans choose each item at Kalanjali from around the nation. Indians love Kalanjali sarees because they are produced for incredibly affordable prices.
Main Aspects
Revenue: 77M

Price Range: Rs. 2400 - Rs. 1,16,000

Foundation Year: 1992

Founder: Ramoji Group

Types Of Sarees Offered: Gadwall, Banarasi, Kanchipattu, Pochampally, Mom's wardrobe, Uppada, Samudrika pattu, Kalkriti, Kota Sarees, etc
16. Jaypore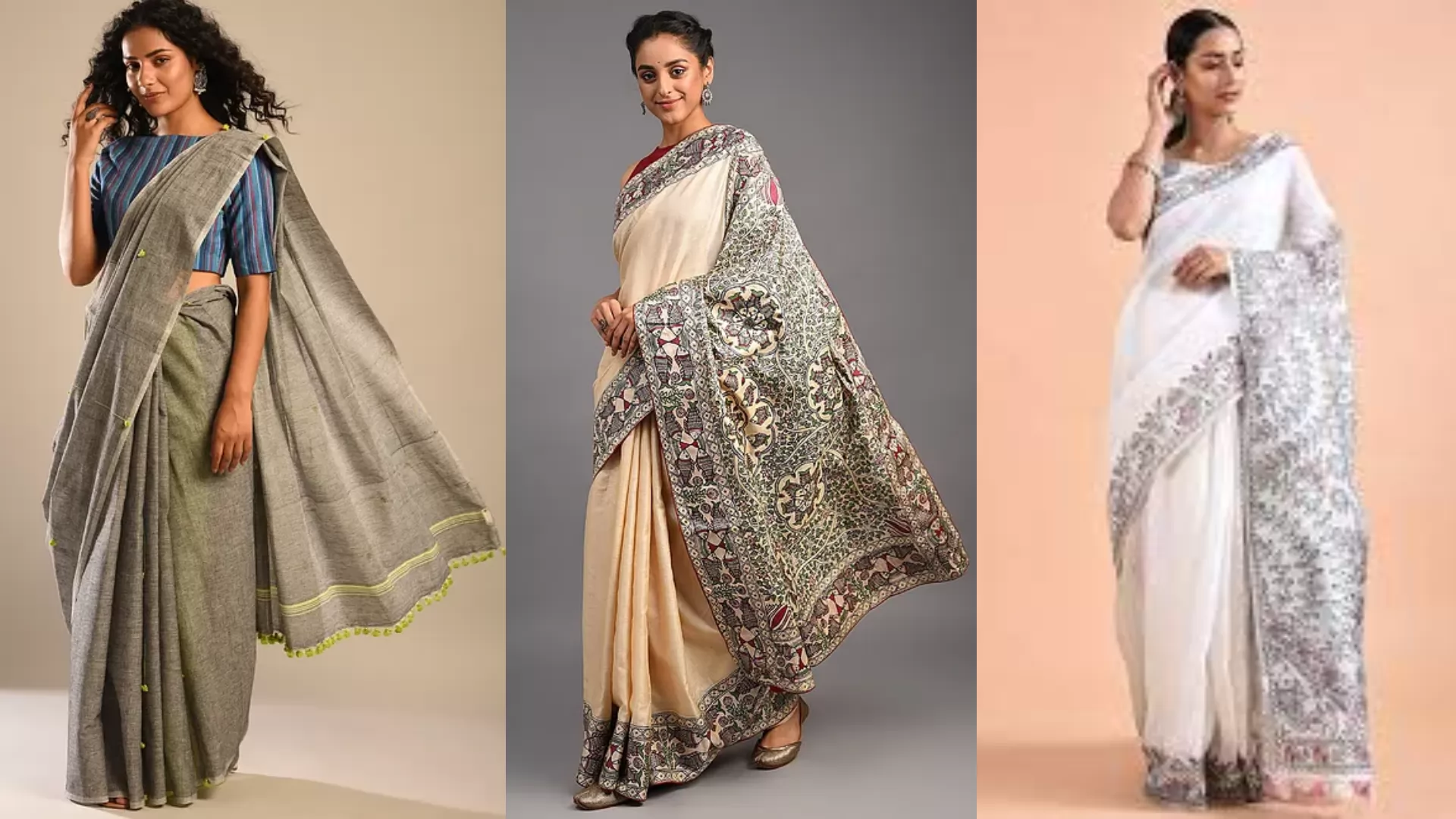 Elegant sarees are stunning and dignified and just as appealing as they are classy. These are the perfect look for bringing elegance and grace to any occasion. While complex patterns and colours provide life and depth, layers and folds create dimension. Jaypore consistently strives to incorporate this throughout its products. 
Whether you're looking for a casual style for a house party or a stunning one for a formal event, Jaypore sarees are unlike most you've ever seen. Here, you can find sarees in a specific genre that are woven, printed, embroidered, and other styles. You can find sarees here in various types and patterns, whether you want to purchase one made of silk, cotton, or synthetic fabric. If you want a saree that is trendy, ethnic, and comfy as well, this brand is an attractive option.
Main Aspects
Revenue: 1M

Price Range: Rs. 20,500 - Rs. 90,000

Foundation Year: 2012

Founder: Shilpa Sharma

Types Of Sarees Offered: Woven Saree, Printed Saree, Embroidered Saree, Silk Saree, Cotton Saree, Synthetic Saree etc. 
17. Kalamandir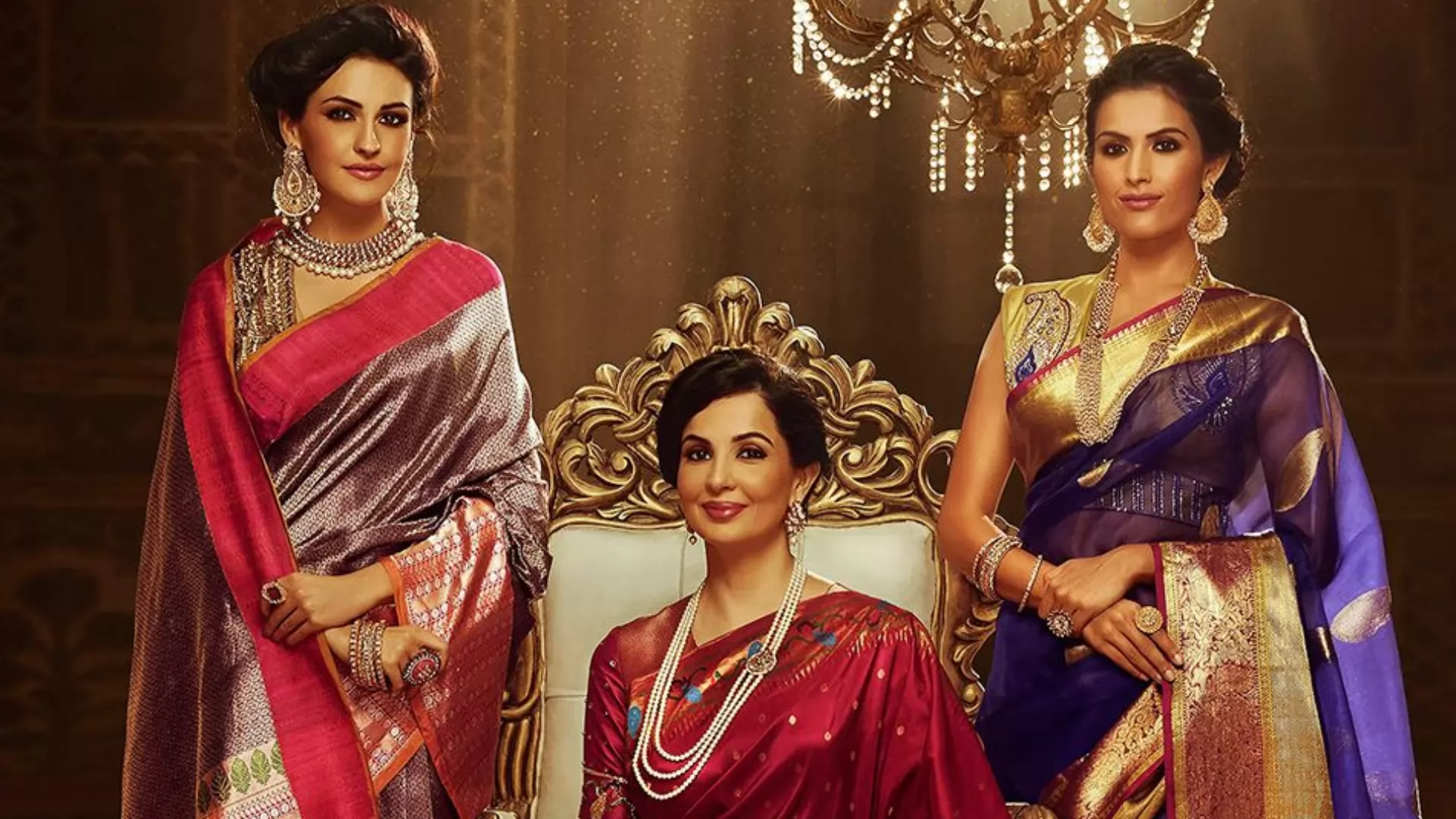 Traditional clothes are the speciality of the saree brand Kalamandir. It offers a vast selection of historically beautiful and elegant sarees to fit all your important occasions and customary celebrations. It provides a wide variety of magnificent zari-adorned sarees with broad borders that give you a classic, refined appearance. One of India's best saree brands offers sarees in various fashions. 
Their unique quality is that these sarees are made using traditional methods. They modernise the sarees while preserving ancient art. With classic themes and patterns, they offer some of the best-woven sarees. The centre of ethnic fashion, Kalamandir, features fashionable attire. With their fantastic selection of hand-woven sarees, you can give your ethnic clothing a delicate touch of luxury. Various sarees, including Kanchipuram, Banarasi, Chanderi, Linen, Kora, and Silk sarees, are available here.
Main Aspects
Revenue: 5B

Price Range: Rs. 699 - Rs. 5,400

Foundation Year: 2005

Founder: Prasad Chalavadi

Types Of Sarees Offered: Kanchipuram, Banarasi, Chanderi, Linen, Kora, Silk Sarees, etc.
18. Bombay Selection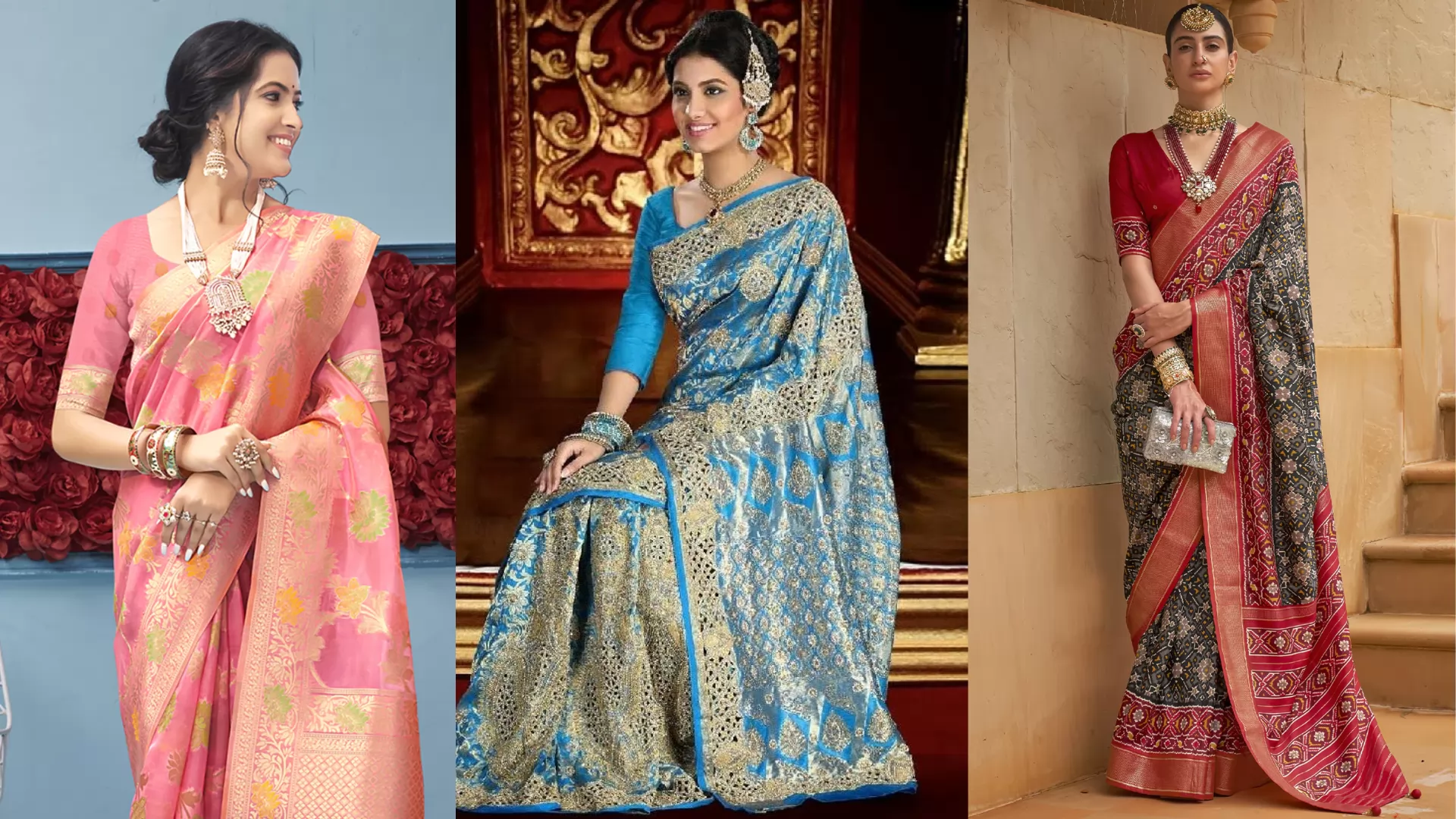 Ashok Chadha, Sushil Chadha, Raj Kumar Chadha, Kamal Kumar Chadha, and Digamber founded the brand "Bombay Selection" in the year 1993. The brand is headquartered in New Delhi, India. The brand has a lovely selection of sarees. It has shops nationwide and offers stylish sarees for any occasion. Every saree is available in the Bombay collection for practically any occasion. Also, their offline businesses sell lovely sarees. Bombay Selections Private Limited's operating income ranges from INR 1 to 100 crore.
Main Aspects
Revenue: 10M - 1B

Price Range: Rs. 2,600 - Rs. 6,200

Foundation Year: 2012

Founder: Ashok Chadha, Sushil Chadha, Raj Kumar Chadha, Kamal Kumar Chadha, Digamber 

Types Of Sarees Offered: Chiffon, Embroidered, Net, Cotton, Georgette Saree, etc. 
19. Desi Butik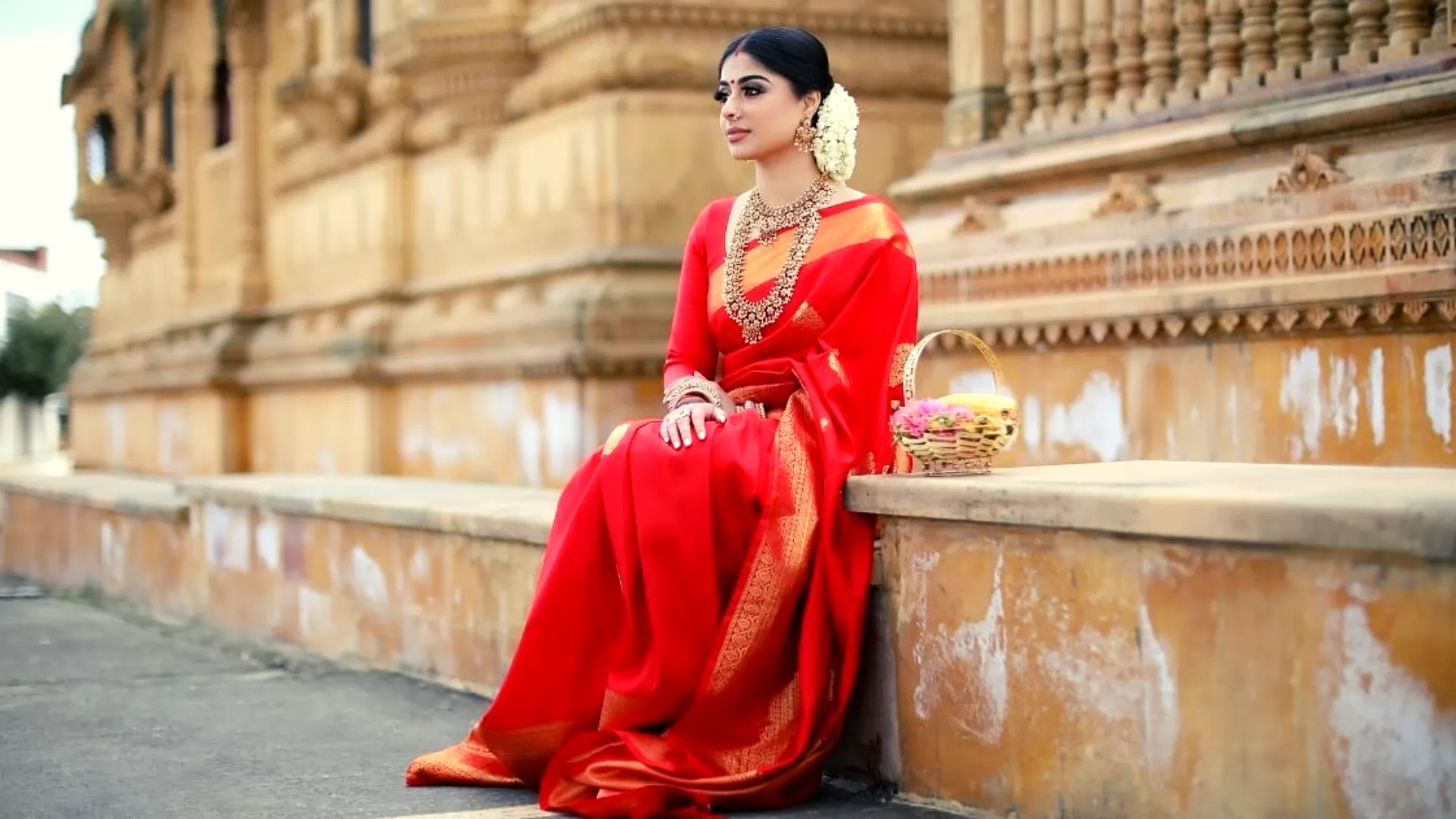 Desi Butik was founded in Surat as an attempt to popularise casual Indian clothing worldwide. With thousands of committed clients, it has grown to be one of the most well-known ethnic fashion businesses in India today. The business has its headquarters in Nanpura, Surat, and conducts internet business across India. Gujarat is the source of these meticulously chosen Desi Butik sarees.
The sarees combine comfort and refinement.  The artisans and weavers who create Desi Butik sarees use age-old workmanship methods. The best ethnic clothing from the Indian subcontinent is incorporated in Desi Butik sarees. Their meticulously curated online clothes collection includes products from Gujarat's most remote regions.
Main Aspects
Revenue: 5M 

Price Range: Rs. 275 - Rs. 12,000

Foundation Year: 2012

Founder: Nainish Shah

Types Of Sarees Offered: Embroidered Sarees, Designer Sarees, Sequence Saree, Ready Pleated Sarees, Plain Saree, Printed Saree, Ruffled Sarees, etc.
20. Bahuji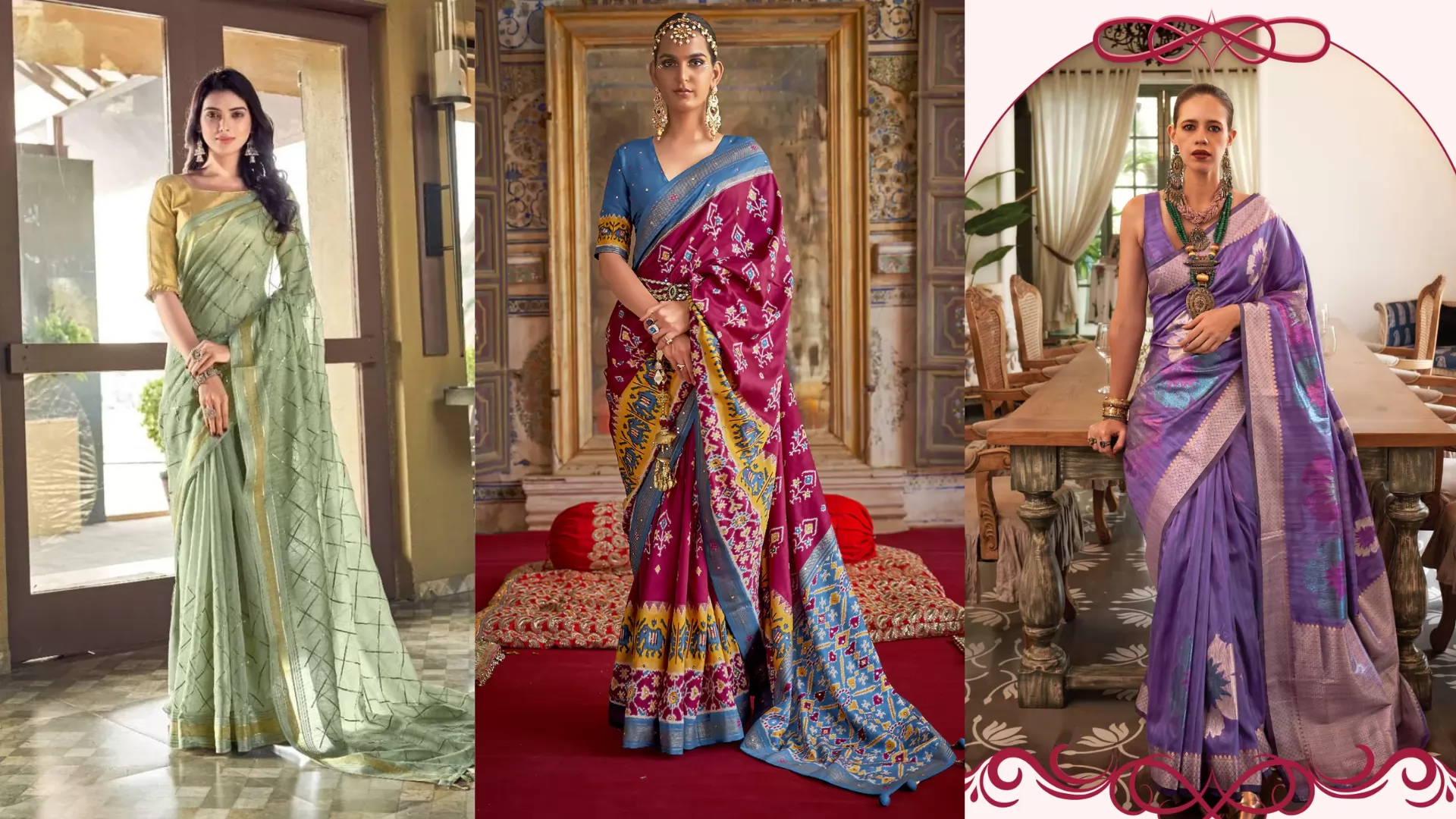 Bahuji offers a wide selection of high-quality sarees. Bahuji launched an online/e-commerce store in 2012. Then they started using highly advanced technologies and moving forward in the technological realm. To give their customers the highest quality products possible, they started production. They began offering many kinds of sarees online, including printed silk, Kanjivaram, Jacquards, Kanchipuram, Reshmi, Banglorian silk, and Banarasi sarees. Nowadays, women make up about 75% of their workplace. Also, all tasks, like packaging, accounting, managing goods, inspecting quality, etc., are carried out by women.
Main Aspects
Revenue: Rs. 50 Lakhs 

Price Range: Rs. 1,700 - Rs. 8,000

Foundation Year: 2012

Founder: Karshandas Patel 

Types Of Sarees Offered: Silk, Kanjivaram, Jacquards, Kanchipuram, Reshmi, Banglorian silk, Banarasi Sarees, etc.
21. Glory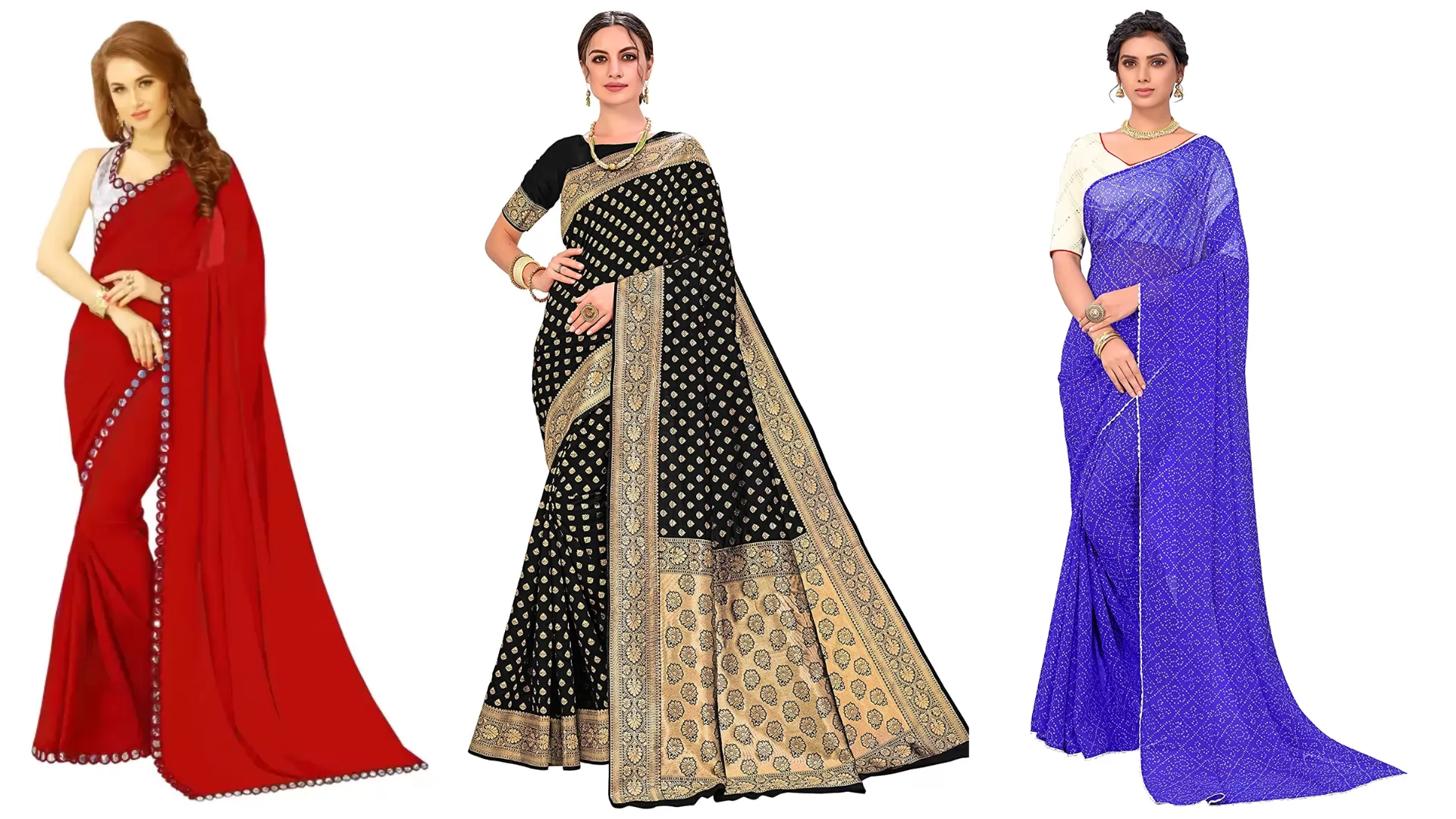 Glory Sarees, a leading manufacturer of a variety of ladies' silk sarees and ladies' georgette sarees, was founded as a partnership venture in 2012. They have built a sizable and influential infrastructural unit in Surat, Gujarat, India, which is crucial to their business development. 
They supply these goods within the specified time range and charge fair prices. One of the most popular saree brands on Amazon is Glory. It sells everything from silk sarees and dupattas to kurtis, and printed, ruffle, and embroidered sarees. The company produces sarees at a competitive price, dramatically increasing its popularity with customers.
Main Aspects
Revenue: Rs. 50 - 100M 

Price Range: Rs. 259 - Rs. 779

Foundation Year: 2012

Types Of Sarees Offered: silk, Ruffle, Georgette, Chiffon, Embroidered etc.
22. Panash Trends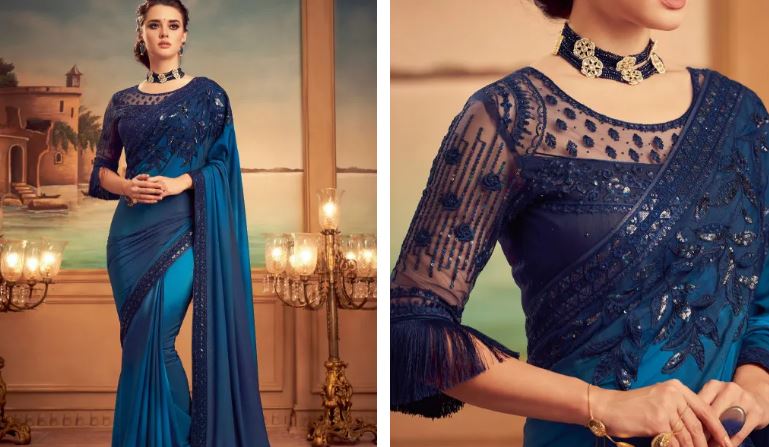 Panash Trends was established in the year 2012 by Ashish & Shikha Jain. It is headquartered in Jaipur, India. Panash has become one of the top online brands of women's ethnic clothing. The brand has established itself as the go-to brand for people looking for Indian ethnic wear because of its strong presence at all major retailers. Panash India has a varied selection of the latest and trendy  sarees, including well-known and traditional sarees from various parts of India. 
Their online inventory of Indian sarees includes the best solutions for ladies of all ages and preferences, meeting multiple demands and wants. You will find captivating designs, exceptional fabrics, and vibrant colours in their ready-made Indian saree blouse selection, which ranges from the most aesthetically pleasant and appealing traditional Indian sarees to fancy sarees, modern sarees, and Indian designer sarees.
Main Aspects
Revenue: 2M - 5M

Price Range: Rs. 13,00 - Rs. 98,500

Foundation Year: 2012

Founder: Ashish & Shikha Jain

Types Of Sarees Offered: Ruffle, Printed, Lehanga Style, Asymmetric, Georgette, Banarasi Silk, etc. 
23. Mirraw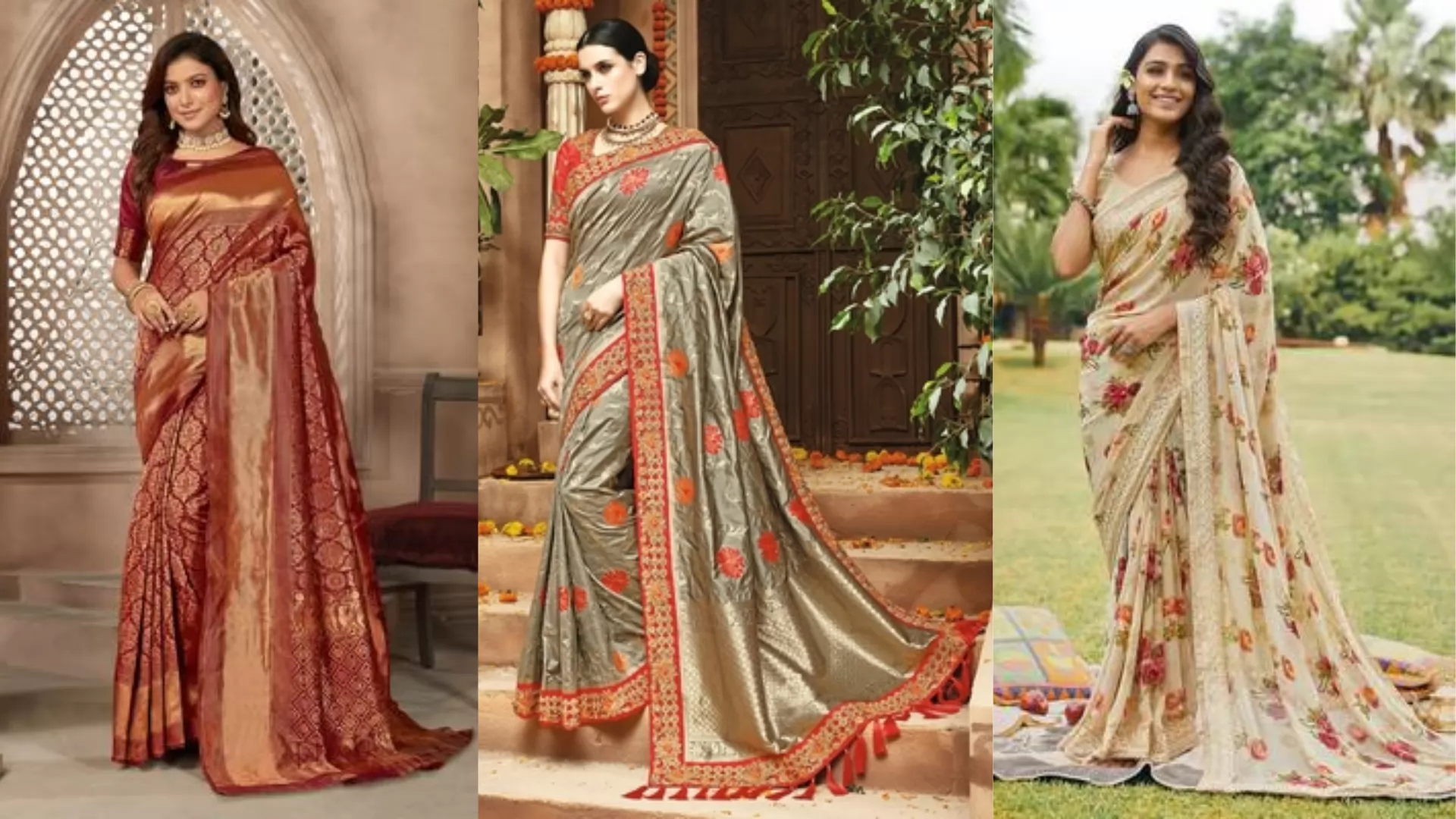 Established by Shailesh Jain and Anup Nair in 2011, Mirraw products make their customers look fantastic and have an enthusiastic following in India, the US, and Europe. Mirraw is the only company representing all uniquely Indian, showcasing India globally. Mirraw is very interested in ethnic clothing and hopes to rule this market in the upcoming years. Their goal is to deliver the best ethnic designs from around the world to your door, and they have more than 1 lac listed products and 3 million clients globally. 
Main Aspects
Revenue: 15M - 25M

Price Range: Rs. 420 - Rs. 2,10,000

Foundation Year: 2011

Founder: Shailesh Jain & Anup Nair 

Types Of Sarees Offered: Banarasi, Organza, Handloom, Kanchipuram, Bandhani, Chickenkari, Kasavu, etc.
24. Deepam Silks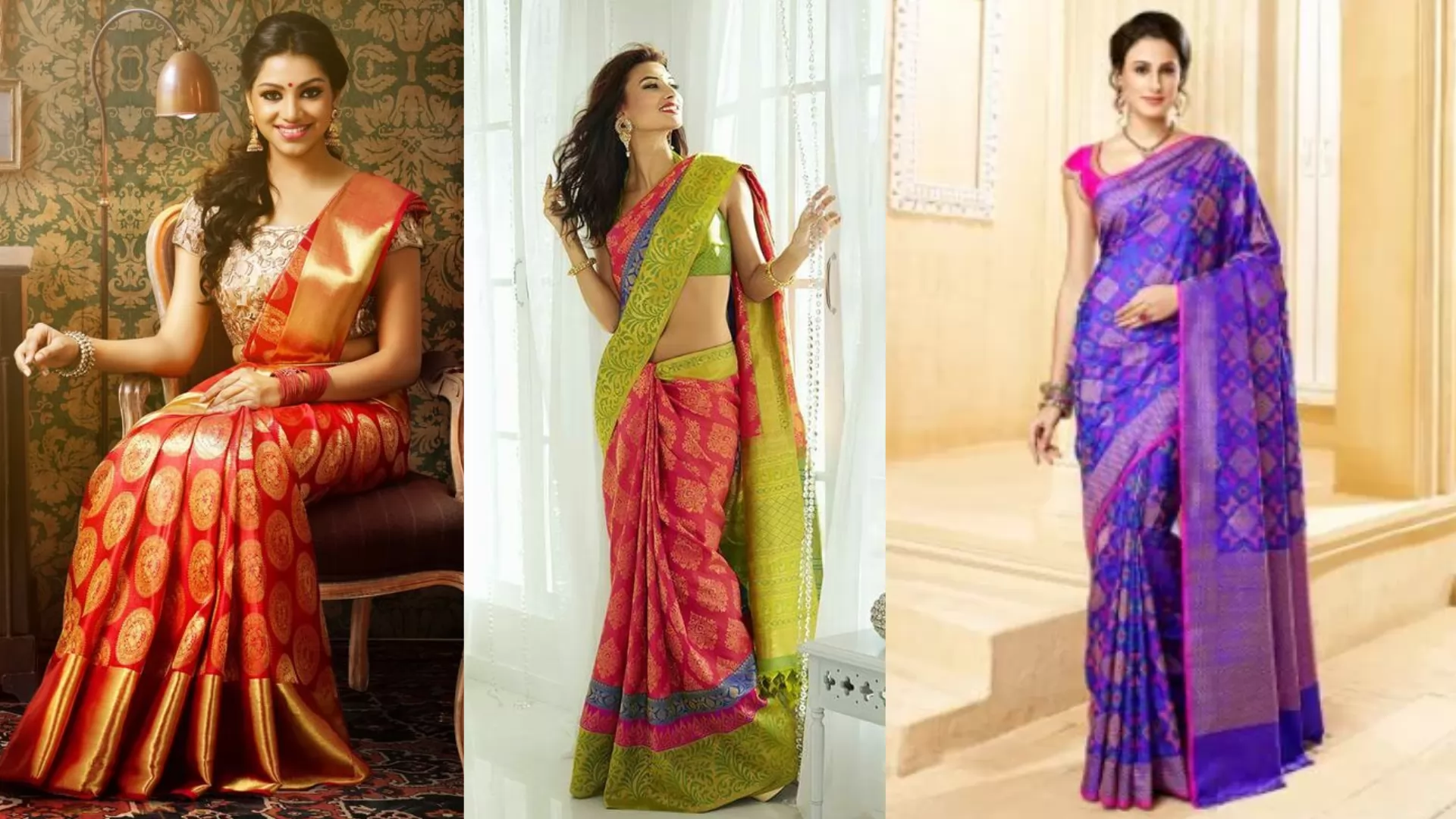 With an extensive online selection of the best soft silk sarees and kanjivaram silk sarees, Deepam Silks has a 50-year history. Brand Deepam, founded in 1972, is known for its "Celebrations in Silk" products. They consider choosing a saree as pure art. Your heart will be captured by their carefully curated selection of sarees from the heart of India. Each weave, from pure Kanchi to exquisite Banarasi, is as distinctive as you are. Their specialisation is ethnic wear collections with exquisite craftsmanship and striking colour schemes. They enable 2000 extremely talented weavers.
Main Aspects
Revenue: 1M

Price Range: Rs. 240 - Rs. 40,000

Foundation Year: 1978

Founder: Mr M. Chandrasekhar and Mr M. Vijaysekhar 

Types Of Sarees Offered: Banarasi, Organza, Kanchipuram, Soft Silk, Mysore Silk, Cotton Silk, Banarasi Georgette, etc. 
25. Zari Banaras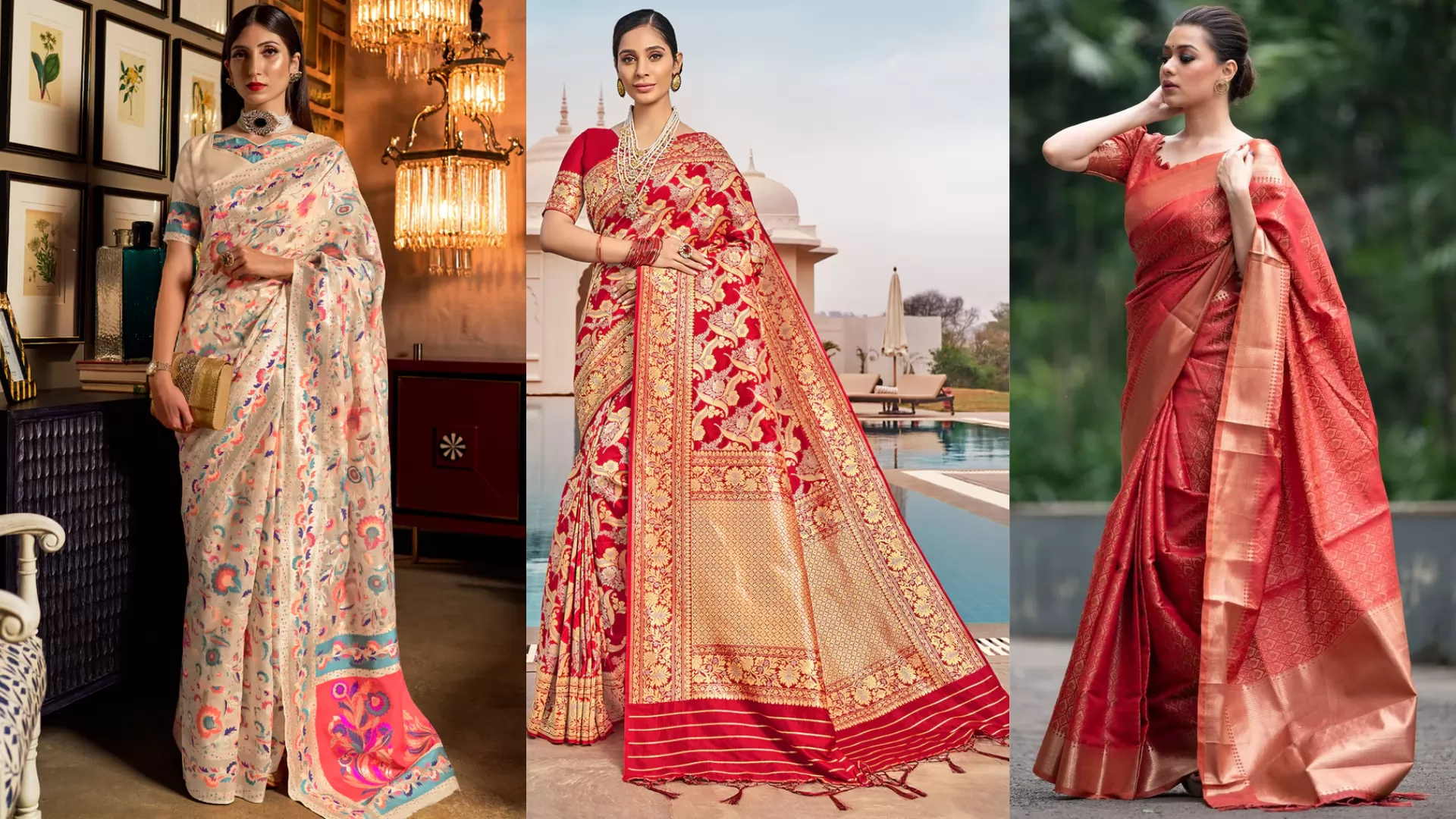 Zari Banaras preserve the highest degree of craftsmanship in modern woven textiles from Banaras. Zari Banaras presents the most reputable e-commerce website with the highest degree of technological and aesthetic brilliance and pays homage to the traditions of Indian classicism and the push to promote Made-in-India. The website's collection of woven sarees finally finds inspiration in the "cloths of gold" weaving process. 
Products from Zari Banaras are distinctive and imitate historical textiles, but they do not precisely replicate particular originals. Their goal is to produce high-quality goods at reasonable costs, and their dedicated crew provides on-time deliveries with quality assurance to worldwide standards. A woman's beauty would be enhanced by their exquisitely woven banarasi sarees with shimmering zari (metal thread). 
Main Aspects
Price Range: Rs. 14,500 - Rs. 17,500

Founder: Saurabh Shah

Types Of Sarees Offered: Banarasi, Kanchipuram, Kashmiri Jamewar, Khadi Georgette, Paithani, Patola, Embroidered, etc. 
Types Of Sarees
Saree adds traditional values to every occasion and makes the woman show her graceful side to the world. If draped well, a saree makes you look more beautiful and charming. Indian culture is rich in traditional practices and regional attire. Saree is accustomed to every religion and is part of almost every culture in India.
The type and style of saree change with every region in the country. There are many types of sarees in India, and the best silk saree brands in India are popular in many different parts of the country. Some of the famous types of sarees in India are:
Kanjeevaram silk is a saree basically from a small town Kanchipuram in Tamil Nadu. It is a very famous type of saree and is adored by women all over the country. It is a beautiful traditional silk saree and is majorly worn on formal occasions. These types of sarees are relatively heavy and elaborate.
Banarasi silk is another famous type of silk that has immense popularity in the country. These are beautiful and elegant. They are from Varanasi but have a customer base from all the nation. These sarees are famous for their brocade and zari and are some of the finest silk to be worn by the women of India.
Kantha sarees are from Bolpur, West Bengal. They are in cotton and silk. They are beautifully embroidered sarees and can be worn on any occasion. They are one of the most loved sarees in the country. It is a masterpiece of the finest craftsmanship.
Bandhani saree is a famous type of saree from Gujarat. They are beautifully patterned saree and are light in weight. They can be worn and used on casual occasions and can be common workwear for women. These sarees are made by tying the cloth and dyeing it in a pattern to form beautiful designs.
Sambalpuri saree is from Odisha and is a beautiful piece of fabric also created by tie-dye technique. These sarees are beautifully patterned and can be worn on formal occasions and official parties.
Chanderi silk is a beautiful light fabric from Chanderi, MP. It is a beautiful saree that is elegant and highly sophisticated. They make one look graceful and can be worn on any occasion, depending on their design. They can be in cotton also, that are as elegant as the chanderi silk sarees.
Tips To Take Care Of Delicate And Costly Sarees
Sarees hold a special place in your heart. It is well-known that a woman loves her saree and associates each with a special memory attached to it. You may have a stack of different sarees- some silk, some cotton, some designer. And when it is a near and dear one that is too costly, you take extra care to keep it just like it was the first day.
Here are some tips to take care of your delicate and costly sarees to give them a long life.
Always Dry Clean Delicate Sarees
It is advisable to get your delicate sarees dry cleaned regularly after wearing them. You can also get the fabric conditioned with a good quality fabric conditioner. That will increase the life of the material and will avoid any mishappening. Dry cleaner takes excellent care while cleaning your delicate sarees. They use non-harsh chemicals to get the fabric cleaned. Choose those dry cleaning methods only that are fabric friendly.
Do not ignore the importance of fabric care, especially when the saree is costly and of delicate material. Raw silk, Chanderi silk, Pashmina are soft clothes that should be worn with great care. Look for clean and clear spots to sit and move when you wear a costly or embroidered saree. Also, look for unleveled surfaces where there are chances of your sarees' threads getting tangled. Be extra cautious with delicate sarees.
Store your delicate fabrics in a better and acting manner. Use storage pouches or satin clothes to clever your designer delicate sarees and then put them in plastic bags and a good storage box. You can also use naphthalene balls that will keep away the moths and insects from damaging your saree fabric.
Saree fabrics like silk are highly satin sensitive. They can absorb oil quickly ad get the fabric stained for a long time. Avoid getting any food and oil stains on your delicate sarees. These stains are often stubborn and take a lot of time and effort to fade away; in some cases, they can alter the texture of the saree's fabric or colour. So be strictly alert and attentive while doing any activity wearing a costly and delicate saree. 
Clean Stains Immediately, If Any
If, in any unforeseen event, you do get a stain on your saree fabric, immediately clean it or get the saree dry cleaned as soon as possible. If the stains get old, getting them off gets more challenging. The stains on raw fabrics are highly pigmented and stubborn. They do not get away quickly. They need good quality and powerful stain remover. 
Get Them Ironed From A Professional
Do not attempt to iron your delicate saree at home if you do not know the nuances of ironing. Get it done by a professional only. They know what temperature will work on what type of fabric. Do not try getting things done on your own, or you may end up damaging or burning your costly saree.
So keep these essential points in mind when you think of buying a delicate saree and wishing for its long life.
Best Summer Sarees
Summers bring in the much-needed freshness after the gloomy winter season. People ditch their warm clothes to step out in bright summer hues to feel the day and have fun outside. Also, you look for your summer sarees to grace the event for formal occasions.
The different summer sarees that you can choose and wear in summers are:
Chiffon Sarees
Chiffon sarees are lightweight and easy to manage fabric sarees. These are pretty and flowy for summers and keep you airy for long. Saree in itself requires draping and styling, which may cause it not so comfortable to wear for long. So the fabric should be lightweight and breathable. Chiffon sarees serve the purpose for the same.
Cotton Sarees
Cotton sarees are light and sweat resistant. They are soft on the skin and rash free. Saree is draped for long hours, and in humid conditions, they may tend to cause rashes and skin irritations. They can be worn daily and are easy to maintain. There are a variety of cotton sarees available in the market. Cotton sarees are a trendy choice in summers.
Handloom Sarees
Handloom sarees are not only natural but are also beautifully patterned and designed. They can grace every occasion and are good on the skin. Handloom sarees are best for summers as they are in variety and beauty. They are made of a blend of natural fabrics.
Let's see some winter saree options.
Best Winter Sarees
Winter is a season that gives you the option to dress gracefully draped in long yards of formal sarees. These sarees help us look beautiful and take care of us from the harsh winter season. Some of the winter-friendly fabrics for sarees are:
Silk Sarees
Silk is a beautiful fabric for sarees, from Kanjeevaram silk to Raw silk. There are exuberant varieties of silk available for you to choose from when buying silk sarees. They are often soft to touch and keep you warm for a long. Some of the heavy silks are crease-free, too, to make you look gorgeous for the special evening.
Velvet Sarees
Velvet is a thick fabric. It is cosy in winter and soft to touch. Velvet sarees are snug in the body and help you stay warm for long hours. Often velvet sarees are available in trendy designs that can be complemented with long coats and blazers. So you can quickly wear them on official and formal events in winter.
Heavily Embroidered Sarees
Winter also witnesses many wedding occasions and different types of festivities. Heavy embroidered sarees not only grace the event but also keep you warm on long winter nights. You can easily choose them over other designer sarees to ace the look and keep harsh cold waves away from you.
How To Choose The Most Suitable Saree For You?   
Saree is an elegant attire and is much loved all over the world. You generally buy a saree for some specific occasion or dress up differently and stand apart. You must understand and know how to choose the right saree to look your best for the occasion. You can select the rit saree for you by considering the following factors:
Sometimes, you may notice that some fabrics work on you and some don't. You need to find a suitable material, which makes the work half done. The right kind of fabric lets you look your best. Various fabrics are there to choose from, like cotton, raw silk, Tissue Silk, Khadi, etc.
Different fabrics style you the best. Cotton, for intense, gives a fuller look, and satin and net drapes according to your body type. The style of the saree and the way it is worn helps you decide which mill makes you look the best.
One of the most relevant factors to consider while choosing the right saree for you is the occasion. Some occasions demand subtle and undertone sarees, and some require you to dress up and show up. So the event is the most prominent factor in choosing the correct saree and its type for you.
The colours and patterns of the saree determine if that will look good on you or not. Some vibrant colors look good on some, and subtle colours suit others. With age, the choice of colours changes, and the right colour also differs. The prints and patterns on the saree also help you choose the best one for you.
You can keep in mind all these factors before going to your traditional parties and events the next time. Read on if you wish to know where you can buy your nest gorgeous saree.
Places To Buy Beautiful Indian Saree - Best Saree Market In India
The best sarees are often famous from where they originated. We usually name our favourite saree types on the name of the place it belongs to. That is the relevance of place of origin in Indian culture. Saree has the essence of the place it belongs to. Being a traditional Indian attire, it is rich in culture and authentic to its origin. There are many famous and popular saree markets in India. Whenever people go there, they buy a saree or two for themselves. 
Benaras
Benaras is famous for its silk, and there are antique saree shops and markets in Varanasi that have a name and brand value of their own. People come from around the world to Varanasi because of its pilgrimage essence and for its sarees. Thatheri Bazar, Godowlia Market, Lahurabir, are some of the famous markets in Benaras for sarees.
Kerala
Kerala silk is highly famous, as Kerala is a hub of silk and handloom sarees. The famous Kasavu sarees from Kerala with cream colour fabric and the golden border are famous within Kerala and have a more global reach. Celebrities - India as well as internationally boastfully wear this saree and showcase their love for the Indian tradition. There are famous handloom shops in Kochi, Calicut, Trivandrum in Kerala to buy the best Kerala silk.
Tamil Nadu
The Kanchipuram or Kanjeevaram sarees are from Kanchipuram, Tamil nadu. They are highly famous in Chennai, and if you plan to buy yourself some authentic traditional silk, you can buy them and enrich your wardrobe with some high-end silk sarees to make all your occasions rich and elegant. The next time you have a trip to Tamil Nadu, don't forget to go to Kanchipuram for some pure and traditional silk.
Gujarat
Gujarati bandhani sarees are world-famous. Saree lovers from all over the world come to Gujarat to buy the authentic Gujarati Chaniya Cholis, and Bandhini patterned sarees. Some of the best sarees in Gujarat can be bought from Gandhinagar and Ahmedabad. Sindhi Market, Rani No Hajiro, Dhalgarwad Market are some of the famous markets in Ahmedabad and Gujarat from where you can buy some authentic Gujarati sarees.
Rajasthan
All love Kota silk. Kota silk originated in Rajasthan, has its essence and relevance of the traditional Rajasthan. Leheriya Sarees and especially bandhej can be brought from Jaipur in Rajasthan. There are various conventional markets and shops in Jaipur full of traditional Rajasthani prints and authentic traditional sarees. Johari Bazar in Rajasthan, though famous for jewellery also has a beautiful collection of sarees. Udaipur is also a hub for traditional Rajasthani sarees. Next time you visit the place, buy yourself some elegant sarees from these areas.
Lucknow
The famous chikankari from Lucknow is close to many saree lovers' hearts. They are simple thread work that looks elegant and sober and makes you look graceful. Lalbagh in Lucknow has some authentic saree collections. You can also grab some significant collections from Hazratganj and Gomti Nagar in Lucknow.
India is vibrant, and so are its cities. Do not forget to collect some great sarees from these places to enrich your wardrobe.
Different Styles To Drape A Saree
No matter how beautiful a saree may be, it needs to be draped gracefully according to your body type and contour to look beautiful and elegant. Even the most beautiful and expensive saree can make you look dull or not your best if not draped correctly.
Let us see how you can look your best with different styles of draping a saree. Different styles of draping a Saree
Open pallu saree is a typical style carried by women at parties and formal occasions. In this style, the saree's pallu is left open, and it is flowy in the air. If the saree is heavy, the loose pallu looks more elegant. This style is often adorned in heavy border-style sarees and those sarees that have decorated pallus.
Side pinned pallu style is usually created when you are in a formal official party. These are more prim and proper style of dressing and give you a formal attire look. This style is more easy to carry and very comfortable. Usually cotton sarees are draped in this style.
Gujarati style saree has the pallu in front, instead of back. They are a common style in the state of Gujarat and are popular in other parts of the country too. Women find it easy and comfortable.
Bengali style saree draping is quite interesting and looks elegant. This style has no pleats and is more like draped fabric. They make you look gorgeous and give a highly traditional look. Even the pallu  styling is different with this type of draping. The pallu  comes from the back in front, after covering the front wholly.
Conclusion
So, this was all about the best saree brands in India 2023. I hope you have got all information reagrding the same. We have tried providing you with every minor detail. However, if you still have any queries regarding this article, feel free to ask us in our our comment section and we will try to resolve your queries as soon as possible. 
Frequently Asked Questions
Q. Which brand of saree is best?
A. India has many saree brands. Among all, some of the best brands are Nalli Silk, Satya Paul, Kalamandir, etc.
Q. Which is the best silk saree?
A. Kanjeevaram and Banarasi silk sarees are among the best silk sarees.
Q.Which saree is famous in India?
A. India is famous for silk from different states- Banarasi Silk, Kanjeevaram Silk, Chanderi Silk. Also, India has a rich collection of handloom sarees.
Q.Which silk is the costliest?
A. Mulberry Silk is one of the luxurious types of silk.

Join Telegram Channel & Get Instant Deal Alert

75,062+

participants