233 days ago
20 Best Artificial Jewellery Brands in India
Jewellery is not just a fashion for women, it is deeply rooted in Indian culture and tradition. Due to the advancement and modern culture, the importance of gold and silver jewellery has declined, and women prefer buying artificial jewellery from Best Artificial Jewellery Brands in India. 
They are in demand due to their beautiful creativity and cost affordability. Women are aware of how to blend the tradition of ornamenting their beauty with a modern style. Today's world is driven by dynamic women who know how to carry themselves with style and confidence. Artificial jewellery never compromises aesthetics.
Modern fashion ornaments replicate the designs of gold and silver jewellery and the price is almost a fraction of them. Therefore, many teenage girls and young women prefer to buy artificial jewellery in India on any occasion.
So, we have shortlisted the 20 best artificial jewellery brands on the basis of their top-selling products with their price. Also, we have mentioned our top picks from where you can opt for the best.
To know about the top brands of artificial jewellery in India, keep reading! 
Want to know about Websites to Buy Gold Jewellery, you can get all the information here.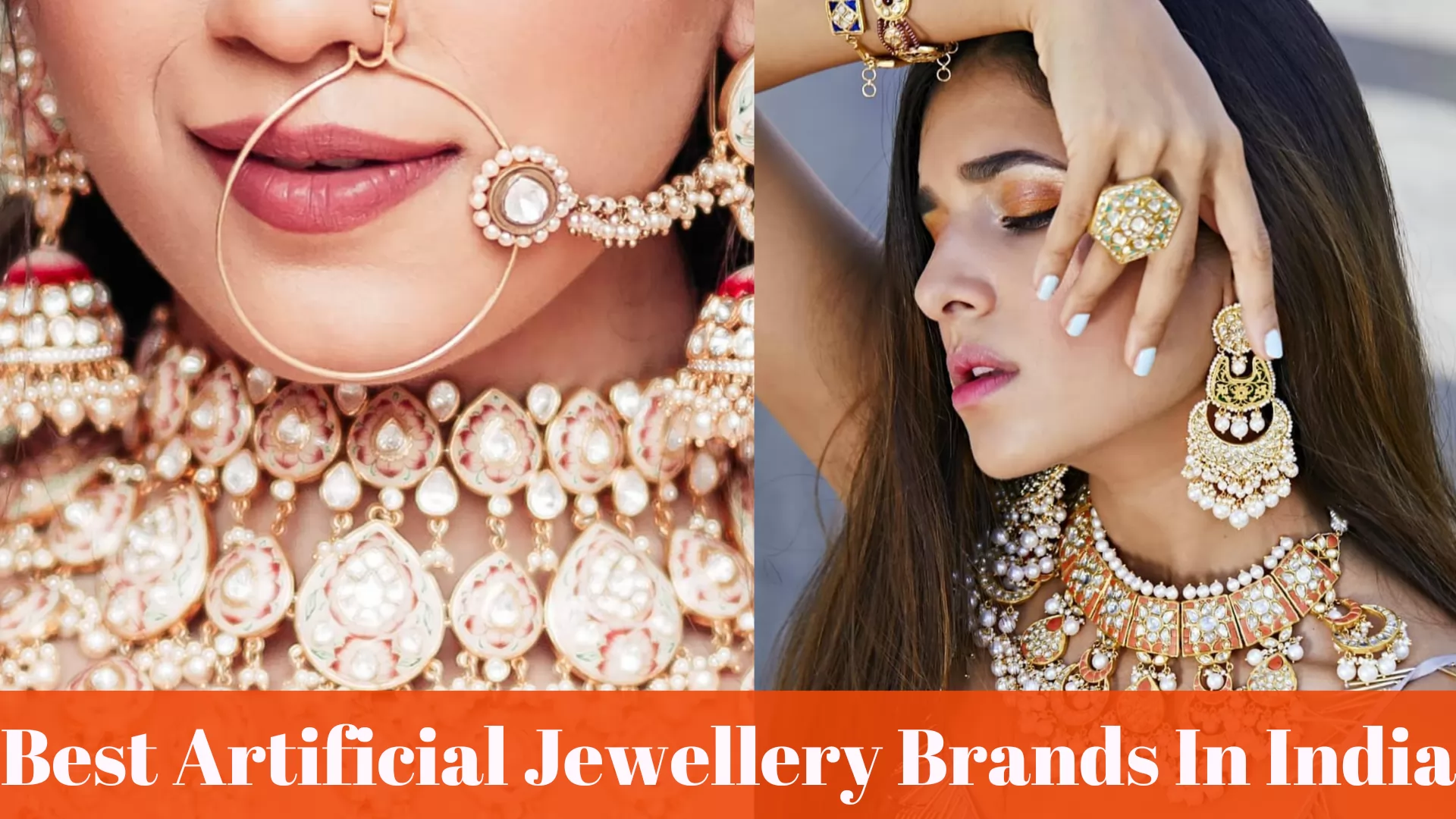 Table of Contents
[ Show ]
List Of 20 Best Artificial Jewellery Brands In India
Here, we have listed the best artificial jewellery brands in India supplying outstanding quality imitation jewellery all over India that gives an elegant look to its wearer. 
| | |
| --- | --- |
| Jewellery Brands | Top-Selling Categories |
| Tribe Amrapali | Earrings |
| Zaveri Pearls | Necklace and  Earring |
| Pipa Bella | Earrings and Necklaces |
| Voylla | Bracelets, Rings And necklace |
| The Luxor | Traditional Style Earrings |
| Ra Abta by Rahul | Choker sets, Necklace Sets |
| Sukkhi  | Bracelets |
| YouBella  | Kundans and Necklace |
| Isharya  | Choker Necklaces |
| Suhani Pitte | Cuffs, Rings & Studs |
| Bansri Mehta Design | Pendants, Earrings & Bangles |
| Mirraw  | Necklaces & Earrings |
| Soni Fashion | Bracelets, Rings &  Necklaces |
| Symetree | Earrings, Rings & Bracelets |
| Kruthika Jewellery | Earring And Necklaces |
| Quills & Spills | Earring And Necklace |
| Kanhai Jewels  | Necklace sets, Kada & Earrings |
| BLINGG  | Necklaces, Pendants & Bracelets |
| Rama creation   | Earrings, Brooch And Necklaces |
| Senco Gold & Diamonds | Necklace Sets & Earrings |
How Do We Do Our Research?
Nowadays, Artificial jewellery exaggerates magnificent designs and artistry. Artificial pieces are pocket-friendly without sacrificing feel and appearance. In India, premium artificial jewellery costs between Rs 600 to Rs 3,500. Therefore, we recommend you go through the research that helped us decide on the best products for you before jumping to our recommendations of the best artificial jewellery brands in India.
We have researched, keeping these four factors in mind. You can check it out here:
1. Design: 
Exploring the latest trends is another way to pick the finest artificial jewellery. Because styles tend to change over time, trends are crucial to styling. Try something fashionable if you add some artificial pieces to your collection.
2. Quality:
While opting for imitation jewellery, your priority should be the quality of your jewellery. We suggest you refrain from getting imitation wedding jewellery formed from defective materials. Examining the jewellery's back, edges, and hooks is one of the best methods to decide the quality.
3. Finishing Touch:
Ensure that the imitation jewellery is not damaged or discoloured while selecting the piece. To make sure that the shade looks authentic enough to wear for a daytime event, look over the shade's tone in the sunlight.
4. Comfort: 
Opting for comfortable pieces is a different approach to choosing premium faux jewellery. Avoid sacrificing comfort to be a fashionista. We recommend selecting a bit you can wear without feeling uncomfortable.
Our Top Picks
Zaveri Pearls is an excellent jewellery brand that delivers various trendy jewellery designs at an affordable price. Zaveri Pearls is the best choice for you if you want a royal look of intricate craftsmanship. You can easily find this brand's jewellery online as well.
The Luxor provides elegant-looking imitation jewellery at a very pocket-friendly rate. This brand is most popular among college-going girls. Their collection contains traditional,  modern, and chunky jewellery designs. All of their jewellery products are of top-notch quality. 
Well, my pick has always been Tribe Amrapali, as they have an extensive collection of trending jewellery for girls and women. The price of their jewellery is also reasonable as they provide quality-proof imitation jewellery.
Review Of Best Artificial Jewellery Brands in India 
Here, we have shortlisted 20 best artificial jewellery brands that actually give you a ravishing look after wearing their jewellery. 
1. Tribe Amrapali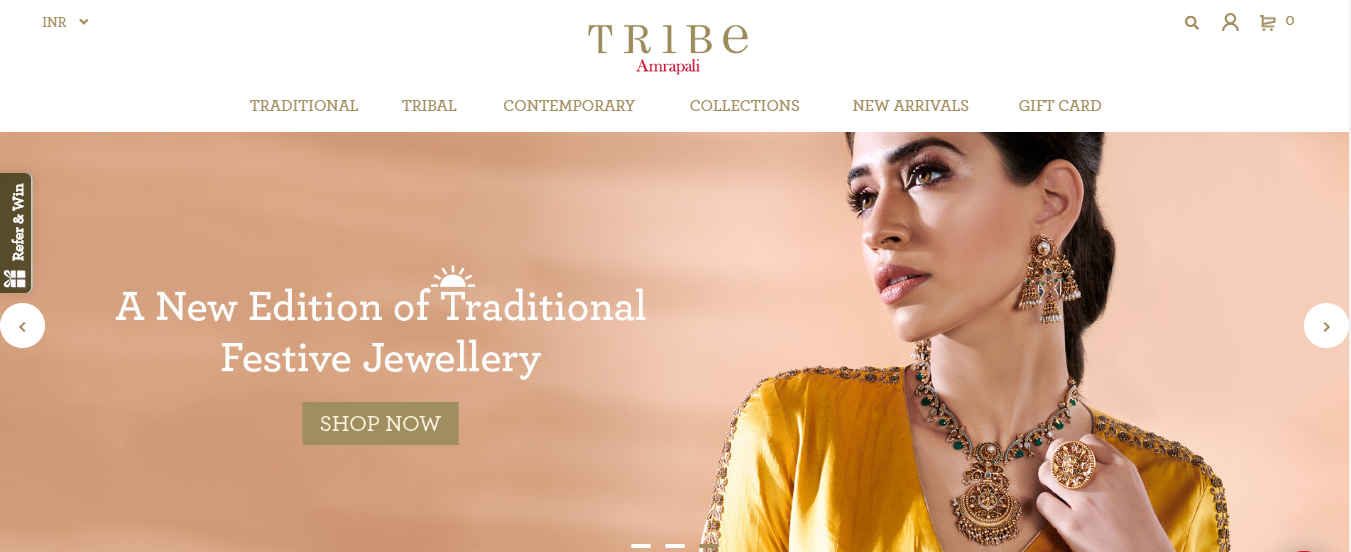 The brand Tribe Amrapali was started by two history students-Rajiv Arora and Rajesh Ajmera, in 1978. Today Amrapali Jewels is a multinational brand with outlets in Pakistan and India. Tribe Amrapali, as the name suggests, takes inspiration from tribal art and culture. If you love to explore jewellery with a luxurious India-modern touch, then the brand is just right for you. Tribe Amrapali is one of India's top artificial jewellery brands that offers fashion collections such as Devaya, Tribal Pop, Manikarnika, Strings of Celebration, Kaasni, and Najma. It has boutiques in three Indian cities, and you can shop for your jewellery online anytime you want. Amrapali ships its products to over 220 countries worldwide, so do not worry about where you are and get free delivery for all orders above 5000 INR.
Key Highlights
Provides contemporary and affordable jewellery pieces.

Sophisticated design

Shop for your favourite dramatic jewellery with their various running sale at discounts

Gold plated alloy

Affordable
| | |
| --- | --- |
| Top Selling Products | Price |
| Gold-Plated Surya Charm Necklace | Rs. 6026 |
| Gold Plated Ambar Earrings | Rs. 5974 |
| Silver Soma Cuff With Chain | Rs. 11330 |
2. Zaveri Pearls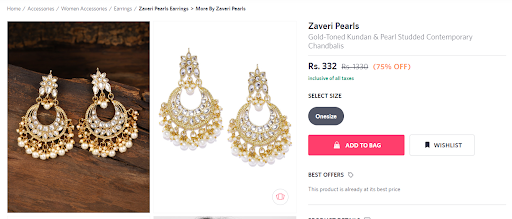 Another popular artificial jewellery brand in India is Zaveri Pearls. It is one of the reputed brands of Pearl Jewellery in the country. It was established in 1997, and today, the brand is well-known in the jewellery industry. Zaveri Pearls jewellery is known to have complex Kundan artwork to highlight the richness of pearls. Zaveri Pearls is the best brand for you if you are looking for the jewellery with a royal look of intricate craftsmanship.
Zaveri Pearls delivers 100% genuine jewellery to your doorsteps. They also provide free shipping for all orders above Rs 1199 across India. Zaveri Pearls have easy and secure payment methods, so keep calm and order the best range of jewellery from here. Also, their products get sold on Nykaa, Amazon, Flipkart, Myntra, and Paytm Mall. You can select the most suitable online platform and order jewellery from Zaveri Pearls. Their prices are entirely reasonable as they offer amazing offers for you to avail of and get everything at a discounted price. They do fast delivery and have perfect furnishing for all their jewellery products.
Key Highlights
Includes stunning diamonds that go with both Western and ethnic outfits

Gold plated

Beautiful design

Durable
| | |
| --- | --- |
| Top Selling Products | Price |
| Zaveri Pearls Gold-Toned Jewellery Sets | Rs. 594 |
| Zaveri Pearls Jhumka Earrings | Rs. 359 |
| Zaveri Pearls Gold-Plated Cuff Bangles  | Rs. 514 |
3. Pipa Bella

The artificial jewellery collection of this brand is as revolutionary as their name. Pipa Bella has established itself as a digital fashion brand offering a unique and personalised jewellery collection. Shuchi Pandya launched Pipa Bella in 2013. Pipa. Bella is headquartered in Mumbai, Maharashtra, India. It caters to 22-35-year-old modern women with custom-made accessories, rotational jewellery pieces, and trinkets. This artificial designer jewellery is flaunted by some of the biggest Bollywood actresses, such as Priyanka Chopra, Kriti Sanon, Kalki Koechlin, Sonam Kapoor, and Shibani Dandekar. 
It comes with over 1000+ unique artificial jewellery designs spread across a vast product catalogue, including charm bracelets, necklaces, chandelier earrings, Swarovski pendants, silver earrings, cocktail rings, and funky chains. The brand uses metal, resin, beads, crystals, and stones in its products to make them revolutionary. The brand is best as they also make customised jewellery pendants, bracelets, and rings. If you are heading to any occasion, start shopping from the range of Pipa Bella to flaunt your style to everyone around. 
Key Highlights
Trendy designs

Hypo-allergenic and suitable for all types of skin

Known for its amazing deals on unique and personalised jewellery

Durable and made up of high-quality material
| | |
| --- | --- |
| Top Selling Products | Price |
| Black Evil Eye Beaded Fringe Dangler Earrings | Rs. 373 |
| White Enamel Butterfly Pendant Necklace | Rs. 525 |
| Pink Statement Hair Band With Embellished Stones | Rs. 695 |
4. Voylla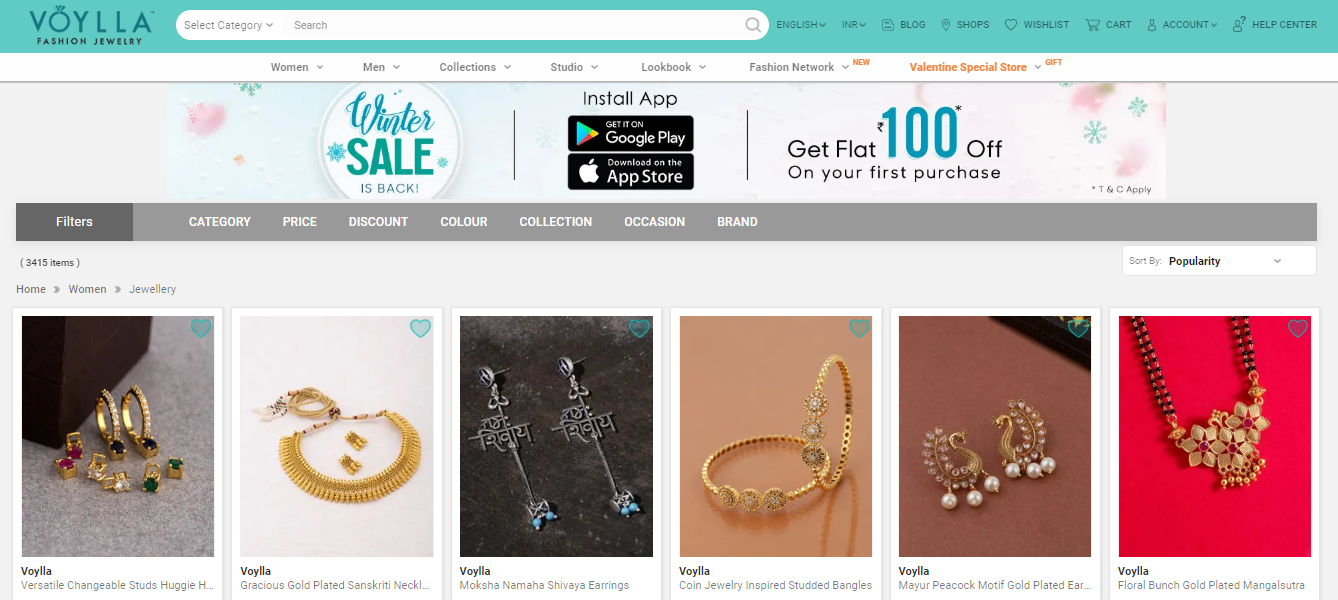 Voylla is one of the growing fashion jewellery brands in India that focuses not only on women but men as well. The brand was started by a couple, Vishwas Shringi and Jagriti, in Bangalore in 2010. The fashion jewellery destination shifted its base to Jaipur in 2013. This fashion jewellery brand is famous for being a traditional, contemporary, and funky style yet being the most affordable. Voylla has around 250+ stores and offers you 45000+ exclusive jewellery designs. The brand delivers 100% skin-friendly products. 
Voylla is popular for its high-quality, hand-crafted artificial jewellery. You can buy their products online on Flipkart, Amazon, and other e-commerce websites. When it comes to gifting something special, you can choose this brand as it even manufactures versatile American diamond rings that look great with any outfit. You can also shop for men's jewellery, including necklaces, earrings for men, rings, bracelets, and men's Kada, which are amazing to wear at parties and even in the workplace. 
Key Highlights:
Jewellery made from top-notch alloy material with excellent surface finishing

Provides perfect jewellery for formal and semi-formal occasions

Durable and long-lasting

Made from high-quality material
| | |
| --- | --- |
| Top Selling Products | Price |
| Nayantara Petals Motif Stud Earrings | Rs. 314 |
| Om With rudraksh Bead Pendant With Chain | Rs. 352 |
| Gullak Coin Shape Ghungroo Drop Necklace | Rs. 689 |
5. The Luxor

Luxor was established in the year 1999. It has over 40 years of experience in the fine jewellery industry. This brand is popular among college girls, who find it their one-stop destination for artificial jewellery shopping. The collection consists of modern, traditional, and chunky jewellery designs. The designer's range of artificial jewellery from Luxor includes anklets, earrings, mangal sutra, bangles, pendants, and necklace sets. They manufacture jewellery that is inspired by traditional antique patterns. 
Luxor has the most high-quality imitation stones. All their jewellery is graceful and can be worn over long years as the quality is not affected. The brand has skin-friendly jewellery as they are manufactured from toxic-free materials. Luxor is a brand you can go for if you are searching for a hard-to-find design and are still looking for one. Whatever your age may be, the brand has a collection for all ladies out there that matches their personalities and style. 
Key Highlights:
Gives a sophisticated appearance

Perfect for weddings and other occasions

Skin-friendly

Gold plating makes it durable
| | |
| --- | --- |
| Top Selling Products | Price |
| The Luxor Non-Precious Metal Gold Plated Jhumki Earrings | Rs. 275 |
| The Luxor Silver Plated And American Diamond Studded Choker Necklace Set | Rs. 290 |
| The Luxor Traditional Gold Plated Stylish Bridal Wedding Maang Tikka | Rs. 463 |
6. Ra Abta by Rahul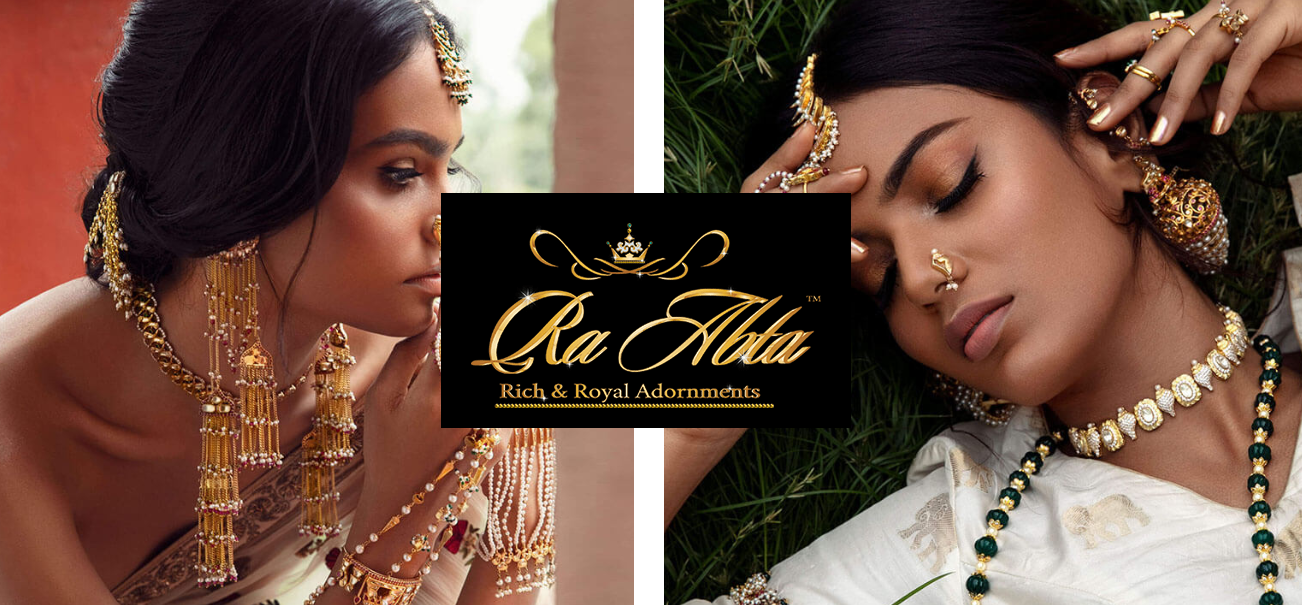 If you are looking for an authentic experience with your fashion jewellery, then you can plan to buy Ra Abta by Rahul collection. This brand was launched in the year 2014 and had been flourishing since then. It provides a wide range of products but is well known for its Kundan and jadau jewellery designs. Wedding jewellery is a speciality of Ra Abta, and brides choose bridal fashion jewellery from this brand. The success of this brand can be seen in the way celebrities embrace its products. 
Rahul Luthra defines this brand as an incarnation of art where numerous thoughts are added to develop an object of desire and value. This brand essence the label with a style that signifies youth, glamour and sophistication. 
Key Highlights:
Suitable for both formal and casual occasions

Provides eye-catching design

High-quality material

Durable and long-lasting
| | |
| --- | --- |
| Top Selling Products | Price |
| Meet Earrings | Rs. 9500 |
| Moh Ring | Rs. 13500 |
| Bandhan Mathapatti | Rs. 32500 |
7. Sukkhi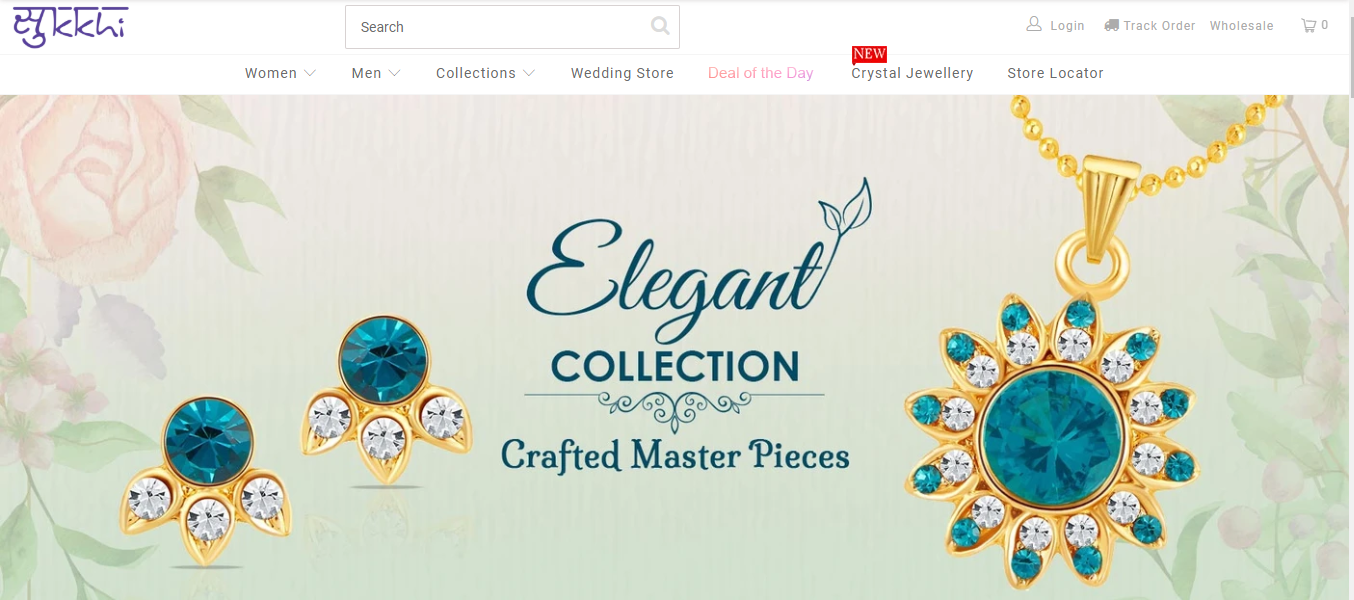 Sukkhi, established by Bhavesh Navlakha in 2012, has an existence on 27 e-commerce marketplaces, including Flipkart and Amazon. Sukkhi is the most famous designer of jewellery all across India. It is one of the most trusted jewellery brands. You can get unique pearls, chokers, and accessories, and also they have a collection of Men's rings. You can also purchase bridal jewellery sets, Kundan necklace sets, and oxidised necklaces.
They have existed with high-quality and appealing fashion jewellery since 2012. They strongly take the customer preference to design their jewellery that brings out the best. They have a clear vision locally and globally with customers in India and worldwide. You can buy an elegant design collection with crafted masterpieces from this brand.
Key Highlights:
Goes well with any Indian outfit

Created using non-toxic materials, which makes it anti-allergic and skin-safe

Elegant Looking

High-quality material
| | |
| --- | --- |
| Top Selling Products | Price |
| Sukkhi Blue Oxidised Pearl Long Pendant Set | Rs. 359 |
| Sukkhi Glitzy Pearl Gold Plated Kundan Chandb | Rs. 409 |
| Sukkhi Bewitching Silver CZ Stone Rhodium Plated Collar Pendant Set | Rs. 999 |
8. YouBella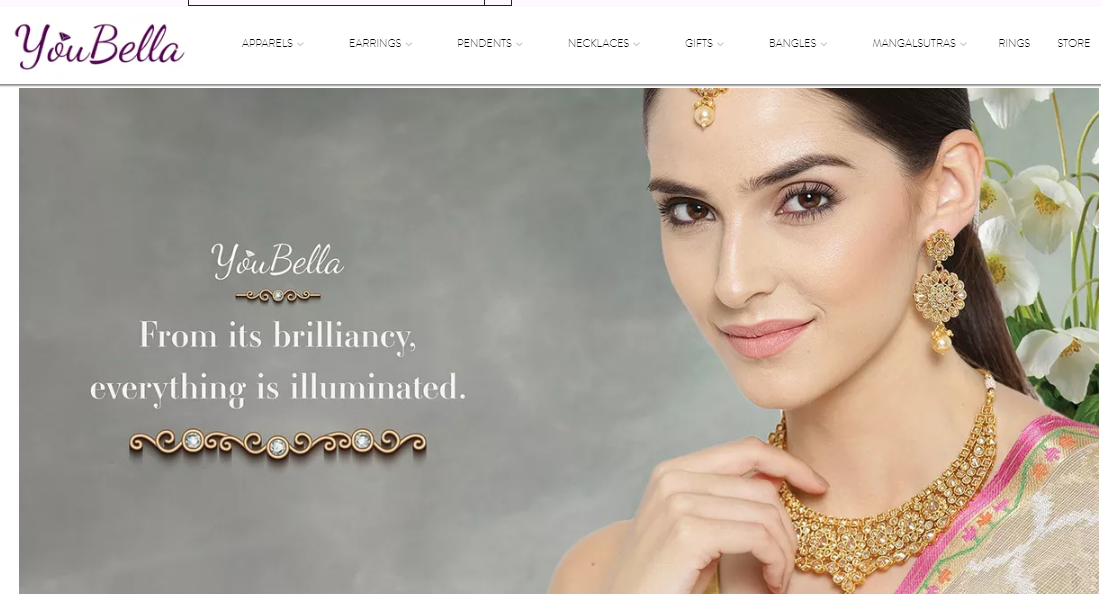 The designer jewellery that will go with your outfit and style up your fashion statement is available at YouBella. They design the jewellery with variable designs and patterns to give you a charming and elegant look. This brand was launched in the year 2015 that provides an exclusive range of fashion jewellery and accessories from India's best designers to customers worldwide. They aim to create attractive, unique designs at a very affordable price range. 
YouBella provides you with various types of designer and stunning imitation jewellery like imitation temple jewellery, and gold plated jewellery, mangal sutras set and many more. You can get classy necklaces, trendy bangles, stylish earrings, and artistic pendants at YouBella. It has a huge collection of designer imitation jewellery, like the American diamond jewellery collection, at a discounted price with easy returns and various payment options like cash on delivery.
Key Highlights:
Free from nickel and lead

Particularly gentle on the skin

Ideal for all occasions

Sophisticated design
| | |
| --- | --- |
| Top Selling Products | Price |
| YOUBELLA SET OF 20 ANTIQUE GOLD-TONED BANGLES | Rs. 333 |
| YOUBELLA BROWN GOLD-PLATED CRYSTAL STONE-STUDDED PENDANT WITH CHAIN | Rs. 449 |
| YOUBELLA GOLD SILVER-TONED STONE-STUDDED RING | Rs. 674 |
9. Isharya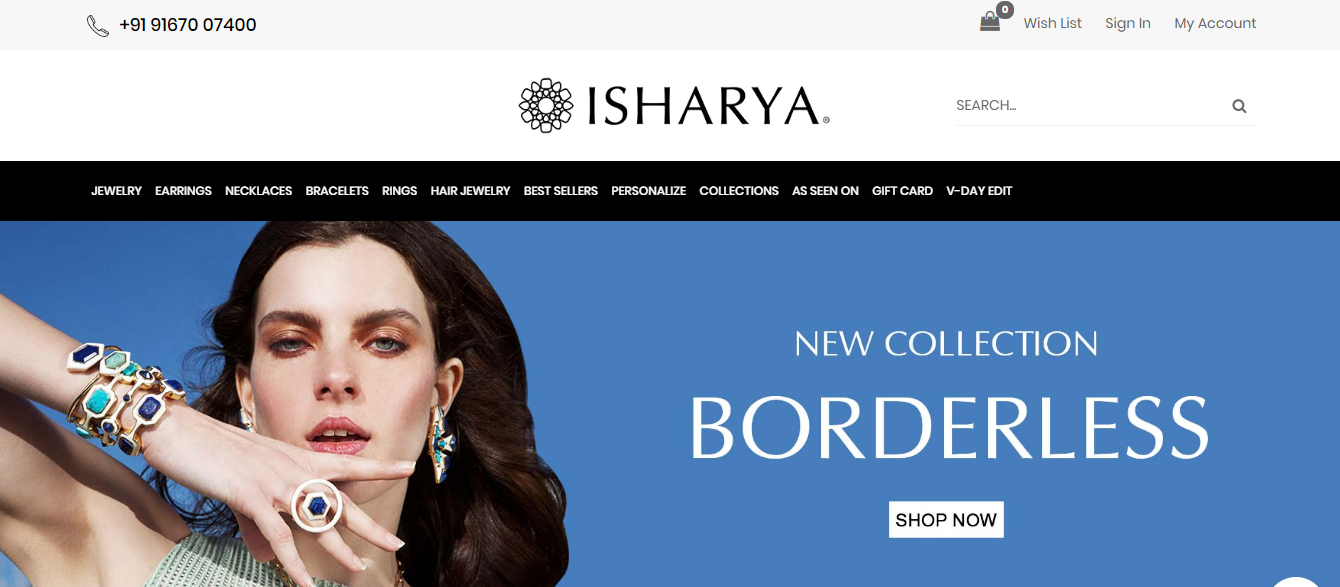 The brand was launched in 2004 by sisters-in-law Gauri and Radhika Tandon. From the first collection, Isharya defines what it means to be glamorous and confident. Isharya is India's most luxurious jewellery brand. You can get the most modern Indian jewellery from this brand which contains all the latest jewellery collections. The brand has a collection of necklaces, earrings, rings, bracelets and many other ornaments you desire. Many celebrities, trendsetters and fashionable women buy exclusive designs from this brand. 
Their designers are professionals and merge evolving trends and traditional heritage techniques. Isharya wants every woman to celebrate travelling and live fully with jewellery that expresses her personality. 
Key Highlights:
Affordable and expressive

Provides bold and confident looks

Combines contemporary aesthetics with sparkling stones and gold plating

Perfect for every occasion
| | |
| --- | --- |
| Top Selling Products | Price |
| Amara Pearl Swirl Ring | Rs. 3999 |
| Amara Mirror Cupola Earring | Rs. 4999 |
| Amara Mirror Pearl Bracelet | Rs. 5999 |
10. Suhani Pitte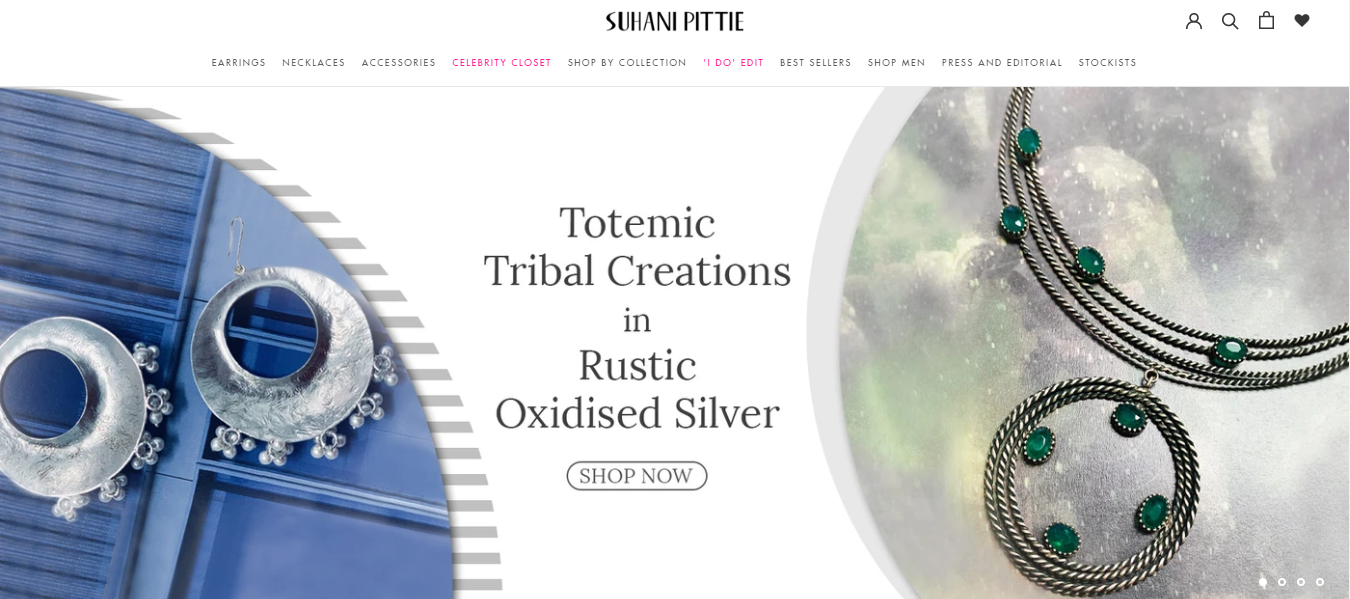 Suhani Pittie launched her own jewellery label in the year 2004. The World Gold Council lists the brand as one of the top 10 most inventive and ingenious jewellery designers in the world. This is one of India's global brands, which is already a part of many movies and web series. They are the first jewellery designer from India to showcase in Miami Fashion Week. 
Credited by Elle magazine for changing India's perspective towards precious jewellery, Suhani Pittie has been featured in international magazines like Vogue Italia as one of the '5 designers to watch out for from India. This award-winning jewellery designer has Bollywood and international celebrities add her styles to their red carpet looks. Her raw style makes for a great addition to a fashionable collection.
Key Highlights:
Use of anti-tarnish lacquer 

Hypoallergenic and suits the skin

Nickel-free
| | |
| --- | --- |
| Top Selling Products | Price |
| Lush Earrings | Rs. 6000 |
| Gold Plated Round Wire And Engraving Flowers Stud Earring | Rs. 7500 |
| Lunar Halo Necklace | Rs. 9500 |
11. Bansri Mehta Design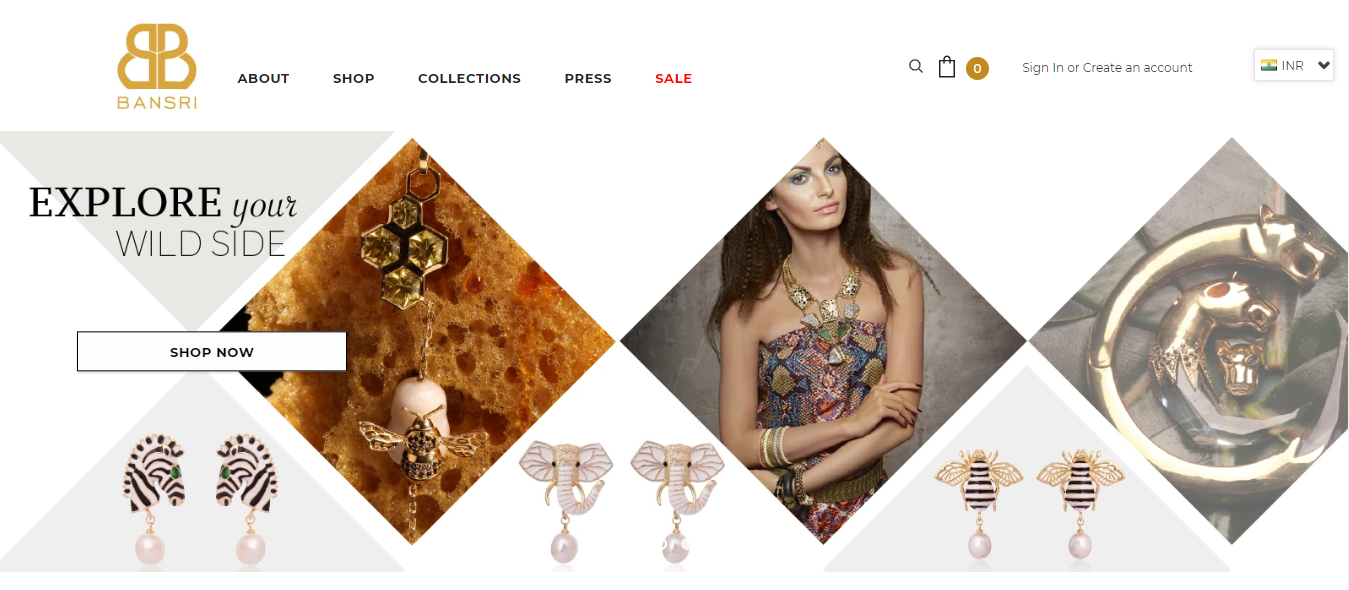 Designer Bansri Mehta launched the brand in 2001. It offers a range of exclusive statement jewellery that personifies simplicity and style with a subtle charm. The brand has taken inspiration from the designs having street art, medieval cathedrals, artistic cafes, and eclectic pieces. It includes an extensive collection of rings, earrings, and bracelets, crafted with a fusion of pearls, semi-precious stones, sterling silver and gold. 
The brand has a collection of the evil eye and layered necklaces. You can get some personalised jewellery from their site. They provide Perfect pieces of jewellery to add a fire to your Looks. They offer jewellery that is inspired by nature and creatures. Their jewellery suits each person, bringing out an individualistic fashion instinct.
Key Highlights:
Personifies simplicity and style

Provide customised jewellery

Suits Everyone

Provides trendy and stylish designs.
| Top Selling Products | Price |
| --- | --- |
| Round Pearl Stud Earrings | Rs. 1895 |
| Sideway Big Initial Pendant Necklace | Rs. 2472 |
| Trendy Stainless Steel Bangle Bracelet | Rs. 2637 |
12. Mirraw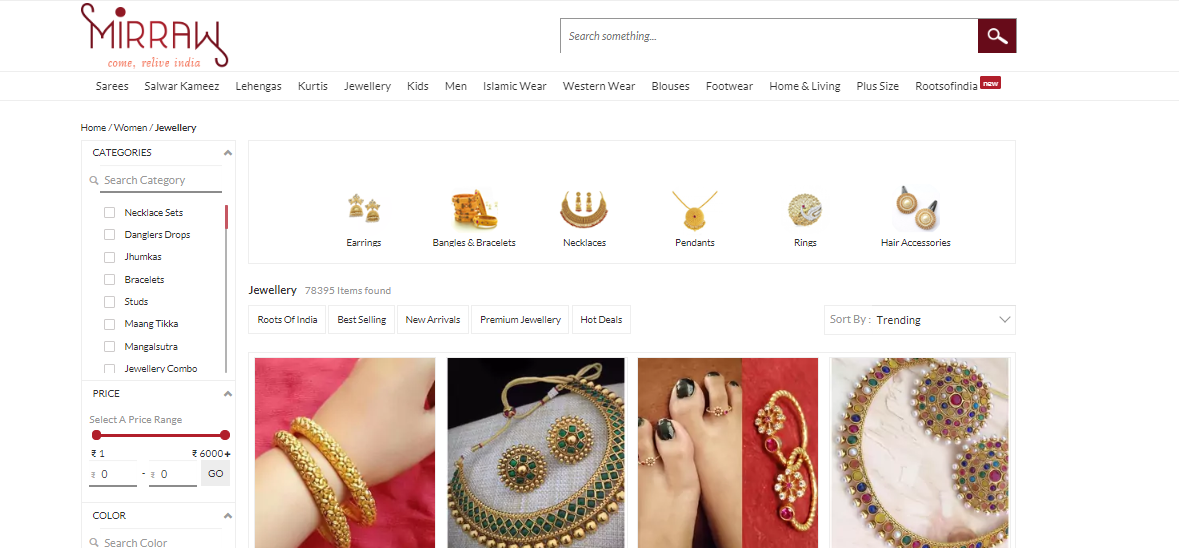 Mirraw Online Services was established in 2011. Mirraw brings to you handpicked designs created by talented fashion designers. They create a vibrant marketplace for creative designers to showcase their latest work and connect with fashion lovers. The brand delivers the best jewellery, accessories, shoes, clothing, and more designs. From South Indian and Kundan designs to temple jewellery, Mirraw has it all accessible for you under one roof.
The Mirraw Jewellery is crafted with high-quality materials, which makes it extremely delicate on the skin. This product maintains its original shine after years of use since it is made from excellent material. The Mirraw Jewellery set has distinctive traditional ornamentation with an antique finish.
Key Highlights:
Made from high-quality materials

Skin-friendly

Maintain its original shine even after years of use

Traditional design with antique finishing
| | |
| --- | --- |
| Top Selling Products | Price |
| Multicolour Pearl Studs | Rs. 700 |
| Golden Necklace Set | Rs. 966 |
| Red Handmade Loop Fitting Beaded Designer Necklace | Rs. 1199 |
13. Soni Fashion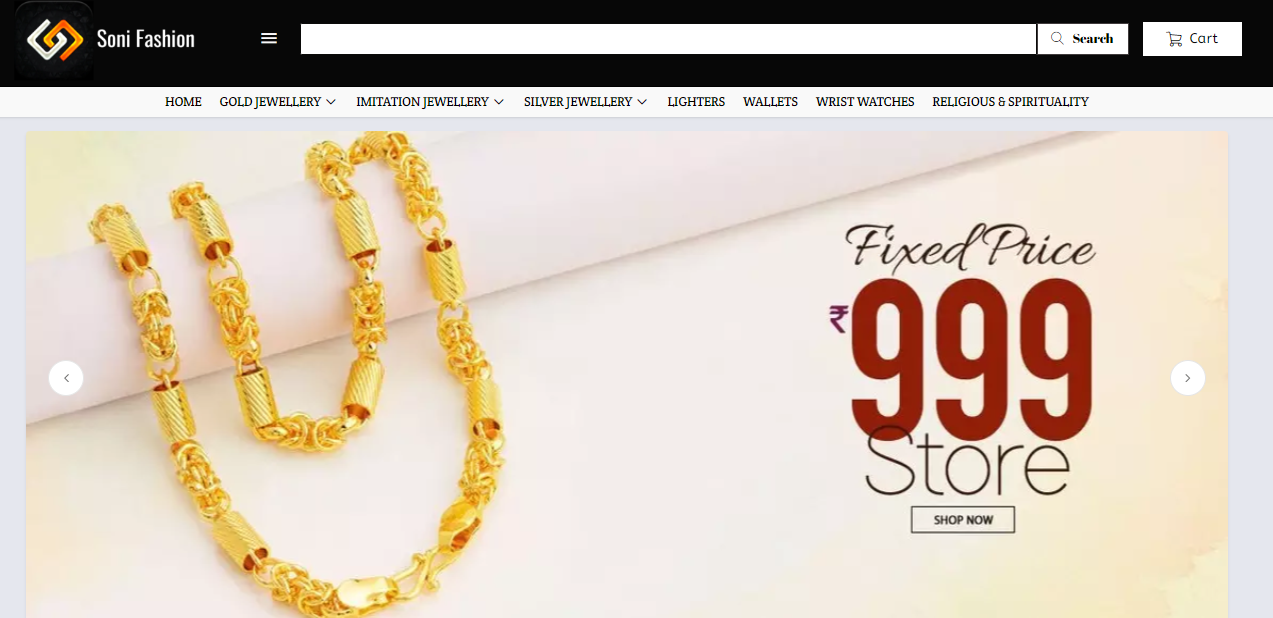 Ashish Soni launched his own designer label in the year 1990, which has become a very famous brand today's date. It is India's new favourite fashion, accessories and lifestyle shopping destination that provides affordable watches, electronics, bags, home utilities, kids, Sports, and beautiful jewellery at your fingertips.
The brand guarantees lower prices than your favourite online store and offers amazing offers. You can choose from over 500 products across a wide range of categories. You can buy chains, pendants, fancy bracelets, Rudraksha mala, Kada and many more accessories.
Key Highlights:
Assured Quality

Trendy and Fashionable style

Skin-Friendly
| | |
| --- | --- |
| Top Selling Products | Price |
| Heart with Diamond Decorative Design Gold Plated Mangalsutra Bracelet | Rs. 350 |
| Glittering Design with Diamond Gold Plated Necklace Set | Rs. 600 |
| Gold Forming Design with Diamond Sparkling Gold Plated Bracelet | Rs. 1800 |
14. Symetree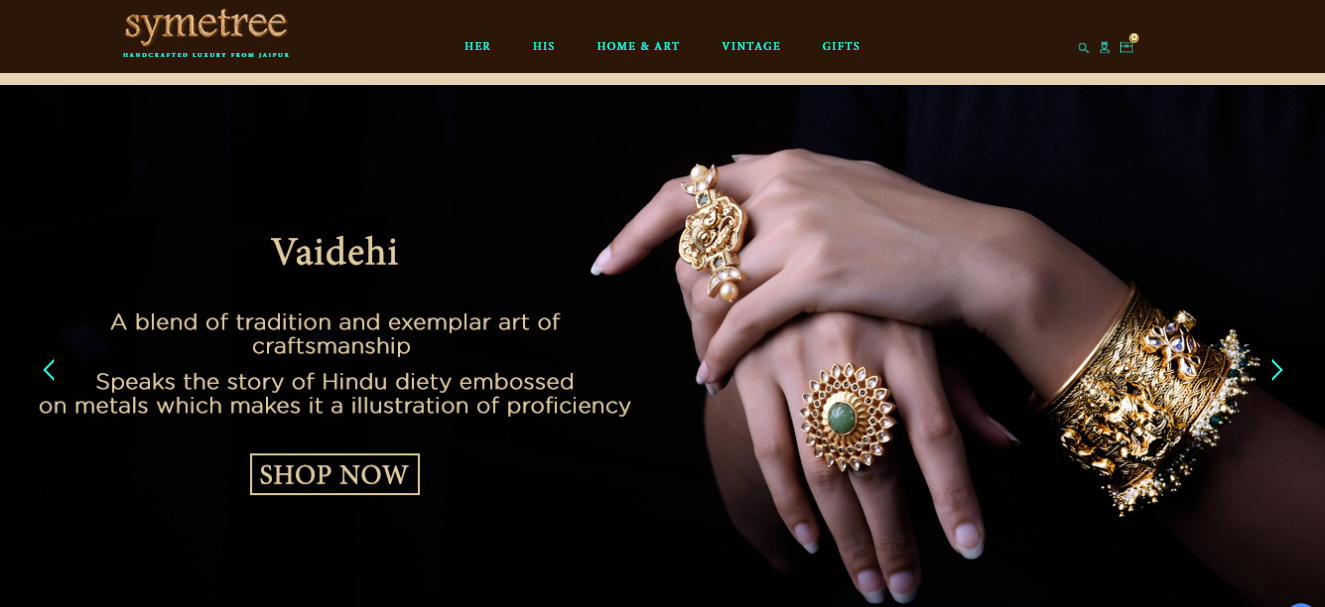 The brand has an amalgam of Indian craftsmanship narrating the story of the western fascination with picturesque Indian jewellery. 
Key Highlights:
The collection bestows the devotion of elegance, intrigued with neoteric Filigree technique. 

You can see a blend of tradition and art of craftsmanship. 

The jewellery depicts the Hindu storey engraved on different metals. 

You can choose from the collection of bangles, bracelets, rings, earrings and more for a festive occasion. 

The brand launches the boldest and the finest designs at its store.
15. Kruthika Jewellery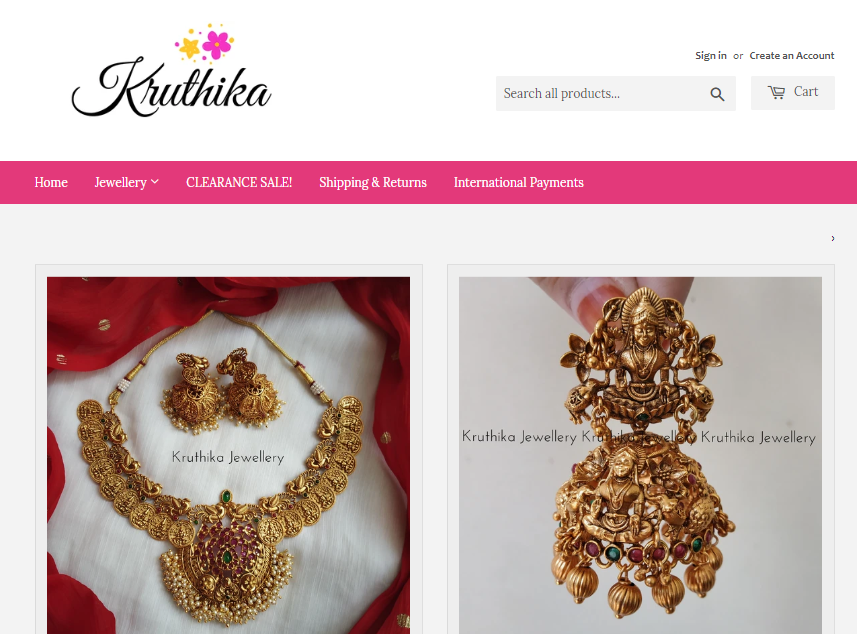 This is one destination for all; you can find various kinds of earrings, bangles and bracelets, necklaces at one place.
Key Highlights:
Grab the great ethnic jewellery that has always been in vogue. 

During the wedding season, if all brides-to-be can find their perfect lehenga and jewellery, including all accessories in Kruthika. 

It is literally a house of unique ethnic jewellery.

They have a collection of antique sets, multi-stone hip belts, artificial hair accessories, maang tikkas, oxidised and Kundan jewellery sets. 
16. Quills & Spills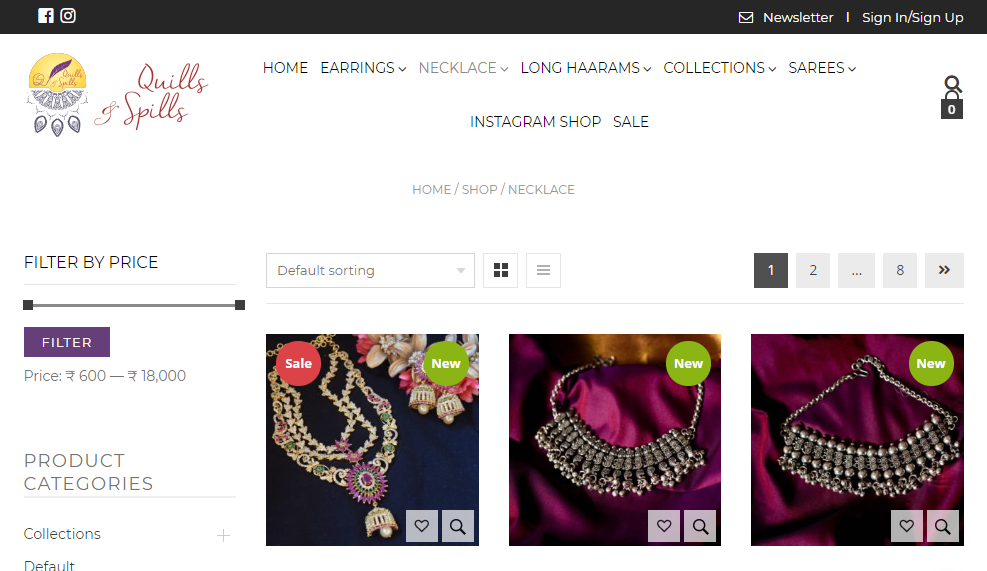 Quills & Spills was started by Ms Kavitha, who is a hand-made jewellery maker by passion. The brand is known for curating the most elegant pieces of jewellery across India.
Key Highlights:
They aim to be the one-stop-shop for all the jewellery needs.

The brand specialize in Handcrafted German Silver Jewellery, Imitation Jewellery.

You can get daily wear fashion Trinkets.

Also, they have a beautiful collection of Fashion, Imitation Jewellery and Statement Jewellery.

You can also find earrings, necklaces, sarees and other accessories.
17. Kanhai Jewels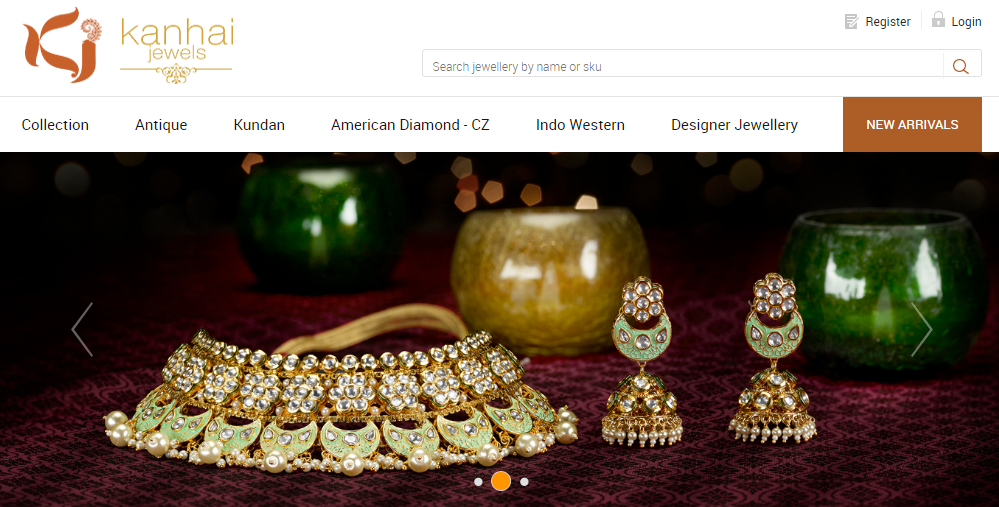 Kanhai Jewels, established in 2001, are manufacturer and wholesaler of Indian Jewellery and trendy Western jewellery, as well as Exporter of Traditional Indian Jewellery. 
Key Highlights:
They have the latest ongoing trends.

best artificial jewellery wholesalers in India by providing the latest fashion jewellery wholesale in India.

Also brings the best gold plated jewellery.

Specialize in Kundan jewellery, antique jewellery.

Manufactures fashion costume jewellery.

Delivers the best quality products of American Diamond and Indo-western Jewellery.
18. BLINGG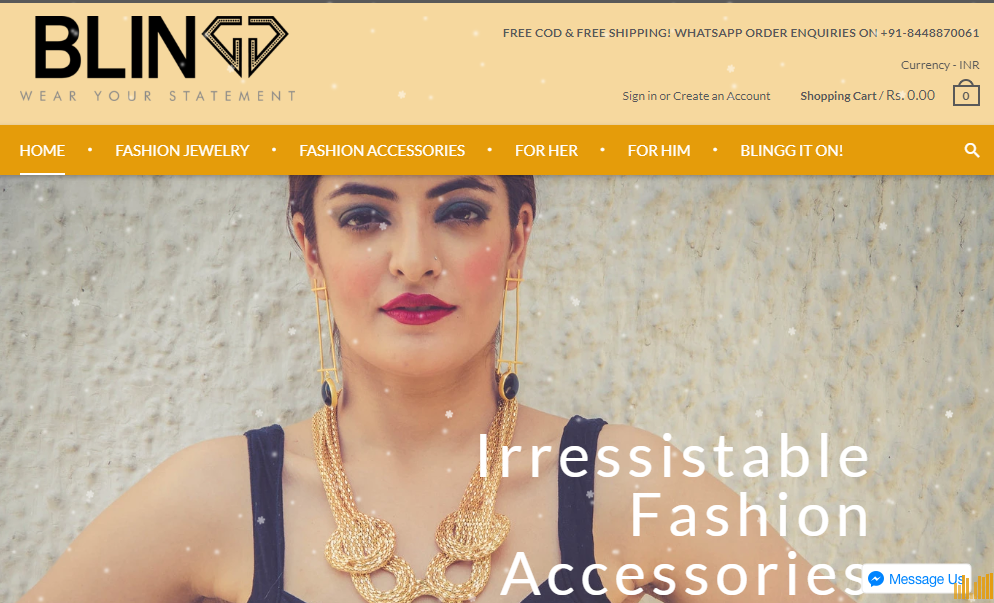 Blingg offers irresistible statement jewellery and fashion accessories for your quintessential taste. Our bling fashion jewellery pieces add glamour instantly and are an extension of your style and demeanour.
Key Highlights:
You can get the latest collection for both men and women. 

You can get fashion pieces of jewellery like earrings, necklaces, rings.

Also, they have lovely fashion accessories like bags, key chains, belts, scarves.

Experience the most stylish fashion accessories for your everyday work, day-out or parties.

Buy superior quality products at affordable rates.

They have the most trending fashion accessories.
19. Rama creation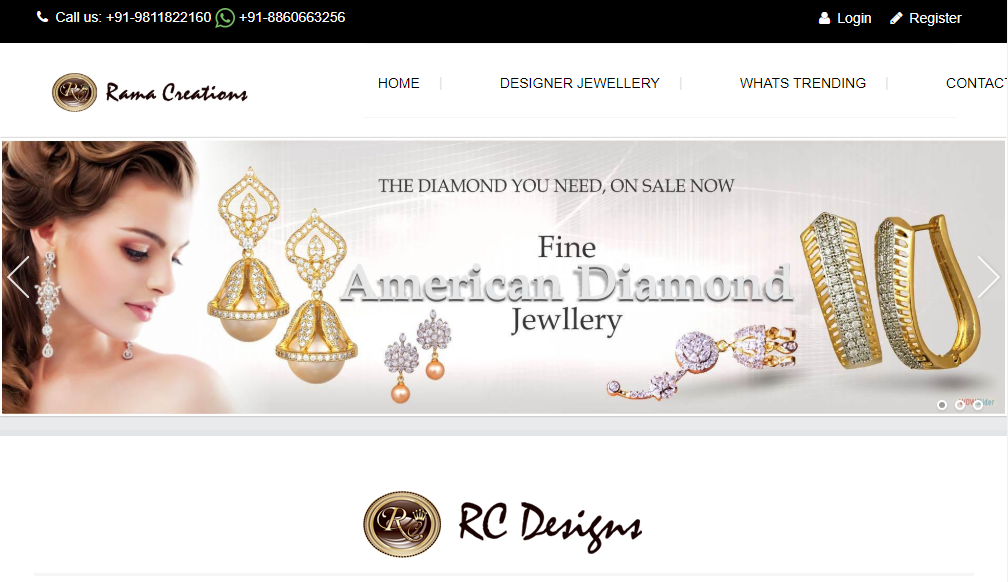 Rama Creations (RC DESIGNS) is a well-established brand name today in the industry of Imitation Jewellery Manufacturing & Wholesaling.
Key Highlights:
They keep on updating the latest and trendy designs.

Collection of High-quality imitation jewellery including Kundan jewellery, CZ jewellery, Temple jewellery, American Diamond Jewellery, Polki Jewellery, Antique Jewellery, Beaded Jewellery and Thewa Art Jewellery.

You can experience a high style of charm.

Up to date styles, distinctive patterns, long-lasting shine.

You can see the collection of full Bridal Necklace Sets, Bridal Jewellery (Dulhan Sets), Choker Necklace Sets in Kundan and Antique Jewellery, Silver Oxidized Jewellery in Earrings and Necklace Sets with Beads.

Also, get some unique Mehendi Polish Earrings and Imitation Matte Finish Jewellery.

They provide worldwide shipping.
20. Senco Gold & Diamonds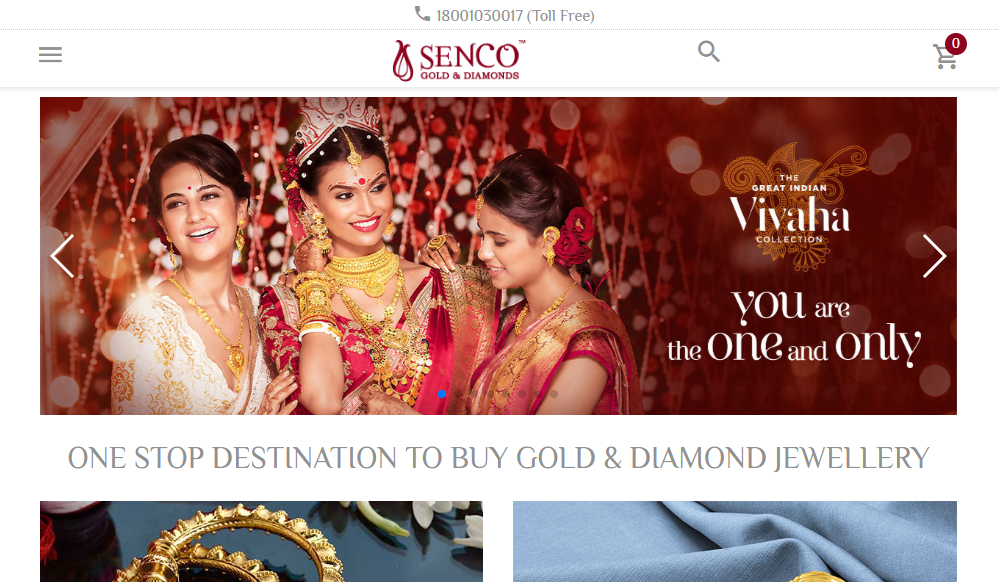 Senco Gold and Diamonds is a company that was initially known as Senco Gold Private Limited in 1994, at Kolkata, West Bengal. 
Since West Bengal is known for its art, culture, and craftsmanship, they bring up the most beautiful jewellery of art.
Key Highlights:
Collection of gold and diamond jewellery.

They bring up unique silver jewellery designs.

Get to design jewellery for your particular costume.

They also manufacture Gold utensils. 

They have a good collection of coins and bars that you can purchase during occasions.  

The brand has an association with Femina Miss India, Delhi capitals, Kolkata knight riders. 
Imitation jewellery is made from metals and stone, and very much popular among the ladies. They have an elegant look and are easily affordable. They have created their niche in the fashion market, and various types are available. 
If you love applying makeup and want to know Websites For Makeup Shopping, to get all the best makeup products for yourself, then read here. 
Conclusion
This is about the best 20 Best Artificial Jewellery Brands in India. You must be now aware of the list of artificial jewellery brands available in India. I have tried to provide you with every single detail of each brand so that you will get a clear idea of which jewellary brand to choose. We hope this jewellary Brand list may have been of some help to you. Read and share this article with your friends and family if they also love to buy artificial jewellary but are confused about which trustable brands to choose. 
Frequently Asked Questions 
Q. Which is India's No. 1 Jewellery brand?
Ans. India's No. 1 jewellery brand in India is Tanishq. 
Q. Which market is best for artificial jwelery in India?
Ans. Zaveri Bazaar in Mumbai is said to be the best market for artificial jewellery in India.
Q. Who is the biggest artificial jwellery manufacturer in India?
Ans. Kanhai Jwels is said to be the biggest artificial jwellery manufacturer in India. 

Join Telegram Channel & Get Instant Deal Alert

75,062+

participants