136 days ago
How to Get ShemarooMe Premium Subscription For Free?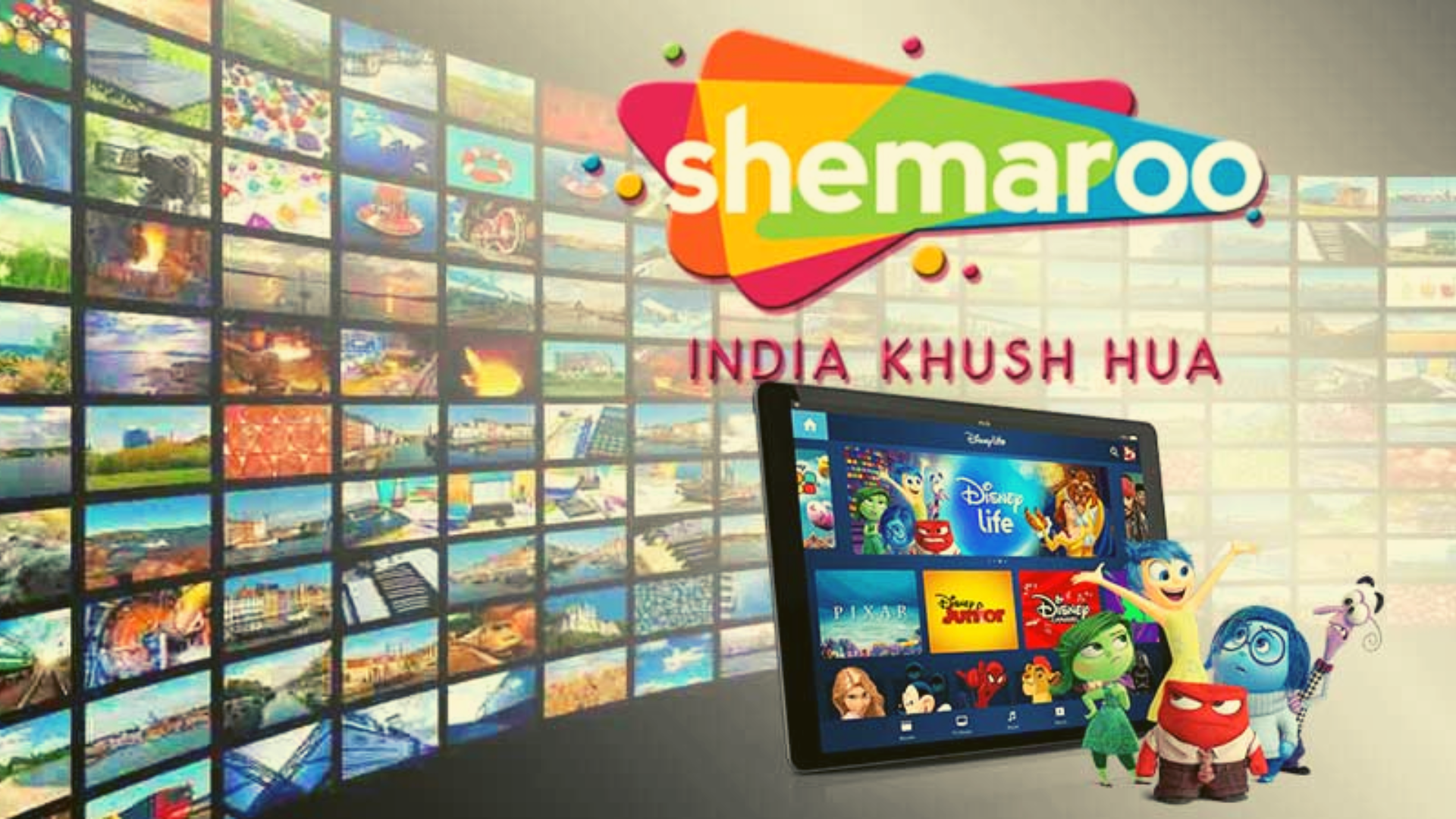 Everyone likes entertainment, but they all hesitate to pay for it. But what if I tell you that you can get a total dose of entertainment that is also free of cost? Interesting and unbelievable, isn't it?
But it's true. Here, we will talk about ShemarooMe, a one-stop destination for all your entertainment needs.
However, the most exciting thing is that you don't need to pay for it because this article will discuss how to get ShemarooMe premium subscription for free.
We will provide you with all the tricks in detail through which you can avail premium subscription to Shemaroome for free.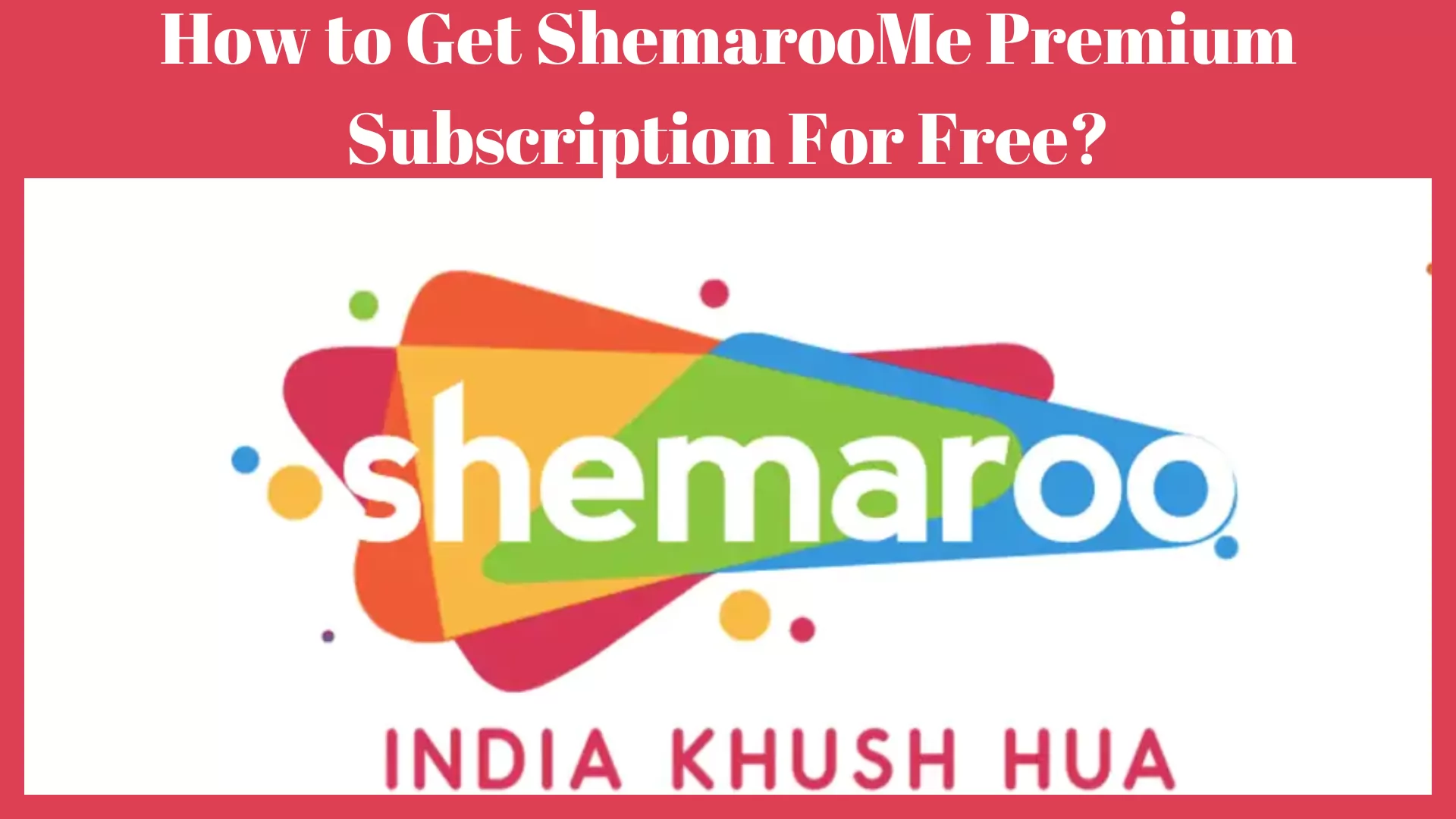 What is ShemarooMe?
Shemaroo Entertainment is one of the latest players in the crowded OTT space. The content library on the platform comprises around 2000 film titles and 1000 hours of non-film content.
Shemaroo Me makes content available in Hindi, Gujarati, Marathi, and Punjabi languages. Shemaroo has a lot of variety for kids as well, which brings interactive and animated content.
How to Get ShemarooMe Premium Subscription For Free?
Here we have talked about some of the tips and tricks to get Shemaroome Subscription for free. To know more in details, read this article till the end and get the complete information.
1. Tghrough ShemarooMe Subscription Promo Codes
Fabulous Feb Offer - 30% off on 2 and 3 years plans in India by using code BUY30. 

Get yearly subscription of ShemarooMe worth Rs. 999 637 by using code SHEM15.
2. Through ShemarooMe Earn4 Life
Share your code on social media and get ShemarooMe 25% discount.

Also, you will earn an additional 10% when anyone subscribes through your promo code.
3. Through ShemarooMe Mobikwik Offer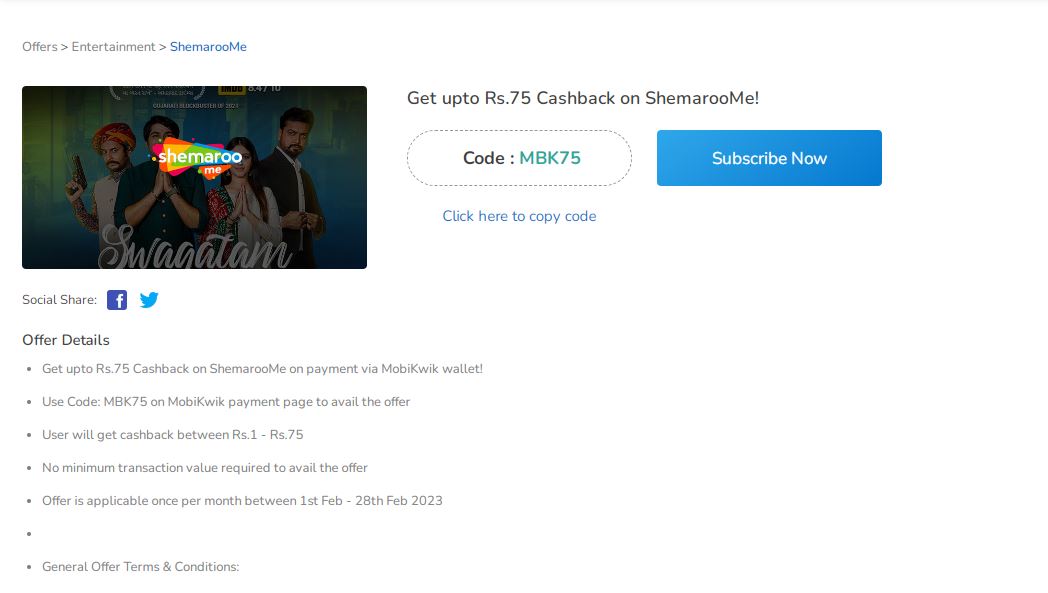 You can get upto Rs. 75 cashback on ShemarooMe by using promocode MBK75 on Mobikwik. 
Steps to Avail the offer
Visit the Mobikwik page

Click on Offers and deals option from left content panel 

Choose the Entertainment option on the top. 

Scroll down through various options where you will se ShemarooMe banner

Click on the banner

Copy the code and click on Subscribe now! 
4. Through Flipkart Supercoins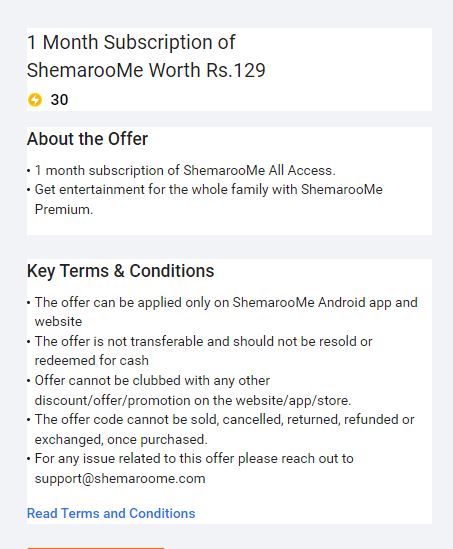 Get One month subscription of ShemarooMe through Flipkart using 30 suercoins.
Steps to Avail the offer
Visit your Flipkart account

Go the upper panel where your name in written

Choose SuperCoin Zone

Scroll down to Extra deal for your section. 

Click on the ShemrooMe banner and click on Claim now. 
5. ShemarooMe Amazon Gift Card Offer
Using Amazon, you can gift your loved one with many goodies as well as you give gift cards. These gift cards offers you various discounts on entertainment, food and other things. Here are the gist cards that you can use for ShemarooMe. 
Flat 50% off on 12 months subscription using Gift Card.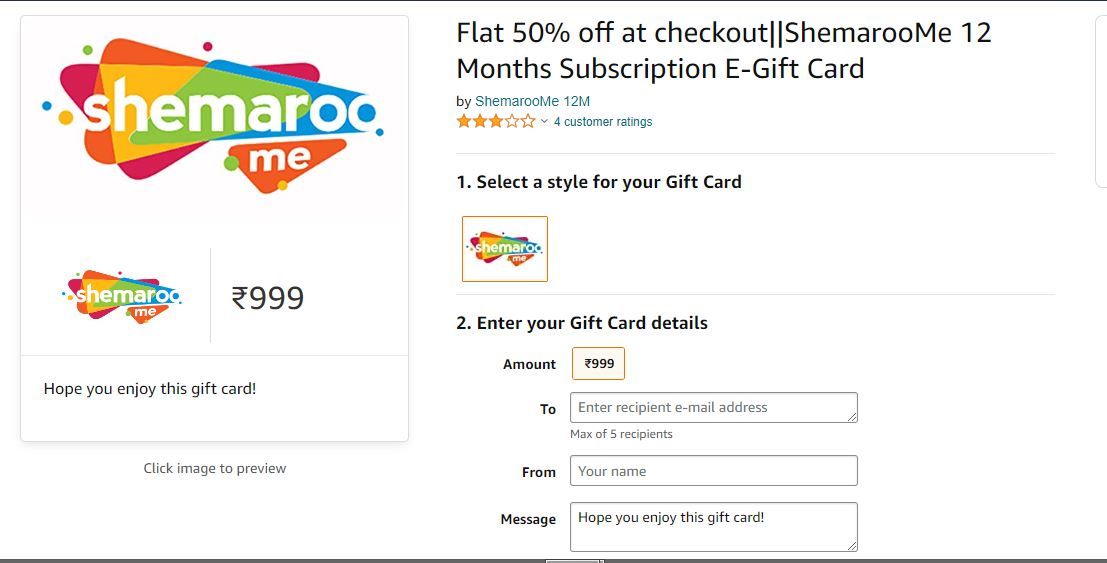 Flat 50% off on 1 Month subscription using Gift Card.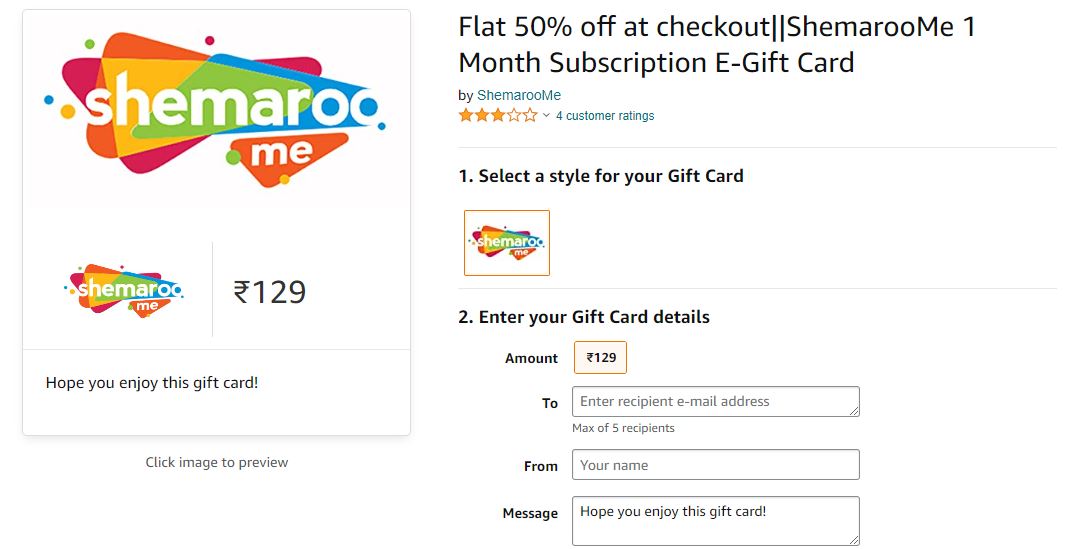 Steps to Avail the offer
Visit Amazon page

Tap on the side three line option

Go to Program & Feature option

Click on Gift Card and Mobile Recharge option

Choose the E Gift card option and enjoy!
ShemarooMe Subscription Plans 2023
The OTT platform has different subscription plans to take complete care of your entertainment needs. They had many regional packs available in Punjabi, Gujarati, and Marathi Languages. 
Now they have come up with all-in-one plans to provide members access to a wider choice. The subscription plans of the OTT platform are available on a quarterly and yearly basis. 
The yearly plan costs Rs. 749, while you need to pay Rs. 400 for a 3-month subscription. 
There is also a 2-year premium subscription plan priced at Rs. 999. The long-term plan offers the best value for money. 
With the ShemarooMe Premium plan, you get access to content from all packs, so it offers the best value for money. 
ShemarooMe Subscription Price (Updated)
| | |
| --- | --- |
| Duration | Price |
| 2 Years | Rs. 999 |
| 1 Year | Rs. 699 |
| 3-month | Rs.400 |
Shemaroo Gujarati Subscription
ShemarooMe has a vast collection of regional content. You can watch movies, web series, and shows in Gujarati, Marathi, Punjabi and Hindi. 
Earlier, the OTT platform has regional subscription plans as well. However, at the time, they have all-in-one subscription plans that provide access to content across all languages. 
ShemarooMe Subscription is available in 3-month, 1-year and 2-year plans priced at Rs. 400, Rs. 699, and Rs. 999, respectively. So you can subscribe to any plan and unlock access to content across all languages. Using the different tricks, you can also get Shemaroo Gujarati Subscription for free. 
Conclusion
I hope, after reading this article, you must have got all the information regarding how to get ShemarooMe premium subscription for free. ShemarooMe Has the largest collection of classic movies; you also get to watch a premiere every Friday. The demand for digital platforms is fast growing. ShemarooMe is an affordable option with its vast collection of content. If you still have any queries feel free to ask your queries in our comment section. 
Frequently Asked Questions
Q. How do I get a free subscription to ShemarooMe?
Ans. There are various ways through which you can get ShermarooMe susbcription for free, you have codes, Amazon offer, Flipkart offer, etc., To know more in detail, read How to Get ShemarooMe Premium Subscription For Free.
Q. How many users can use shemaroo?
Ans. On one (1) subscribed account, ShemarooMe enables a MAXIMUM of four (4) devices to read its content concurrently. This is to prevent unauthorized usage of your premium membership..
Q. Is shemaroo available in Australia?
Ans. SMEAMAO ENTERTAINMENT LTD. The company currently serves users in over 30 countries, including the US, UK, Singapore, UAE, and Australia, and has a library of over 3700 movie titles in several Indian languages.

Join Telegram Channel & Get Instant Deal Alert

75,062+

participants