183 days ago
The Best Places to Celebrate Dussehra In India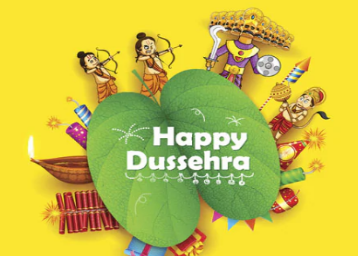 Dussehra is the 10-day festival and considered as one of the most distinguished festivals of Hindu culture. The festival represents the victory of good over evil. The festival holds special and different significance for people belonging to the different parts of the country. It is celebrated in different styles and with various rituals in all parts of the country. The most famous and Best Places to Celebrate Dussehra in India are disscussed in this article, so keep reading.
On this day, the towering effigies of Ravana, Meghnath, and Kumbhkaran are set on fire. During the festival, there are several Dussehra Online Offers going on websites like Amazon, Flipkart, Snapdeal, Big Basket and more.
As you all know, Navratri has started and the entire country looks gorgeous with all those twinkling lights and decorations. Durga Pandals, Navratri venues, food stalls and fairs; you will see these in every nook and corner in most of the portions of the country. 
The celebration of Dussehra certainly differs in each state and city. I have listed some of the places in India that are ideal for dussehra celebrations.
.
List of Best Places to Celebrate Dussehra In India
From Kolkata to Mysore, there are many areas in India that commemorate this festival with great passion and power. The cities don a distinctive look with brilliantly lit up places and the hustle-bustle of people. Here we have mentioned the Most Famous Dussehra Festival Celebration In India where you can give a visit at least once in a lifetime for fun, dance, and much more. 
| | | |
| --- | --- | --- |
| Places For Dussehra Celebrations | State | Known As  |
| Kolkata | West Bengal | Kolkata Durga Puja/Pujo |
| New Delhi | Delhi | Dussehra Pandal And Ramleela  |
| Ahmedabad | Gujarat | Navratri Mahotsav |
| Madikeri/Coorg | Karnataka | Madikeri Dasara |
| Kulasekharapatnam | Tamil Nadu | Kulasekarapattinam Dussehra |
| Ramnagar, Varanasi | Uttar Pradesh | Varanasi Ram Lila |
| Kota | Rajasthan | Rajasthan Dussehra Fair |
| Mysore | Karnataka | Mysore Dasara |
| Chennai | Tamil Nadu | Chennai Bommai Kolu |
| Hyderabad | Andhra Pradesh | Hyderabad Dussehra Celebration |
| Kullu | Himachal Pradesh | Kullu Dussehra |
| Bastar | Chhattisgarh | Bastar Dussehra |
Review of the Best Places to Celebrate Dussehra in India
1. Kolkata Durga Puja/Pujo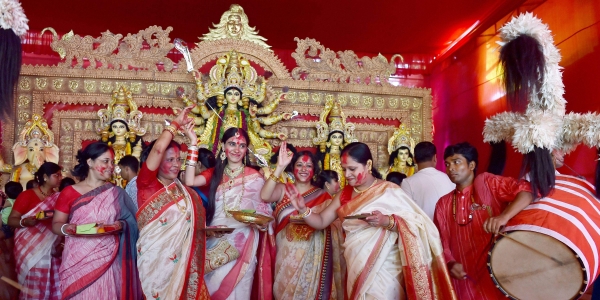 To begin with, the very first place in the list that celebrates the festival of Dussehra in India is Kolkata. Dussehra is the biggest festival of West Bengal. Durga Puja literally transforms Kolkata into the city of joy. There, you can go on a pandal-hopping spree where you will see numerous decorated sculptures (murti) of goddess Durga. Take the blessings of Durga by indulging in delectable bhogs of famous Bengali sweets. You can also dance there on the vehement beats of the dhaak.
Durga Puja in Kolkata is a once-in-a-lifetime experience. However, the celebrations culminate with the immersing of the Durga idols in the river. This is probably one of the best spots all over India to observe Dussehra celebrations. During Durga Puja, Kolkata can be seen in all its beauty. Durga Puja begins with a lot of hustle-bustle and vibrancy to the castle. 
You will see women decked up in new, traditional costumes, attending Durga pandals. As you drive down the streets of Kolkata, the colourfully led up lights, sacred music like Rabindra Sangeet is something you will experience. 
You must visit Kolkata at least once in a lifetime during Dussehra to see the commitment and enthusiasm with which people mark this festival. 
2. Delhi's Pandal and Ramlila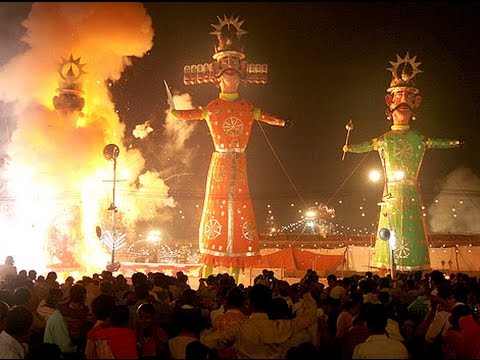 Delhi accentuates a new avatar during Dussehra with hundreds of special stages set up for Ram Lila musicals. Moreover, at various places of Delhi including Chitranjan park, Kashmiri gate etc., there are establishments of pandals introducing effigies of Goddess Durga.
And, on the auspicious day of Dussehra, there is an arrangement of sky-high effigies of Ravana, Meghnath, and Kumbhkaran which are burnt to mark the win of Lord Ram.
Delhi, India's capital also takes part in the wonderful festival of Dussehra in the most impressive way. Nine days of nonstop fun, dancing and demonstration, Delhi has its own different way of commemorating Dussehra. On the last day when people burn the dummy of Ravana, the roads are packed with the noise and flashes of fireworks. 
Delhi is also one of the most famous places to celebrate the festival of Dussehra. Delhi's Dussehra is popular for hosting some of the biggest Ramleela shows at the Ramlila Maidan and also at the Red Fort areas. The fireworks and the various food stalls that sell delightful food makes Delhi a must visit place durin Dussehra.
3. Ahmedabad Navratri Mahotsav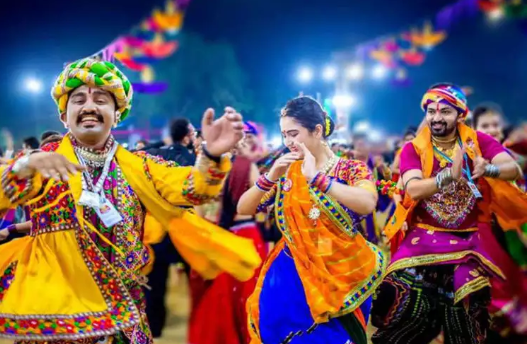 A much-awaited annual event in Gujarat's calendar, Navratri Mahotsav in Ahmedabad is celebrated with dazzling zeal and merriment. Nine nights of hustling midnight buffets, energetic Garba dances and vibrantly coloured chaniya cholis, and kafni pyjamas twirling to the beats of the dhol is something you will see and experience in the Ahmedabad Navratri Mahotsav.
It is one of the best places to visit to celebrate navratri and dussehra in India. To join in for some Garba and Dandiya dance while having the mouth-watering delicacies by your side, Ahmedabad Navratri Mahotsav is a must visit.  All nine evenings begin with a Pooja for Goddess Durga and continue till the wee hours of mornings.
4. Madikeri Dasara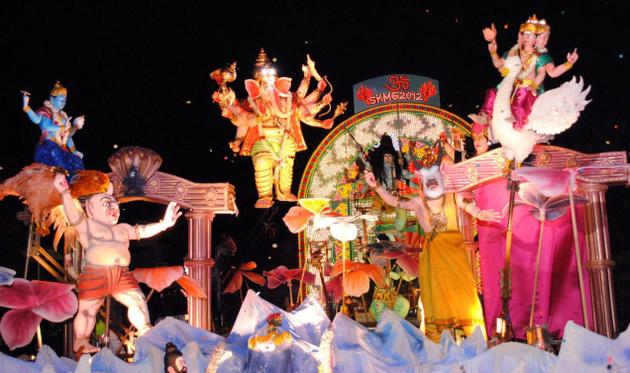 A bright, carnival-like festival observed amidst the peaceful hills of Coorg (Kodagu), Madikeri's Dasara has a plentiful and interesting history that records back to the reign of Haaleri Kings. There are four temples devoted to Goddess Mariamma (after whom the festival is also called as Mariamma festival), each holding its personal bizarre Karaga (a ritualistic folk dance devoted to Draupadi) that is conducted during the celebration.
There is nothing better than  jiving all evening to foot-thumping music in the cool hill air, with regular intermissions to taste spicy gobi Manchurian, pandi curry and of course Coorgi coffee.
5. Kulasekarapattinam Dussehra
A fairly uninteresting coastal town in Tamil Nadu, Kulasekharapattinam becomes alive during its 10-day Dussehra celebration (also called Kulasai festival). 
Spinning around the Mutharamman Temple (an extraordinary pilgrimage place in the region), the yearly celebration is a melting pot of music, dance, drama and an astounding collection of colourful clothes.
Another important feature of this celebration is a trance dance in which pioneers in fancy costumes influence the pulsating beats of thara thappattam (amidst fire yielding clay pots in their hands) for hours on edge and far into the twilight.
6. Varanasi Ram Lila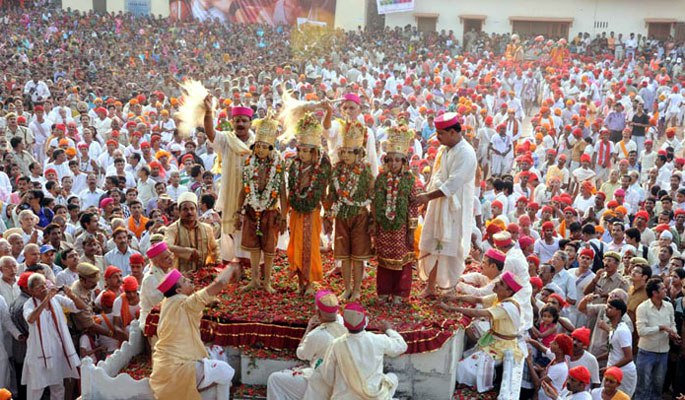 Head to Ramnagar, near Varanasi, to watch a 200-year-old tradition of the Ramayana on stage. Over month-long performances of various scenes of the Ramayana are held across the town.
The day of Dussehra marks Rama's victory over Ravana as a tall effigy of the demon is set on fire in the middle of the town. The performance of actors is matchless, as they hardly use mikes and loudspeakers, even when the number of viewers is in the thousands.
Dussehra in Varanasi, one of the most religious places of India, is an adventure that you must have. Varanasi has the classic blend of Delhi like Ramlila shows and also Kolkata like Durga puja. One of the most traditional Ramlila shows is held at Ramnagar, which is about 15 km from Varanasi. 
The idea of organizing Ramlila shows was started by the King of Kashi that goes on even today. This festival makes the whole city of Varanasi back to life with a happy feeling scattered all over. For ten long days, Varanasi continues to be a popular place to visit for devotees.
7. Kota, Rajasthan Dussehra Fair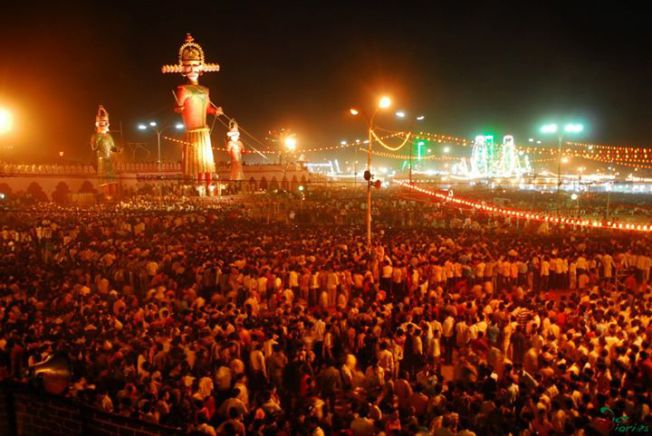 Dussehra in Kota, Rajasthan is celebrated with a fun-filled fair that includes cultural performances, fantastic displays of fireworks, costume plays, and the plethora of stalls serving delectable festive food. In this mela, artisans come from far away, sell their wares and show their cultural programs and performances.
Towering statues of Ravana, Meghnath, and Kumbhkaran are burned, in the middle of the city. Additionally, there is a captivating procession from the Royal Palace to the fairground, featuring decorated elephants, camels, horses, and folk dancers.
Besides this, you can also enjoy activities like windsurfing, water skiing, rock climbing, and rural excursions in the Rajasthan Dussehra Fair.
8. Mysore Dasara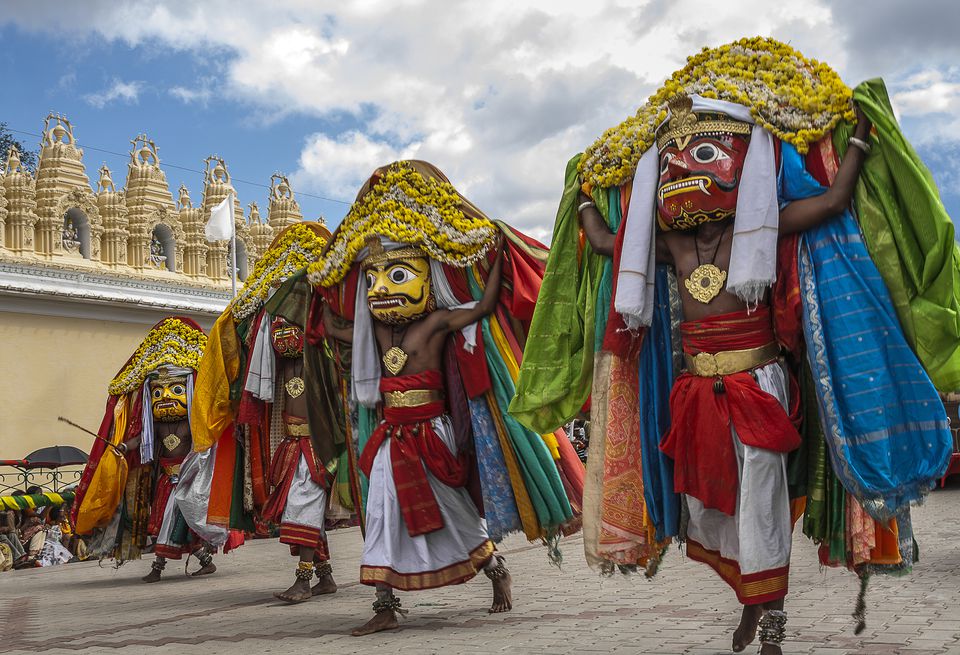 Mysore Dasara is the state festival of Karnataka, a 10 day festival with the last day being Vijayadashmi. The city of Mysore has a long tradition of celebrating the festival, attracting a large audience towards those festive vibes.
Other highlights of the event are the special Durbar at the spectacularly lit Mysore palace. The majestic Dasara procession known as the Jumbo Safari is another highlight of this festive season.
The royals of Mysore have always been at this festival in Mysore Palace. The complete palace is lit up for the propitious occasion. The castle is lit up for ten long days till the celebration is over. And what makes the festival worth seeing, is the grand parades that take place on the last day. 
It is definitely a sight worth seeing. Elephants are a significant part of the festivities. One of them carries the gold canopy of Chamundeshwari idol. This idol starts being displayed from the Mysore Palace and finishes at Bannimantap. 
There are also stories about how Mysore got its name, and it said that the name was obtained from Mahishasura who was shot by Chamundeswari, a form of Durga. It is said that Mysore place is lit up with at least one lac lights  and each day over a core is spent on the arrangements and decorations. 
9. Chennai Bommai Kolu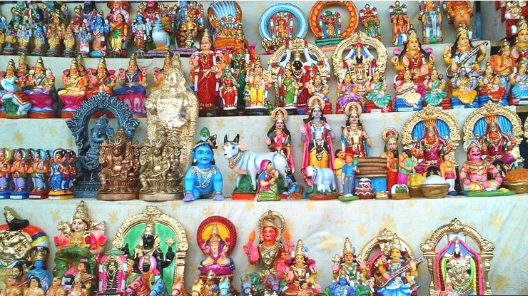 During the 10 days of Dussehra celebration, the streets of Chennai get decked up with decorative items. The arrangement of effigies of gods and goddesses on wooden stages is just matchless.
While the brightly-coloured tableaux usually represent the assembly of Goddess Durga during her battle with the demons. Moreover, the episodes of Ramlila are the main highlights of this celebration. Chennai has it's own charm during the festival. The city starts glowing with the number of lights led up in each and every street..
10. Hyderabad Dussehra Celebration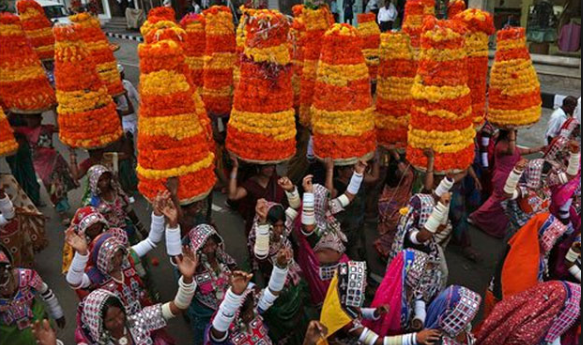 In Hyderabad's Durga Puja celebration, you can find both colourfully decorated pandals and the displays of Ramayana episodes. The beautiful Maa Durga, all decked up in fineries, is just so mesmerizing that it becomes hard to keep your eyes off of her.
It's the time where women take out all of their ethnic dresses and jewellery and adorn themselves in the prettiest manner possible.  
The celebration of Durga Puja in Hyderabad starts with the worship of Lord Ganesha followed by women dancing around a flower arrangement.
11. Kullu Dussehra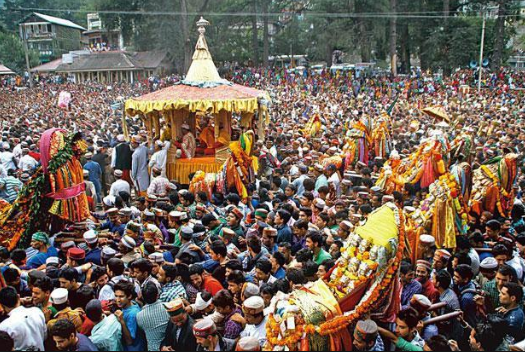 Kullu Dussehra is one of the most famous Dussehra festivals celebrated in Himachal Pradesh. The state has given Kullu Dussehra festival a status of an International festival which fascinates tourists and worshippers all across the globe in large numbers.
One of the main highlights of Kullu Dussehra celebration is that instead of burning statues of Ravana, the celebration ends with the Lankadhan ceremony. In this ceremony, the burning of the Lanka ( basically made up of dry leaves, grass, and twigs) takes place on the banks of river Beas.
12. Bastar, Chhattisgarh Dussehra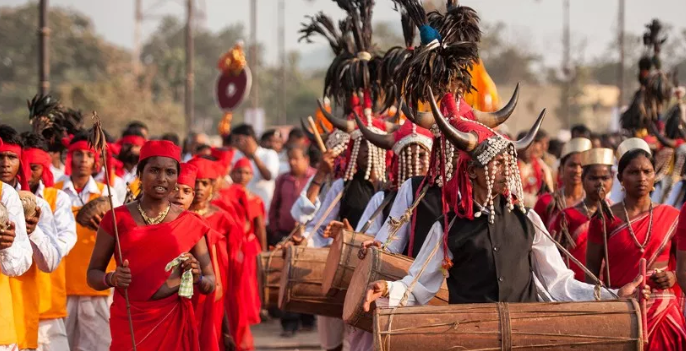 In Bastar, the celebration of Durga Puja is organized for 75-days. The celebration is all about nature, spirituality, and worship of Devi Danteshwari.
Distinctive rituals at this age-old tribal festival include Deri gadhai (posting of the pillars, Kalash sthapana), Kanchan gaddi (throne installation for Devi Kachan), Muria durbar (conference of tribal chieftains) and on the last day ohadi (farewell to the goddess). 
Significance Of Dussehra Festival In India
We wish to know the Best Places to Celebrate Dussehra In India, but how much do we know about the festival itself? Many of us may have learned about the traditional history of Dussehra, but those who do not know and wish to enlighten themselves, read on.
Dussehra, also commonly known as Vijayadashami, is one of the most comprehensive and the most celebrated celebrations of India. Dussehra is observed after the nine days of dancing and celebration of Navratri.
This festival is celebrated in the month of Ashwin as per the Hindu calendar, and that often comes in the months of September or October. Since it is also the origin of harvest time in India and Nepal, Dussehra is celebrated with so much devotion.
Dussehra celebrated across India with great zeal and vigour. It is also known as Vijaya Dashmi. People all over the country celebrate it and may call it by different names. We celebrate Dussehra for a significant reason. This festival marks the importance of the victory of goodness over wickedness.
Dussehra is celebrated country-wide with the10 day-long celebrations to mark the victory of Lord Rama over Ravana. It is celebrated by burning the effigies of Ravana, Meghadoota, and Kumbhakarna- the evil demons of Lanka. It is also hailed as the victory of Goddess Durga over Mahishasura. The whole celebration comprises the grand Durga puja celebration all over the country, especially Kolkata, West Bengal.
Also, before Dussehra, all the ten days of celebrations are embarked by staging Ramleela in many northern parts of the country. On the 10th day, Dussehra is celebrated by burning the effigies of Ravana.
Conclusion
The 10 days long festival of Dussehra brings peace and festivity and this festival is celebrated with so much pomp at numerous fascinating locations of India. However, every state of India has its own culture and flavour to celebrate this auspicious festival of Maa Durga. So, explore the above-given places and take the eternal blessings to lead a life filled with prosperity and happiness.
Frequently Asked Questions
Q. Where is Dussehra most celebrated in India?
A. Dussehra is celebrated almost everywhere in India. The festival is celebrated for the win of goodness over bad and evil. Devotees of Lord Ram throughout the country celebrate the festival by burning the idols of Ravana.
Q. Which state is famous for Dasara?
A. Mysore's Dussehra is very famous. The festival is celebrated there for 9 days followed by the 10th day that is Vijayadashami which signifies the victory of Lord Rama over Dashanan (Ravana). 
Q. Where can I go this Dussehra?
A. There are multiple places where Dussehra is celebrated. I have mentioned the best ones in this  article. You can read the complete article and decide where you want to go this Dussehra.
Q. Where is Dussehra not celebrated in India?
A. There is one place in India where Dussehra is not celebrated. The place is Baijnath in Himachal Pradesh. Baijnath is the dwelling place of Lord Shiva. People there think that Ravana, being the most attentive devotee of Lord Shiva should not be burned.

Join Telegram Channel & Get Instant Deal Alert

75,062+

participants