118 days ago
1604
Best Home Theatre in India 2021 - Ultimate Buying Guide

Join Telegram Channel & Get Instant Deal Alert

71,520+

participants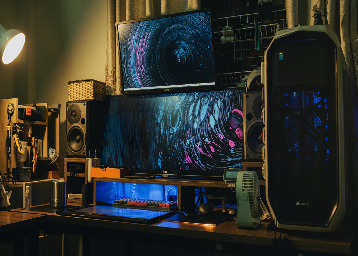 Home theatre systems are a must-have for family entertainment. Whether you are watching movies, listening to music, or playing games, a good home theatre system can add to your experience.
There are many brands and the cost varies based on the features offered. There are high-end options as well as affordable variants to fit into your budget.
We are here with the ultimate guide to help you buy the best Home theatre system in India. 
Meanwhile, for the best Bluetooth speakers in India Click here
What is Home Theatre?
It is audio and video equipment to create a theatre-like experience at home. A home theatre system gives a more impressive experience than an ordinary television. If you have subscriptions to Netflix, Prime Video, or other streaming platforms a home theatre system will boost your experience as you can stream instantly over the internet. Home theatre is the most popular home entertainment trend. People are opting to bring the world of cinema to their homes. 
 Home Theatre System Types
Before choosing the best home theatre system you should have a basic idea of the different types. There are mainly three types of surround sound - 5.1, 6.1, and 7.1 channel. These numbers refer to the numbers of regular speakers and subwoofers in a sound system.
For Instance: You get 5 speakers and 1 subwoofer in a 5.1 channel surround sound. Similarly, there are 6 speakers and 1 subwoofer is a 6.1 configuration. There are other combinations as well such as 7.2 which has 7 Speakers and 2 subwoofers. 
A channel is a technical term used for a speaker. Since each speaker needs its own channel from the receiver. While .1 refers to the number of subwoofers. It is the speaker for bass and has its own channel. 
a) 2.1 Channel
It is the most basic configuration in home theatre systems to create a theatre-like experience at home. The arrangement consists of 2 speakers and one woofer. The speakers will be placed one on each side of your TV or multimedia players. 
They can be paired with TVs, multimedia players, laptops, and smartphones. Sony, Logitech, F&D, iBall, Dell, and Logitech are some popular brands. The size and shape differ from one brand to another. There is also a difference in price based on the brand. There is quite a range of 2.1 channel systems on the market.
Pros
Most budget-friendly option
Better audio quality than standard stereo TV speakers
Ideal for those short on space
Can be upgraded at a later stage
Best 2.1 Home Theatre System in India
Product

Key Features

Price

Buy Now

Infinity (JBL) Hardrock 210 Deep Bass 2.1 Channel Multimedia Speaker

100W Peak Output

Wireless Bluetooth Streaming

3 Equaliser Modes - Movies, Music & Gaming

Plug n Play USB with MP3 & WMA Dual format Decoding

Wooden Cabinet Subwoofer

IR Multifunction Remote

Rs. 4,999

 

iBELL E240BT 2.1 Channel Home Theatre Multimedia Speaker System RMS 20Watts

Powerful 20Watts RMS

Super Bass Output

Fully Remote Control Operation

Bluetooth Connectivity|SD Card|USB|AUX|FM Radio

Output: Subwoofer:10Watts 4 Inch 

Rs. 2,370

 

boAt Aavante Bar 1500 2.1 Channel Home Theatre Soundbar

120 watt RMS sound with a bassful subwoofer

2.1 Channel Surround Sound

Sleek Design with premium finish

Multiple Connectivity Modes : usb, optic, aux, remote

High end equalizer technology to optimize the sound output

Rs. 6,499

 

Philips Audio MMS2625B 2.1 CH Bluetooth Multimedia Speakers 

Perfect for MP3, PC, TV & more

Enjoy music from multiple sources

FM tuner for radio enjoyment

32 W RMS total output power

Wireless music streaming via Bluetooth

AUX-in for easy connection to almost any electronic device

Rs. 2,990

 

JBL Cinema SB 231 2.1 Channel Soundbar with Wired Subwoofer

110 Watt Output Powerful 2.1 Channel Soundbar with wired Subwoofer

Subwoofer for Deep and Thrilling Bass

Dolby Digital Embedded

Wireless Music Streaming Via Bluetooth from your mobile or tablet

One cable connection with HDMI ARC

Rs. 8,999

 
b) 5.1 Channel
A 5.1 system will give a true surround sound feeling. It has 4 bookshelf speakers and one center channel speaker. The two front speakers will be placed on the left and right. The center speaker is placed in front of the TV. The center channel is used for voices and dialogue while the rear 2 channels provide surround sound.  The front 2 speakers work as normal. It is the most common Home theatre system configuration. 
If your purpose of buying a home theatre system is primarily music then the 2.1 speaker system should be good. However, for movies or games 5.1 channel configuration will be better to create a surround sound effect.
Pros
Most popular type
Optimized for home theaters
Noticeable Difference from standard TV stereo audio
Offers surround sound
Cons
Can be costly if you're looking for a good quality system
Best 5.1 Channel Home Theatre System in India
Product

Key Features

Price

Buy Now

iBELL 2448 DLX 5.1 Home Theatre Speaker System

95W

8.1 Kilograms

FM Stereo Radio

USB/SD/MMC/AUX Function

Full Function Remote Control

Rs. 5,140

 

 

Sony HT-RT3 Real 5.1ch Dolby Audio Soundbar Home Theatre System

600 Watts

Bluetooth, NFC, USB, Optical,HDMI

600 Watts

11 kg

Rs.19,990

 

 

Zebronics BT6860 RUCF 5.1 Bluetooth Speakers

70W

LED display

4.17kg

Wireless BT/USB/SD/FM/AUX/AC-3

Rs. 3,999

 

 

F&D F3000X 80W 5.1 Bluetooth Multimedia Speaker

80W

Connecting Ports: AUX, USB, RCA

Bluetooth

FM radio

Rs. 6,499

 

 

Philips SPA8000B/94 5.1 Channel Multimedia Speakers System

11.91 Kilograms

120 Watts

8 inches high efficiency woofer

Bluetooth, USB and SD card slots

Built-in FM tuner

Rs. 8,550

 

 
c) Soundbars
 Soundbars are not a type but an alternative for those who are on a low budget. They are also a good choice if space is short. Soundbars come with built-in left, center, and right speakers; add rear speakers and a subwoofer for true surround sound. They take less space and deliver home theatre-like sound.  
Want more fun stuff? Subscribe to our YouTube Channel for offer videos, product reviews, shopping deals, giveaways, and more. Stay tuned for amazing deals and free stuff online. You can also grab 100% cashback offers for a completely free online shopping experience. 
Top 10 Best Home Theatre Systems in India With Price
1. Sony HT-RT3 Real 5.1ch Dolby Audio Soundbar Home Theatre System

The first product on your list of best home theatre systems in India is no doubt from Sony. The brand has entertained us with quality audio products over the years. 
Sony HT-RT3 Home Theatre System has a total power output of 600W to ensure authentic surround sound for movies, music, games, and sports. It comes with a slim soundbar and two rear speakers to deliver wide frequency audio response. The external subwoofer adds extra bass to ensure a purely cinematic experience.
It comes with support for Dolby Digital for high-quality surround sound. NFC support removes the need for wired connections. There is also Bluetooth support to pair your smartphone or other devices. It is easy to set up as well.
Price: 19,558
Features
600 W Total Power Output
5.1 Channel Real Surround Sound
Dolby Digital
Stream Music Instantly with NFC
Optical Inputs for Easy Connection
Pros
Build quality is extremely good. 

Looks very premium for this price.

Multiple options like Bluetooth, optical, HDMI, etc.
Cons
The bass could've been a little bit more.
2. Philips SPA8140B/94 4.1 Channel Multimedia Speaker System, Black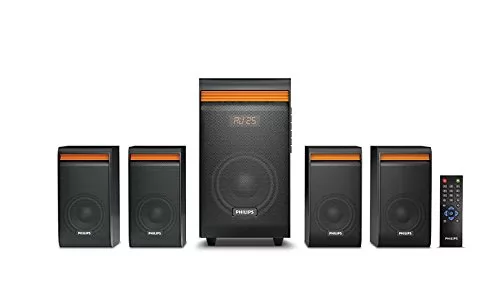 At No. 2 we have Philips, the brand that has been a pioneer in audio products since the 1920s. Philips SPA8140B/94 4.1 Channel Multimedia Speaker System is the perfect option for people on a budget under Rs. 5,000.
This 4.1 channel Channel multimedia speaker system comes in a trendy black color. It can be easily connected to Mobiles, Tablets, Laptops, Computers, and TV. It weighs 6.7kg. 
For easy connectivity, it comes with Bluetooth connectivity. You also get a remote control for hassle-free operation. There is a USB direct play feature available as well. With all the features, it is definitely one of the best home theatre in India under 5000. 
Price: Rs. 3,999
Features
38 W sound output
18 W Subwoofer
LED display
Bluetooth, USB input, Audio-in
Elegant Matt Finish
Pros
Bluetooth, SD card, and Pen drive.
Bass and speaker quality is average.
Value for money
Cons
Cable quality is poor.
No options to balance the bass or treble
3. Sony HT-S20R 5.1ch Dolby Digital Soundbar Home Theatre System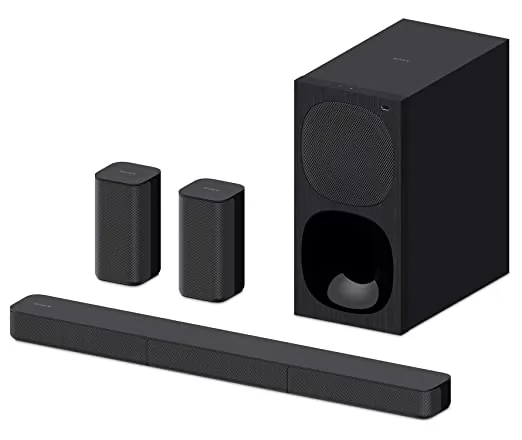 Sony is undoubtedly among the best audio brands and you will get multiple products from this brand in any list. Sony HT-S20R 5.1ch Dolby Digital Soundbar Home Theatre System ensures powerful cinematic sound. The 400W powerful output ensures a thrilling experience. 
It comes with Bluetooth and USB support for hassle-free connectivity. There is also support for HDMI ARC to provide single-cable connectivity. You can also get optical input to enjoy high-quality sound. In case your TV doesn't support HDMI ARC and Optical input, you can connect using the analog input. 
This home theatre is ready to use out of the box. 
Price: Rs. 14,999
Features
5.1ch Real Surround Sound
Dolby Digital
USB Plug & Play
HDMI ARC connectivity    
400w Power Output
Easy to setup
Pros
HDMI ARC support
Optical cable support
400W powerful output
Cons
Sound quality could have been better
4. Infinity (JBL) Hardrock 210 Deep Bass 2.1 Channel Multimedia Speaker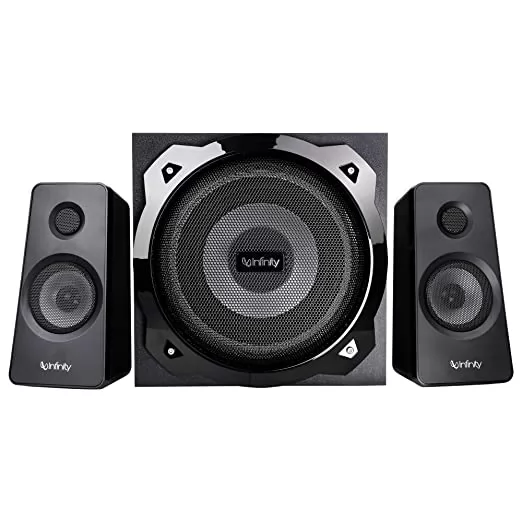 Next on our list is from JBL. Infinity (JBL) Hardrock 210 Deep Bass 2.1 Channel Multimedia Speaker comes with 3 inbuilt modes for movies, music, and gaming to give complete control of your home audio. It comes with support for wireless Bluetooth streaming to pair your laptop, phone, or tablet. 
It comes with a wooden cabinet subwoofer for unparalleled top-quality bass. Connect your hard disk or pen drive for easy plug and play. You can connect your TV using the AUX cable to enjoy music and movies. 
Price: Rs. 4,999
Features
100W Peak Output
Wireless Bluetooth Streaming
3.5" Full range driver for satellites
6.5" Bass driver for subwoofer
3 Equaliser Modes
Pulsating LED illuminated Subwoofer
Pros
Audio quality is clean and clear
Satellites and woofer are awesome
Remote control is responsive
Easy to connect Bluetooth or aux
Cons
AUX music quality is not as expected.
5. Yamaha YHT-1840 4K Ultra HD 5.1-Channel Home Theater System with Dolby and DTS

This Yamaha Home Theatre system is built with maximum sound quality in mind. The subwoofer is impressive to deliver powerful and crisp bass. The surround sound is excellent as well. 
It comes with Yamaha's distinctive audio enhancements for a superior experience. The build quality is amazing as well to last a long time. The key features include Dolby TrueHD, DTS Master Audio, and other different special codecs.
It also supports 4K Ultra HD, HDR Video, and BT.2020. Dialogue Level Adjustment ensures proper sound balance with dialogue and vocals.
The Virtual CINEMA DSP is capable of reproducing virtual 5-channel surround sound with only two front speakers to give more flexibility to arrange the speakers inside the room.
Price: Rs. 31,541
Features
4K Ultra HD Full Support
5.1 Speaker Package with passive subwoofer
Yamaha CINEMA DSP technology
Dialogue Level Adjustment
Pros
Well-balanced sound output.
Connectivity is good
Multiple audio inputs and HDMI.
Cons
No Bluetooth

Bass isn't heavy
6. boAt Aavante Bar 1500 2.1 Channel Home Theatre Soundbar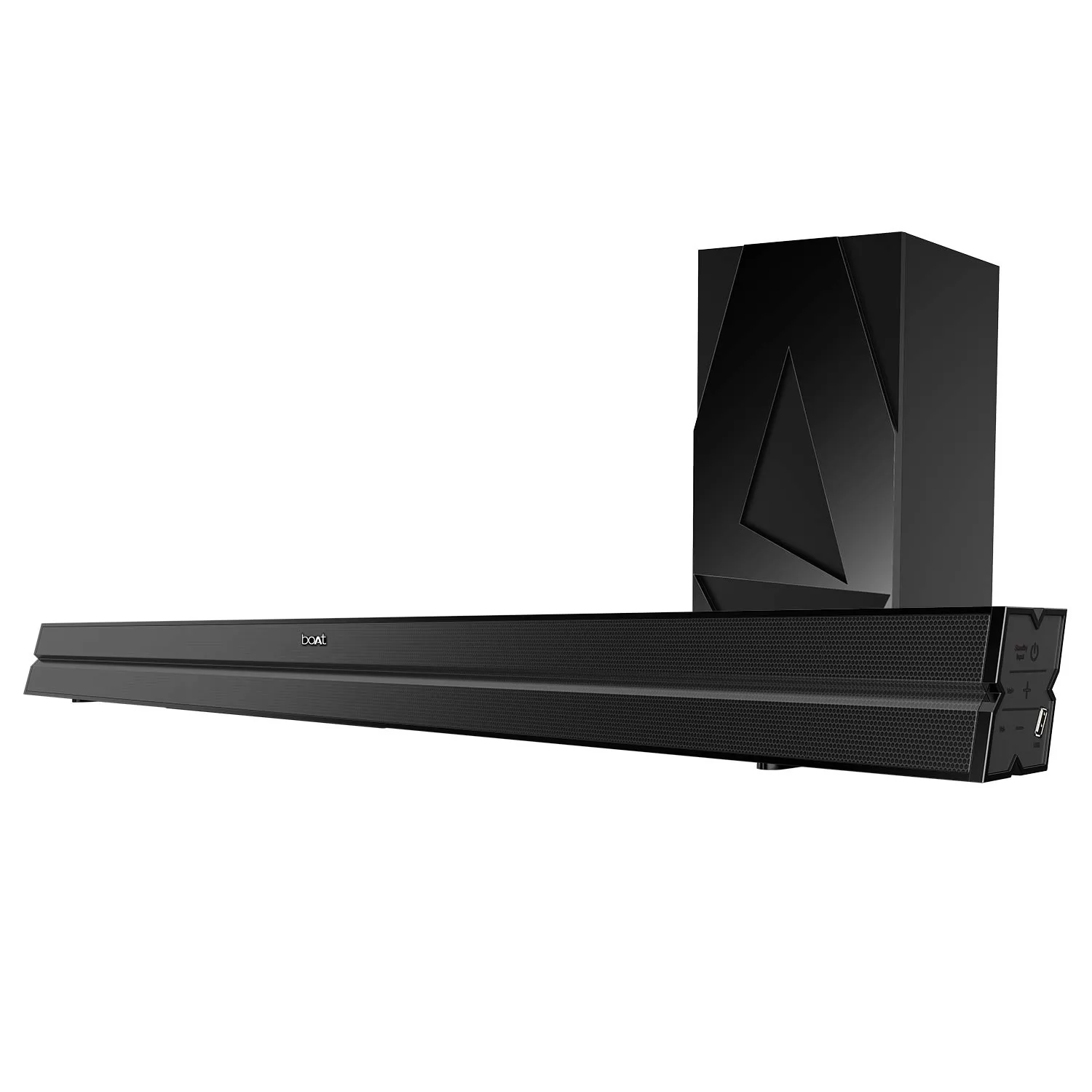 The boAt AAVANTE home theatre soundbar comes with 120 watt RMS sound. The down-firing subwoofer provides bold sound to provide a truly cinematic audio experience. It has a sleek design with a premium finish to fit into the interiors of your home.
The multiple connectivity options include USB, optic, aux, and remote to ensure a versatile setup. The two-channel sources create 3D stereo surround sound. 
Optimize the output according to your audio needs with high-end equalizer technology. You can choose from wired connections and Bluetooth wireless technology.
Price: Rs. 7,999
Features
120 W total output
60 W subwoofer
Bluetooth, AUX, USB, HDMI, Optical
Sleek Design with premium finish
High end equalizer technology
Pros
Bass quality is good.
Premium finish
Value for money
Cons
HDMI cable is not provided
Remote quality feels low
7. F&D F210X 15W 2.1 Bluetooth Multimedia Speaker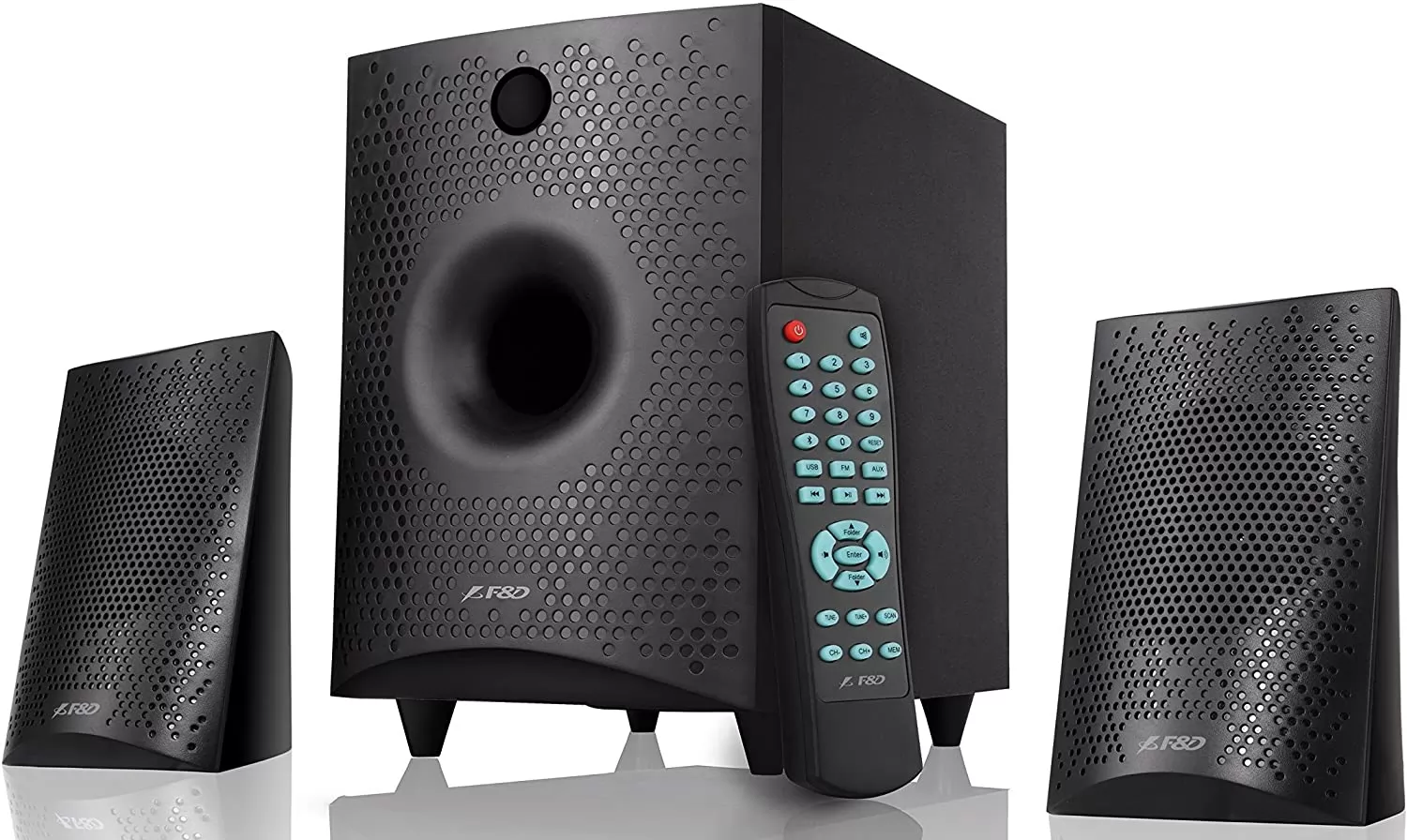 The multimedia speaker comes with 2.5 inches full-range driver for satellite speakers and 4 inches bass driver for the subwoofer. It supports Bluetooth 4.0 version audio streaming. FM storage speaker helps store up to 100 FM radio stations. Fluorescence full function remote control works for up to 10 meters. 
There are full Function Control Buttons on top for volume, source, neet/pre, play/pause. USB reader supports MP3/WMA dual formats decoding. The minimalist and elegant design adds to the classic appeal.
Price: Rs. 2,099
Features
2.5 inches full-range driver for satellites
4 inches bass driver for subwoofer
Bluetooth 4.0 version
Plug and play USB card reader
FM storage for up to 100 stations
Pros
Ideal for a small room
Attractive Design
Remote has a good response.
Multiple connectivity options
Cons
Subwoofer is too small
Cables are too short
8. Zebronics Zeb Claw 4.1 Multimedia Speaker with Bluetooth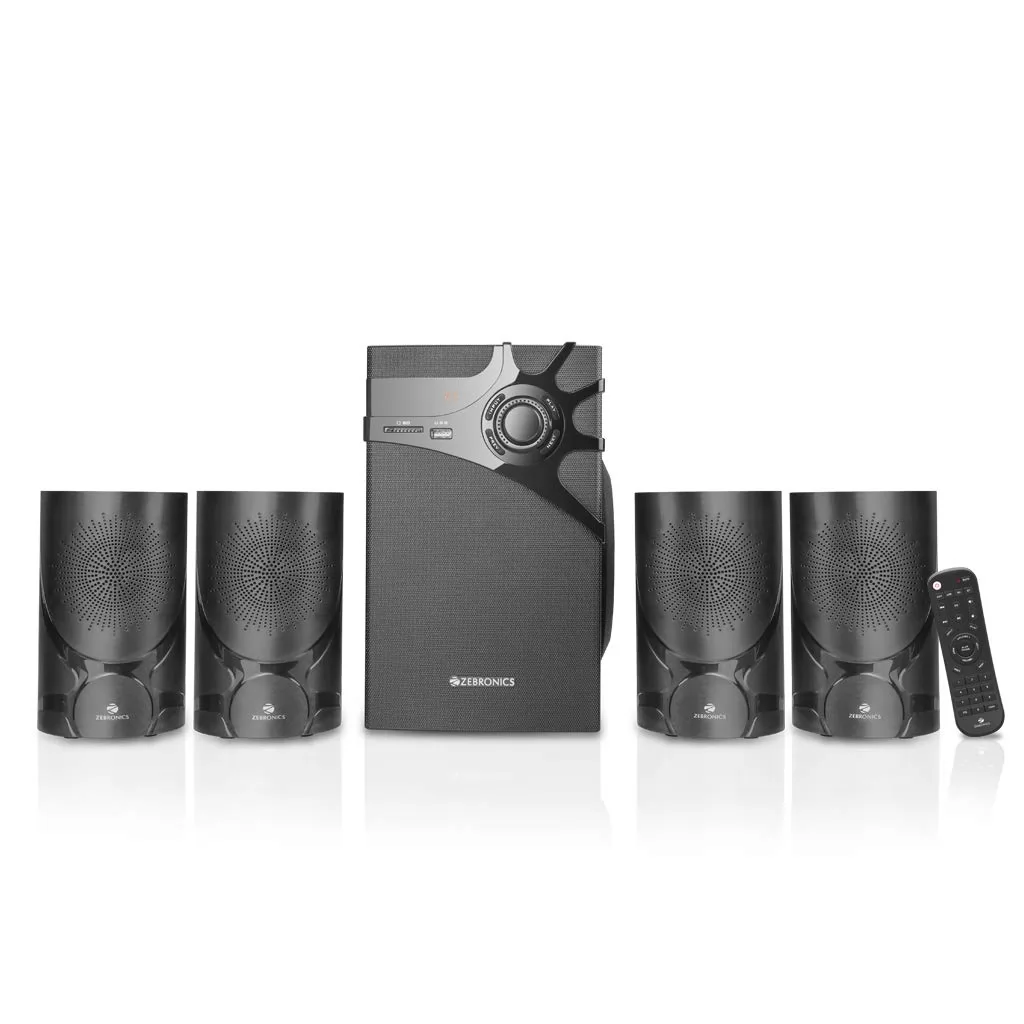 The stylish multimedia speakers support multi-connectivity options such as BlueTooth, USB, SD, and MMC. Memory is expandable up to 32GB. It has a stylish LED display and comes with an inbuilt FM radio. 
Rich textured finish adds to the appeal of this device. You get a 1 year warranty on the product from the date of purchase.
The included remote control makes entertainment available at the press of a button. 
Price: Rs. 4342
Features
LED display
Inbuilt FM radio and comes
65w RMS 
Bluetooth function, USB input, LED display, SD/MMC card support, FM Radio, Remote control
 
Pros
Good sound quality.  
Built quality is good
Multiple Connectivity modes
Cons
No option to control the bass/treble.
9. Logitech Z623 THX 2.1 Speaker System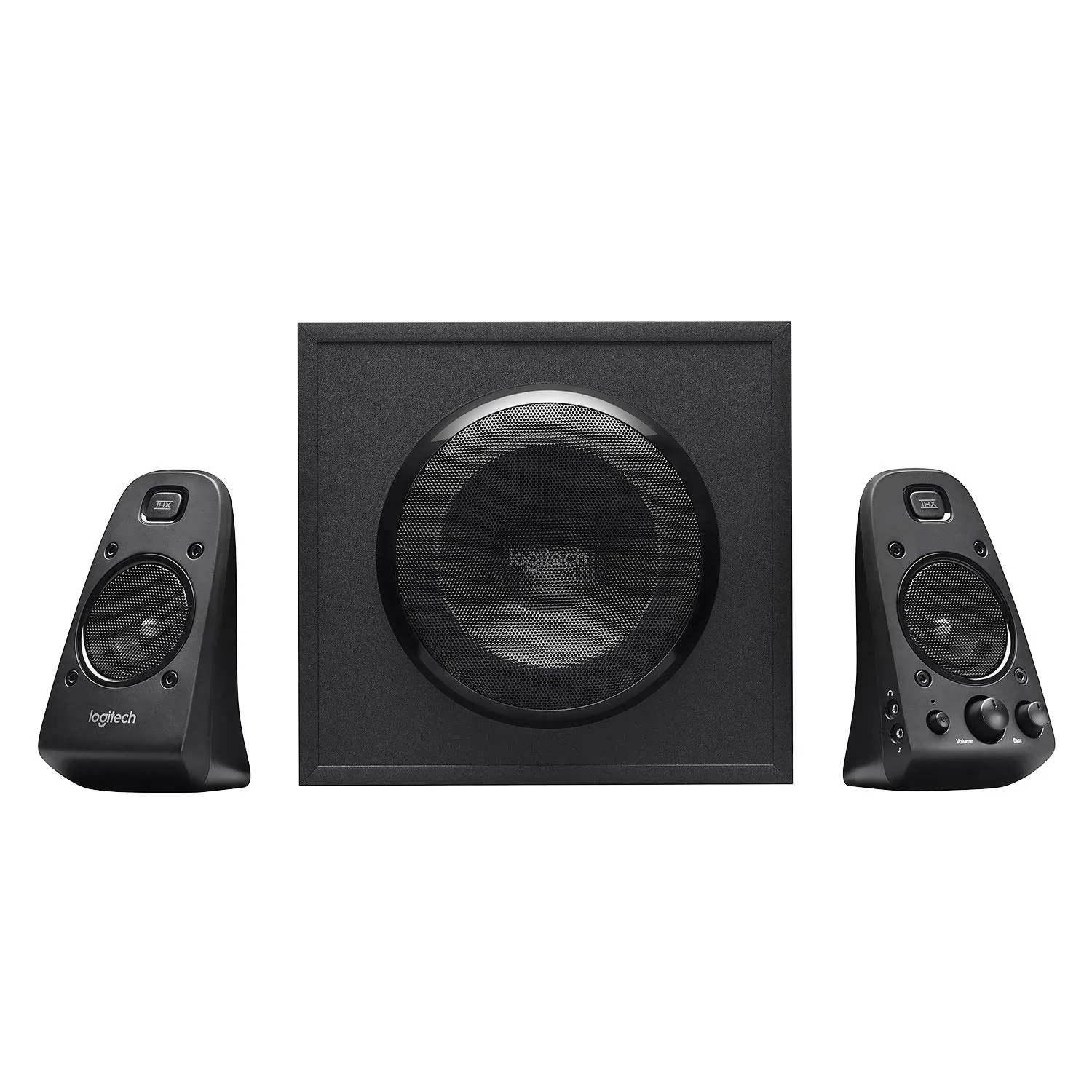 The 5.1 speaker system has left, right, and center speakers, two rear satellite speakers, and one subwoofer. Enjoy 400W Peak powerful sound while listening to music, watching a movie, or playing video games. The 133.35 mm bass driver is enough to fill your home with incredible sound. You can connect the system via Bluetooth or a 3.5mm audio jack to enjoy games, music, and movies. It also has support for an SD card, USB driver, and FM radio. 
Its compact remote has a range of up to 10m allowing users to play, pause, skip, control volume, select input and more. You can connect the device to a computer, phone, tablet, TV, DVD player or Blu-ray player. 
Price: Rs. 12,945
Features
200 Watt wired speakers
Powerful 130 Watt subwoofer.
Integrated headphone jack, two 3.5mm inputs and an RCA input
2 Yr Hardware Warranty
 
Pros
BASS is deep and Sharp
Compact size
Powerful and punchy
 
Cons
Cables and ports feel cheap
10. Sony SA-D40 4.1 Channel Multimedia Speaker System with Bluetooth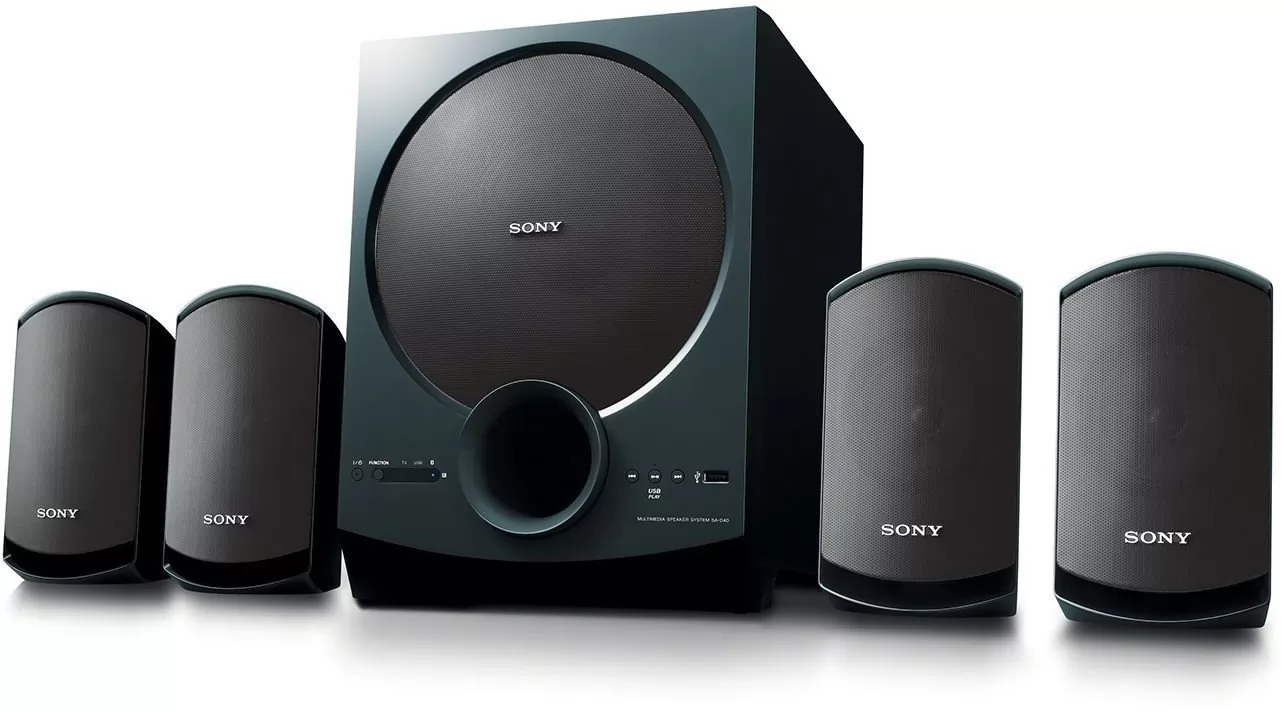 This 80W 4.1ch multimedia speaker supports Bluetooth, USB, and audio inputs. You can enjoy wireless music with Bluetooth streaming. The device is easy to set up. It is supplied with remote control for a seamless experience. 
It comes with a stylish gloss speaker finish. The system is designed to work with TVs, PCs, and music players. The Big size subwoofer box ensures a wider sound effect. All the features make it the best home theatre in India under 10,000. 
Price: Rs. 8,490
Features
4.1ch system with 80 W total power output.
Supplied with remote control.
Big size subwoofer box.
Enjoy easy wireless connectivity with Bluetooth.
Pros
Sound is very amazingly clear
Cons
No manual controls for adjusting bass and treble
Components of Home Theatre System
1. Display Devices
For a truly cinematic experience, you need a large screen to view your movies. You can pick a television or video projector that fits into your home theatre space. 
There are a number of options for display devices such as flat panels, 4K UHD TV, etc. OLED televisions are becoming increasingly popular but they are expensive as compared to LED TVs. 
They can perform better in every aspect. For a Home Theater on a low budget for small room space, a standard LED LCD television can be the preferred choice.
Do some research to select the right display device as per your need. 
2. Receiver
The receiver is considered the brain of a home theatre. It transmits signals to the display and speakers. Many devices can be connected to the receiver such as a Set-top box, Blu-Ray Player, Gaming System, DVD player, etc. 
It includes a built-in amplifier to take the incoming audio signals and outputs amplified power and audio to the speakers. The role of the receiver is to tie everything together and it acts as the CPU for the home theatre. Usually, the device has HDMI and digital optical for the inputs. 
3. Video Sources
A video source supplies media to the display device. Most systems store movies and shows, while new programs can be directly downloaded to the video source. The newer devices can access the internet to stream content directly from various OTT platforms.
Blue-ray players are still the most used video source, for better picture and sound, you can use Ultra HD Blu-ray format. 
Cable or set-top box is also a popular source device. Meanwhile, Apple, Amazon, and other smart devices allow users to stream video-on-demand over an internet connection. Gaming consoles such as PlayStation and Xbox one are also used as a source for home theatre systems. 
4. Speakers
There are different types of speaker setups such as integrated, soundbar, and surround system. 
A soundbar is mounted above or below a TV. It contains multiple small speakers to create a filling of surround sound. They are much cheaper and still provide great quality sound. Most soundbars contain a built-in amplifier. 
To create a theatre-like experience, you need speakers and subwoofers which be used in a number of configurations such as 5.1 or 7.1. The first number indicates the number of channels for speakers while the second number indicates the number of subwoofer outputs. 
A 5.1 surround system consists of a center, two front speakers, two rear speakers, and a sub-woofer. These speakers can be placed in a number of different ways.
5. Connection Cables
To function properly everything needs to be connected in the right way. Once you buy all the equipment for your home theatre, the next step is to assemble everything using cables and connectors. Investing in good quality cables is important to ensure a proper experience. Cables with good conductivity ensure the exact quality you expect from your device. You can choose from Gold, copper and silver cables. 
The length of cables is another important factor for the right setup. Choose the cable length based on position of the speakers. There are different cables required for setting up a home theatre, but you may not need all of them. 
Different connection cables include Composite video calls, HDMI cables, Coaxial video cables, Stereo RCA Cables, Optical cables, and speaker wire. 
If you are planning to buy a home theatre, there are many factors to consider. Now, let us take a look at different things to consider for buying the best home theatre system in India. 
Things to Consider Before Buying Home Theatre 
1. Speakers
Speakers are crucial to delivering a good audio performance. Home theatre systems come with bookshelf or floor standing speakers. Most systems come with 5.1 channel or 7.1 channel speakers. 
The subwoofer produces low frequencies while satellite speakers are present in the front, center, and rear. You can mount the speakers in each corner of the room or they can be placed on the floor. 
2. Power
The power output of amplifiers is denoted in watts. The receiver should be powerful enough to provide enough output. You should consider an A/V receiver that delivers a minimum 100 watts of power to every channel. Impedance is another key term to measure the performance of speakers and amplifiers. 
3. Room Size
The placement of speakers depends on the size of your room. For the proper experience, you should have bigger speakers for a large room. 
The length, width, and height of a room are important to determine the placement and size of speakers. Compact speakers are good on the eye but they are not suitable for a large room. 
4. Connectivity
HDMI ARC eliminates the need of having a separate S/PDIF for audio connection. Ideally, the system should come with three HDMI input ports to connect multiple devices at a time. You can easily connect a gaming console, Blu-ray or DVD player, and laptop at the same time.
If you want to connect your smartphone then look for Bluetooth and NFC. 
4. Built Quality
Build quality of the sound system is not only crucial for the aesthetic appeal but also has an impact on sound quality. Glass Fiber is the ideal option, it enables broader frequency for a better sound quality and faster response. 
Also, the speakers with magnetic fluid offer excellent sound clarity. Therefore, make sure to check the build before buying home theatre. It is an important factor to improve the overall sound experience.
5. Audio/Visual (AV) receiver
The Audio/Visual (AV) receiver is rightly the brain of your home theatre system. It powers the whole system. An AV receiver with Dolby Atmos is highly recommended. A good home theater AV receiver is responsible for interpreting, processing, and sending audio signals to the speakers. You should at least choose an AV receiver with 5.1 output. If your home is large enough then you can also go with seven channels for a theatre-like audio experience. With a wireless AB receiver, you can even stream music and podcasts.  
6. Design
There is a wide choice available as far as home theatre designs are concerned. With so many choices available you can easily find one that goes well with your home decor. There are universal designs as well that fits into the decor of different kinds of homes. Choose from glossy surfaces, streamlined accents, and eye-catching symmetry designs. 
7. Purpose
When it comes to choosing the best home theatre system different products are designed with various activities in mind. So before you purchase one, consider the purpose of buying. Whether you want to play games, listen to music. or watch movies. If your prime purpose is gaming or music then even a system with fewer speakers will work fine. But if you intend to watch movies, then more speakers will ensure a cinematic experience. 
Best Home Theatre System Brands in India
If you are looking to buy the best home theatre in India then it makes sense to spend some time studying the various brands available in the market. There are many brands providing you options galore for every type of feature, design, and built quality. 
1. JBL
The brand has created a place among customers with innovative products. They offer a lot of features and the built quality is also good. JBL customer support is excellent as well. JBL is emerging as the first choice for many customers for audio products. 
2. Sony
Sony is an iconic brand for its high-level audio products such as headphones, wireless speakers, DVD players, and home theatre systems Sony Home Theatre systems provide a cinematic experience at home with a range of speakers. You can choose from soundbars, all-in-one systems, and home theatre speakers. 
3. Philips
Philips is a popular brand and a household name. They are popular for creating home appliances. They also have a wide range of audio products including home theatre systems. Their audio products have been an instant hit among customers who want the best-built quality. Philips Home theatre systems are affordable as well to provide great value for money. 
4. Yamaha
Yamaha is a popular brand for motorbikes. They produce quality audio products as well. Yamaha Home theatre systems are very reliable. The brand has a very ground presence in the market with its range of products that are very powerful and also provide great value for money. 
Setting a Budget For Your Home Theatre
Once you know what you need to look for, it is time to set a budget. After deciding on a budget, start checking the options available from different brands and their features. Choose the brand that meets your budget and requirements. You can also check out the reviews to find out the experience of earlier customers. 
If you don't have any knowledge about home theatre systems it would be better to hire a professional who can take care of the installation. They can help you with the installation for a perfect movie-watching experience. 
Enjoying your favorite movie at the home theatre is an entirely different experience. You don't have to go outside, it saves time and money. Going to a multiple or theatre can be exhausting because of the crowd and weather. 
Buying a home theatre system is a one-time investment. If you wish to buy a really advanced system you need to have a big budget. There is a huge variety available to suit your budget and style. You also have the choice of buying the whole set or assembling different parts to make it into one set. Most people prefer buying the whole set from one brand. It depends on a person's choice. 
Home Theatre System Accessories 
There are different accessories that can be used as an add-on to make the system more advanced. With the overwhelming demand, more brands are flooding the market with home theatre systems. 
The best option depends on your taste and preferences. Home theatres have been long around but the introduction of cheaper and advanced technologies has made them more popular. 
A home theatre system chosen meticulously ensures quality entertainment that is the same in a multiplex. The accessories enhance your overall theater-like experience. Choose the required items as per your usage and budget. 
High-Speed HDMI Cable with Ethernet
Television
Projector Screen
Universal Remote
Sound Bar vs Home Theatre System
When it comes to choosing between a home theatre and a soundbar, there are some pros and cons that you must consider before making the final decision. With a soundbar, you get convenience and affordability; while a home theatre system ensures better sound quality at an extra expense. 
The space available and money you want to spend are the most crucial factors in your decision to choose one. 
With a soundbar system, you don't need to spend as much money. You can find excellent soundbars that can be had for around 5,000, and spending 10,000 or more will get you something pretty great.
You need to churn out more money for a home theatre system. Buying a 5.1 home theatre system can cost a minimum of Rs. 10,000. 
If you want surround sound then it is better to go for a home theatre. It is hard for a soundbar to beat the performance of a quality home theatre system. Particularly, if you have a large space the home theatre is a better choice for a more impressive sound experience. 
 
Dolby vs DTS - Which is better?
Dolby sound system or a DTS sound system. And some of the sound systems like Logitech Z906 even include both codecs. 
The DTS or Dolby is the type of software to collect the sound from the input source and distributes it to the speakers evenly. 
In the Dolby system, the quality of sound depends on the height of the speakers. However, in the case of DTS, the size of the speakers does not change the level of sound.   
There is also a difference between the two is the compression rate. DTS has less compression capability. 
DTS

Dolby

DTS Digital Surround – 5.1 maximum channel sound at 1.5 Mbps

DTS HD Master Audio – 7.1ch maximum sound at 24.5 Mbps (lossless quality)

DTS HD High-resolution – 7.1ch maximum sound at 6 Mbps

Dolby Digital – 5.1ch maximum sound at 640 Kbps (common in DVDs)

Dolby Digital Plus – 7.1ch maximum sound at 1.7 Mbps (supported by streaming services like Netflix)

Dolby TrueHD – 7.1ch maximum sound at 18 Mbps (lossless quality available on Blu-Ray discs)
There is not much difference between the audio performance of both standards. DTS seems to have an edge over Dolby in terms of the higher bitrate. But, a higher bitrate is not the only parameter to take your decision. Factors such as signal-to-noise ratio and dynamic range are crucial as well.
Some advanced systems come with support for both DTS and Dolby. So you can get both the technologies at the same time. However, in case you have to choose between DTS and Dolby Surround, then go with DTS because of the higher bitrate.
Comparison Between 5.1 and 7.1 Surround Sound
| | | |
| --- | --- | --- |
|   | 5.1 Surround Sound | 7.1 Surround Sound |
| Channels | 6 (5 standard + 1 subwoofer) | 8 (7 standard + 1 subwoofer) |
| Sound Quality | Standard surround sound | Greater depth and precision |
| Suitable for | Small to medium rooms | Large rooms |
| Cost | Varies, but cheaper | Varies, but more expensive |
| Formats | Dolby Digital, DTS | Dolby TrueHD, DTS-HD Master Audio |
| Supported by | All DVDs, video games, etc. Industry standard | PS3, PS4, Xbox One and most Blu-ray players, although only approx. >150 Blu-ray movies feature 7.1 sound. |
How May Speakers Will I Need?
The number of speakers you need in your home theatre system depends on factors such as the size of the room and use. Depending on your use, 2 speakers may be enough or perhaps you need 5 speakers with a subwoofer.
Traditionally, a home theatre with 5 speakers and 1 subwoofer is recommended for the perfect surround sound.
However, the size of your room plays a crucial role as well. If the room is large enough you can also choose 7 speakers. So consider all the factors before you decide how many speakers you need for your home theatre system. 
How to set up a Home theatre system?
Do you often dream of having the perfect theatre to enjoy with your family and friends? Apart from choosing the best home theatre, the task of setting it up is equally crucial. The whole process will be simpler if you keep certain things in mind. 
The first step is to find a place for your home theatre. Ideally, you need a large room for the perfect cinematic experience. It should be a pretty big space that can easily drown out the excess sound. 
Figure out the dimensions of the room before buying any equipment also decide where to place the various components of the home theater.
Space management is key here, with the right planning you can set up a home theatre system even in a smaller room.
The all-in-one packages include speakers and a receiver, they rarely come with televisions or screens. So you need to buy a new one or use the existing one. 
Any speaker mismatch can cause damage to the amplifier or cause distortion in the sound. 
For a 5.1 channel system, the front three speakers should be placed in the plane with your TV screen at a height of your ear level for the best possible cinematic experience. 
The surround channel speaker should be placed behind you, ideally about 2-3 feet above your ear level. While the subwoofer should be placed near your front speakers, on the left or right side for the maximum low-frequency impact. 
The most important speaker in any home theatre is the central channel, it gets used 90% of the time if you are watching movies. 
Before connecting the speaker wires to the amplifier, make sure to check the speaker connections using the battery test. 
Make sure to check the polarity before connecting the speakers, don't connect the speakers in reverse polarity
To enjoy your newly set up home theatre, you have to configure few settings in your AV receiver. You also have settings such as distance, equalizer, and test tone for optimal performance.
So that's all about the best home theatre in India. Our list includes products for every price and budget. Pick the product as per your budget and purpose. You get many affordable as well as high-end options on our list. All the best for your purchase. Do comment below to tell us which home theatre did you purchase. 
Frequently Asked Questions
Which brand home Theatre is best in India?
Sony, Philips, JBL, and Yamaha are among the best home theatre brands in India. These brands make available products across all budgets. You can choose the best home theatre as per your budget with these brands. 
Which is the best 5.1 speaker in India?
If you are looking for a 5.1 speakers then Sony HT-RT3 Real 5.1ch Dolby Audio Soundbar Home Theatre System,  Sony HT-S20R 5.1ch Dolby Digital Soundbar Home Theatre System, and  Yamaha YHT-1840 4K Ultra HD 5.1-Channel Home Theater System are among the best choices available in the market. 
Which home theater is best under 5000?
Infinity (JBL) Hardrock 210 Deep Bass 2.1 Channel Multimedia Speaker is best home theatre under 5000. You can also consider Philips SPA8140B/94 4.1 Channel Multimedia Speaker System it is also priced under Rs. 5,000. 
Which home Theatre is best for bass?
Yamaha YHT-1840 4K Ultra HD 5.1-Channel Home Theater System is an excellent choice.