222 days ago
Amazon Grocery 1 Rupee Sale - Rs. 1 Deal Today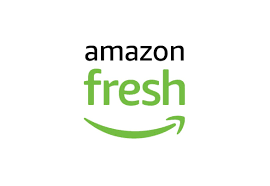 The way people shop grocery has changed in recent times. Ordering groceries online and waiting for delivery is the last season thing. 
Today, we have got many instant grocery apps. While grocery delivery apps compete to reduce the waiting time for consumers. But delivery time is not the only thing they are competing for.
The money savings deals also attract customers. And when it comes to grocery deals nothing can beat the Amazon Grocery 1 Rupee Sale. 
Yes, you heard it right. You can grab products for as low as Rs. 1. Amazon comes up with such deals daily, and you can check out the grocery Rs. 1 deal for today updated in this article daily.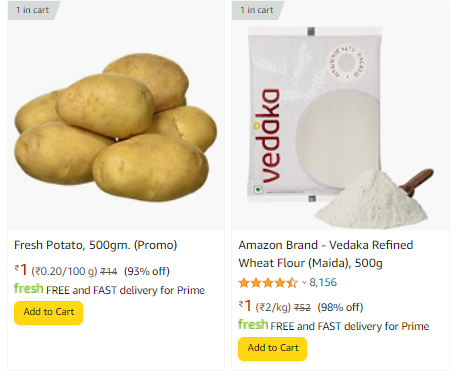 What is 1 Rupee Grocery Sale on Amazon?
Amazon has a long history of offering products at such prizes. In fact, people used to wait eagerly for the Rupee 1 deals when Amazon first came to India. The Rs. 1 deals become more popular during the Amazon Sales. But now you can grab Rs. 1 deals with the Amazon Fresh Store. 
Amazon rewards its customers by providing limited products at Rs. 1. While shopping from Amazon Fresh, you get the luxury of buying select products at Rs. 1. Customers can add 1 quantity of each product available at this special price. Normally 2-3 products are available at Rs. 1 on Amazon. 
The availability may vary as per your location. Also, the products get out ot stock very soon. So you need to shop early in the day. 
If the product runs out of stock, you can wait for some time as Amazon is likely to add new products in this category due to high demand. 
Amazon 1 Rupee Grocery Deals
Amazon comes up with new Rs. 1 deals on groceries every day. You get 2-3 products at Rs. 1 daily. And you can choose 1 quantity of each product for your cart. And to place an order you need a minimum cart value of Rs. 199. 
If you add 3 products worth Rs. 1 each to the cart, you need to add items worth Rs. 197 more to place the order. Once your order value is above Rs. 200, you can proceed to check out to check the eligible delivery slots. You can choose a delivery slot of the same or the next day depending on your preference. 
 Meanwhile, you can also read our article on  Amazon Pay Cashback Offers to know about the same.
Amazon Grocery 1 Rupee Sale Today
| | | |
| --- | --- | --- |
| Product | Quantity | Price  |
| Sugar | 1 Kg | Rs. 1 |
| Tomato | 500gm | Rs. 1 |
Delivery Charges on Amazon Rs. 1 Grocery Deals
The delivery charges are often a concern while ordering cheap products online. Amazon is charging Rs. 29 for delivery of orders under Rs. 600. 
For orders below that, you need to pay Rs. 29 delivery charges. If your order value is Rs. 600, you are eligible for free delivery. Amazon Prime members also get free delivery of groceries. 
How to Avail Amazon Rs. 1 Grocery deals?
Visit the grocery Rs. 1 offers page

Add products to the cart (1 Quantity each)

Prepare cart value of Rs. 200 or more to place an order

proceed to check out

Select a delivery slot

Make the payment

Done! your order will be delivered within the selected time slot
Amazon Grocery Sale - Up to 50% off on Pulses, Cooking oil & More
The grocery market has become very competitive with the addition of new players, that is why you can always find many deals and offers on daily essentials & more. 
Amazon already has a strong presence in the grocery space and they are doming up with new offers daily to key the gold on the market. 
With the Amazon Grocery sale, you get up to 50% off on pulses, cooking oil, fruits, vegetables and more. 
Amazon Cashback Offers on Grocery 
Amazon has many cashback offers on groceries to take care of your budget. In addition to discounts, cashback offers help you save more. Recently, there was a Rs. 200 cashback offer on a minimum order value of Rs. 2000 during the Super Value Days on Amazon. 
You can also unlock Grocery cashback offers with Amazon Pay rewards. As Amazon provides a unique reward to customers on every transaction. 
Amazon Fresh Bank Offers - 10% Instant Discount
You can always choose from different bank offers to take care of your grocery shopping budget. The bank offers on Amazon Fresh are mainly different for each day. 
For instance, you get a 10% instant discount with Axis Bank cards every Wednesday. You can grab similar bank discounts with other cards, depending on the day of the week. 
10% instant discount with select bank cards

Bank offers change with day of the week

The minimum order value for the offer depends on the bank card
If you shop groceries from Amazon, then don't miss out on the Rs. 1 sale. You can easily grab 2-3 products at Rs. 1. These products are mostly the ones that offer good value to customers. 
Conclusion
So, this was all about Amazon Grocery 1 rupee sale, where we discussed about the same in detail. I hope this was an informative read for you. Make sure  you share this article with your friends and family so that they can also be informed about it.
Frequently Asked Questions
What can we get for 1 rupee?
Buy groceries at 1 Rupee with the Amazon grocery sale. Amazon comes up with new Rs. 1 deal daily in the grocery category. 
Can I buy groceries on Amazon?
yes, you can buy groceries on Amazon. There is ample choice available in daily essentials, fruits, vegetables, personal care and more. 
How do I get the lowest price deal on Amazon?
Get the lowest price on Amazon with Rs. 1 grocery sale. You can grab new products at Rs. 1 daily on Amazon. In addition to that, there are many discounts and bank offers to take care of your budget. 

Join Telegram Channel & Get Instant Deal Alert

75,062+

participants