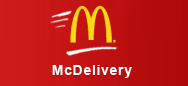 Mcdelivery
McDonalds Coupons
Updated on:
McDonald's India serves a wide range of delicious foodstuff; burgers, pizzas, cheese dips, desserts and much more. McDonald's is the perfect online destination to satisfy your palate. Most of the items are delivered through the McDelivery service there is no minimum order requirement. Bulk orders (exceeding ₹2000) can only be placed through call center at 66000666. Enjoy fabulous discounts on super delicious meals with McDonalds offers that you can avail from FreeKaaMaal.
The new McDelivery app is even more consumer centric with the integration of many features that make it easier to get delicious food delivered at your doorsteps. By using McDonalds coupon during checkout, you get assured savings on order of your favorite food. Get a coupon code from here and pick the things you want to buy, add them to the cart enter the code, discount will be automatically deducted from your bill.
Address
13A, Jor Bagh Market, Jor Bagh, New Delhi, Delhi 110003
Follow Us
Newsletter Subscriber
Mcdelivery Offers & Coupons
Mcdelivery Deals
About McDonald's
McDonald's is the leading global service retailer having presence in more than 130 countries around the world. McDonald's India is managed by two business entities. Connaught Plaza Restaurants Private Limited, North & East India & Hardcastle Restaurants Private Limited, South & West India. Started in 1940, the fast food restaurant chain sells hamburgers, chicken products, cheeseburgers, french fries, soft drinks, milkshakes, breakfast items, wraps, and desserts.
To order delicious range of McDonald's meals visit McDelivery.co.in. You can explore the menu and check offer details very easily. You can also place party order. Set your address, choose your food, and place your order. The order can also be placed over a call the number is 66000666.
McDonald's - 20 Years in India
McDonald's celebrated 20 years in India with the release of "A lot has changed. Nothing has changed" a new brand campaign. Over the last two decades, McDonald's has been an integral part of our lives. McDonald's has introduced many new meals to provide interesting options to customers. They have something in store for everyone in the family, the kids zone is a special attraction. Share happiness with your friends and family by sharing the happy meals.
Ordering McDonald's delicious meals is possible right from your phone. Browse the exhaustive menu and customize your order through McDelivery website or mobile apps. You can also track your order, place bulk and dine-in orders through the app. With the Dine-in feature, select a time when you want the order to be ready, collect your order from the counter at that time.
Maharaja Mac is huge in taste as well as size, it is a culinary treat rich in taste and the large size makes Maharaja Mac a wonder meal. Sharing pack for 3 includes 3 burgers, 1 large fries, 3 veg Pizza MCPuff and 3 small coke. This meal is also available for pack of 2 that includes 2 Burgers, 1 Medium Fries, 2 Veg Pizza McPuff, and 2 Small Coke. McDelivery coupon codes are available to make this delicious food even more affordable.
McDelivery App - Order your Favorite Meal Right from your Phone
The global food service has multiple outlets spread across India and has 400+ restaurants. In its astonishing journey McDonald's is serving millions everyday. The food service chain has strike a chord with its marketing campaigns.
The McDelivery App was first launched in 2014 making available most loved foods at your fingertips. The new ad campaign of the company also promotes the message how people come together over food. With the Dine-in feature, select a time when you want the order to be ready, collect your order from the counter at that time.
Debut of Junior Maharaja Mac
Bringing a brand new attraction to its menu McDonald's India has introduced a mini version of the iconic Maharaja Mac. Prepared in a corn patty and served with vegetable cocktail sauce. Maharaja Mac Junior consists of premium ingredients like jalapeño slices, cheddar cheese slice, red onion slices, & fresh crispy iceberg lettuce. In this ad campaign everyday triumphs of real people are captured, the idea is to convert little victories into feel good moments.
McCafé® - Owned by McDonald's :
McCafe was launched in India in October 2013, the in-coffee-house-style food & drink chain is owned by McDonald's. McCafe products are served in more than 15,000 restaurants worldwide. The products include mocha, espresso, Americano, latte, cappuccino, iced latte, real fruit smoothies, hot chocolate, hot and iced teas, iced frappés, and a wide range of pastries and muffins.
Get Amazing Discounts with McDelivery Coupons:
There is a wide choice of menu partitioned into different categories Burgers & wraps, Desserts, Breakfasts, Happy Price menu, Extra Value Meals, Happy Meals, and Beverages. FreekaaMaal is one stop source to get latest McDonald's Deals and offers. We update new coupons every day to provide you amazing saving options. FreeKaaMaal is one of leading coupon sites that promises you excellent savings on all top brands. You get amazing food by paying less with McDonald's offers on FreekaaMaal. Simply visit FreeKaaMaal and browse to McDonalds coupon store to find the most exciting discounts offers, deals, and promo codes. Select the deal that you find the best to get your favorite meal at a great price.
Top

FreeKaaMaal is the place to discover amazing Deals, Offers and freebies curated by our community of shoppers
LOGIN