Both Apple and One Plus are known to make high-end mobile phones. iPhone 11 and One Plus 8T are two of their flagship models.
Before you spend a fortune buying one of two phones, you need to know all the specifications.
Here is a detailed comparison between the two phones:
Price

iPhone 11, launched on September 20, 2019, is probably Apple's most 'affordable' mid-tier phone of the year to have all the power-packed features. It costs somewhere between $649 to $699.
One Plus 8T, launched on October 16, 2020, ranges between $541 to $579.
Build

Both iPhone 11 and One Plus 8T have aluminum frames with Gorilla Glass protection.
One department where iPhone 11 seriously lags is that it doesn't have a Matte finish at the back, increasing the chances of smudges and fingerprints. So it is advisable to use the phones with protective iPhone 11 cases.
Dimensions

The height, width, and depth of the iPhone 11 are 5.9 × 2.98 × 0.33 inches.
One Plus 8T has a slightly larger length of 6.3 inches and nearly similar width and depth of 2.9 and 0.33 inches.
Weight

iPhone 11 weighs 194 grams or 6.84 ounces.
One Plus 8T is comparatively less weighted, with 188 grams or 6.63 ounces.
Colors

In offering a splash of colors, iPhone 11 has undoubtedly left behind One Plus 8T by providing green, red, black, white, yellow, and most vibrant purple shades.
One Plus 8T comes in two shades of Aquamarine Green and frosted Lunar Silver.
Display

iPhone 11 has a 6.1 inches all-screen, LCD multi-touch display with IPS Technology. It contains a Liquid Retina HD display with 1792 × 828 pixels at 326 PPI with 625 nits maximum brightness.
One Plus 8T has the upper hand with 6.55 inches fluid AMOLED display with 1080 2400 pixels resolution at 402 PPI.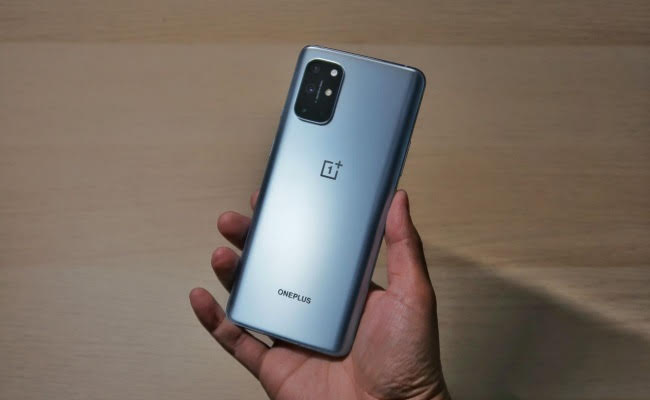 While on paper, the LCD display of the iPhone 11 doesn't make the cut, but we have seen quite a few examples in the past that Apple doesn't believe in specifications that look good enough on paper.
So, when you look at the iPhone 11's display, you won't find much of a difference. The display looks great, and the graphics are excellent while gaming.
Memory

iPhone 11 has a RAM of 4GB and comes in different ROM variants with 64 GB, 128 GB, and 256 GB. One Plus 8T comes in 8GB and 12GB variants, having an internal storage of 128 to 256 GB.
Network

iPhone 11 supports nano-sim and e-sim with 3G and 4G networks, whereas One Plus 8T also supports 5G beside 3G and 4G networks, with the dual-sim feature.
Operating System

Platform
Needless to say, the iPhone 11 runs on Apple's iOS 14 software, whereas One Plus 8T is powered by Android 11.
Chipset
iPhone 11 has the most advanced A13 Bionic chip.
One Plus 8T is the first Android phone to come with the Oxygen OS11 based on Android 11. It is powered by a Qualcomm SM 8250 Snapdragon 865 processor.
CPU
The iPhone 11 has a Hexa-Core processor, whereas the One Plus 8T has an Octa-Core processor.
GPU
iPhone 11 has Apple GPU 4 core graphics, whereas One Plus 8T incorporates Adreno 650.
Battery
iPhone 11 has a Li-ion 3110 mAh non-removable battery which supports 8W fast charging and lasts 16 hours on a single charge.
One Plus 8T leaves behind the iPhone 11 by far with a powerful 4500 Li-PO mAh battery with 65W fast charging support; it has been advertised that the phone charges 100% in 39 minutes.
Camera

The camera specs of both the models are:
The iPhone 11 has a rear camera of 12 megapixels with an Ultra-wide angle of f/2.4 aperture, five-element lens, and a Wide-angle with f/1.8 aperture, six-element lens.
The front camera has a 12 MP resolution with an f/2.2 aperture.
The camera exhibits features like 2x optical zoom, 5x digital zoom, Night Mode, Panoramic Mode.
One spectacular thing about the night mode here is that you don't have to manually select night mode, unlike various Android phones. The camera automatically detects dim light conditions and captures stunning pictures.
Oneplus 8T has a gigantic quad-camera of 48 MP, f/1.7 aperture and Ultra-wide angle of 16 MP, f/2.2 aperture, a macro lens of 5 MP, an aperture f/2.4, and depth capture lens of 2 MP, f/2.4.
The front camera is of 16 MP, f/2.4 aperture with a wide-angle lens.
Resistance

iPhone 11 is splash, water, and dust resistant with IP68 certification, whereas One Plus 8T is not water-resistant unless you purchase the One Plus-5G model, specifically, which has an IP68 certification.
Summing Up

While iPhone 11 supports fast charging, it doesn't come with a fast charger, which is a major drawback. You have to purchase it separately. Both the phones are outstanding in their respective platforms. If you want to flaunt an Apple phone, you can go for the wisely-priced iPhone 11. If you're a happy Android user, no other phone can beat One Plus 8T.