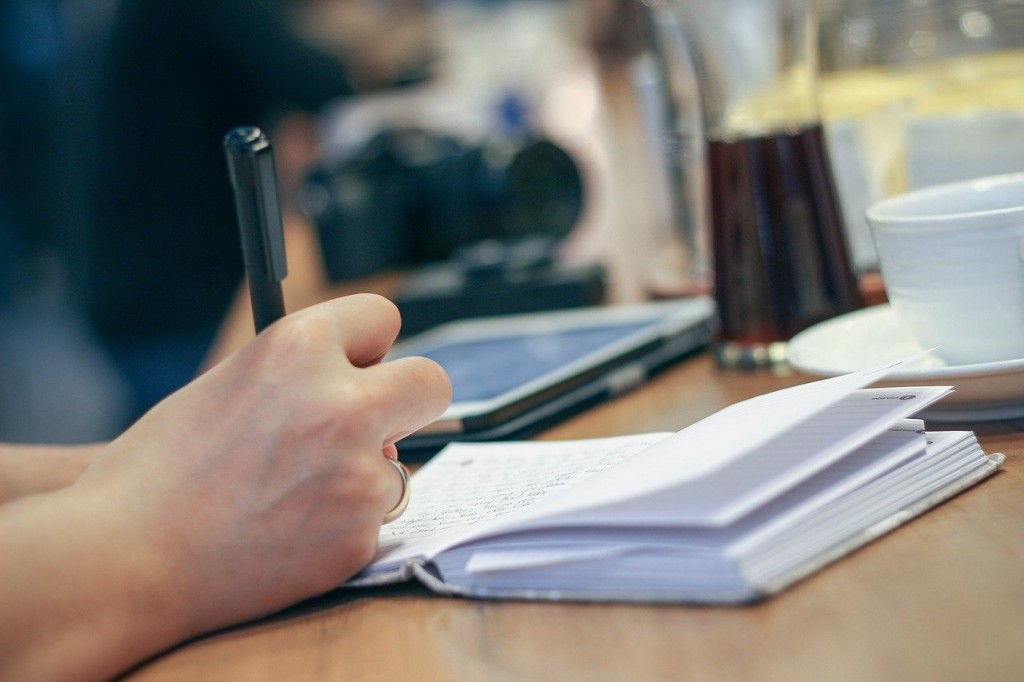 Journaling is a great way to learn more about yourself. If you want to start journaling but find it hard to keep up with this practice, then Digital journaling is a convenient way to log key events and memories. There are a lot of Journal apps that focus on self-care and reflection.
The best journal apps come with many exciting features that you could never get in a regular notebook. So whether you are just journaling practice or switching from analog to digital, check out the best journal apps in India.
1. Daylio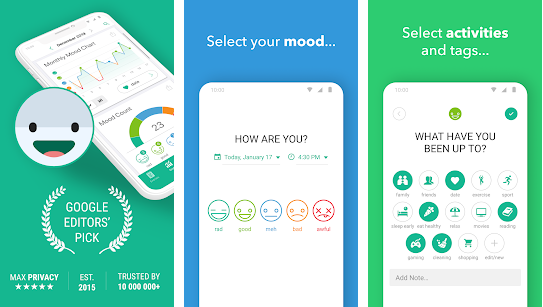 Daylio is an excellent option for those who don't want to write long. Create a daily entry with the tap of your finger. It is effortless to log your daily activities in the app. Daylio also gives you the option to export your entries to cloud storage and PDF. Use the Daylio app to improve your mental, emotional, and physical health,
Big database of icons and emojis for custom activities
Explore monthly or yearly statistics
Customize color themes
Dark mode
Create daily, weekly or monthly goals
Share statistics with your friends
Turn on PIN lock for safety
Export PDF to share, print, or analyze your entries

2. The Five Minute Journal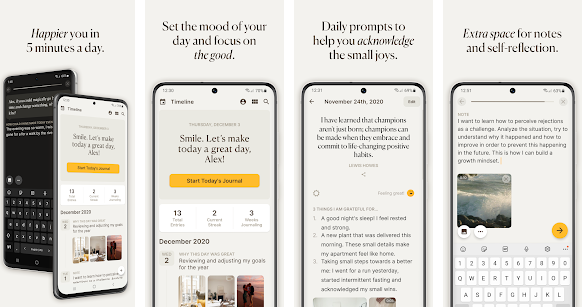 The Five Minute Journal uses the guided gratitude journaling format to make your life happier. This app makes your daily journaling practice easy enough.
You will love the simple design of this app that makes you think about positive things. It comes with many useful features such as timeline view, daily quotes, weekly challenges, and guided journaling.
You can choose passcode or touch ID protection for privacy. In addition, the app allows users to back up data to PDF, HTML, and Dropbox.
Secure passcode or Touch ID protection.
Compatible With Android devices, iPhone, Mac app, iPad app, and Apple Watch companion app.
Easily backup available to PDF, HTML, Dropbox, and more.
Guided flow to make journaling easy
Daily reminders and notifications
Timeline view to track your progress
Daily quotes and challenges
3. Diaro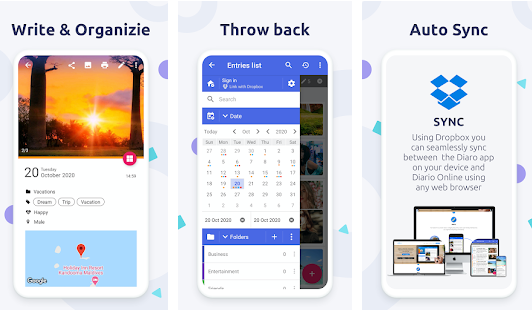 Record your daily activities, events, thoughts, ideas, and feelings on Diaro. It is a multi-platform diary that syncs with all your devices.
Organize your daily entries and notes in an easy manner. It comes with PIN and fingerprint security to protect your privacy.
It comes with different UI colors and themes to give a personalized feel. The powerful search and filter function helps organize daily journal entries. You can also use folders, tags, and locations.
Easy backup is available to import/export your entries to PDF, Docx, or Txt. It also gives interesting stats as per your entries.
PIN, Security code, or fingerprint protection.
Multiple UI colors and themes
Search and filter function to organize entries.
Easy backup and restore option
Organize entries based on date, folder, location, tags, or keywords
4. Reflectly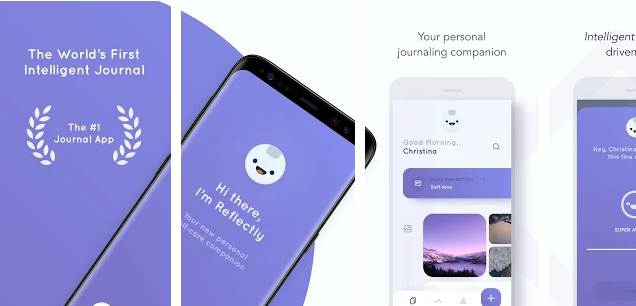 Reflectly is a journaling app that comes with many powerful features. It is your digital diary to track your mood and boost happiness.
This intelligent journal app gives you personalized affirmations and motivations as well.
The app uses cognitive behavioral therapy to improve your mood and help on your self-care journey. In addition, it uses AI and smart tech to show your mood correlations.
Morning motivation & daily quotes to help your self-care routine
Mood correlations & graphs to track your progress
It helps build a cycle of positivity
Daily insights to improve your mood and increase happiness
Personalized affirmations
5. Presently: A Gratitude Journal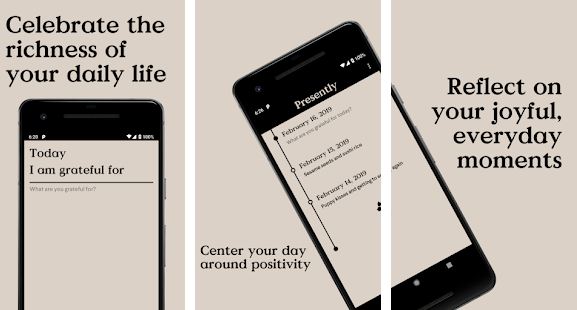 Presently is a gratitude journaling app. Record daily moments of gratitude also reflect on past moments. Also, get quotes to find motivation for your self-care journey.
Use fingerprint or face id to lock your entries. Then, you can share your entries easily with friends and family. Choose your favorite color scheme for a personalized feel.
Record daily moments of gratitude
Find motivation through quotes
Set daily reminders never to miss your gratitude practice
Fingerprint and face id protection
Export/import your entries in different formats
Choose your favorite color scheme for a personalized feel
6. HabitYou – Habit Tracker, Journal Diary, Planner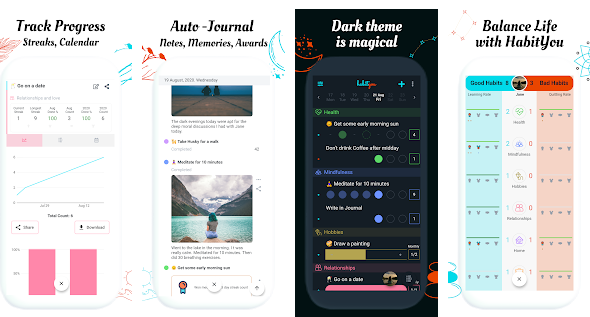 HabitYou is a habit tracker app that lets you set reminders, track streaks, and mark habits. You also get rewarded with medals for achieving the set goals.
It also has a day planner and daily journal features. The app has a beautiful interface that is also simple to use. Improve your health and fitness by using an exercise tracker or squat challenge.
Visualize your progress via graphs for tracking goals. There is also a life goal dashboard to give an overview of habits and life goals.
Daily journal and habit tracker app
Add images and text to your habit tracker
Visualize your progress in graphs
Set short and long term goals
Different habit categories to provide a better experience.
7. My Diary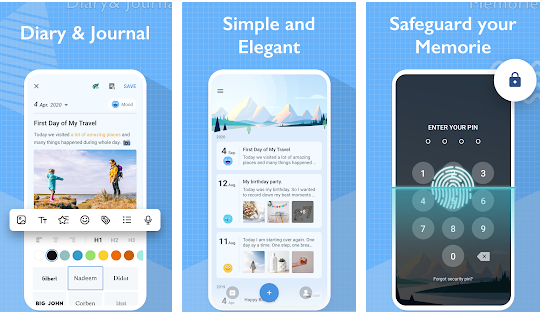 My diary lets you add pictures as well to make your journal more interesting. There is also support for adding stickers, themes, fonts, and moods.
Protect your memories with a password. You can also sync your diary entries to Google Drive or Dropbox. The customizable journaling app lets us change the background for a more personalized feel.
Use the eye protection mode to keep your eyes safe from extended screen time. In addition, you can export your diary entries to PDF or text.
Customizable, Easy & beautiful journaling App
Eye protection mode
Fingerprint and passcode protection
Add pictures or videos to your daily journal

When it comes to choosing a journaling app, the user interface is a key factor and different people will find it easy to get accustomed to different apps. But there are certain crucial features, such as the option to import and back up your journal.
Some of these apps also allow users to add pictures, videos, and set different backgrounds for a more personalized feel. Some apps, such as HabitYou, also come with a daily planner to set goals and habits. At the same time, The Five Minute Journal focuses on gratitude. So you get different features with these journaling apps; choose the one that matches your journaling practice.