Flipkart's popular Deal of the Day is back on Desktop version. This is rather a great news for all shoppers who were lurking for Flipkart Deal of the Day but hesitant about the app process. Last year, Flipkart decided to put DOD on App only platform which means that if a user/shopper have to enjoy the sweet deals and offers from Flipkart from DOD then they 'have to' go to App.
What is Deal of the Day?
Flipkart Deal of the Day or simply put DOD are nothing but a collection of the hottest and the best deals which Flipkart holds everyday. Here, have a look at a few deals today:
Shoetopia & more
Below Rs.499
Women's Footwear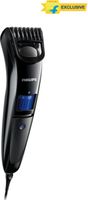 Trimmer
Philips BT3200/15 Corded Beard Trimmer for Men
Awesome prices, aren't they? This compilation is known as DOD. The deals & Offers are the mixture of various products and categories providing awesome prices which shoppers simply can't resist
Why Flipkart closed it for Desktop users?
There are two reasons :
1. Flipkart was driving most of the traffic from mobile & App which made Flipkart to take the move. The DOD section was completely shut down for users of desktop and mobile site as well. The only source was app. Not only this, Flipkart aimed to increase the users of app and hence the users were forced to download app if they want to avail DOD.
2. The wave of App only and very high calculative analysts of Flipkart were the reason

. Since the App only was trending in India and the revenue from mobile and app were on rise, analysts felt that it is the future, Flipkart shifted the whole Pandora's box to App. The idea behind app is to have a stagnant presence on mobile even if your are not using internet. A Digital Touch-Point was planned to create which was supposed to remind shoppers about Flipkart  everytime they look at their phones.
Why Flipkart is back on Desktop?
Flipkart is back on desktop because there is a loss, a loss of potential customers, a loss of users of desktop which 'may' find some offer so great that they will buy it. Like Facebook, it is really very important to be on as many channels as possible specially when you are a etailer. Whereas forcing someone to buy from a particular platform while other options are available is like churning your own base. We, at FreeKaaMaal, have observed is that on an average about 1000 users were being redirected every day to Flipkart prior to the app-only option. The number eventually reduced to a mere two digits since app only started.
We want shoppers to get the best price possible, hence we welcome this step of Flipkart. Soon Myntra is coming back to mobile site from App-only. Click HERE visit Flipkart DOD page