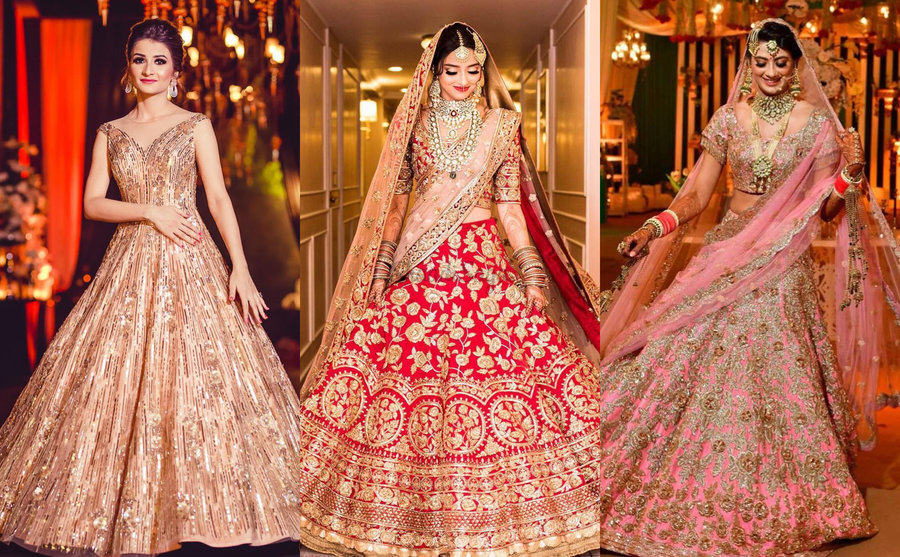 Indian weddings are popular for their traditions, fashions, customs, and fun. The outfit you wear to the wedding is very important, especially when you are the bride or the groom.  For guests, the wedding gives you an opportunity to dress in a fashionable traditional or modern way and show off your style.
Don't forget, Indian weddings are about bright colors. For both male and female, this is the main unspoken requirement.  If you are attending a wedding for the first time, do more research on the outfits you are required to wear. Here are the top 10 traditional outfits to wear in a wedding
1. The saree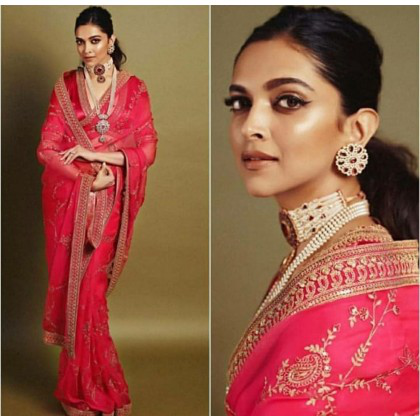 You definitely need a few sarees on your wardrobe for the wedding season. This is the most popular and preferred outfit for traditional Indian weddings and also cultural events.  There are multiple styles or designs you can achieve with a saree due to the different draping styles. You can create a traditional, cultural, classy, elegant or sophisticated look at the same time. Draping a saree in different ways of wearing it in a unique material will make you stand out in the crowd.
The butterfly drape is the most famous wedding draping style; it is a modern Nivi draping style but would make a very boring wedding outfit especially when you are the bride. If the wedding is more traditional, you can drape the saree in a Mumtaz or the dhoti saree.
For a modern style, wear the belted style saree or half saree for an eye-catching look.  The Kanchipuram silk saree is a perfect balance between modern and traditional Indian weddings. If you are planning your wedding, check out Kanchipuram silk saree from Stylecaret.
2. The lehenga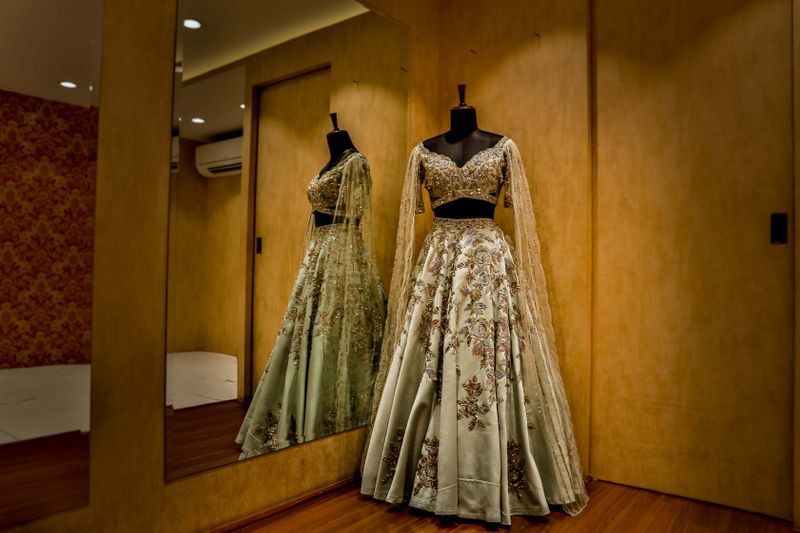 When paired right, the lehenga can be quite a catch for both traditional and modern wedding.  The lehenga is common for bridesmaids and wedding guests but with the new lehenga designs and styles, brides can wear them at their weddings. The best thing about the lehenga is that it is easy to style and comfortable to wear.
A pure silk lehenga paired with an embroidered choli is the perfect look for a traditional and cultural wedding theme.  The silk on the lehenga is a symbol of wealth and royalty. Ensure you wear a bright color to complete this elegant and sophisticated look. One modern look is the lehenga choli paired with a long kurti jacket.
The beauty of this look is that it is modern but has a traditional ensemble and vibe. It is perfect for that modern winter indoor wedding. To make it more cultural and celebratory, ensure it has a bright ombre look.
3. The Anarkali suits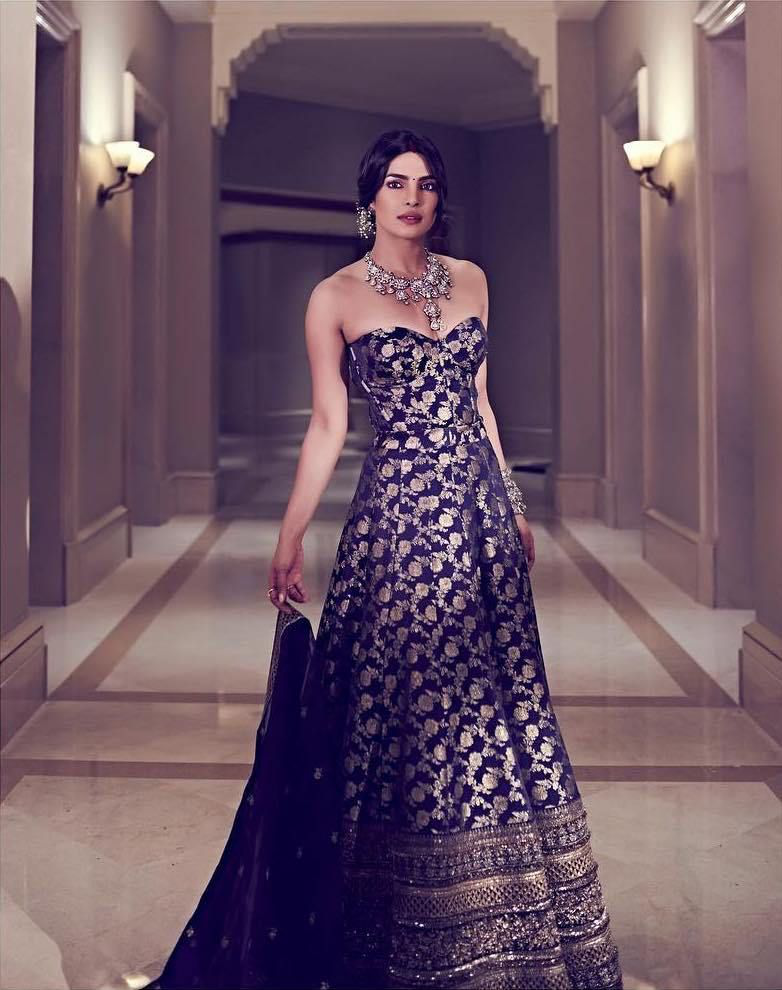 Although the Anarkali is a traditional design, it pairs well with a modern wedding. The Anarkali has been popular at weddings for quite a long time, and the designs don't stay constant. Like the others, you can style this in both a traditional and modern way. Bright Anarkali suits can grab eyeballs at a wedding when you choose the right colours and designs. The layered Anarkali suit is perfect for weddings and festivals.
The suit has multiple layers at the hemline giving it the image of a gown. This is the perfect modern look for a bride at her wedding. A bright coloured layered Anarkali with classic embellishments will make you stand out from the guests and the bridesmaids.
If this is not your style, you can wear it in a sheer look. a sheer Anarkali pared with silk or any other shiny material will surely make you stand out, especially during the night. a more traditional looking Anarkali is single layered and has embroideries and embellishments. It is perfect when attending a wedding for the first time and you want to keep it simple, classy and traditional.
4. Kurti designs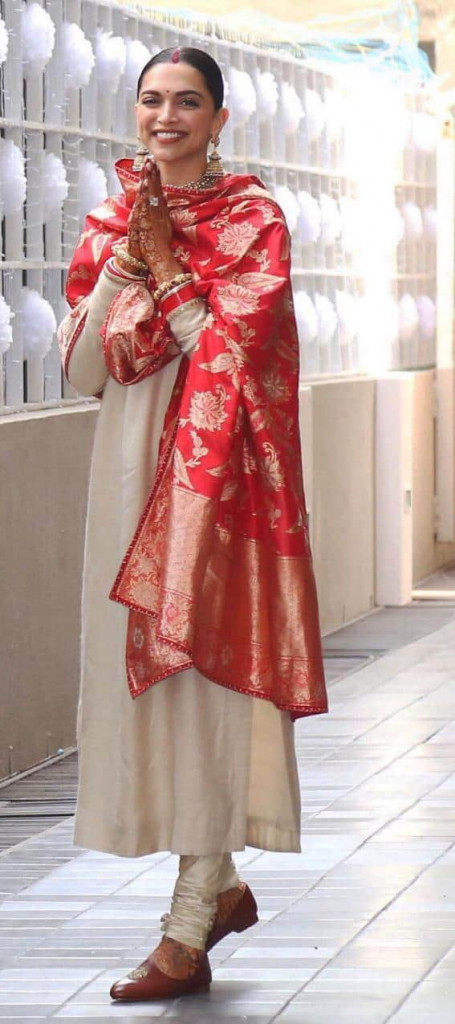 Kurti is famous around the world for its various styles and sophisticated looks. You'll probably get confused trying to get the perfect design for the wedding. Use a colour scheme and body type guide to get the best results.
Don't forget, the design is the most important when picking out your outfit. For a modern evening wedding, a tulip kurta made of satin or georgette will drape well on any body type.  To stand out in a crowd, you can wear a short kurta tunic with a saree bottom. This is a perfectly unique style for the bridesmaids and the guests.
5.  Gown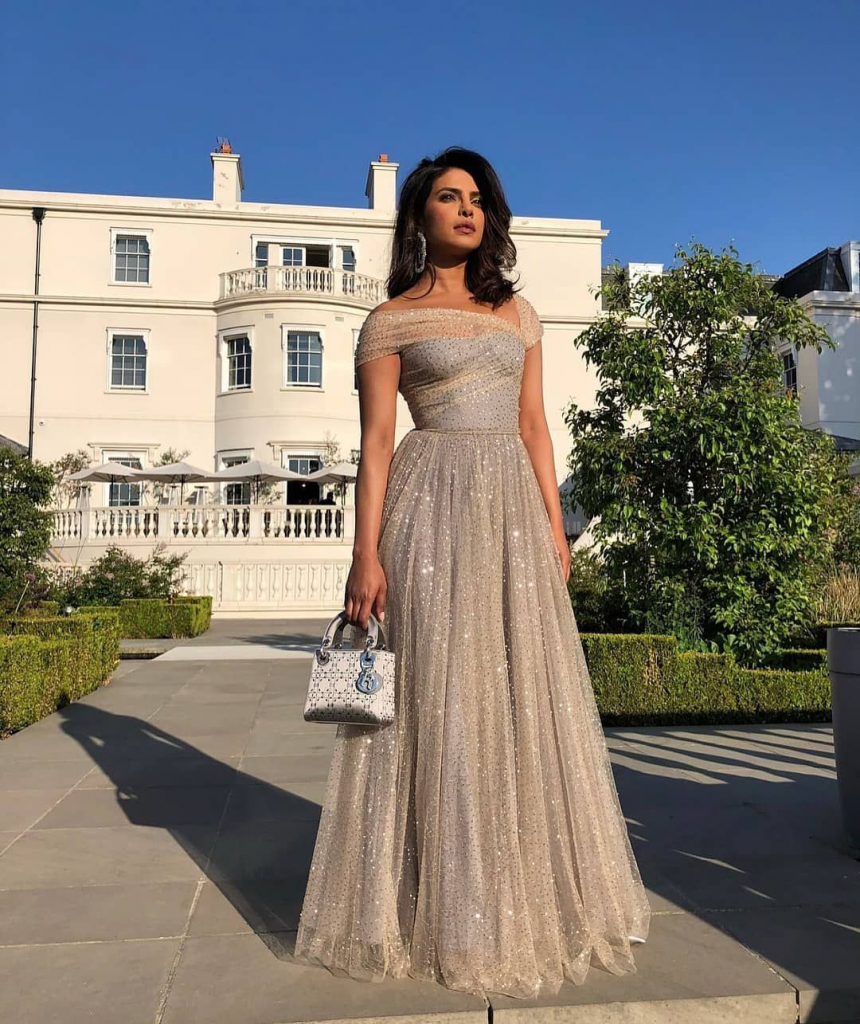 Gowns are the most stylish yet elegant option to carry on a wedding. If you are going to attend the wedding of your friend or sister gown is something that attracts the eyeballs of guests.
Gowns truly justify the beauty of women and can be handled with grace and ease. One can experiment with colours and style when it comes to personal preferences. Gowns are of different styles. Some of the popular are:
Mermaid style Gown.
 A-Line Wedding Gown
Tea Length Gown
 Exaggerated Drop Gown
Jacket Gown
Saree Gown.
and many more. Pick the best according to your body type to feel the confidence.
6.  Crop top Skirt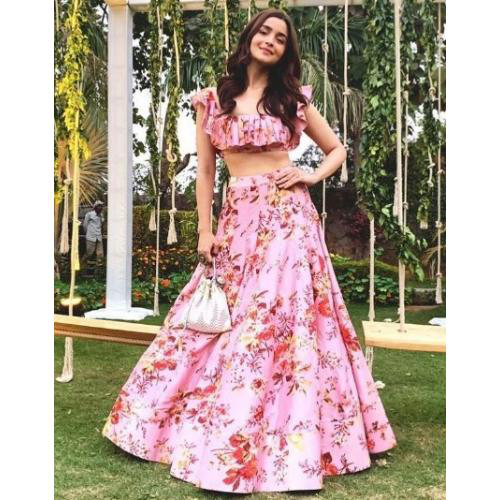 Crop top Skirt is again a very good choice to wear on a wedding. It's the new era youth choice for weddings and parties. They are vibrant and traditional both at the same time. People today try contrast matches and carry it with elegance and pride. Even people have seen wearing Sneakers under their Lehnga with a crop top.
Times has gone when women feel shy to experiment with their comfort and trends. You can have a single colour crop top with multicolour Lehenga or a Single matching colour gold crop top skirt.
7.  Sharara
A lady who dressed up in a sharara or gharara, glows at the wedding. Sharara is a traditional attire. Earlier, wearing a sharara or gharara was common for women. But as times are changing the sharara is back in the trending zones, and it looks adorable for a Mehendi ceremony.
One can wear the plain sharara and kurta set and match it with a heavy dupatta. If not a heavy dupatta then go for a big maang tikka. Sharara is something that is coming back and back in trends.
8. Cape with Lehenga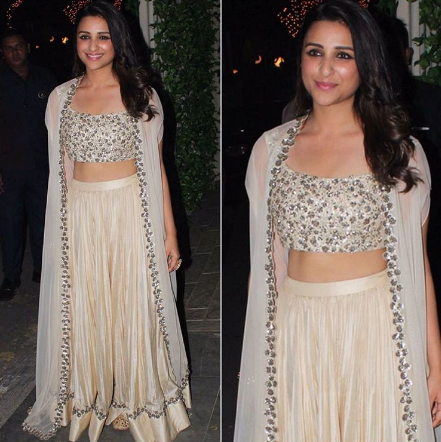 Cape with lehenga is again a mixture of the latest trends with traditional theme outfit to wear on a wedding. You can find celebrities even now and then wearing a cape with lehenga. It looks gorgeous when teamed up with the matching accessories. Cape with lehenga is something that can attract anyone attention in a jiffy.
You can choose according to your material and colour preferences. It is really easy to handle, and you feel comfortable yet showing your grace on a wedding or party.
9. Dhoti Style Saree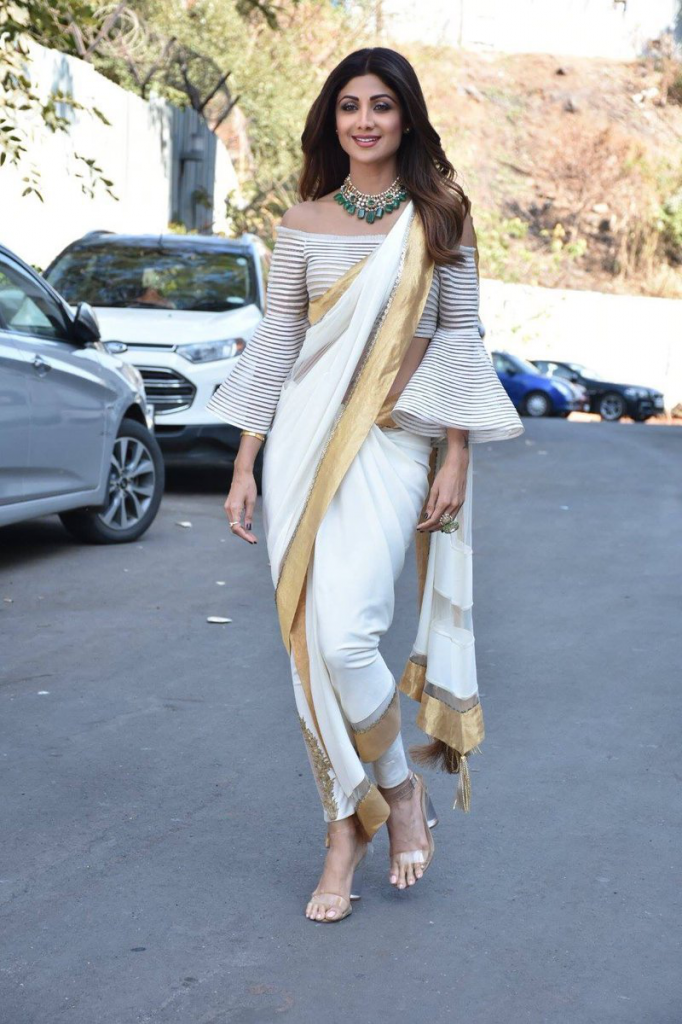 If you like to do something different and like Indian outfits then must try dhoti saree. It is cool yet unique. Peach draped dhoti saree with peach thread embroidered bodysuit is something that will make you feel special. It has been worn by brides to international figures, making them a fashionable design.
Choosing the Dhoti pants provide a perfect ethnic fashion attire for your woman to stand out.  One can even style it with a lot of bangles or with big earrings.
10. Palazzo Pants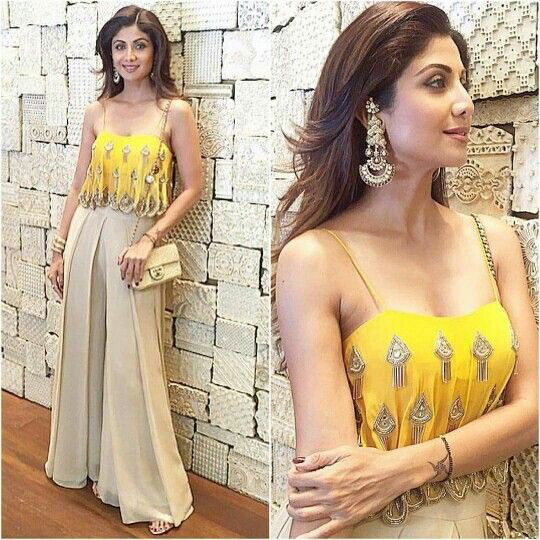 Palazzo pants are my favourite outfit to wear at weddings. You can wear it with the partywear crop tops. In modern youth today, palazzos are in. You can go with palazzos of your typical pattern or select the new styled palazzos.
Team it up with accessories that make your attire a complete look. Nowadays beige is popular among Stars and celebrities.
Don't forget to include some jewellery in your outfit
Jewellery is a big part of Indian weddings. Women have worn jewellery to weddings for generations. If you are a guest, keep in mind that wearing jewellery to the wedding is an unspoken rule.  The effort you make on the outfit and the shoes should be spread to the jewellery and other small factors. An outfit is not really complete without the jewellery.
The most famous wedding jewellery for women is the chaand balis on your ears and a matching necklace.  Chaand balis pairs well with the bright wedding saree. For a complete ethnic look, add some shiny bangles on your arms but be careful not to overdo it.
I know you are wondering what jewellery is common for men in Indian weddings. It's easy! You can accessorise your sherwani jacket by adding some jewelled buttons.  Do not avoid any accessories at any cost, especially when you are attending an Indian wedding.
Remember to choose colours wisely
As you know bright colors are very famous for weddings. This does not mean that all colours can be worn at the wedding, especially if you are a guest. For the bride, red has been the traditional colour. It is not compulsory but it will make you stand out in the crowd.
A bright red saree is the perfect outfit if you are going for a more traditional wedding theme. For the guests, red, white and black are off the tables. Dark like a symbol of sorrow and should not be worn to weddings. Always investigate and enquire before you buy any wedding outfits.
Author Bio: Shrutika is full time SEO Analyst and on the-side blogger. She has 2 years of experience in IT sector. She is working at https://stylecaret.com a fashion e-commerce portal in India. She loves to write and share about Fashion, Lifestyle and Technology and many more categories in spare time. Be liked more. Be read more.