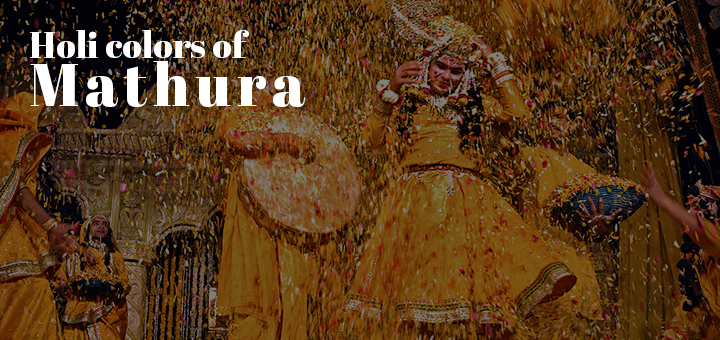 The festival of Holi brings to our memory the grand celebrations. Holi colors make the celebrations colorful in every part of India but the Holi of Mathura, Vrindavan is highly rated. It has a special significance because of its special customs and traditions. This is why Holi celebrations of Mathura attracts tourists from different parts of India as well as across the globe. Holi in Mathura reflects the true spirit of the festival. The celebrations commence many days in advance.
Holi Celebrations in Mathura Calendar 2018
| | | |
| --- | --- | --- |
| Lathmar Holi at Barsana | 24th February | Saturday |
| Lathmar Holi at Nandgaon | 25th February | Sunday |
| Phoolon Wali Holi at Banke Bihari Temple in Vrindavan | 26th February | Monday |
| Holika Dahan at Holi Gate | 1 March | Thursday |
| Holi in Dwarkadhish Temple in Mathura | 2 March | Friday |
| Rang Panchami | 6th March | Tuesday |
Barsana Lathmar Holi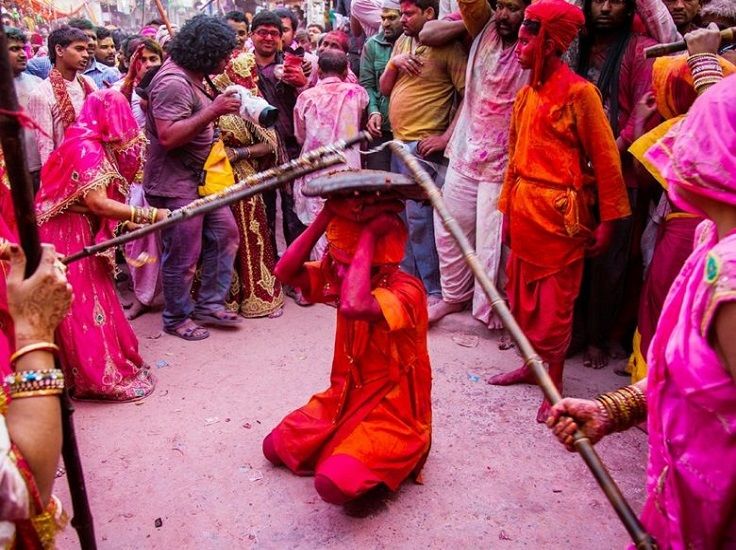 It is said that when Shri Krishna was young he used to visit Barsana and play Holi with Radha. Then Radha along with here friends used to beat Krishna and his friends with bamboo sticks. This tradition is now a famous ritual Nandgaon men come to Barsana to impress the women in colors and get playfully beaten by bamboo sticks. Next day is the turn of Barsana boys to come to Nandgaon to color the women who take sweet revenge and use bamboo sticks to shun off them. This large gathering makes the atmosphere filled with great joy and enthusiasm. People come all over the world to witness Barsana Lathmar Holi.
Laddoo Holi At Radha Rani Temple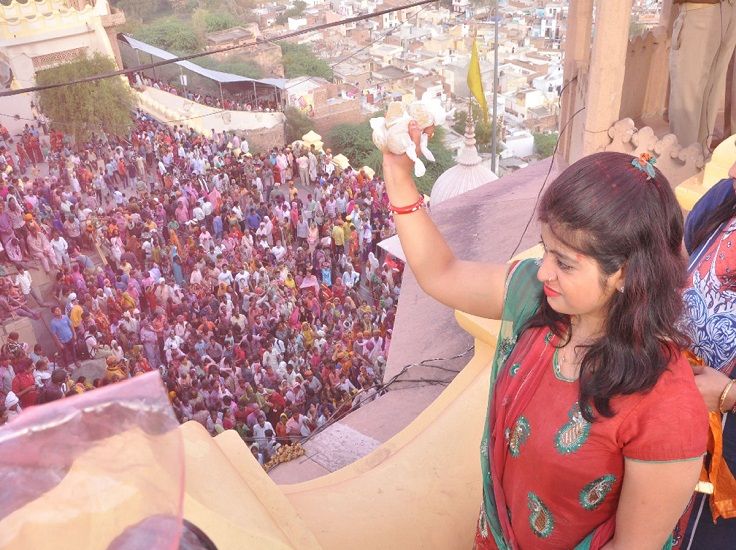 Laddoo Holi is a day prior to lathmaar, priests at the famous Radha Rani temple shower sweets on devotees. Holi celebrations start with ladoo Holi in Mathura. This unusual celebration is a must experience on the festival of Holi.
Phoolon Wali Holi At Banke Bihari Temple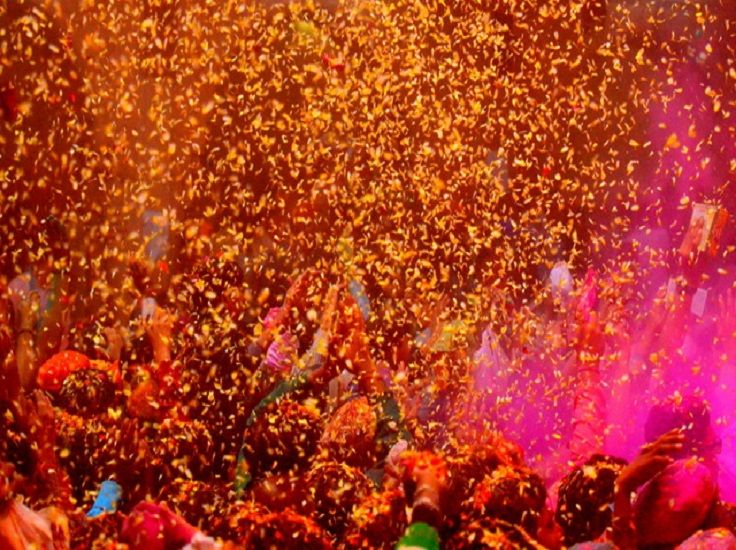 Phoolon wali Holi is celebrated at the famous Banke Bihari temple. On the Ekadashi before Holi this unique celebration takes place where the festival of colors in celebrated with flowers. Flowers are thrown at the devotees for about 15-20 minutes to mark the unique celebrations. This year Phoolon Wali Holi will be on 26th February.
Holika Dahen at Holi Gate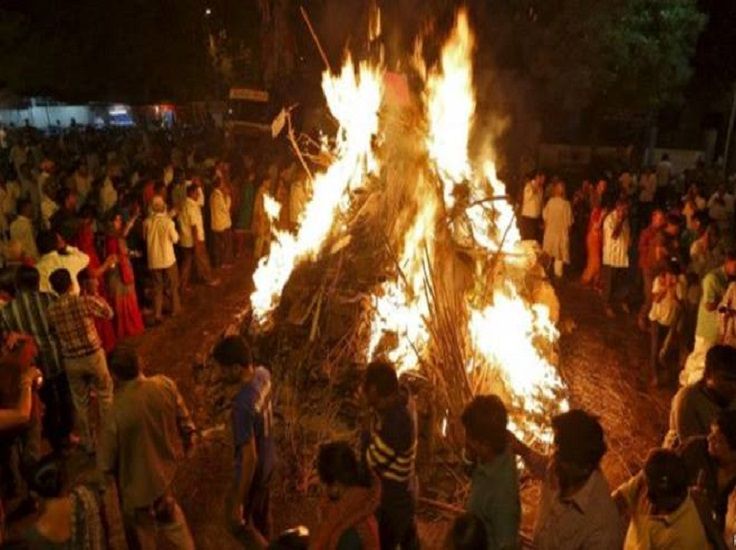 The fire which is lit during Holika Dahen fills the atmosphere with tremendous positivity. On this day devotees also worship Shri Krishna.  Holika Dahen takes place at Holi Gate where the effigy of Holika is burnt.
Holi Celebrations at Dwarkadhish Temple Mathura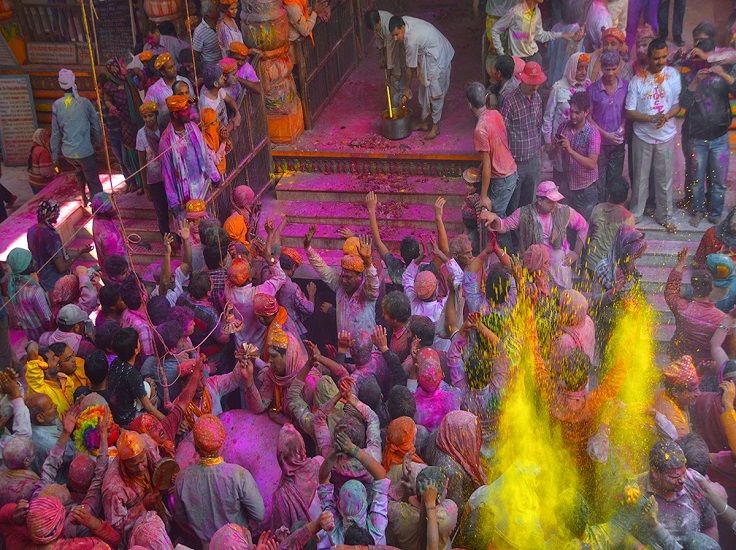 Holi originated from this place so you taste the essence of the festival in its purest form. The biggest celebrations take place at the Dwarkadheesh Temple. The gates of the historical temple open at 10 am.
Widow's Holi in Vrindavan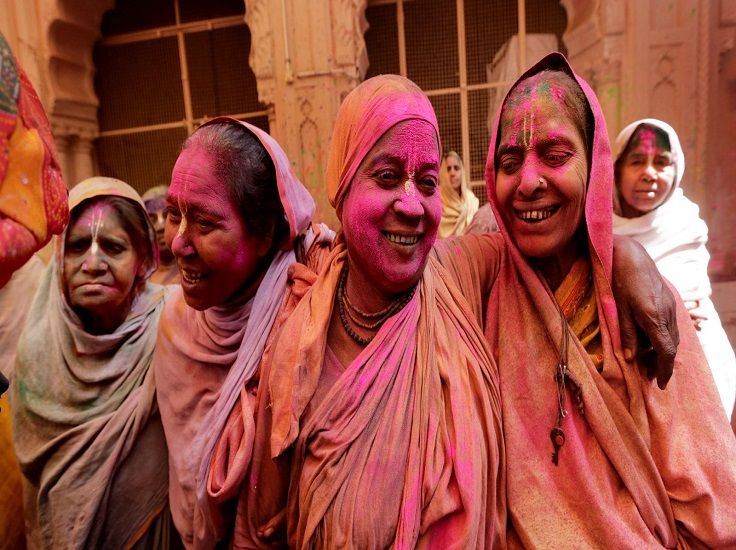 Widows of Mathura and Vrindavan play Holi at ancient Gopinath Temple. The ritual celebrating Holi began in 2013. The regional Brij songs are played to mark the riot of colors. The elderly women smear colors on each other and celebrate the festival.
Hurunga at the Dauji Temple
The theme comes from Radha-krishna the way they used to play Holi during their days. Men drench women with colored water who in tune tear the kurtas of men and whip them with it. Huranga takes places a day after Holi. The tradition is believed to more than 500 years old. The event takes place at central courtyard of the temple.
Rang Panchami in Mathura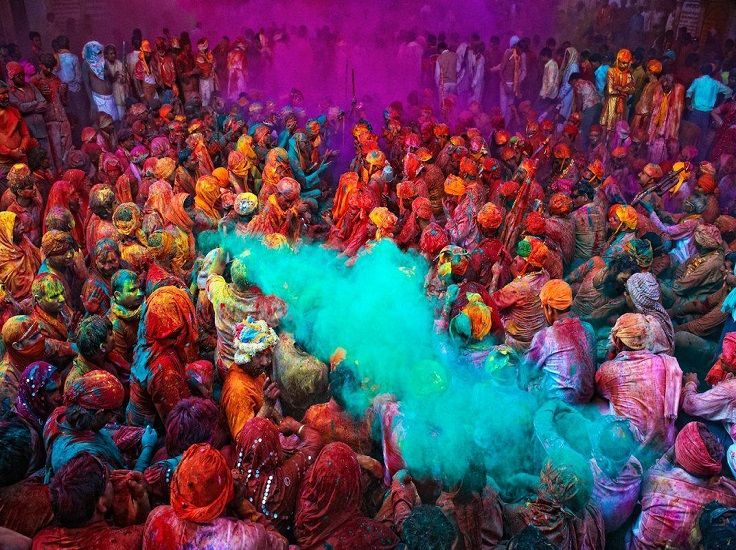 Rang panchami is celebrated 5 days after Holi, it culminates the Holi festivity in Mathura and Vrindavan. This year Rang panchami would be on 6th March. The celebrations are very similar to Holi which include throwing Gulal and coloured water. The significance of Ranga Panchami is related to five elements that the human body is made of earth, light, water, sky, and wind.