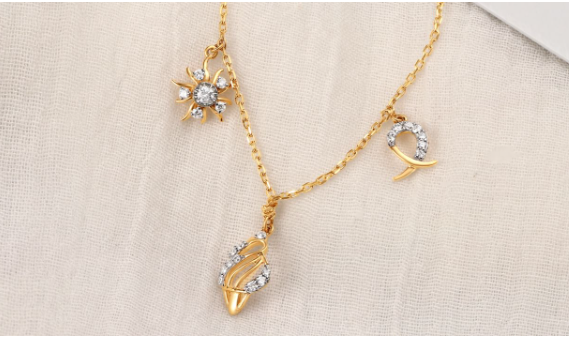 Buying and gifting gold jewellery is fitting for every occasion since it looks beautiful and holds cultural significance. Gold jewellery has been a major part of the Indian tradition, brides across the country are presented with gold jewellery by their loved ones on their wedding day.
Women also adorn themselves with gold jewellery during festivals and on every special occasion, this has created an association of gold jewellery with joy and happiness. And now, we can't think of a celebration without having a piece of gold jewellery on us.
If you have a special occasion coming up, or are just looking to treat yourself, buying gold jewellery is a great option. You can check out the collection of gold jewellery at Mia by Tanishq today. Here you can find an extensive collection of gold jewellery including earrings, necklaces, bangles, rings, and much more.
All the designs are suited to the needs and style of modern women who prefer to keep their jewellery elegant and their style chic. The range of gold jewellery at Mia is one of a kind and you should be sure to check their collection out as soon as possible.
Gold Jewellery For Every Occasion

There is no denying that you can find a piece of gold jewellery suited for every occasion, whether it's a casual Monday morning when you are getting ready to take on the work week or a special event like your birthday party.
Putting on a piece of gold jewellery would always be a good idea. You can get simple gold jewellery like minimal chains and dainty earrings that would look perfect with your chic office look. If you have a wedding function to attend, then you can shop for gold jewellery that is more dramatic.
Good options of gold jewellery for events like these can be a bold statement ring with a precious coloured stone like an emerald or a ruby. Heavy necklaces with a modern design and matching earrings is also a great choice as they would take your traditional look to another level and make everyone's head turn.
For fun parties where you would be dancing all night long with your girlfriends, you can find gold jewellery appropriate for this occasion as well, as stylish dangling earrings that would dance along with you as you light up the dance floor.
Things To Remember

Buying gold jewellery is definitely an investment which requires time and patience before buying. When you are shopping for gold jewellery online, you should remember to shop from a trusted jewellery store and ensure that you are getting the appropriate bill and invoice for your purchase.
Another thing to note is that checking the authenticity of your gold jewellery is of top priority while shopping online. This means that you should always check the BIS hallmark sign on the silver and gold jewellery that you are purchasing.
Shine On With Golden Glamour

It is super important to shop from jewellers that you trust. Among the many merits of shopping online, there are also some demerits that aren't talked about enough. One of the most common issues that people face while shopping online is that there's a chance of getting scammed by the jeweller and being sent the wrong piece of gold jewellery.
To ensure that your online shopping experience is as smooth as possible, it can be helpful to shop from places that have proven to be credible and reliable over the years. Your best bet to shop for precious gold jewellery is Mia by Tanishq- your one-stop shop for everything, from simple designs to statement gold jewellery pieces.