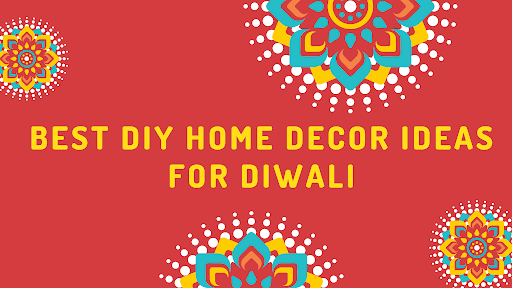 Diwali is coming and we are still in amid of a huge pandemic. Every ear we all step out and go around markets to find the best home decor for Diwali. But considering the current situations, we are here with some really great DIY Home Decor Ideas for Diwali. This Diwali don't step out but step up your decor with our fun DIY ideas.
This can also be a fun and engaging Diwali activity you can do with your family. The Diy home decor solutions we have here are easy and simple. You will find the items required to create the decor lying around in your house.
Make this Diwali a little different with a personal touch in your home decor because your home defines your taste. Check out the best DIY Home Decor Ideas for Diwali 2020 here!
Also if you want to know about the best Diwali deals offer and discount running online then click here.
1.Handmade Toran
Hanging Toran on your front door is an auspicious ritual that comes along with Diwali. On Diwali occasion, you will find beautiful Torans hanging in front of every house to welcome goddess, Lakshmi. This Diwali why not you replace the market toran with a handmade Toran and welcome goddess Lakshmi to your household. Handmade toran is one of the trending DIY Diwali Decoration Ideas.
This Diwali go beyond those modest plastic torans or crisp blooms. Rather than that, you can try to make a toran out of old welcome cards, or globules, plain old cardboard cut into intriguing shapes or paper flowers. Include some sparkle and glitter and your passage will look magnificent. For a simple DIY video of handmade bangle Toran click here.
2.Bangle Candle Holder
Do you have glass bangles at your disposal and you don't know where to use them? This Diwali you can make cool bangle candle holders. Use different coloured glass bangles and make candle holders for Diwali.
Take circle-shaped cardboard to work as the base. Now start sticking glass bangles and stick one by one. Use adhesive to stick the bangles. After sticking bangles to a certain height, Place the light in the centre. Help yourself with DIY Glass Bangles Candle Holders Video Tutorial here.
3.Paper Frill Decoration
This Diwali go green and don't buy plastic decors rather you can DIY paper frill decoration easily at home. You can use any paper be it newspapers or recycle used paper by making creative decor items.
There is so much you can do with paper. This Diwali lets not generate plastic waste by putting one-day decor. Paper frill decorations will make your house look equally gorgeous. For some easily paper decorations for Diwali click here.
4.Paper Lanterns
Hanging paper lanterns are the best DIY Diwali decoration ideas for home sweet home. You can simply hang them & they will create an illumination effect on both sides. Colourful wraps around the wireframe ball or paper flowers bunched together in the form of lantern form a perfect decorative item.
The soft lights that come out from the paper lanterns, set the mood all around. You can use tissue paper, plastic cups or printed papers like floral prints or polka dots. If you are thinking of how to make paper lanterns this Diwali then find an easy tutorial video here.
5.CD Diyas
If you have old CDs which are of no use then Diwali is the perfect time to create something interesting using them. This Diwali turn your simple Dia into a glamourous one using a CD, some colours, permanent marker, and rhinestone stickers
Take a CD and use a permanent marker to make designs on it. Paint the design with different colours. Decorate the CD with rhinestone stickers. Put a diya or a fancy candle in the middle and it'll be ready to light up your home. If you want any help in making CD Diyas click here.
6.Mini Wine Glass Lamp Shades
Are you looking for a chic way to decorate your centre table or dining table this Diwali? Then we have a great DIY decoration idea for you. You can place mini lams on your centre table and dining tables. To make pretty mini lamps you only need wine glasses and paper.
You can use vellum paper or printed sheets to make mini lamps. Other than this you will need wine glasses, glue & scissor. Make a lampshade out of paper by folding it. Fix the lampshade on the wine glass. Place the candle in it & lighten your dining environment. You can check out this video if you need help in making wine glass lamp shades here.