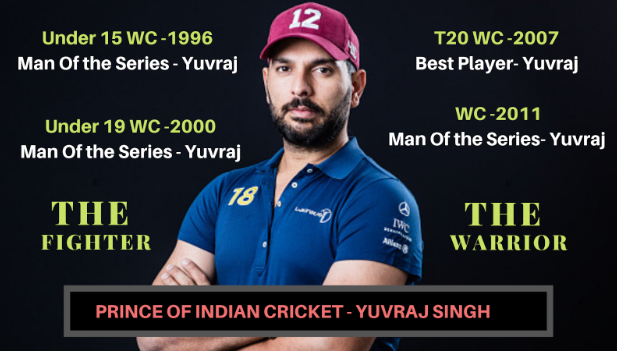 Yuvraj Singh, born on Dec 12 1981, is a name in the Cricket world that shows passion and unmatching fighter spirit.
Son of former Indian player Yograj Singh, Yuvraj Singh is a true warrior in cricket and life. He was a child prodigy and made a name for himself. He is all known for his power-packed yet classy batting.
Two-time World Cup champion and one of India's greatest-ever limited-overs batsman Yuvraj Singh made his captivating presence in the 2000 Under-19 World Cup by making plenty of runs.
As a result, the team lifted the trophy and he was entitled as the Player of the series for his enchanting performance.
Yuvraj debuted his career for India during ICC Champions Trophy in 2000 against Kenya, and he last played for the national team in 2017 in an ODI against West Indies at North Sound.
Yuvraj Singh in 2000 VS Australia at ICC Knock Out Champions Trophy
Yuvraj continued to showed his prodigy in the second ODI when he minced Australian bowling attacks made by Glenn McGrath, Brett Lee and Jason Gillespie to pieces in the 2000 Champions Trophy in Kenya.
Yuvraj Singh overwhelmed the ground with his scintillating knock of 84 off 80 balls against Australia in the Champions Trophy (then ICC Knock Out Tournament) in 2000. Yuvraj took just one inning to display the bundle of talent he possessed.
Yuvraj Contribution at NATWEST final vs England in 2002 for the final victory
He soon became a backbone of the Indian middle-order, often taking his side to memorable wins like in the famous Natwest Trophy final in 2002 against England, which in some ways changed the landscape of Indian cricket.
During that game, many new things happened like the t-shirt removal moment of Saurav Ganguly and the punch of Kaif but Indian fans still remember him for that 69-run knock in that famous Natwest Trophy final in 2002 at Lord's, forming a 121-run stand with Mohammad Kaif, to help India clinch the match and tri-series.
After this, He became a crucial cog in the ODI side for India. He partnered with Rahul Dravid, Suresh Raina and MS Dhoni to finish games in the country favour.
He could not perform very well into the Test team which was filled with legends. Though, He got limited opportunities, he did shine but could not make the most of them.
In Test Cricket Career, he managed to score 1,900 runs at an avg of 33.92 which included 11 fifties and 3 centuries. Yuvraj last played in a test match back in 2012. But in the shorter formats of the game, he continued to make his strong presence.
India Vs England T20 World Cup 2007 Yuvraj Singh
Yuvraj Singh, the prince of Indian Cricket team, real glory came in the ICC events. He was crucial for India victory in the 2007 World T20. His 6 sixes in an over to Stuart Broad are still being watched again and again. Truly, nobody can't forget the way he triumphed the Australians for a 30-ball 70.
Yuvraj Singh ICC World Cup 2011
Yuvraj contributed to the team's success and made the World Cup dream happen after 28 years. He scored 362 runs in 9 matches at a staggering average of 90.50 including a century and 4 half centuries.
He was awarded 4 man of the match award as well as the prestigious Player of the tournament award. His fielding proficiency, particularly when being deployed at a point and his ability to roll his arm over effectively, made his value shoot up exponentially and was more than handy in the 2011 World Cup victory. And entitled him the first all-rounder to score 300+ runs and take 15 wickets in a single World Cup.
During the same time, Yuvraj Singh was diagnosed with a  rare form of a cancerous tumour between his lungs.and this fighter fought back and made a return back to the field by the end of the very next year.
Isn't it inspiring?
I must say we all have the fighter within, it depends on us whether we want to wake it up or let it sleep.
Yuvraj Singh Retirement June 2019
Yuvraj Singh announced his retirement from all forms of the game on 10 June 2019. The left-handed batsman said bye to the international cricket with an aggregate of 11,778 runs. During his cricket career till so far, He scored 8701 runs in ODIs, 1900 runs in Tests and 1177 runs in T20Is respectively.
Yuvi seemed very emotional at the conference while announcing his retirement. He said, "I am extremely lucky to play 400-plus games for India. I would never have imagined this when I started my career as a cricketer. It was a love-hate relationship with the sport, in retrospect. I don't think I hated the game, because the love I have for it today, which will remain a constant until the end of [my] life. I can't really express in words what is that feeling".
We could sense the pain and pleasure both in his voice. He knew it from the year 2017 that he would not be able to play in WC 2019. Lack of runs and fitness concerns bouns ICC to shown the doors and after that, he was not able to make a comeback to the national team.
However, Yuvraj kept on plying from IPL sides. He has been part of two IPL winning sides in Sunrisers Hyderabad (2016) and Mumbai Indians (2019).
8 Super Catches by Yuvraj Singh
It's just like a retreat to watch this legendary cricketer all-rounder skill and by watching these phenomenal catches you must agree with me.
This extraordinary Cricketer itself says, "I have failed more than I succeed". So if you admire this cricketer as a warrior, as a fighter or as a player then never ever let yourself down by any circumstances that come in your way.