Ever since the entry of new player, Reliance Jio, there has been an intense pricing war in the Indian Telecom sector.
To counter Jio's tariff plans, telecom operators especially Airtel and Vodafone have introduced tons of new value of money plans.
With the aggressive pricing by major telecom operator today we can expect to get an unlimited calling plus data plan for under Rs. 200.
Jio Rs. 399 Vs Airtel Rs. 199 Vs Vodafone Rs. 196 Plan
If you are looking for a value for money tariff plan, the options are simply multiplied right from Jio, Airtel, Vodafone, Idea, to BSNL
Here is a comparison between cheapest monthly tariff plans of Jio, Airtel, & Vodafone.
| | | | |
| --- | --- | --- | --- |
| Operator | Jio | Airtel | Vodafone |
| Tariff Plan | 149 | 199 | 196 |
| Voice Calls | Unlimited | Unlimited | Unlimited |
| Data | 4.2GB | 1GB | 1GB |
| SMS | 300 | Unlimited | - |
| Roaming | Free | Free Incoming Calls | Free |
| Validity | 28 Days | 28 Days | 28 Days |
Jio 149 Plan: Good for Making Unlimited Calls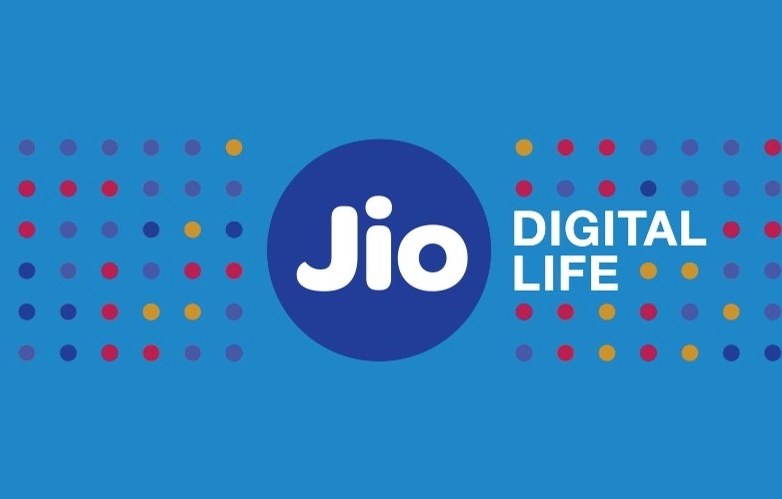 Jio 149 plan offers unlimited data which gets reduced to 64 Kbps after consumption of 4.2 GB at high speed. Jio's tariff plan has a daily limit of 0.15 GB data. Customers can enjoy unlimited voice calls including local, STD and roaming to all operators. In addition, users get access to Jio suite of premium apps like Jio Cinema, Jio Music, etc.
Airtel 199 plan Details: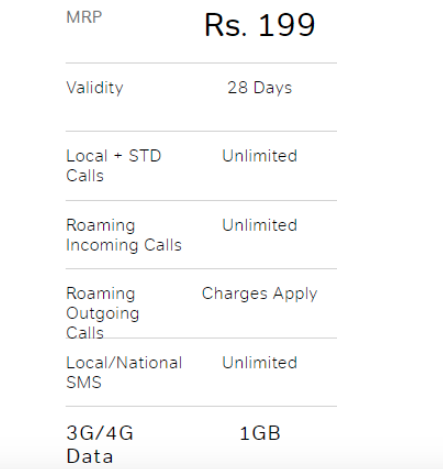 Airtel has answered Jio Rs. 149 by introducing Rs. 199 plan for its prepaid users. The plan offers unlimited local and STD calls, 1GB data and unlimited SMS with a validity for 28 days. Customers will be able to receive unlimited roaming incoming calls, but they will be charged for outgoing roaming calls.
Vodafone 199 Plan:  Unlimited Locak+ STD Calls + 1GB Data
It appears as Vodafone has changed Rs. 199  plan to Rs. 196 which is listed under its unlimited voice and data plans for prepaid users. The users get unlimited local and STD calls with a daily limit of 250 mins & weekly limit of 1000 mins. There is also free roaming within India + 1GB 4G/3G Data.
So Which plan is better for me?
Notably, there is a difference of Rs. 50 between the tariff plans of Jio but while before making a decision you also need to consider various other factors. Like, Jio works only on 4G LTE devices whereas Airtel & Vodafone are available on all handsets.
Also, the network coverage will have a big say on the tariff plan you choose. Although, all three are leading telecom operators in the country but the signal strength and coverage varies from area to area.
Jio may be best Value plan but it comes with Lots of Limitation
Jio Rs. 149 plan offers unlimited data but it comes with a daily limit of 0.15 GB. There is no daily data consumption limit for other operators. One more thing to note is that both Jio & Vodafone offer unlimited roaming facility whereas Airtel will charge you for roaming outgoing calls.
Conclusion:
In our opinion, before opting for any operator, first you need to see it's connectivity in your area and then look for your personal requirements like Data Usage, Roaming etc.. If you wondering which network has strong coverage in your area then Airtel has this nice tool through which you can check in real time the location of various Telecom Tower. Have a look here
Hope this small comparison will give you enough information on various data plans and helps you in selecting the best network for your next mobile phone.
Also Read: Jio Triple Cashback offer Extended till December 15