Wedding season is for wearing different and designer clothes for men and women, with a good colour combinations. This article is for you to read and what you should wear on a Mehendi day.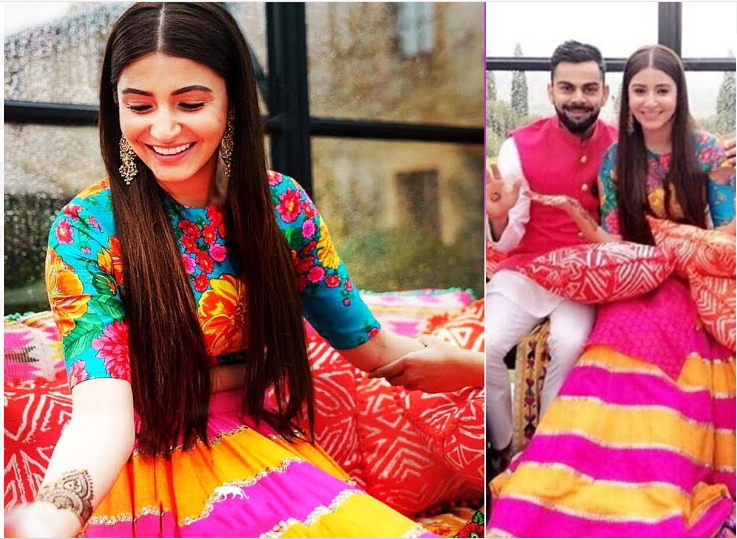 Weddings are fun, vibrant and time to go extra, especially in the Indian culture. The Indian fashion world has focused a lot on women's clothes from young girls to older women. Designs like wedding Kurtis, Kurtas, Lehengas and Sarees among other common styles have been upgraded to look better, stylish and modern.
Ceremonies such as the Mehndi are a part of the mini occasions within the Indian wedding ceremonies. Their rich culture is in clothes, rituals, jewellery,and food. Women spoilt for choices, and various attires make them stand out of the box in the Indian attire. During these ceremonies, for men, the same effort is taken to shop for attire, and it should be equal to the women's attire. There are many gorgeous outfits to make women look like a princess.
These days the fashion outfits are not only for women but also for men. In a wedding, the couple matches there Wedding, Mehendi and Cocktail party dresses. If we talk about Mehendi dresses, couple coordinate with a vibrant colour of Green and to add a bit different the couple add some other colour to it. This fashion trend is not only for the wedding couple but for other couples as well.
1. Matched Outfit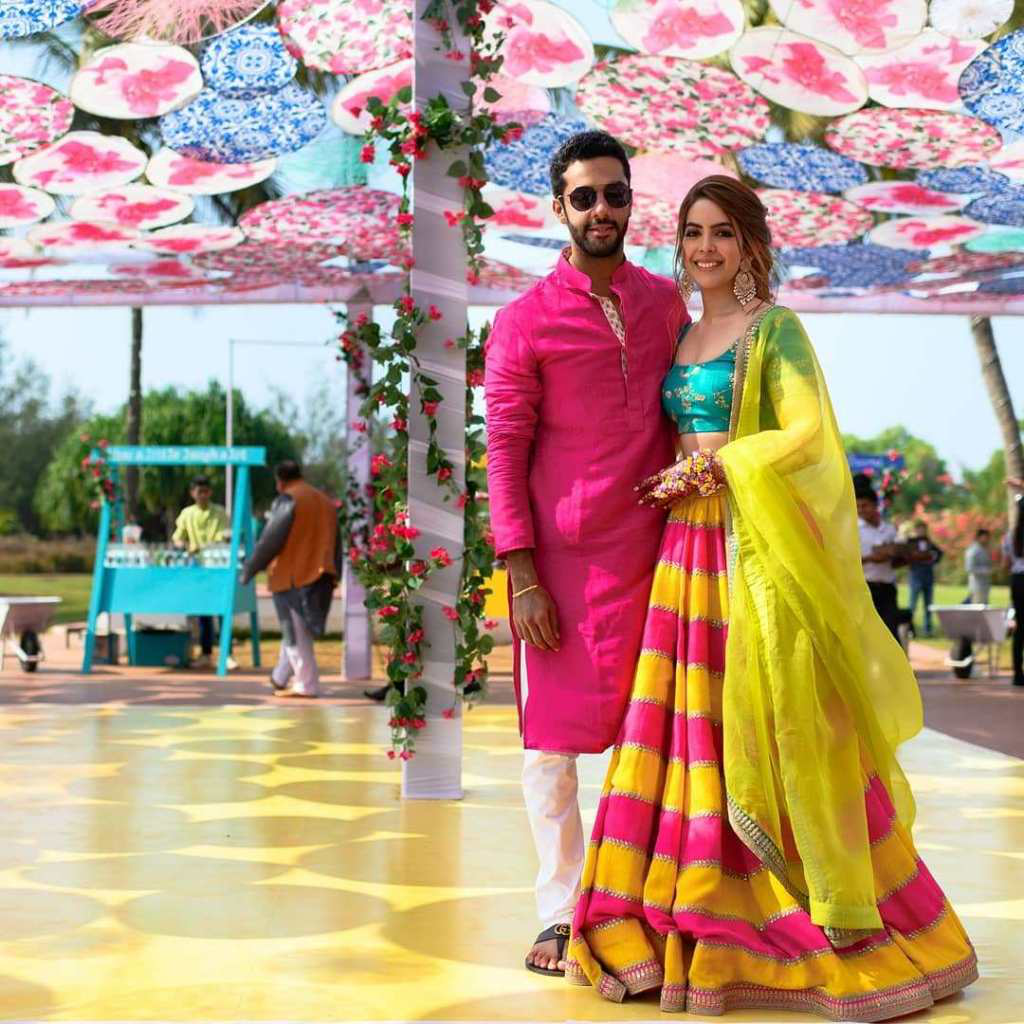 The beauty of matching outfits with your girl is the best thing to do during your wedding days. Ethnic clothes like the Saree, Lehenga or designer kurtis for wedding can bepaired with similar colours and patterns for the event.
The clothes can be a designer, or you can choose to style them as desired and planned in a fabric that is comfortable for the couple to wear them on their big day. The matched outfit is exciting and makes the couple look stylish in the Indian look. This trend has been embraced all over the world.
2. Punjabi Suit Outfit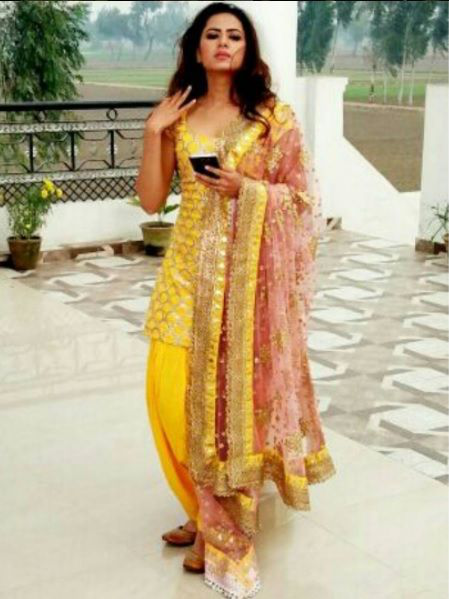 Another ethnic wear is the Punjabi Suit that is simple, comfortable and is a gorgeous style for a women attire for the mehndi festival. This attire offers a complete top and bottom that the women will not throw away. Hence choosing a Punjabi Mehendi outfit for the ceremony will ensure you have an easy time enjoying the festivities. The suit is affordable and easy to design.
You are choosing the right fabric and the right Punjabi design to look gorgeous on your Mehendi day or someone else's. Don't forget to deck up the Punjabi suit with a Jutti. Wearing a Punjabi suit without a jutti is a no match.
3. Anarkali Ethnic Wear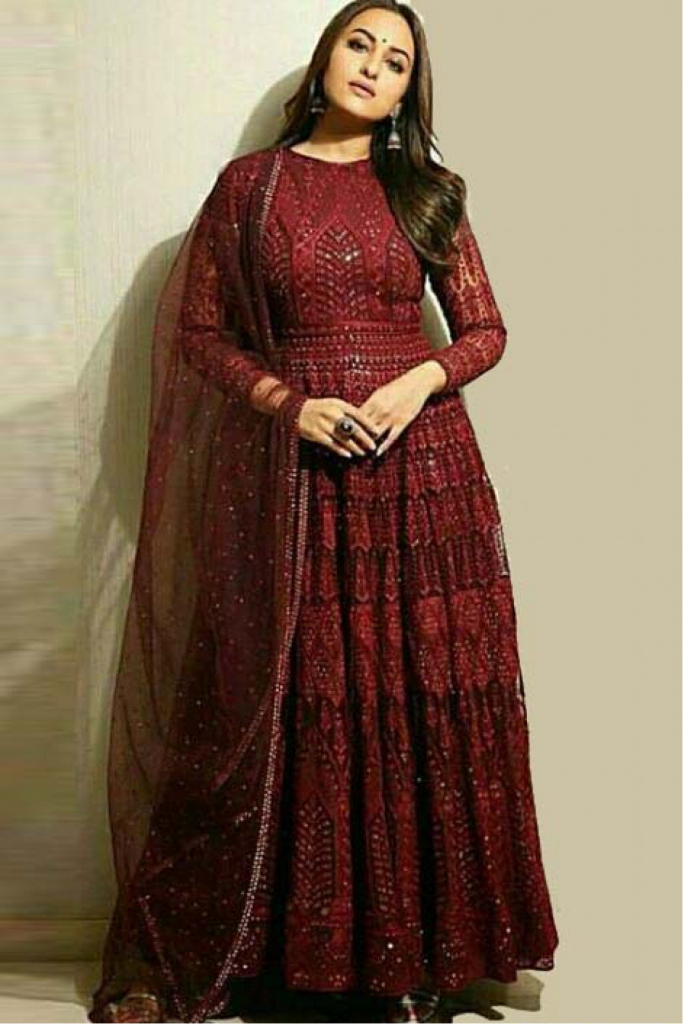 An Anarkali outfit looks beautiful for a woman to wear. Dress in a beautiful Anarkali outfit to look like a diva for the mehndi ceremony. The style is admired globally for all the ladies out there. They shine on in other ceremonies too with this outfit. The Anarkali has been a golden attire since the olden days, and other outfits like the Anarkali Kurtis for a wedding are styled up from it.
Other than the Mehndi ceremony, women can step out in this attire at the Haldi and Roka ceremonies. Choose an Anarkali outfit which can also be styled with other attires for a different look to a different event. Anarkali is on a trending alert nowadays!
4. Sharara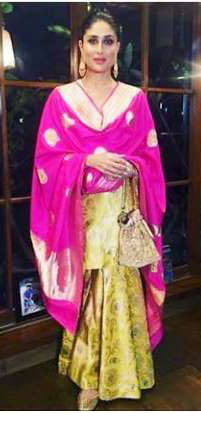 Every woman who is dressed up in a sharara or gharara glows in the Mehndi ceremony. Sharara is a traditional attire. Earlier, wearing a sharara or gharara was common for women.
But as times are changing the sharara is back in the trending zones, and it looks adorable for a Mehendi ceremony. One can wear the plain sharara and kurta set and match it with a heavy dupatta. If not a heavy dupatta then go for a big maang tikka.
5. The Floral Print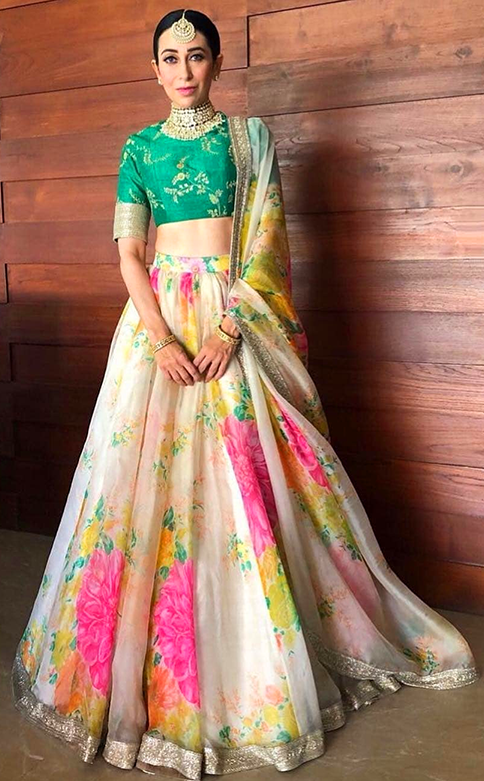 Mehndi outfit is an essential part of your mehndi ceremony.  Your Mehendi outfit can go with accessories like floral jewellery, and gotta jewellery. Wear it with a floral print Lehenga, Suit or a Gown.
Also, a multicolour floral choli paired with a solid silk skirt is as classic as a mehndi outfit gets! Put on some mehndi jewellery, and you are set to rock your mehndi look like a total boss bride! Make the floral print an ultimate choice for the outfit for the Mehndi and other ceremonies.
6. Dhoti Pants

These pants are the present Mehndi attire for women. Dhoti pants have been worn by brides to international figures, making them a fashionable design.
They offer a vibrant feel of the Indian culture and are in many ranges to be paired up with Kurtis, kurtas and other designs too. Choosing the Dhoti pants provide a perfect ethnic fashion attire for your woman to stand out. The Dhoti pants are paired well with crop tops and long jackets of similar colour, fabric, and design. One can even style it with a lot of bangles or with big earrings.
Men Mehndi Attire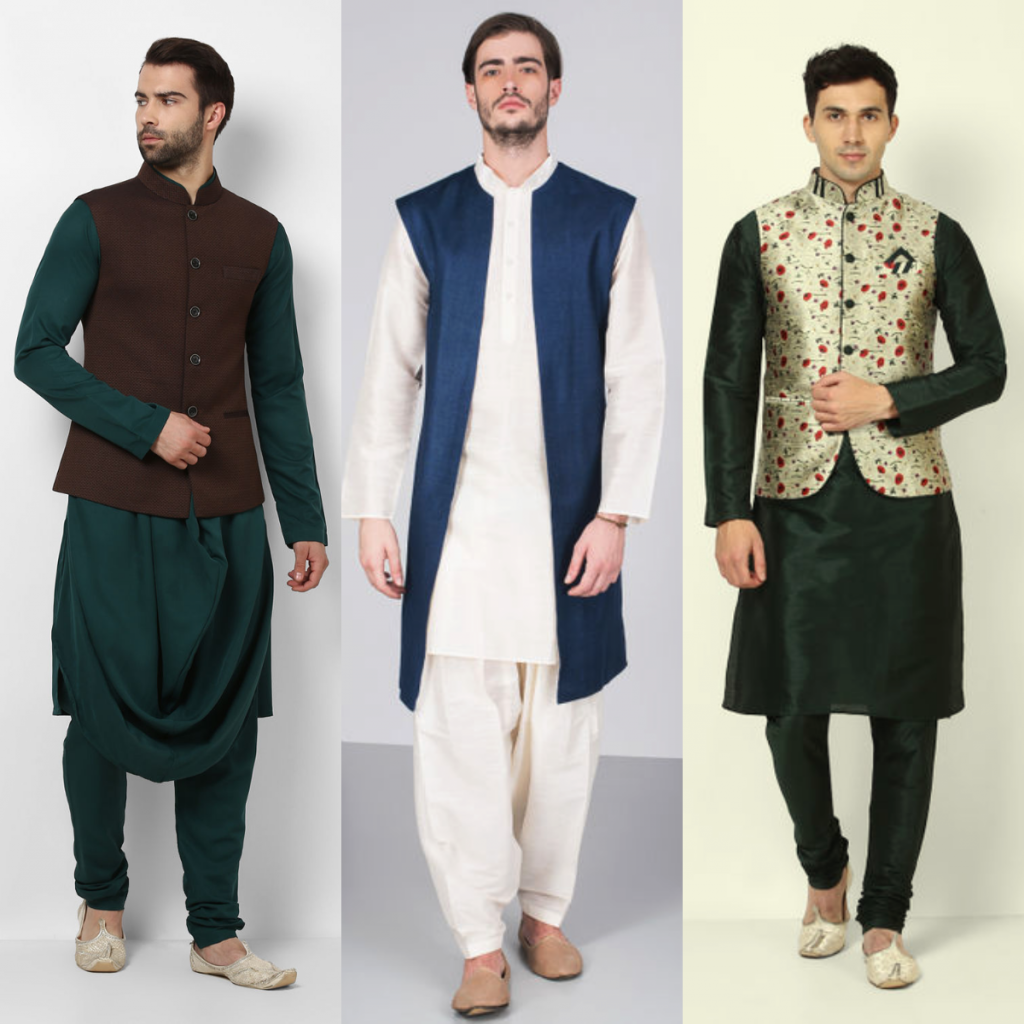 Men are also not left behind during the Mehndi ceremony. Their attires are beautiful, attractive suits that are tailor-made. Some of their attires are Kurtas, Sherwani and Salwar Kameez. Most of the men's designs are contemporary from the current designs and trends. Married men even have to match with their partners as well.
The men, too, do not shy away from joining the festivities with a mehndi dress. The dress can be paired with pants or dhotis of matching colour to have a revamped look. The Mehndi outfits come in a variety of colours and exotic gala designs.
1. Kurtas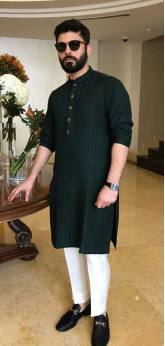 Purple is the new colour for men for the mehndi ceremonies. Kurtas are also a unique way for men to style. The purple shade makes them pop in these long open sleeves and combined with a white Salwar that will make men look dashing.
2. The Angrakha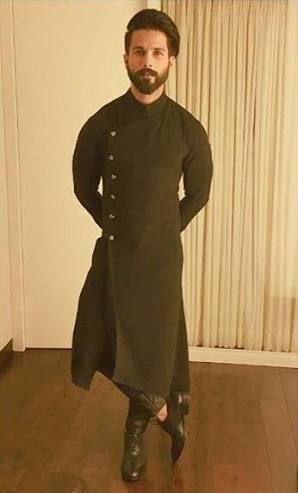 The Angrakha is yet another kurta designs for men that are common for Indian wedding ceremonies. The men can dress up in a printed waistcoat over the white churidar pyjamas to have a complete look for this outfit.
The prints may vary and are pure blend to the Mehndi colour The men have a wide variety to choose from for their Mehndi outfits. Whether they are dressing as cousins as the Indian wedding culture mostly prefers or as individuals the Indian fashion industry has a lot to offer them.
3.  Floral Nehru Jackets Over Kurta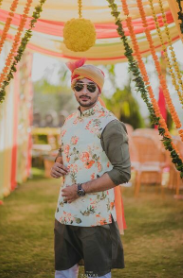 Why should floral be for women only? This wedding season it will be for men as well. Nowadays, even men want to look the best in their wedding ceremonies. For mehendi, wearing a floral Nehru jacket with a plain kurta is a new trend. Keep it simple and elegant. Floral prints are being spotted more and more in mehndi dress for men.
Men these days are rocking florals, and it is the seasons biggest wedding wear trends. The groom best wears this trend for mehndi. To go for a subtle and refined mehndi look wear a  plain kurta with floral printed Nehru jacket.
4.  A Waistcoat With A Cowl Kurta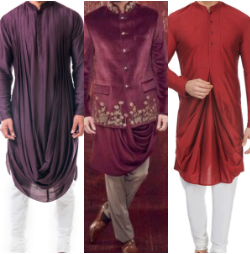 Men can wear a cowl kurta with a waistcoat which is very in these days. Every man loves to look different in wedding functions as they have fewer options to choose from. The cowl kurta can be combined with a Jodhpuri or regular pyjamas and with a Jeans as well.
Many different looks can create with a cowl kurta. It can be combined with a full sleeves jacket or with a Nehru jacket as well. If it is a Mehndi function, then it can be worn generally with white pyjamas. Cowl Kurta itself is very style if you want to make it more stylish then add different types of coats or jackets to it.
The men and women have a wide variety to choose from for their Mehndi outfits. Whether you are dressing for a cousin's wedding Mehendi day or for your Mehendi function, the fashion industry has a lot of outfits to offer all. For mehendi, Men and women can wear simple dresses or can wear the most stylish design dresses.
Author Bio: Shrutika is full time SEO Analyst and on the-side blogger. She has 2 years of experience in IT sector. She is working at https://stylecaret.com a fashion e-commerce portal in India. She loves to write and share about Fashion, Lifestyle and Technology and many more categories in spare time. Be liked more. Be read more.