Its rare to get goosebumps with all those fake makeup and a 'trishul' to ward-off evil but still bollywood has produce a lot of scary movies which could scare the hell out of anyone (at moments).
Lets starts the top 10 bollywood movies series with a horror bite. Here I will try to bring out 'top-10' of bollywood horror movies based on ratings, reviews and box-office performance.
10) Veerana (1988)

image courtesy:horrorsociety.com
Remember Thakur Mahendra Pratap Singh, Jasmine and holy sign of 'Om'. This movie was basically about an innocent beautiful girl Jasmine. Possessed by a sinful witch's spirit Nikita, she wanders in the 'veerana' (wilderness) of the forest, killing men who are passing by through the way by seducing and bringing them in a barren 'haweli'. Witch possession, thriller, a bit of glamour and fight for love by the help of religion was something which draw people's attention. This genre is also shared by purani haweli (1989), band darwaza(1990) etc.
9) 13B: Fear has a new address (2009)
image courtesy:gobollywood.com
A young man haunted by the family of ghosts who plays a reflection of his family life in the TV show Sab Khairiyat . Remember this movie starring R. Madhvan. Well the story was really something which intrigued a lot in the minds of the audience and the people saw a new angle of haunting. To the surprise of both director, producer and ' filmy pandits', the movie turned out be a hit and Madhavan was praised for his act.
8) Darna Mana Hai (2003)

image courtesy:blogspot.com
A brilliant horror-thriller which includes a traditional road trip of a group of seven friends whose car got broke down in the middle. They sit together and starts telling six horror stories one by one. Each story engulf one person and at the end each and every one of them become a ghost including the killer. This proved to be one of the masterpiece of Ram Gopal Verma and this gave a new dimension to the outlook of the producers and script writers.
7) Do gaz zameen ke neeche (1972)

image courtesy:webmallindia.com
Zombie! looks like a copyright of hollywood. Well most of us do not know that even before most of us (who are reading this article) were born, our directors have made a zombie-flick which includes a beautiful traitor wife, greed for money, a scientist's weird experiment and a lot of horror. This movie was directed by Tulsi Ramsay & Shyam Ramsay and it gave a great combo of love, betrayal, crazy experiment and a Zombie.
6) Mahal (1949)

image courtesy:full2faltu.files.wordpress
A big box office hit dealing with reincarnation, characters played by Ashok Kumar and Madhubala in lead roles and beautiful music. A 65 years old gothic-horror was a horror simulation in itself. Remember "Ayega.. ayega… aanewala, aayega…."?  This movie is in fact much better than a lot of senseless horror movies Indian film industry is producing today.
5) 1920 (2008)

image courtesy:masala.com
How far you can go for your love. This movie is about a man Arjun, who for his love becomes an atheist and in order to protect his 'Lisa' from a vengeful spirit accepts god as the ultimate redeemer from problems. The movie has a very uptight hold on the story and it certainly have the power to bind audience from tip to toe till the end. The movie became a success and hence set a sequel lined up 1920 (evil return).
4)Bees Saal Baad (1962)

image courtesy:dustedoff.files.wordpress
A series of murders by a supposed vengeful spirit, a mystery, love, thakurs and a haunted area. This is what Biren Nag as director gave to the audience. The script was so well fitted with the characters and the cast of the movie that eventually this movie turned out to be an amazing combination of acting, actors, dialogues, thriller and music above all (zara Nazaron Se Kah Do Ji, Bekarar Karke Hume yun na jayiye)
3) Bhoot (2003)

image courtesy:ibnlive.com
A masterpiece by Ram Gopal Verma, this is no ordinary flick, it have arguably the best act Urmila Matondkar ever did in her career. The movie had Ajay Devgan, Urmilla Matondkar, Nana Patekar, Fardeen Khan as the main cast. The camera work was so brilliant that you would hold your chair tight while watching this horror blower.
2) Raaz (2002)

image courtesy:photobucket.com
A 'raaz'(secret) of a haunting spirit was a marvelous and brilliant work by Vikram Bhatt. The story is so well written, the music is so beautiful and the haunting scenes are so well placed that anyone would get goosebumps out this horror-romantic movie.
1)Woh Kaun Thi? "who was she" (1964)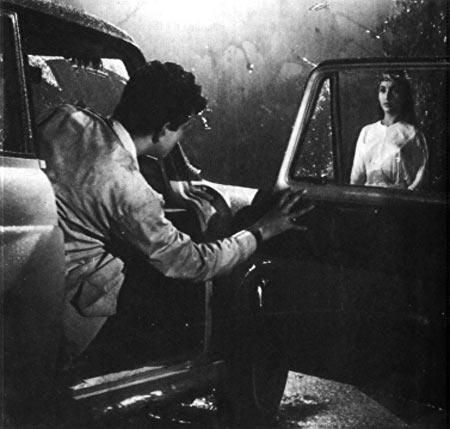 image courtesy:rediff.com
The highest rated epic thriller-horror bollywood movie ever is a story of a young well respected doctor Anand (Manoj Kumar) who is very sad due to the death of her girlfriend. One fine day, she meet up a lady in white saree on a rainy night asking for assistance. She steps out of car and while licking her bleeding finger says "mjhe khoon acha lagta hai" ( i like blood) and vanishes. Anand soon came to know that the girl has already died and Anand may have witnessed a ghost of the girl 'sandhya'. He come back home and finds his marriage fixed with a girl none other than sandhya. The movie has won several awards and no movie has still matched its level of beauty.