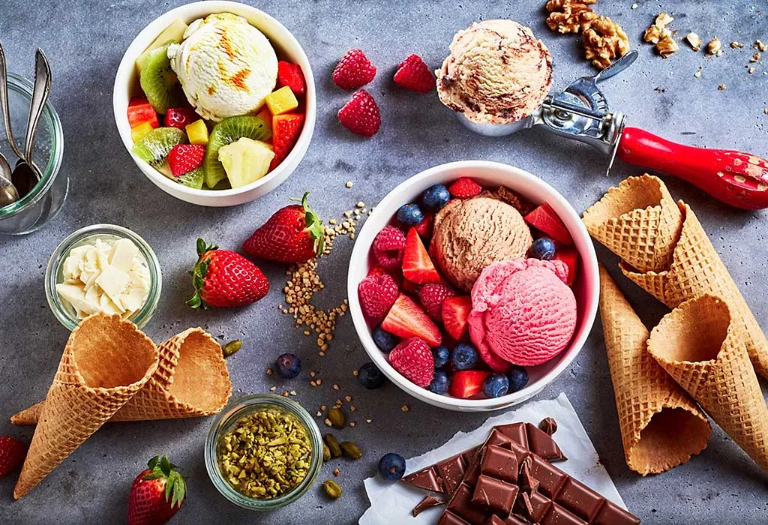 Who loves ice creams? If you don't, please leave my blog and get back with more respect and a lot of ice cream. Pizza would also do but only when it is side to side with a lot of ice cream.
There can hardly be any people on the globe who dislike ice cream. I am not asking for the die-hard fans but people who would hardly say no to a scoop of ice cream after their meal.
Do you know all the names of ice cream flavours that there are?
These scoops of ice cream do not have to be the same old flavours you have been serving or eating forever. The world is full of ultimately tasty ice cream flavours, and you deserve to know about them all.
This blog will cover some of the strange flavours of ice cream in India that I heard about for the first time. Sit tight because it will be a long journey where I will try to explain the unique mouthwatering tastes and textures you can put in your mouth after a tasty meal.
1. Coconut Ice Cream



Coconut ice cream brings the perfect South Indian nutty flavour to your plate, and I bet you won't be able to resist it. This flavour is made with coconut milk, and no other daily product is used. It makes it completely dairy-free. Some Ice Cream brands put little chunks of coconut in the ice cream, giving it the crunchiness that the nutty flavour deserves.
2. Gulab Jamun Ice Cream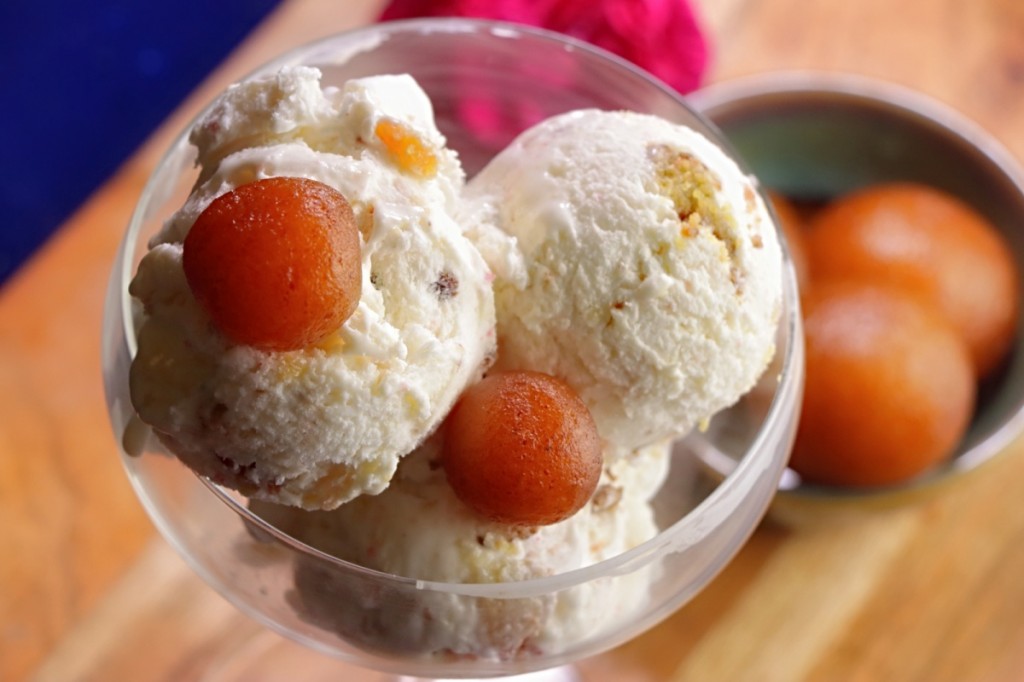 Vanilla ice cream flavoured with the most favourite Indian dessert can not go wrong. Have you ever seen an Indian wedding without gulab jamun? I am sure not. So, being the best dessert for millennials, the ice cream had to club with gulab jamun to create gulab jamun ice cream.
3. Cookies N Cream Ice Cream



I will talk about a controversial topic now. Do you like Oreos? I don't. But I love Cookies' N Cream. It is a flavour of ice cream that is my personal favourite. It is made by infusing oreo cookie crumbs with vanilla ice cream, and I bet you won't be able to resist yourself once you have it in your bowl.
4. Masala Chai Ice Cream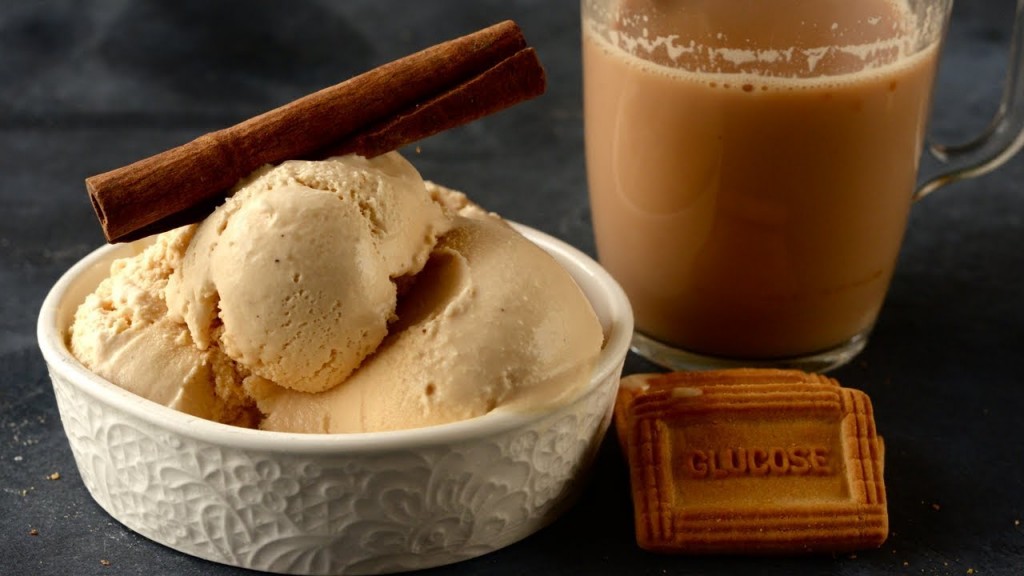 Do you know what you get mixing black tea, ginger, cardamom seeds, cloves, sugar and milk? Tea. Correct. But there is more. It turned into ice cream and gave you Masala Chai Ice Cream. I know this sounds a bit confusing but ask the chai lovers if they will refuse anything that tastes like tea but is soothingly cold in the summer?
5. Pani Puri Ice Cream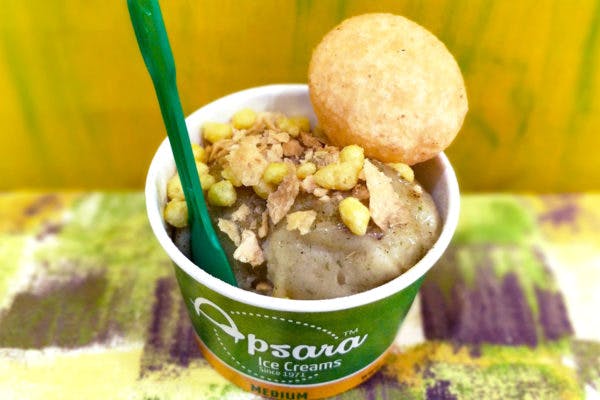 No, I haven't made any mistake; you read it right. There is an ice cream flavour called Pani Puri, a spicy blend of coriander, mint, green chilli, and rock salt along with the cream. I am not sure if you will like it, but it is always a good idea to try something new and decide if you like it.
6. Nolen Gur Ice Cream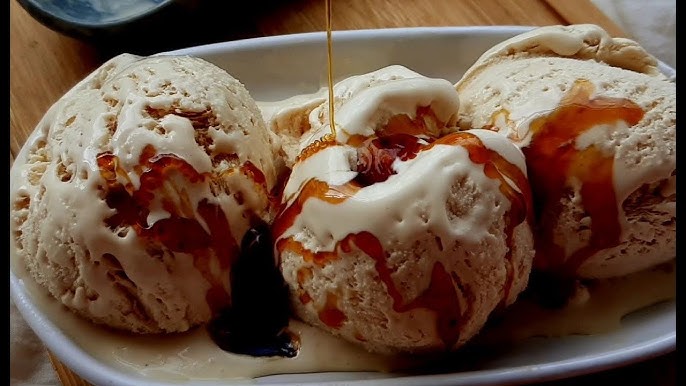 Nolen Gur means new jaggery, and we all know its caramel-y sweetness. Imagine this intoxicating taste mixed with our favourite dessert: ice cream. This jaggery is extracted from date palm trees, giving one of the tastiest palm sugar jaggeries, making the best Nolen gur ice cream.
7. Sandalwood Ice Cream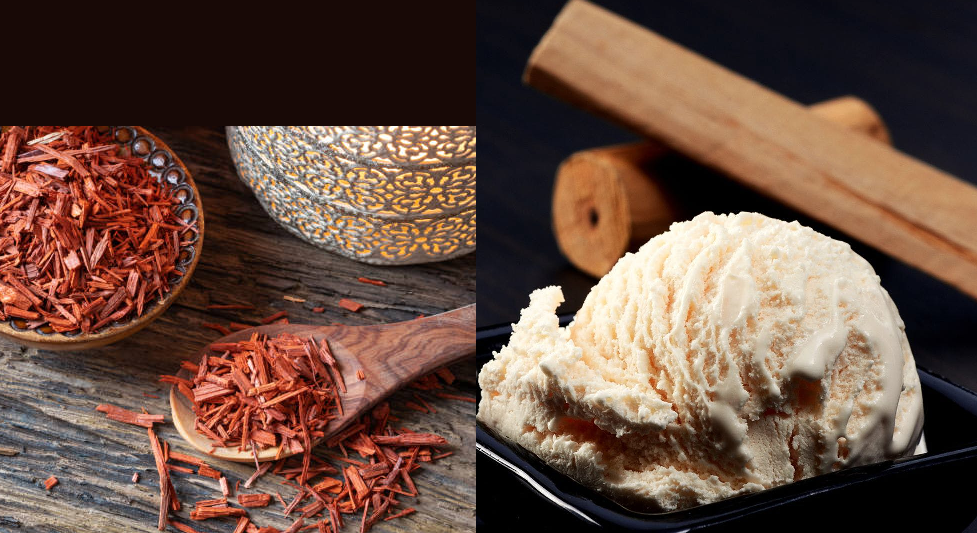 We all heard about Chandan sherbet, but not many know that sandalwood is also used to make one of the most exotic ice creams: Sandalwood Ice Cream. Its musky, exotic, and floral taste will woo you away, so never miss a chance to taste such a great flavour. Though it sounds daring indeed is intoxicating.
8. Green Chilli Ice Cream



Never on the earth did you think I would mention green chillies while talking about ice creams. However, green chilli ice cream is an unconventional flavour, made with deseeded chillies balanced with milk and sugar to create a unique flavour. This ice cream requires a certain level of tolerance to spice, and also, you should be ready for the taste to linger around your mouth for a little while.
9. Vanilla Ice Cream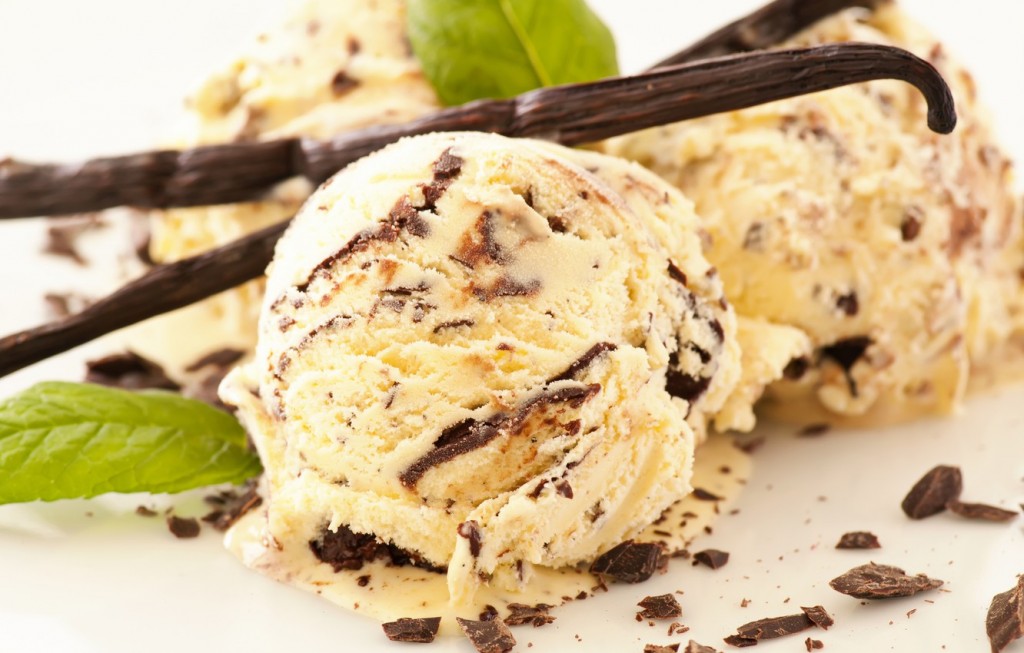 If there is a flavour that no one will say no to, it has to be Vanilla Ice Cream. This flavour is available at almost every ice cream and sweet shop. Although these ice creams are vegetarian, the original recipe includes fresh milk, cream, egg yolks, sugar and vanilla, which are frozen and aerated to give you the most creamy and yummy thing in the world.
10. Pan Ice Cream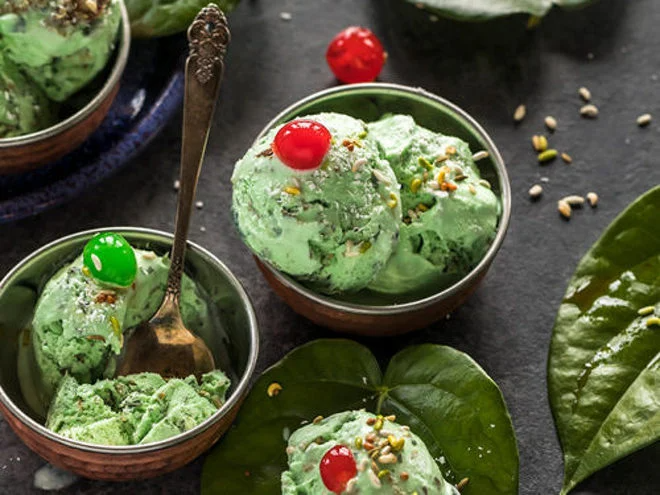 Pan flavour for an ice cream sounds too Indian but dare you if you let that idea sit on your brain for long. It is undoubtedly one of the best things crafted by Indians, and every person should taste this once in a lifetime. It is created using paan leaves, gulkand, mint flavour, and other selected ingredients initially used to make paan. It has to be one of the most refreshing things to put in your mouth in the name of the desert.
11. Kesar Pista Ice Cream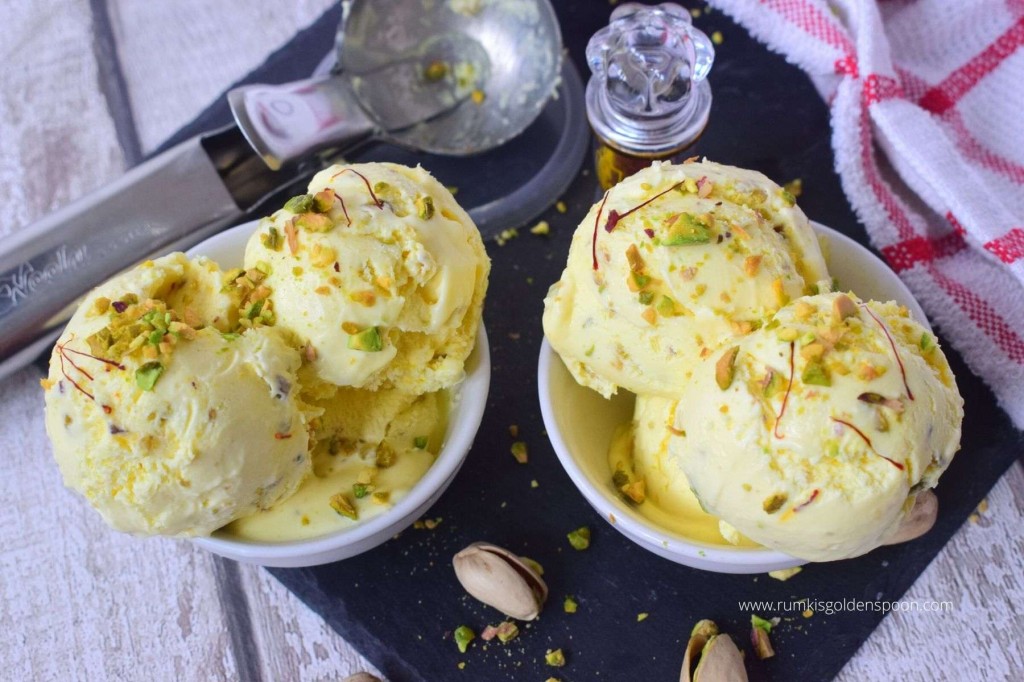 Did your mouth water by just listening to the name of Kesar Pista because mine did. This melting ice cream is made by infusing the flavours of vanilla, pistachios, almonds, and saffron together. This royal blend will be perfect for those glittering occasions where you have a large gathering of unique tastes.
12. Mango Ice Cream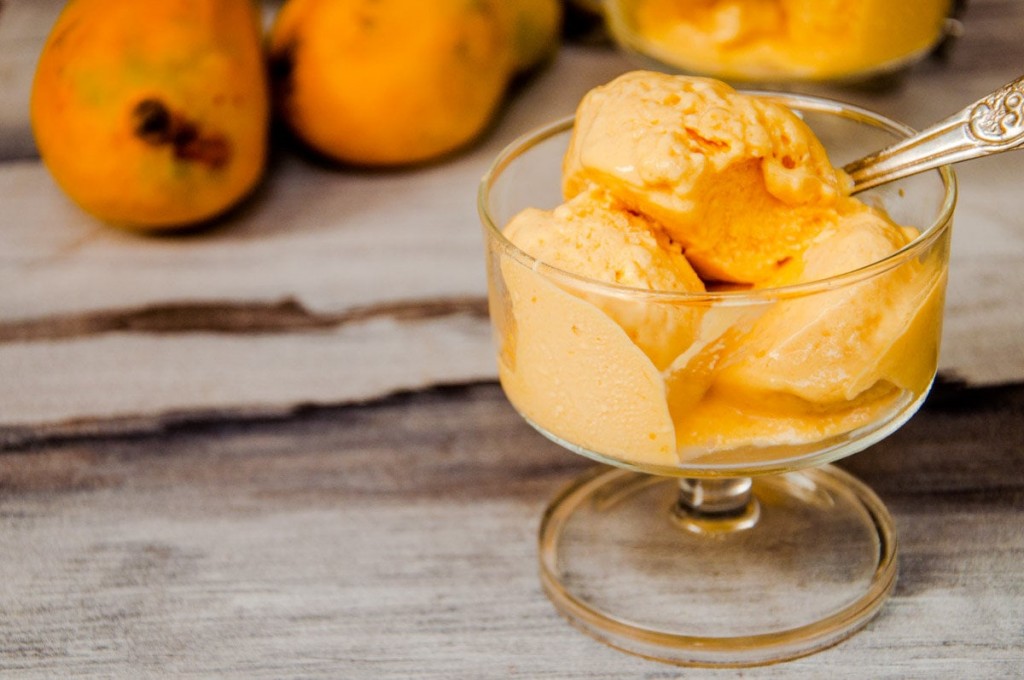 The next and last one on the list is Mango ice cream. There is nothing special about this flavour, but everything is. All who are crazy for the tropical treat of mangoes should be equally crazy for mango ice cream as it tastes precisely like mango but with cream. If this is not the case with you, something is seriously wrong.
Conclusion



I am sure this blog was mind-boggling for you but equally informative about the names of ice cream flavours you can find on the internet and market. Try these flavours and let us know what you think about them. I would also like to see if you have any favourites among these unconventional flavours I mentioned.
Please share this article with your friends and family, so they know they have to bring ice cream for you the next time they visit you.