In 2019, as if it were a premonition, 3 French guys fresh out of Universitylaunched a video chat site called LuckyCrush. The principle is simple: on LuckyCrush, two users are randomly connected through live video chat. Men are only connected with women and women are only connected with men. The chat lasts from a few seconds to several hours but instantly ends when one of the partners clicks "next", which instantly connects them to new random partners.
The goal LuckyCrush of Virtual flirting application is to help people flirt virtually, instantly and ephemerally with a random stranger, totally anonymously and without meeting in real life. After just a year, the team had a total of 10M users on their site and became a super-profitable startup company generating 3M$/month in revenue to its founders.
What is LuckyCrush?

LuckyCrush is a random video chat site like Omegle or Chatroulette. Two users are randomly connected together through live video chat. They can click "next" at any time to switch to a new random partner. The difference here is that men are only connected with women and women are only connected with men, like in a giant online speed dating session.
If it sounds like a dating site, this is clearly not the case. On LuckyCrush Virtual flirting, rules are simple: you are here to experience online and ephemeral flirtations. There is no meeting in real life at the end. Users are completely anonymous and don't share any personal information nor contact details. The concept was launched by three French engineers in mid-2019.
The site experienced fast community growth initially, but it's during the first COVID19 global lockdown that they saw their daily traffic increase by 500%. The site now has a 10M user community from more than 100+ countries across the globe.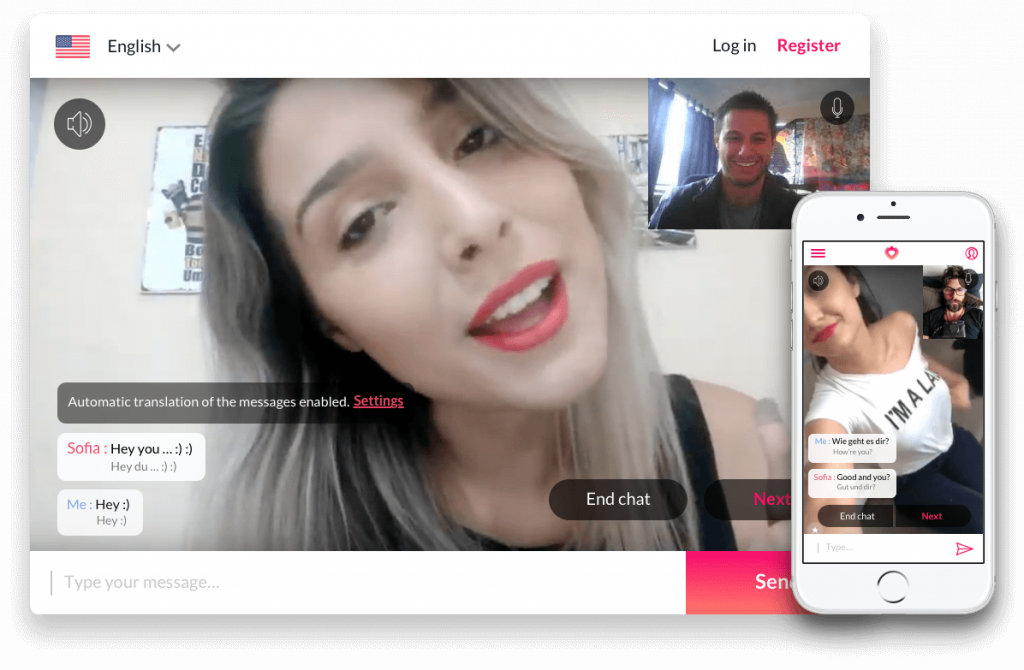 LuckyCrush Features

The site and the video call features are available on desktop and mobile, which means you can start a chat in one click from any browser, whether you are on your desktop or smartphone, without downloading an app.
There is also a registration regulation that ensures there are always approximately 50% of men and 50% of women online at any time. In terms of site rules, it's quite free.
The only thing is that members can't exchange personal details so that it remains safe and anonymous, and members can't ask or offer payments from other members.
How LuckyCrush Works?

On Lucky Crush Cam chat app, guys are matched with random girls and girls are matched with random guys, through live video chat. They can chat speaking out loud or write to each other while seeing each other on webcam. In terms of process,to start on LuckyCrush, you are only asked to select your gender and click « start ».
A native popup from your browser will ask you to enable your webcam and microphone. Once you've accepted, the site will instantly match you with a random stranger of the opposite gender in a few seconds. After a few minutes chatting, the site will require you to register to keep chatting with people on the site. In terms of video call quality, it's quite impressive to have something similar to a FaceTime chat but on a browser. Sometimes the video call freezes or the cam quality is not great, but it depends on you and your partner's Internet connection speed. For an optimal experience, you should prefer a high-speed wifi network on your mobile or even an ethernet cable on your computer. This is not a dating site. It's just a chat site. It's purely ephemeral.
There is no physical meeting. The flirtation is virtual, starts on the site and ends on the site. Many people even use it to have naughty chats with strangers, anonymously.
LuckyCrush Founders

We interviewed Jay, CEO, who tells us more about this incredible business story and how the global lock-down due to COVID19 boosted their growth. In the interview, he quoted "We are 3 friends aged between 20 and 30 years old. Until 2 years ago, we were still alternating between internships, freelancing and University.
He told in the interview that the partners are from different fields: one of us was in web development, another one in engineering and I come from a business school. We always knew we wanted to create a startup, something big. We are interested in two things: online social interactions and automated businesses (those where you can automate processes like user acquisition and quickly scale up). He mentioned that the third characteristic of our business ideas is that it must be fun. We have always worked on ideas that are fun to talk about or demonstrate things about our society. If you ask me what defines and distinguishes our team is that we are data-centric entrepreneurs. He said whether we are talking about product strategy or user acquisition, we leave our intuition in the closet and make 100% of our decisions through data analysis and testing.
The best ideas don't come from the mind. They are already here. You just find them through the numbers: more and more relationships that stay virtual on dating app chats, a high percentage of people are shy and feel more comfortable talking with strangers through video conferencing tools, and tons of other metrics and research subjects showed us the market for something like LuckyCrush was ripe. This is where ideas are.
If this is true for idea generation, it's also true for your product development and user acquisition. Don't spend time wondering if your new ad should have a yellow or purple background. Just test as many options as possible simultaneously and choose the one that generates the highest ROI. This is the only way to succeed in the 2021 Internet world which is highly competitive."
LuckyCrush Member Community

"Every (click on) 'next' is a new surprise on LuckyCrush. Sometimes it's boring and you recheck 'next' in the second, sometimes you find a great partner and spend the night with them and before you know it it's morning time. You meet hundreds of girls and boys from different countries on Lucky Crush Anonymous chat app.
The site guarantees that there are always approximately 50% of girls and 50% of guys online on the site at any time. According to the LuckyCrush team, they manage to do this through registration regulation and high investment in advertising to women, pointing out the site is based on anonymity, safety and auto-moderation.
LuckyCrush App Safety

The app has an auto-moderation system. This clearly gives a safety feeling because if you experience anything wrong on the site with someone, you just have to report the person. If the person is reported by other members too, they will get banned. The site is always freed of undesired members, which clearly increases the trust and confidence when the chat with a new partner starts.
It is the most exciting part. The video loading icon means video chat with a random partner will start in a second. LuckyCrush experienced an increase in traffic during and after global lockdown.
It offered anyone anywhere the opportunity to keep meeting new people despite lockdowns. What is more surprising, is that even after that, people kept logging in and using it. LuckyCrush is easier than real-life flirting which makes you wonder if flirting online will become the new norm in the future.