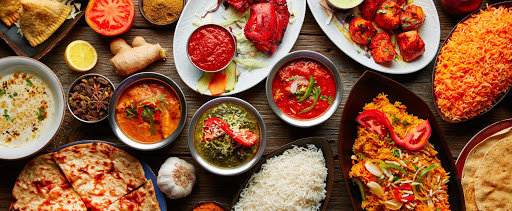 All of us are quarantined at our home. Many a time we feel a craving for delicious food that we used to get in restaurants or specific stores. Here are some of the tasty and easiest recipes you can try at home. The ingredients will be readily available with you, so you can try each recipe and enjoy family time with the best food recipes. All the recipes are easy to cook and healthy in some or the other way.
1. Bread Pizza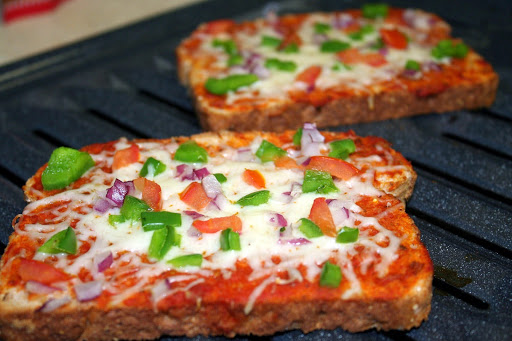 The taste of bread pizza is similar to a regular and is a delicious snack you can try at home during evening time. You can make this dish on an oven or a stovetop.
Ingredients: Whole grain bread, Tomato pizza sauce, cheese and veggies, Mozzarella cheese or pizza cheese, Oregano or red chilli flakes, Onion, capsicum, tomato.
Recipe: To prepare bread pizza, just do the following steps.
Heat a Tawa or pan.
Spread about ½ teaspoon olive oil on it or you can use butter.
Keep the flame to the lowest.
Place 1 to 2 bread slices at a time on the Tawa or pan.
Toast the bread from the base.
Spread some pizza sauce on the toasted side.
Quickly top with small chopped Onion, capsicum, and tomato.
Sprinkle dried herbs like Oregano, basil, black pepper powder.
Top it with grated mozzarella cheese or pizza cheese.
Cook till the cheese melts and the bread is toasted and place a lid on the bread pizza.
Finally, sprinkle some red chilli flakes or Oregano to make it tastier.
Serve the pizza with tomato sauce or pizza sauce.
2. Sooji cake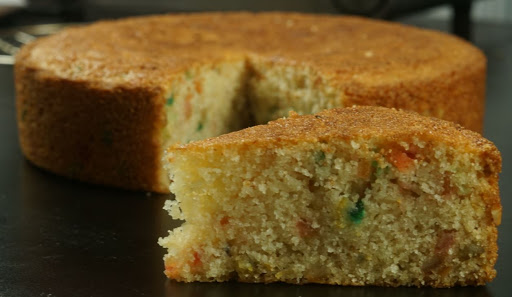 Want some delicious easy to cook cake at home? You can try Sooji cake as it does not require many ingredients and you can manage with what you have at home.
Ingredients: ½ cup unsalted butter, melted, ¾ cup – 1 cup powdered sugar, adjust to sweetness, 1½ cup sooji / Rava, ½ cup maida / plain flour, salt, ¼ cup curd/yoghurt, 1 cup milk, ¾ tsp baking powder, ½ tsp baking soda, Vanilla essence, a handful of dry fruits, chopped (almonds, pistachios, cashews)- optional
Recipe:
Take a bowl and add melted butter, powdered sugar.
Whisk till the mixture turns smooth.
Add Rava, maida, and salt
Then add curd and milk.
Mix well and soak for 30 minutes.
Add baking powder and soda, plus vanilla essence.
You can also add dry fruits
Mix well and transfer to the cake tin.
Bake the cake at 180-degree celsius in the oven for 40 minutes.
Cooldown the cake and then serve!
3. Potato stuffed samosa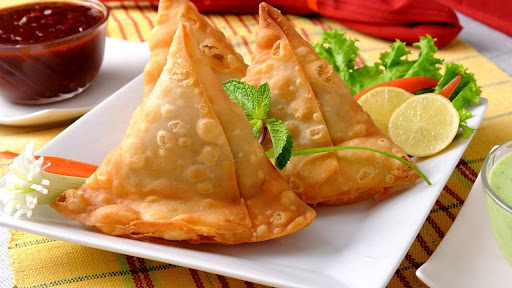 A samosa can be a healthy snack as it contains all the essential veggies good for your health. They are the yummiest snack we crave for with a hot tea or coffee!
Ingredients: To prepare the dough, you need: 2 cup maida or plain flour, ¼ tsp ajwain or carom seeds, ½ tsp salt, ¼ cup oil, ½ cup water
For the stuffing you need: 2 tsp oil, 1 tsp cumin or jeera, ½ tsp coriander seeds (crushed), 1-inch ginger, finely chopped, one chilli, finely chopped, ½ cup peas, ½ tsp Kashmiri red chilli powder, ½ tsp coriander powder, ¼ tsp cumin powder/jeera powder, ½ tsp amchur / dry mango powder, ½ tsp garam masala, ¾ tsp salt, 4 potato/aloo, boiled or mashed
Recipe:
Take a large mixing bowl and add 2 cups maida. You can alternatively take wheat flour/atta.
Add ajwain, salt and mix well.
Add a cup of oil, crumble & mix the flour.
Crumble and mix well.
Grease the dough with oil, cover and leave it for 20 minutes.
In a large Kadai or vessel take 2 tsp oil and add cumin, coriander seeds, ginger and 1 chilli.
Add peas and saute for 2 minutes.
Then add chilli powder, coriander powder, cumin powder, amchur, garam masala, and salt.
Saute on low flame until spices turn brown.
Add boiled and mashed potato.
Mash well until spices are mixed.
Let the samosa stuff cool completely.
After 20 minutes, knead the dough again.
Cut it horizontally, diving into two equal portions using a knife.
Gently press so that it seals properly.
Stuff prepared samosa masala into the cone.
Close and seal tightly by pressing firmly.
Heat the oil in a Kadai and deep-fry the samosa on a low flame for at least 15 minutes.
Serve with green chutney.
4. Upma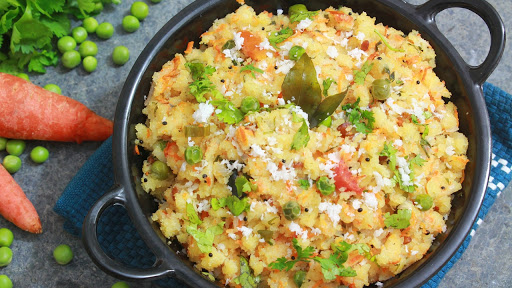 It is a South Indian breakfast dish you can prepare from Rava. Upma tastes yummier with coconut chutney, lemon slices or lemon pickle. It can be a healthy choice of breakfast for all.
Ingredients: 1 cup Rava (fine variety), finely chopped 1 medium-sized onion, 1 to 2 green chillies, ½ inch ginger, some coriander leaves, 8 to 10 curry leaves, 1 tsp chana dal, 1 tsp urad dal.
Recipe:
Heat a pan.
Add the 1 cup Rava and begin to roast it.
The Rava or sooji grains should start to look dry, separate and crisp.
Then switch off the flame.
Take a vessel, and heat ghee or oil in it.
Add mustard seeds and fry them.
Add cumin seeds with chana and urad dal.
Fry them.
Now add the finely chopped onions.
Saute the onions till they become translucent.
Add chopped green chilly, ginger and curry leaves.
Stir & saute for a minute.
Then add 2.5 cups of water to this mixture.
Add salt as required.
Stir well.
Add Rava in 4 to 5 batches with a spoon.
Stir immediately.
Keep on adding and stirring the Rava.
Cover and allow the Rava Upma to steam for 2 minutes on the low flame.
Add about 2 tbsp chopped coriander leaves and stir well.
5. Grilled Sandwich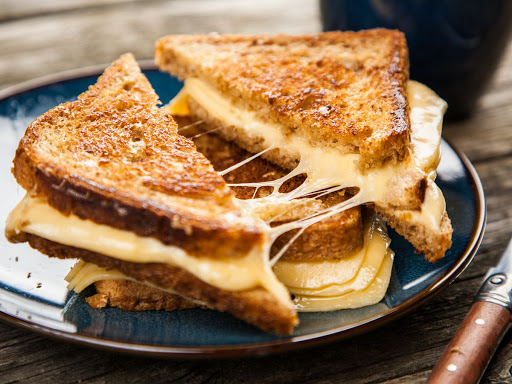 During mornings, many of us do not have time to heat a heavy breakfast. In that case, you can simply go for grilled sandwiches which contain almost all the essential veggies and are delicious.
Ingredients: 8 to 10 slices of white or whole wheat bread, 1 medium potato, 1 small to medium cucumber, 1 small onion, 1 little to medium tomato, butter, chaat masala powder, roasted cumin powder, black salt or regular salt, freshly crushed black pepper – optional, tomato ketchup or sauce.
Recipe:
On slices of bread spread butter evenly followed with green chutney.
Place a few slices of potatoes
Sprinkle with Chaat masala and cumin powder.
Place a tomato, cucumber and onion slices over the bread.
Cover the vegetable topped slices with the butter and chutney slices of bread.
Spread butter on the top.
Preheat the grill.
Place the buttered side facing the bottom.
Grill the sandwiches for 2-3 minutes.
Serve veg grilled sandwich hot with green chutney or tomato sauce.
6. Masala Pasta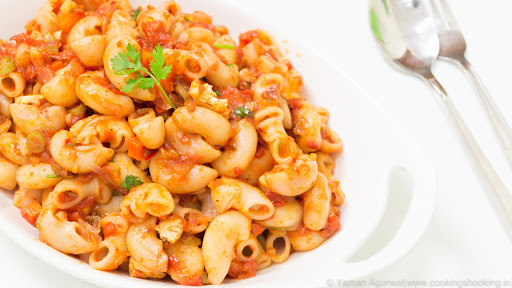 Who does not love pasta? Most of us do! Pasta is always yummy and spicy and contains almost every healthy vegetable in it. If you are bored of eating regular meals, you can try pasta and enjoy its delicious taste.
Ingredients: 1 cup pasta, water, ½ tsp salt, 1 tsp oil, 1 tbsp butter, 2 clove garlic finely chopped, 1-inch ginger, ½ Onion, 1 cup tomato, ¼ tsp turmeric / Haldi, ½ tsp Kashmiri red chilli powder, 2 tbsp tomato sauce, ½ tsp garam masala, ½ tsp salt, 2 tbsp corn, ¼ capsicum, ¼ carrot, 2 tbsp peas / Matar, 7 florets broccoli, 3 tbsp water, ½ tsp mixed herbs and Oregano.
Recipe:
In a vessel boil enough water and add pasta and salt.
Stir well and boil for 13 minutes.
Drain off the water
In a large vessel heat 1 tsp oil and 1 tsp butter.
Saute in 1-inch ginger, 2 clove garlic, and ½ Onion till they turn soft
Add 1 cup tomato and saute well.
Add ¼ tsp turmeric, ½ tsp chilli powder, ½ tsp garam masala and ½ tsp salt.
Saute till the spices get cooked.
Add corn, capsicum, carrot, peas and broccoli
Add water and mix well.
Cover for 5 minutes or till vegetables get cooked well.
Add in 2 tbsp tomato sauce and ½ tsp mixed herbs
Add in cooked pasta and mix gently.
Serve masala pasta Indian style hot topped with cheese.
7. Namakpare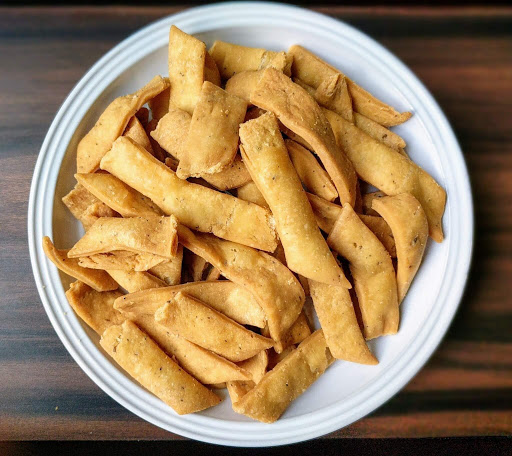 These snacks are crunchy strips shaped and are an ideal tea time or evening snack recipe which you can serve with a cup of chai or coffee. It can also be a perfect snack to share with your friends and family during any occasion or celebrations.
Ingredients: 2 cup wheat flour/atta, 2 tbsp Rava / Semolina / Suji, 1 tsp ajwain/carom, ½ tsp pepper, crushed, ½ tsp salt, 3 tbsp oil, oil
Recipe:
In a bowl take wheat flour and Rava.
Add ajwain, pepper and salt.
Pour hot ghee/oil over the flour.
Crumble the oil with dough well.
Add water slowly and start to make the dough.
Knead the dough well, until it forms a stiff and tight dough.
Pinch a large ball. Flatten them just like Chapati balls.
Dust some wheat flour, roll them into a round.
Take a knife and cut them into long strips.
Drop the Namakpare into the hot oil
Flip over to cook it on both sides.
Fry them to nice golden brown on low-medium flame.
Allow them to cool and store them into an airtight container.
8. Veg biryani
It is the most popular dish among all the vegetarians. You can try it in your home, and you feel full for an extended period. It contains all the healthy ingredients and has a spicy touch of biryani.
Ingredients: 3 tbsp ghee/butter, 2-inch cinnamon stick / Dalchini, 5 cloves, 4 cardamom / Elachi, ½ tsp pepper, ½ tsp cumin seeds/jeera, 1 medium onion, 1 tsp garlic paste, 5 beans chopped, 10 gobi/cauliflower, ¼ cup peas, 1 carrot, 1 potato, 3 mushrooms, 1 cup curd/yoghurt, ½ tsp turmeric / Haldi, 1 tsp Kashmiri chilli powder, ¼ tsp cumin powder/jeera powder, 2 tsp biryani masala, salt, 6 tbsp coriander leaves, 20 mint/pudina leaves, 6 tbsp onions, 1½ cups basmati rice, soaked 30 minutes, 2 cups water.
Recipe:
In a cooker heat ghee.
Saute on low flame 2 bay leaf, 2-inch cinnamon, 5 cloves, 4 cardamom, ½ tsp pepper and ½ tsp cumin seeds.
Saute chopped onions to a golden brown
Add ginger-garlic paste and saute well.
Add mixed vegetables like beans, gobi, peas, carrot, and mushrooms.
Add in turmeric, chilli powder, cumin powder, biryani masala and salt to taste.
Add coriander leaves and mint leaves.
Add in 2 tbsp fried onions.
Spread soaked basmati rice.
Sprinkle biryani masala powder and salt.
Add in coriander leaves, mint and fried onions.
Spread 1 tbsp of ghee
Pour 2 cups of water from the side of the cooker without disturbing layers.
Cover the cooker and simmer for 25 minutes or till the rice cooks well.
Serve veg biryani prepared in the cooker along with raita.
9. Moong Dal Chilla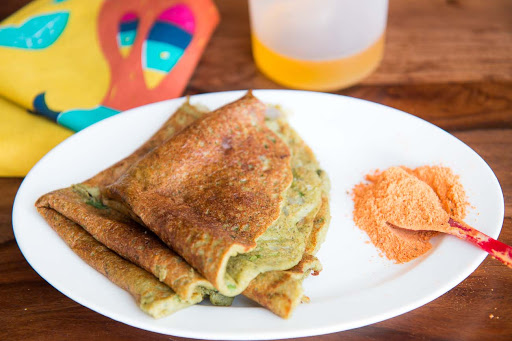 Moong Dal Chilla is the most famous breakfast recipes in Indian families. It is tasty as well as healthy on the same hand. It is the easiest recipe to prepare, and you can try it at home as it requires very little preparation.
Ingredients: 1 cup moong dal, 1 chilli, 1-inch ginger, 1 tsp cumin, ¼ tsp turmeric, 2 tbsp coriander, pinch Hing, ½ tsp salt, 3 tbsp water, oil
Recipe:
In a bowl soak moong dal for 3 hours.
Drain off water and transfer to a jar.
Add chilli, ginger and cumin.
Blend them to smooth paste adding water if required
Transfer the batter to the bowl.
Add turmeric, coriander, pinch Hing and salt.
Mix well by adding water forming thick flowing consistency chilla batter.
Pour batter onto a hot Tawa and spread.
Pour olive oil over the chilla.
Allow cooking on a medium flame.
Now flip the chilla and cook two sides gently.
You can serve the Moong dal chilla with green chutney.
10. Instant Crispy Dosa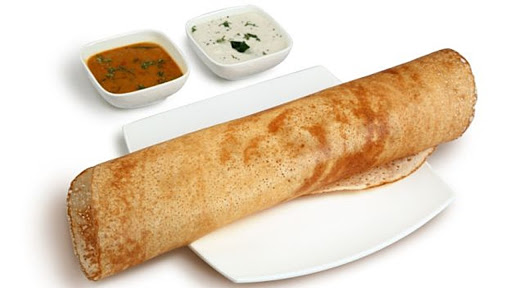 South Indian recipes are always healthy and delicious. Crispy dosa is easy to make and saves time when you are in a hurry. You can go for this recipe in the morning as it is healthy and bakes up instantly!
Ingredients: 1 cup whole wheat flour, 3 cups rice flour, 1 tsp cumin seeds, 2 green chillies, 1 tbsp onions, 1 tsp chilli powder, Salt, Oil
Recipe:
Mix all the ingredients in a vessel.
Add water to make the batter.
Keep it for 15 minutes.
Heat the Tawa and spread it with oil.
Pour the batter in the hot Tawa in circles.
Pour little oil at the edges and in the centre of the dosa
Turn it upside down after it gets cooked
Remove the dosa with a spoon once both the sides are properly baked.
Serve it with chutney powder.
These were some of the food recipes you can try at home during the quarantine. You may find some recipes tricky, but once you start, you will surely love it and feel they are easy to prepare as well. You can cook these recipes at home as they require little ingredients that you generally eat at home.