Enjoy the festival of colors at the most happening places with Holi parties in Delhi. These events are a great mixture of music, colors, food & drinks. Tourists visit Delhi to be part of the Holi parties that take the Celebrations.to the next level. You can also enjoy a lot of Pre-holi bashes. From steller performances by musicians to food and fun activities there is lot to feel excited about the events that are organized on and around Holi. Also, check the Holi Online offers 2019 to shop the party essentials at the best price.
1. Holi Dhammal 2019 – Dilli Haat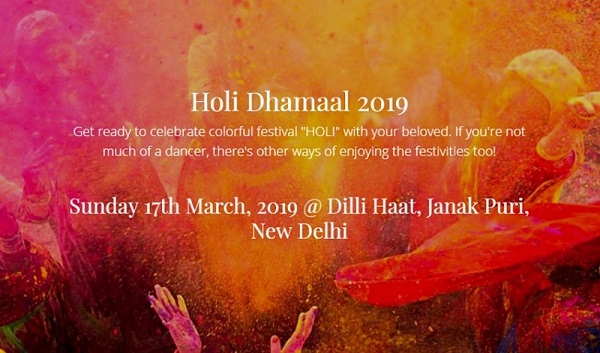 The event at Dilli Haat Janakpuri is perfect for Holi Celebrations. You can book tickets to the Holi party at Dilli Haat. The event is on 17th March at 4 PM. The ticket prices start Rs. 350 onwards. To keep the guests occupied the event is hosting professional DJ's to play all genres of music during the Holi party.
Location – Dilli Haat
Schedule – 17th March 4:00 PM
Duration – 5 Hrs
Ticket Price – Rs. 350 Onwards
Highlights of Holi Party at Dilli Haat
Professional Photography
Food court by Dilli Haat
Performance by Professional Bhangra Crew
Shopping Stalls
Themed Selfie Corner
Kucky Draw Competition
2. Rang Barse – Holi Party at Green Orchid Farms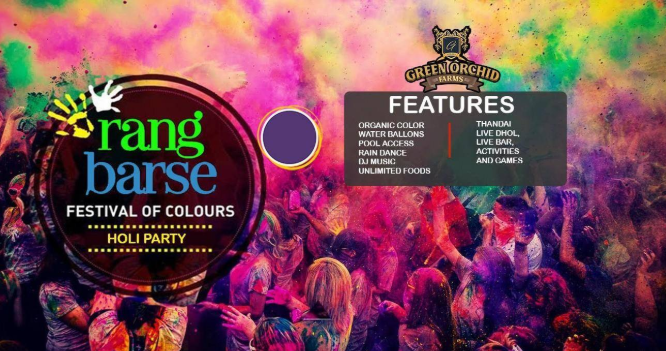 This Holi party is for your entire family as entry of 6+ yrs is allowed to the event. The event starts at 11 AM on 21st March. The ticket price is Rs. 749 Onwards. The Open Air Holi Celebration included unlimited snacks and food.
Location: Green Orchid Farms Resort: Gurgaon
Timing: 21st March at 11:00 AM
Ticket Price: Rs. 749 Onwards
Duration: 5 hrs
Entry – Age 6+ Yrs
Even Highlights
Unlimited Snacks & Food
Live Dhol
DJ Music
Swimming Pool
Rain Dance
Unlimited Organic colours
Coloured water
Adventure Activities & Games
3. Rangleela 2019 by TFR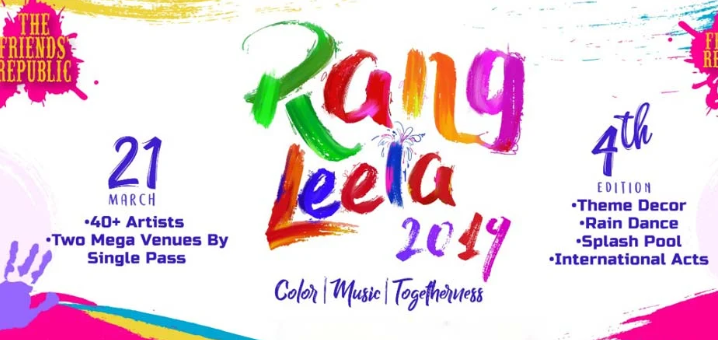 The event will be held across two venues in Gurugram. Get ready for total Holi Madness with over 30 world famous artists. Also enjoy famous Thandai, Pakora & Gujias. This will be the 4th edition of Rangleela Holi party. Changing Room & Lockers will also be available at the event. The Tickets for Rangleela 2019 start Rs. 2,000 Onwards.
Venue : TFR Villa, Sector – 34, Near Subhash Chowk, Gurugram & The Friends' Republic, , Dlf Phase 5,Opp Paras Hospital, Golf Course Road , Gurugram.
Time & Date : 21st March, 11 AM Onwards
Ticket Price : Rs. 2,000 Onwards
Entry : 18+ yrs
Key Highlights of the Event
Two Mega Venues by Single Pass
Over 30 World Famous Artists
10 Hours Non-Stop Music Concert
Fountain Shower & Color Pool
Group Color Throw & Water Guns
Water Balloon Fight
International Entertaining Performances
Famous Thandai, Pakora & Gujia by BRIJWASI
BYOB from Adjacent Wine Shop
Camel Ride & Baggi Ride
4. Rang De Gurgaon at Kingfisher Aravali Resort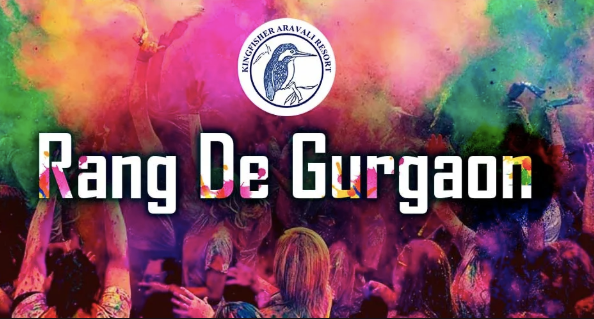 The event will be organized at Kingfisher Aravli Resort Gurugram. Entry tickets are available Rs. 840 onwards. The entry ticket includes welcome drinks, buffer breakfast, buffet lunch, evening tea/coffee and soft drinks. Along with music differnet types of activities will be organized at the event.
Venue: Kingfisher Aravali Resort: Gurugram
Ticket Price : Rs. 840 Onwards
Date – 20 – 21 March
Timing – 9 am to 6 pm
Key Highlights of the Holi Party
Fun Activities
Team Building games
Hi Fi DJ with Floor
Rain Dance with Floor
Swimming pool
Rain Dance
5. Holi Rush 19 – Vanjara Farm

Get ready for the craziest Holi Bash in Delhi at Vanjara Farm. The event will start at 11 AM on 21st March. The ticket price starts Rs. 590 onwards. The minimum age for entry to the event is 15 Yrs. The event will see performances by many well known musicians.
Venue: Vanjara Farm:  NEw Delhi
Timing : 11 AM Onwards
Age Limit : 15+ yrs
Ticket Price : Rs. 590 Onwards
Date : 21st March
Key Highlights of the Event
Rain Dance
Electronic Fireworks
Organic Colors
Food Stalls
Professional Videography of the Event
VIP Lounge
Photo booth
6. Rang De – The Disco Holi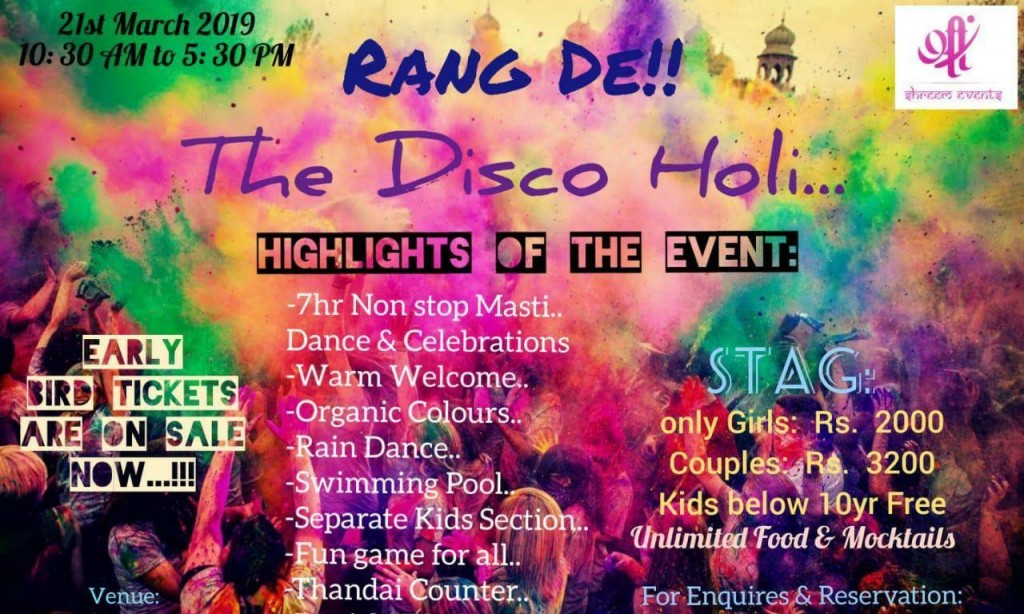 The event at North West Delhi will start at 10:30 AM on 21st March. The tickets to the event start Rs. 2,100 Onwards. Join the party and celebrate Holi in a safe and friendly environment. The event is open for all age groups.   Venue: The Aamantran Party Lawn: North West Delhi Ticket Price: Rs. 2100 Onwards Time: 10:30 AM Date: 21st March
7. HoliMoly – Surajgarh Farms

The Holi party at Surajgarh Farms, Gurugram starts on 21st March at 11:00 AM. The ticket price is Rs. 707 Onwards. The musical celebrations include performance by a steller line-up of musical artists. Also enjoy unlimited food and Holi Snacks. Huge number of activities will also be organized at the event.
Venue : Surajgarh Farms : Gurugram
Ticket price: Rs. 707 Onwards
Time: 11:00 AM
Date: 21st Onwards
Age: All age groups
Key Highlights of Holi Party at Surajgarh Farms
A stellar line-up of musical artists.
Folk performances by nagada and dhol players.
Unlimited organic colours and water guns.
Unlimited vegetarian food and Holi special snacks
Alcoholic drinks (served only to patrons above the legal drinking age)
Non-Vegetarian food
Kid friendly activities
Dry and wet Holi as well as Holi using flowers
Colour sprinklers and rain dance
Photo booths and selfie stations