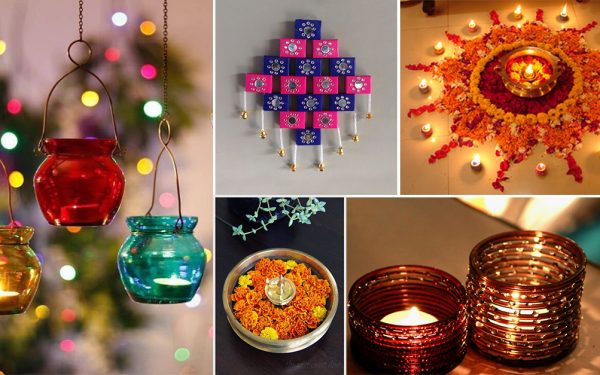 On Diwali, homes are decorated with lights and oil lamps or Diyas. The festival is a celebration of goodwill and prosperity. As the festival time is approaching put to use your decorating skills to brighten up your house. Here are 10 decoration ideas for Diwali that you can try. We try to bring up the basics that you may just miss in the hustle and bustle of the big occasion.
1. New Curtains for a Complete Makeover

New curtains can give your house a complete makeover. For the festival occasion, choose vibrant colors that complement your walls. They add value to a home, used correctly, curtains can make a room brighter. You get many readymade options. Diwali Sale offers make home decor products inexpensive.
2. Rangoli in the Doorway of your House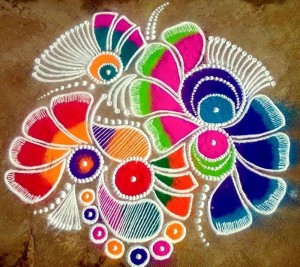 Rangoli is one of the must-haves in festivals in India. The tradition started centuries ago to add a colorful fair. Diwali decoration is incomplete without a colorful rangoli. Use earthen Diyas around Rangolis to make them more beautiful. Rangoli designs are made using rice flour, colored rice, flower petals, and a burst of colors.
3. Floating Candles To Liven Up Your Table

You can create the perfect look in minutes with just a few items. Buy floating candles from the market or make your one. Use different types and colors of candles to create a more impressive appearance. Floating candles in various designs add an unearthly ambiance to the festival decorations.
4. Mood Lighting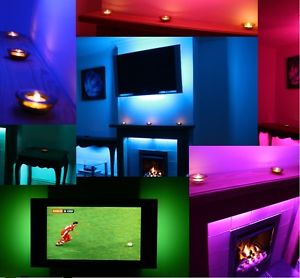 When used correctly mood light creates a festival ambiance. The lighting can be used effectively to express a range of emotions. The options for lighting range from LED lights, overhead lamps, to chandeliers. Mood lighting can be applied throughout your house to set a cheerful mood.
5. Paper Lanterns at the Entrance

Paper lanterns can be used for any type of decoration. Hang one lantern or a group of small lanterns at the entrance. It is also an inexpensive way to add to your home decoration. Metallic paper, vines, cut-out photos, ribbons can be used to add your own signature.
6. Wrap light Bulbs with Handmade Color Papers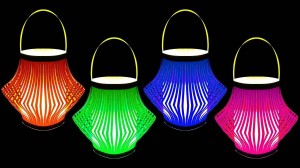 Using lights in Diwali for decoration is a common thing but you can add a twist. Wrap handmade color papers. Lighting plays a key role in enhancing the interiors of a space. It is also one of the inexpensive ways for home decoration. You can try different colors depending on the interiors of your house.
7. Flowers to Make Windows & Doors look Prettier

For the festive decoration freshen up your home with plants, leaves, and flowers from your garden. It also adds a natural element to the decorations. Use artificial flowers to make the decoration last for a longer duration. Hang flowers on walls and doors to transform the look of your house.
8. Handicrafts to Decorate Rooms of your House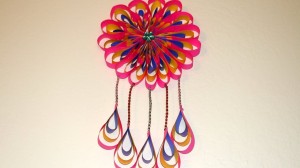 Make your Diwali Decoration a little different with handicrafts. Handmade crafts give a unique touch to your home decoration. You can get some unique ideas on sites like Pinterest & youtube to create artifacts at home. So give your home a new look to impress others.
9. Handpainted Diyas to Luminate during the night

Using Diyas on the night of Diwali is one of the many rituals that has stood the test of time. Once again, you can give a personalized touch with handpainted Diyas. Buy Diyas and paint them at home using different colors. The use of lights and candles has brought a modern touch but the use of Diyas remains special.
10. Wall stickers to Decorate side walls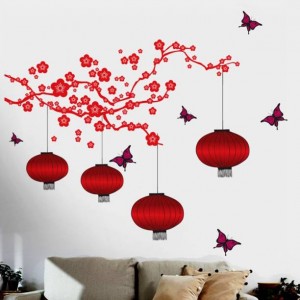 Decorate your home in style this Diwali. Wall stickers transform your home. Wall decals are removable and you can use year after year. It is also a quick way of decorating your walls and personalized interior design. You get different shapes, sizes, and colors.
Diwali often called the festival of lights is the time to welcome guests. Decorating your house brings in the festive feel. Give a beautiful touch to your decor with these 10 simple decorating tips.