D Day - Special Gifts Ideas This Valentine - Happy Valentine's Day
Sold Byfreekaamaal
Rs 199
Rs 99
SHOP NOW

Happy Valentine's Day - We can not live alone in this world that is why god created so many relations, so that one can live and love the way he want.We always try to make our loved ones happy, through gifts which are our unspoken feelings to them. That person can be anyone, Your parents, siblings, Husband, wife, girlfriend,Best Friend etc. So, here are some gift ideas for this valentine's day that you can gift to your special people and tell them to be with you till eternity with a beautiful bond called love.
Top Gifting Ideas This Valentine's Day
1. Personalized Red Hat Teddy & Chocolate Hamper at Just Rs. 980 [ Use Coupon - FL20 ]
Express your love for your special one with the red cuddly teddy wearing a hat and a red bow. The teddy has a heart shaped personalized space for your name and a special heart shaped chocolate to make the best of Valentine's day. A perfect combo gift.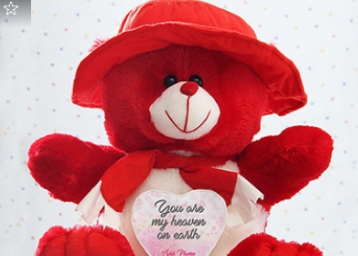 2. Love You Hugging Teddy Soft Toy at Just Rs. 636 [ Use Coupon - FL20 ]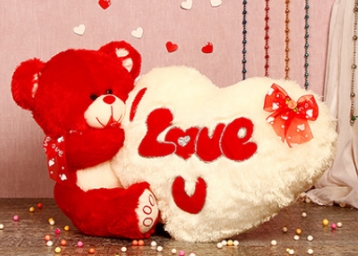 3. Valentine Gift : Purchase Rocher Choco Bouquet 16 Pieces at Rs. 1360 [Use Coupon - FCD15VDG] 
We all deserve to include some sweetness in our lives. Why not make room for some delicacies with this special ferrero rocher bunch entwined in the form of an elegant bouquet. When given as a gift, it will represent luck and the promise of adventure.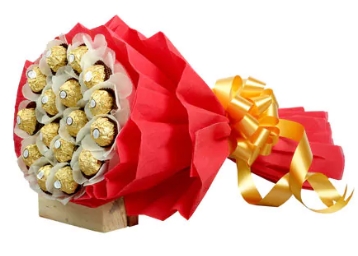 4. Love Message In A Bottle at Just Rs. 339 [ Use Coupon - FCD15VDG ]
This Valentine's Day send the message of your love to your sweetheart. Your sentiments of your love sent in a sweet way will melt their heart. This valentine gift is a brilliantly romantic way to say the three little words that mean so much, 'I love you'.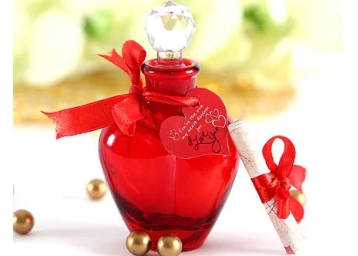 5. Valentine Special Pineapple Cake Half kg at Just Rs. 509 [ Use Coupon - FCD15VDG ]
For the sweetest person in your life who deserves only rewards, this creamy and soft Valentine special pineapple cream cake would be a great choice. A beautiful combination of sweetness and freshness is there in this cake which would surely win the heart of your darling. Therefore, as a Valentine's Day special gift, you just cannot ignore this piece of heaven !!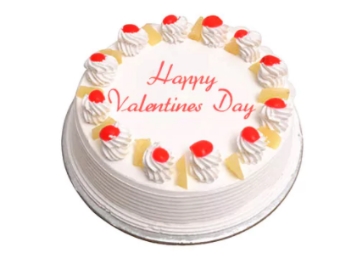 6. Basket arrangement of 15 Red Roses, Draceane leaves and Seasonal Filler at Rs. 636 [ Use Coupon - FCD15VDG ]
Here is a bunch of gorgeous premium long-stem red roses, hand-crafted in a basket. You can make your order from Ferns N Petals to get the flower arrangement delivered to your loved ones. The basket is arranged with 15 red roses with green dracaena leaves and seasonal filler.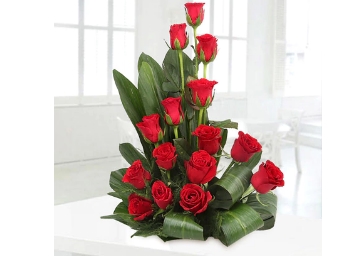 7. Special Hugging Teddy at Just Rs. 679 [ Use Coupon - FCD15VDG ]
Bowl over your beloved with this cutest off white Teddy Bear in the world. The 8 inch teddy is an adorable present that could sit near your loved one's bed side. This Valentine's Dat gift this cute memorable stuff toy to your beloved as a symbol of your everlasting love for him/her.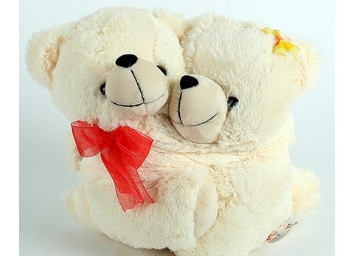 8. Flowerly and Fluffily Yours - 6 Red Roses With 1 Small Teddy at Just Rs. 509 [ Use Coupon - FCD15VDG ]
If you are in love with someone, then there is no better option than this amazing combo from Ferns N Petals. Get a perfect gift combo of 6 Red Roses along with 1 small teddy bear and create memories of your grand celebration. Order this beautiful expression now and convey your true emotions.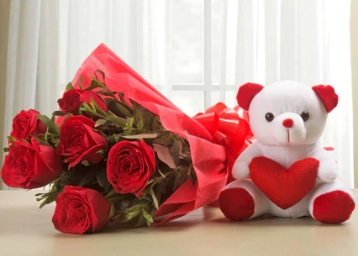 9. Kissing Teddy at Just Rs. 509 [ Use Coupon - FCD15VDG ]
One Teddy Bear is cute. How about two? Cuteness Doubled. This kissing teddy is the cutest expression of love and longing. Gift your special one this cute pair to depict your sweetest expression of love. Perfect for sending to your special someone on Kiss Day !!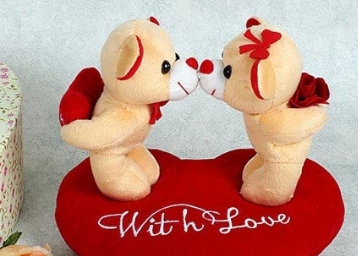 10. Pretty Pink Bunch Flower Pack Of 8 at Just Rs. 399
When pretty flower bunch is what you want for your dearest one, this is what you must choose and surprise him/her. It's a wonderful bunch of Pink Roses that is turned more attractive with its neat colored paper wrapping. To confess your hearty feelings or to impress your sweetheart, this flower bunch is never to let you down.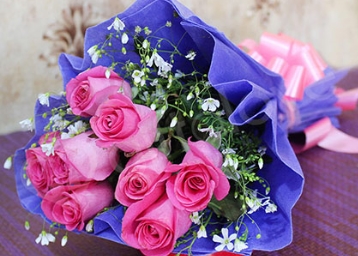 11. A Hearty Tressure With Choclates & Roses
Express your hearty feelings of love to your beloved on this Valentine's Day with Hearty gift. It's an attractive Heart Shape that is full of delicious Assorted Chocolates and an artificial Red Rose, making it a heart winning and romantic gift of love.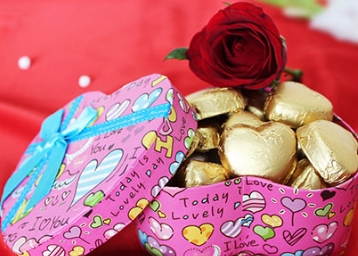 12. Special Surprise Gift Hamper at Just Rs. 1099
Want to surprise your loved ones with a special gift hamper? Be it their birthdays or any other occasions, you can present this hamper to show your love. It contains a cute teddy bear, white and red roses and cadbury dairy milk chocolates in a cane basket.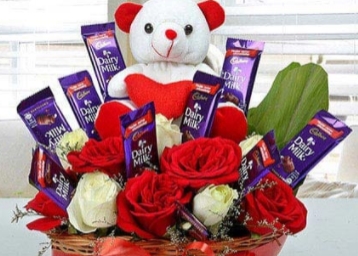 13. Heart Shaped Assorted 10 Pcs Belgian Chocolates in Gift Box at Just Rs. 595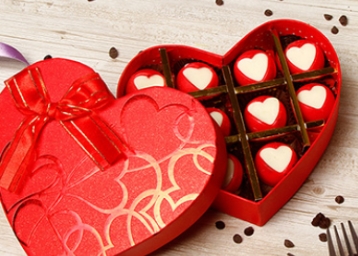 14.  Vivid 10 Roses at Just Rs. 499
Spread boundless love everywhere with this beautiful bunch of gleaming red roses. It is a symbol of pure love, care and affection. This is ideal for showing your special ones how much you love them. The 10 red roses are bunched beautifully in a paper with a red Ribbon bow.Ferns N Petals brings this product solely for gifting to your soul mate.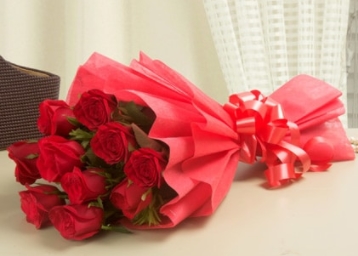 15. Cutie Teddy Holder- 6cm at Just Rs. 299
Love confessions should be done with a cute gift like this. It's a cute teddy of 6cm with an attached pen holder and clubbed with a Dairymilk chocolate bar of 14 gm and one Kitkat chocolate of 13 gm. It can be a perfect Birthday Gift as well as Valentine Gift, Teddy Day Gift, Propose Day gift and more.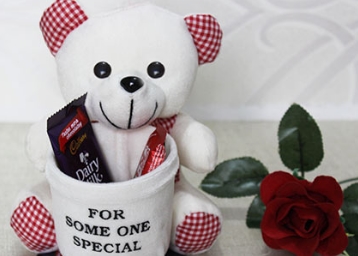 16. Golden Rose with Stand at Just Rs. 499 
Rose is the symbol of Love. Choose this fabulous Golden Rose and make it the gift of Love. It's a beautiful and heart winning gift item that is perfect as Anniversary Gifts, Valentine Gift, Birthday Gift and as a token of love for someone special and loving. It comes in a beautiful box of packing as well.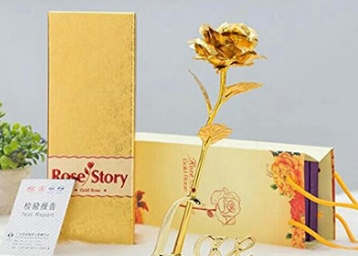 17. A Basket of Surprises at Just Rs. 599
Express your heartfelt feelings of love to beloved on this Valentine's Day with this adorably cute and cheerful gift hamper that has to give many little and delightful gift surprises to your sweetheart such assorted chocolates, small heart shape cushion, small teddy bear, 5-Star chocolates, decorative cycle and lovely artificial red rose.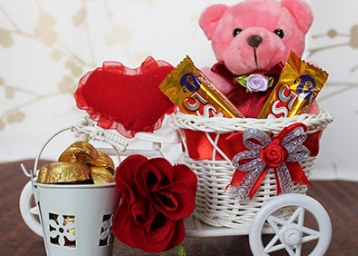 18. A Beautiful Rosy Surprise at Just Rs. 399
Willing to greet someone special to you with something special? If yes then go for this lovely 10 Red Roses bunch to gift. Here it is a beautiful Red Roses bunch that is decorated with green fillers and wrapped nicely with cellophane wrapping paper and colored ribbon. On Anniversary, on a meet with some dear, Valentine's Day, Birthday, Farewell, Mother's Day and other special occasions, this bunch of Roses is an impressive gift.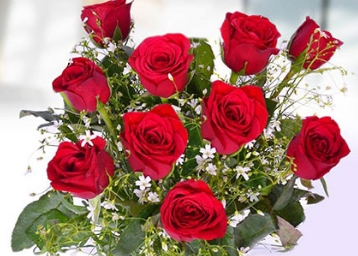 19. Red Velvet Heart Cake at Just Rs. 1699
Want to confess your love? Let that be done in style. Shop for Red Velvet Heart Cake that will leave you with one of the finest flavours in your mouth. And at the same time let this cake be the perfect dessert for the celebration too.

No Deals to Display
Sorry, we have got no results