Pay Rs. 0 and get 50 SD Cash from snapdeal - bangalore customer only
06-02-2012, 10:17 PM
(This post was last modified: 06-02-2012 10:20 PM by naved.)
naved
Deal Tester


Posts: 380
Likes Given: 9
Likes Received: 8 in 8 posts
Joined: Jan 2012
Reputation: 32
Points: 174.05
Home Page Offer:7
Pay Rs. 0 and get 50 SD Cash from snapdeal - bangalore customer only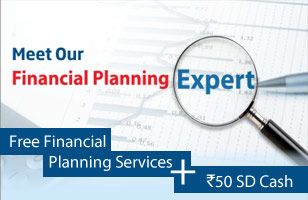 Snapdeal is back with similar agon religare deal of Rs. 0 but this time they are giving 50 SD cash for free hdfc financial session.
This offer is only for bangalore and chennai customer.
How to get this
Click here
or goto
http://www.snapdeal.com/deal-bangalore_k...-hdfc-life
Buy this deal and get 50 SD cash.

HDFC Life

Rs. 0 to avail financial planning services by insurance and investment experts from HDFC Life and get Rs. 50 SD Cash (This is only a financial planning session and the customer is not obliged to buy)



Offer Details



Use this session to plan your finances better and get insurance solutions specific to your financial needs from HDFC Life insurance and investment experts.



Reasons to buy



Financial goals being dynamic require careful planning for you to achieve them at different stages of your life.

Financial planning at the right time will help secure you and your family from future liabilities without being burdened.

HDFC Life's insurance and investment experts can help you plan your finances better

Financial Planning from HDFC Life provides you a financial position analysis in a systematic and easy to understand manner

HDFC Life's Insurance and Investment expert will suggest insurance solutions specific to your financial position




The Fine Print



One voucher valid for one person only


One person cannot use more than one voucher

Show the voucher code in the printout/ SMS when the representative visits you

Mention the voucher code when the representative calls you

Voucher cannot be adjusted against life insurance premium

HDFC Life will get in touch with the person within 10 days from the day he/she registers

SD cash will be credited within a TAT of 10 working days after the HDFC Life representative visits/speaks to you (the minimum qualifier for phone has to be 360 seconds or 6mins)

DNC Disclaimer - By purchasing this deal the customer agrees to receive phone calls from HDFC Life with regards to the offer


---
Please increase my +rep if you think I helped you by this deal.
Thank you.
06-03-2012, 12:30 PM
naved
Deal Tester


Posts: 380
Likes Given: 9
Likes Received: 8 in 8 posts
Joined: Jan 2012
Reputation: 32
Points: 174.05
Home Page Offer:7
RE: Pay Rs. 0 and get 50 SD Cash from snapdeal - bangalore customer only
Grab it
---
Please increase my +rep if you think I helped you by this deal.
Thank you.