FreeKaaMaal Forum Frequently Asked Questions - FAQs
07-14-2012, 02:15 PM
Vivek Mishra
Posting Freak


Posts: 1,012
Likes Given: 203
Likes Received: 248 in 26 posts
Joined: Mar 2012
Reputation: 48
Points: 135.00
Home Page Offer:
FreeKaaMaal Forum Frequently Asked Questions - FAQs
HI ALL !!!


In recent few days we can see many query's from newbies regarding how to post deals , reward system , warning system so we are launching our new FAQ (Frequently Asked Questions) in our forum so user's can easily find answers to their queries at one place . Please visit this FAQ before posting any query to our Moderators.
THANK YOU
1. Why does FKM exist?
Internet is a fun place and there are plenty of things that people can get for free and that's why we at FreeKaaMaal.com bring you the best free stuff from around nook and cranny of the world.Along with freebies we also bring the best deals from all top e-commerce sites and help you to save your valuable bucks. So in all, FKM exists to serve its fans.
2. What are FKM's Forums?
FKM Forums are a dynamic display of valuable shopping information. You will see unbiased presentation and review of the hottest deals in a bulletin board format. Each of nearly 8 forum categories (Hot Deals, Free Stuff, Exclusive cash back, etc.) has its own "board." Then on each board are posted countless related topics. Finally, under each topic are lists of related questions and suggestions to round out your shopping information.
3. How do I register for FreeKaaMaal forum?
Membership is free. You are welcome to browse the forum as a guest. To post a message, open a new thread or start a discussion of your own, you must complete a one-time registration. To register, simply click on the "register" link located on the top left hand corner of the forum page and fill out the necessary information required. For security purposes, we require e-mail confirmation of your registration. Please provide a valid e-mail address that you can check immediately. When you register, you must choose a unique username and you must provide a unique and valid email address. Duplicate usernames and email addresses are not allowed, so if the name or address you enter is already in use, you will be prompted to choose another one. Once your e-mail address has been confirmed, you are registered member of FreeKaaMaal Forum.
4. Why do I need to sign up as a registered FKM-FAN ?
Registering as FKM-Fan allows you to share deals,contest,freebies with other members,Share your views,Help each other and finally make some really good friends.FKM forum is a shopping community for all its fans. And not only you make good friends by registering, you can also earn money for deals shared by you. You will miss all these benefits if you dont register at FKM Forum.
5. If I sign up, will I get pop-up ads, junk emails, etc ?
No. We are here for you and because of you. FKM is successful because of our smart, respectful users, and we are NOT going to abuse, offend, or otherwise take advantage of you!
6. How do I get started?
Click on
Sign Up
here, or on FKM-Forum page in the top right corner.
7. What if I forgot my password ?
Dont worry.Just clcik this:
Lost password
. Then type in your email address and we'll mail your password to you!
NOTE: The address you type in must match the current email address supplied in your profile.
8. How can I change my password?
Click now if you're currently logged in: Change Password. Be sure and put your new password in both boxes (once to verify) then click on "Change My Password." You can do this any time by logging in with your current password, clicking on "User Account," then clicking on "Change Password" in your profile section.
Log In -->> User Account -->> Change Password
9. Can I change my username that was set at the time of registration ?
No you can't change your username after registration.
10. What if my email address changes?
Click now if you're logged in:
Change email
. Edit your email then click on "Update E-mail address"
A confirmation email will be sent to the new address, and you'll need to click the link/url provided to complete the process.
You can change your email address any time by logging in, clicking on My Account then Profile and following the above directions.
11. How do I prevent my username from appearing in the online user listings?
In
User CP
under
Edit Options
Tab you will find a Privacy option Hide me from the Who's Online list; if you switch this on you'll only appear to board administrators or to yourself. You will be counted as a hidden user.
12. What determines my member title?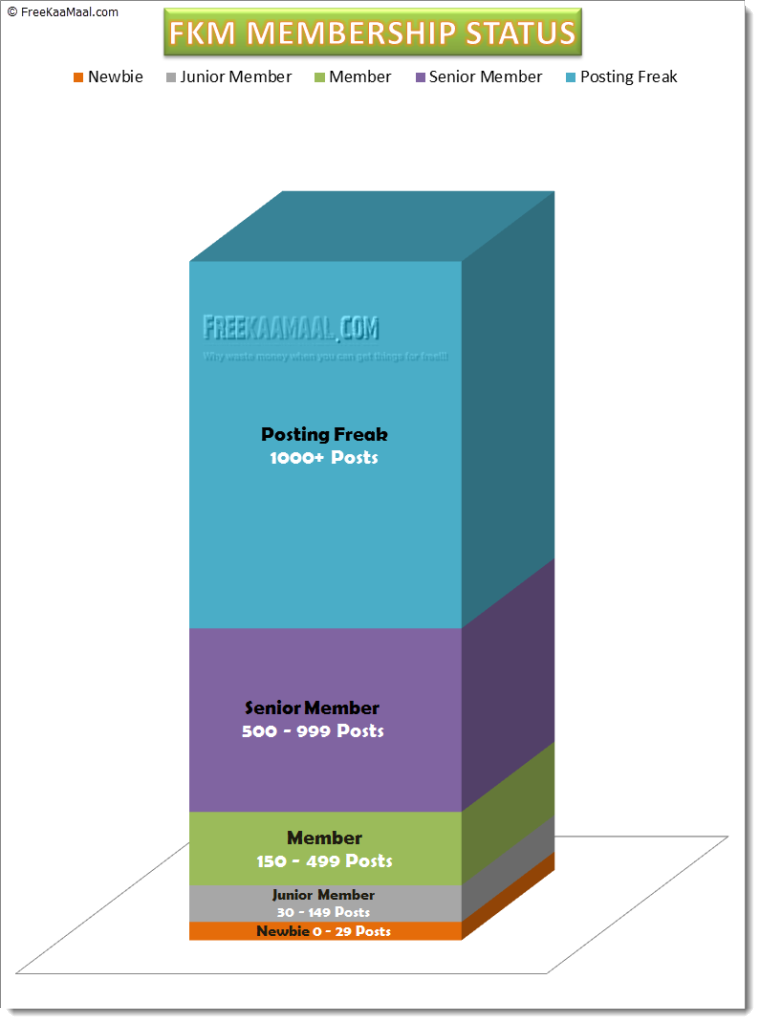 13. What's the meaning of images associated with my username?
There are two images which you can see on your profile.The one below a username is associated with your rank; generally these take the form of stars indicating how many posts you have made or your status on the forums. Beside this may be a larger image known as an avatar; this is generally unique or personal to each user. You have an authority to modify your avatar. Avatar could be changed or disabled
here
.
14. How do I add a signature to my post?
To add a signature to a post you must first go to
User CP

.
There you'll find an option to add or
Change Signature.
Once you've created your signature, you can add a signature by default to all your posts by checking the appropriate radio box given there. You can still prevent a signature being added to individual posts by un-checking the add signature box on the posting form.
15. What are the forum guidelines?
[*]
Self-promotion, referral links, links to referral sites, and auctions are not allowed.
[*]
To remove the opportunity for abuse, we will not allow links websites. However, we do not restrict users from stating where they found information in their message.
[*]
Treat other forum members with respect. Please don't flame others. We are all here for the same purpose - to find hot deals and to share the deals we find.
[*]
Please refrain from using vulgar and/or explicit language.
[*]
If you are not a child (mentally), ignore this one. Don't post for the sake of increasing your post count such as posts like "In bfore the lock". People can tell how intelligent/mature you are by your words irrespective of how many posts you have made. (misspelling intentional)
[*]
If you find that a post violates forum guidelines, please use the repost button to bring it to the attention of forum moderators. No need to make a useless post to a thread that will be locked or moved anyway.
16. How to start a new thread in the forum ?
Click on the respective forum i.e Discount coupons , Hot deals ,Contest etc and on the right corner there is a button to start a new thread
click on it to start a new thread.
17. How do I edit or delete a post?
Unless you are the board admin or forum moderator you can only edit or delete your own posts. You can edit a post by clicking the
(edit)
button for the relevant post. In the same way you can delete your posts using
(delete)
button below the posts.
18. How do I report a thread/post which is duplicate or contains an inappropriate or offensive message?
If you happen to come across a particular thread/post in the forums that is a duplicate or it contains spam or other offensive content which violates FKM rules, we encourage you to notify our moderators by clicking the
button located directly below each individual post on the right hand side. Once clicked, you will be prompted with a submission form. Simply type the message that best describes the problem with the post and click the "Report Post" button. Once reported, our moderators will be notified of the post and it will be reviewed. Reported threads/posts will not automatically remove the thread/post. Please Note: In order to report posts, you must be registered and logged in as a FKM member.
19. What is Home Page Offer (HPO)? How deal is selected for HPO?
When someone posts exclusive deals, then such deals are promoted and posted on Home Page which is known as Home Page Offer. HPO's are usually selected on the basis of number of
Likes
and analysis of deal by FKM team members. For rules regarding HPO tagging, please visit
here
.
20. Can I post Images?
Images can indeed be shown in your posts. However, there is no facility at present for uploading images directly to this board. Therefore you must upload or link to an image stored on a publicly accessible web server. To post images right from your computer, you need to upload it first at any image hosting website like:
http://imgur.com
or
http://imageshack.us
etc. After uploading such images, just copy direct link URL and paste it as shown below in the screenshot:-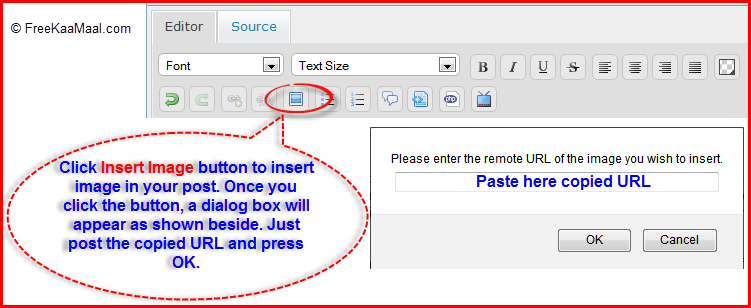 You can post images from any other website directly by following below method:
Right click on the image and select 'Copy Image location' or 'Copy link location' option.

Paste copied URL in the box shown above and press OK.
OR

Right click on the image and select 'Copy Image' option.

Paste copied image directly in your post.
NOTE:
Direct method explained above may vary because such option is based on browsers and download managers. If you don't get such option, you can try similar available option or use another method.
21. How to add a hyperlink in a post ?
Use the button
first select the text that you want to hyperlink then click on the hyper link button , it will open a box to add your link there.
[*]
22. I think I found a hot deal and want to post it!
Search the FKM forums to see if it has been posted already! Include store name/location, product, price, and conditions (coupon, price match, subscribe for a year, etc.) in the title so people can quickly determine if your deal fits their profile Don't put POLL in the title unless you are taking a POLL. Don't take a poll in the Hot Deals forum. Post in the correct forum ex. Hot Deals, , Deal Discussion, etc.
23. What is a repost?
If a deal is posted by a member, and another member posts the SAME deal, at the same (or extremely similar) price, from the same store, then it's a repost. The use of coupons, PMs, etc. doesn't make a "new" deal - those should be posted in the OP ( Opening Post ) of the original thread. [*]If a deal is posted by a member, and another member posts a deal (or list) for the SAME item, but from DIFFERENT sources, it is not a post of the deal. If the OP of the first thread EDITS their thread to include the information from the SECOND thread, then the FIRST thread is now a REPOST of the second thread, no matter what the time stamp on it is. [*]If people discuss buying the item at a different store than the OP lists, that sometimes qualifies for a new thread UNLESS the OP has *already* updated the thread with the info (in which case any new thread would be a repost.)
24. Why can't I open more than 10 new threats in a day ?
To make the forum clean and spam free otherwise user can make unwanted thread's in the forum which has no relation to the freekaamaal.
25. What is the like button i can see when i post in the forum ?
If you think the deal mentioned in the threat is worth of being a HPO ( Home page offer )then click on the like button
to the user who posted the deal with get a like from your side.
26. It is showing warning % in my profile what this means ?
It shows warning level percentage given to you by FKM moderators for breaking rules in the forum which could be from 10 % to 100 % which will be reverted in usually 1 month time according to the rules broken by the user.
27. What if i get 100 % warning points ?
In that case the warning will be taken off and 50 points will be deducted from your account.
28. What are the rewards that i can redeem using my points ?
The details of all the reward redemption conditions and vouchers available can be seen at
here
29. What if I liked a post but after checking the deal and condition found it unworthy ?
You can revert your like by again clicking on the like button it will show unlike
button.
30. Why my post got deleted without any acklowledgement ?
The post could be a repost / invalid deal / inappropriate / against the forum rules.
31. I can see some post tags with Giveaway / Trading what are these ?
This thread is for sharing coupons of e-commerce websites to get discounts which can be a free giveaway or trading i.e exchange of coupons of different websites . The visit the thread click
here
32. What is buddy list that i could see in the control panel ?
You can add other members of the forum to your buddy list so that you can PM then easily and view their profile as FKM wants its users to make new friends along with getting best discount deals online.
33. What is FKM daily mail ?
The top deal offers of the day are send to the mail of the users who sign up for our news letter
It can be found on our home page
34. What is "Add to RSS Reader" that can be seen on your homepage ?
The HPO Deals are updated automatically when the RSS link is added to the RSS reader like google reader / Feed Demon so that you will get instant deals at your desktop when they are posted.
35. I Have Another Question, Which Hasn't Been Answered Here?
Sorry we haven't been able to answer your question in our Help and FAQ
sections. Please write into us directly with your query through our
contact form and we'll respond back to you lightning quick! or else you can contact any of the moderators and get your queries solved.
36. I received a Coupon in my email but i don't need it can i post it in the forum?
Yes, you can open a new thread in giveaway section where you can post the coupon or give to a particular user who needs it and if it a generic coupon (can be used multiple times) then you can post it in Discount coupon section.
37. What are affiliate Links or Referral Links?
Affiliate Links are just like referral links where the member who post links in forum gets some kind of incentive when other members register or purchase anything. To avoid spamming in FreeKaaMaal forum, posting such links is not allowed. Understanding affiliate links and determining whether a link is a referral/Affiliate link is bit difficult for a newbie and that's why follow the below thumb Rule:

Always check whether the link that you are posting in your deal is similar to the one which is finally getting opened in your browser. For example in the below URL..

[Affiliate URL]http://www.s2d6.com/x/?x=c&z=s&v=4684183
[Actual URL]http://spuul.com/users/new

The link which you are seeing is totally different from the link which will get opened in your browser.

---
Earn Points & Win Rewards

||

Read And Post all reviews Here

|| FKM Guide For Newbies ||

Posting Guidelines

||



SUPER-MOD@FKM-FAMILY
The following 15 users Like Vivek Mishra's post:
kamaltetri
(07-14-2012)
,
narinderyadav
(07-14-2012)
,
nks8129
(07-14-2012)
,
Shamim
(07-14-2012)
,
ashu_saluja25
(07-15-2012)
,
Dux
(07-16-2012)
,
ks1985
(07-18-2012)
,
Prince76
(07-20-2012)
,
hemanth211
(07-20-2012)
,
mohit23
(07-20-2012)
,
Administrator
(07-24-2012)
,
ihuntdeals
(07-24-2012)
,
sidd
(07-27-2012)
,
Forum master
(07-30-2012)
,
goldy
(01-22-2013)
The following 15 users Like Vivek Mishra's post:
kamaltetri
(07-14-2012)
,
narinderyadav
(07-14-2012)
,
nks8129
(07-14-2012)
,
Shamim
(07-14-2012)
,
ashu_saluja25
(07-15-2012)
,
Dux
(07-16-2012)
,
ks1985
(07-18-2012)
,
Prince76
(07-20-2012)
,
hemanth211
(07-20-2012)
,
mohit23
(07-20-2012)
,
Administrator
(07-24-2012)
,
ihuntdeals
(07-24-2012)
,
sidd
(07-27-2012)
,
Forum master
(07-30-2012)
,
goldy
(01-22-2013)