[FKM Exclusive] [BIDDING]Garnier Light Gentle Exfoliating Scrub
07-25-2012, 11:50 AM
ankysax
Moderator


Posts: 1,858
Likes Given: 92
Likes Received: 144 in 42 posts
Joined: May 2012
Reputation: 78
Points: 1,030.00
Home Page Offer:13
[BIDDING]Garnier Light Gentle Exfoliating Scrub
Today product for biding :
Garnier Light Gentle Exfoliating Scrub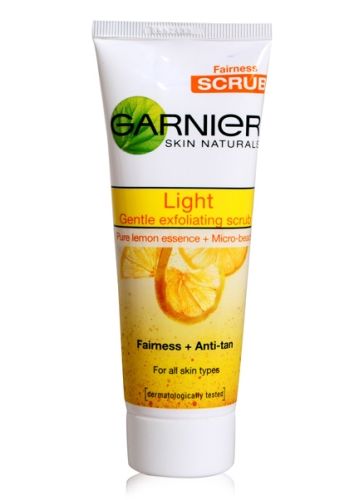 MRP RS. 130
Start Bidding @ Re. 1
( 1 Rs relates to 1 forum points)
Bidding Start from 11 AM till 7 PM
Hurry Start Bidding !!
POST THE BID POINTS IN THIS THREAD ONLY
For any issue / problems PM me.
Make sure to check regularly you are presently the winner of bid otherwise bid higher
Please Don't Quote the Opening Post while replying
Editing your post is not allowed once bid posted it cant be changed
BIDDING LOWER THAN THE PREVIOUS BID WILL RESULT IN DISQUALIFICATION / WARNING & EVEN WILL NOT BE ALLOWED TO TAKE PART IN FURTHER BIDDING / CONTEST
Note:

FreeKaaMaal Management has right to ban any users / disqualify from bidding and in case of any dispute ,decision of FreeKaaMaal Management will be final.
---
THANK YOU
TEAM FKM
07-25-2012, 12:20 PM
bhavyagupta23
FKM FORUM REVIEWER Award Winner 2012

Posts: 2,459
Likes Given: 114
Likes Received: 47 in 20 posts
Joined: Dec 2011
Reputation: 53
Points: 186.00
Home Page Offer:37
RE: [BIDDING]Garnier Light Gentle Exfoliating Scrub
100 points
---
HAPPY NEW YEAR
07-25-2012, 02:00 PM
nash999


Unregistered


Points: 0.00
Home Page Offer:
RE: [BIDDING]Garnier Light Gentle Exfoliating Scrub
101 points
07-25-2012, 02:36 PM
ankysax
Moderator


Posts: 1,858
Likes Given: 92
Likes Received: 144 in 42 posts
Joined: May 2012
Reputation: 78
Points: 1,030.00
Home Page Offer:13
RE: [BIDDING]Garnier Light Gentle Exfoliating Scrub
BID HIGHER AND TAKE AWAY Garnier Light Gentle Exfoliating Scrub
---
THANK YOU
TEAM FKM
07-25-2012, 03:42 PM
FKM_Help


Unregistered


Points: 0.00
Home Page Offer:
RE: [BIDDING]Garnier Light Gentle Exfoliating Scrub
At present:-
nash999
is leading the bid with 101 points..

Bid higher to take away this product
07-25-2012, 08:02 PM
FKM_Help


Unregistered


Points: 0.00
Home Page Offer:
RE: [BIDDING]Garnier Light Gentle Exfoliating Scrub